Pea Salad with Pancetta, mint, goat cheese and shallots is a mouthwatering spring favorite. It's fast, easy and can be made with frozen peas to enjoy all year!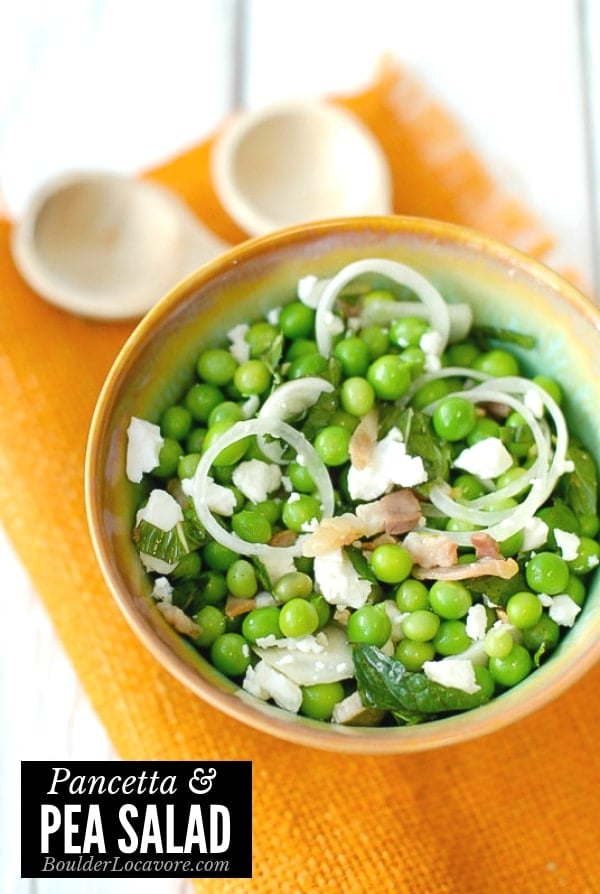 English peas are a labor of love to prepare.
But there is something so rewarding for time spent removing them from the pod.
When peas are cooked, the sweet spring flavor is a favorite.
The fresh sweet green peas, creamy goat cheese, shallot, salty pancetta and fresh mint are irresistible together.
If you love pea salad, you'll want to put this easy side dish on repeat.
Pancetta and Pea Salad
Fresh English peas once out of the pod are quick and easy to prepare.
They are a perfect center ingredient for a fresh pea salad.
This pea salad recipe uses lightly prepared ingredients for big, mouthwatering flavors!
Pea Salad Ingredients
The ingredients in this pea salad are fresh and full of wholesome flavors. Sweet, salty, tangy, with creamy texture from the goat cheese.
fresh English peas
Pancetta
fresh Mint leaves
Shallot
Lemon zest
Olive oil
Kosher Salt
Ground Black Pepper
Crumbled Goat Cheese
Frozen, thawed peas may be substituted for fresh peas.

Use Fresh or Frozen Peas
This pea salad was originally created to use a rare crop of fresh English peas I found at a farm stand.
They are so difficult to find in Colorado, I wanted to add them to something delicious!
Can't find fresh English peas? No worries!
Frozen, thawed peas will also be delicious (and less work)!
Blanching Fresh Peas
Blanching is a technique of quick boiling then using an ice bath to stop cooking.
For the pea salad recipe, fresh peas are blanched to cook them only slightly.
This retains their flavor and color without making them mushy.
For softer peas: boil them for 5-6 minutes then put into the ice bath to stop the cooking process.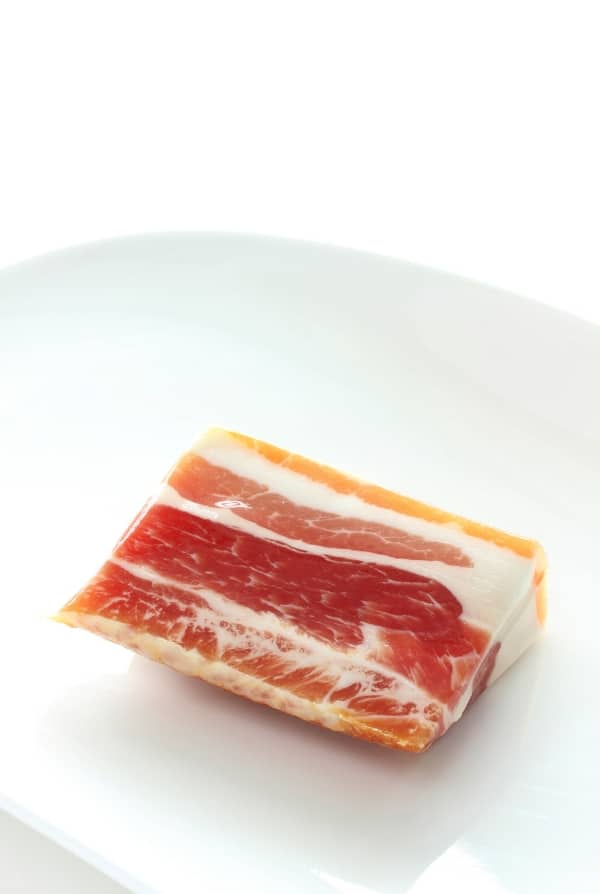 What Is Pancetta?
Pancetta is an Italian form of pork belly cured with salt.
It's widely available at deli counters or with the grocery butcher.
Sliced pancetta is chopped and sautéed adding a salty, satisfying flavor to the pea salad.
Pancetta substitutions
Regular bacon can be substituted for the pancetta! Use the same amount and cook it the same as noted in the recipe card.
How to Make Pancetta and Pea Salad recipe – Step by Step
For detailed printable recipe instructions please refer to the recipe card at the end of the blog post.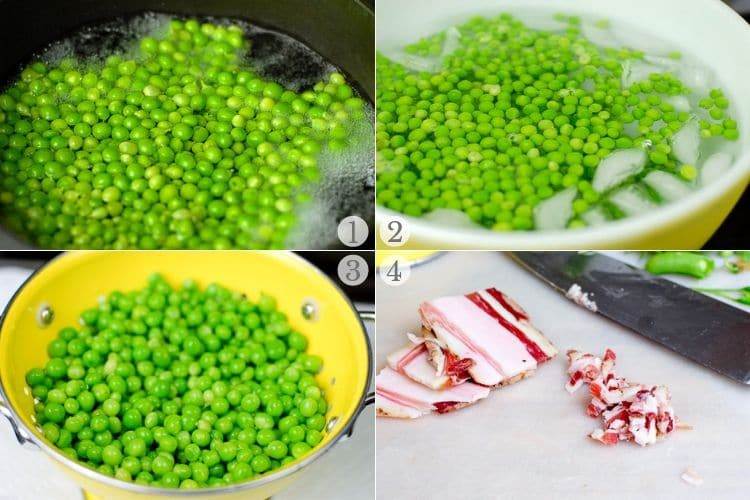 Blanch the shelled peas: place them in boiling water for 1 ½ minutes (photo 1). Follow with an ice bath to cool (photo 2).
Drain the peas (photo 3)
Mince the pancetta (photo 4). Brown in a small heavy skillet until almost crispy (photo below). Drain on paper towel.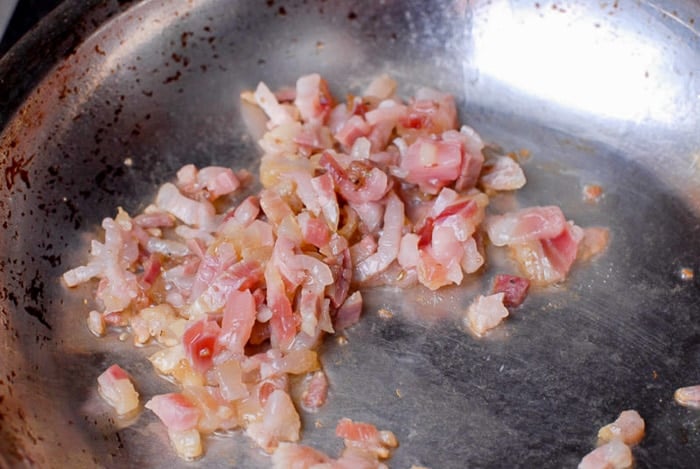 Combine the mint, shallot, lemon zest, olive oil, salt and pepper in a large bowl; mix together.
Add the peas and pancetta; mix to combine.
Gently fold in the goat cheese.
Serve at room temperature for best flavor.
Complete this Meal
Fresh Peach Margarita or Fresh Peach Spritzer (non-alcoholic)
More Recipes to Try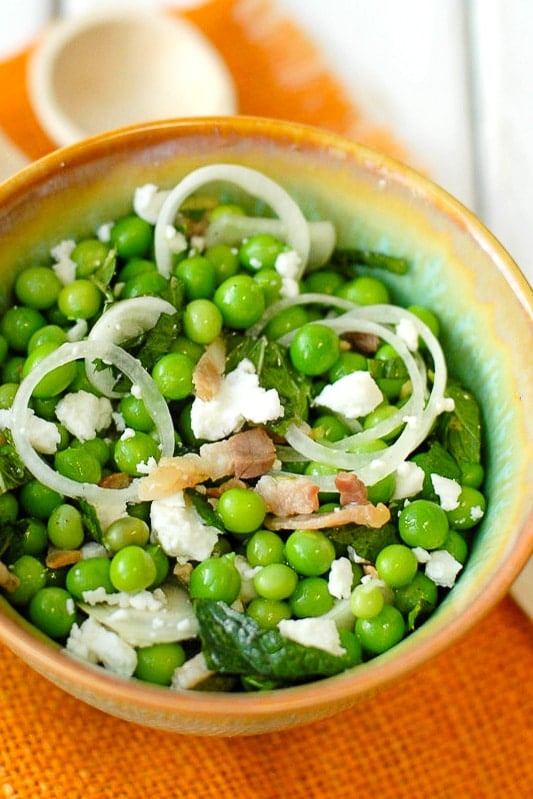 Did you make it? Please RATE THE RECIPE below!
FOLLOW ME on FACEBOOK , TWITTER , INSTAGRAM and PINTEREST to see more delicious food, travel and what I'm up to!
Originally published: July 20, 2011