Making quiche is one of the easiest recipe possible. Using a pre-made crust creates and even faster meal (as well as opens a quick option for gluten-free or regular crust). This Springtime Asparagus Leek Romenesco Quiche uses some of the season's favorite vegetables for a filling recipe great for breakfast, brunch, lunch OR dinner!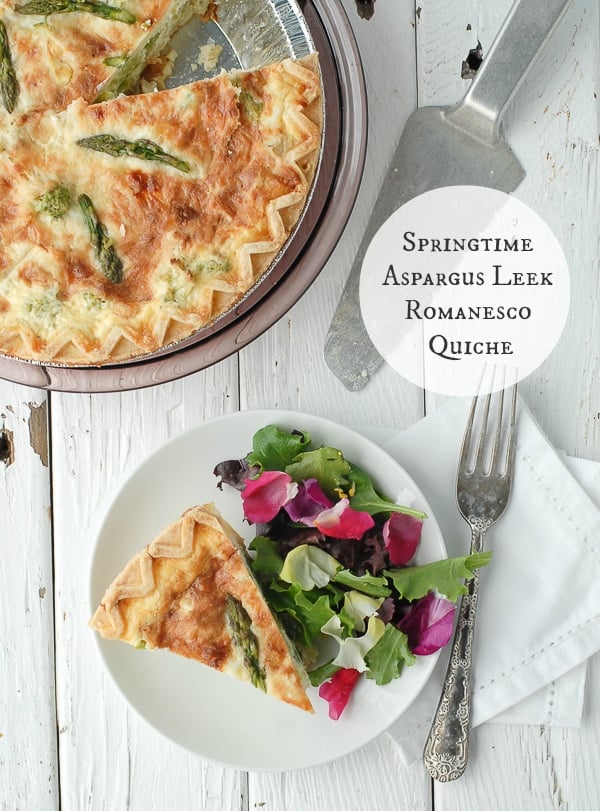 Do you notice how as the seasons change your food cravings change as well? For me pretty much everything changes. We've been enduring an all too familiar, awkward winter-spring transition for a few weeks now. A blustery frigid storm swoops in to drop minimal snow and lower temperatures enough for winter togs to be necessary. The day following is sloppy and non-committal, followed by a third day stretching into the 60's-70's, melting everything defiantly reminding us it's spring's turn. And then the cycle happens again, and again. It's a bit like watching children argue. I tend to ignore them both ready to focus on whichever one wins which I know will be spring sooner or later.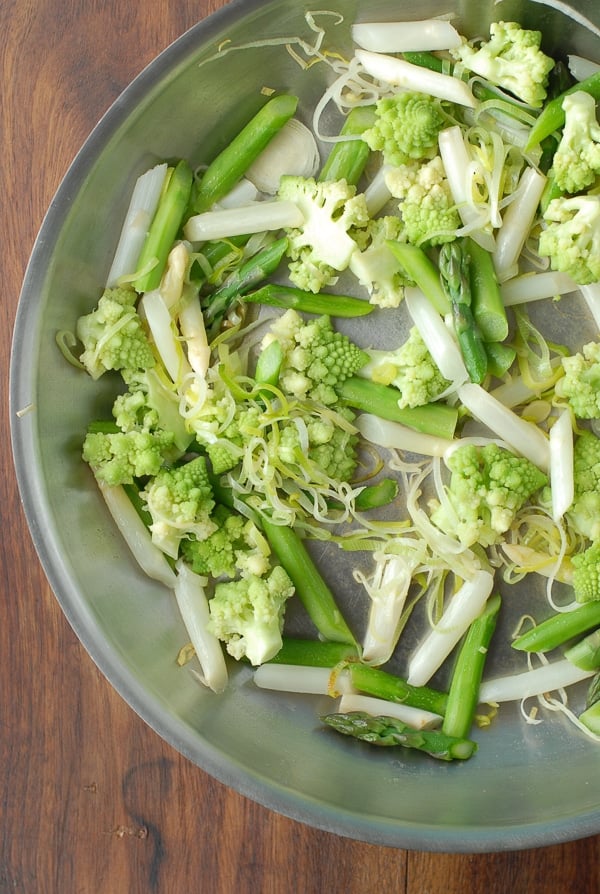 Last weekend we had a day in the high 70's, unbelievable for March and desperately welcome after our frigid winter. I couldn't bear to be indoors and was overtaken by a frantic need to clean, everywhere, at the same time. As the weather has begun to sink toward another snow, I'm holed up again near a friendly fire to stay cozy until the next bright cheery day.
During the high points I celebrated spring's return with a seasonal quiche. Ironically I find myself drawn recently to dishes I realize were some of the first I learned in college which was the rocky start to my cooking pursuits. We loved those easy recipes which offered generous forgiveness with our clumsy expertise. A quiche was perfect as you could add pretty much anything to the pie crust, covered with cheese, eggs and cream and it would turn out gorgeous every time.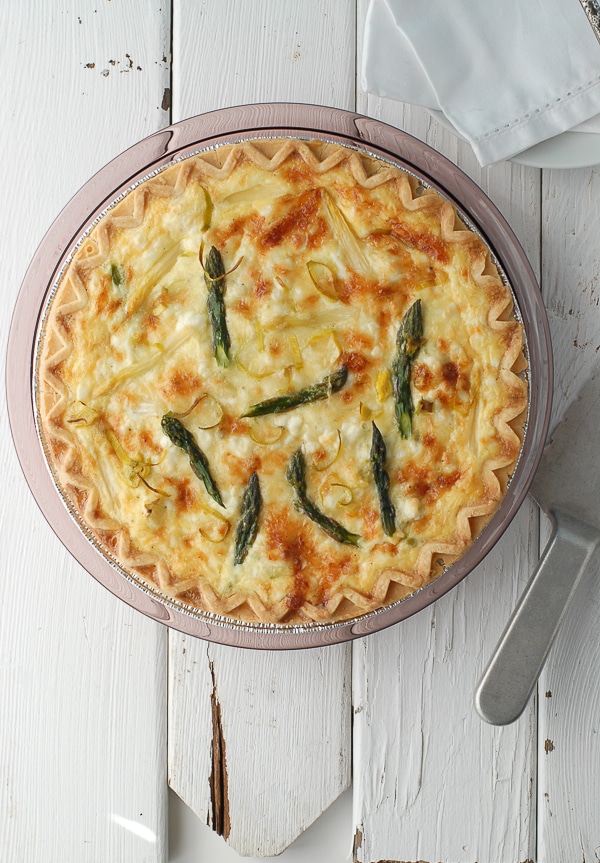 In this case I wanted to use my favorite Romanesco which I've been stuffing my fridge full off while it's here. I also added some spring leeks and asparagus, both green and white. Such an easy dish and one from which I needed to fight my family off with a stick (well, not literally) to snap some pics before they gobbled it all up. Little do they know I made a second one which is safely tucked away in the freezer for another day!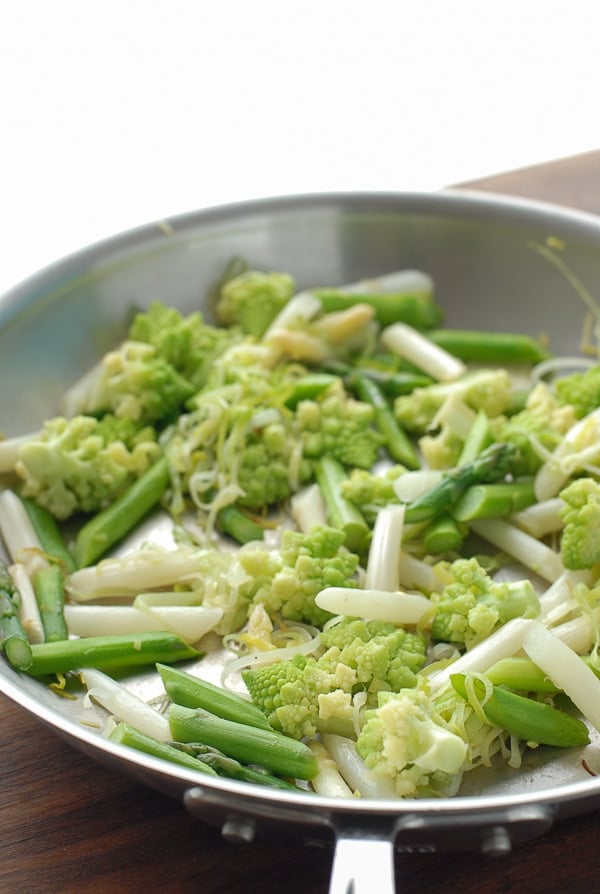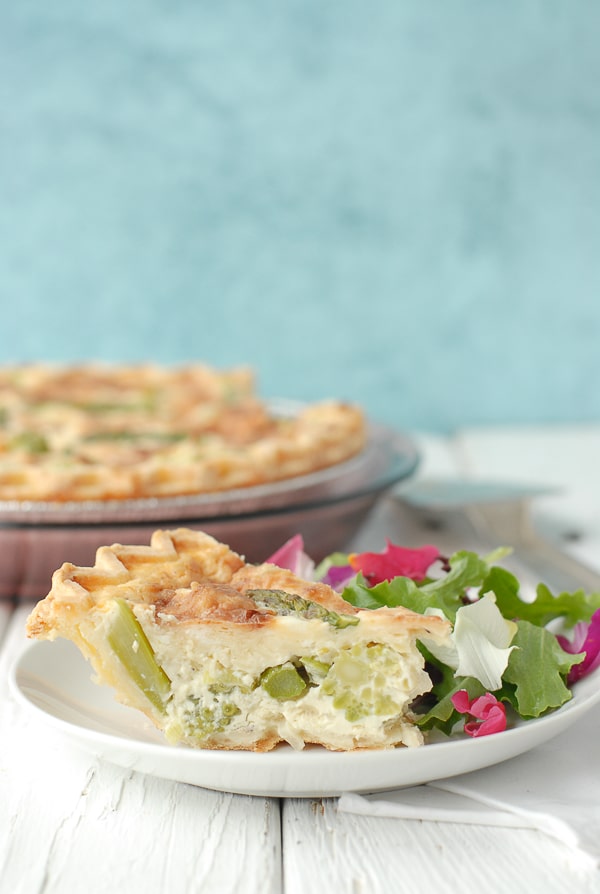 My Favorite Pie Crust recipe
I love using Butter Pie Crust whenever I make pie or quiche.
After years of battling with pie crust from scratch I started using this recipe and everything changed!
It's easy to make, flexible and creates a delicious flaky crust every time.