Making quiche is one of the easiest recipe possible. Using a pre-made crust creates and even faster meal (as well as opens a quick option for gluten-free or regular crust). This Springtime Asparagus Leek Romenesco Quiche uses some of the season's favorite vegetables for a filling recipe great for breakfast, brunch, lunch OR dinner!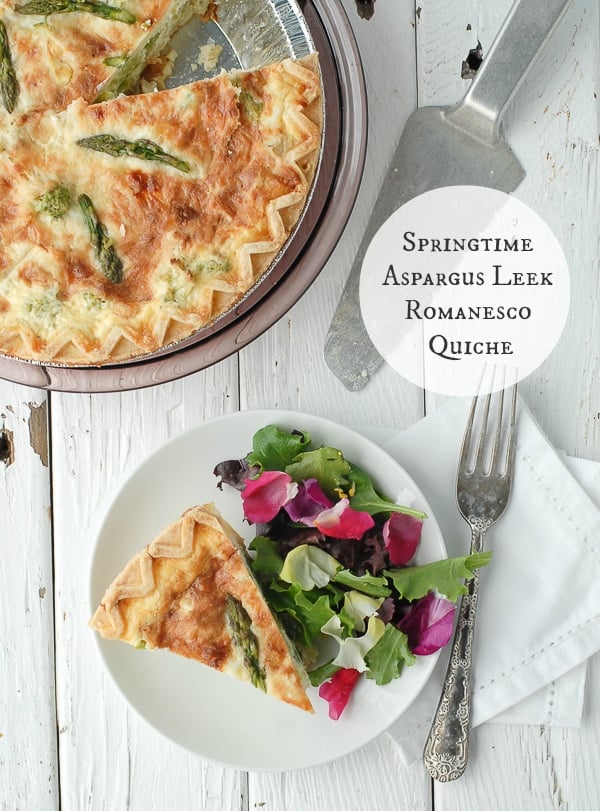 Do you notice how as the seasons change your food cravings change as well? For me pretty much everything changes. We've been enduring an all too familiar, awkward winter-spring transition for a few weeks now. A blustery frigid storm swoops in to drop minimal snow and lower temperatures enough for winter togs to be necessary. The day following is sloppy and non-committal, followed by a third day stretching into the 60's-70's, melting everything defiantly reminding us it's spring's turn. And then the cycle happens again, and again. It's a bit like watching children argue. I tend to ignore them both ready to focus on whichever one wins which I know will be spring sooner or later.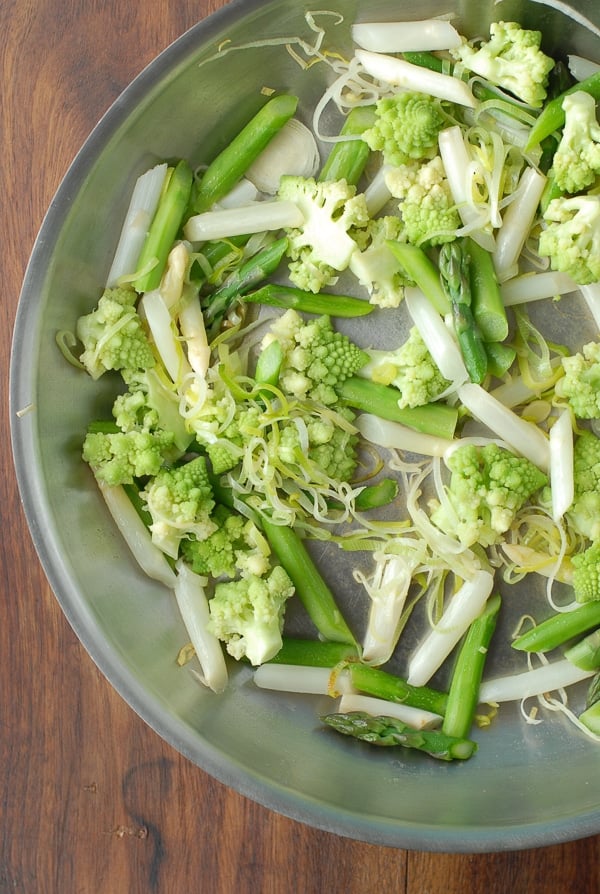 Last weekend we had a day in the high 70's, unbelievable for March and desperately welcome after our frigid winter. I couldn't bear to be indoors and was overtaken by a frantic need to clean, everywhere, at the same time. As the weather has begun to sink toward another snow, I'm holed up again near a friendly fire to stay cozy until the next bright cheery day.
During the high points I celebrated spring's return with a seasonal quiche. Ironically I find myself drawn recently to dishes I realize were some of the first I learned in college which was the rocky start to my cooking pursuits. We loved those easy recipes which offered generous forgiveness with our clumsy expertise. A quiche was perfect as you could add pretty much anything to the pie crust, covered with cheese, eggs and cream and it would turn out gorgeous every time.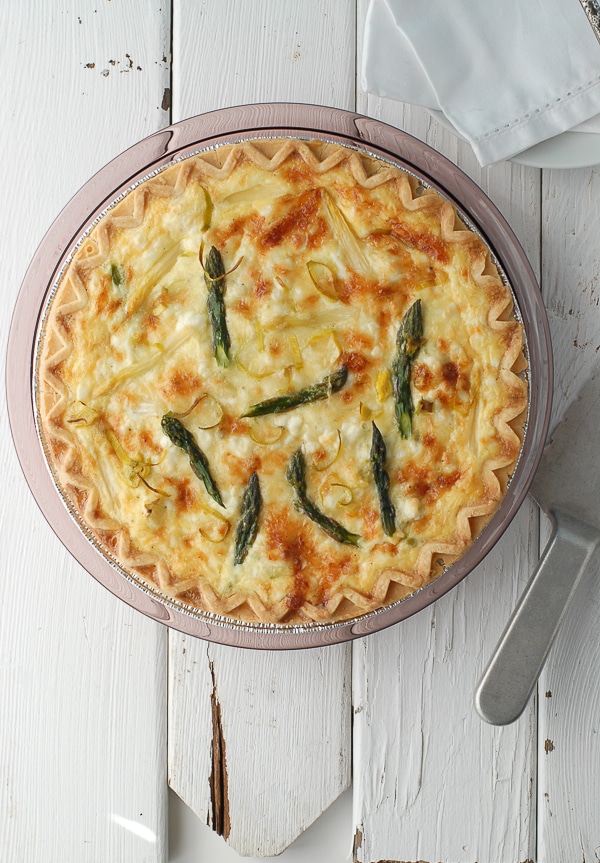 In this case I wanted to use my favorite Romanesco which I've been stuffing my fridge full off while it's here. I also added some spring leeks and asparagus, both green and white. Such an easy dish and one from which I needed to fight my family off with a stick (well, not literally) to snap some pics before they gobbled it all up. Little do they know I made a second one which is safely tucked away in the freezer for another day!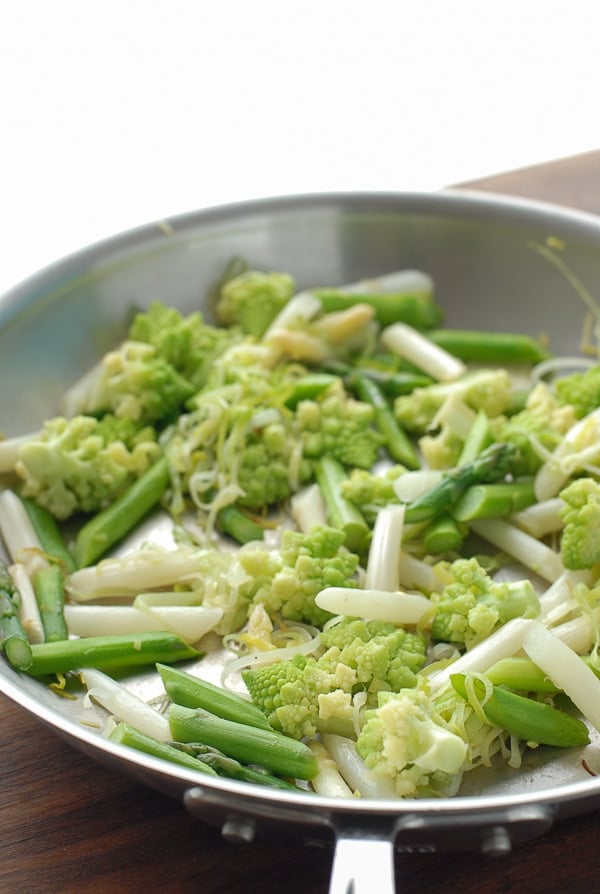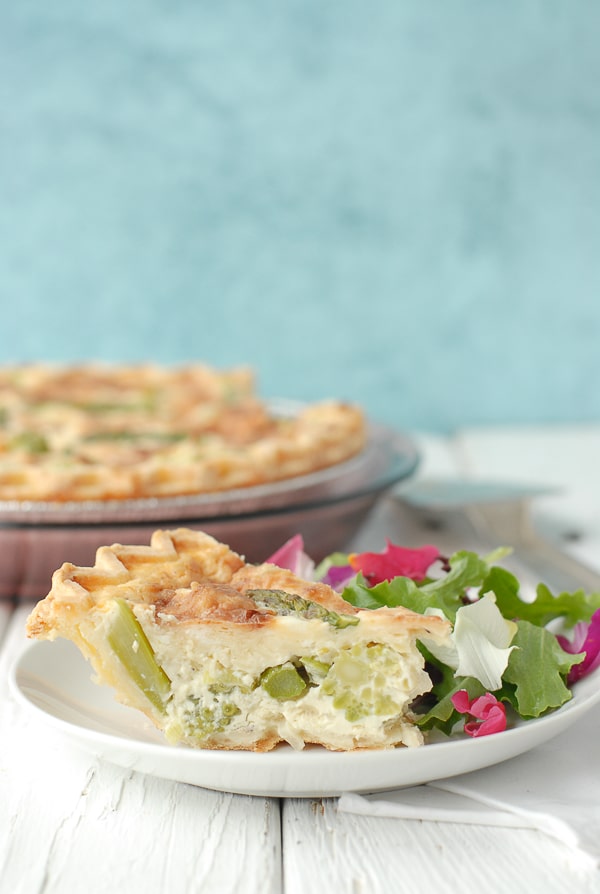 My Favorite Pie Crust recipe
I love using Butter Pie Crust whenever I make pie or quiche.
After years of battling with pie crust from scratch I started using this recipe and everything changed!
It's easy to make, flexible and creates a delicious flaky crust every time.
Recipe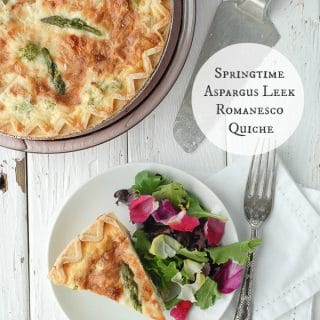 Springtime Asparagus Leek Romenesco Quiche
A light, seasonal celebration of spring with Romanesco, leeks, and green and white asparagus tucked into an easy quiche! Perfect for brunch, lunch or dinner. Gluten-free depending on the type of pie crust used.
Print
Save Recipe
Recipe Saved!
Pin
Rate
Ingredients
1

Pie Crust

homemade or store bought

10

stalks White Asparagus

, bottom of stalk trimmed, stalk peeled with vegetable peeler, cut on the diagonal into 1 inch pieces (if unavailable may be substituted with 8 stalks green asparagus)

8

medium stalks Green Asparagus

, bottom of stalks trimmed, stalks peeled with vegetables peeler, cut on the diagonal into 1 inch pieces

1

Leek

(approximately 1-inch diameter), cleaned and sliced into thin slices (the white and light green portions only); will yield approximately 1 cup

1 ½

cups

Romenesco florets

, cut into small bite-size pieces

1

tablespoon

unsalted Butter

4

eggs

, room temperature and lightly beaten

1 ½

cups

Half and Half

½

teaspoon

Kosher Salt

½

teaspoon

ground Black Pepper

½

teaspoon

dry Mustard

1 ½

cups

Gruyere cheese

, finely shredded
Instructions
Heat the oven to 425 degrees. Prick the pie crust with a fork around the bottom and sides. Place a piece of foil covering the bottom inside of the pie and place pie weights or dry beans on the foil. Bake for 12 minutes then remove and place on a baking sheet. Set aside.

Lower the oven temperature to 350 degrees.

Blanching the green asparagus and Romanesco: Bring a large pot of water to a boil. While the water is heating. Fill a large mixing bowl with cold water and ice. Blanching the green asparagus and romanesco will both soften them slightly but will preserve their green color in the baking process.

Once the water is boiling place the green asparagus and romanesco in the water for 1 minutes only. With a slotted spoon scoop the vegetables out of the hot water, allowing excess water to briefly drain and place them in the ice bath to stop the cooking process. When the vegetables are cool to the touch remove them and place them on a kitchen or paper towel to drain.

Heat a large skillet over medium-high heat. Melt butter. Add leeks to the pan; stir frequently for 3 minutes or until the leeks begin to soften and turn translucent.

Add both asparagus and romances to the skillet. Sauté and additional two minutes. Remove from heat.

In a medium mixing bowl combine the lightly beaten eggs, half and half, salt, pepper, mustard and mix to fully combine. Add the grated cheese and stir to combine.

Place the pre-baked pie crust on a baking sheet. Scoop the prepared vegetables into the pre-baked pie crust, evenly distributing them.

Pour or spoon the liquid mixture over the vegetables ensuring even distribution in the pie pan.

Place the quiche in the oven and bake 30-40 minutes until golden brown on top and the middle is set (a knife inserted will come out clean and it will be firm if the quiche is moved). Remove from oven and allow to rest for 15-20 minutes before slicing.
Nutrition
Calories:
318
kcal
|
Carbohydrates:
15
g
|
Protein:
13
g
|
Fat:
22
g
|
Saturated Fat:
11
g
|
Cholesterol:
129
mg
|
Sodium:
373
mg
|
Potassium:
236
mg
|
Fiber:
1
g
|
Sugar:
1
g
|
Vitamin A:
980
IU
|
Vitamin C:
17.8
mg
|
Calcium:
333
mg
|
Iron:
1.7
mg