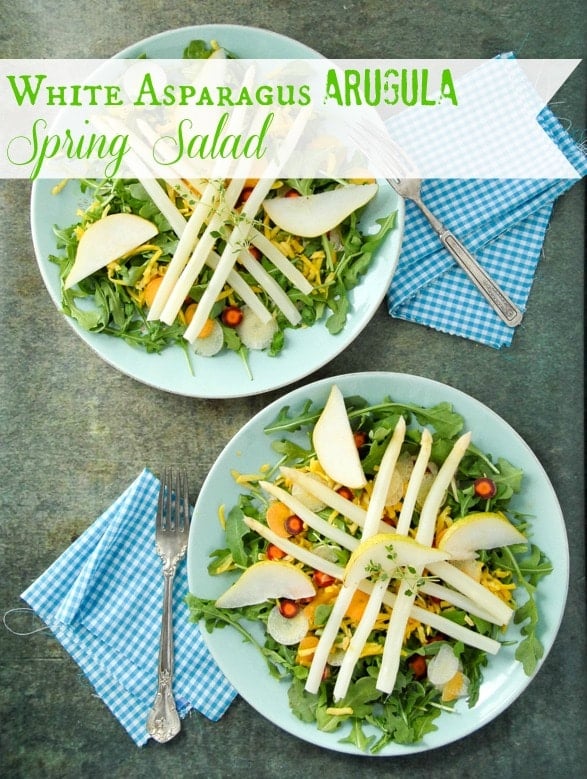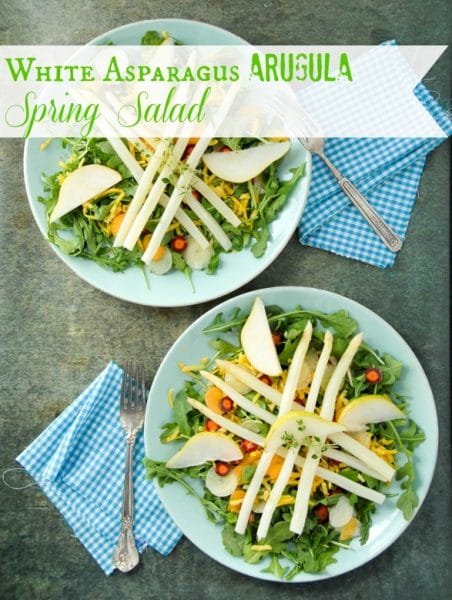 I can always tell 'spring has sprung' by the infusion of bright colors and vibrant flavors that begin to appear in food markets. The early greens are often bitter and attention-grabbing apparently by design. After long winters full of a small number of root vegetables to tide one over, the snarky greens of first spring deliver much needed nutrients and a kick start to the body.
Asparagus is synonymous with spring with its prime month of availability being April. Our local crop can often lag in availability though has made its appearance in stores signaling the end of winter. Most are familiar with standard green asparagus but this is only one variety of the tender spring stalk.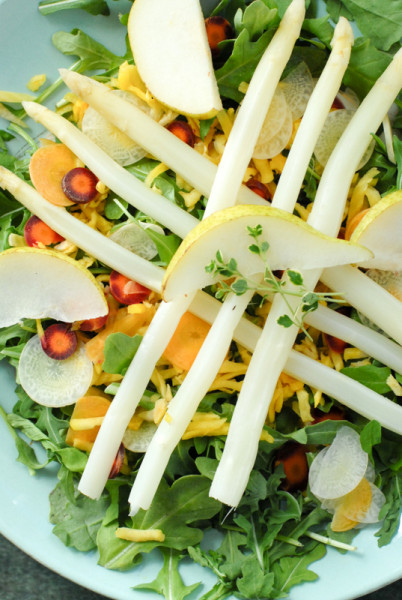 I discovered white asparagus while on a business trip to Boblingen Germany a number of years ago. I worked in high tech at the time and was visiting one of our international customers who had a plant there. The days of meetings often were identical no matter where in the world we were and frankly one would never distinguish one venue from the next were it not for a localized accent or the outside scenery. This specific visit fell on a particularly exciting occasion. We'd plodded through our action items for the morning and as we neared lunchtime our host became very animated, priming us that we had a treat in store for lunch.
Our visit fell amidst white asparagus season. For only two treasured weeks this crop was available and prepared with great devotion by the onsite kitchen staff. I had not heard of white asparagus nor tasted it so I too was quite excited.
White asparagus is without pigment due to being grown without exposure to light. It is more tender and mild in flavor than standard green asparagus. I personally have experienced it to have a woodier exterior which I peel before cooking (though there is debate about whether it requires peeling or not). White asparagus is more commonly found in Europe and I was told by my local Whole Foods produce manager that Americans seems unsure how to prepare it and thus much of it is wasted. Despite its unique qualities, white asparagus is completely interchangeable with green asparagus in recipes.
I snapped up some white asparagus as soon as it arrived and wanted pair it with other tastes of spring. I settled on a salad with my personal favorite green, peppery arugula, some quick-pickled yellow beets (and I'm not a beet eater), organic rainbow carrots and slices of Bartlett pear (the latter being produce that ushers us from the cold months into spring before bidding adieu). The asparagus may be served chilled or at room temperature. With a Meyer Lemon White Balsamic vinaigrette this dish could not be a more perfect ode to springtime.