Frittatas are fun dishes to whip up and are perfect for any meal of the day! Simple and seasonal Asparagus Leek New Potato Frittata topped with melted Havarti Dill cheese is an easy recipe to prepare in about 40 minutes.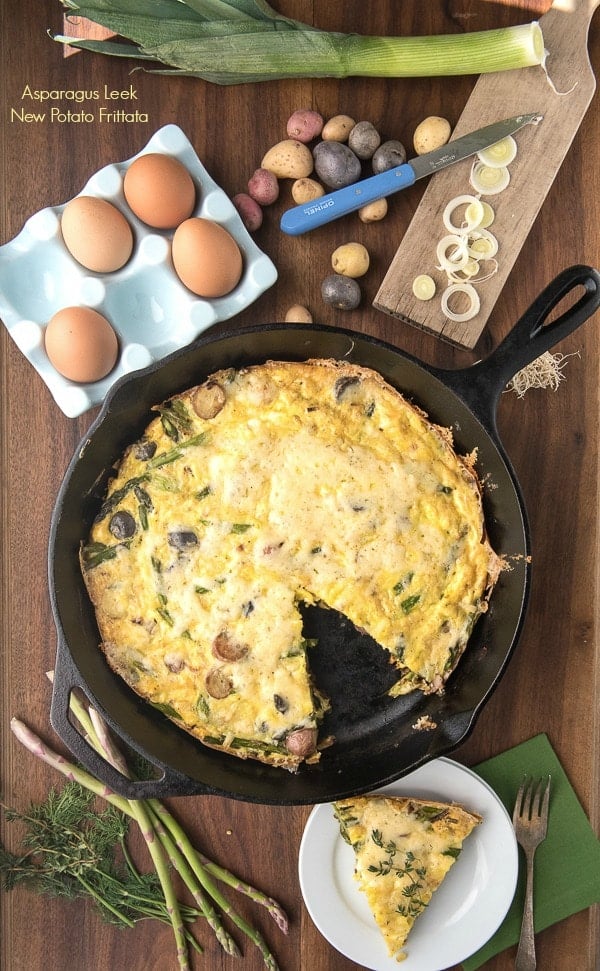 In Colorado, we've learned not to get too carried away with the first hints of spring. We know one fact: Mother Nature is a tease. February ambled along uneventfully until the last week when we had snow daily, rocketing us to one of the top 5 snowiest February's in Colorado's history.
Jump to:
I was posting photos last week on Instagram of 4 foot long, 8-inch diameter icicles hanging from our eves. I banned my family from dumping anything in the outdoor trash cans, which are positioned dangerously under the canopy of potential death from falling ice. Today my car thermometer registered 85 degrees. Insert eye roll here.
We know there will be more snow in our spring however that doesn't stop the desire to begin nibbling on the first of spring's produce as it begins to make appearances at our local markets. The first of which grabbed my eye last week: asparagus.
I love spotting those first nubile stalks that stand tall and thin like the Super Models of spring vegetables. They are tender and sweet (the asparagus, I can't comment on the Super Models), a true delicacy in my opinion.
They are quickly replaced by the sturdier, often woodier, stalks of late spring so nab them when you can.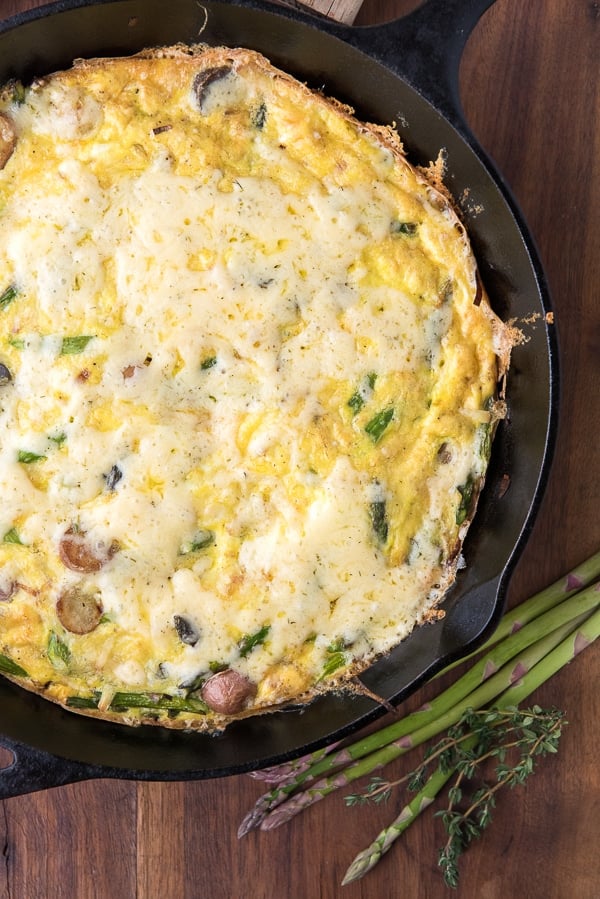 I have been loving making quick, fresh meals lately. It's so gratifying to make something in less than 30 minutes yet have it be robust with flavor and a bit out of the ordinary routine.
What is a Potato Frittata?
A Potato Frittata is a great option when you are short on time and wanting something a bit lighter to eat. Think of a quiche with no crust and that's close to a frittata. They are cooked partially on the stove top in a cast iron skillet or oven-proof pan, finished in the oven and still done before you know it.
I personally love the flexibility of changing up the main ingredients from meaty to vegetarian, as well as the cheese variety to suit my mood or the season. They are very forgiving.
I've shared a few frittatas on Boulder Locavore: Smoky Ham Cheese Potato Frittata and Duck Egg Frittata with Garlic Kale. Spring is always a great time to make them too to include some of the seasonal bounties.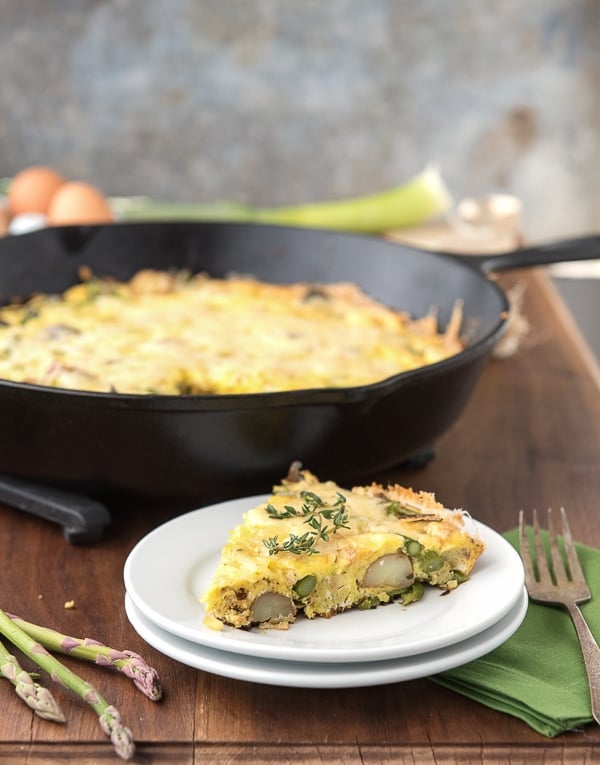 Regular Potatoes vs New Potatoes
I will confess, I love a 'cute' food. Like a puppy in a store, I find it unbearable to walk away leaving it behind. This time of year brings Pee Wee New Potatoes that I adore.
They are the size of a large marble, a shooter to be exact. My favorite market sells small mesh bags of them in three different mixed colors. Sliced in half they are perfect for a frittata.
Adding new potatoes gives a nice texture as well as some extra color. Look for them in your grocery market and give them a try! They are also great roasted whole or steamed.
I think you too will find that a potato frittata is a very fun dishes to whip up, changeup and generous with how little of your time they occupy in the preparation. They are great for any meal of the day too.
If you have so-so egg-eaters in your household, adding a bit of salsa on the top of a serving is pretty fantastic to win over even the most egg adverse.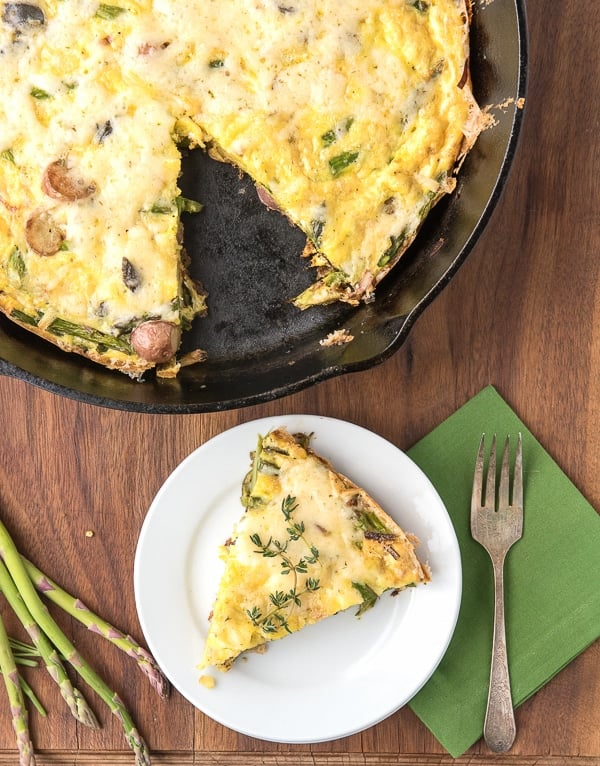 How to make Asparagus Leek New Potato Frittata:
Recipe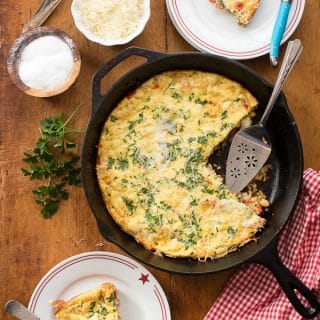 Asparagus Leek New Potato Frittata
Frittatas are simple food and easy to prepare. Cooked partially on the oven in a cast iron or other ovenproof skillet, and transferred to the oven to complete cooking producing a lofty, cheese top. Small new potatoes, leek rings and spring asparagus make this a wonderful seasonal dish for any meal of the day.
Print
Save Recipe
Recipe Saved!
Pin
Rate
Ingredients
2

tablespoons

Olive Oil

2

cups

New Potatoes

, scrubbed, cut into ½ inch pieces or in half if using tiny potatoes

8

large Eggs

, room temperature

1

teaspoon

fresh Thyme leaves

(removed from the stem)

½

teaspoon

Kosher Salt

½

teaspoon

freshly ground Black Pepper

1

cup

grated Gruyere cheese

1

cup

Leeks

, cleaned, sliced thinly, white and light green portions (approximately 1 large leek) and separated into rings

1

bunch thin Asparagus

, woody bottom of the stalk removed, cut on the diagonal into 1-inch pieces

¾

cup

grated Havarti with Dill cheese
Instructions
Preheat the oven to 400 degrees.

Add 1 tablespoon of the olive oil to a 10-inch cast iron or other heat proof skillet over medium high heat. Add the potatoes and cook for 5 minutes, stirring periodically, allowing them to develop a crust.

Lower the heat to medium, cover, stirring occasionally until the potatoes are fairly soft; 5-10 minutes. Remove and set aside.

While the potatoes are cooking, in a large mixing bowl whisk the eggs together. Add in the thyme, salt, pepper and Gruyere cheese; whisk to combine. Set aside.

Heat the second tablespoon of olive oil over medium-high heat in the skillet. Add the leeks and cook for 4 minutes, stirring constantly.

Add the asparagus and cook for an additional 6 minutes, stirring often. Return the potatoes to the skilled and stir to combine. Spread the vegetables and potato mixture to evenly cover the bottom of the skillet.

Pour the egg mixture evenly over the vegetables in the skillet. Allow the frittata to cook undisturbed until the edges are set; 2-4 minutes. Place the frittata in the heated oven and allow it to finish cooking for 10-12 minutes until the liquid is gone and the top is fluffy.

Add the Havarti with dill cheese and continue to cook 1-2 minutes until it had melted. Remove from oven and serve.
Nutrition
Calories:
276
kcal
|
Carbohydrates:
11
g
|
Protein:
16
g
|
Fat:
18
g
|
Saturated Fat:
7
g
|
Cholesterol:
245
mg
|
Sodium:
383
mg
|
Potassium:
335
mg
|
Fiber:
1
g
|
Sugar:
1
g
|
Vitamin A:
835
IU
|
Vitamin C:
12.3
mg
|
Calcium:
291
mg
|
Iron:
1.9
mg