Squash noodles are a healthy alternative to high carb pasta. Butternut squash noodles are tender and delicious topped with fresh, flavorful roasted spring vegetables in this vegetarian dinner recipe. Gluten free, too.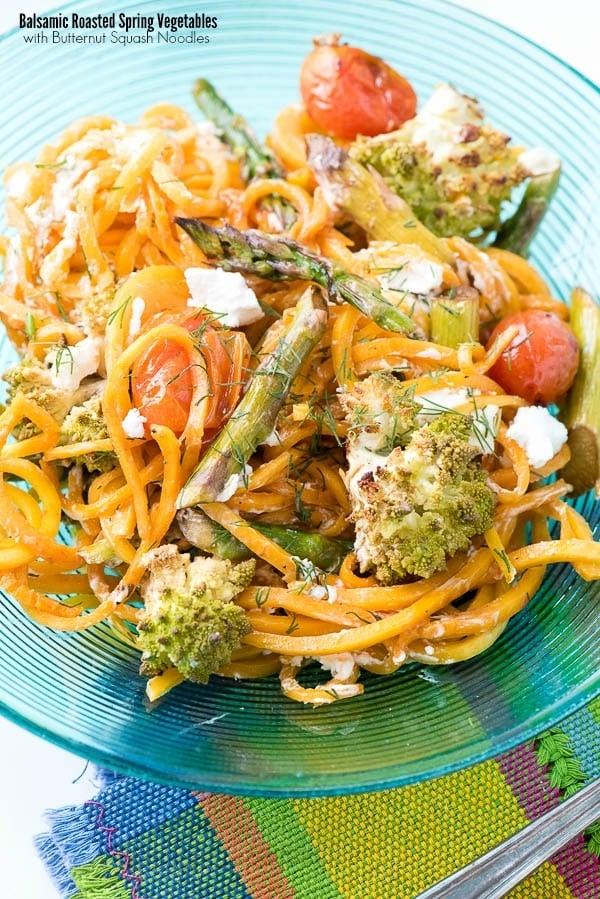 Spring has sprung, or at least is trying very hard to do so. Here in Colorado, spring's arrival feels more like a manic seasonal tug of war with winter. As the chill begins to fade, buds emerge only to be doused with wet spring snow. This dance continues usually well into May.
Despite this I couldn't help my excitement at seeing familiar spring vegetables and herbs begin showing up at my grocery store. I love seeing new asparagus, in white, green and purple. Peppery arugula is a favorite of mine as is sorrel which we only get in spring. After rounding up 12 Amazing Recipe with Spring Vegetables, I whipped up something new: Balsamic Roasted Spring Vegetables with Butternut Squash Noodles. It seems a proper meeting in the middle of Spring and Winter! A bit of goat cheese and dill tossed in finish the dish with a mouthwatering tang.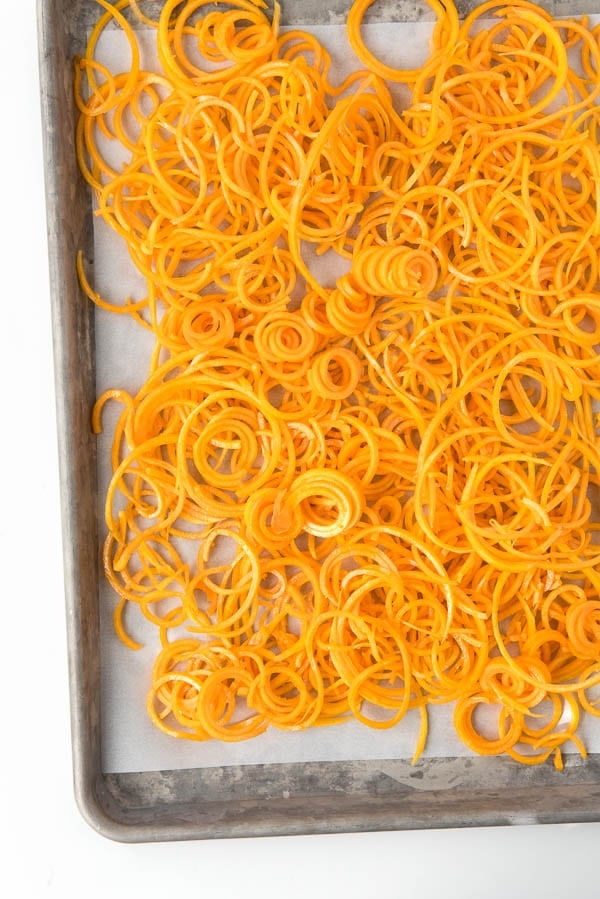 I love using my Sprializer and have been itching to whip up something new with it for awhile. One of the most popular recipes on Boulder Locavore right now is a very simple Butternut Squash Noodles in Sage Brown Butter. The reason it's such a popular recipe, other than being easy and fast, is that butternut squash spiralizes into noodles that have a pasta-like consistency without an overbearing 'squashy' flavor. The noodles adapt well to most other flavors when added into a recipe, and leave diners feeling satisfied they've had a robust meal.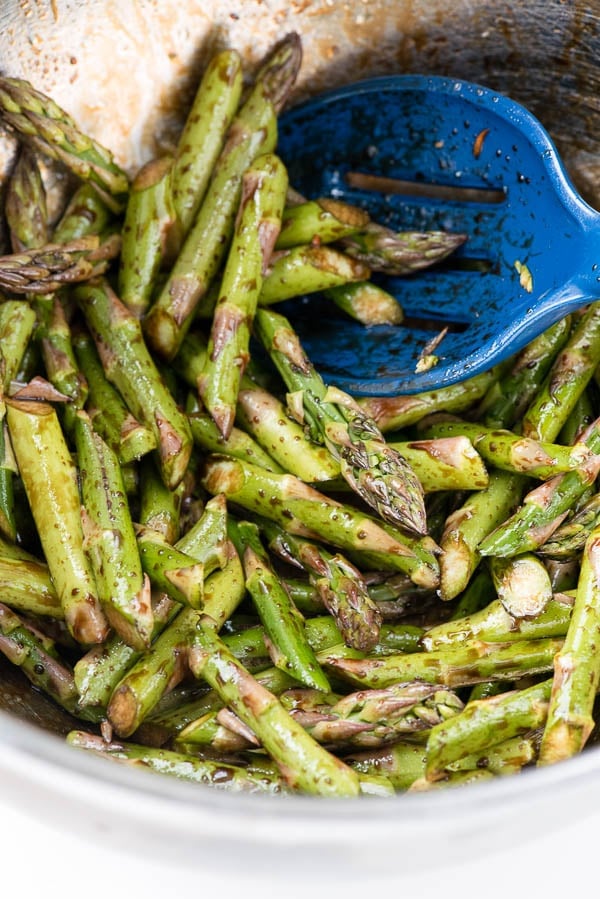 Though the initial intrigue of using a spiralizer for most people is about substituting vegetables for pasta (think health and weight loss), for those gluten-free it's a fantastic alternative to pasta. Winter squash in particular creates substantial noodles in gorgeous colors, resulting in recipes that are as appealing to the eye as they are to the palate. They don't have the bland flavors often found in traditional pasta.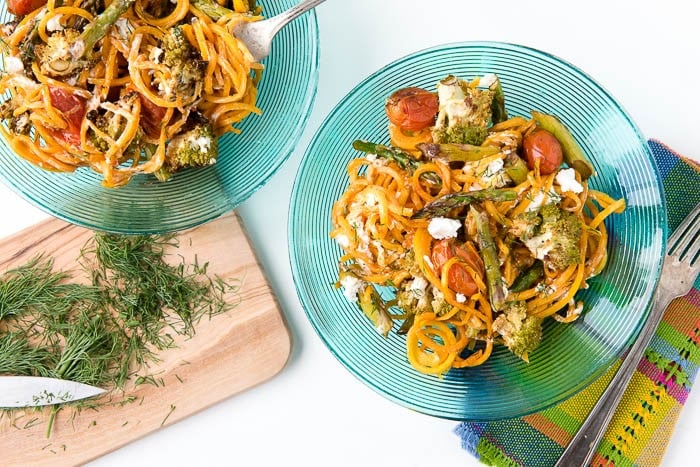 Tender, slim asparagus stalks, grape tomatoes and Romanesco are the tasty trio of balsamic roasted vegetables in this meatless spiralized squash noodles recipe. If you aren't familiar with Romanesco, it's in the Brassicas family, which includes cauliflower and broccoli. Its texture is most like cauliflower, however it has florets like broccoli. Romanesco is a brilliant shade of green, with fractal-shaped florets making it the weirdest looking vegetable you'll find in the produce aisle right now. It is a definite 'must try'. Romanesco adds texture, flavor and visual panache to any dish.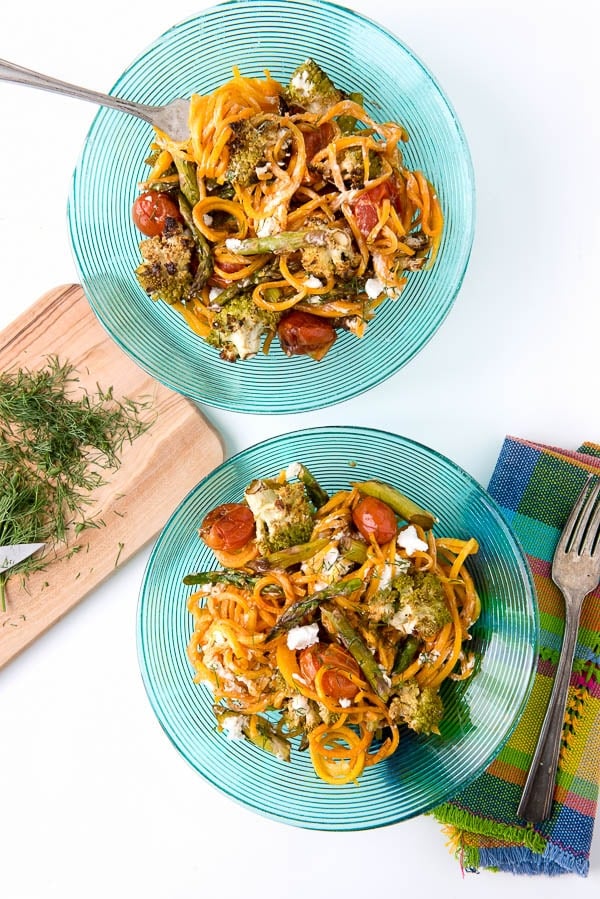 This brightly colored recipe would fit as well on your Easter menu as it would for a relaxed meat-free main dish for lunch or dinner any day!
Try some fresh Tzatziki sauce on the side.
How to Make Spiralized Squash Noodles with Roasted Vegetables:
es with Butternut Squash Noodles recipe is a contribution to Food Fanatic in my role as as the Naturally Gluten-Free Fanatic.