Pan Fried Polenta is an easy, hearty meatless recipe with loads of options to serve it. This version is formed in a loaf pan for easy slicing and light pan browning for a delicious crust.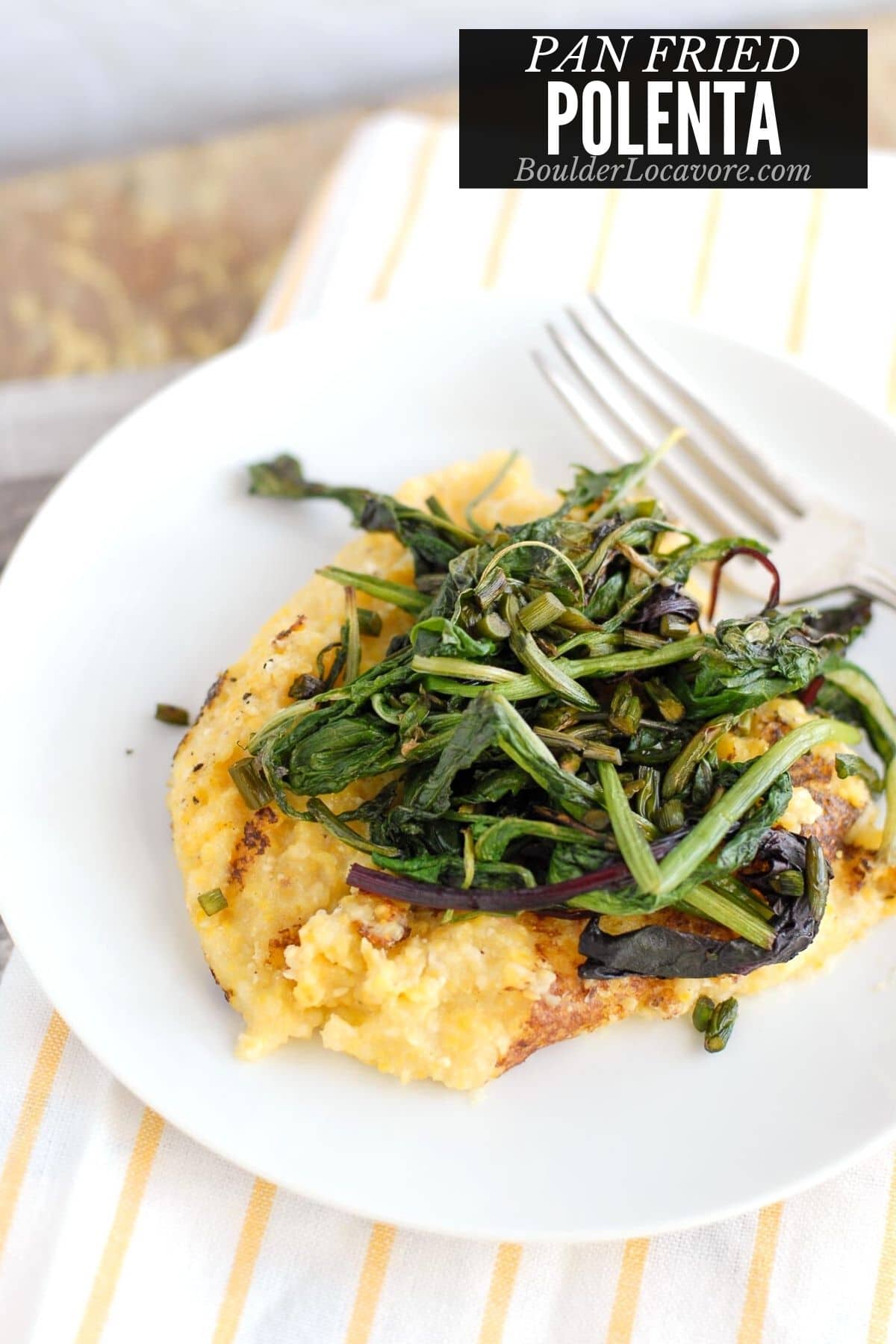 Polenta is a favorite recipe especially in the hotter months. It's simple to make with great creamy flavor and satisfying texture.
It's perfect for pan frying to develop a delicious crust and can also be grilled.
We've topped it with quickly sautéed seasonal greens. There is no limit to how the toppings can be changed up!
Naturally gluten-free.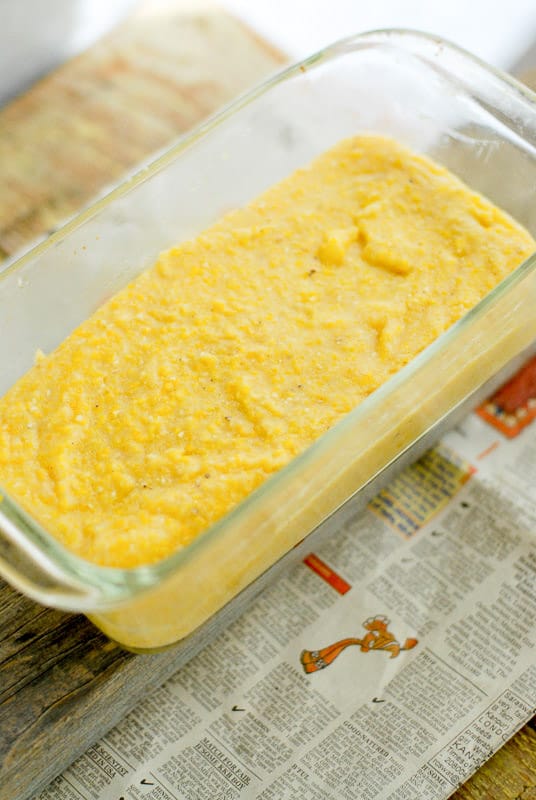 What is Polenta?
Polenta is a dish from Northern and Central Italy. It's a comfort food made with cornmeal that is boiled and thickened.
It has a rustic light corn flavor and a hearty, slightly chewy texture depending on how it's made.
It's perfect for adding sauces to so can be a naturally gluten-free pasta substitute.
Depending on how it's prepared is can be cream as in this Pumpkin Creamy Polenta recipe or sliceable more like a savory cake as in our recipe today.
Fried Polenta
When making the polenta in a more solid form, it's great as a grilled recipe or pan fried.
Once it has cooled, it is sliced and lightly browned in a skillet with a small amount of oil.
It can be served in many ways. Spoon on spaghetti sauce, or add a protein like these Sweet Chipotle Chicken Bites (they are VERY fast to make).
We are taking advantage of two lesser used but delicious greens to sauté and add on top!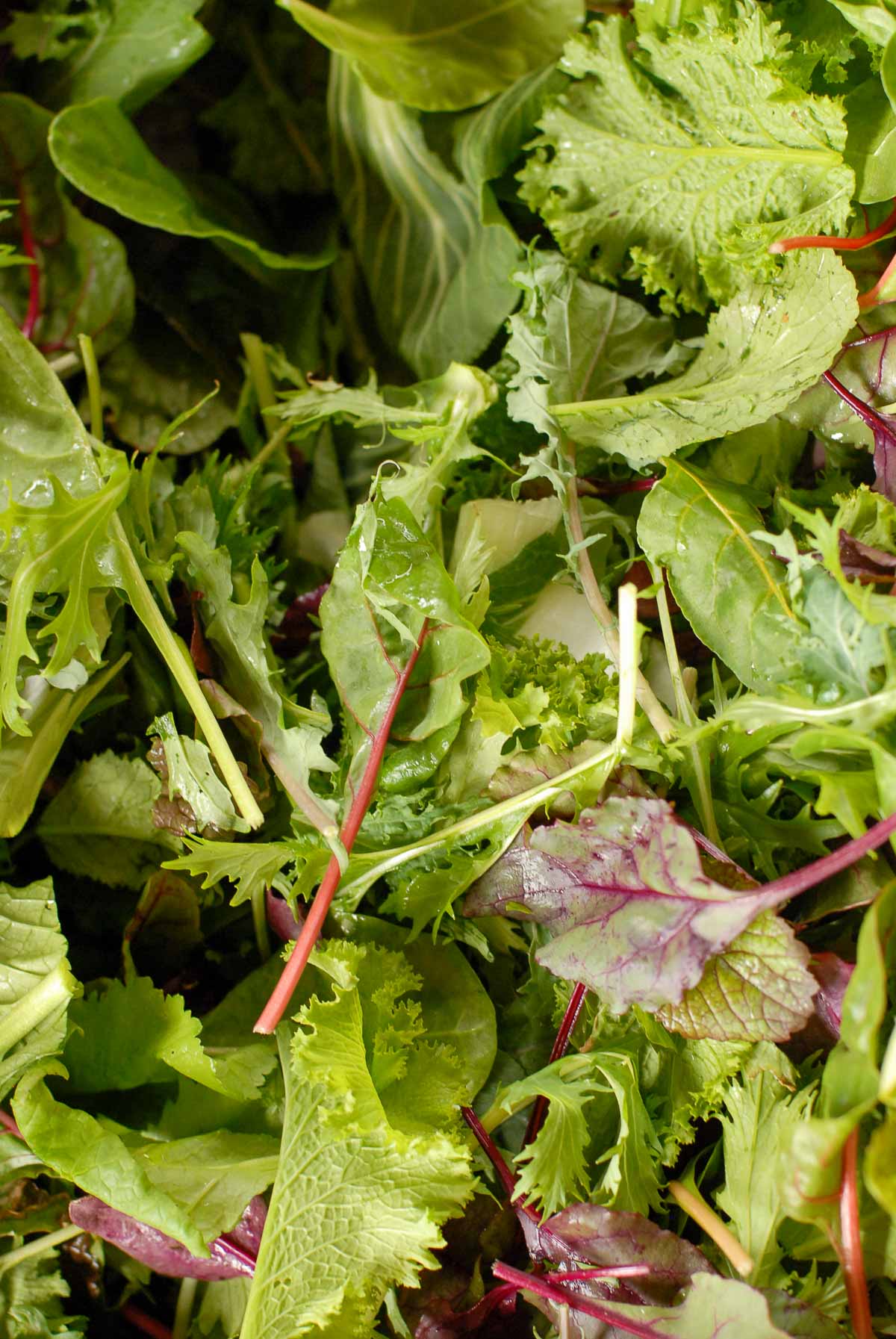 What are Braising Greens or Braising Mix?
I first discovered braising greens through a Farm CSA program. They are a mix of flavor-packed greens perfect for braising, stir frying, steaming or sautéing.
Braising greens are a mix of greens with a spicier flavor, generally from the cole crop family (kale, broccoli, collards, mustard greens, turnips and more) and other greens like baby bok choi.
The blend is visually beautiful with a mix of colors and textures.
Often it will include beet greens, turnip greens, kale, mustard greens lending to a flavor profile that has a bite and chock full of nutrients.
They can be spicy and slightly bitter which makes them a great contrast to the creamy polenta.
If you can't find them at a store, make your own mix! Use younger leaves if possible and combine greens from those listed above.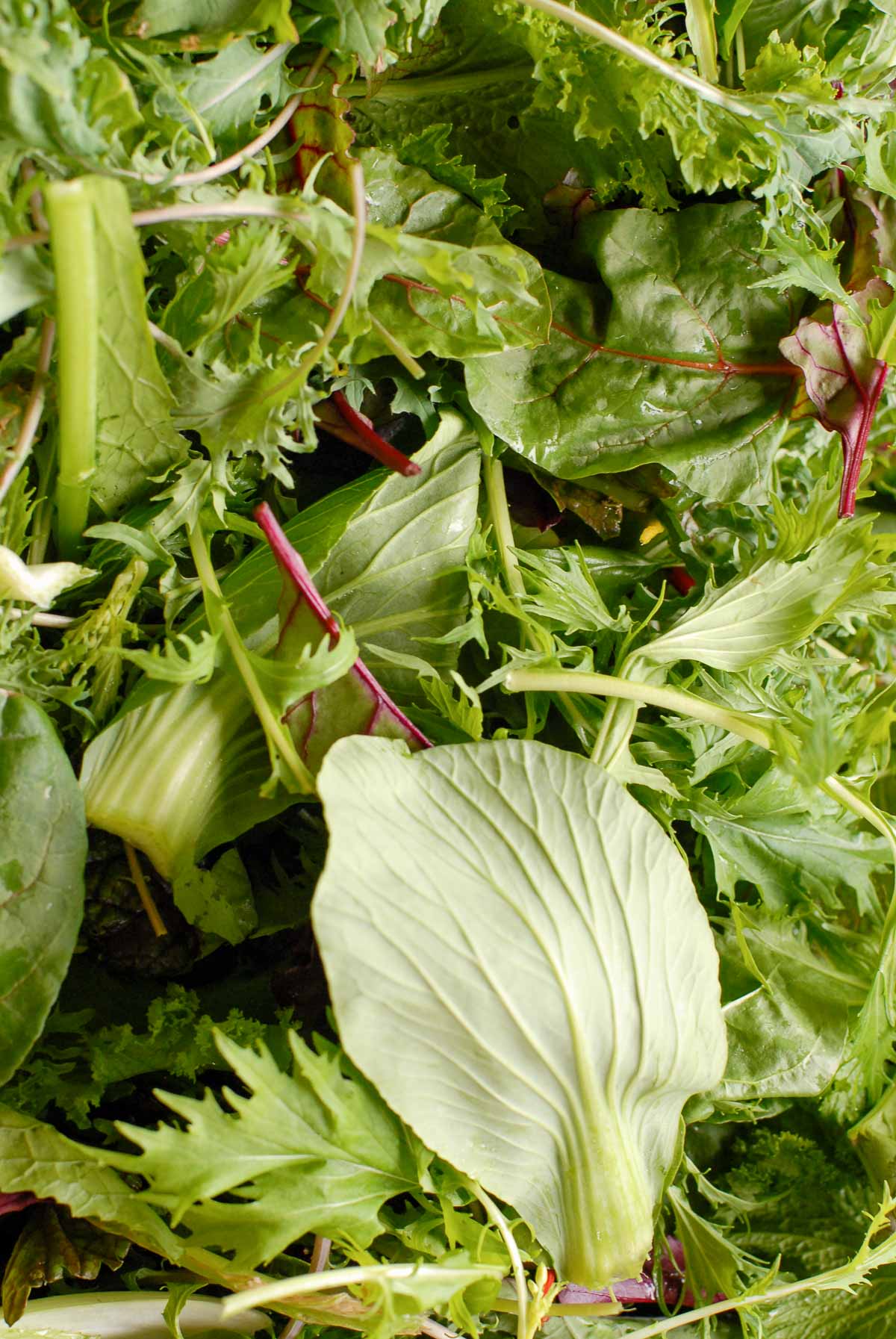 What are garlic scapes?
Garlic scapes are the flowers of the garlic plant which bloom as the garlic begins to form cloves.
The flower sits atop a pig tail like curly-cue stem and tastes like garlic only a milder version.
It is entirely edible including the flower. They are wonderful to grill like asparagus on the barbeque/grill in tinfoil.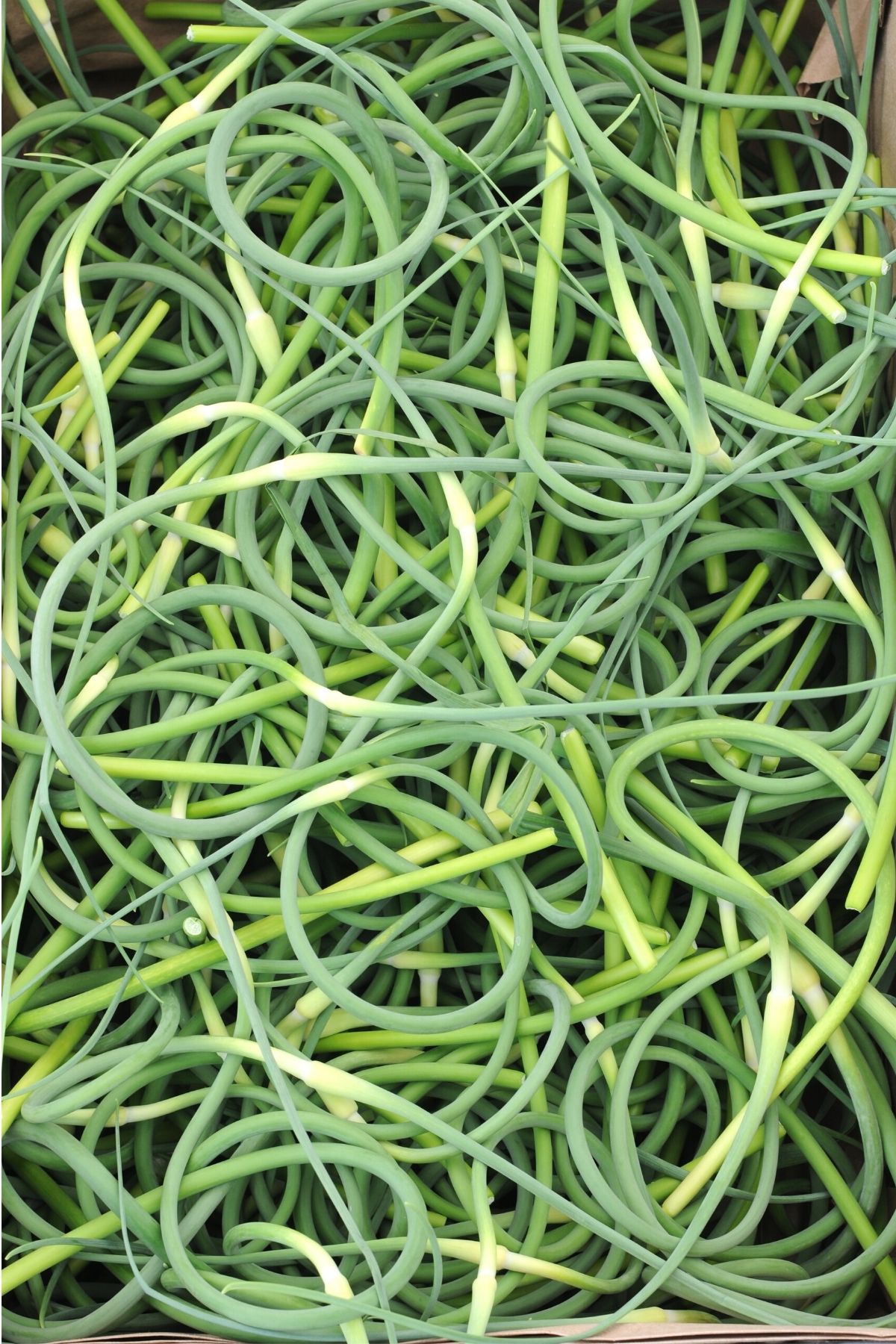 Recipe Ingredients + Notes
Unsalted butter. Used to grease the loaf pan the polenta will go into.
Milk. Whole milk (dairy) is recommended for this recipe.
Water. You'll use 2 cups water along with the milk when cooking the polenta.
Kosher salt. This type of salt has a better flavor and is less salty tasting.
Cornmeal. Be sure to use medium or coarse texture cornmeal. Cornmeal is available in different coarseness which will each have a different end result.
Fine grind will be too pasty for this recipe. The packages will be marked with the coarseness level.
Olive oil. A little bit will be used to brush the polenta slices and for sautéing the greens.
Garlic Scapes. You'll only need 4. See variations for some substitution ideas.
Braising Greens. You'll use 6 cups which seems like alot but they cook down incredibly.
Lemon wedge. This is optional but delicious squeezed on the cooked greens.
Variations + Substitutions
Try different seasonal ingredients for sautéing. Ramps, onions, shallots, scallions, kale, spinach, black garlic, regular garlic, single greens that are in braising greens. Mushrooms, bell peppers or a combination are all great choices.
Pick what you love, what you have on hand, what you need to use up. Any combination will be delicious.
Use a sauce. Instead of the vegetables spoon on a sauce (tomato sauce or pesto), homemade or store bought.
How to Make it – Step-by-Step
STEP 1. Make the polenta
Butter the loaf pan and set aside.
In a medium saucepan over medium heat combine the water, milk and salt. Bring it almost to a boil.
Whisk in the cornmeal whisking constantly (photo 1). Reduce heat to low and bring to a simmer.
Stir often until the mixture has thickened to a consistency like cooked oatmeal (about 20 minutes).
Spoon into the prepared pan and chill in the refrigerator until fully cooled and firm (photo 2).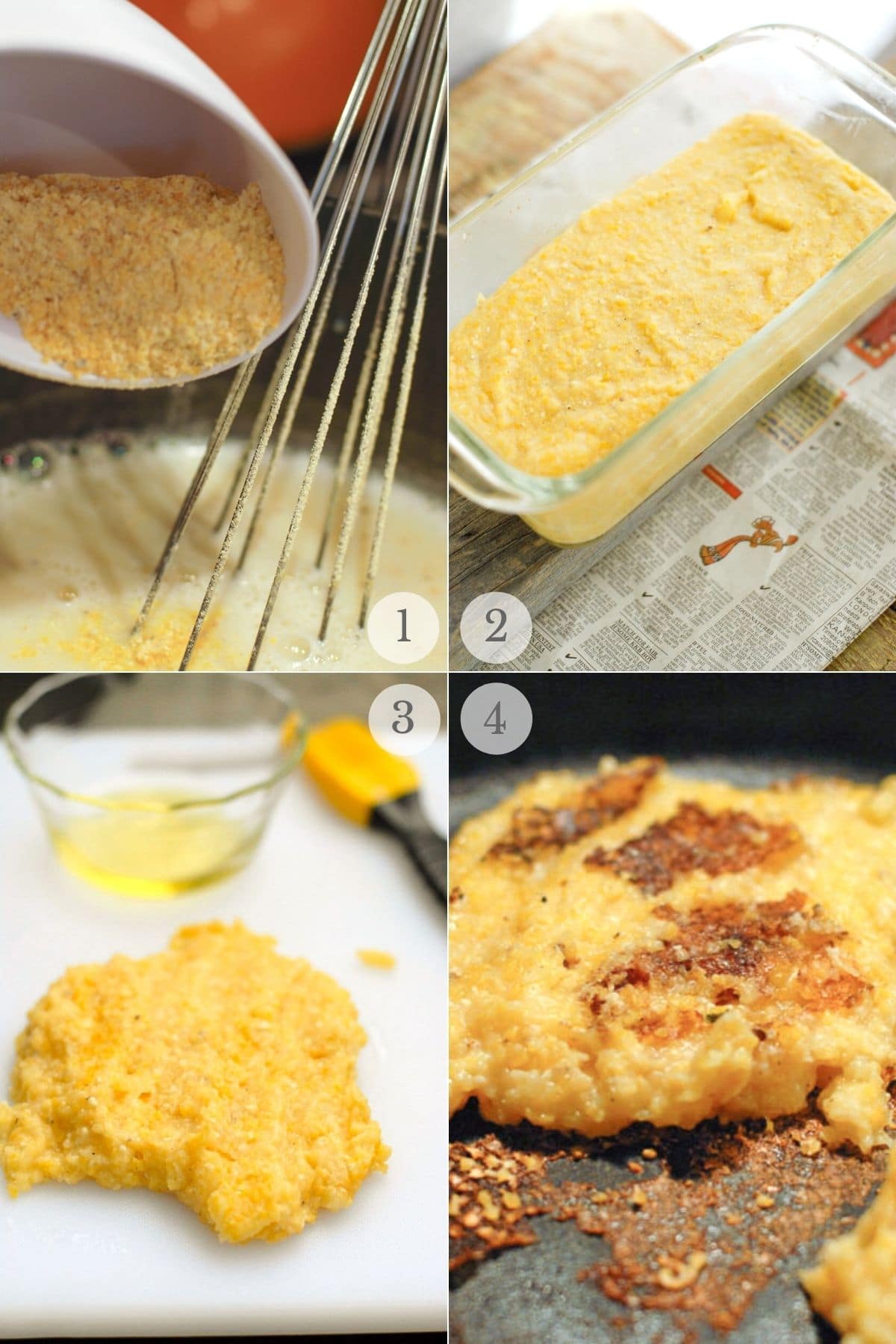 STEP 2. Cook the polenta slices or patties
Cut into 1/2 inch to 3/4 inch thick slices of the polenta or form into patties (photo 3).
Brush both sides with olive oil and pan fry in a cast iron skillet over medium-high heat (photo 4) to develop a golden brown crust (1-2 minutes per side).
STEP 3. Sauté the greens
Heat a heavy skillet over medium-high heat. Add olive oil.
Add the chopped garlic scapes. Sauté until they begin to soften and smell like garlic (photo 5).
Add a handful of the braising greens and continue to sauté (photo 6). As they wilt, add more until all the greens are cooked (photo 7).
Serve on top of the polenta slices.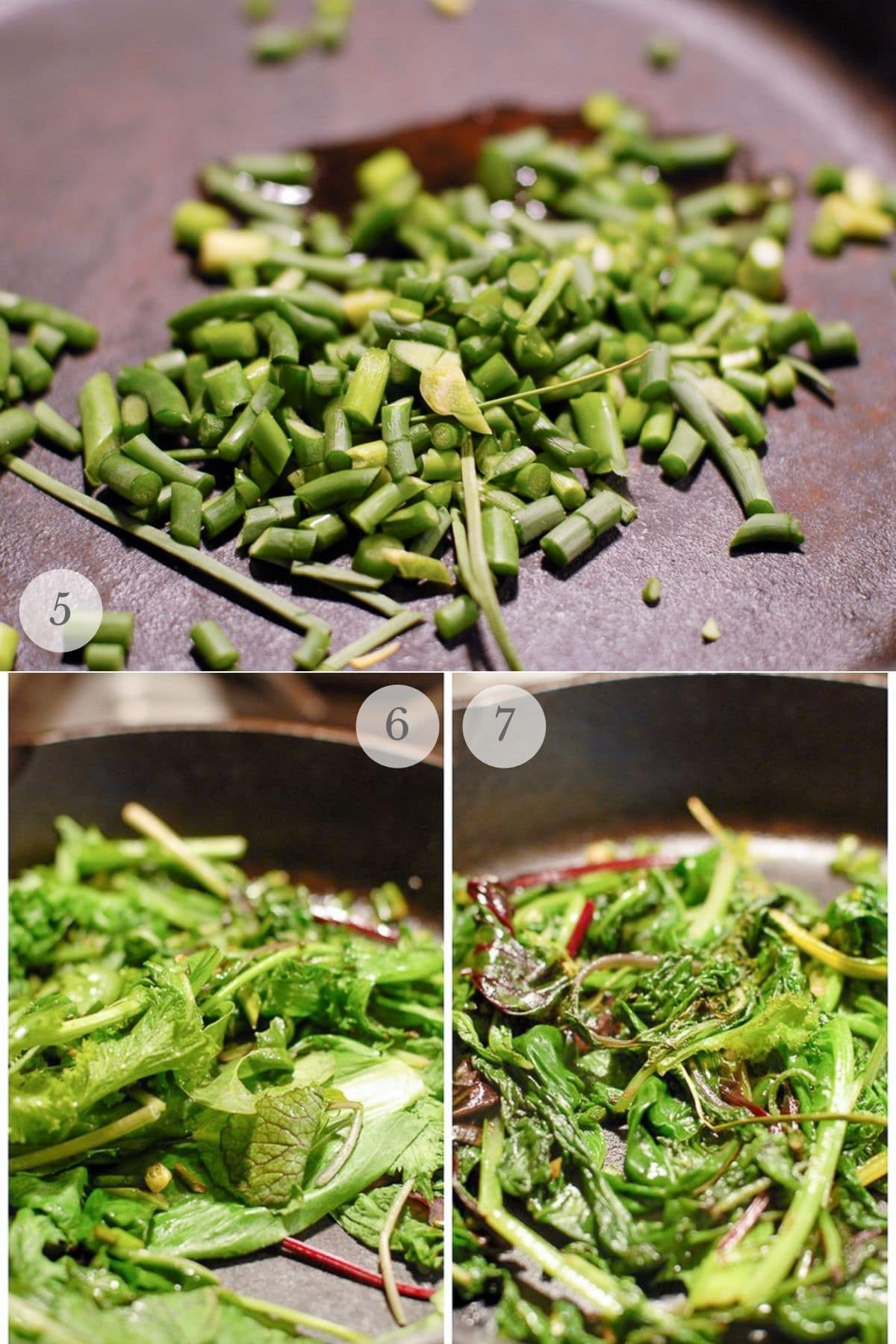 Pro Tips
Stir constantly when adding the cornmeal. This will keep the mixture from clumping.
Frequently Asked Questions
Can cornmeal be used to make Polenta?
Yes! Use medium or coarse cornmeal. It does not need to be labelled 'for polenta'. Do not use fine grind for this recipe.
Can the polenta be grilled?
Yes! Instead of pan frying the thick slices brush with olive oil and grill on a clean, oiled grill for 1-2 minutes a side.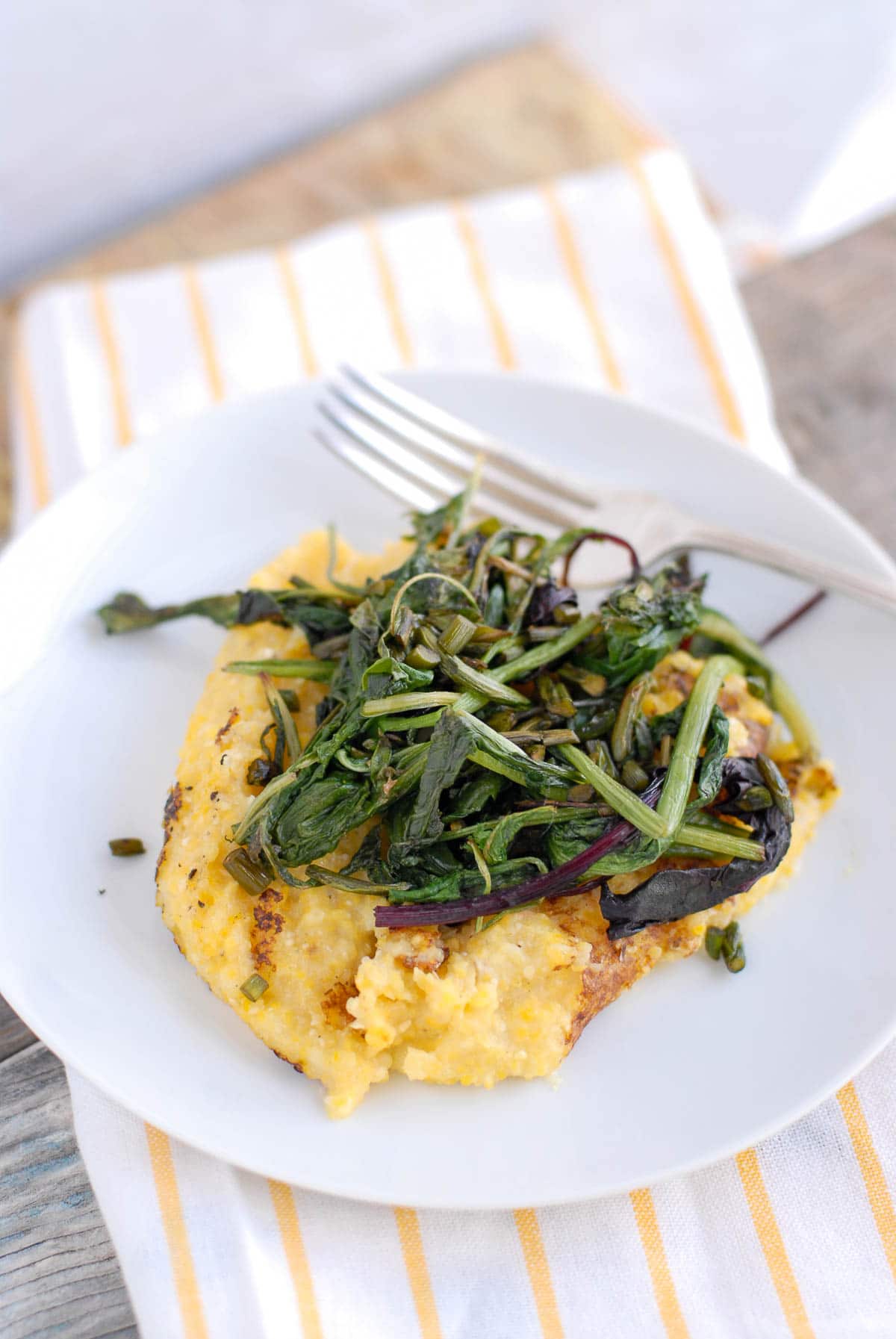 Storing Leftovers
The polenta can be stored tightly wrapped in the refrigerator for up to 3 days. Allow to warm at room temperature before reheating in a skillet.
More Recipes You'll Love!
Did you make it? Please RATE THE RECIPE below!
Please
SUBSCRIBE
and
FOLLOW ME
on
FACEBOOK
,
TWITTER
,
INSTAGRAM
and
PINTEREST
!
Originally published: June 25, 2011