Pan Browned Polenta with Sauteed Braising Greens and Garlic Scapes is a true celebration of Spring. This hearty polenta recipe is simple to make (and naturally gluten-free) and forms in a loaf pan for easy slicing. Spicy, bitter braising greens are sauteed with curly, light-flavored garlic scapes for a remarkable seasonal recipe.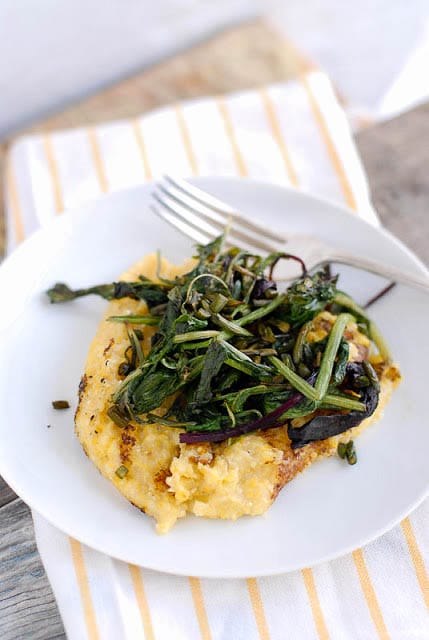 A cornerstone of my current locavore passion was joining my farm CSA with Cure Organic Farm about 5 years ago.  I've shared my winding arrival to discover them before; spotting their Martha Stewart worthy eggs perched on the bar of The Kitchen restaurant and kindly being given a CSA pamphlet from the server when expressing my unbridled thrill at the beauty of the multi-colored eggs.
I did not know what a CSA was at that time.

 

It stands for Community Supported Agriculture.

 

What it means is you will have a share in the farm's harvest for the growing season.

 

Generally you sign up and pay by a share size, each size range geared toward a specific volume which the farms can help you match to your needs.

 

The contents of a share are a bit left to the hand of Mother Nature, allowing for unexpected contents (which I absolutely love).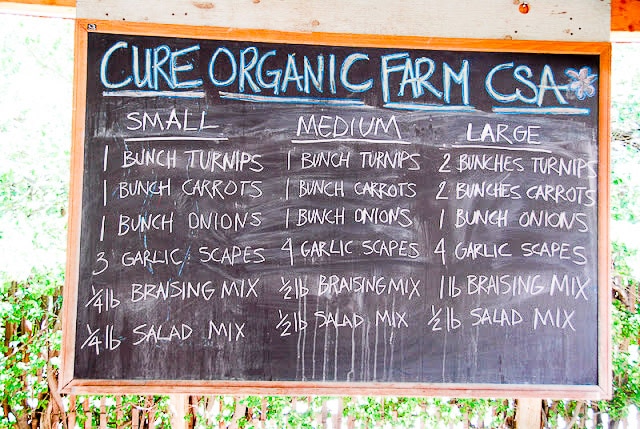 I have a weekly pick up at Cure Organic Farm from mid June to mid October.  Of course visiting the farm directly, seeing the crops in progress, meeting the animals who lay the eggs or become meat, gets me as close to the source of my food possible.  The other fabulous aspect to the CSA share is I have tried produce I would probably not have known what to do with and would have passed by in other circumstances.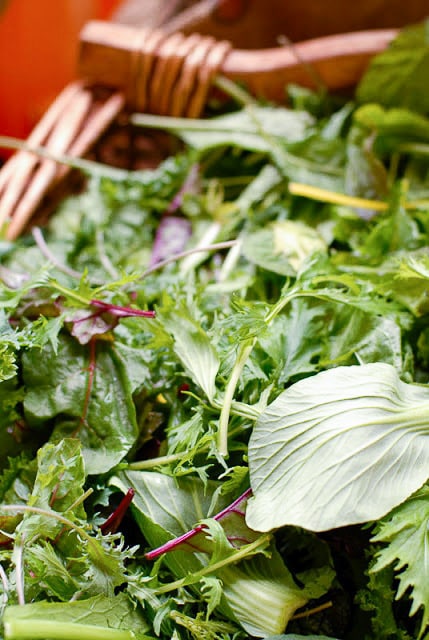 Two such current favorites available now are braising greens and garlic scapes.  Braising greens are a mix of greens with a spicier flavor, generally from the cole crop family (kale, broccoli, collards, mustard greens, turnips and more) and other greens.  The blend is visually beautiful with a mix of colors and textures.  Often it would include beet greens, turnip greens, kale, mustard greens lending to a flavor profile that has a bite and chock full of nutrients.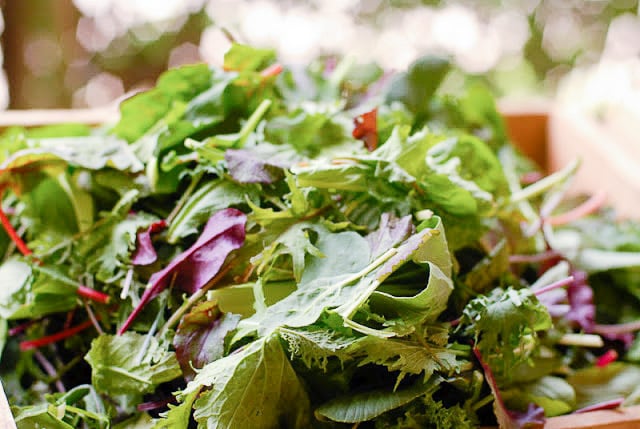 I asked farmer Anne Cure if one were not to have a CSA share could they find 'braising greens' in a store.  Historically she said stores would carry more lettuce blends as the milder flavor appeals to more people.  There some stores that now carry braising greens (called as such) as well.  It would be very easy to make your own with the greens I've mentioned.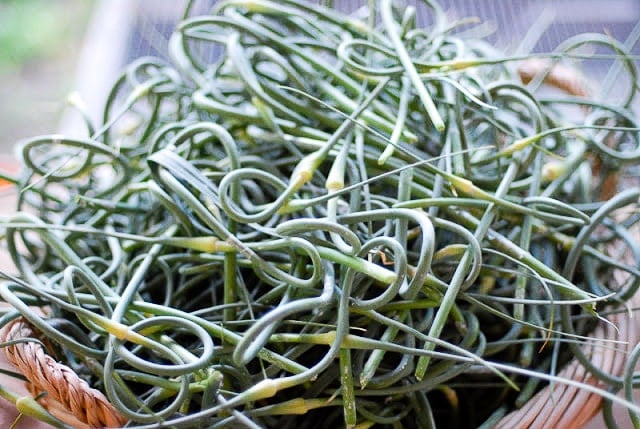 Garlic scapes are the flowers of the garlic plant which bloom as the garlic begins to form cloves.

 

The flower sits atop a pig tail like curly-cue stem and tastes like garlic only a milder version.

 

It is entirely edible including the flower.

 

Paul Cure (Anne's husband and the reputed 'meat guy 'of the farm) shared it is wonderful to grill like asparagus on the barbeque/grill in tinfoil.
A favorite warm weather dish for me is Pan Grilled Polenta with sautéed Braising Greens and Garlic Scapes.

 

It is simple, direct food with a punch of flavor from the greens that marries perfectly with the creamy flavor of the polenta.

 

It is a very easy dish and a great meatless alternative.