Pan Browned Polenta with Sauteed Braising Greens and Garlic Scapes is a true celebration of Spring. This hearty polenta recipe is simple to make (and naturally gluten-free) and forms in a loaf pan for easy slicing. Spicy, bitter braising greens are sauteed with curly, light-flavored garlic scapes for a remarkable seasonal recipe.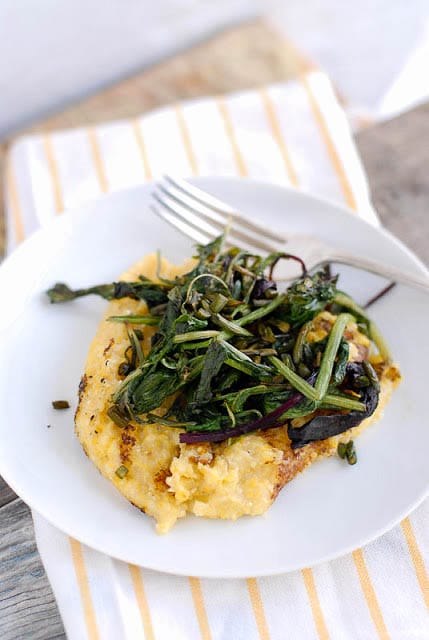 A cornerstone of my current locavore passion was joining my farm CSA with Cure Organic Farm about 5 years ago.  I've shared my winding arrival to discover them before; spotting their Martha Stewart worthy eggs perched on the bar of The Kitchen restaurant and kindly being given a CSA pamphlet from the server when expressing my unbridled thrill at the beauty of the multi-colored eggs.
I did not know what a CSA was at that time.

 

It stands for Community Supported Agriculture.

 

What it means is you will have a share in the farm's harvest for the growing season.

 

Generally you sign up and pay by a share size, each size range geared toward a specific volume which the farms can help you match to your needs.

 

The contents of a share are a bit left to the hand of Mother Nature, allowing for unexpected contents (which I absolutely love).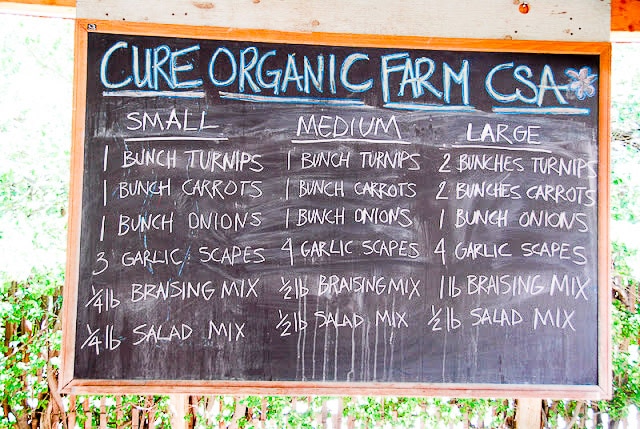 I have a weekly pick up at Cure Organic Farm from mid June to mid October.  Of course visiting the farm directly, seeing the crops in progress, meeting the animals who lay the eggs or become meat, gets me as close to the source of my food possible.  The other fabulous aspect to the CSA share is I have tried produce I would probably not have known what to do with and would have passed by in other circumstances.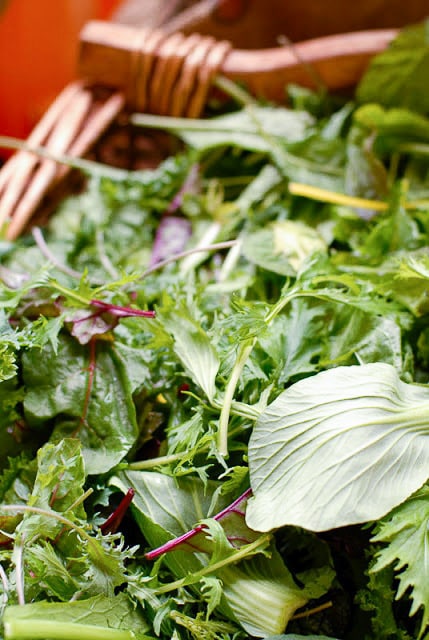 Two such current favorites available now are braising greens and garlic scapes.  Braising greens are a mix of greens with a spicier flavor, generally from the cole crop family (kale, broccoli, collards, mustard greens, turnips and more) and other greens.  The blend is visually beautiful with a mix of colors and textures.  Often it would include beet greens, turnip greens, kale, mustard greens lending to a flavor profile that has a bite and chock full of nutrients.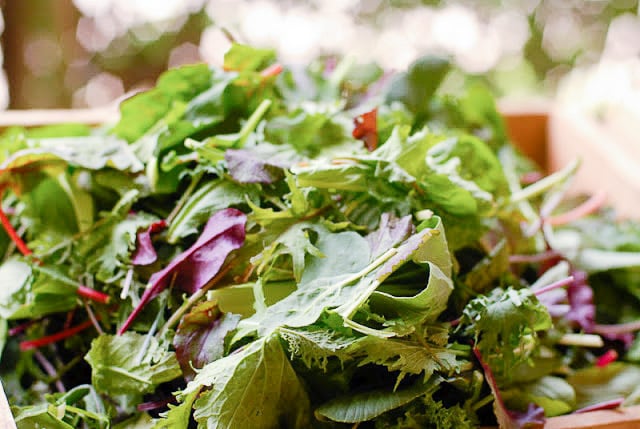 I asked farmer Anne Cure if one were not to have a CSA share could they find 'braising greens' in a store.  Historically she said stores would carry more lettuce blends as the milder flavor appeals to more people.  There some stores that now carry braising greens (called as such) as well.  It would be very easy to make your own with the greens I've mentioned.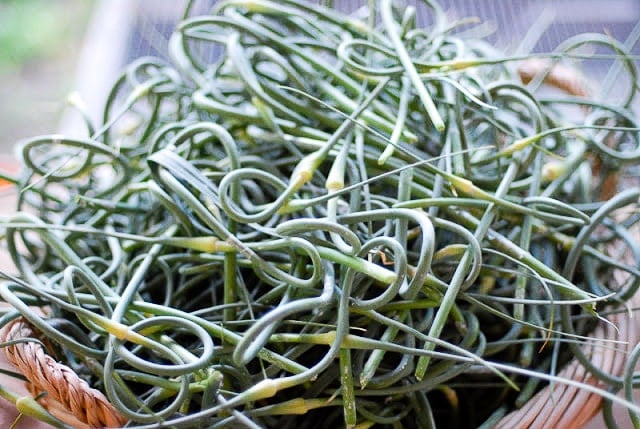 Garlic scapes are the flowers of the garlic plant which bloom as the garlic begins to form cloves.

 

The flower sits atop a pig tail like curly-cue stem and tastes like garlic only a milder version.

 

It is entirely edible including the flower.

 

Paul Cure (Anne's husband and the reputed 'meat guy 'of the farm) shared it is wonderful to grill like asparagus on the barbeque/grill in tinfoil.
A favorite warm weather dish for me is Pan Grilled Polenta with sautéed Braising Greens and Garlic Scapes.

 

It is simple, direct food with a punch of flavor from the greens that marries perfectly with the creamy flavor of the polenta.

 

It is a very easy dish and a great meatless alternative.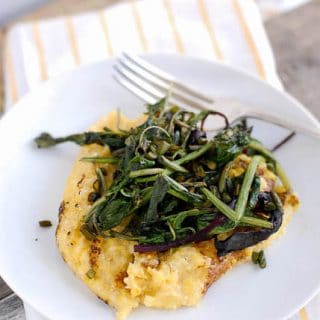 Pan Browned Polenta with Sauteed Braising Greens and Garlic Scapes
Sometimes it is the most simple of foods that best celebrate a season. Pan browned polenta is has a wonderful consistency of a more of a cake of polenta than traditional looser form. The blend of flavors and textures with the sharp-flavored braising greens and whimsical garlic scapes are a soul-satisfying dish. The greens on top may be modified to add onion, traditional garlic or anything you fancy.
Ingredients
Ingredients for Pan Browned Polenta:
2

teaspoons

Unsalted Butter

(to grease the pan)

½

cup

Milk

2

cups

Water

Pinch of Kosher Salt

1

cup

medium or coarse Cornmeal

Olive oil

(a few tablespoons)

Freshly ground Black Pepper
Ingredients for Sautéed Braising Greens and Garlic Scapes:
1-2

tablespoons

Olive Oil

4

Garlic Scapes

, chopped

6

cups

Braising Greens

, washed and dried

Optional: lemon wedges to squeeze on greens
Instructions
Instructions for Pan Browned Polenta:
Butter a bread loaf pan and set aside.

In a medium saucepan over medium heat, add milk, water and a pinch of salt. Bring almost to a boil, stirring to combine.

When liquids are almost boiling, whisk in the cornmeal, whisking constantly to combine and to avoid lumps.

Lower heat to low, bringing mixture to a simmer. Stir often until it is very thick (like the thickness of oatmeal when done); around 20 minutes.

Spoon finished polenta into the buttered loaf pan and put into the refrigerator for approximately 30 minutes or until fully cooled. Polenta should be of a thickness allowing you to form into patties or to slice into pieces to pan brown.

Form thick slices or patties to your preferred size. Brush each side with olive oil, add a sprinkle of pepper (if desired) and place in the skillet over medium-high heat. Allow to brown on each side and warm in the middle. Place on a plate and top with sautéed braising greens and garlic scapes.
Instructions for Sautéed Braising Greens and Garlic Scapes:
In a heavy frying or sauté pan heat to medium high heat and add the olive oil.

Add the chopped garlic scapes and sauté to begin to soften. When you can smell the garlic, add the braising greens in batches. As they begin to wilt and reduce, add more until all the greens are in the pan.

Stir constantly until the greens have wilted and reduced fully. Their color will deepen significantly.

Remove and spoon over the polenta. Note: if the braising greens are bitter add a squeeze of lemon!
Recipe Notes
Polenta recipe adapted from 'How to Cook Anything Vegetarian'.
Nutrition Facts
Pan Browned Polenta with Sauteed Braising Greens and Garlic Scapes
Amount Per Serving
Calories 97
Calories from Fat 54
% Daily Value*
Fat 6g9%
Cholesterol 8mg3%
Sodium 37mg2%
Potassium 143mg4%
Carbohydrates 7g2%
Protein 2g4%
Vitamin A 795IU16%
Vitamin C 18.2mg22%
Calcium 71mg7%
Iron 0.6mg3%
* Percent Daily Values are based on a 2000 calorie diet.