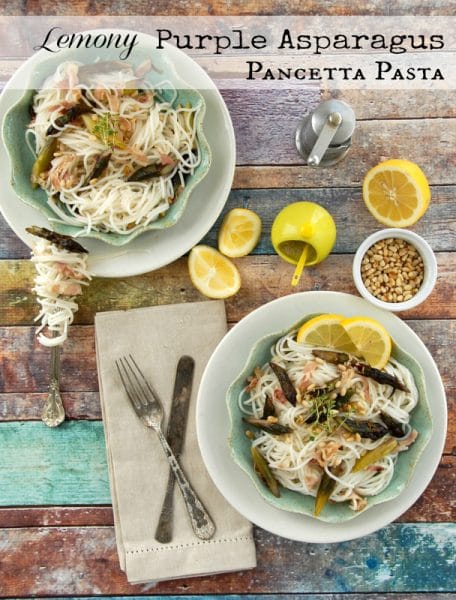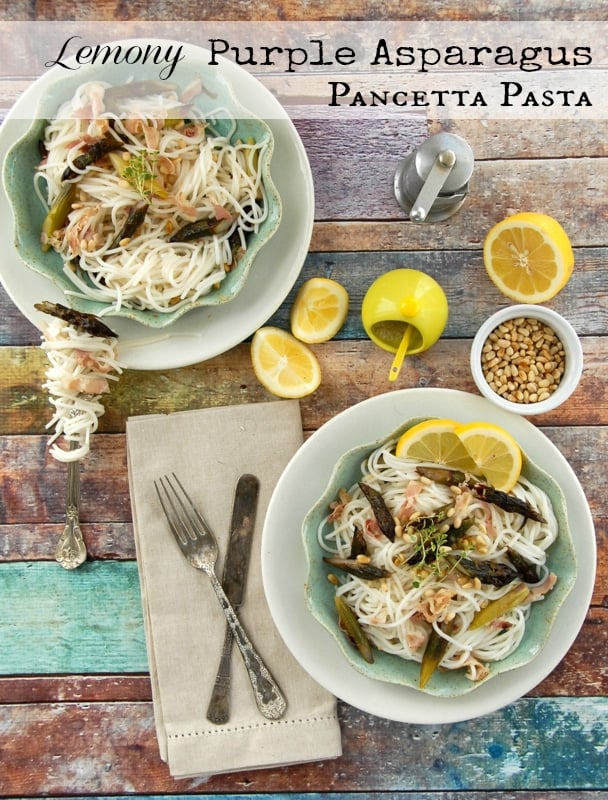 I find it so fascinating when the weather changes how our taste for what we want to eat does as well. It's almost a digital switch. We've been enjoying balmy spring temps (visited by a day of cold rain and snow here and there) for the past two weeks. Lighter, brighter foods are naturally appearing on our dining table without much conscious thought.
We've been loving the fresh seasonal asparagus and this week I experimented with what I'm sure is now my favorite asparagus: Purple Asparagus. The color is irresistible as is the flavor. It's sweeter and milder than green asparagus (the only way to describe it is that it's less 'asparagus-y'). It's incredibly tender when cooked and my all time benchmark of success: my kids will eat it willingly!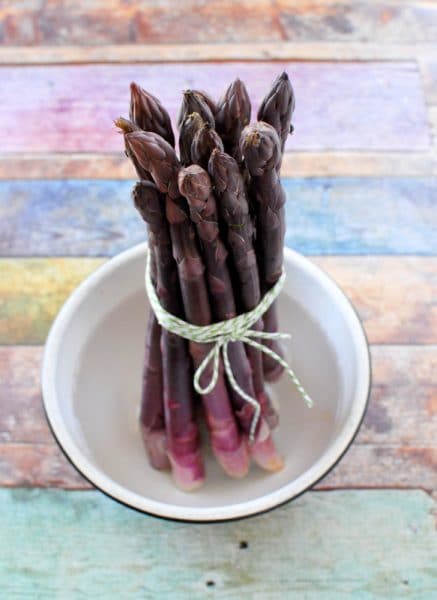 Purple asparagus is beautiful and I'm the first to go for the novel produce liking to keep things interesting visually in the kitchen. After some research I opted to peel the lower section since it has the greater chance of being tough and woody. The purple exterior gave way to a brilliant green core and the visual contrast of the two colors is sublime. I decided on a quick roast which softens the asparagus but not to the point of it being mushy; it merely makes it friendly to eat and brings out the sweetness. Brushed gently with olive oil, lightly salt and peppered it becomes irresistible in flavor. It only takes about 10 to 15 minutes as well.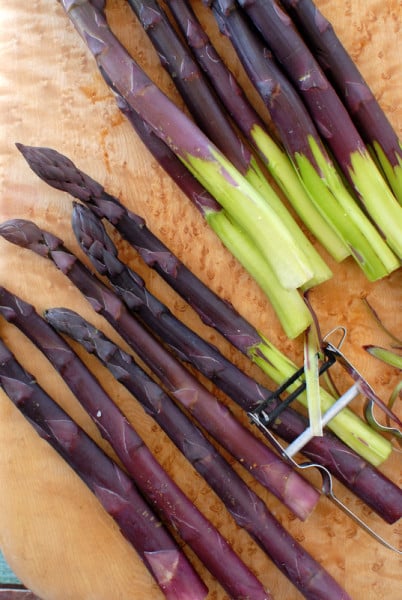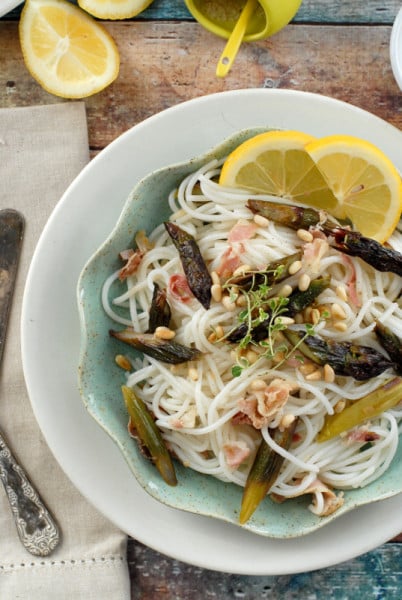 I wanted to create a light spring pasta dish using bright flavors with some interest and veered toward lemon. I received some Moroccan or Pickled Lemons in my Christmas stocking (I often get unusual things I've not cooked with before; Santa understands my passion for learning and experimenting with new foods!) and it seemed a perfect time to give them a whirl. Though lemony (my goal) they are also very salty so I used them sparingly merely to deepen the flavor of the oil used for the last quick sauté to combine flavors before tossing into the pasta.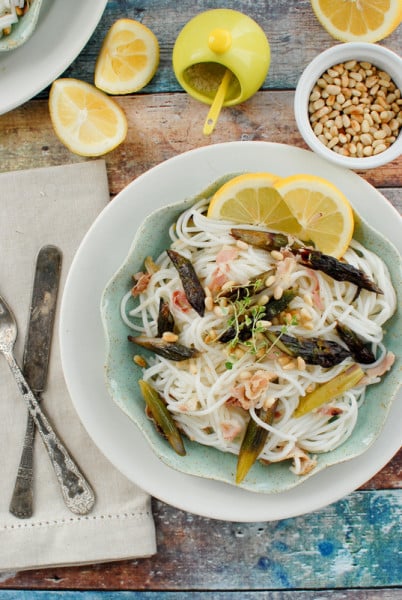 The resulting pasta surpassed my hopes. It was light, fresh, lemony, punctuated by pieces of the sweet roasted asparagus and salty pancetta. It could be eaten warm or chilled for a perfect celebration of spring!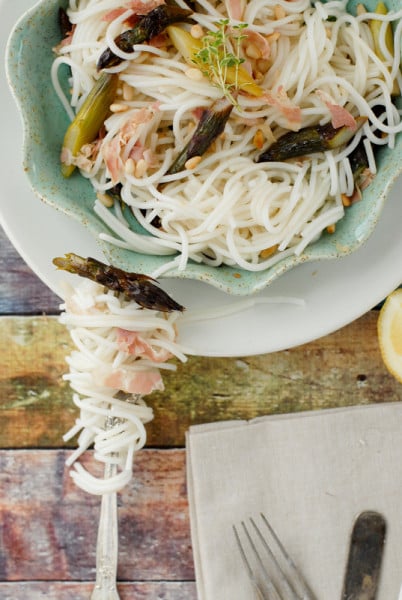 Recipe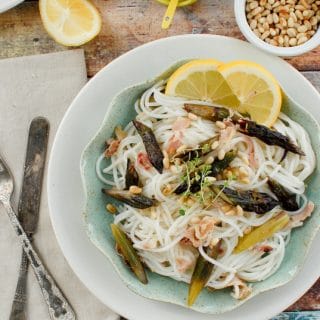 Lemony Purple Asparagus Pancetta Pasta
Purple asparagus is not only fetchingly beautiful; it's the sweetest and tenderest of the asparagus. It is versatile in many dishes, adding a bit of visual intrigue and fabulous spring flavor. If you cannot find any substitute green asparagus; this pasta dish should not be missed!
Print
Save Recipe
Recipe Saved!
Pin
Rate
Ingredients
1

bunch

Purple Asparagus

, bottom of stalk trimmed and lower third of stalk peeled

1

tablespoon

plus 2 teaspoons

(plus a bit to drizzle on the finished pasta) Olive Oil

Kosher Salt and Pepper to taste

1

package

Spaghetti or Fettuccini

(I used Tinkyada's gluten-free White Rice Spaghetti for the light visual appearance and taste)

2

teaspoon

Pickled Lemon

, finely chopped

½

large

Shallot

(about 3 teaspoons), finely diced

1 ½

ounce

thinly sliced Pancetta

, cut into ¼ inch strips

6

tablespoons

Pine Nuts

Fresh juice of 1/3 large lemon

Garnish: Sprigs of Lemon Thyme
Instructions
Preparation: Preheat the oven to 400 degrees. Line a baking sheet with parchment. Set a pot of water for the pasta to boil on the stove top (cook the pasta as soon as the water is ready; drain, rinse if called for and place in a serving bowl with a drizzle of olive oil and tossed to prohibit the pasta from sticking together).

Brush the prepared asparagus with 1 tablespoon of olive oil. Place on the prepared baking sheet and lightly salt and pepper. Place in the heated oven for 10- 15 minutes; check for doneness (should be lightly roasted, tender to bite but not overly soft). Remove and set aside to cool.

In a large skillet over medium high heat, add pine nuts. Stir constantly until they begin to release oil and brown (about 2-3 minutes). Remove from skillet and set aside.

Cut asparagus into 1 inch slices, sliced on the diagonal, and set aside.

In the large skillet add 2 teaspoons olive oil, heat over medium-high heat. Add diced pickled lemon and shallot. Sauté, stirring constantly for 2 minutes.

Add the pancetta strips; stir mixture constantly for 1 ½ minutes as pancetta begins to shrink and brown.

Add the asparagus, and fresh lemon juice. Gently toss/stir until mixture is combined and lemon juice is absorbed (about 1-2 minutes).

Add skillet mixture to freshly prepared pasta; toss gently to combine. Plate and garnish with roasted pine nuts and lemon thyme sprigs!
Nutrition
Serving:
4
g
|
Calories:
616
kcal
|
Carbohydrates:
90
g
|
Protein:
20
g
|
Fat:
19
g
|
Saturated Fat:
2
g
|
Cholesterol:
7
mg
|
Sodium:
79
mg
|
Potassium:
588
mg
|
Fiber:
6
g
|
Sugar:
5
g
|
Vitamin A:
850
IU
|
Vitamin C:
7.6
mg
|
Calcium:
51
mg
|
Iron:
4.7
mg