This delicious warm Dandelion and Bacon salad is rich with flavor and texture. Salty crisp pork belly, smashed potato, tender dandelion greens make this spring salad celebration.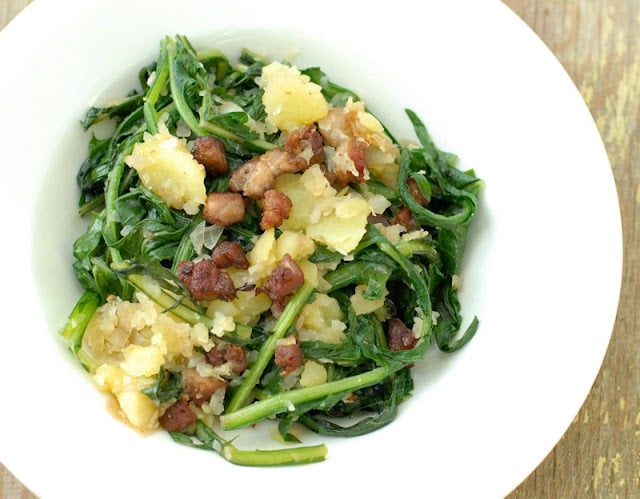 When I think of the years of pulling dandelions I have under my belt, the irony does not escape me that when desiring to elevate them with this beautiful French salad that I suddenly cannot find enough!
I applied all the guidelines I learned from Kate Armstrong from my Urban Foraging class which quickly narrowed my foraging opportunity to offer less than this recipe required.
Not wishing to hop any fences to steal from neighbors (though they'd be grateful I'm sure) I found the rest of my supply locally and will add dandelion greens are sold at some Farmer's Markets and Whole Foods.
I have been longing to employ my newly discovered foraged greens in a dish other than a cold salad.
Dandelion Salad
Poking around in my cookbook library surfaced this absolutely delicious recipe from a unique French cookbook 'Cuisine Du Terroir': Original Recipes Collected by the Master Chefs of France (The Lost Domain of French Cooking).
The cookbook features recipes from all the Provinces of France of which there are 39.
This recipe comes from the region of Champagne.
This recipe represents my favorite type of food; simple and clean, with distinct, robust flavors.
The book reports this is a spring salad meant to be eaten before the end of May when the dandelions are 'small and very green and bitter' (of course I'm sure imagining you'd be harvesting them in the wild…..not the 'wilds' of Whole Foods!).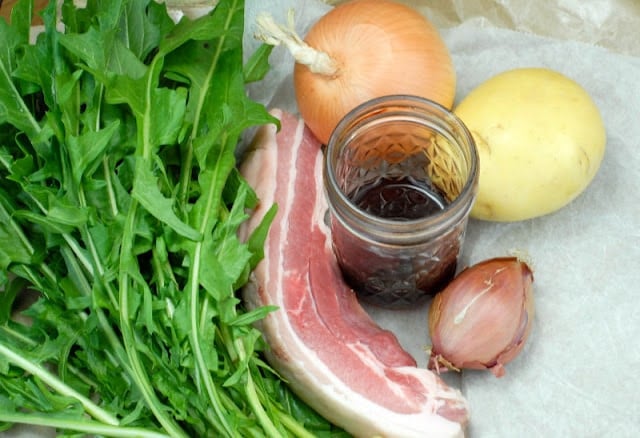 Recipe Ingredients + Notes
Dandelion Greens. Purchase dandelion greens from the store or Farmer's Market to ensure they are safe for consumption. Try to buy smaller leaves which are more tender.
If not instructions are included in the recipe card below for larger leaves.
Yukon Gold Potato. You'll need a 5-ounce potato (or potatoes equaling that size). Gold or new potatoes can also be used. The potato will not be peeled.
Pork Belly. This will be cut into 1/2-inch pieces.
Shallot. They have a wonderful cross between garlic and onion flavor perfect for this recipe.
Yellow onion. White or red onion can be substituted.
Red wine vinegar. Used to give flavor. Instead of making a separate dressing it is added to the salad as it cooks to caramelize the pork belly.
Salt and Pepper. To taste.
How to Make it – Step-by-Step
STEP 1. Boil the potato
Boil the potato for 25-30 miunutes until it's cooked through.
Peel and smash.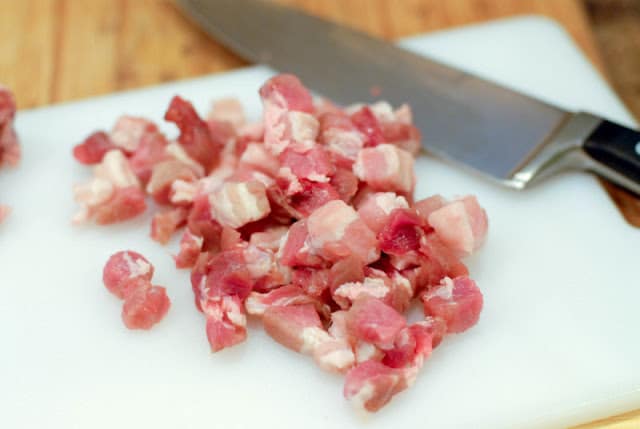 STEP 2. Cook the Pork Belly
In a small saucepan or skillet sauté the pork belly until it's crispy. Set aside.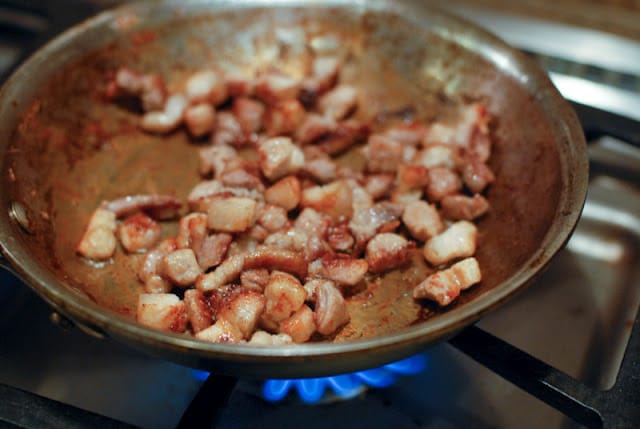 STEP 3. Cook the warm salad
In a heavy skillet, combine the dandelion greens, smashed potato, shallot and onion. Saute over low heat until the greens begin to wilt.
Reheat the pan with the pork belly and add the red wine vinegar. Cook to caramelize the pork (1-2 minutes). Add to the salad skillet.
Salt and pepper to taste. Serve immediately.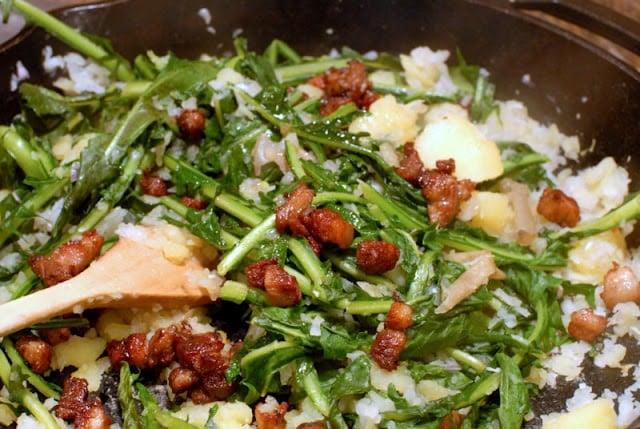 Some key guidelines for harvesting wild dandelions:
We recommend buying dandelion greens for this recipe. However if choosing to use wild dandelions please take these recommendations:
Do not forage next to roadways or other areas where the plants may be exposed to pollution of any sort.
Do not harvest if there is any chance they have been sprayed (e.g. parks, unknown yards, common green areas)
Avoid areas frequented by animals, wild or domestic.
Do not harvest is plants are very large. These plants are considered to have more medicinal properties and need to be processed differently to be safe for consumption.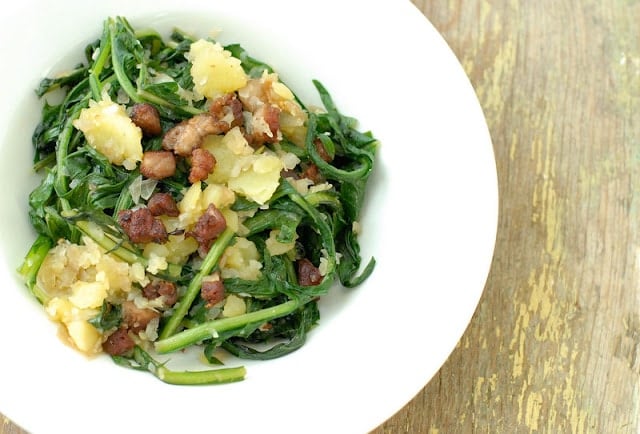 More Recipes You'll Love!
Did you make it? Please RATE THE RECIPE below!
Please
SUBSCRIBE
and
FOLLOW ME
on
FACEBOOK
,
TWITTER
,
INSTAGRAM
and
PINTEREST
!

Originally published: May 18, 2011