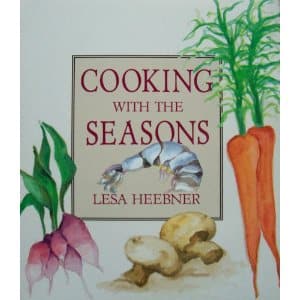 It is hard to believe there was a time the seasons did not dictate my diet.

Eating seasonally drives all my food decisions now.

I truly cannot imagine going back to the random recipe picking and seeking ingredients regardless of the origin, seasonality or cost and nutrient implications from being out of season.
There was a distinct starting point for me.

About 5 years ago I met a woman who worked in the health and physical fitness industry.

During a conversation it came out that she'd lived in Southern California and had worked for Lesa Heebner who at the time ran a cooking school in her home called 'Garlic and Sapphires'.

She worked with the local farmers in her area to procure the most fresh, seasonal ingredients for her classes.

It was my friend's job to go out to the farmers to pick the ingredients up.
I was enchanted with this entire concept.

I went out to find her cookbook, Cooking With The Season (Bob Adams, Inc Publisher, 1994), right away only to learn it is out of print.

Not easily deterred when on a mission, I did find a copy and have cooked from it ever since as well as given copies to a number of satisfied friends.
I will share an excerpt from her Forward in the book which seemed progressive coming from 1993 considering where the food consciousness has centered today; but then again some have been wise to this far longer than the 'Locavore' movement has been on the rise:
'Cooking with the seasons….allows us to enjoy foods when they are most flavorful, the brightest in color, and the most abundant in juice and texture – when they are perfect gifts from nature.

At this time they need little adornment or fussing with, to impart full, rich flavor.

No need to smother fresh asparagus in a fatty sauce, or over-salt a luscious summer tomato.

Bare of enhancements, they are at their best, and that's the best for us'.
The cookbook is very approachable and usable.

It is broken up by season and within each seasonal section are groups of recipes creating combinations of complementary dishes to suggest a full meal.

Examples include groups like Holiday Dinners and Super Bowl Sunday for winter, Back to School and Halloween for fall along with several other non-themed suggestions.

There are lovely, simple hand drawn images strewn throughout the book making it feel as down to earth and charmingly rustic.

The recipes too are earthy,

each with something special in the seasoning or ingredients making it unique.

There is a glossary of ingredients in the back for any unfamiliar terms as well as nutritional information for each recipe.
I tracked down Lesa Heebner, thanks to the miraculous reach of the internet to gain her permission to publish a recipe or two (which she kindly granted).

I was honored to make her acquaintance as was she to know her cookbook has been so loved.

It is nearly impossible to select of all the dog eared pages, Post It notes with superlatives next to recipe titles to narrow this down but I'll include a few recipes for the current season to whet your appetite.
Not wanting to be a tease I am giving away a copy of Cooking With The Seasons as well!
1.
Leave a comment on this post telling me your favorite cooking season AND the seasonal dish you most enjoy.
2.
For a SECOND entry, Follow This Blog with Google Friends Connect (see to the right).
3.
For a THIRD entry, follow me on Twitter (@BoulderLocavore).

If you already are and supply a comment (entry #1), I'll add in an additional entry for you!
A winner will
be picked at random Tuesday November 30.

Be sure when you leave your comment you include your email in the comment details when posting OR send me a separate email with your contact email.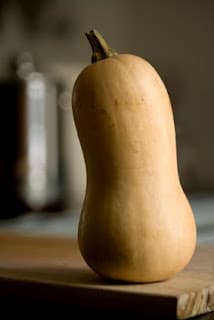 This soup is a tried and true favorite that I make often in the cold weather season….
BUTTERNUT SQUASH SOUP WITH CAYENNE AND PEPITAS
"Butternut is my favorite of the squashes that begin appearing in the grocery store in the fall, and continue throughout the winter months.

It is naturally sweeter than acorn squash, with a more buttery flavor than any of the others.

This soup, so creamy and delicately spiced, is truly memorable.
When preparing this soup for Halloween, use a hollowed-out pumpkin as a soup tureen, or use smaller hollowed-out pumpkins as individual soup bowls."
·
1 large butternut squash or 2-3 yams (to equal 3 cups)
·
2 cloves garlic finely minced
·
1 medium yellow onion diced
·
1 tablespoon extra virgin olive oil
·
1 teaspoon grated fresh ginger
·
½ teaspoon ground cumin
·
Low sodium soy sauce to taste (personal note: being gluten free I substitute Tamari)
·
1 cup canned chicken broth or homemade Chicken Stock (an additional recipe included in the book)
·
1 cup evaporated skim milk or low-fat milk or plain soy milk
·
1 tablespoons pepitas (pumpkin seeds) as garnish (optional)
1.
Preheat oven to 350 degrees.
2.
Poke holes all over the butternut squash.

Bake squash for 60-90 minutes, until very soft.

Let cool, cut in half lengthwise, and scrape out the strings and seeds and discard.

Or bake unpeeled yams for 1 hour at 425 degrees or until soft.
3.
Meanwhile, sauté garlic and onion in olive oil in a 3-4 quart saucepan for 5 minutes, or until onion is clear.

Add seasonings.
4.
When squash is cool enough to handle, scoop the flesh away from the skin and puree it in a food processor or blender.

Add the garlic and onion mixture, and enough broth and milk to make the mixture creamy.

Make sure to puree it long enough to liquefy the onions.
5.
Return soup to saucepan and heat for 1 minute.

Serve immediately, topping each bowl of soup with a few pepitas as garnish, if desired.
VEGETARIAN OPTION
:

For a vegetarian option to the chicken stock, use 1 cup water and 1 teaspoon Bernard Jensen's Broth Powder, found in well stocked natural food stores.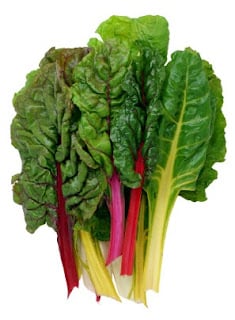 MARINATED AND BROILED CURRIED CHICKEN BREAST SERVED ON WILTED CHARD LEAVES WITH WARM CURRY DRESSING
The mellow flavors of curry with basil, the sweetness of the cooked garlic and scallions, the rustic tastes of balsamic vinegar and red wine all combine to dress up the down-home qualities of chicken and greens.
·
1 teaspoon extra virgin olive oil
·
1 teaspoon curry powder
·
1 tablespoon chopped fresh mint (optional)
·
6 cloves garlic, finely minced
·
8 half skinless, boneless chicken breasts
·
1 tablespoon whole grain mustard
·
1 teaspoon curry powder
·
2 tablespoons balsamic vinegar
·
3 tablespoons dry red wine
·
2 cloves garlic, finely minced
·
2 scallions, chopped into rounds
·
2 tablespoons extra virgin olive oil
·
2 tablespoons chopped fresh basil leaves or 2 teaspoons dried basil
·
3 bunches red or white swiss chard, well washed, and chopped
1.
To make marinade, combine the olive oil, lemon juice, curry powder, fresh mint (if using) and garlic.

Pour over chicken breasts, turn to coat, and marinate for 1 hour or overnight.
2.
Preheat oven to Broil.
3.
To make the Warm Curry Dressing, place the mustard, curry powder, vinegar, red wine, garlic and scallions in a saucepan.

Using a wire whisk, blend ingredients together, over a low heat.
4.
Slowly stir in the olive oil.

Add basil, remove from heat and keep warm.
5.
Broil the chicken for 8-10 minutes, turning once halfway through.

(For a convection oven, broil for 6 minutes-do not turn).
6.
Meanwhile, place chard in a steamer basket and steam for 8 minutes.
7.
Toss the steamed chard with the Warm Curry Dressing in a mixing bowl.

Serve the chicken breast nestled inside the dressed chard.
All recipes reprinted with the written permission of Lesa Heebner.