You'll never imagine such a simple recipe could be so satisfying and delicious! Butternut Squash Noodles in Sage Brown Butter has the texture of pasta and is just as filling!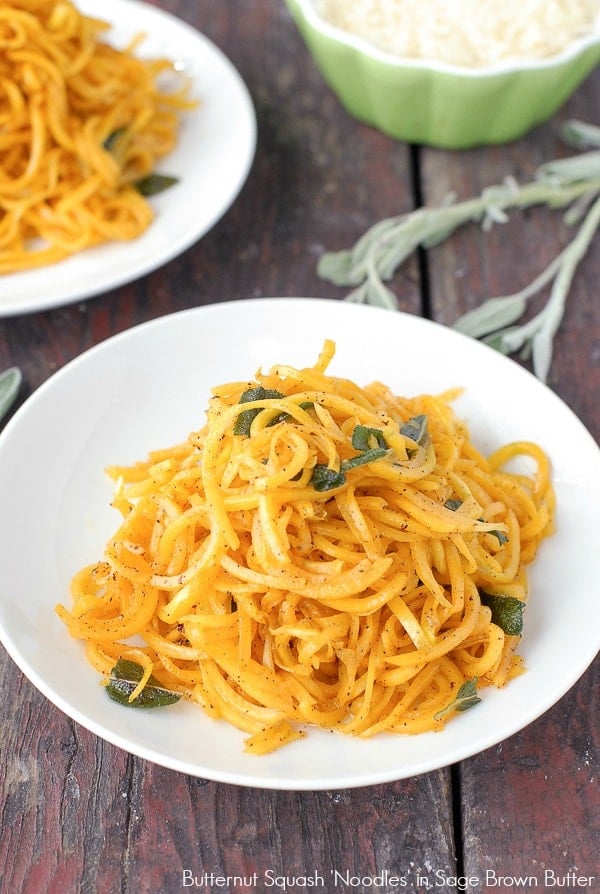 I have been waiting to make this recipe since the summer and am so excited the time has come! Early in the summer I bought a Spiralizer and it opened up an entirely new world of options for food preparation. If you are unfamiliar with Spiralizers, they are a kitchen gadget which allows turning firm produce into noodles, large spirals and ribbons. My summer highlights were a Cucumber Melon Spa Salad and a Zucchini Ribbon Mediterranean Salad that were delicious.
My initial thoughts jumped ahead to transforming winter squash into faux pasta. It seems a perfect way to get more vitamin-rich vegetables into the diet and in an unexpected form. I've had in my mind to make Butternut Squash noodles with a simple Sage Brown Butter sauce. It truly is a dish done in less than 30 minutes; who doesn't love that?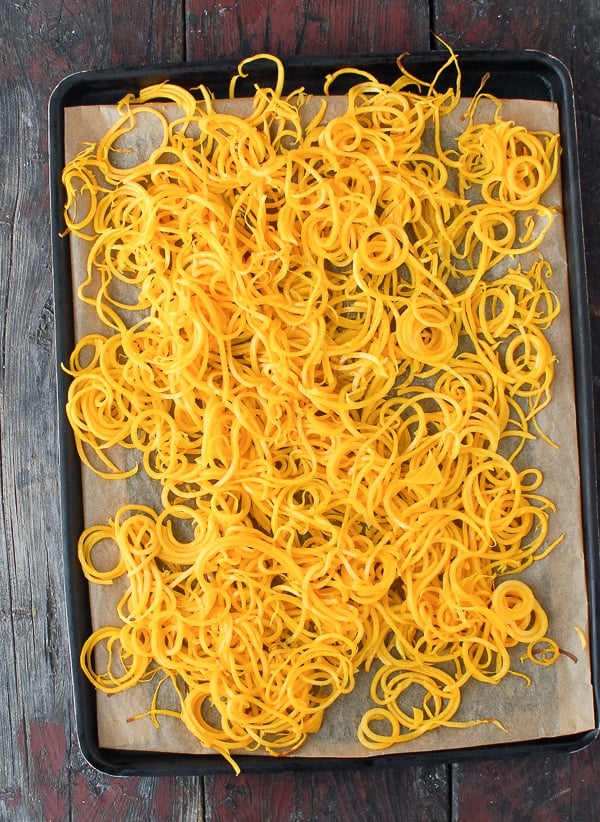 Butternut Squash is one of my personal favorite winter squashes. It has a beautiful flavor which is complimented by many different flavors. In addition to having sublimely-hued flesh, Butternut Squash is packed with nutrients, antioxidants, fiber and is particularly rich in Vitamin B6, potassium and beta-carotene. I personally love the flavor and find it very adaptable, more so than some of its sister squashes that stand their ground in the taste department.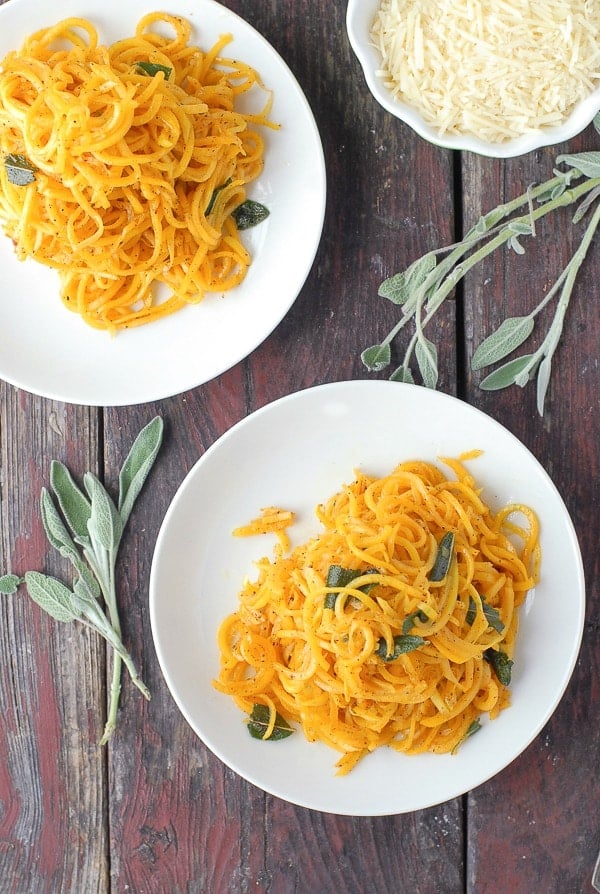 I'll confess, I found winter squash loathsome as a child. It was not served in our household often and it seemed every time I had it, it had been prepared to amplify its already earthy sweetness. Acorn squash with brown sugar and maple syrup kind of stuff; sometimes some mini marshmallows thrown in for good measure.
I really could not take it; it was just too sweet. As an adult I latched on to Butternut Squash like there was no tomorrow as it did not provide the densely sweet flavors when cooked. And I always prepare it in a savory manner and find it adds beautiful flavors to almost any dish.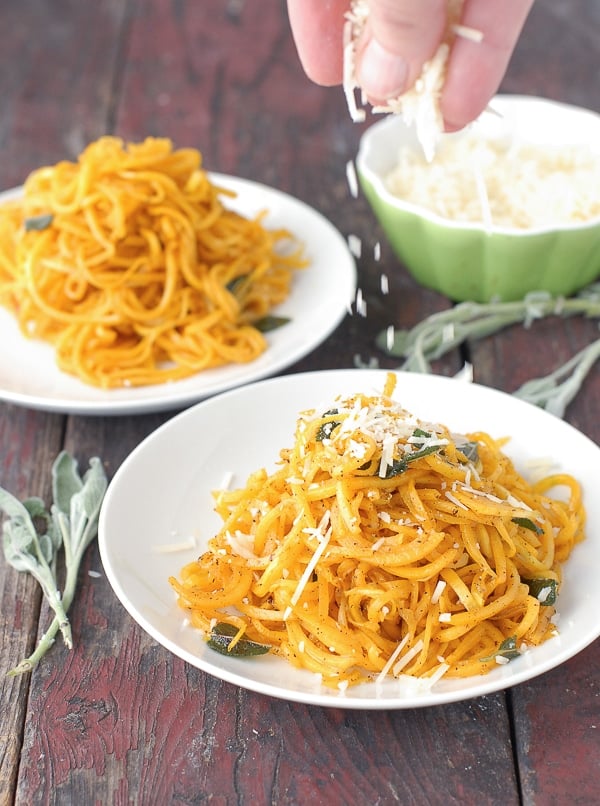 Butternut squash is great for spiralizing. It produces firm noodles which can be roasted and added to most any sauce as one would prepare pasta. My first inclination was to steam it which I will try next. It roasts in about 5-7 minutes and once combined with a sauce is ready within 10 minutes.
To spiralize Butternut Squash: Trim the stem from the top of the squash and cut the squash below the neck and before the bulbous bottom area. There should be no seeds in the portion being spiralized. Peel the outside with a vegetable peeler. Cut the prepared squash into quarters (or halves depending on the diameter of the squash), insert into the Spiralizer with the small noodle blade and spiralize!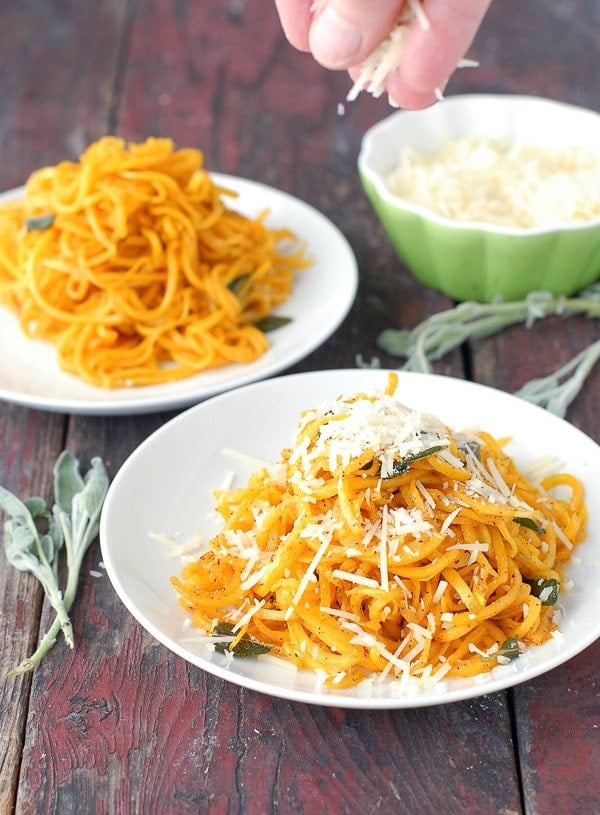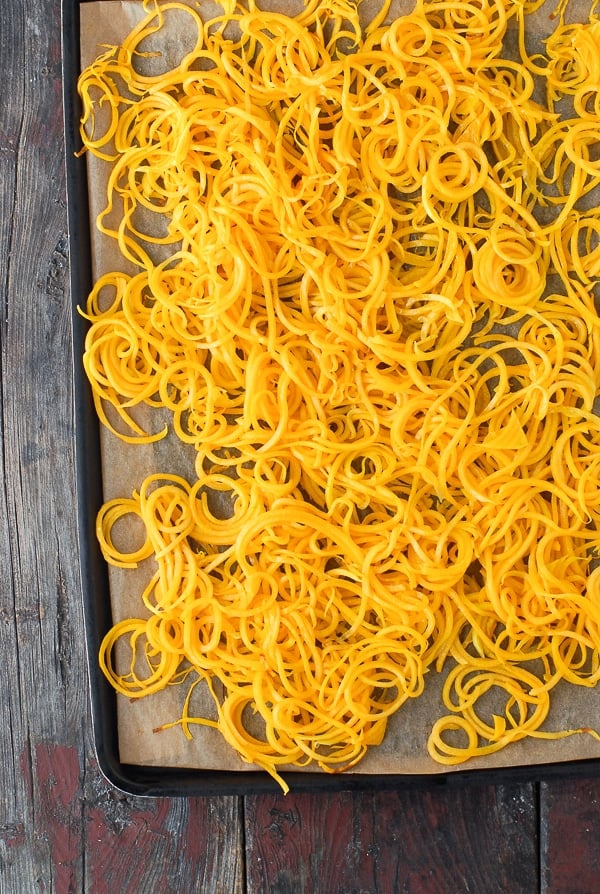 You'll never miss grain pasta after making this Butternut Squash Noodle in Sage Brown Butter recipe! Easy to make with a Spiralizer and quick to prepare too.