Creamy Pumpkin Oatmeal is a wholesome, healthy hot breakfast recipe that tastes like fall. With flavors of pumpkin, maple syrup, cinnamon and pumpkin pie spice it's a fast, easy and delicious way to start the day! Stovetop and overnight oats instructions included.

Fall is the perfect time for warm, flavor-packed home cooked breakfast ideas.
Things like Apple Baked Oatmeal, Apple Pancakes or Pumpkin French Toast Casserole are always a hit.
Pumpkin Oatmeal is another easy, comfort food recipe perfect for the season.
It cooks in 10 minutes and is full of pumpkin, cinnamon and pumpkin pie spice flavors.
It's creamy and a filling way to start the day.
A Fast & Easy Stovetop Oatmeal Recipe
There's nothing like a steaming hot bowl of oatmeal on a cold morning to make a cozy start to the day!
This oatmeal recipe is fast to make.
It requires 10 minutes cooking time so breakfast is on the table in less than 15 minutes.
We used rolled oats for a chewy texture that's satisfying.
If you love chewy oatmeal you can cook it a little less. For a creamier option, cook it longer!
The oats do continue to thicken after cooking when they sit.
Otherwise you'll find the recipe to deliver a 'just right' bowl of oats.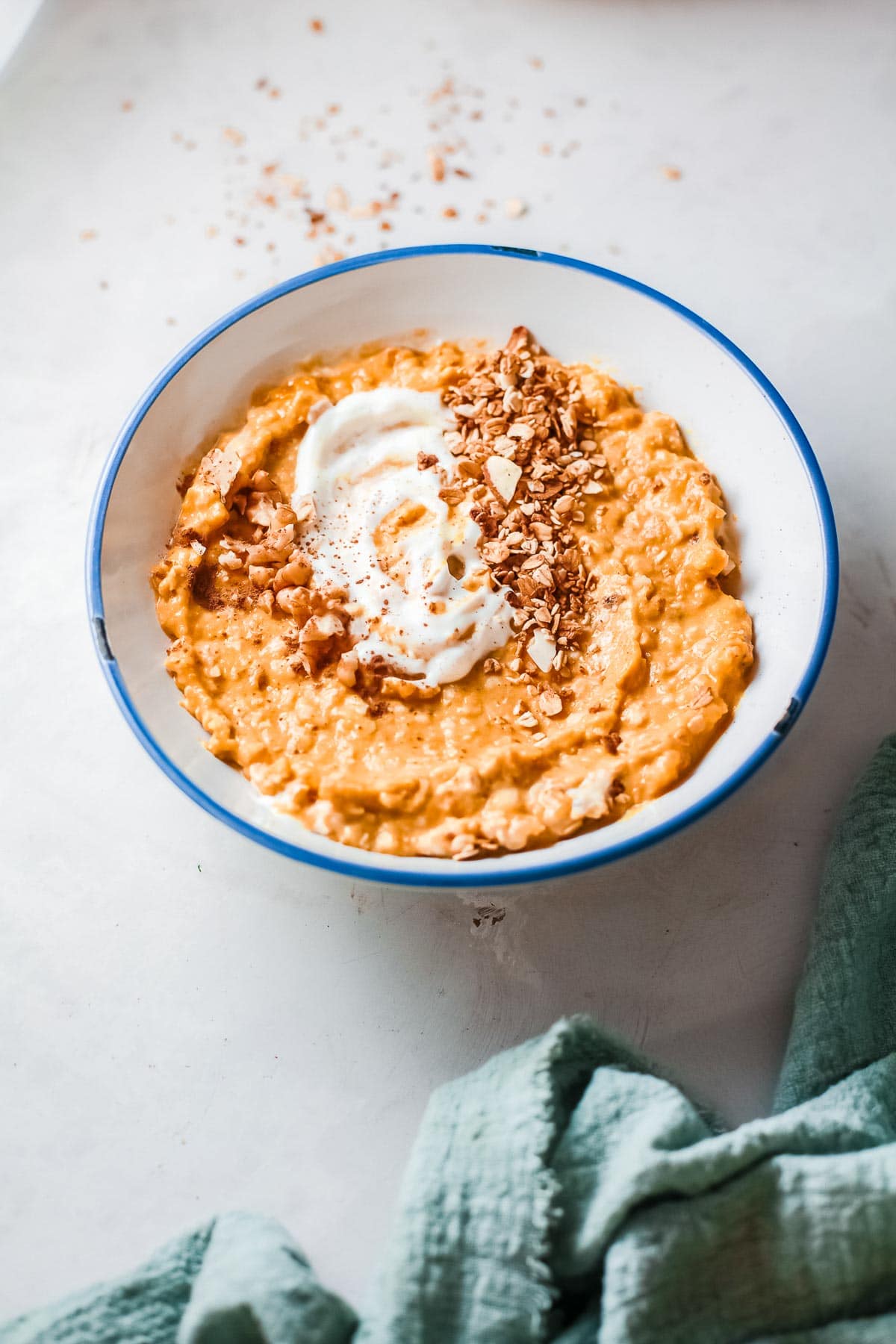 Recipe Ingredients + Notes
Milk. I used whole dairy milk. Any fat dairy milk can be used. Or try it with almond milk or coconut milk for a dairy-free alternative.
Pumpkin Puree. Store bought or homemade pumpkin puree can be used. This gives the delicious pumpkin flavor.
Maple Syrup. Sweetens the oatmeal with light maple flavor. If desired honey could be used instead.
Spices. Pumpkin pie spices, cinnamon, salt. These spices give classic familiar warming flavor to the oatmeal. The pinch of salt makes all the difference in the end flavor so don't skip it!
Vanilla Extract. More flavoring for a homey breakfast.
Rolled Oats. Also called Old Fashioned oats should be used. Do not use Instant Oats for this recipe. Regular or gluten-free rolled oats can be used. We've tested both!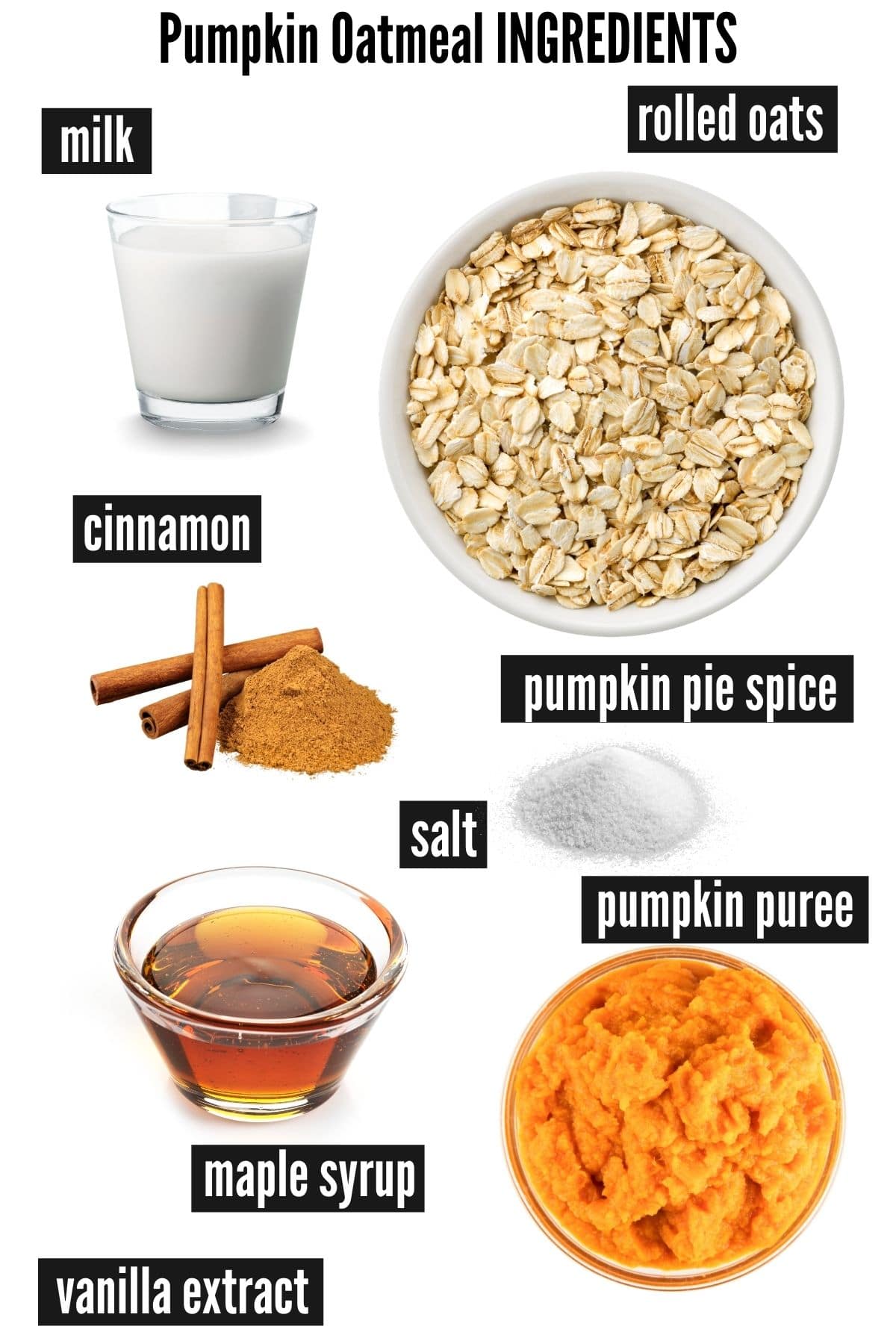 Pumpkin Oatmeal Toppings
Add your favorite oatmeal toppings! Here are some suggested favorites:
Granola. The crunchy, nutty texture and flavor make a delicious and wholesome addition to this healthy oatmeal recipe. Regular or gluten-free granola work great.
Diced Nuts. Like granola, nuts are delicious on oatmeal. Try walnuts, pecans, or almonds.
Greek yogurt. The creamy texture and tangy flavor make a nice addition. Try honey-flavored Greek yogurt! It's thick and delicious.
Drizzle of Maple Syrup or Honey. Just a bit adds more sweetness.
Fruit. Sliced bananas, plumped raisins, chopped dates, sliced pears, chopped dried apricots. Whatever you love.
Seeds. If you want to amp up the nutrients and add a bit of texture try Hemp Hulls or Chia Seeds.
How to Make it – Step-by-Step
STEP 1. Combining Ingredients.
In a medium-large sauce pan combine: the milk, pumpkin puree, maple syrup (or honey), cinnamon, pumpkin pie spice, and salt. Whisk to combine.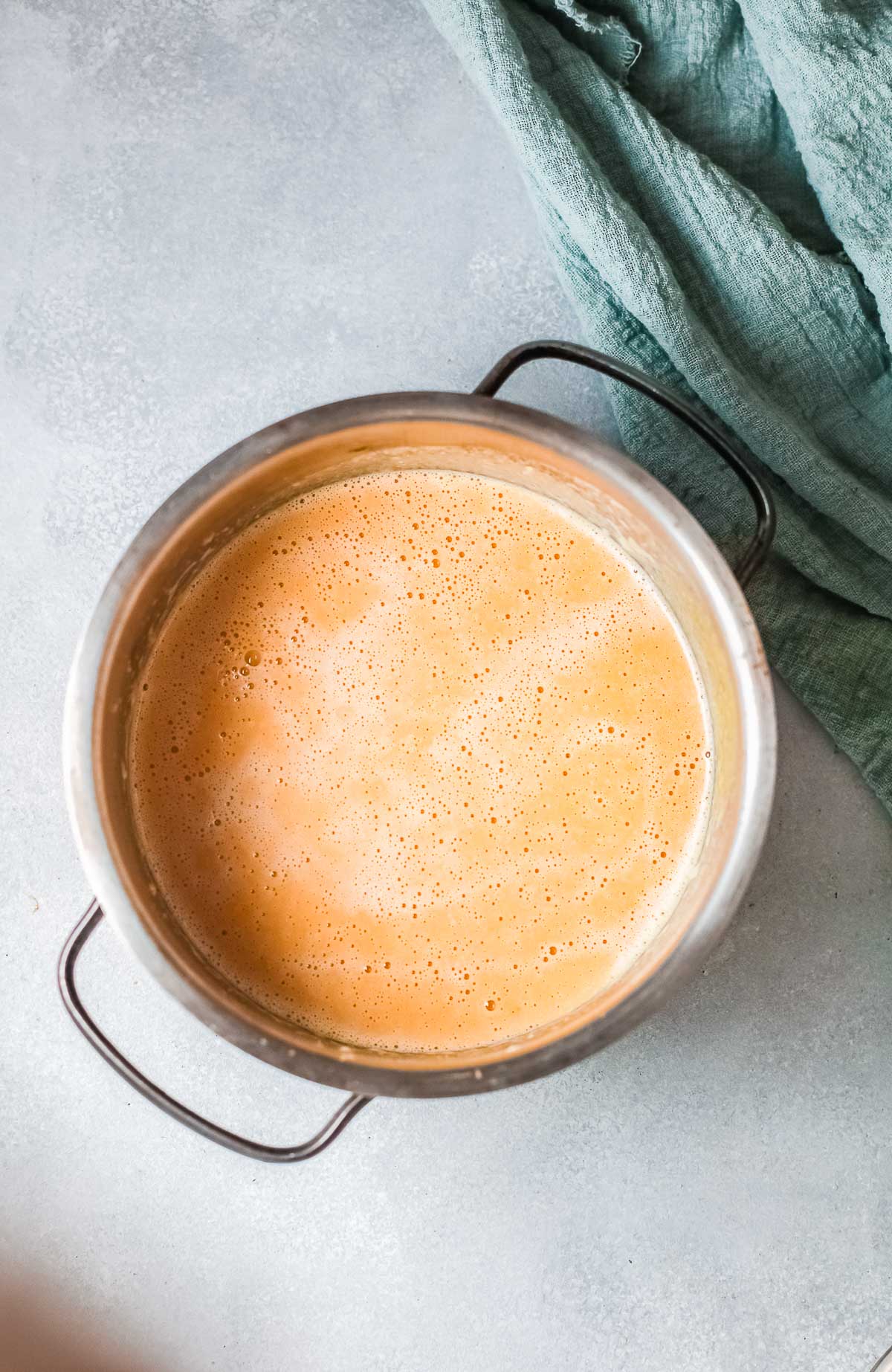 STEP 2. Add the Oats.
Stir in the oats. Stir to combine.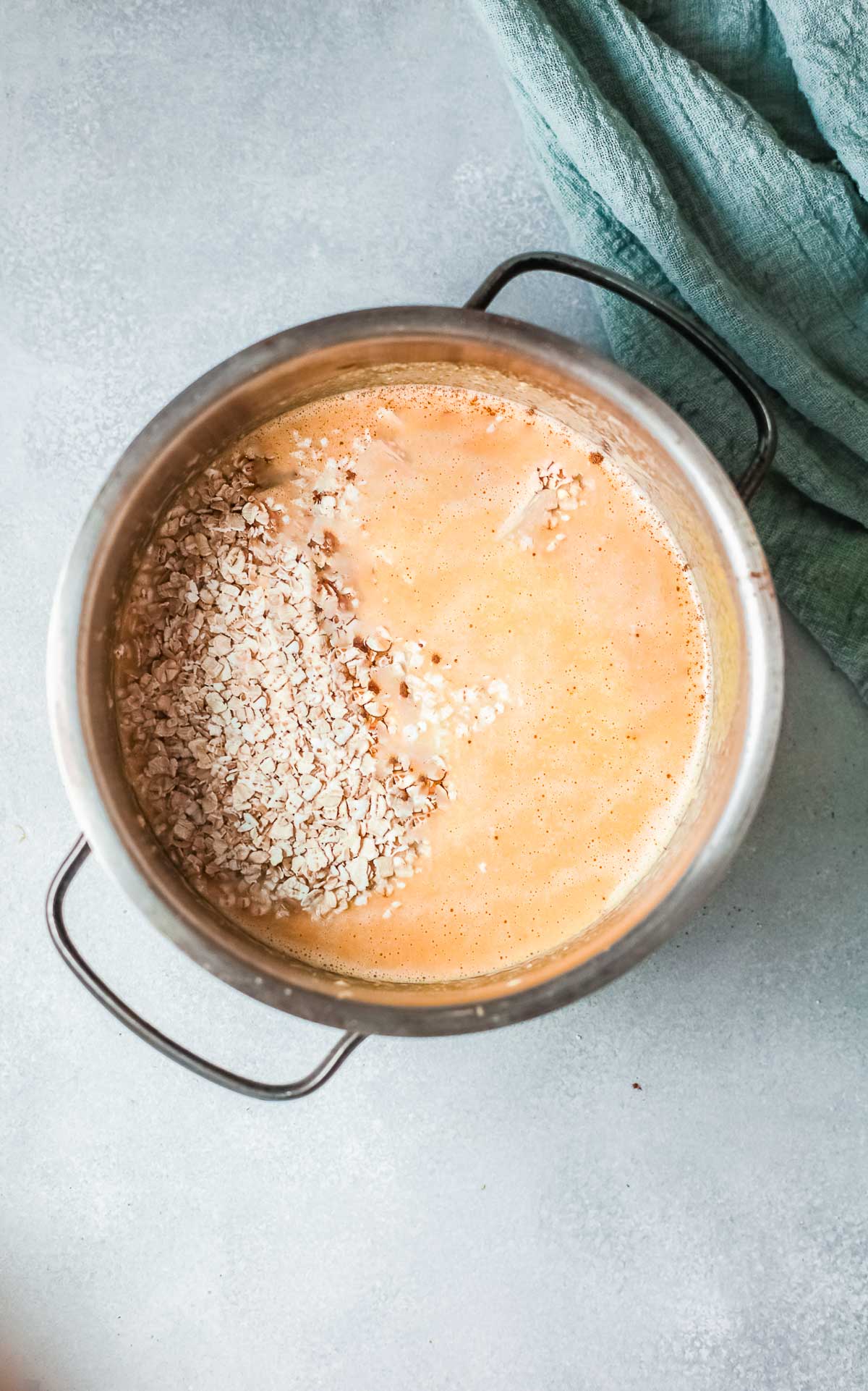 STEP 3. Cook the Oatmeal.
Bring the mixture to a simmer over medium heat. Then low the heat to medium-low.
Cook, stirring occasionally, until the liquid and oats have combined and the oats are cooked and creamy. Approximately 10 minutes.
Remove from the heat and stir in the vanilla extract.
Allow the oatmeal to sit for 2 minutes before serving.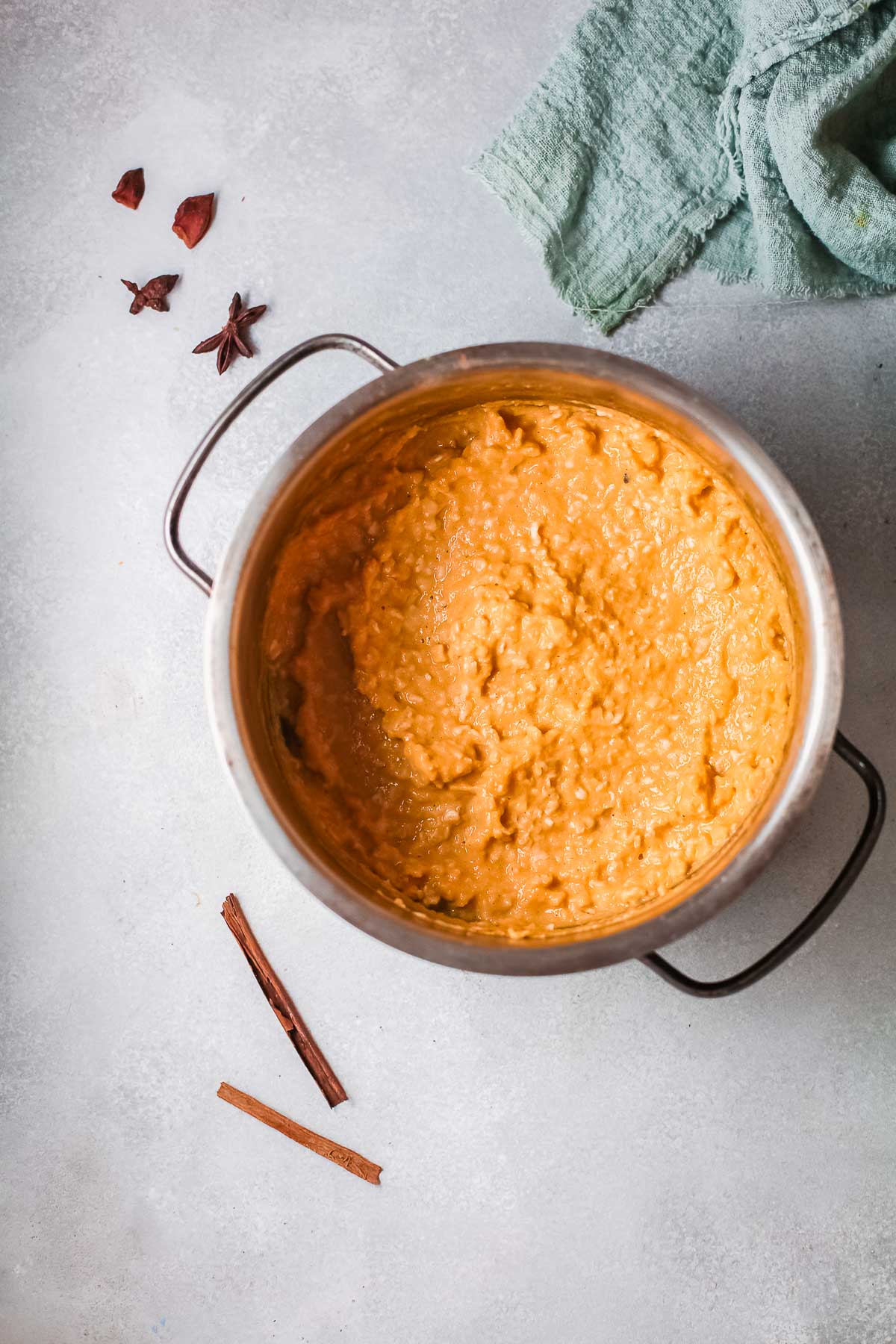 STEP 4. Serve hot.
Serve the oatmeal hot, as is or topped with one of the suggested toppings.
How to Make Pumpkin Overnight Oats
This recipe is easily made as an overnight oats recipe! The recipe ingredient amounts don't need to be changed at all.
Here's how to do it:
In a jar or container add all the ingredients except the oats (don't forget the salt!). Whisk to fully combine.
Stir in the oats.
Seal and allow to sit for at least 2 hours. We recommend making it before bed and allowing it to sit all night for best results.
In the morning before serving, stir the oats well. This allows the softer oats on the bottom to combine with the chewier oats on the top.
Can Overnight Oats be heated?
Typically overnight oats are served chilled right from the refrigerator. But they can be warmed up if you prefer that.
Heat them in the microwave in a microwave safe bowl or container.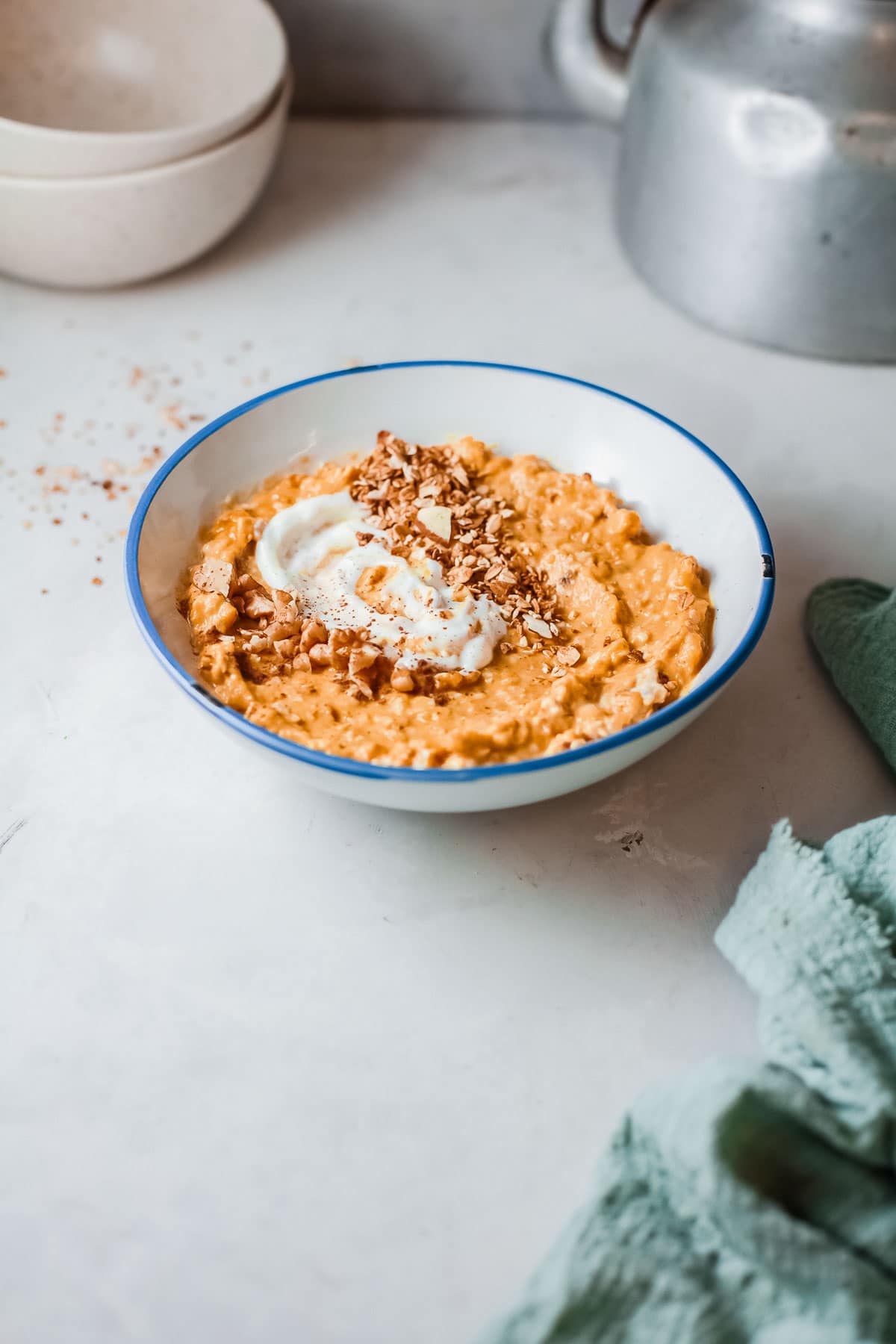 Recipe FAQ's + Pro Tips
Don't use Instant Oats. They will have a mushy texture. Rolled Oats (Old Fashioned Oats) are the way to go for the best results.
Can I use Steel Cut Oats for this Pumpkin Oatmeal recipe?
Steel Cut Oats are delicious but cook for a much longer time. They can't be swapped into this particular recipe without adjusting the liquid levels and cooking time unfortunately.
If you love them you might enjoy Gingerbread Instant Pot Steel Cut Oats or Instant Pot Pina Colada Steel Cut Oats.
Storing Leftovers
Store in an airtight container in the refrigerator for up to 4 days. Reheat in the microwave. If needed add a drizzle of milk to keep the oatmeal creamy when reheating.
If making Overnight Oats they can stay in the refrigerator for up to 5 days. Note: they will continue to soften the longer they sit.
How to Freeze Homemade Oatmeal
Allow the cooked oatmeal to cool. Divide into individual portions and place in freezer-safe containers.
Freeze for up to 3 months.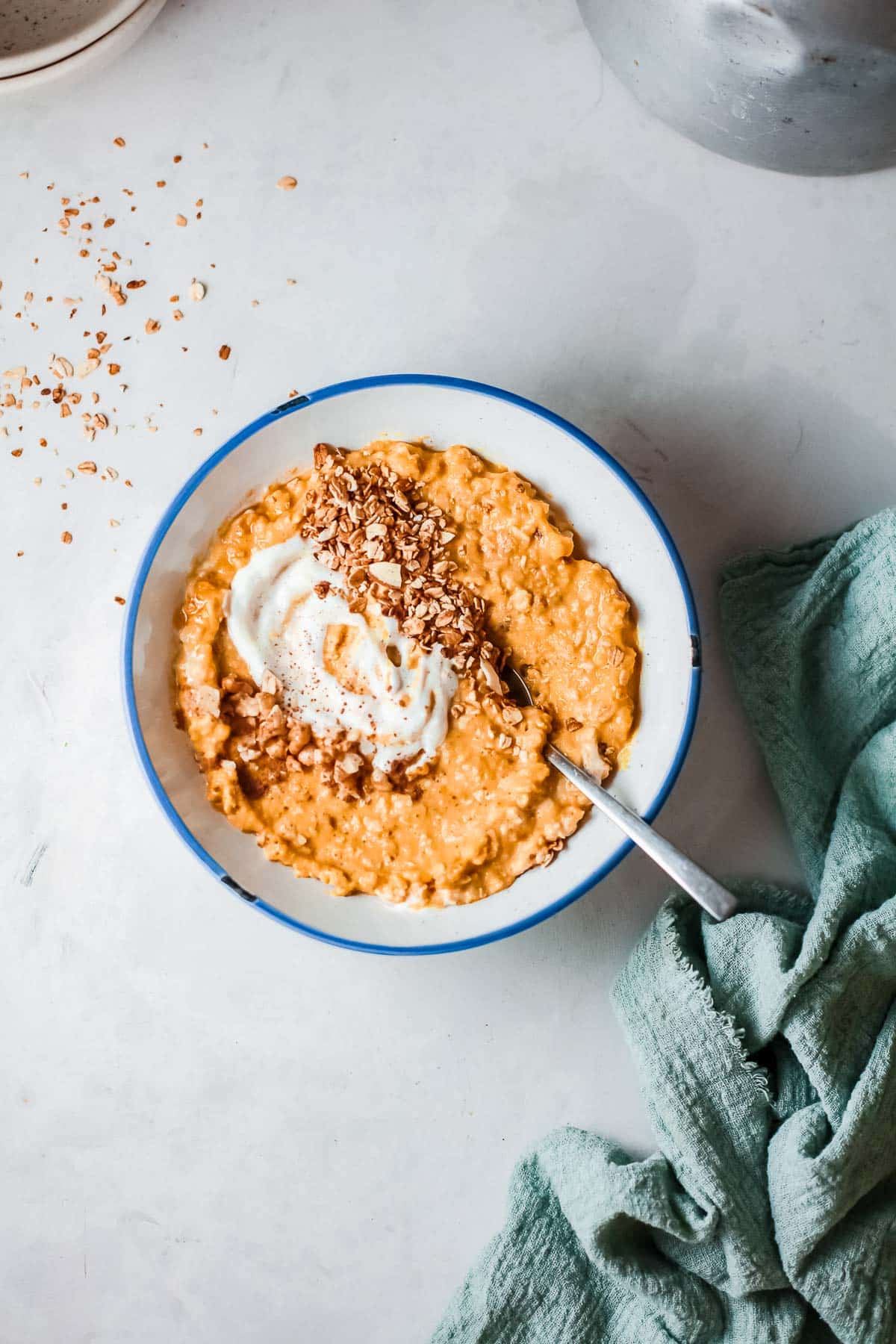 Try these Oatmeal Recipes too!
Did you make it? Please RATE THE RECIPE below!
Please SUBSCRIBE and FOLLOW ME on FACEBOOK , TWITTER , INSTAGRAM and PINTEREST !
Pumpkin oatmeal is a fall flavored way to change up regular oats for a flavor-packed breakfast recipe!