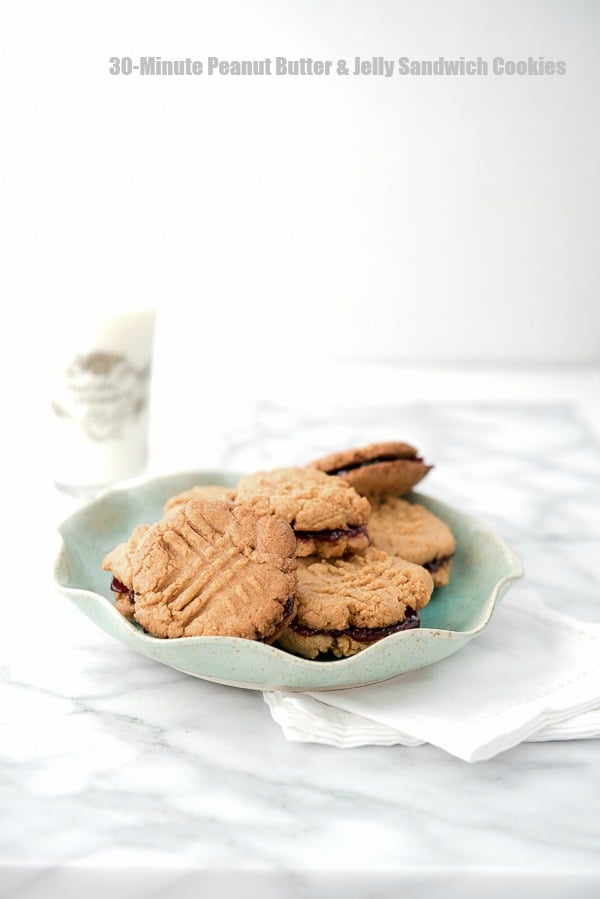 Have you ever eaten a particular food at a restaurant or when traveling, and wished you could make it when you were at home?  That exact thing happened to me when recently traveling in Santa Fe, New Mexico.  After a dense session of museum going, we plopped down at the Museum Hill Café for some brunch.  Though stuffed to the gills, when the server offered dessert options a specific gluten-free treat flagged my attention like a crazy person late for an airplane flight hailing a cab in New York City: Peanut Butter and Jelly Sandwich Cookie.  Say, what?????
It was a serendipitous moment of genius realized.  Why on earth had I never seen one of these in my explorations as a food blogger?  It's such an obvious combination of perfection.  My love affair with peanut butter is a long and torrid one, starting as a child with me sneaking a handful when my parents were asleep and taking it back to my bed to eat underneath the covers.  What a laundry delight that must have been.  I've loved anything that includes peanut butter since.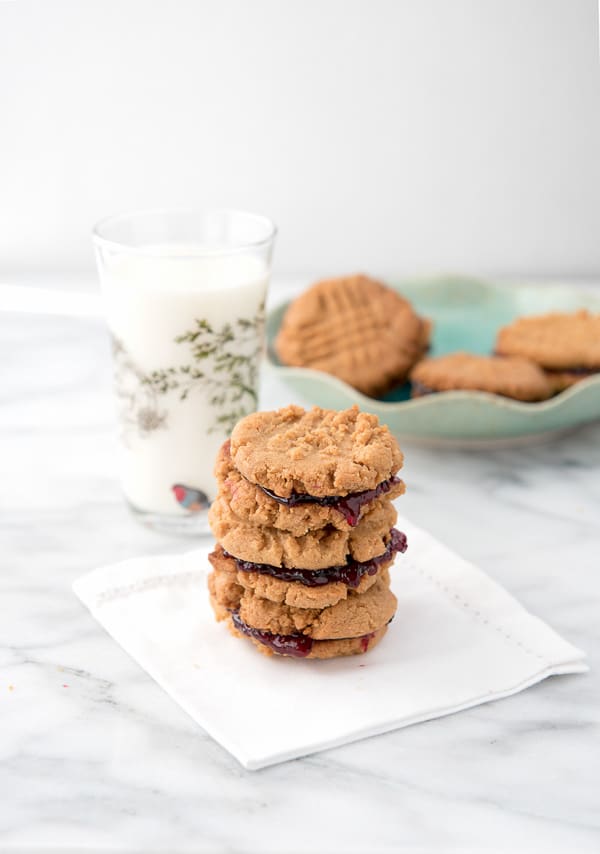 As with most adults, I gave up peanut butter and jelly sandwiches somewhere along the road to adulthood.  The mere mention of this dessert cookie catapulted me backward to childhood with lazy, carefree summer days, picnic lunches, running through tall grass and the rest of the romantic images of our youth we've long forgotten.  The cookie arrived at our table and it was huge.  'Too big for one person', I declared.  'Nonsense', proclaimed my daughter, 'no such thing'.  We did split it four ways and that rich few bites satisfied my craving.  Until I got back to my own kitchen in Boulder.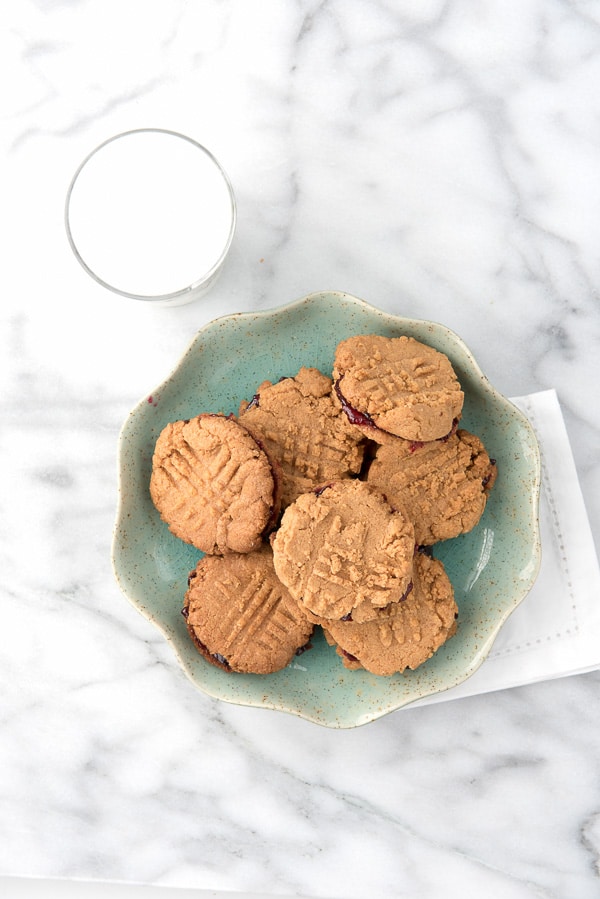 My goal for my adaptation of the cookie was a 'no share' size that was just right for one.  I chose grape jelly as that seems a classic and something I ate only in my youth.  I experimented with a thin layer of jelly and one that wasn't too much but bulged a bit when eating the sandwich treat, teasing as though it would fall out but not enough to quite do so.  That version was the delight of my eager taste testers!  These are easy to make and quite fast too.  It can all be done in around 30 minutes!  It is naturally gluten-free with no flour used and perfect with a big, cold glass of milk.  Natch.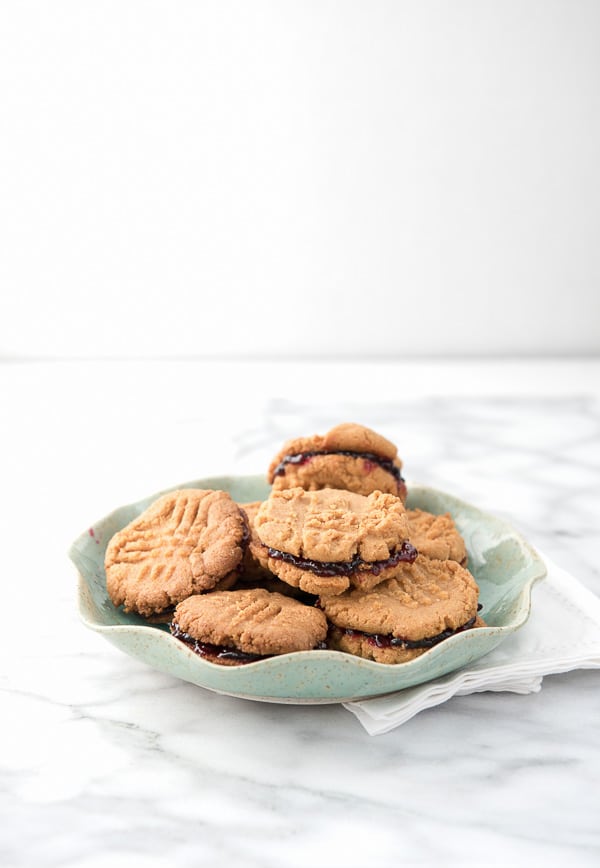 30-Minute Peanut Butter and Jelly Sandwich Cookie
There is no more iconic pairing than peanut butter and jelly. Marrying them in a sandwich cookie is an obvious opportunity and so easy to make! A simple, flour-free peanut butter cookie recipe is delicious on its own but irresistible with a bit of grape jelly in between! Any jelly of your preference can be used.
Finished sandwich cookies can be stored sealed in the refrigerator or frozen in a sturdy container, placed in single layers separated with wax paper.
Ingredients
1 cup smooth Peanut Butter; natural, peanuts only (no sugar or salt)
1 cup Granulated Sugar
1 teaspoon Vanilla Extract
1 Egg, lightly beaten
¼ teaspoon Kosher Salt
¼ cup – ¼ cup + 2 Tablespoons of Grape Jelly (or preferred flavor fruit jelly, not jam)
Instructions
Preheat the oven to 350 degrees. Line a baking sheet with a Silpat or parchment paper.
Using a mixer, combine the peanut butter, sugar, vanilla, egg and salt. Mix at medium speed until it is fully combined.
Scoop in tablespoon portions (a cookie scoop works great for this), forming a ball and place onto the prepared baking sheet. Gently flatten and mark with fork tines in a crisscross pattern on top of each cookie.
Bake for 9-10 minutes. Remove the baking sheet from the oven and allow the cookies to cool on the sheet for 10 minutes. Remove them onto a cooling rack to fully cool before making the sandwiches.
Place 1 to 1 ½ teaspoon of jelly on the bottom (flat) side of one cookie and spread it evenly. Place the flat side of a second cookie on the jelly.

Note: adding 1 ½ teaspoon of jelly will give a thicker layer that may squeeze out a bit when eating it; that was a preference of some of my taste testers!
https://boulderlocavore.com/30-minute-peanut-butter-and-jelly-sandwich-cookies/