Baking cookies doesn't get easier than this super easy Cake Mix Funfetti Cookies recipe. Four ingredients bake into chewy, moist happy-making cookies that make any day feel like a celebration! Gluten-free or regular cake mix can be used.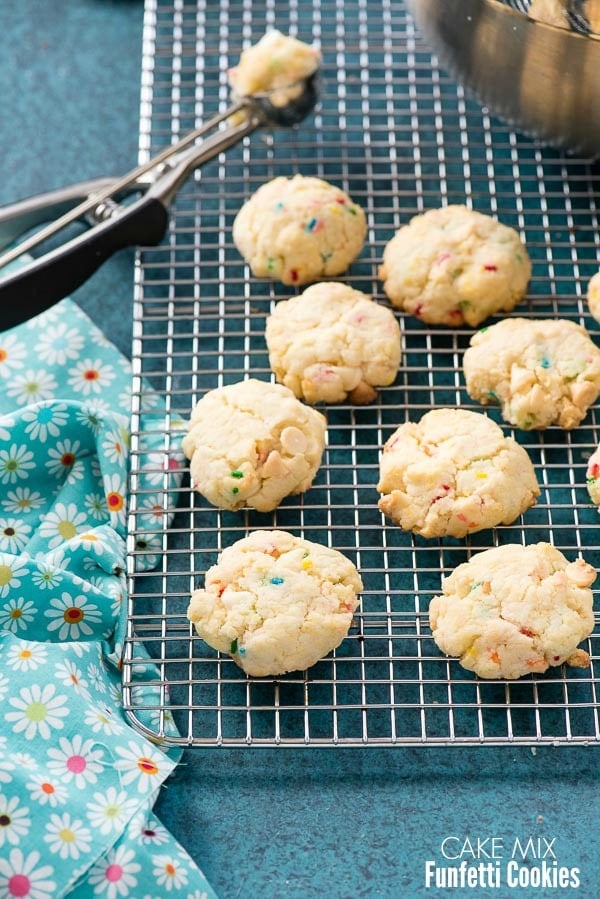 It's birthday season in my house which means lots of baking….usually. Both my kids have birthdays a week apart and are gluten-free. I've made it my mission to ensure they have fun, exciting cakes that don't feel 'less than' just because they are gluten-free.
This year my high school son, who has become a creative and talented baker himself, requested a Lumberjack cake. I'd seen this cake sweeping through Facebook last year and agree it's adorable with the intricate buffalo plaid inside; but scary to the person who would make it. I looked at a video of how to make it and felt I was going to break out in hives. I pinned a recipe for it and moved on.
In my cruising around Pinterest for alternate cake ideas I kept finding cake mix cookies. The thought intrigued me wondering what they would taste like and if they could be made with gluten-free cake mix. I abandoned the birthday cake search (to calm down quite frankly) and began to think of a baking project more in my scope of capability.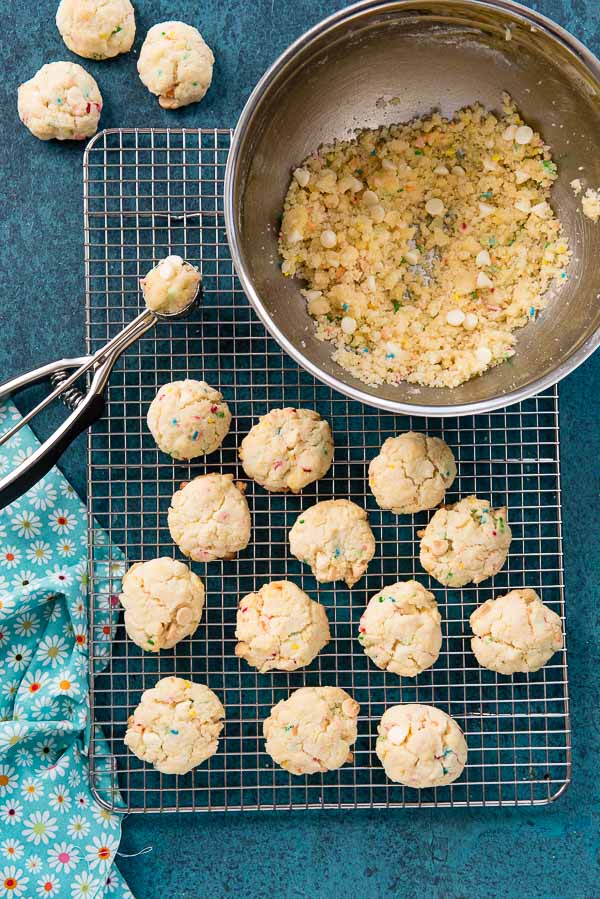 WHAT ARE CAKE MIX COOKIES?
As the name sounds, a cake mix is substituted for the usual flour and leavening agents in cookie recipes. Eggs and oil are added and the mix is baked as cookies.
I will say I've found cookies more difficult to create from scratch in gluten-free form. Cakes, no problem. It may be being at altitude as well but I've struggled with both adapting favorite gluten family recipes and creating recipes from scratch. The prospect of a shortcut method really had my interest.
CAKE MIX FUNFETTI COOKIES
I keep cake mixes on hand for last minute baking projects. The cake mixes I had were gluten-free Funfetti cake which seemed festive and well matched with all the celebrating we have going on. I decided to add some white chocolate chips to bump them up in flavor and the results were fantastic!
Can Gluten-Free Cake Mix be used to make Cake Mix Funfetti Cookies?
Absolutely! The cookies I've made use a gluten-free cake mix and turned out great. Because gluten is a binder, the cookie batter is a bit crumbly. It does require scooping it then rolling it by hand to form a ball which will be flattened slightly. Traditional cake mixes most likely will not require the manual step of forming the ball.
What do Cake Mix Funfetti Cookies Taste Like?
In this case they have the distinct Funfetti sweet flavor with bits of sprinkles inside. They are a sweet cookie without being overly sweet. When giving my college daughter one to taste test and not telling her what they were she asked if they were sugar cookies. Very satisfying to have one or two at a time.
What is the Consistency of a Cake Mix Funfetti Cookie?
We loved these cookies! By rolling them into a ball and flattening it just a bit caused a thicker bottom to develop that makes for a chewy satisfying bite. They are not cakey cookies. They are substantial with a crispy outside and chewy middle.
Which Method Gives the Best Gluten-Free Cake Mix Cookie Results : Balls or Flattened?
I did experiment with several batches and my taste testers all preferred the slightly flattened before baking cookies. The main differences were that the flattened variety developed a bit firmer golden bottom adding to a pleasing 'bite' and crinkling on the top. The rolled version were a bit more sense and the mouth-feel was not as pleasing.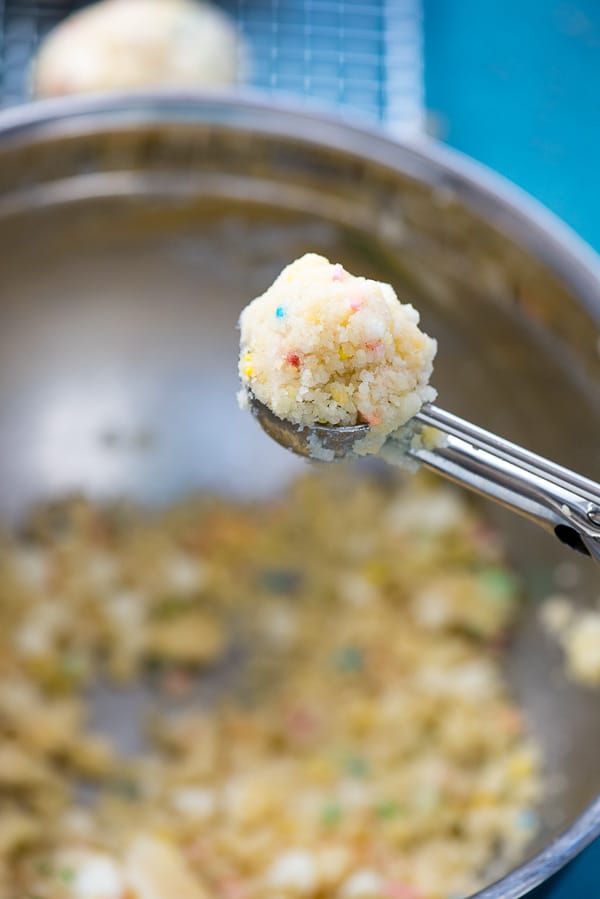 How to make Gluten-Free Cake Mix Funfetti Cookies – Step by Step:
The cake mix, eggs and oil are combined in a mixing bowl and stirred together by hand.
White chocolate chips are then stirred into the dough.
The dough is scooped with with a tablespoon or a 1-tablespoon size cookie scoop into your hands to roll into a ball.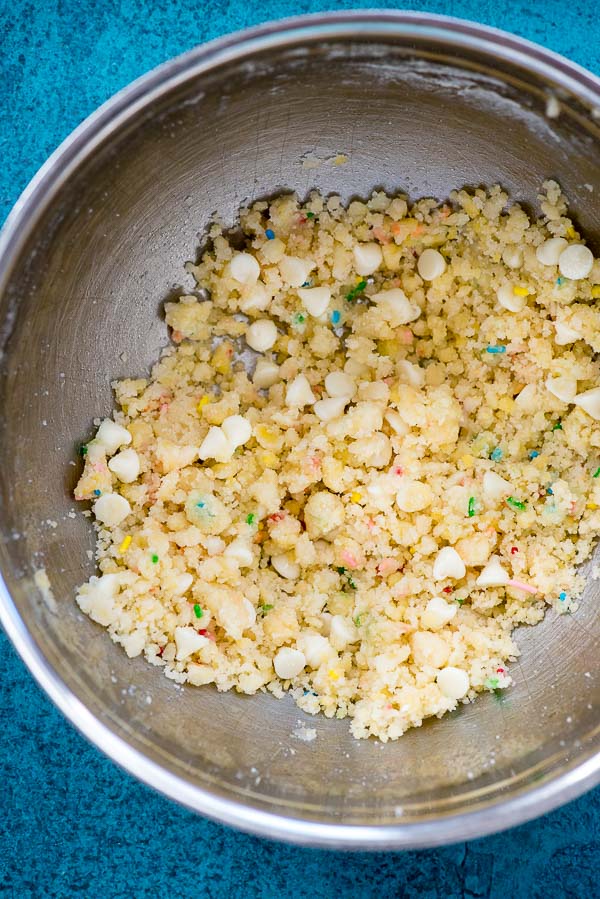 The dough ball is flattened slightly and placed on a prepared cookie sheet to cook for 12-14 minutes until slightly golden on the bottom.
After baking, the cookies rest on the baking sheet for 5 minutes before being transferred to a cooling rack to finish cooling!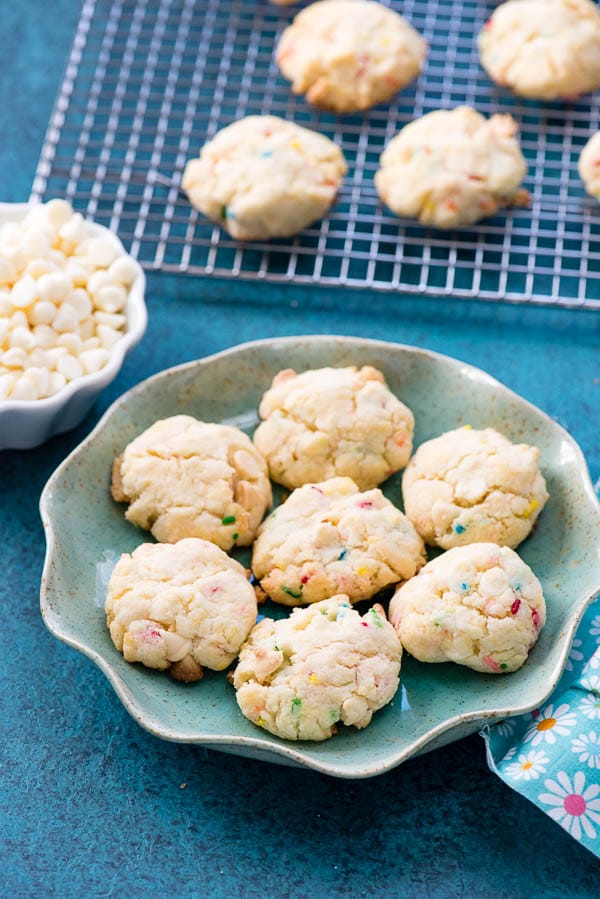 More Easy Shortcut Baking Recipes You'll Love
If you've tried these Cake Mix Funfetti Cookies or any other recipe on BoulderLocavore.com please don't forget to rate the recipe and let me know where you found it in the comments below, I love hearing from you! You can also FOLLOW ME FACEBOOK, TWITTER, INSTAGRAM and PINTEREST to see more delicious food and what I'm up to!
Recipe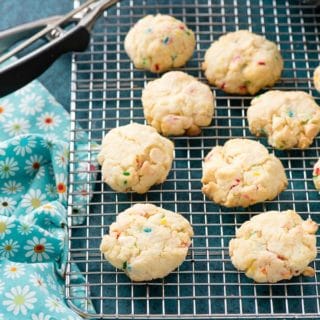 Cake Mix Funfetti Cookies
Using the cake mix as the main components of the cookie dough is a time and clean-up saver. The dough is mixed by hand and prepared in a flash!
The instructions are for making gluten-free cake mix cookies which take a bit of care to form. Gluten cake mix may also be used with the same ingredients amounts.
Print
Save Recipe
Recipe Saved!
Pin
Rate
Instructions
Preheat the oven to 350 degrees F. Line a cookie sheet with parchment paper or (use a silpat).

Combine the cake mix, eggs and oil in a large mixing bowl and mix to fully combine. Stir in the white chocolate baking chips.

Scoop the dough into a tablepoon or 1-tablespoon cookie scoop into your hands and roll into a ball (note: gluten-free cake mix will not hold together until rolled manually into balls). Flatten slightly and place on the prepared cookie sheet. Repeat for the remaining dough leaving 2-inches between cookies.

Bake for 12-14 minutes until the bottoms are slightly golden in color (note: dark baking sheets may cook more quickly). Remove the baking sheet from the oven and allow the cookies to sit for 5 minutes before moving them to a cooling rack to fully cool. Store in a sealed container at room temperature.
Nutrition
Calories:
153
kcal
|
Carbohydrates:
20
g
|
Protein:
1
g
|
Fat:
7
g
|
Saturated Fat:
4
g
|
Cholesterol:
14
mg
|
Sodium:
146
mg
|
Potassium:
21
mg
|
Sugar:
13
g
|
Vitamin A:
20
IU
|
Calcium:
13
mg
|
Iron:
0.1
mg