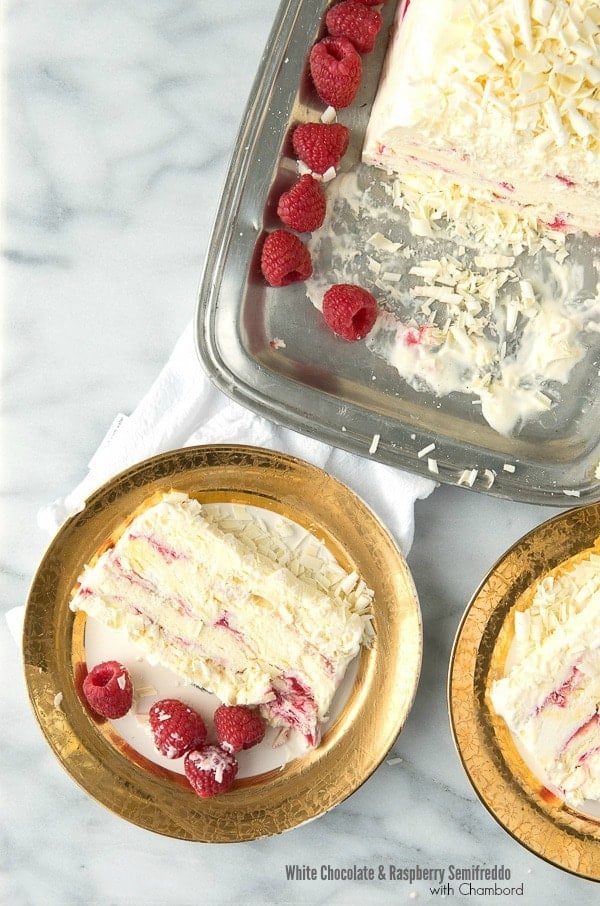 While planning menus for New Year's Eve and New Year's Day, I find something elegant begs to be chosen for New Year's Eve. It's a party like none other of the year. After all it's both ending and beginning a year, and that's call for celebration.
One of my favorite recipes has been a delicious Lobster Risotto my husband made that I shared with you. This year we are going in a completely different direction. I was over the moon about my Christmas gift though it's not what most girls would be wishing for. I received a Pit Barrel Cooker that I fell in love with this past June when attending Barbecue University with grilling luminary Steven Raichlen.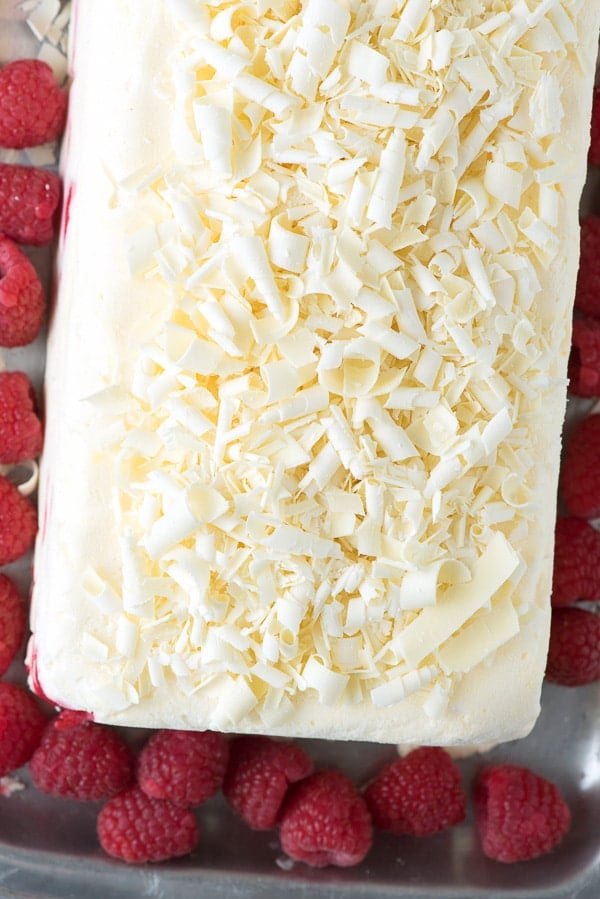 Of all the grills and smokers (over 40 types) at BBQU I'm not sure why this one captured my heart. I think the simplicity of the design and the attractive price point were at the top of the list. I've convinced friends to buy them after using it myself and now I have one too. We'll be christening it on New Year's Eve by making Tea Smoked Duck, which ironically was the first assignment I had at BBQU and using a Pit Barrel Cooker.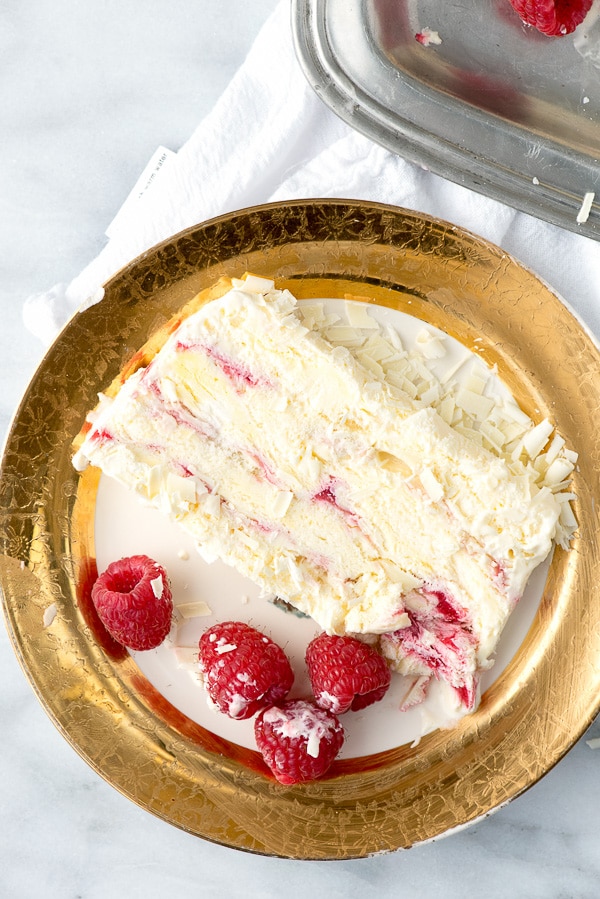 Just because I'll be smelling like a campfire after that doesn't mean I won't be drinking Champagne or eating an elegant dessert. In fact, I'm sharing a recipe today I think you'll love along with a tip: it's super easy to make. White Chocolate Raspberry Semifreddo with Chambord. It sounds like something you shouldn't even utter without high heels on, doesn't it?
A semifreddo is an Italian dessert translated to be 'semi frozen'. I'm not sure why 'semi' comes into the picture because it is frozen. But it's not a dense, heavy type of frozen as with an ice cream dessert. It's a mixture of whipped cream, a meringue and egg yolks all folded together with whatever flavoring is being used, and frozen into loaf. The end result is light, yet still rich and not overly sweet making it perfect after a richer or heavier meal. It's elegant and pretty too, making it a great choice to make an occasion into a celebration.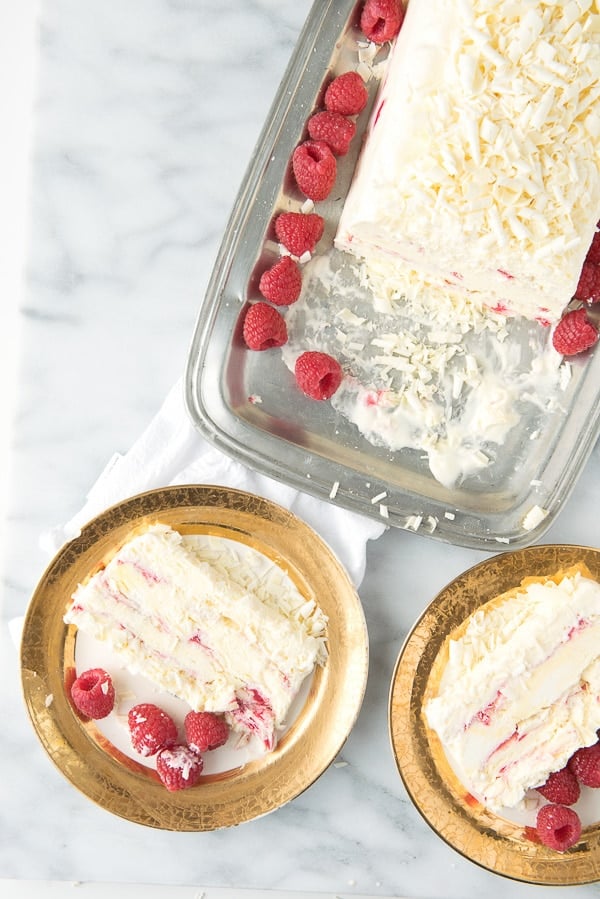 Recipes for semifreddo are divided on using raw egg and lightly cooking the egg over steaming water before incorporating them into the recipe. My recipe is simple and does use raw eggs. My recommendation is to use pasteurized eggs. The ingredients are prepared in three parts and folded together for a light, airy mixture layered with melted white chocolate and a simple raspberry sauce with Chambord liqueur. It's truly divine and to be extra sure I've eaten two servings while writing this!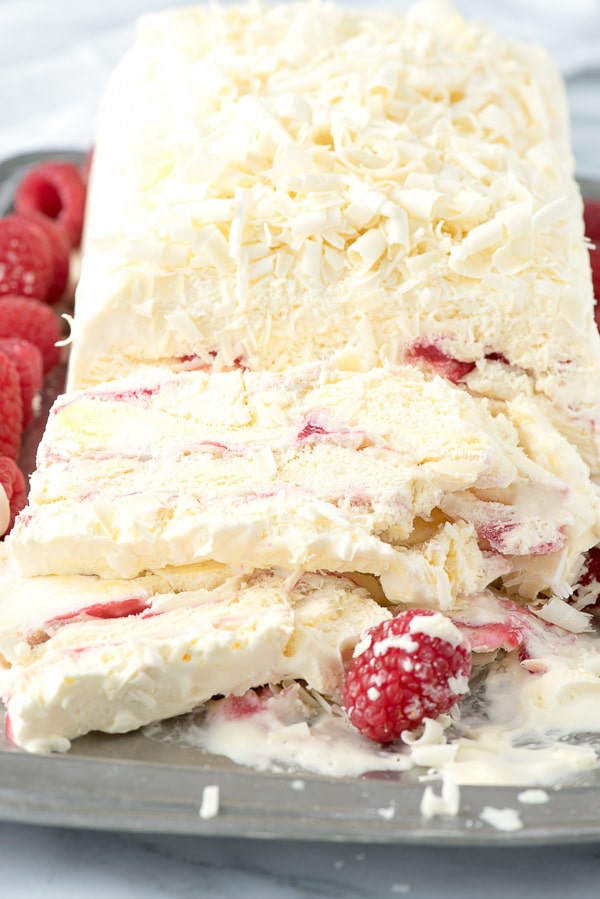 Recipe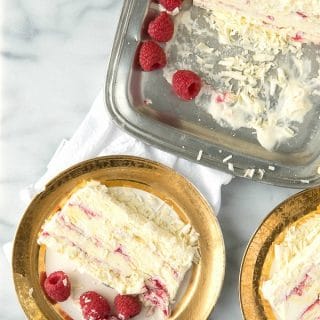 White Chocolate Raspberry Semifreddo with Chambord
This semifreddo is beautifully flavored with white chocolate and raspberry as well as it light as a feather. It's beautiful to behold and an elegant dessert for any occasion. Note: because raw eggs are used in this recipe, pasteurized eggs are recommended.
Print
Save Recipe
Recipe Saved!
Pin
Rate
Ingredients
1 ½

cups

fresh or frozen/thawed Raspberries

2

teaspoons

plus ½ cup Granulated Sugar

1

tablespoon

plus 1 teaspoons Chambord liqueur

4

Large Eggs

, separated

1 1/2

cups

Heavy Whipping Cream

4

ounces

White Chocolate

, broken into small pieces

Suggested Garnish: 1-2 bars of White Chocolate to make chocolate curls

, extra raspberries
Instructions
Line a 9 by 5-inch loaf pan with plastic wrap allowing at least 2 inches to extend on the outside of the pan to allow easy removal of the semifreddo. Fit a small mixing bowl with a fine mesh strainer.

Place the white chocolate in the top of a double boiler, or in a small metal bowl placed on top of a small saucepan with a 1-2 inches of water. Bring the water to a simmer, stirring the chocolate often until melted. Remove immediately. Note: ensure no liquid gets into the white chocolate and do not over heat it.

In a blender combine the raspberries, 2 teaspoons sugar (or to taste; may need more depending on the sweetness of the raspberries) and Chambord. Puree. Pour through the strainer, pressing with a silicon spatula to force any liquid through the strainer. Scrap the outside of the strainer into the bowl below. Set aside and discard the raspberry seeds inside the strainer.

Place the egg yolks in a small mixing bowl and whisk together.

In a large mixing bowl with a standing mixer combine the ½ cup sugar and egg whites. Beat on high until a lofty meringue has been created (about 3 minutes).

In a second bowl whip the cream until stiff peaks are formed.

Fold the egg yolks into the cream until combined. Fold the meringue into the mixture until all combined.

Place ¼ of the semifreddo mixture into the prepared loaf pan and smooth. Drizzle 1/3 or each the white chocolate and the raspberry sauce over the top of the semifreddo. I use a dining spoon for each, and allow the mixture to drizzle onto the semifreddo as I move the spoon to ensure even drizzling (note: it will not cover the entire top).

Repeat the step prior twice more, with ¼ of the semifreddo and 1/3 of each the white chocolate and raspberry sauce. Top with the remaining ¼ of the semifreddo and smooth.

Loosely top with a piece of foil and place in the freezer to fully freeze; 6 hours or overnight.

To prepare chocolate curls: using a vegetable peeler, run it down the side of a room temperature chocolate bar toward you to form curls. Load the top of the semifreddo with the curls before serving. Serve slices with a helping of raspberries.
Nutrition
Calories:
227
kcal
|
Carbohydrates:
11
g
|
Protein:
3
g
|
Fat:
18
g
|
Saturated Fat:
10
g
|
Cholesterol:
116
mg
|
Sodium:
48
mg
|
Potassium:
110
mg
|
Fiber:
1
g
|
Sugar:
8
g
|
Vitamin A:
625
IU
|
Vitamin C:
5
mg
|
Calcium:
60
mg
|
Iron:
0.5
mg