Forgotten Cookies are meringue cookies with chocolate chips and chopped nuts. They are placed in a previously heated oven and 'forgotten' overnight to finish!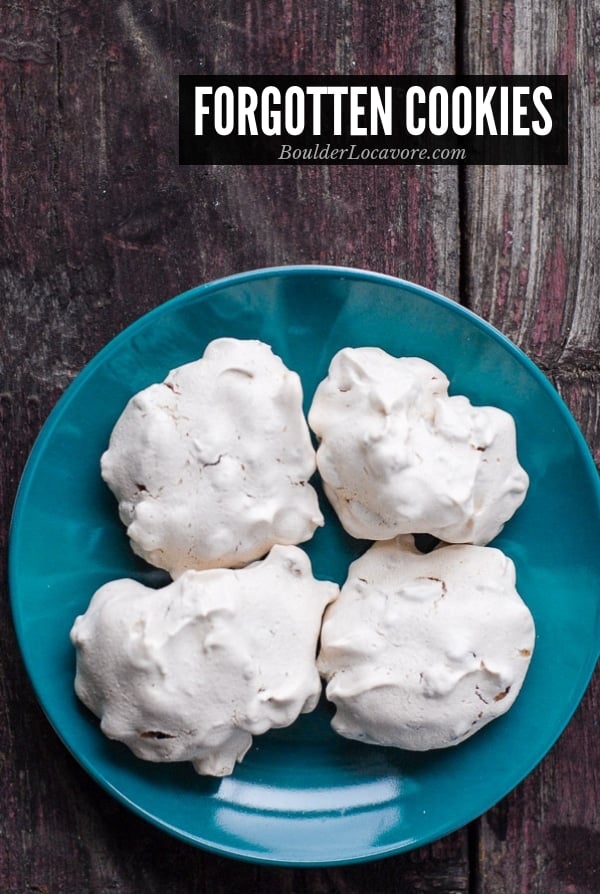 Updated December 2018
This is a cookie kinda month in my book. I personally have scaled back to focus my baking on preparing for Santa.
These cookies are beautiful, glossy batter when put on the cookie sheets and emerge in the morning with a matte meringue finish.
I have had my eye on a recipe from my Grandmother's recipe box and this occasion seemed the right time to break it out.
Forgotten Cookies. With a name like that who could pass up making them; especially in this month filled with sentimental mood and generous heart toward anyone or anything needing some love.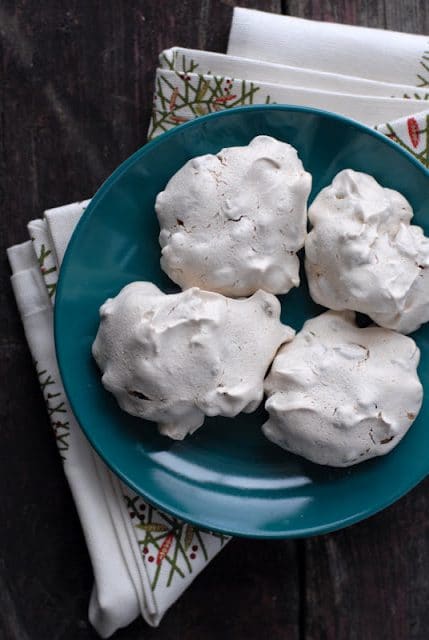 I remember these cookies from when I was a child. My Grandmother was not a mad baker but managed to deliver whenever we visited. It's funny to think about that now.
Do Grandmother's still bake cookies in anticipation for visits from their grandkids? A very civilized hospitality if you ask me.
Grandmother's now are probably too busy taking Zumba classes, playing mahjong and growing micro greens for their smoothies I suppose.
What are Forgotten Cookies?
This cookie is basically a lovely meringue cookie but with more substance in its 'bite' due to the chocolate chips and nuts.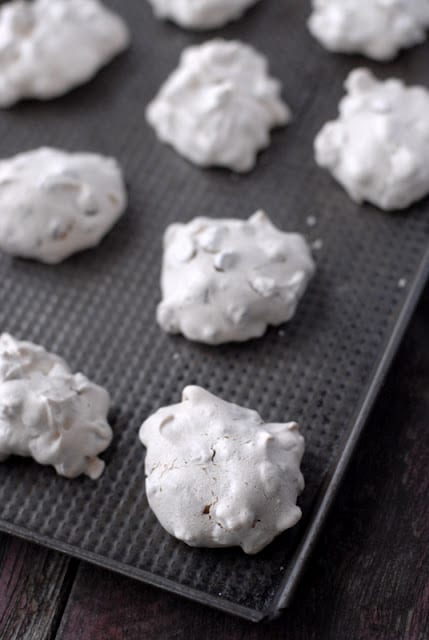 Ingredients in Forgotten Cookies?
The ingredients in Forgotten Cookies are simple and probably in your kitchen right now:
Egg whites
Granulated Sugar
Salt (I prefer Kosher Salt)
Vanilla Extract
Pecans
Semi-sweet Chocolate Chips
How to Make Forgotten Cookies
The ingredients are mixed together, dropped by spoonfuls (tip: If you wanted the recipe to yield more, use a small dining spoon) onto a baking sheet, and put in the preheated oven (which is then turned off).
As the name suggests, they are 'forgotten' until the next morning.
The magical transformation from a glossy, wet batter to crisp, matte cookie still enchants me. Forgotten Cookies expand a bit overnight too.
Naturally Gluten-Free
After becoming gluten-free I appreciated them even more since there is no flour.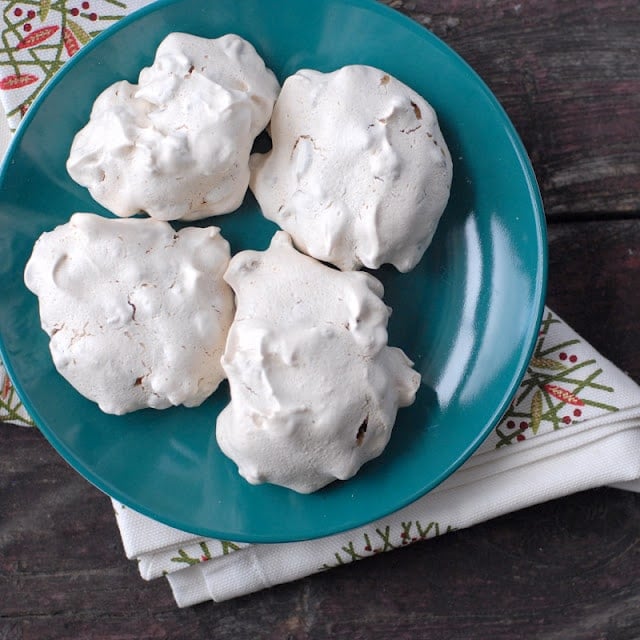 A Secret Tip about Forgotten Cookies
The cookies will actually set within a few hours and will be crisp to the touch with a matte finish. So if you can't wait, check them after a few hours.
It's still fun to pop them into the oven and find them finished in the morning (especially for little chefs)!
Kids Can Make Forgotten Cookies
This is a very easy cookie to make with children too. They can help with the measuring and dropping the batter onto the cookie sheet. A heavy mixer works great to whip up the egg whites in no time. Sticking these in the oven before bed to let your little chefs discover the fully formed cookies in the morning is sure to bring on the holiday excitement!
How to Store
Store Forgotten Cookies in an airtight container, layering waxed paper between layers of cookies.
Keep them in a cool, dark place for up to 2 weeks.
Freezing them
They can also be frozen. Pack them in the same way as described above.
Store them for 3-4 months and thaw at room temperature in the container.
Note: The recipe for Glogg (Scandanavian mulled wine) which was originally featured here has moved to its own page!