Cheesecake dessert lasagna is an easy no-bake summer dessert recipe to impress! Fluffy Strawberry Cheesecake Dessert Lasagna is light as a cloud, with four layers of favorite seasonal flavors. Both gluten-free and gluten options in this cheesecake dessert lasagna recipe too!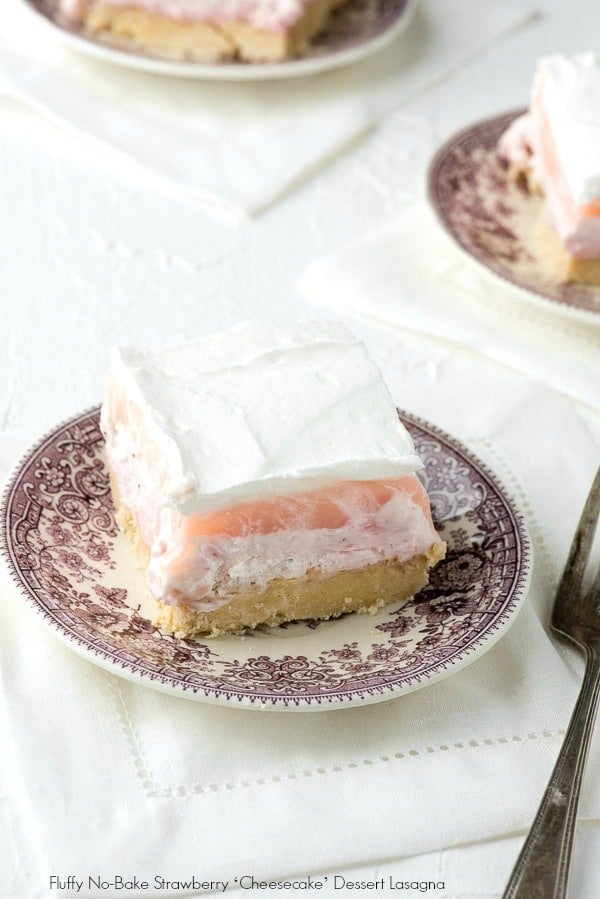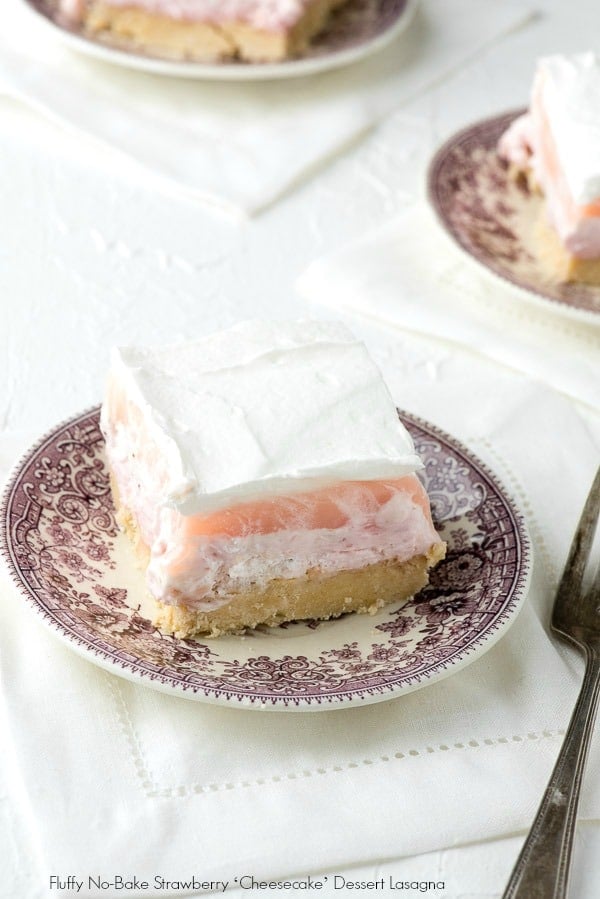 I feel like everywhere I turn online I am seeing fluffy, cloudlike layered desserts that are calling my name. I love looking at all the beautiful food photos on Pinterest and find it to be a hotbed of these types of desserts. Often referred to as a 'lasagna' they have a crust and two or three layers of different flavors. I couldn't take it any longer and have made my own gluten-free version: Fluffy No-Bake Strawberry Cheesecake Dessert Lasagna.
I'm not sure what it is about certain desserts that makes them so alluring. This dessert makes you want to dive right in. It is so light I found when dishing it out or taking photos that it can just slide right off the plate if not paying attention. It's about as opposite of a lasagna in that way but the distinct layering is what has graced it with the 'lasagna' name.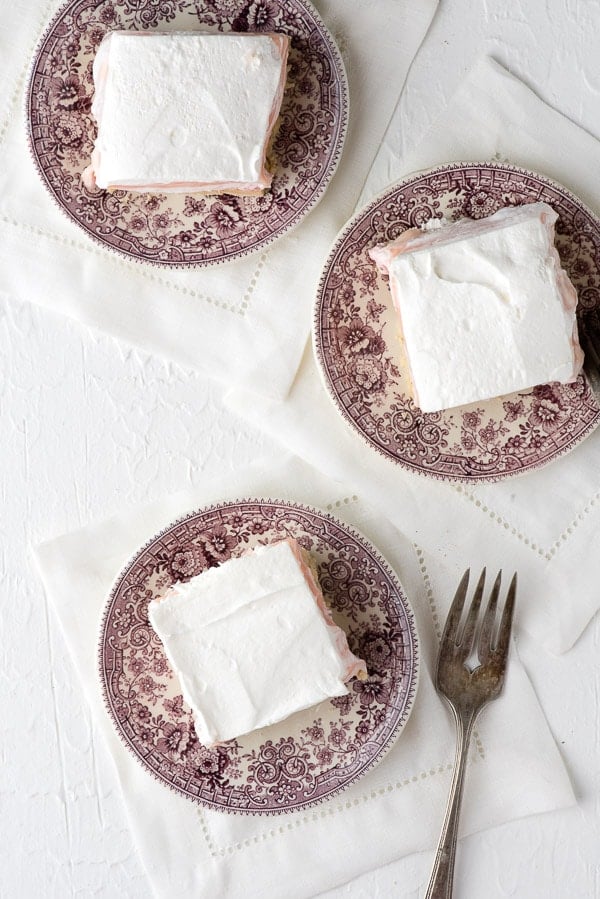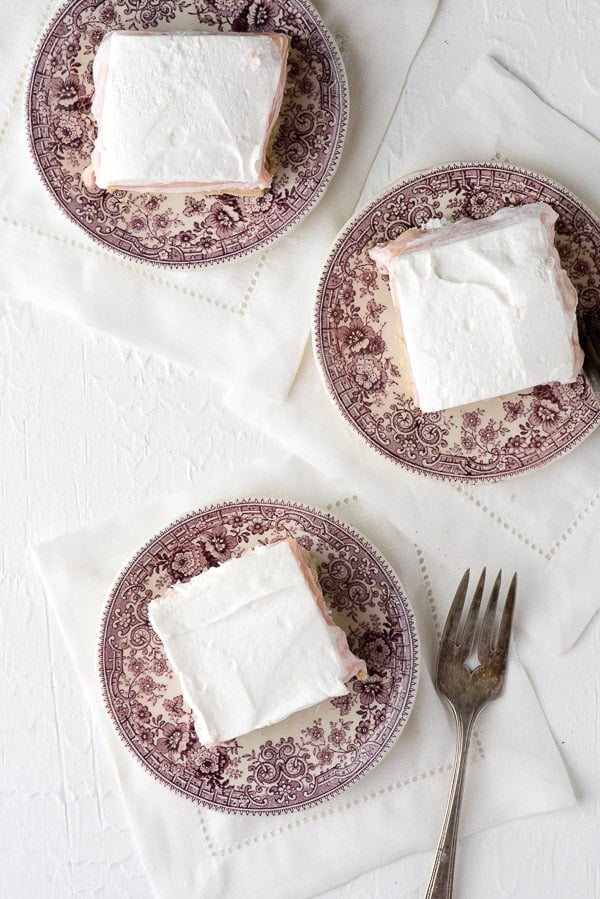 'No bake' are two of my favorite words in the summer and that definitely adds to the caché of this little number. I haven't ever seen a version of this recipe made gluten-free, so set out to remedy that. The key thing that is different between a gluten and gluten-free version is the crust.
How to Make a Layered Cheesecake Dessert
Fluffy No-Bake Strawberry Cheesecake Dessert Lasagna is made up of four layers.
The first layer is crust, made from vanilla sandwich cookies pulverized into crumbs and bound together with a bit of melted butter.
What I've learned over the decade of being and cooking gluten-free is that gluten-free cookie or cracker (graham usually) crumbs do not absorb butter in the same way. Gluten-free crumbs cannot absorb as much melted butter to become a crust. I've provided a note on making the dessert with gluten cookies, so everyone can enjoy this luscious dessert.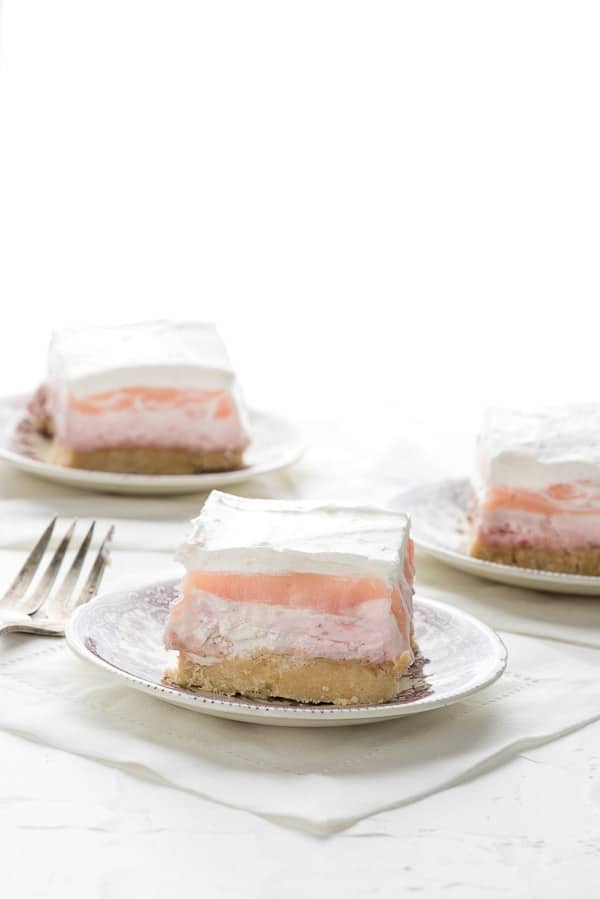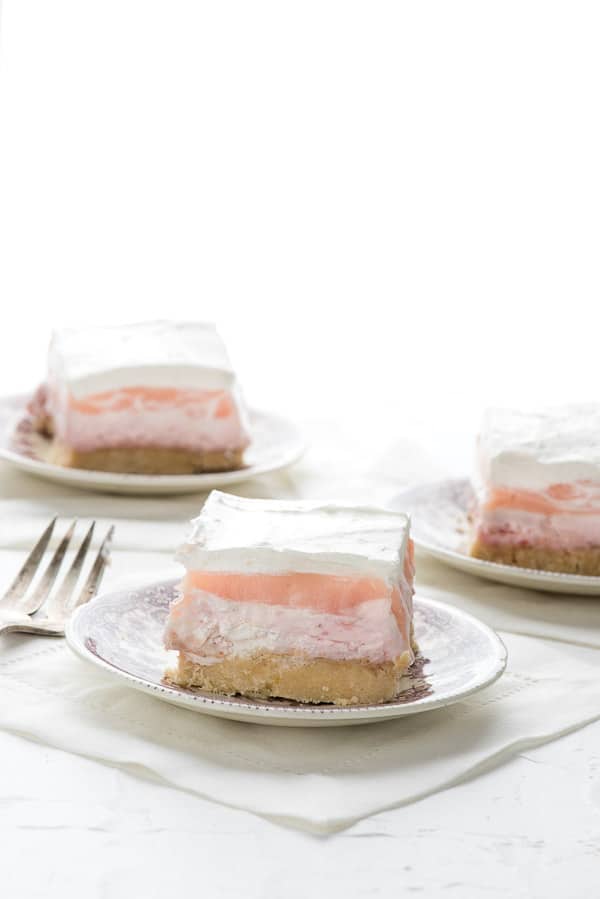 The second layer of this cheesecake dessert is a creamy combination of:
cream cheese
butter
strawberries and
whipped topping
This is followed by a layer of custard made with cheesecake flavored instant pudding. The pudding mix is combined with strawberry milk, leaving what tastes just like strawberry cheesecake, but with a custard texture.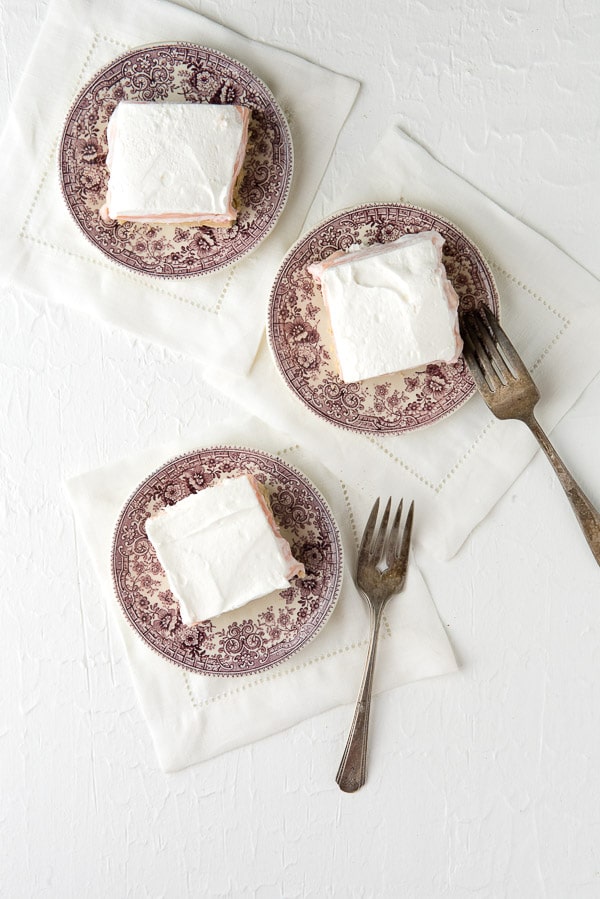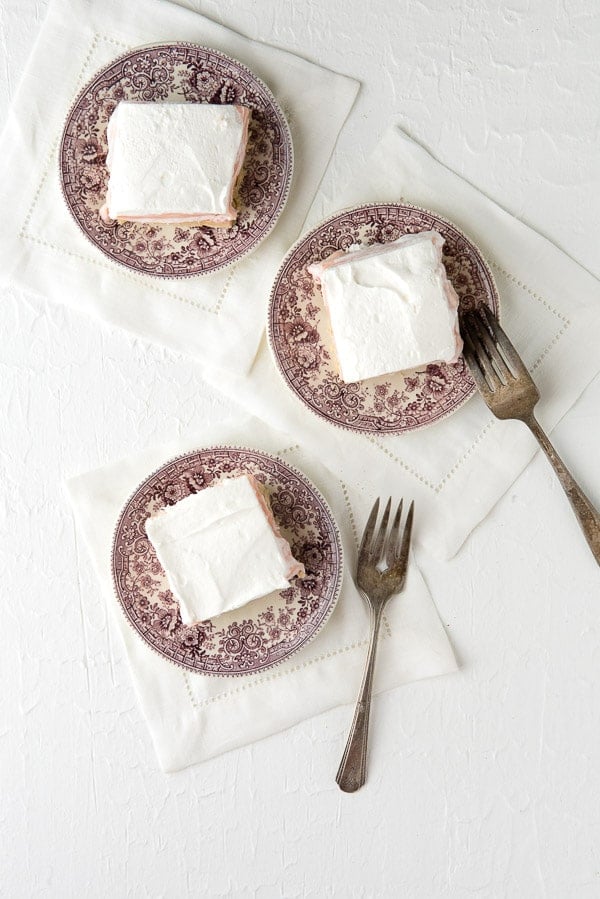 The cheesecake dessert is topped with a layer of whipped topping, for a fluffy look and texture! It's dreamy, that's all there is to it. Also any whipped topping may be used. I've used traditional brands and also an all organic brand (Truwhip) and they all work well.
This is a no bake dessert that needs to be kept in the refrigerator. Like traditional cheesecake, this makes a light, cool end to a summer's meal!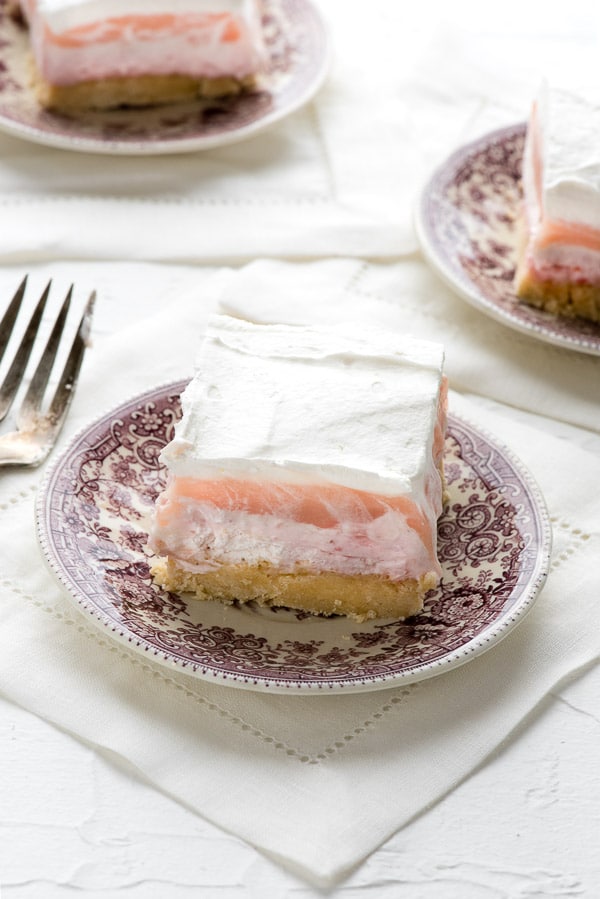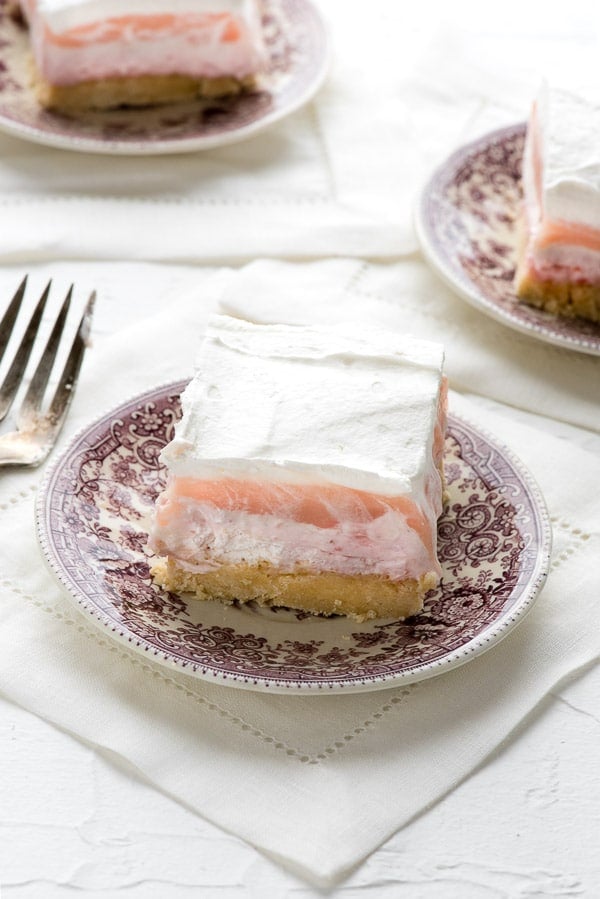 Cheesecake Dessert Lasagna Recipe Notes:
The secret of the cheesecake portion of this dessert lasagna comes from cheesecake pudding mix, which makes a lovely custard layer.
You will want to use a food processor to make fine cookie crumbs.