Meringue Cookies are light, airy and almost dissolve in your mouth like magic! These easy meringues are dipped in chocolate and crushed candy canes for a perfect Christmas cookie!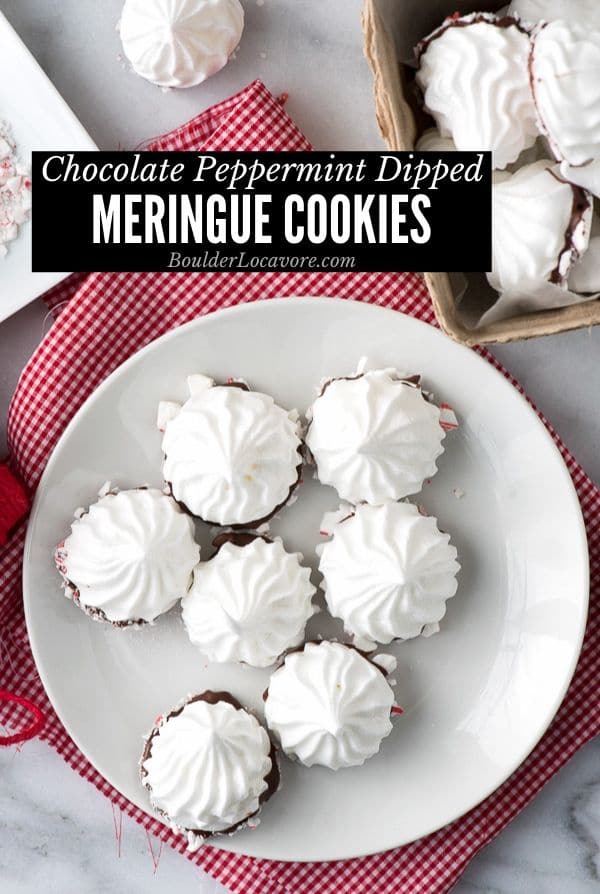 Meringue Cookies have been my idea of a Christmas cookie ever since my Grandmother would make Forgotten Cookies for Santa!
They are easy and pretty cookies. Meringue cookies have a hard crunch then seem to disappear in your mouth!
These are dipped in chocolate and peppermint for a wintery taste sensation!
Pair them with Stained Glass Cookies for a beautiful Christmas treat!
What are Meringue Cookies?
They are basically whipped egg whites and sugar!
Meringues are simple to make. They are a no bake cookie.
They harden in an oven that has been heated and has been turned off.
Meringue cookies are fascinating to watch transform. They begin a glossy and as they harden turn to a matte white exterior.
Peppermint Chocolate Dip
A dip in chocolate and smashed candy canes makes meringue cookies a happy addition to any holiday event.
They are a light, crunchy cookie which are naturally gluten-free.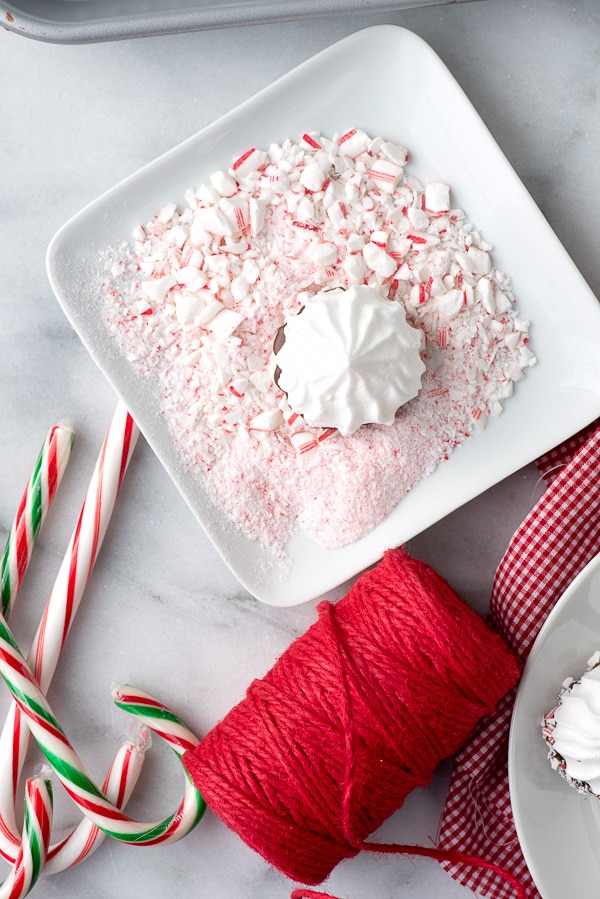 Meringue Cookie Ingredients
You probably have the ingredients to make meringues in your refrigerator and pantry right now!
The only three things needed are:
Egg whites
Granulated Sugar
Cream of Tartar
For the chocolate peppermint dipping, you'll need:
Semi-sweet chocolate chips
Peppermint Candy Canes (or Starlight Mints)
It's an easy recipe.
The light airy meringues melt in your mouth and the chocolate peppermint layer on the bottom taste like the holidays!
They are a perfect Christmas cookie recipe.
What does Cream of Tartar do in Meringues?
Cream of Tartar is a stabilizer.
It allows whipped eggs whites to fluff up to several times their original size and hold their structure.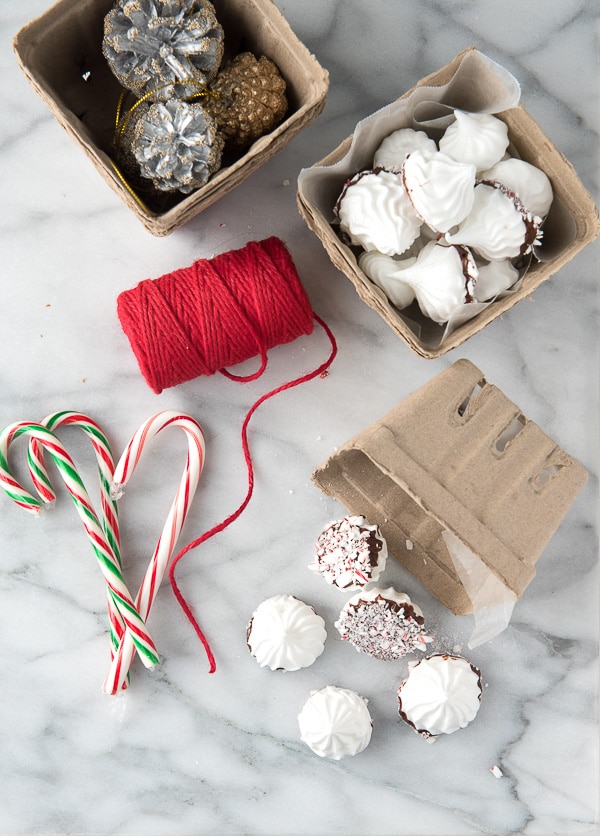 PRO TIP: Use a Standing Mixer
In my experimentation I have found a standing mixer whips the egg whites better than a hand held mixer.
If using a hand held mixer it may take longer for the egg whites to peak.
They need to be well formed for the meringues to take shape.
Using a Piping Bag
Piping the meringues with a piping bag and decorative tip gives them the pretty shape.
If you have not used a piping bag it's not difficult but may take some practice!
Following the instructions in the recipe card at the end of the blog post will help walk you through it.
Don't want to Pipe the Meringues?
They can be spooned onto the baking sheet to set.
The from will be different but they will still be delicious.
How to Make Meringue Cookies – Step-by-Step
The meringues do not bake. They harden in an oven that was previously heated.
When they are done, the meringue is very airy. Adding the chocolate peppermint coating on the bottom adds flavor and stability to the delicate meringue cookie.
For detailed printable instructions refer to the recipe card at the end of the blog post.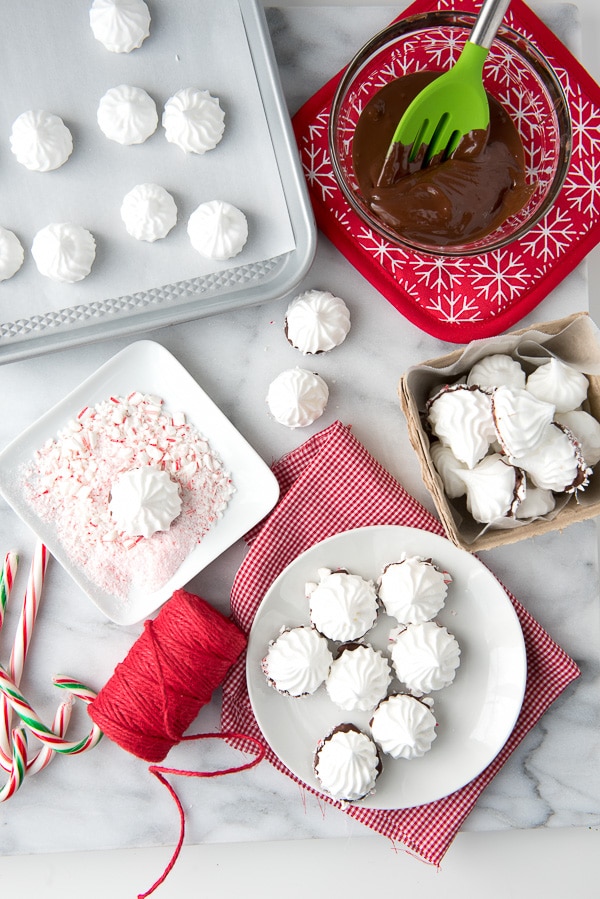 Making the Meringue Cookies
STEP 1: Preheat the oven to 300 degrees. Once it reaches temperature turn it off.
STEP 2: Line 1-2 baking sheets with parchment paper.
STEP 3: In a standing mixer equipped with a whisk attachment beat the egg whites into stiff peaks. Add the cream of tartar and beat in.
STEP 4: While running the mixer, slowly add the granulated sugar until fully mixed in.
STEP 5: Prepare a piping bag with a large star tip.
STEP 6: Spoon the meringue mixture into the bag and pipe 1-inch meringues onto the prepared baking sheets.
STEP 7: Place cookies into the oven for 2 hours or overnight. DO NOT OPEN THE OVEN.
STEP 8: Remove meringue cookies and allow to cool.
Dipping the Meringues
STEP 9: Melt the chocolate chips. Crush the candy canes (instructions in recipe card).
STEP 10: Dip meringue cookies one by one into the chocolate then the crushed candy canes. Allow to harden on the baking sheets.
How to Store Meringue Cookies
Pack meringue cookies in an airtight container with a piece of parchment paper in between single layers.
Making sure the container is air tight is key to keep meringues crisp!
Store them at room temperature (in a cool, dry location) OR in the refrigerator for up to 1 week packed this way.
NOTE: if you are in a warm climate, to prevent the chocolate from melting, keep them in the refrigerator.
Can Meringue Cookies be Frozen?
Yes! Pack the meringues as described above and freeze for up to 1 month.
To thaw remove them from the contain and place on a baking/cooling rack at room temperature.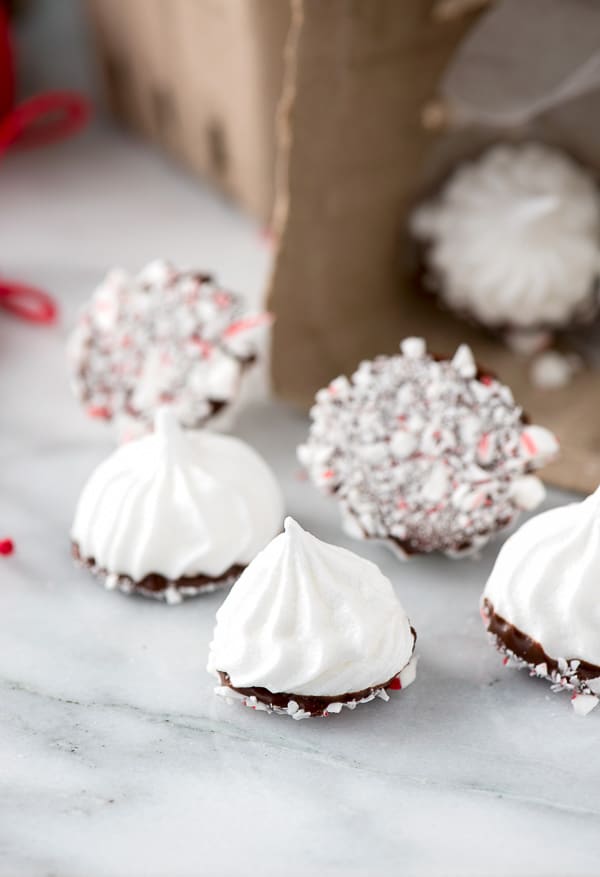 Did you make it? Please RATE THE RECIPE below!
Please SUBSCRIBE and FOLLOW ME on FACEBOOK , TWITTER , INSTAGRAM and PINTEREST !
Originally published: December 6, 2015