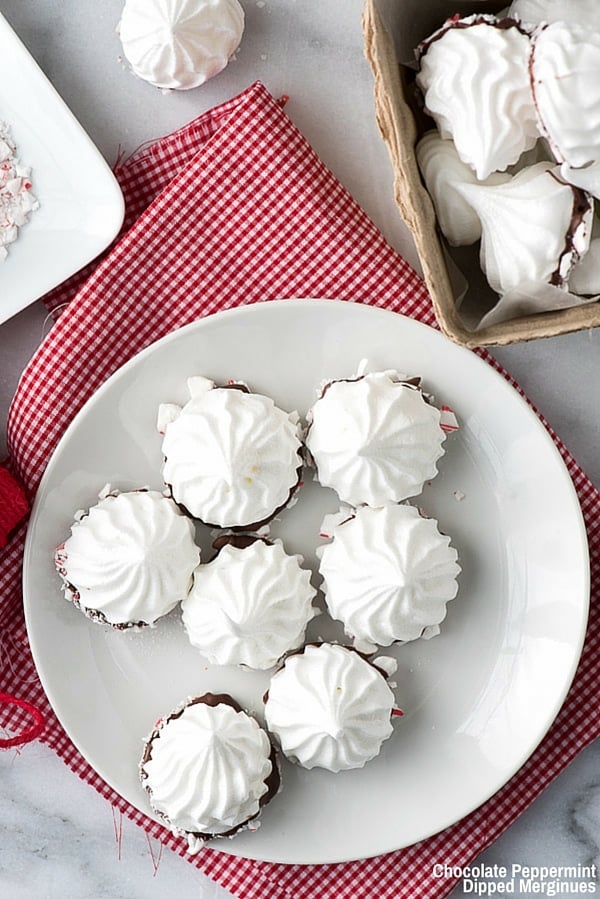 Most mothers will tell you they love their children equally. Most bloggers will say the same about their blog posts. However I will confess my blog post today is special to me in a way very different from the others.
My heart is full and it has almost been unbearable to wait to share this with all of you. Fellow Colorado Food Bloggers Yvette Marquez-Sharpnack (Muy Bueno Cookbook), Erin Sellin (Dinners, Dishes and Desserts) and I joined together last week on a mission to bring back a very simple idea; to bake something for someone you know, or someone in your community, to just do something nice for someone else.
We chose heroes in our community, Firefighters, and baked them some cookies. Who would have guessed something so simple could have such an impact on all of us. Take a look:
Each of us, Yvette, Erin and I, give back in our personal lives, especially in the holiday season. However we wanted to do something bigger, harnessing social media to spread the word, hoping others might join us. Inspired by a giving back campaign each from Toyota and The Food Network, we decided to share our experience by making a video and to share it using the hashtag #BakeItForward hoping it would spread and motivate others to Bake It Forward too.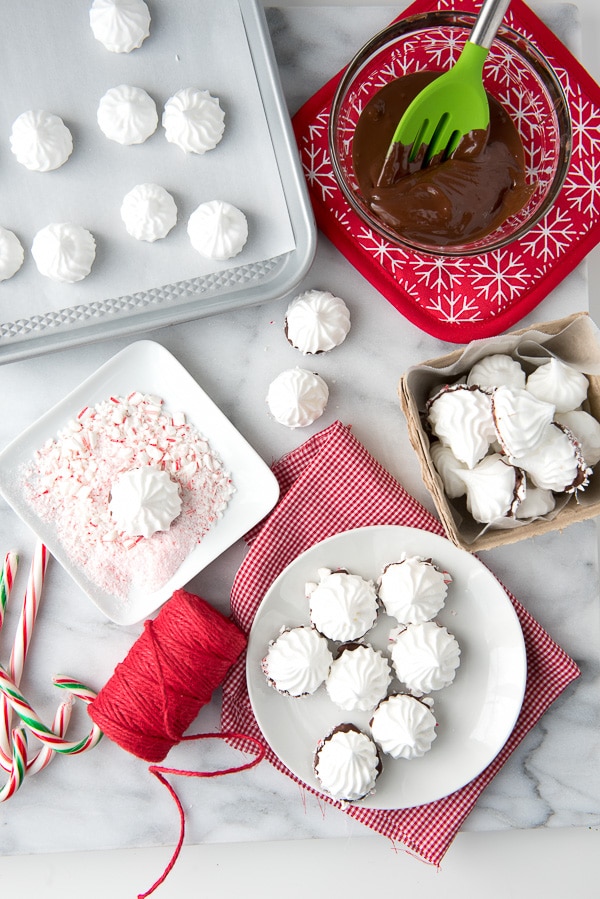 In the process of thinking of exactly what we wanted to do we learned about The Food Network's effort to encourage people to bake and share, for which they would donate $1 to No Kid Hungry; a cause the three of us as Food Bloggers and moms feel strongly about.
Ironically as things become busier during the holiday season, anything we haven't planned for can seem like a burden. I also think with most people spending a significant amount of time on laptops, smart phones and tablets, reaching out to another live person to do something nice isn't as common.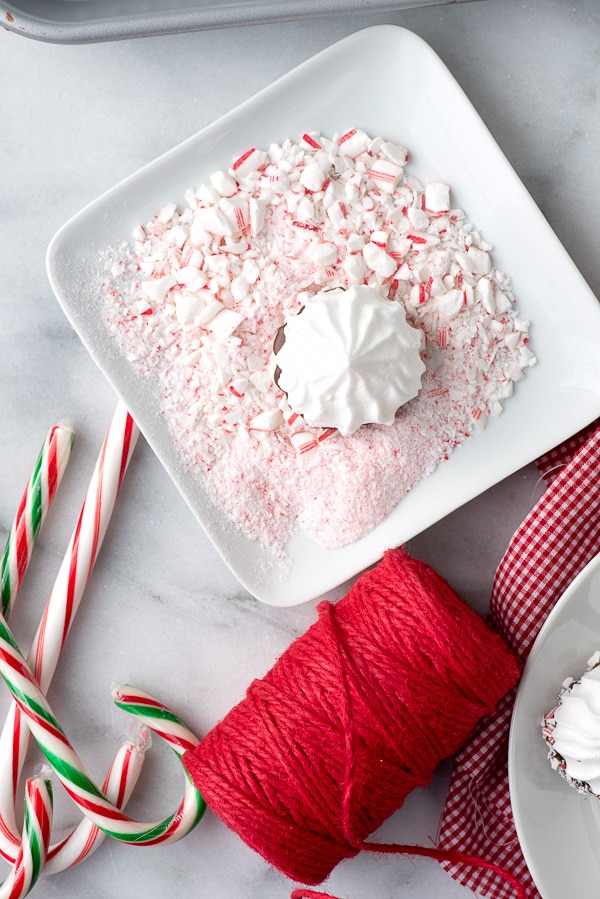 I went into this to do something for the firefighters and actually emerged realizing that it did something for me as well. It was an honor to me to offer something as simple as a batch of cookies to people who keep us safe every day. In the end I felt like I got the gift.
Today I'm sharing the cookie I brought the Firefighters: Chocolate Peppermint Dipped Meringue Cookies. They are very easy to make and a fun treat for the holidays. You'll see some of the steps in the video too. Please also check out Yvette's Biscochos (Mexican Wedding Cookies) and Erin's Frosted Sugar Cookies and her White Chocolate Fudge.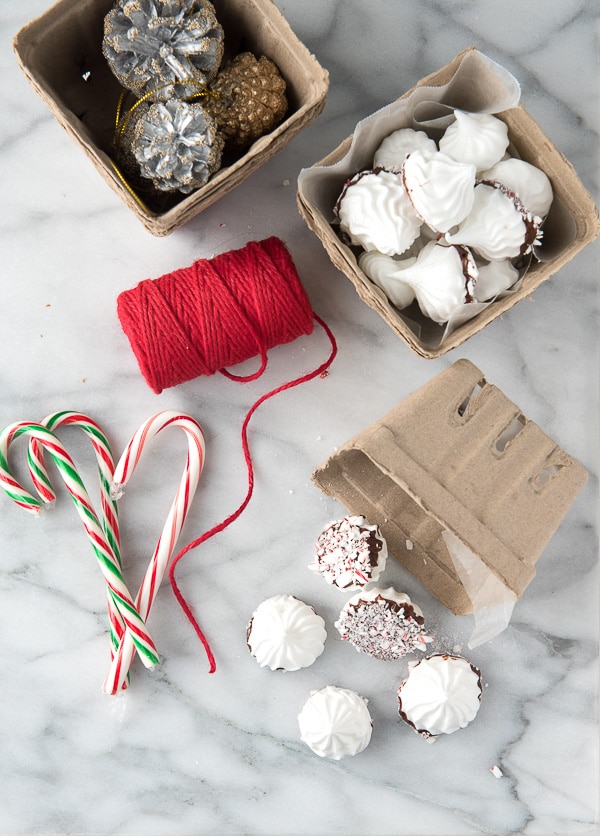 Rather than talking about the cookies I'd like to ask each of YOU to Bake It Forward for someone you know who might need a lift, whom you appreciate personally or someone in your community. Please consider sharing this blog post or the video from my Facebook Page (using the share button) and encourage others to do the same. Post a picture of your baked goods on Facebook, Twitter or Instagram, tagging a friend to do the same and use the hashtag #BakeItForward so The Food Network will donate to No Kid Hungry too. Let's make this a happier holiday season for all! (Note: we have no personal affiliation with The Food Network or their campaign.)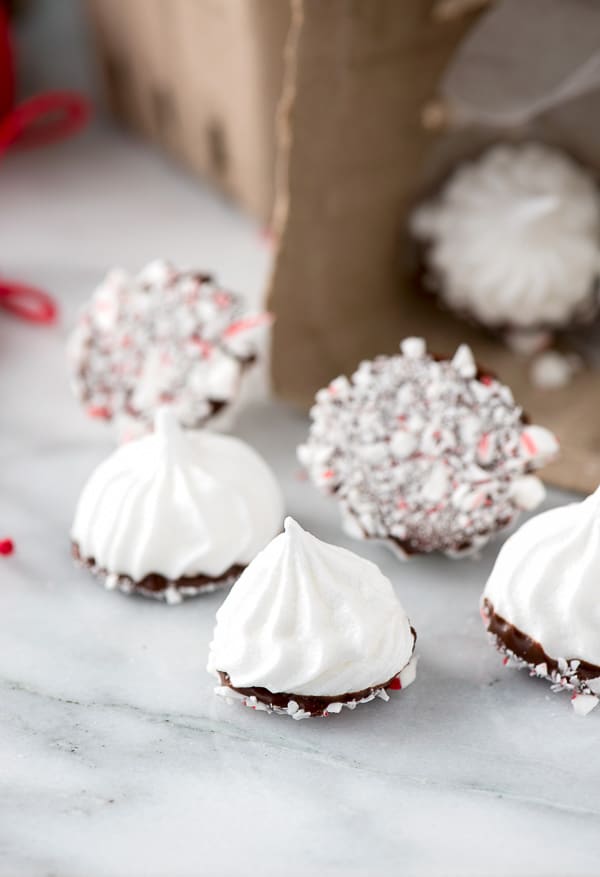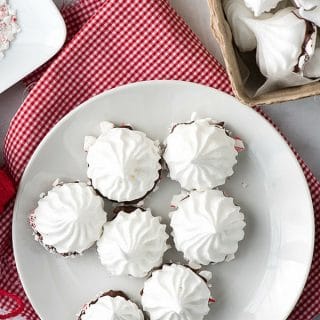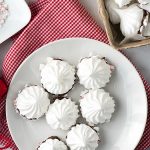 Chocolate Peppermint Dipped Meringues
Meringues are simple to make and fascinating to watch transform from a glossy to matte white exterior as they set in a previously warmed oven. A dip in chocolate and smashed candy canes makes them a happy addition to any holiday event. They are a light, crunchy cookie which are naturally gluten-free.In my experimentation I have found a standing mixer whips the egg whites better than a hand held mixer. If using a hand held mixer it may take longer for the egg whites to peak. They need to be well formed for the meringues to take shape.The total time listed includes the resting time of 2 hours in the oven.
Total Time
2
hours
20
minutes
Servings
40
meringue cookies
Ingredients
2

Egg Whites

½

teaspoon

Cream of Tartar

2/3

cups

Granulated Sugar

1

cup

Semi-Sweet Chocolate Chips

8

standard sized Peppermint Candy Canes

Parchment paper or silpat

(s)

Pastry bag with large open star tip
Instructions
Heat the oven to 300 degrees F and then turn it off. While the oven is heating, line 1 large or 2 standard size baking sheets with parchment paper or a silpat.

After turning off the oven, beat the egg whites with the whisk attachment of a stand mixer for 3 minutes until peaks have formed. Sprinkle in the cream of tartar and beat in (10-15 seconds).

As the mixer continues to run on high slowly spoon in the sugar a little at a time until fully incorporated. The mixture will have a glossy finish.

Spoon the meringue mixture into the pastry bag and pipe small meringues onto the prepared baking sheets. Pipe until a 1-inch meringue is created then lift the pastry bag up to create a tip (refer to photos).

Place the meringues into the oven and leave the door closed for 2 hours or until the meringues change to have a matte exterior. Do NOT open the oven door during the time the meringues are setting. They can also be left in the oven overnight.

Remove the meringues and allow them to cool slightly on the pan.

While the meringues are cooling, melt the chocolate chips in a metal bowl over a saucepan of boiling water, stirring often, or in the microwave following the melting instructions on the package.

Smash the candy canes by unwrapping them, placing them in a plastic zipper bag OR on a hard surface (cutting board or countertop) covered with waxed paper and pounding them with a rolling pin or meat tenderizer.

One at a time, dip the flat bottom of a meringue into the melted chocolate (allow any excess chocolate to drain) and into the crushed candy canes. Place them on a fresh piece of parchment paper. Repeat until they are all completed and allow them to harden. Note: They can be placed on a baking sheet and into the refrigerator to speed up the process.
Nutrition Facts
Chocolate Peppermint Dipped Meringues
Amount Per Serving
Calories 50
Calories from Fat 9
% Daily Value*
Fat 1g2%
Cholesterol 0mg0%
Sodium 2mg0%
Potassium 34mg1%
Carbohydrates 8g3%
Protein 0g0%
Vitamin A 0IU0%
Calcium 3mg0%
Iron 0.3mg2%
* Percent Daily Values are based on a 2000 calorie diet.
This effort reflects the conviction and support of many. My deepest thanks to them all.
Video: Pure Cinematography / Make-Up Artist: Vanessa Blanco / Art Direction and Decor: Barbara Shepherd, Karen Vasquez, and Nadine Trujillo  / Calligraphy Artist: Rebecca Caridad / Production Assistants: Karen Vasquez and Erlinda Marquez/ Transportation: Toyota / Littleton Firefighters / Food Bloggers: Yvette Marquez-Sharpnack (Muy Bueno Cookbook), Toni Dash (Boulder Locavore) and Erin Sellin (Dinners, Dishes and Desserts)