A garden fresh main dish salad doesn't have to be boring. This Mexican Cobb Salad is bursting with color and texture including grilled chicken, bacon, corn, cherry tomatoes cheese and Roasted Tomato Dressing. Truly irresistible!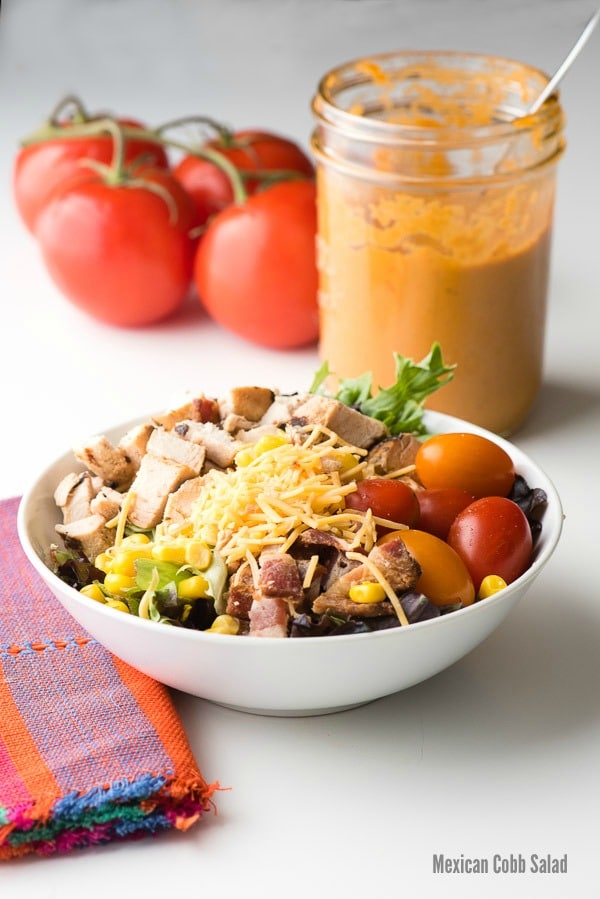 I have loved Cobb Salad for as long as I can remember. The variety of toppings, flavors and textures is perfection for someone like me who loves 'options'. Why go with just one ingredient when you can have a little bit of everything!
Our summer has not tracked our usual pattern of spending June and July at home while the kids are swimming with their summer swim team then taking off for parts unknown for vacation before school begins. Last year we took a mad 6,000-mile road trip (planned in less than 10 days I might add) to the Canadian Maritimes which was fantastic.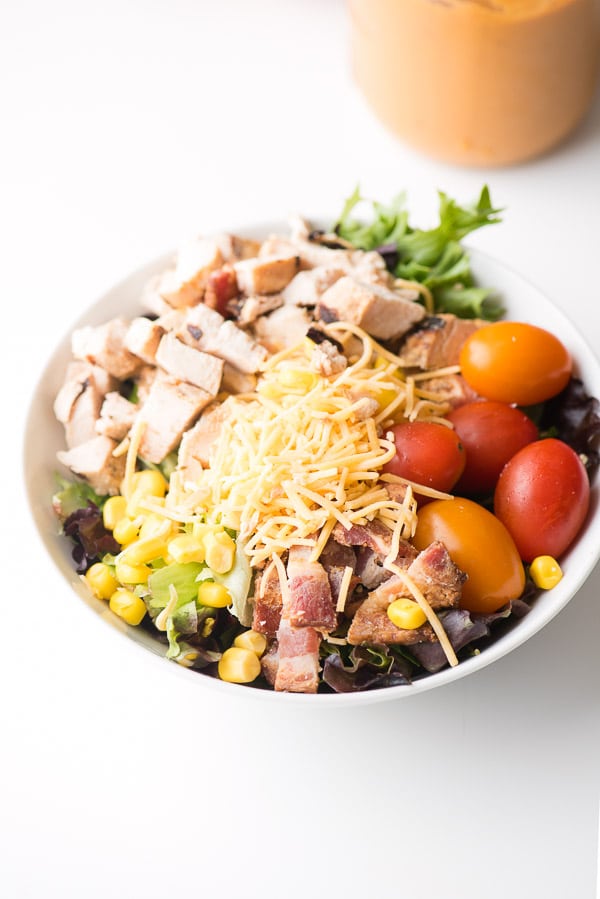 We are approaching my daughter's senior year in high school so the normal frolicking of summer has been consumed by dense college visits, usually one a day in different regions of the U.S. My son and I stayed back feeling OUR summer vacation was NOT having to go on the collegiate death march!
The past week while my husband and daughter toured 7 schools packed into 6 days, we were lazy watching hours of Olympic swimming and gymnastics on TV. Summer science fair research has consumed half of every day it seems but I wanted to be sure to do some fun things to offset the requisite work.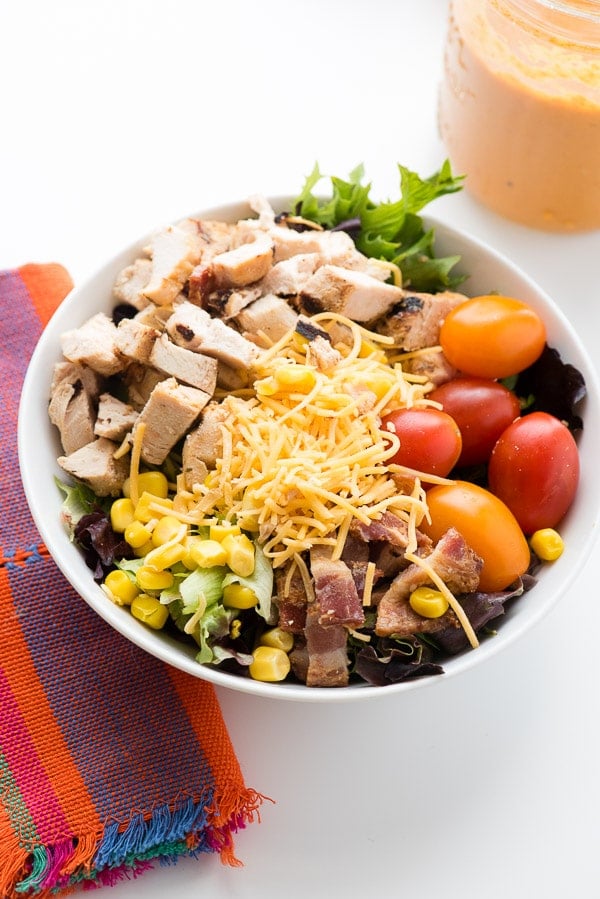 My son has really taken a shine to cooking, usually motivated by YouTube videos. No complaints from me. In the last week he's mastered scrambled eggs, makes fantastic smoothies, a successful gluten-free mug cake (that may show up here soon), a smoothie bowl and more.
For fun one night we picked up some food to go at our local grocery market before coming home to watch yet another Adam Sandler movie (every Middle School boy's favorite). I realized whenever we pick up food from this store I always get the same thing:  Mexican Cobb Salad. I love the variety of colors and textures, and clearly am often too lazy to make it myself.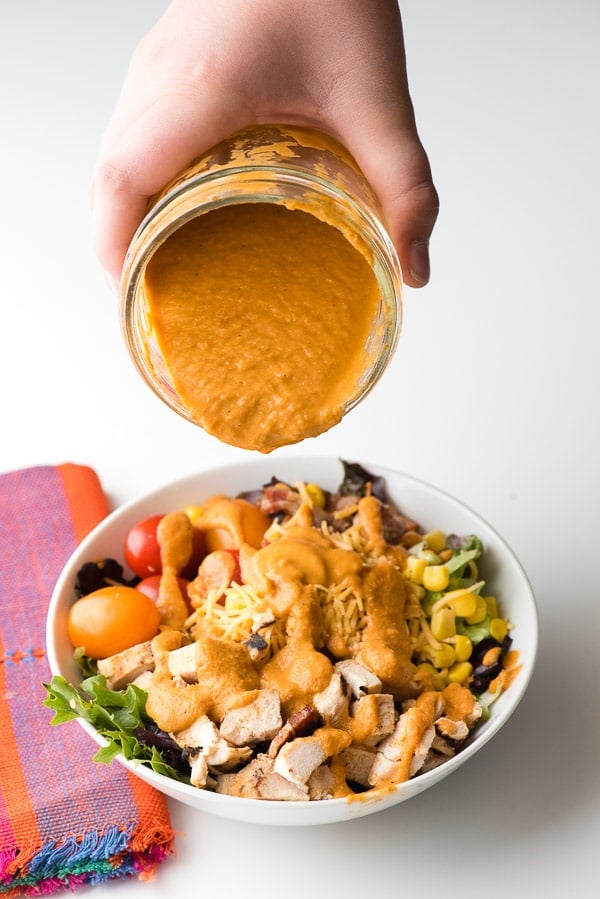 For those who aren't sure what a Cobb Salad is, it's a main dish garden salad usually featuring lettuce, chunks of chicken, tomato, bacon, hard boiled eggs, avocado with a Roquefort dressing. It's filling and packed with great flavor
Like any salad, a Cobb Salad is open to interpretation and I love a Mexican version. Fresh soft lettuce, grilled chicken breast (using rotisserie chicken or homemade shredded chicken works well too), bacon, corn, cherry tomatoes and cheese; all topped with Roasted Tomato Dressing. It's so delicious and great for packing in back-to-school lunches too (I love this salad container that keeps the dressing separate; and this salad container has a snap on ice pack).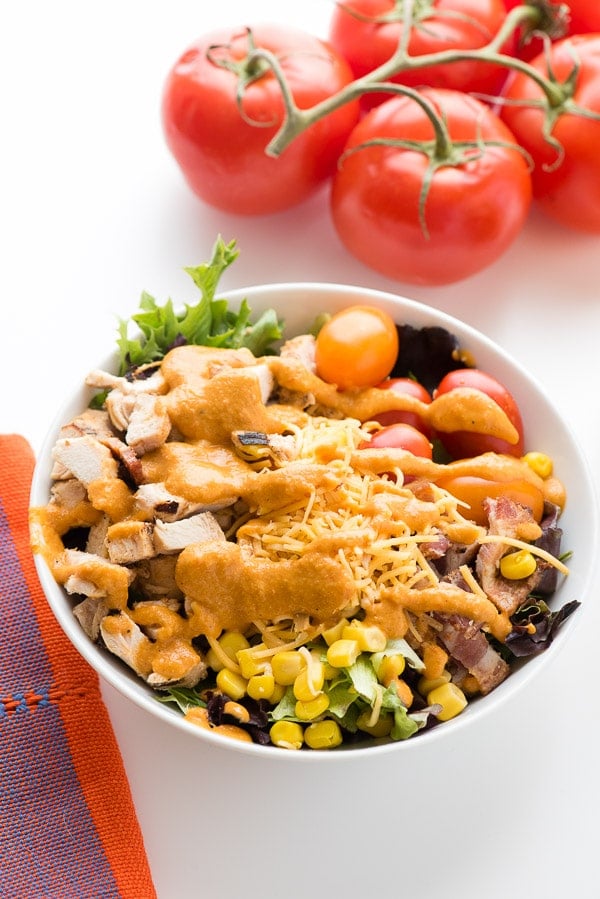 Though this recipe is intended for one, the recipe can be multiplied and served as a side salad to compliment other dishes too!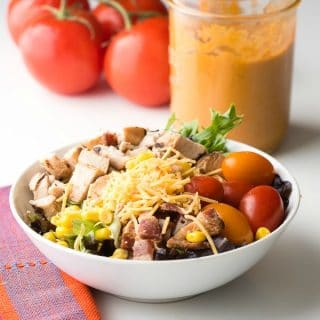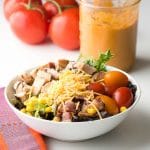 Mexican Cobb Salad
Mexican Cobb Salad is a hearty main dish salad that fills the senses as well as one's stomach. This recipe is intended as one main dish although can be divided as two side salads. Additional salads may be prepared by multiplying the ingredients by the number of main salads desired. The total time does not include making the dressing (about 30 minutes).
Servings
1
main dish salad or 2 side salads
Ingredients
1 1/2

cups

Red Leaf Lettuce; rinsed

, dried and torn into bite-size pieces

¼

cup

chopped Grilled Chicken

(shredded chicken or rotisserie chicken may be substituted)

1

slice

thick Bacon

, cooked until done (but not crisp) and chopped

5

Cherry Tomatoes

, rinsed

2

tablespoons

Corn Kernels

(fresh or frozen and thawed)

2

tablespoons

Shredded Mexican Cheese blend

(or sharp cheddar)

2-4

tablespoons

Roasted Tomato Dressing
Instructions
Place the prepared lettuce in a large dining bowl. Top with the chicken, bacon, tomatoes, corn and cheese. Drizzle on the dressing and serve.
Nutrition Facts
Mexican Cobb Salad
Amount Per Serving
Calories 446
Calories from Fat 297
% Daily Value*
Fat 33g51%
Cholesterol 78mg26%
Sodium 822mg34%
Potassium 449mg13%
Carbohydrates 13g4%
Protein 22g44%
Vitamin A 3755IU75%
Vitamin C 21mg25%
Calcium 209mg21%
Iron 1.5mg8%
* Percent Daily Values are based on a 2000 calorie diet.