Cool, crisp lettuce, tangy ginger dressing, steaming hot stir-fry all in one dish? Mongolian Beef Salad with Ginger Vinaigrette is ready in a flash, bursting with flavor and a great main dish salad you'll love!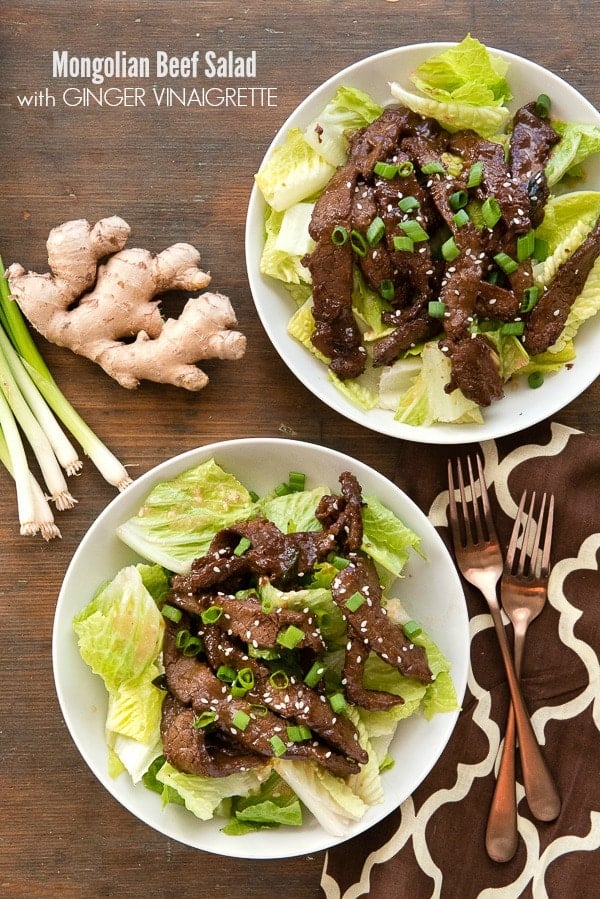 I was mentioning last week when I shared a favorite Lemon Garlic Broccoli recipe that I have been trying to eat more salad but failing, miserably I will add.
I don't know why I can graze on fresh greens in the summer months three times a day without question but as soon as it's chilly, it's a no go for me.
If you want to try the standard Take Out recipe try this Mongolian Beef recipe too!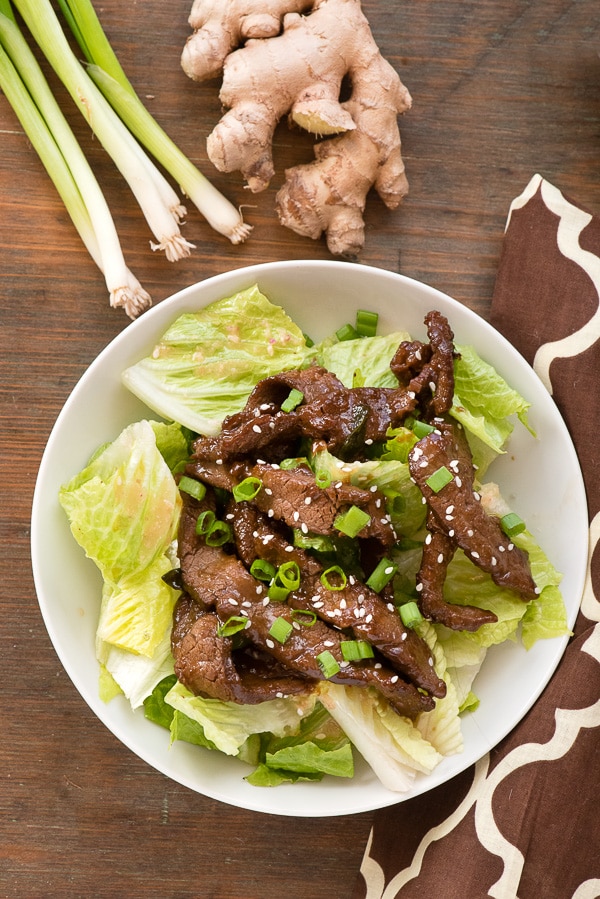 Embarrassingly I waste container after container of mixed greens as they get pushed to the back of the refrigerator until it's too late. Does this happen to you too? Please say yes.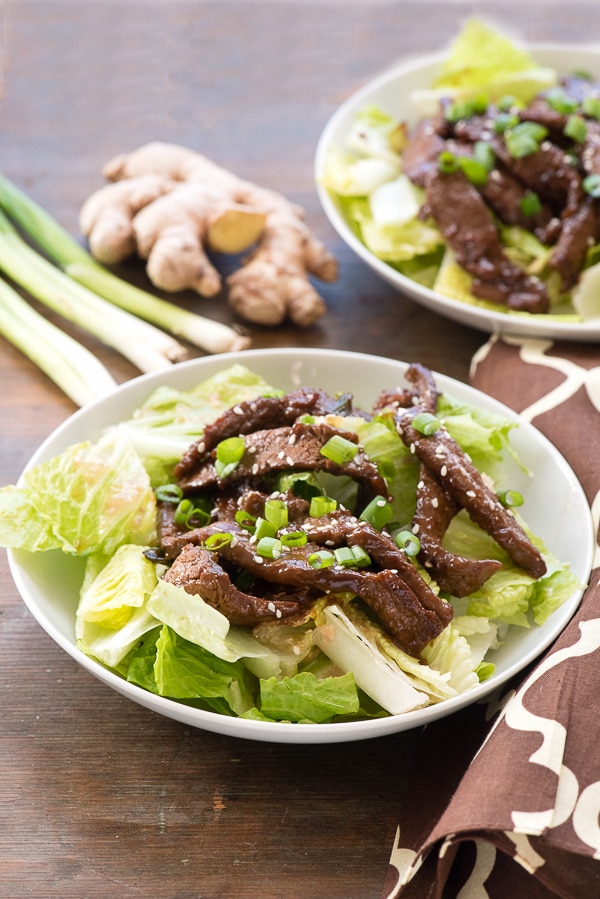 Ironically, I've been craving greens at the same time. Firm, crisp, crunchy greens with protein and a bold dressing. I had the idea to make Mongolian Beef Salad with Ginger Vinaigrette and am so happy I did!
Stir-fry recipes are a great, fast dinner option. A few of my favorites are Spicy Ginger Chicken Stir Fry and Spicy Garlic Sriracha Shirmp and Broccoli Stir Fry. They are quick to cook, healthy and easy to make. However it was this Spicy Southwestern Steak Stir Fry that sparked my salad idea.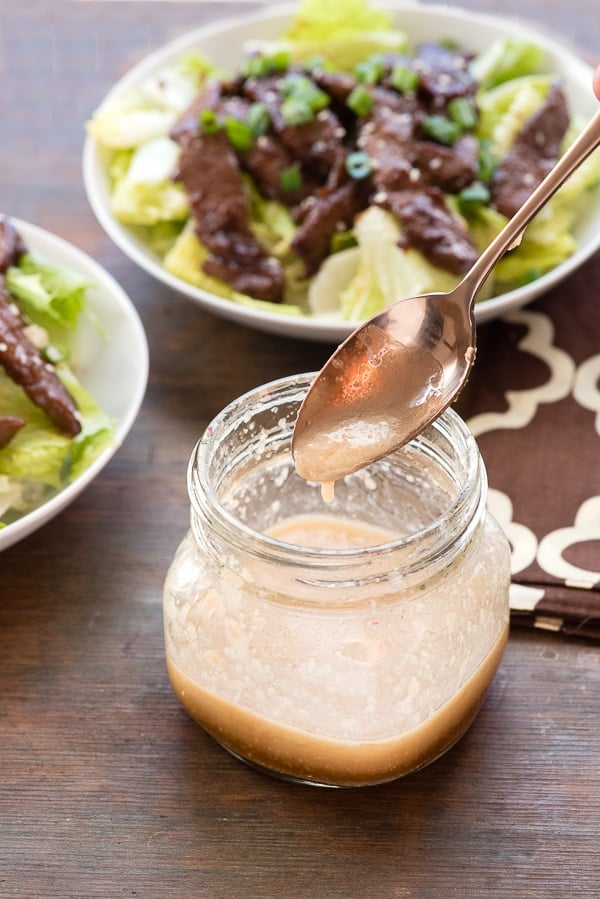 Mongolian Beef is also a stir fry recipe that is easy to make. What you might not know is that traditional Mongolian beef has a high amount of sugar in the recipe (often ½-2/3 cups) and it's essentially fried in oil which gives it that crispy finished texture.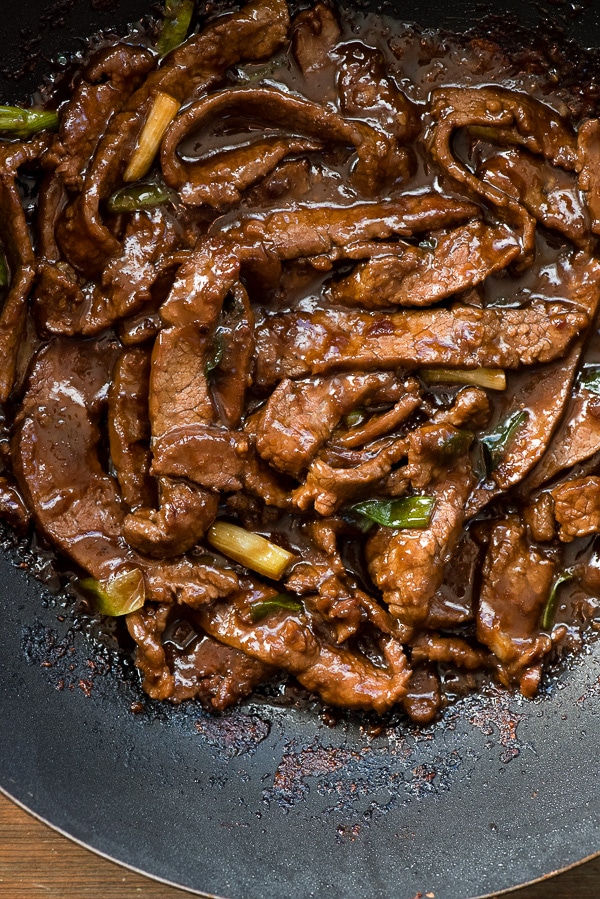 More fat and sugar are not my goal at the moment so I created a lightened-up version to put on top of crunchy romaine lettuce hearts that are drizzled with a bold ginger dressing. YUM, right?! The flavors and textures are fantastic together. I add the beef right out of the wok onto the cool greens and love the two temperatures together.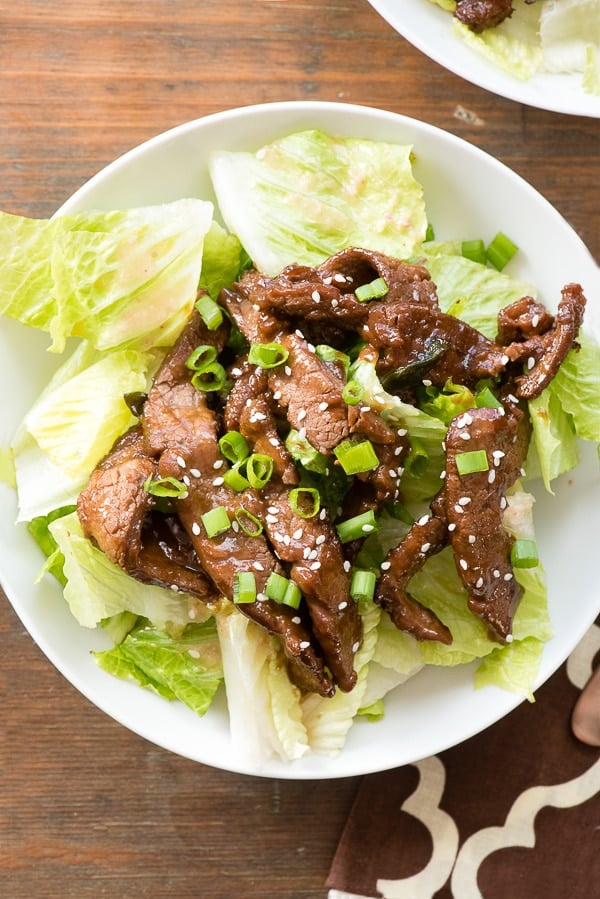 This salad is a perfect main dish meal. The protein is filling and satisfying. The flavors fill the senses. AND it's a great way to get a dose of greens in a fun and interesting way!
This Mongolian Beef Salad with Ginger Vinaigrette recipe is a feast for the senses! Crispy, cool romaine hearts topped with sizzling hot stir-fried beef and a drizzle of bold ginger dressing. Easy to prepare, fantastic flavor and satisfying!