Chinese Chicken Salad is loaded with vibrant flavors and textures. Great for a main dish salad that's filling and satisfying!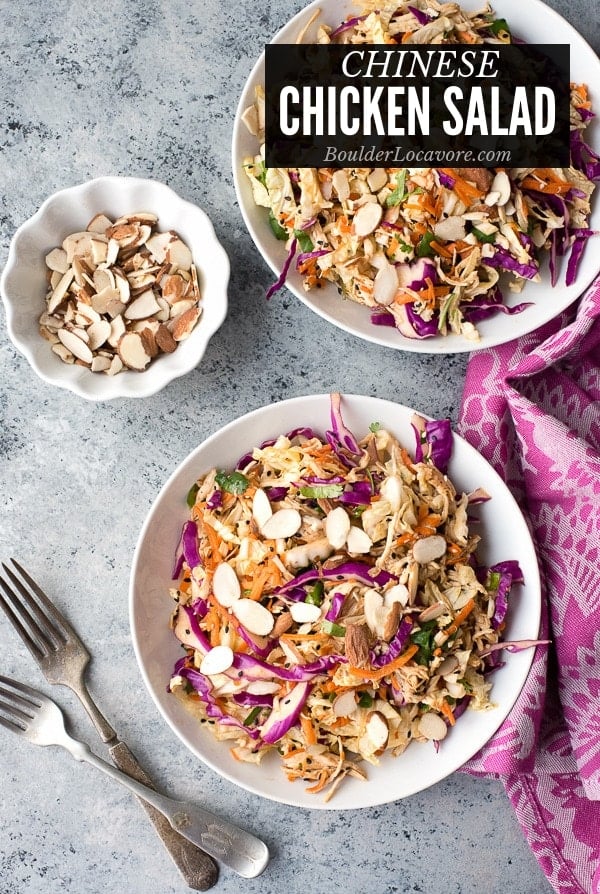 This favorite restaurant dish is easy to make at home too!
The filling, wholesome ingredients and bold flavors in the dressing make it a perfect year-round main dish recipe.
Bright colors and fresh crunchy texture make it a family favorite recipe.
What Is Chinese Chicken Salad?
It is a robust salad featuring chopped or shredded chicken.
Asian ingredients and flavors that have become popular in the United States combine to make the salad a fresh, brightly flavored, crunchy main dish.
There are many variation of this recipe. I'm not sure there a true standard version!
Some versions include canned mandarin orange segments or fried Chow Mein noodles.
Instead I opted for more fresh ingredients that give the burst of flavor and the crunchy texture.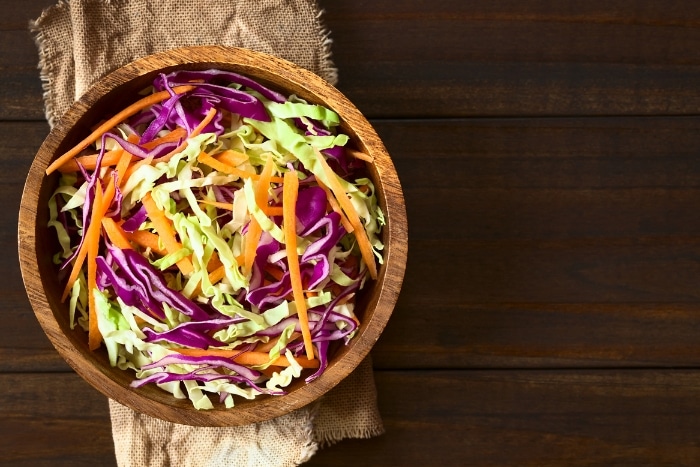 Recipe Ingredients
What's in it? Loads of wholesome delicious ingredients!
Soft Napa cabbage
Red cabbage
Cilantro
Carrots
Green onions
Shredded chicken breast – homemade or Rotisserie chicken
Sliced almonds – finish the presentation and give another crunch
The combination of red and green cabbages make a beautiful color combination for the other ingredients!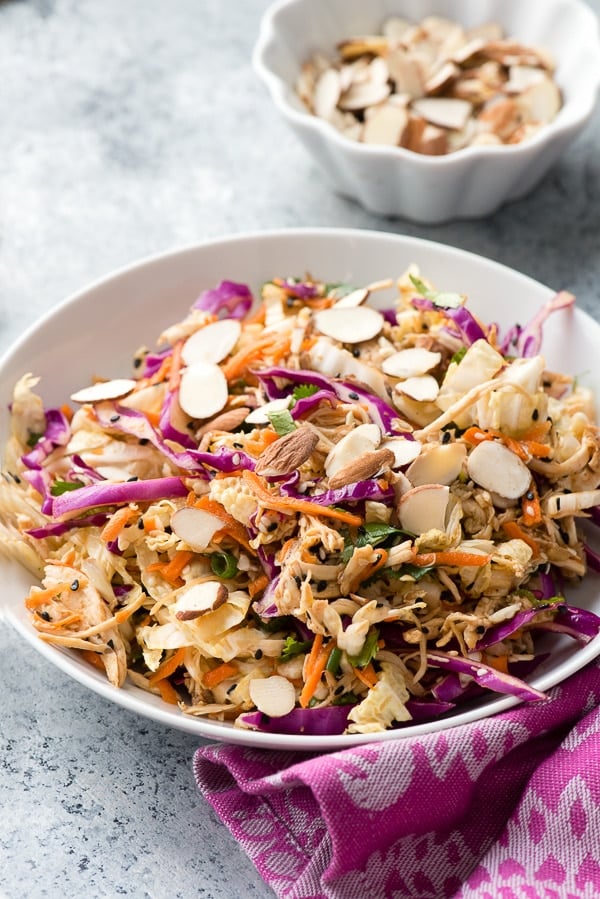 How to Make Chinese Chicken Salad Dressing
The dressing is a combination of wonderful Asian flavors:
Sesame oil
Rice Wine Vinegar – Rice Vinegar can also be used
Chili oil – for a light bit of heat
Tamari or soy sauce – for some salt
fresh Ginger
Brown Sugar
Garlic
It's tangy, salty, spicy and bright in flavor adding the finishing touch on the salad.
The fresh ginger and garlic flavors add a big punch of flavor!
Add all ingredients to a jar and seal.
Shake to combine and set aside for the flavors to infuse while making the salad.
PRO TIP for Adding the Dressing
If you'll be serving the salad in one sitting, use all of the dressing.
If you will serve it over a few meals, add the dressing ONLY to individual portions of salad and store the rest in the refrigerator.
Keep the salad in a sealed container or covered with plastic wrap, and the dressing separately in a sealed jar.
This will keep the salad fresh and crunchy until the dressing is added.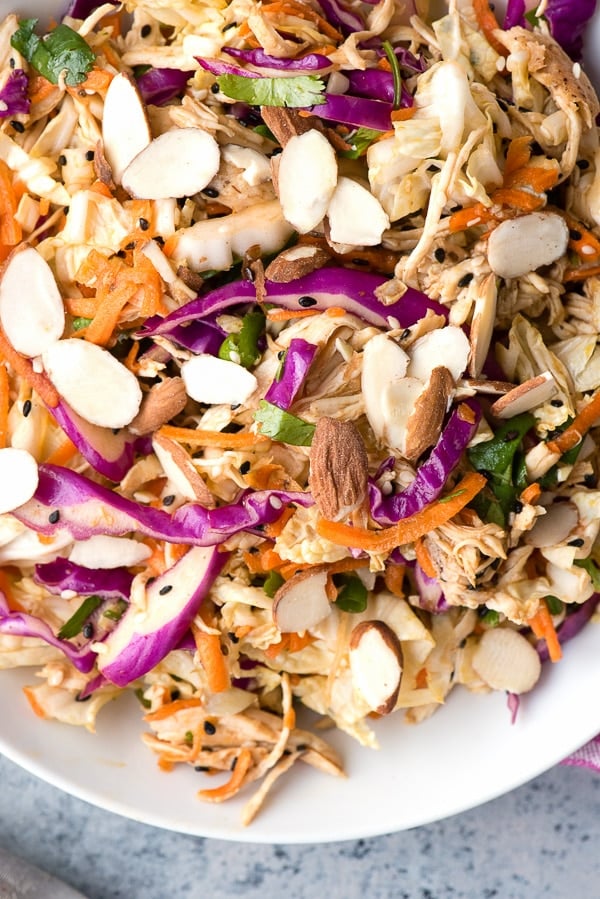 Make it Gluten-Free!
This recipe does not contain Chow Mein noodles as some recipes do.
That takes the gluten away from the ingredients.
When making the dressing use Tamari, which is a gluten-free version of soy sauce!
PRO TIP: How to Cook Chicken for the Salad
Shredded chicken breast adds tasty protein to this salad recipe.
The recipe calls for making the BEST shredded chicken via a little trick I have!
It makes moist, shredded chicken packed with great flavor!
It doesn't taste like stewed chicken which is often used on salads.
Also a cool shredding method (no forks or fingers required) that's truly life changing.
Both this methods are easy and something you'll use again and again in different recipes.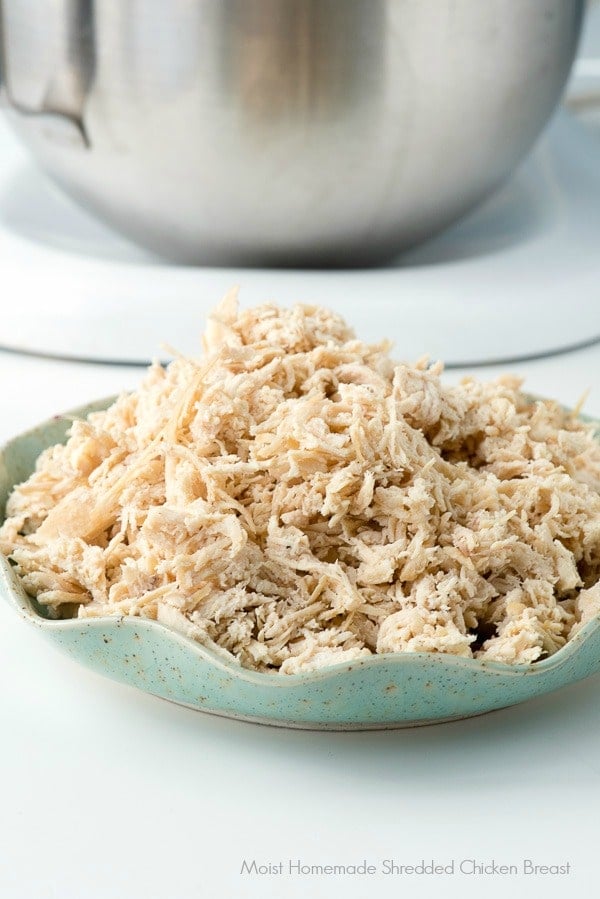 Make it a Meal!
Since this is a main dish recipe with a variety of satisfying ingredients, it's fine to serve it by itself.
If you want to add more to the menu here are some suggestions:
Pot Stickers (I make frozen gluten-free pot stickers that are as good as those homemade; keep it easy)
Egg Rolls
Fruit Skewers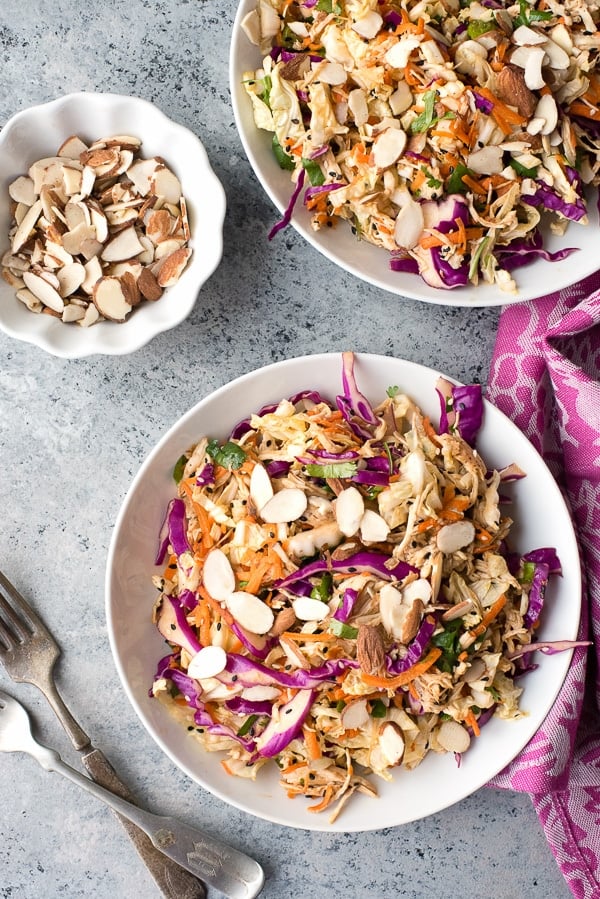 Did you make it? Please RATE THE RECIPE below!
Please SUBSCRIBE and FOLLOW ME on FACEBOOK , TWITTER , INSTAGRAM and PINTEREST !
Originally published: January 6, 2017