Fresh and crunchy Chinese Chicken Salad is loaded with vibrant flavors and textures.  Great for a main dish salad that's filling and satisfying!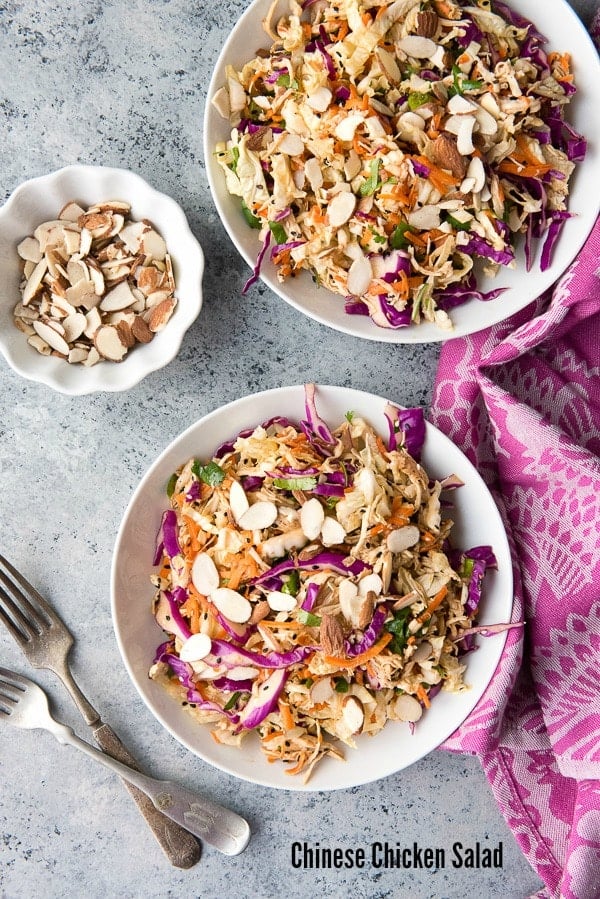 I don't know if this happens to you but I usually hit a rich food or dessert wall somewhere in the middle of the holidays.  As much as I enjoy the flavor of those foods, towards New Year's I begin to dread dessert.
This year (or technically last year now) we enjoyed Fully Loaded Chocolate Peppermint Oreo Brownies, which I'd normally freeze a portion of to save us downing an entire pan but never got around to it. Fluffy Gluten-Free Chocolate Mint Ice Box Cake, along with other chocolates and treats kept us well supplied and noshing all through the holiday break.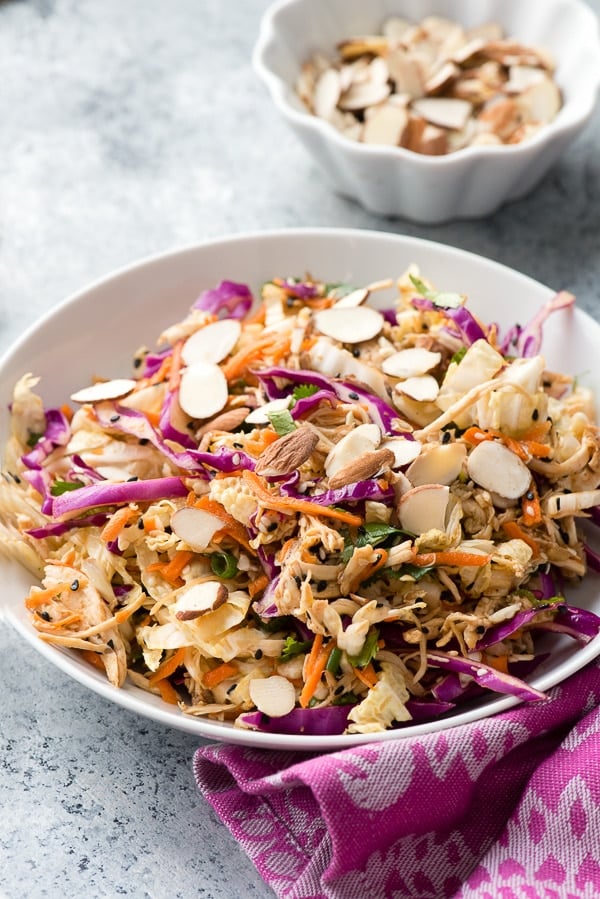 When planning for New Year's Eve, I had asked my 13-year old son to take on making dessert as he loves to bake and is very creative.  During our conversation about it I said to him 'do you ever get totally burnt out on dessert and feel like you just don't want to eat any more?'  He blinked, looked at me like I was part of a foreign species and succinctly replied 'no'.
I have been dreaming about making this Chinese Chicken Salad for about 3 weeks now.  Like daydreaming about an equatorial vacation spot in the middle of the snowy winter, everything about this salad has been calling to me.  I love the bright, fresh flavors of the salad ingredients and the dressing.  I love the variety of colors.  I love the crunch of fresh ingredients.  And that there's no chocolate in it.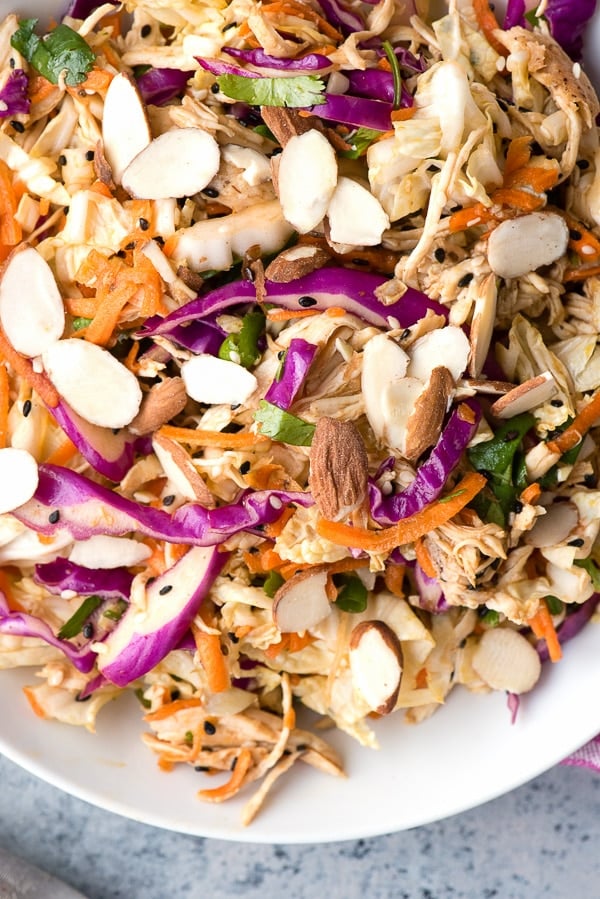 This is not a totally traditional Chinese Chicken Salad.  My husband asked if I was going to put the canned mandarin orange segment in it (no).  Nor are there any chow mein noodles.  Instead I opted for fresh ingredient that give the burst of flavor and the crunch.
Soft Napa cabbage, red cabbage, cilantro, carrots and green onions together make the salad.  Shredded chicken breast adds tasty protein.  The recipe calls for making the shredded chicken via my own recipe (which was the most popular recipe on Boulder Locavore last year) which makes flavorful shredded chicken, without a fuss and a cool shredding method (no forks or fingers required).  Unlike most shredded chicken, this version has real flavor and does not taste like stewed chicken.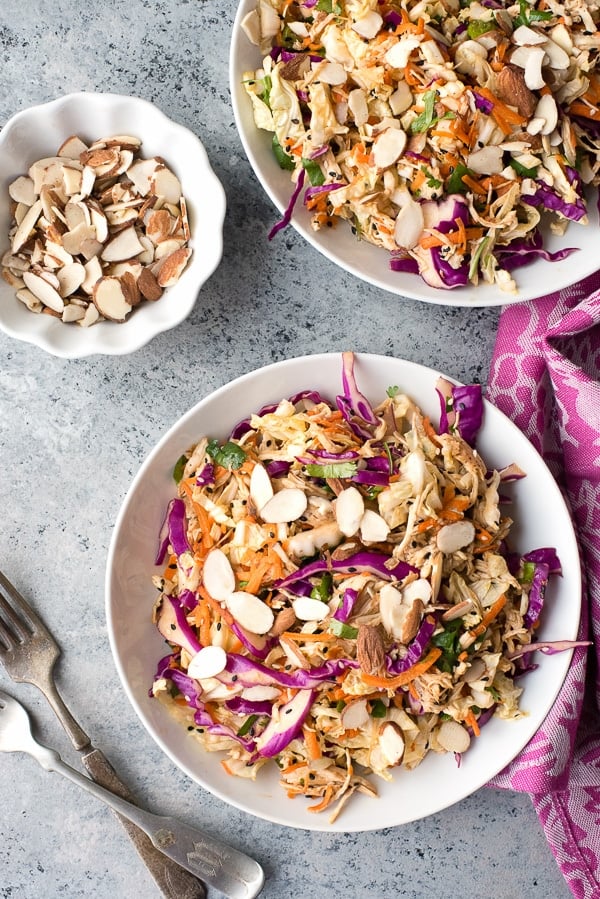 The dressing is a combination of wonderful Asian flavors with sesame oil, chili oil for a light bit of heat, Tamari or soy sauce for some salt, fresh ginger and garlic.  It's tangy, salty, spicy and bright in flavor adding the finishing touch on the salad.  Sliced almonds finish the presentation and give another crunch.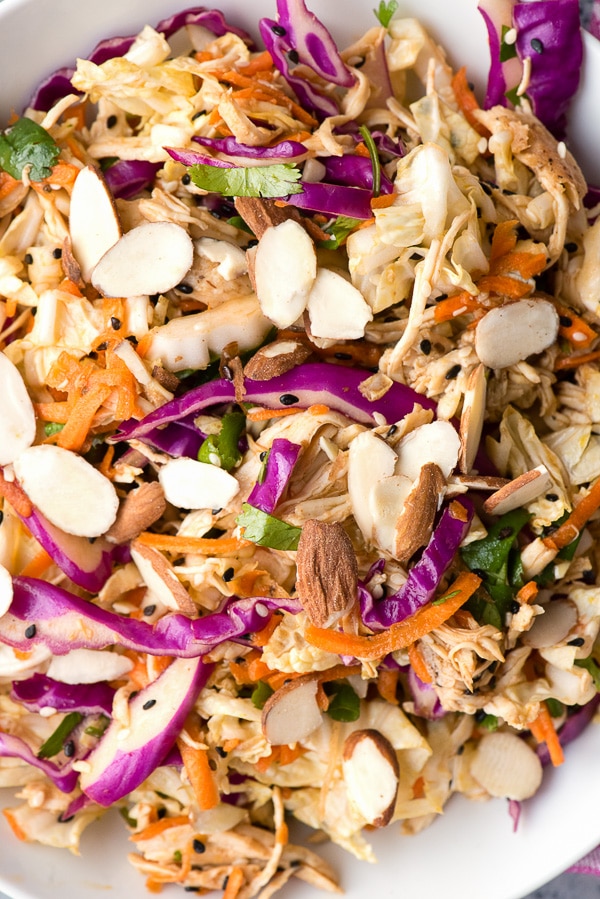 If you'll be serving the salad in one sitting, dressing the salad with all of the dressing.  If you will serve it over a few meals, dress individual portions of salad and store the rest in the refrigerator (the salad in a sealed container or covered with plastic wrap and the dressing in a sealed jar).

I want to connect with you! Leave a comment and follow me on Facebook, Twitter, Pinterest & Instagram!