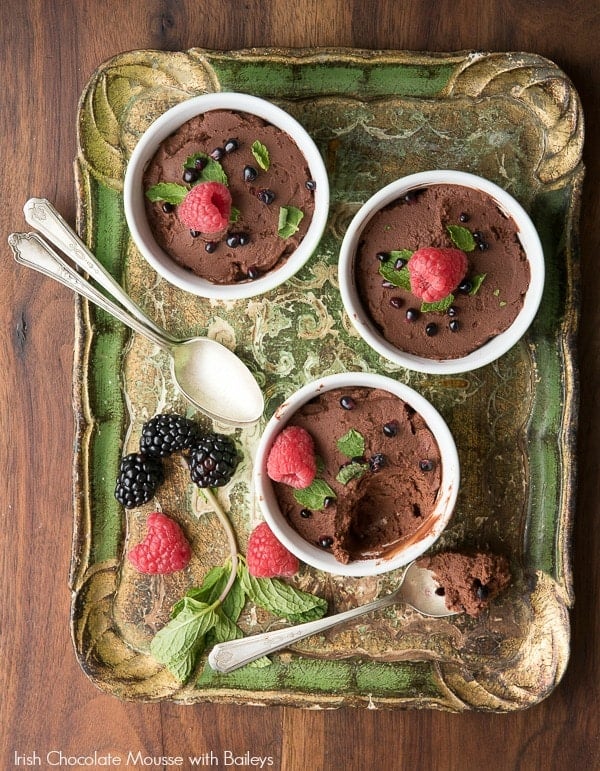 I have a Corned Beef brisket ready for the slow cooker, and am vacillating between Colcannon or Irish Potato Champ for the potato side, Double Irish Trouble Milkshake or Irish Coffee (maybe one of each?!) but decided instead of the whimsy of Leprechaun Tracks Ice Cream I'm going more traditional for St. Patrick's Day this year:  Irish Chocolate Mousse with Baileys. Well, maybe not traditional but a bit more grown up!
I love all the crazy green foods to be found on the internet at this time of year but I personally tend to go in a more traditional recipe direction when planning a St. Patrick's Day celebration or dinner. Perhaps due to my travels to Ireland and having a number of Irish friends, still in the motherland as well as transplanted in the U.S. When I began to travel to Ireland for work, and my work mates traveled to the U.S., invariably we'd be together around St. Patrick's Day either here or there. The madcap drunken antics of the U.S. St. Patrick's Day was a far cry from the celebration of the saint himself in Ireland. No green beer or Corned Beef and Cabbage.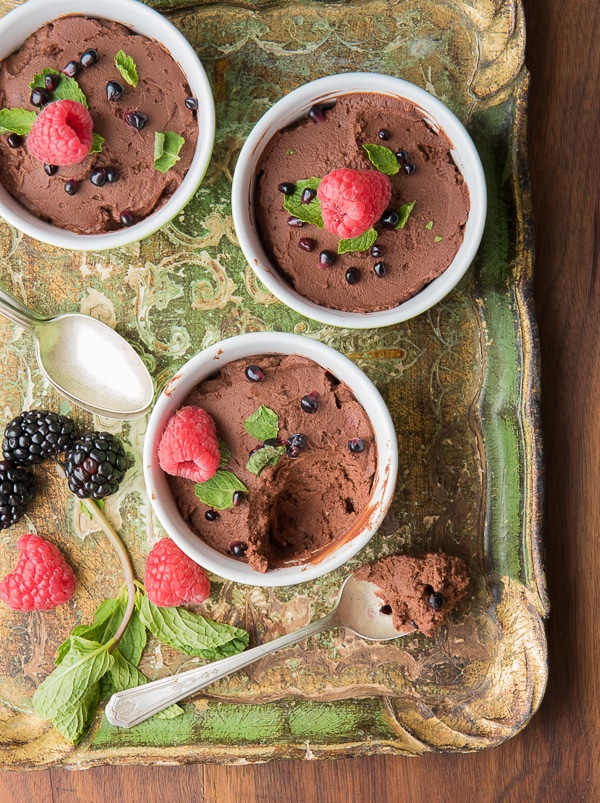 Things are changing and candidly my friends confessed that word of the rollicking good time of a New York St. Patrick's Day celebration made it back to Ireland and they've zipped it up a bit, never liking to miss a party. In the Boulder Locavore household we celebrate our Irish roots and our friendships with traditional Irish food in March. I've shared many of the authentic Irish recipes I've collected with you too. It's traditional for us to serve Guinness for my husband and Irish whiskey or Irish coffee for me (until the day Guinness might make a gluten-free version!) as well.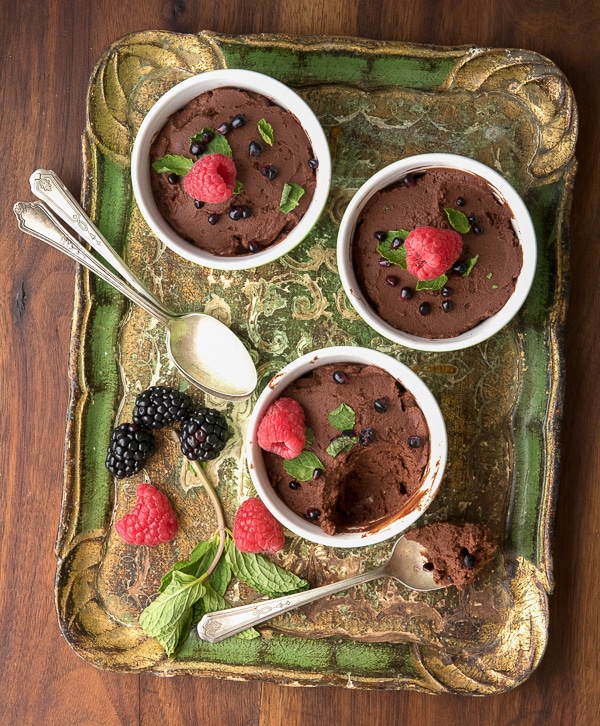 This year I made a dessert that's all but whimsical. It's a rubber-meets-the-road mousse for serious chocolate lovers. That kind of dessert where everyone sits around the table silently, absorbed in the journey of wherever the chocolate takes them. The rich mousse is made with bittersweet chocolate which is deep in flavor to begin with however the secret here is adding some mascarpone cheese, strong coffee and Bailey's Irish Cream taking it to a whole new level. I love to serve it with some berries which complement the chocolate flavor and a dollop of whipped cream. It's not just for St. Patrick's Day of course, but will certainly be the perfect end to your dinner!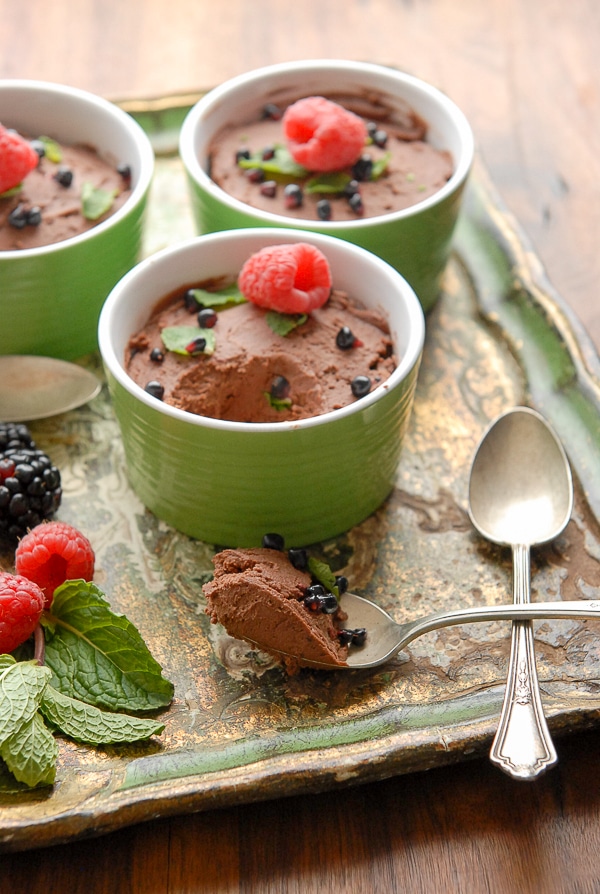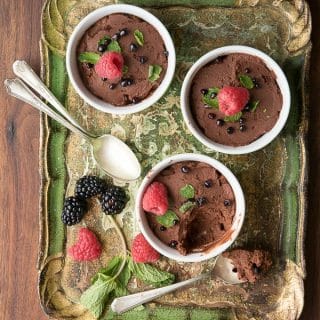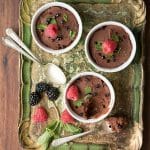 Irish Chocolate Mousse with Baileys
This sultry deep chocolate mousse is unforgettable. Made richer with mascarpone cheese, strong coffee and Baileys Irish Cream, it very well may become your new favorite! Mousse is fairly simple to construct with the bulk of the Total Time being chilling. It definitely may be made ahead for an event, just ensure it is fully sealed and kept in the refrigerator.
Ingredients
6

ounces

Bittersweet Chocolate

(chocolate chips or a bar chopped)

4

ounces

Mascarpone Cheese

, room temperature

2

tablespoons

Granulated Sugar

2

tablespoons

strong Coffee

, cooled to room temperature

2

tablespoons

Baileys Irish Cream

½

cup

Heavy Whipping Cream

Optional topping: mixed fresh berries

, whipping cream
Instructions
Place the chocolate in a heatproof metal bowl on top of a saucepan of boiling water. Stir often until the chocolate melts fully. Remove from heat to cool for 5-10 minutes.

Using a mixer, beat the mascarpone cheese until smooth. Add the sugar; beat to combine.

Starting at a slow mixing speed add the coffee and Baileys. Once the liquid begins to mix in, increase the speed to medium to fully incorporate all the ingredients. Stir the mixture into the slightly cooled chocolate.

Whip the heavy cream until stiff peaks appear (but not so much that it becomes dry). Fold the cream into the chocolate mixture.

Spoon the mousse into 6 ramekins, cover and chill until set; 2-3 hours (or overnight).
Recipe Notes
Adapted from Irish Country Cooking
Nutrition Facts
Irish Chocolate Mousse with Baileys
Amount Per Serving
Calories 349
Calories from Fat 243
% Daily Value*
Fat 27g42%
Cholesterol 47mg16%
Sodium 20mg1%
Potassium 175mg5%
Carbohydrates 21g7%
Protein 3g6%
Vitamin A 570IU11%
Calcium 57mg6%
Iron 1.8mg10%
* Percent Daily Values are based on a 2000 calorie diet.