The Best Irish Whiskey and Baileys Cheesecake. So silky and creamy you won't want to serve this just for St. Patrick's Day. Tips for making the best cheesecake too!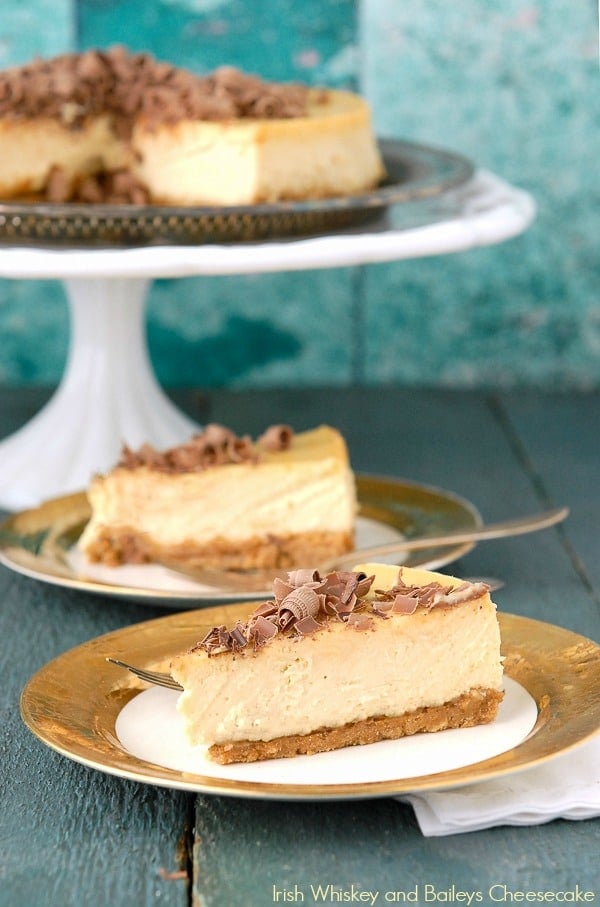 With St. Patrick's Day coming up the time seems right to share a great desert fitting the occasion. My inclination is usually to share traditional Irish recipes though something fun and whimsical fits the holiday as well. Last year Leprechaun Tracks Ice Cream was a great surprise along with the annual upheaval caused by the Leprechaun who visits our house. Chairs stacked high, glittery shamrock stickers branding anything and everything, clothes dragged and piled willy nilly and drawers emptied as if a bear scoured the house looking for food. I finally had to write the leprechaun a pleading note to stop coloring our toilet water green after replacing the toilet seats permanently stained with mischievous green reminders after each St. Patrick's Day. I think my children were crestfallen with my practicality and fortunately, the leprechaun abided.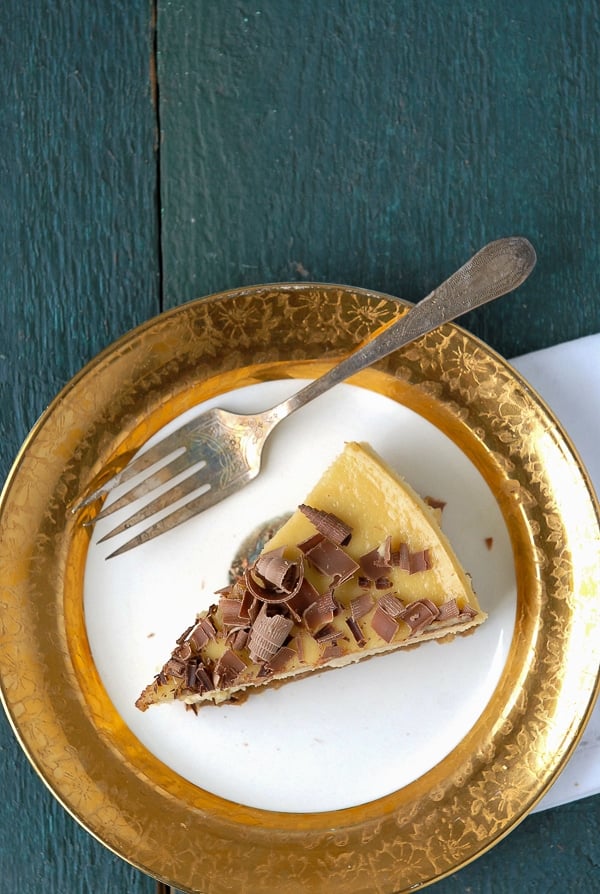 This St. Patrick's Day I'm putting shenanigans aside and am serving up a seriously delicious, you might say the best Irish Whiskey and Baileys Cheesecake. It is not overly boozy but delivers the telltale flavors of whisky and luscious Bailey's Irish Cream. The most irresistible part of the cheesecake is definitely the texture. Not heavy and dense like a New York cheesecake, this filling is silky smooth and downright heavenly.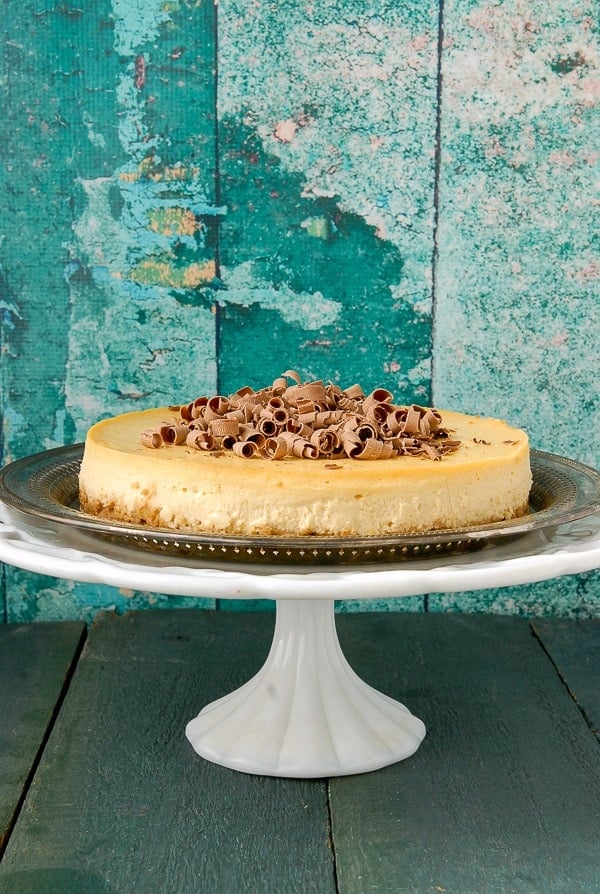 How to Make The Best Irish Whiskey and Baileys Cheesecake
There are a few secrets to making a fantastic cheesecake. Since cheesecake has essentially a custard filling, baking in a water bath allows it to be protected from the direct heat along with moisture from the water ensuring it won't crack while it bakes. Additionally allowing it cool slowly, first by leaving it in the oven with the temperature off then at room temperature before chilling keeps the consistency creamy. Cheesecakes should not be over baked and though after the requisite baking time the cheesecake will still look jiggly, the cake continues to firm up as it cools and solidifies after chilling.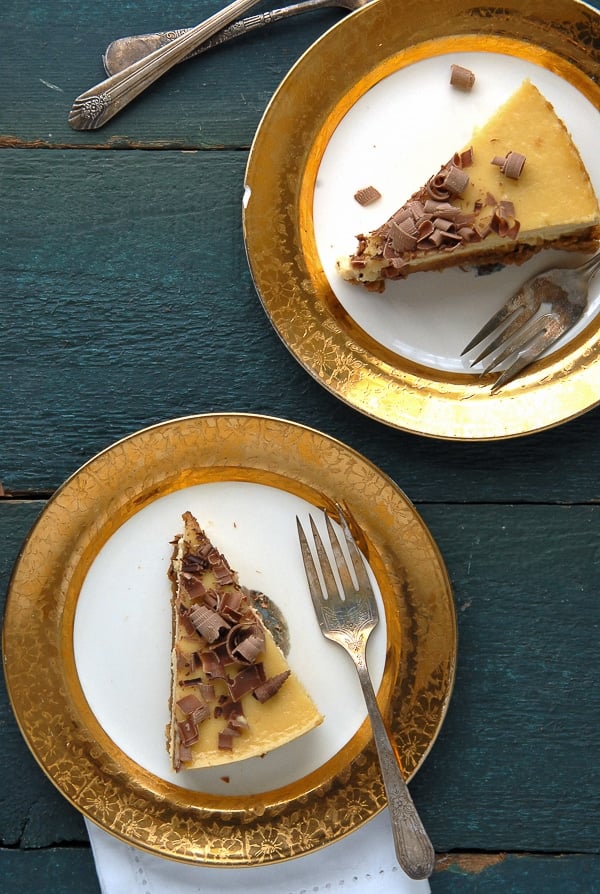 Tricks to Making the Best Irish Whiskey and Baileys Cheesecake
Having all the ingredients at room temperature when preparing the filling is key especially for the cream cheese. I both bring the cream cheese to room temperature and place it in the microwave using the 'soften' feature. If the cream cheese is not fully warmed it will form lumps in the filling which are impossible to beat out. Beating the filling too much introduces air which will bubble out of the cake when baking. Neither of these is a disaster if it happens but a few precautionary steps go a long way to create a flawlessly smooth filling characteristic of a glorious cheesecake.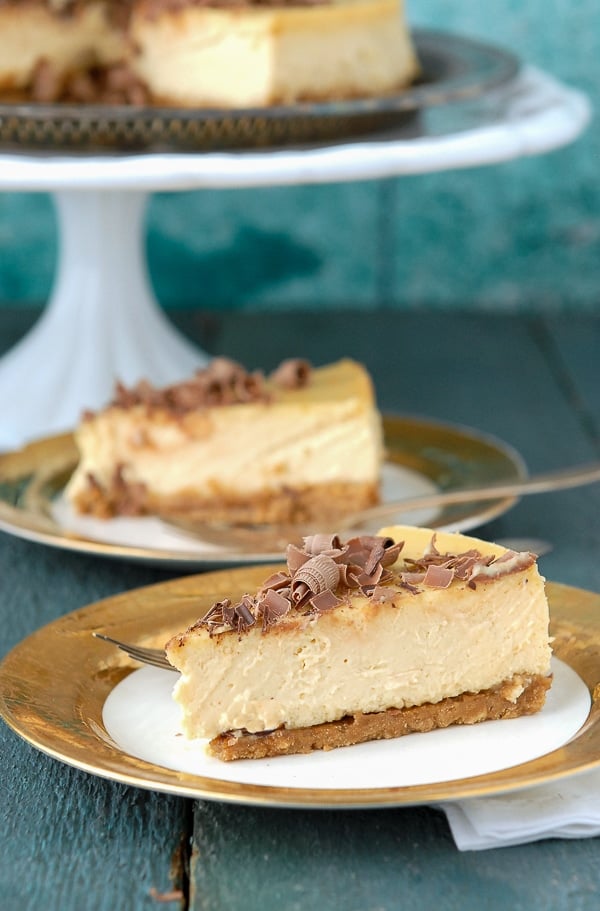 The Best Irish Whiskey and Baileys Cheesecake Recipe