Making ham in the Instant Pot is easy with delicious results. This spiral cut ham with a homemade spiced honey glaze, cooked in pineapple juice is a winner. Perfect anytime including holidays like Easter or Christmas.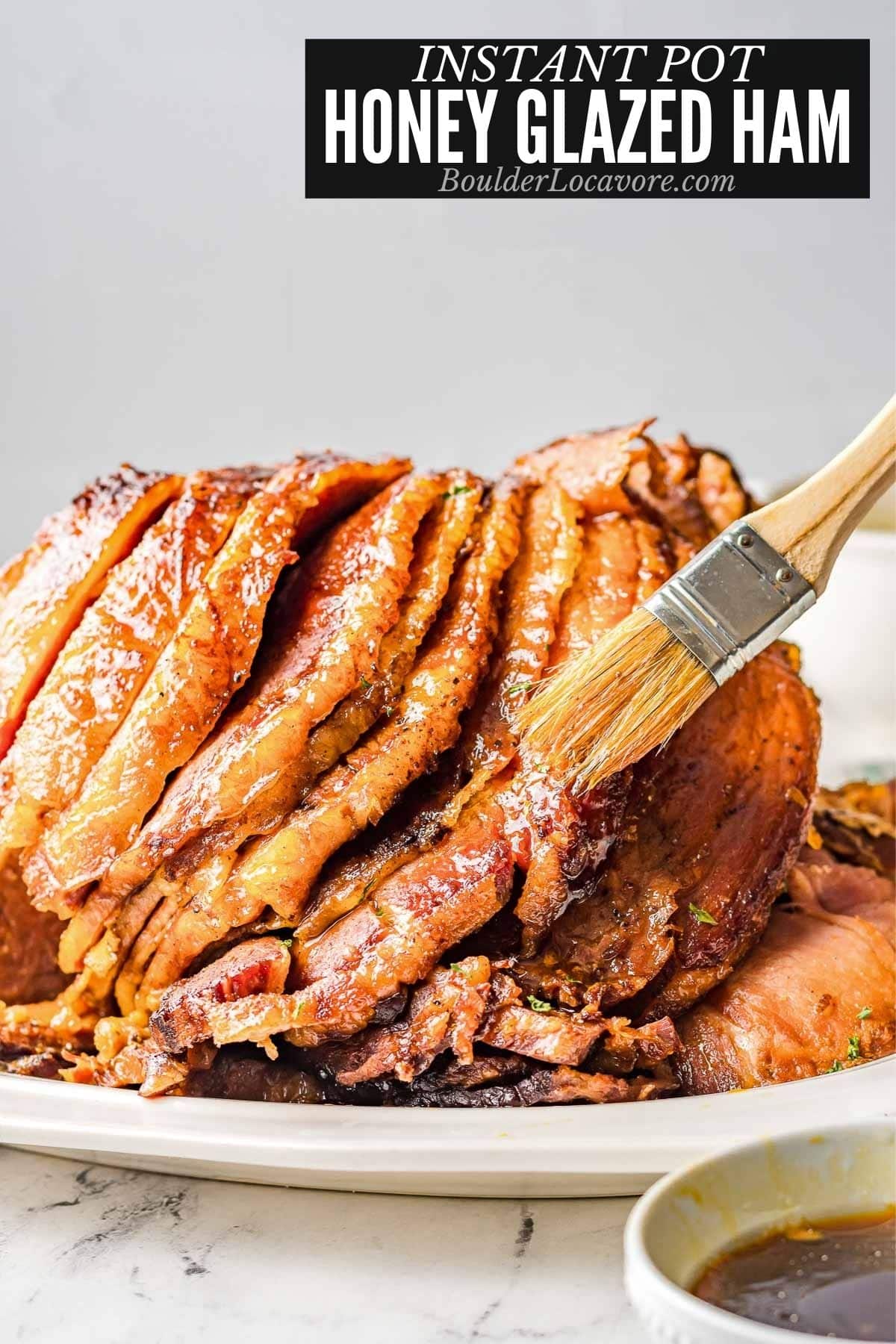 Honey baked ham lovers take note! You can make it in the Instant Pot with moist, tender, delicious results!
No oven monitoring required. Prepare it and the pressure cooker does the rest.
If you need an oven recipe we love both Cherry Chipotle Glazed Ham and Orange-Bourbon Glazed Bone-In Spiral Cut Ham.
Honey glazed ham is a holiday favorite. If you are lucky you might make it other times in the year too.
They are delicious heated in an Instant Pot. We use a sealing technique that creates a steamer inside the pressure cooker.
Honey glaze with warming spices is slathered all over the ham. Pineapple juice inside the foil packet infuses into the salty ham too.
And you don't need to do a thing once it's loaded into the Instant Pot.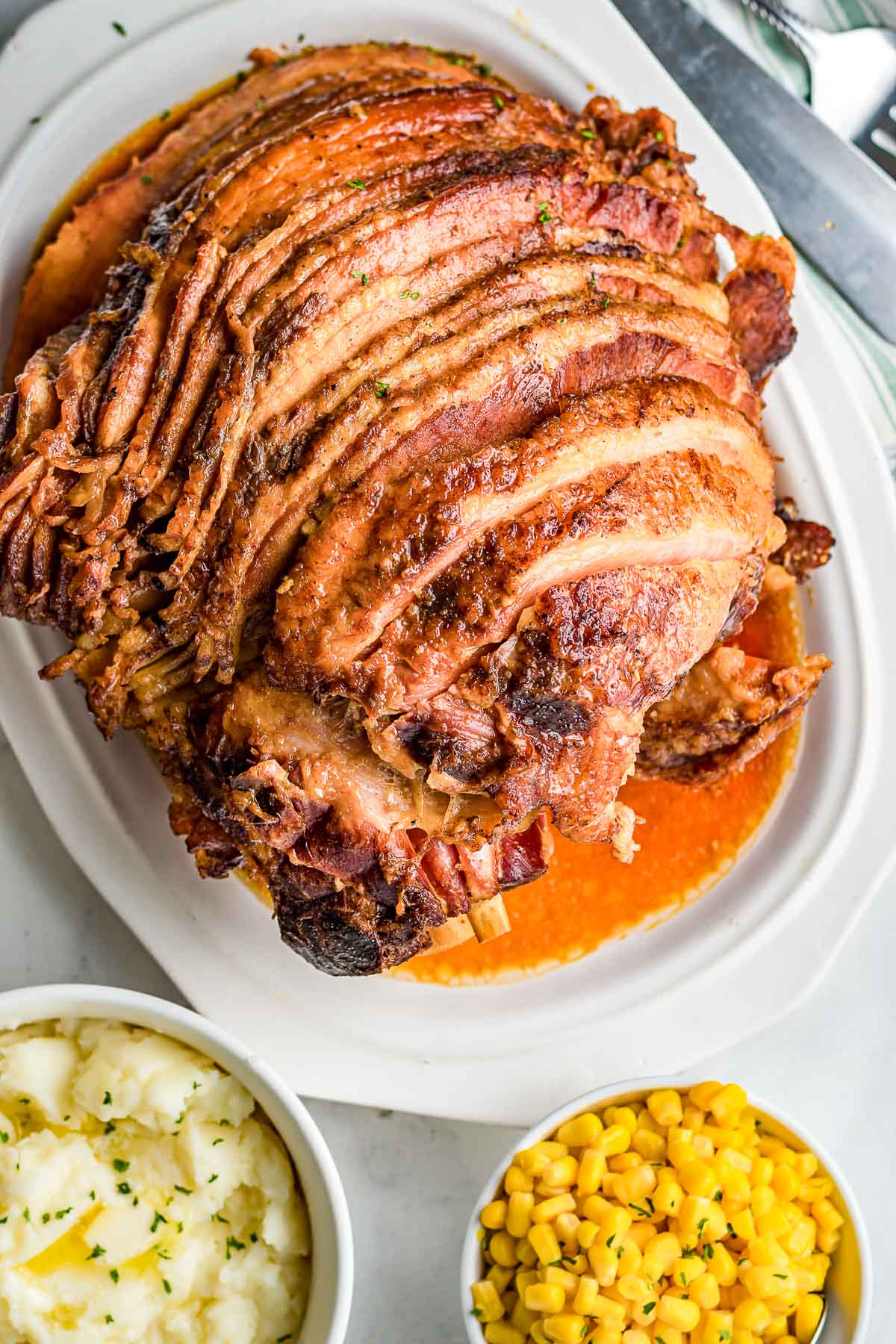 Making Ham in an Instant Pot
An important thing to understand when making Instant Pot ham is that the ham should be already fully cooked.
Most hams are. In fact it's difficult to find an uncured or uncooked ham.
So why 'cook it' in the Instant Pot?
You are actually heating it through as you would in the oven.
It also adds flavor in the form of a homemade spiced honey glaze. We drizzle pineapple juice over the ham before sealing it in a homemade foil pouch for even more flavor.
What size Instant Pot do I need?
This is key since larger hams will not fit in a 6-quart Instant Pot.
These are general guidelines.
Check before starting the recipe
Always check the fit with your Instant Pot before starting the recipe.
Hams can vary in shape which may effect how they fit into the Instant Pot.
6 quart Instant Pot will hold approximately up to a 6 pound ham.
8 quart Instant Pot will hold approximately a 7-9 pound ham.
Do this before starting: add the trivet to the Instant Pot, place the ham in and check that the lid can be secured.
If it can with ease, perfect! If not the ham may need to be trimmed to fit.
This is critical for bone-in spiral cut hams. Boneless hams can often be manipulated to fit. Larger bone-in hams usually cannot if they are too big for your Instant Pot size.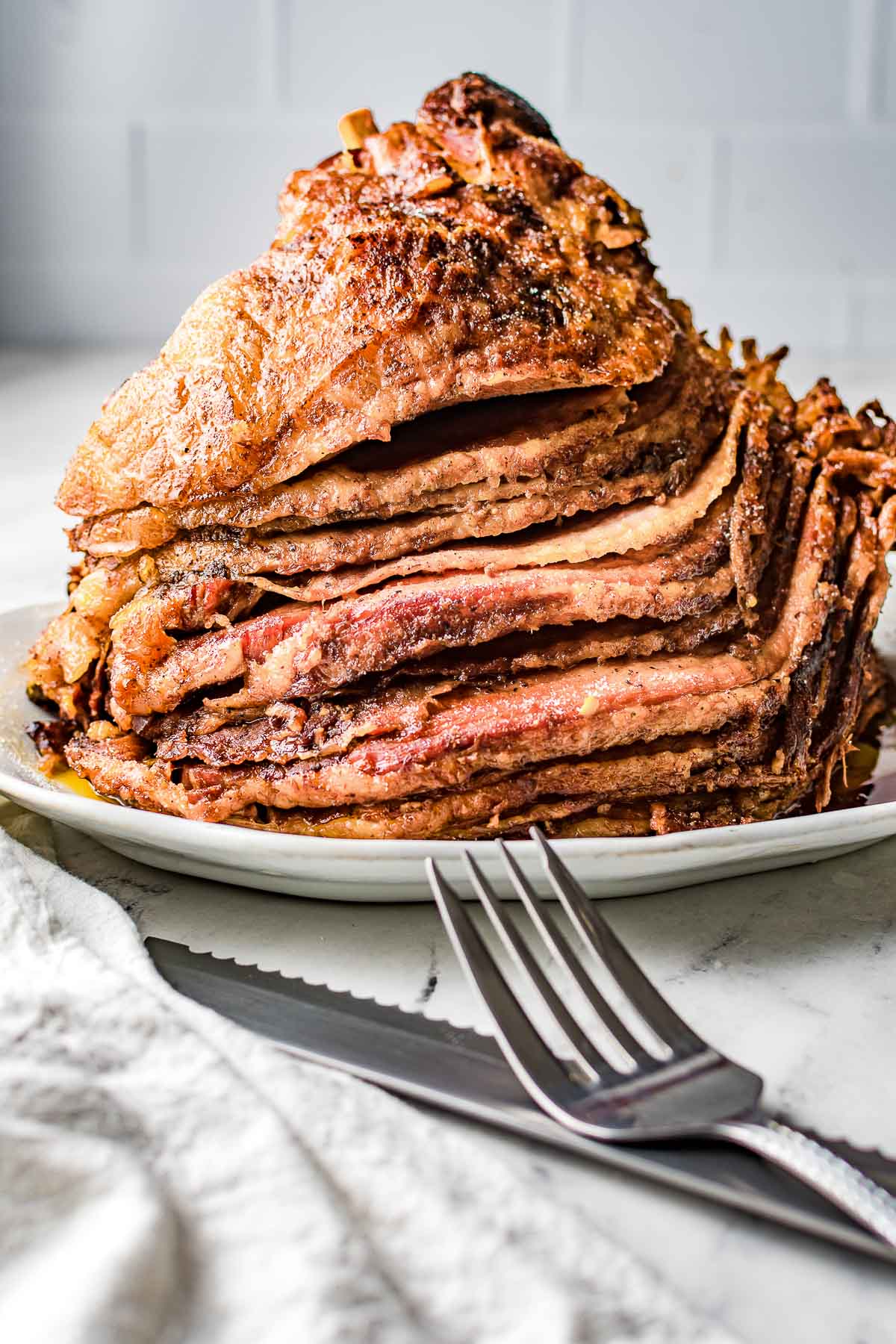 Bone-In Ham vs Boneless Ham
There are pros and cons to each but bottom line they both work in this recipe and are delicious.
Bone-in ham often has more flavor because of the bone. Choosing a spiral cut ham removes the hassle of carving the ham with the bone in.
Boneless spiral cut ham is very straight forward to serve after it is cooked. The slices are separated and served. It can dry out more quickly however with our method it will stay moist.
How much ham do you need per person?
For a boneless spiral ham plan on 1/3 to ½ pound per person.
Estimate ¾ to 1 pound per person for a bone-in spiral ham.
Recipe Ingredients + Notes
Spiral cut ham. Select a fully-cooked spiral cut ham. It can have a bone-in or be boneless.
Butter. Use unsalted butter. If desired margarine can be substituted.
Pineapple juice. Apple juice or apple cider may also be substituted.
Honey. Use 100% honey, not a honey with sugar in it.
Brown sugar. Sweetens and adds a caramel flavor notes.
Granulated sugar. Mixed with the brown sugar to sweeten the glaze.
Dijon mustard. Adds a classic flavor in combination with the honey.
Black Pepper. Use freshly ground black pepper if possible.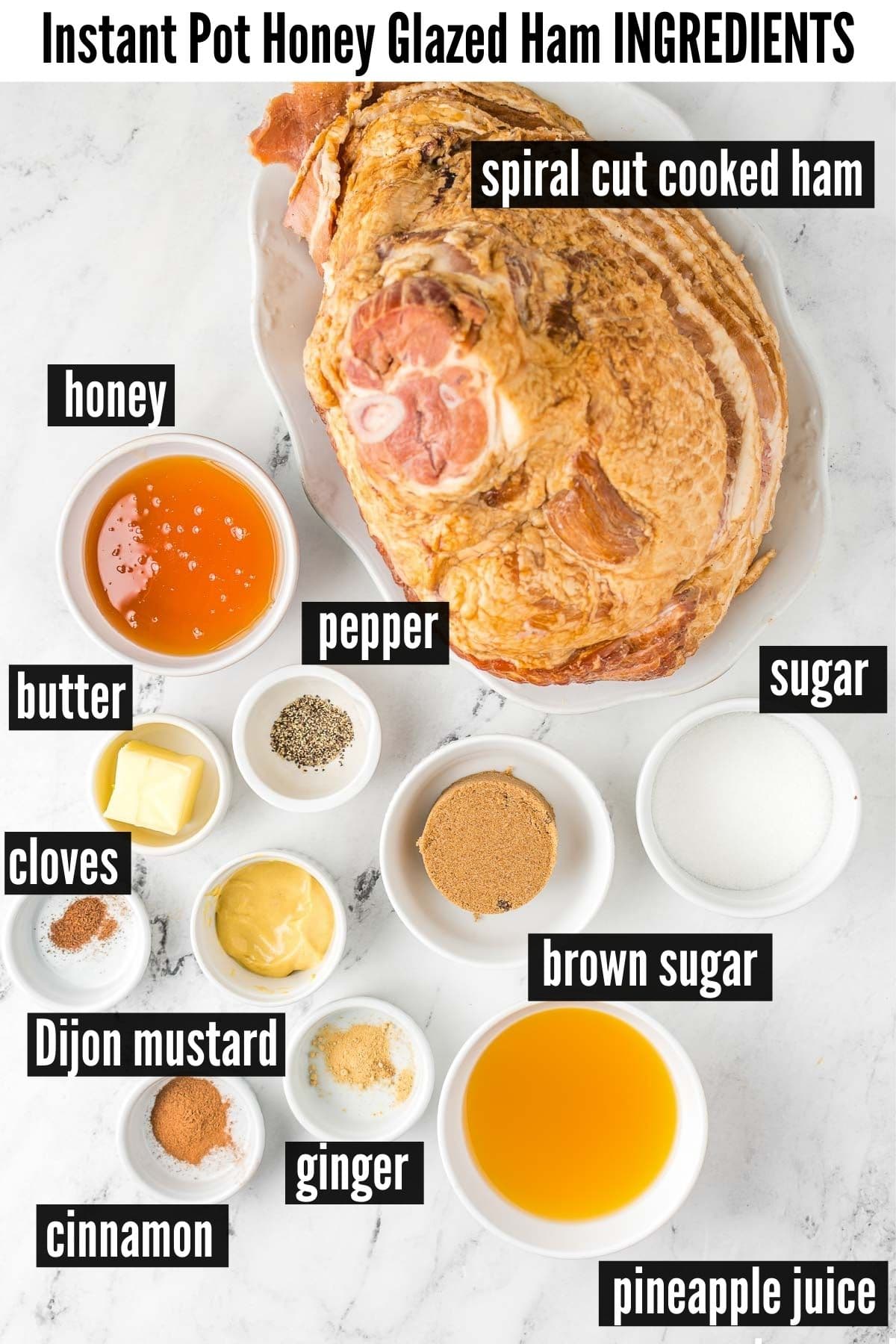 Variations
Use just one type of sugar. You can use all white sugar OR all brown sugar for a slightly different flavor. Granulated white sugar will have a richer flavor and all brown sugar will have more of a caramelized flavor.
Leave out the spices. The cinnamon, ginger and cloves can be removed from the recipe. This will make for a regular honey-mustard flavor.
Try apple juice or apple cider. These flavors work wonderfully with ham and will give the final Instant Pot ham recipe a different flavor.
Equipment + Supplies
6-quart or 8-quart Instant Pot. As a general guide up to a 6 pound ham will fit in a 6-quart Instant Pot. Up to a 9-pound ham should be able to fit into an 8-quart Instant Pot.
The one caveat is that the shape of the ham not just the weight will determine fit. The ham can be trimmed to fit too.
Instant Pot trivet. The trivet is included in the Instant Pot when you purchase or can be reordered online. It is the metal circle rack with handles.
Heavy duty foil. If you don't have heavy duty foil, double regular foil to reinforce and strengthen the foil.
Basting brush. To brush the glaze onto the ham.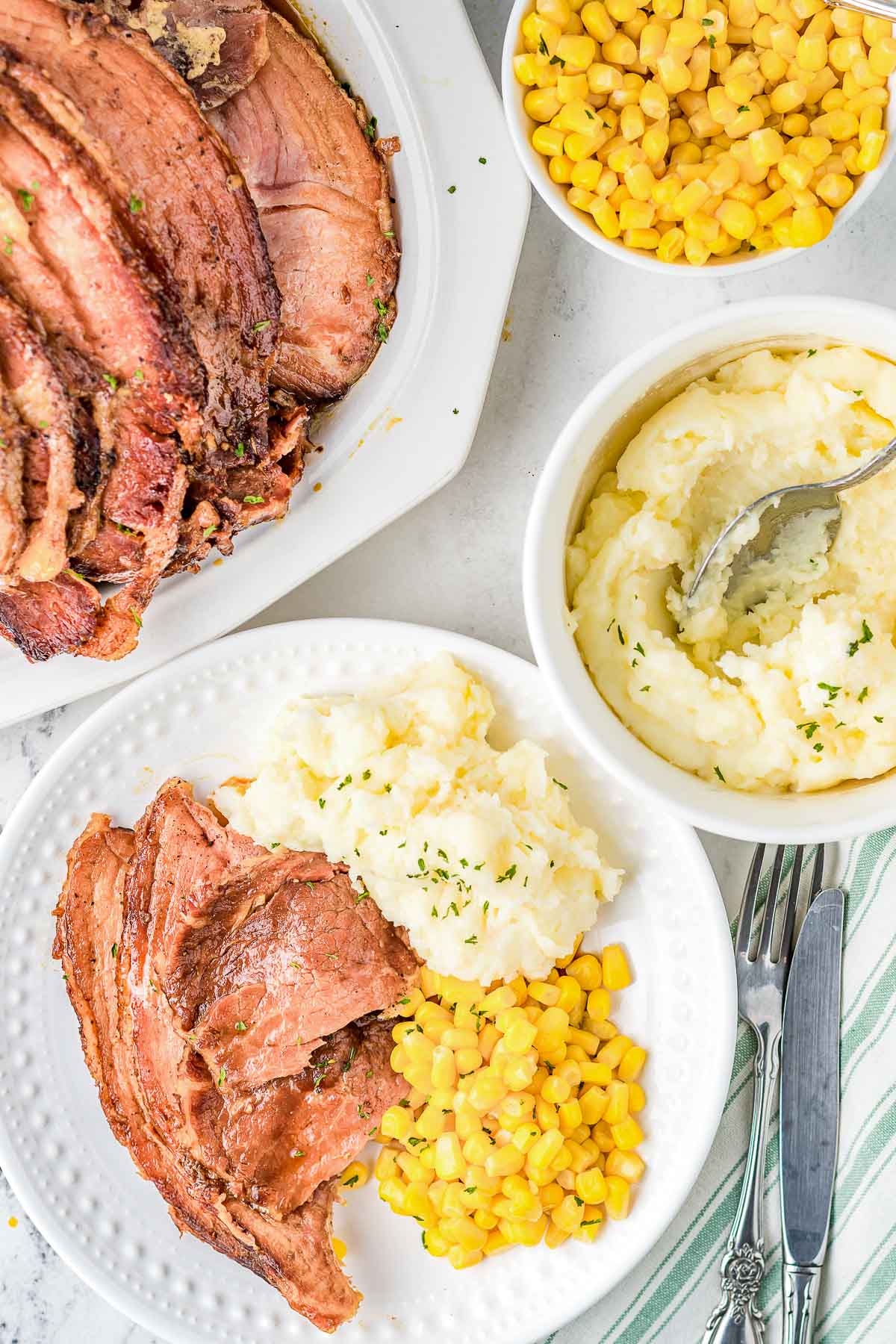 Help! I can't find a spiral cut ham!
Unfortunately most stores do not carry spiral cut hams (and sometimes hams of any kind) all year round. They are shipped in before big holidays like Easter, Thanksgiving and Christmas.
Look for them around the holidays and if you have extra freezer space buy and extra and freeze it. Then you can enjoy it any time of the year.
If you can't find one locally they can be ordered online however are usually considerably more expensive.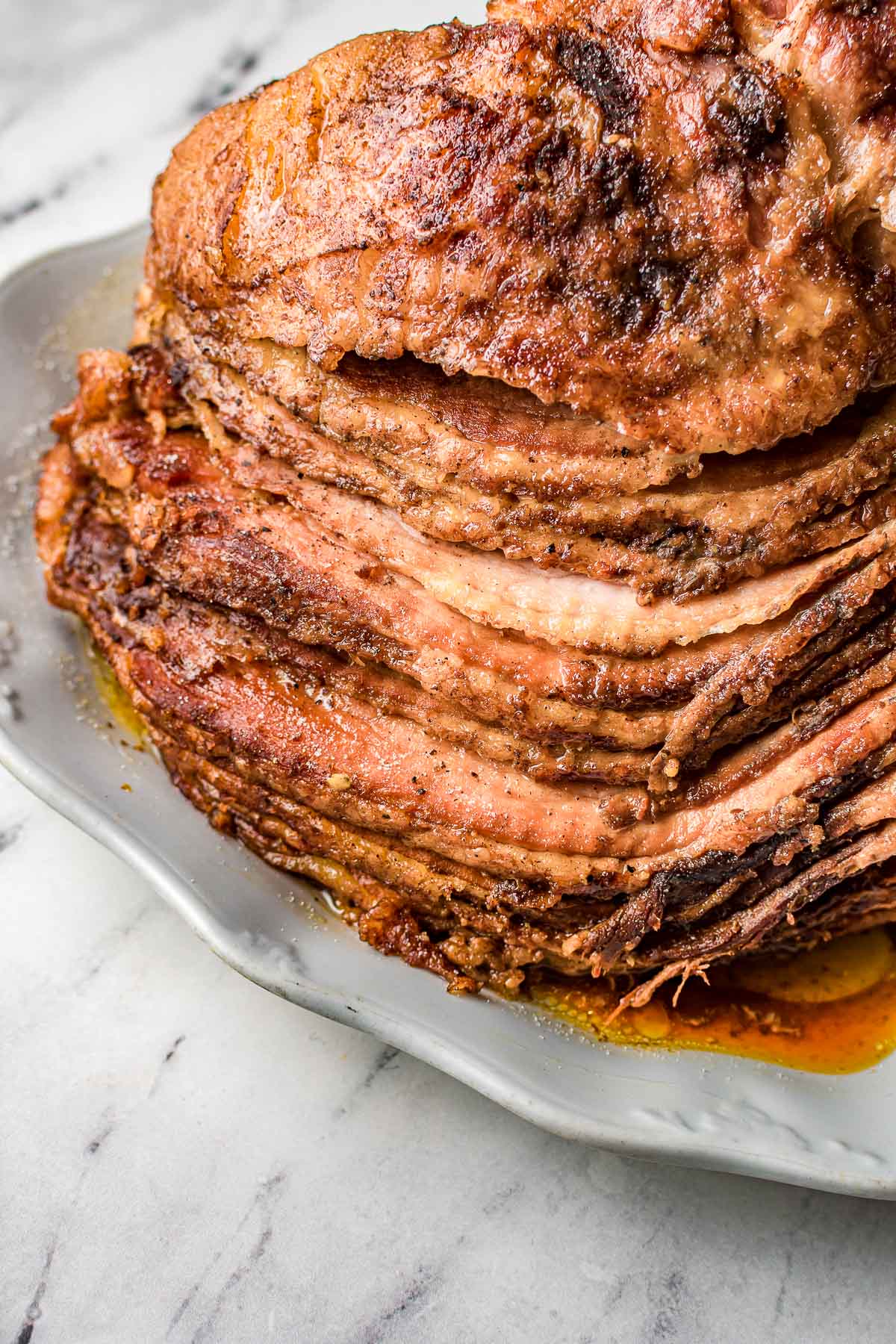 How long does my ham need to cook?
We use a formula that can accommodate any size ham.
2 minutes per pound plus 15 minutes. The extra 15 minutes is for cooking in heavy foil.
| Ham Weight (pounds) | Cooking Time* | Additional Time | Total Cooking Time |
| --- | --- | --- | --- |
| 3 | 6 | 15 | 21 |
| 4 | 8 | 15 | 23 |
| 5 | 10 | 15 | 25 |
| 6 | 12 | 15 | 27 |
| 7 | 14 | 15 | 29 |
| 8 | 16 | 15 | 31 |
| 9 | 18 | 15 | 33 |
*does not include the time for the Instant Pot to come to pressure.
What temperature should the cooked ham be?
After pressure cooking the ham should be between 135-150 degrees F. It's easiest to check with with an Instant Read food thermometer.
As a reminder, the ham is already cooked so this temperature is about heating it through. It is not a food safety 'doneness' temperature as used when cooking raw meat.
How to Make it – Step-by-Step
STEP 1. Check the ham fit in the Instant Pot
Add the trivet (photo 1), the ham and check the lid and seal securely.
If needed trim the ham to fit.
STEP 2. Allow ham to sit at room temperature
Remove the ham from the Instant Pot and allow to sit at room temperature for 30 minutes.
STEP 3. Prepare the glaze
Add the glaze ingredients to a mixing bowl and whisk together.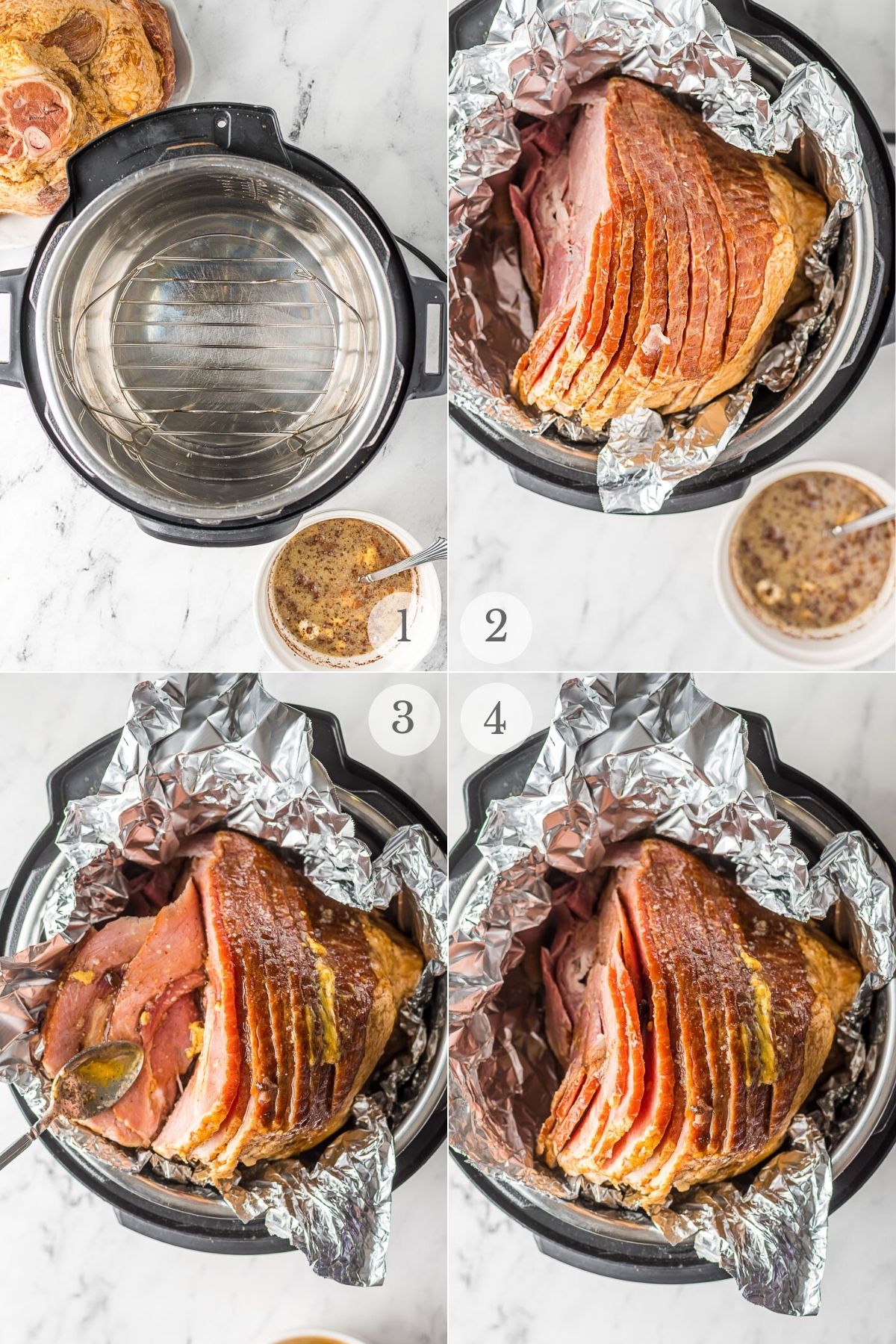 STEP 4. Prepare the ham
Add water to the Instant Pot (1 cup for a 6-quart and 2 cups for an 8-quart).
Tear a large piece of heavy duty foil large enough to form a bowl around the ham (photo 2).
Spread or brush the glaze between the slices of ham (photo 3) and over the outside (photo 4).
Pour the pineapple juice over the ham.
Add a second piece of foil over the top of the ham and crimp closed with the foil surrounding the ham (photo 5). The ham should be fully enclosed.
Note about glazing the ham
This can be done with the ham in the Instant Pot or before inserting it. It there is not much room between the ham and the Instant Pot doing it before placing it in the pressure cooker is easier.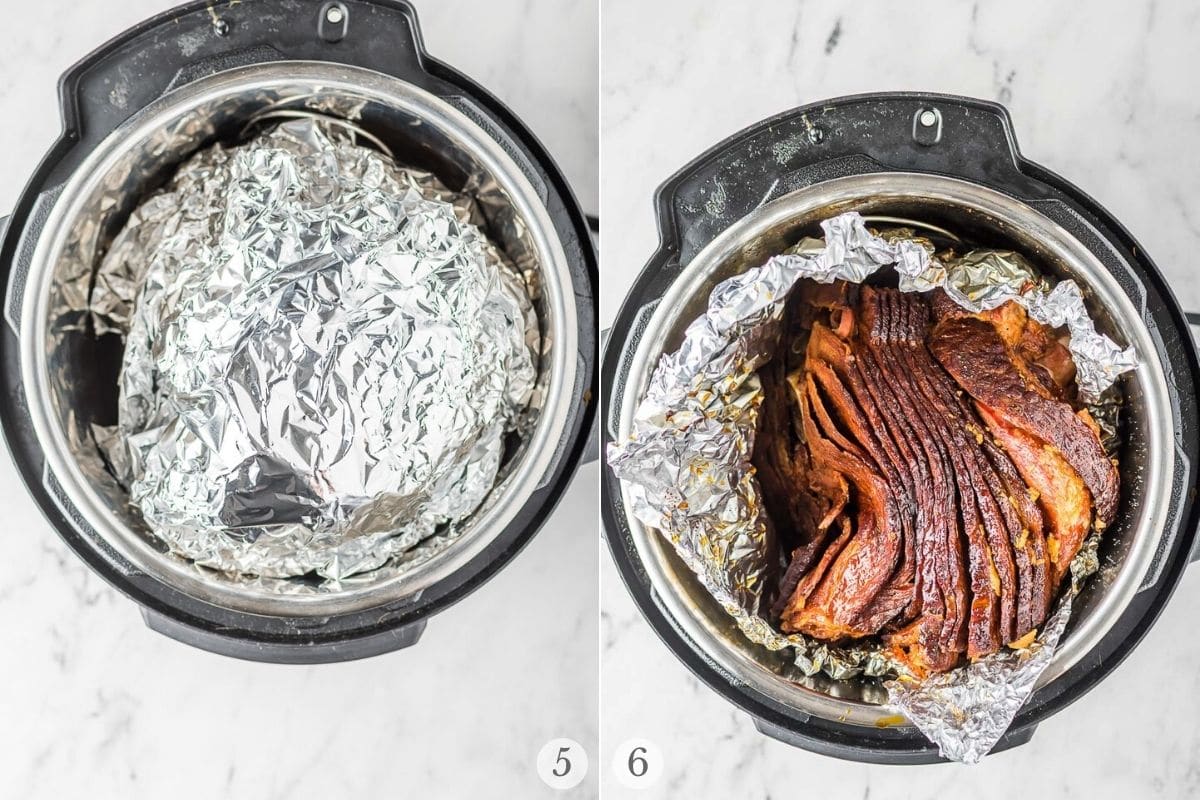 STEP 5. Heat the ham
Seal the lid of the Instant Pot. Select HIGH PRESSURE and the correct time corresponding with the size of the ham being cooked (see chart).
After the cooking completes, allow a NATURAL RELEASE for 15 minutes followed by a Quick Release.
Carefully remove the top piece of foil avoiding any escaping steam (photo 6). Serve from the Instant Pot or remove the ham to serve.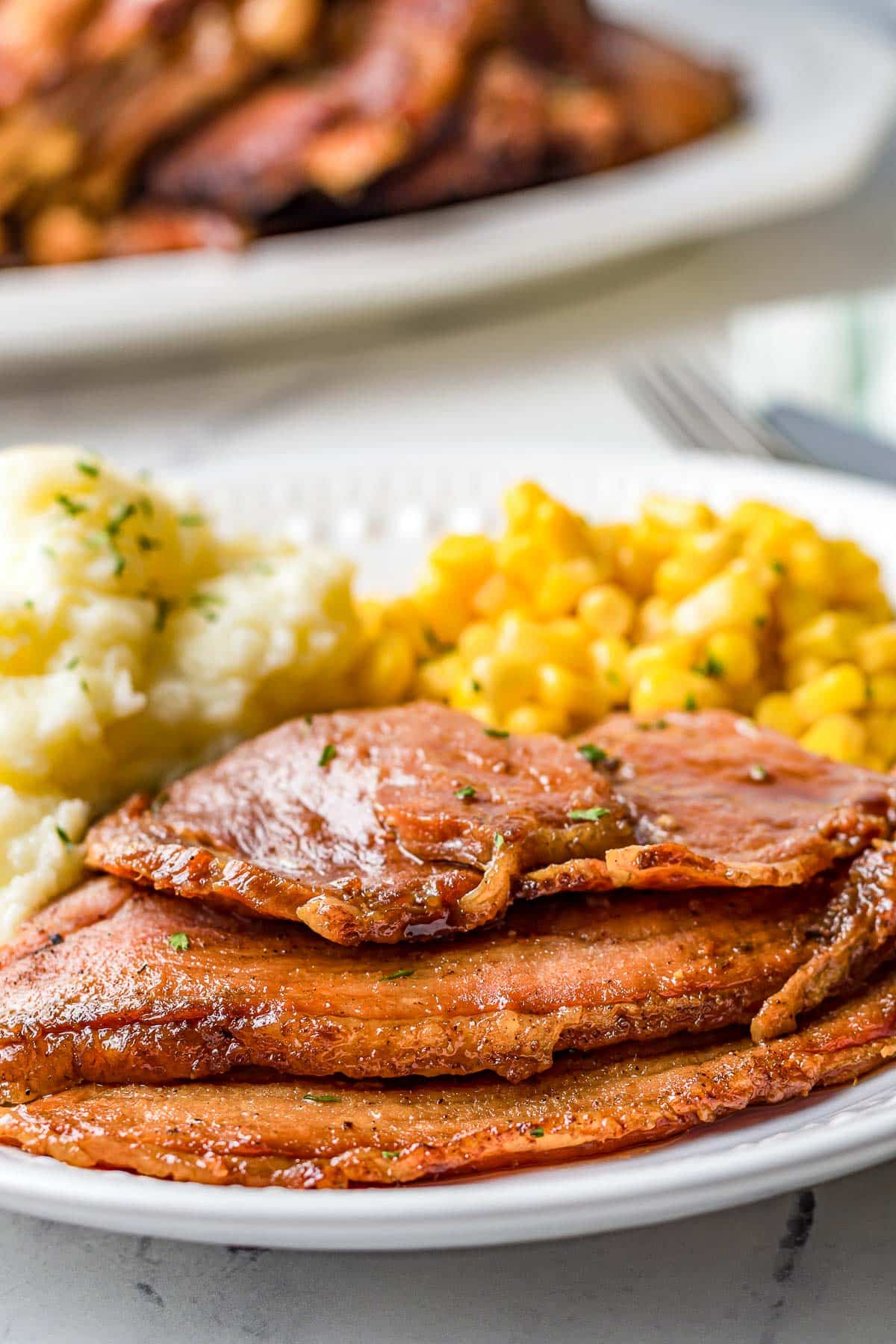 FAQs
Do I need to add water to the Instant Pot?
Though there is liquid in the foil packet with the ham you do need to add water to the Instant Pot. It is needed for the Instant Pot to come to pressure. Without it you can also get a burn warning. We always recommend the amount recommended by Instant Pot: 1 cup minimum for a 6-quart and 2 cups minimum for an 8-quart.
Storing Leftovers
Store in an airtight container in the refrigerator for up to 5 days.
The ham can also be removed from the bone and stored in an airtight container in the freezer for up to 2 months.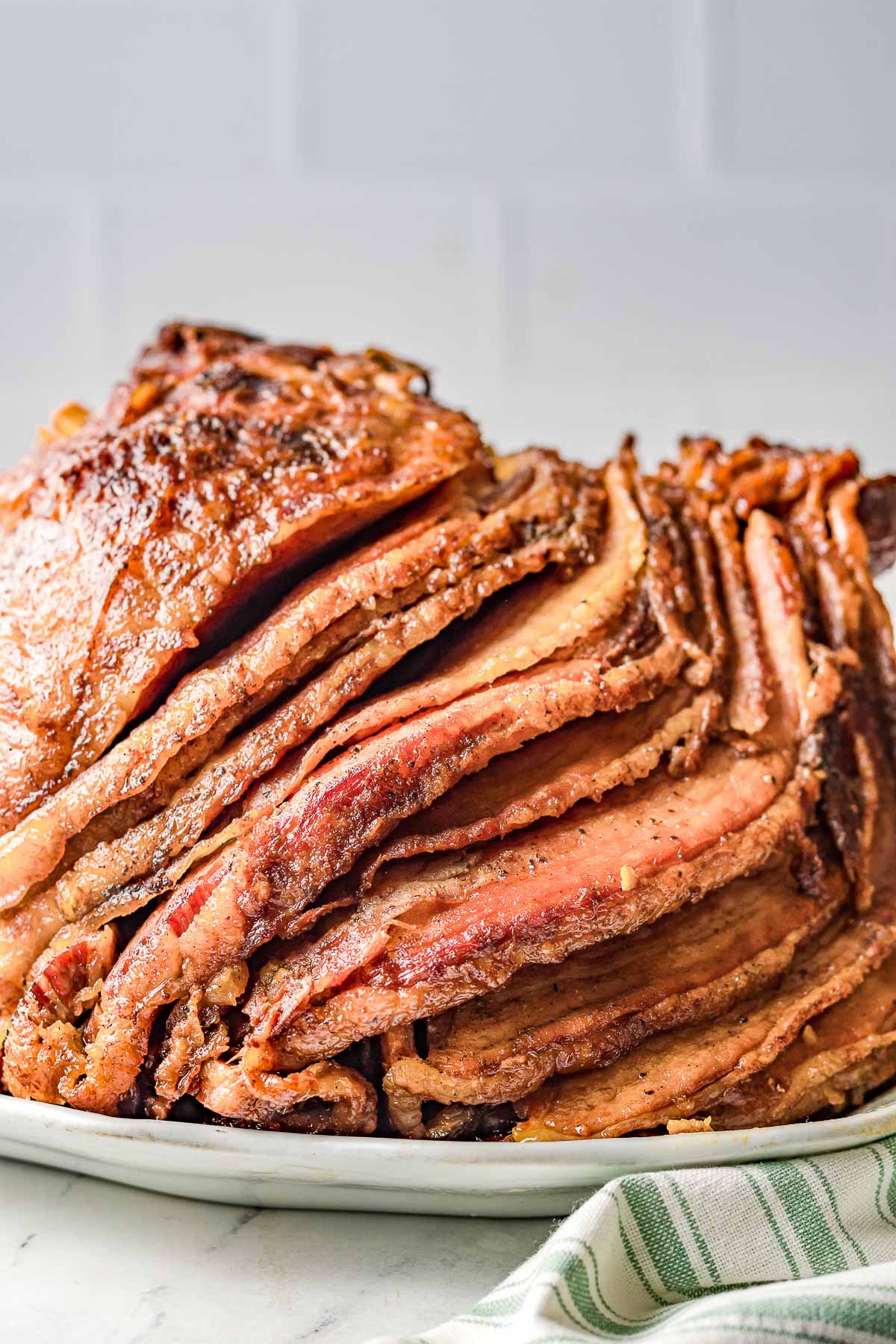 More Recipes You'll Love!
Did you make it? Please RATE THE RECIPE below!
Please
SUBSCRIBE
and
FOLLOW ME
on
FACEBOOK
,
TWITTER
,
INSTAGRAM
and
PINTEREST
!