Buffalo chicken wing lovers will flip for this hearty, easy cheesy Buffalo Chicken Pasta bake recipe. It's full of all the ingredients you love in buffalo chicken and more!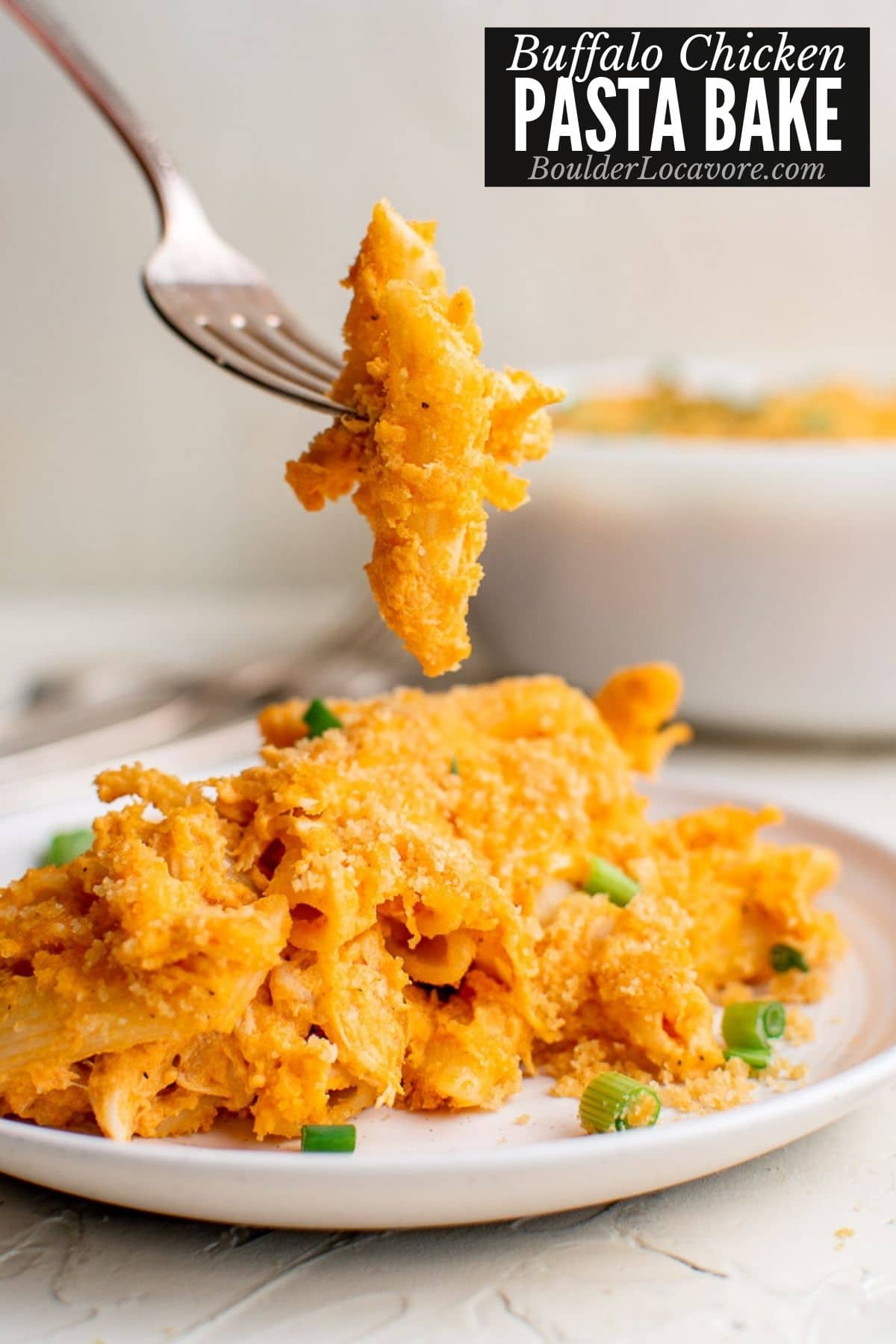 This recipe is what happens when you combine Buffalo Chicken Dip and pasta. Covered with cheese and a crispy cracker topping, then baked to perfection!
It's creamy, rich, tangy, spicy and satisfying. If you can't get enough of buffalo sauce you'll want this recipe in rotation….along with Irresistible Cheesy Buffalo Chicken Lasagna!
Easy Buffalo Chicken Pasta Bake
Buffalo Chicken Pasta Bake is one of those recipes you'll come back to over and over again.
It checks all the boxes. It's delicious, easy to make and loved by kids and adults alike.
Baked Buffalo Chicken Pasta is full of moist shredded chicken, zesty buffalo sauce and loads of cheese. It's finished off with a buttery crushed cracker topping.
Make it with regular pasta or gluten free for a satisfying flavorful dinner!
With a bit of heat from Frank's Red Hot sauce and lots of creaminess, every bite of this pasta bake is better than the last.
For an even faster recipe you can skip the extra cheese, cracker crust and baking. We think you won't want to miss that buttery topping though.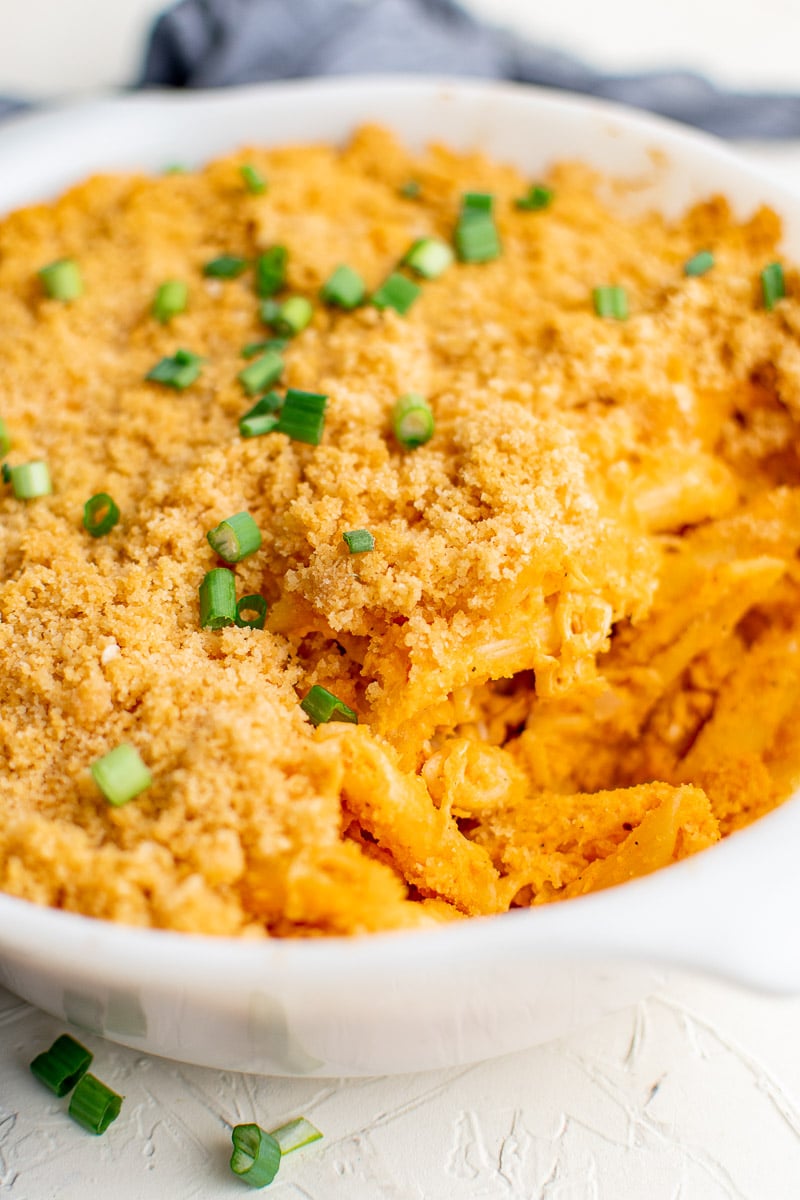 Recipe Ingredients + Notes
Unsalted butter. It will be melted and mixed with the cracker crumbs for the buttery topping.
Ritz crackers. You'll need about one sleeve of crackers, crushed. See the Substitutions below for gluten-free recommendations.
Penne pasta. Regular or gluten-free pasta work. Macaroni elbows, rotini or bow tie pasta work well too.
Olive oil. Used to sauté the onions.
Yellow onion. Peeled and chopped.
Garlic. Peeled and finely minced.
Salt and ground black pepper. The only seasonings needed.
Shredded chicken. Use shredded rotisserie chicken from the grocery store for convenience. Or try my homemade shredded chicken recipe in this pasta. You could even use canned chicken if preferred.
Frank's RedHot Original sauce. Do NOT use the Frank's wing sauce or extra hot sauce. It's spicy but gives the chicken the best flavor.
Cream cheese. Be sure it's room temperature for the best results.
Mozzarella and sharp cheddar cheese. Other varieties of cheese can be substituted. Monterey Jack, mild cheddar and shredded Parmesan would all be tasty.
Sliced green onions. Optional for a fresh garnish.
Ranch Dressing or Blue Cheese Dressing. Drizzle some on when serving for a 'next level' flavor idea. Or sprinkle with blue cheese crumbles.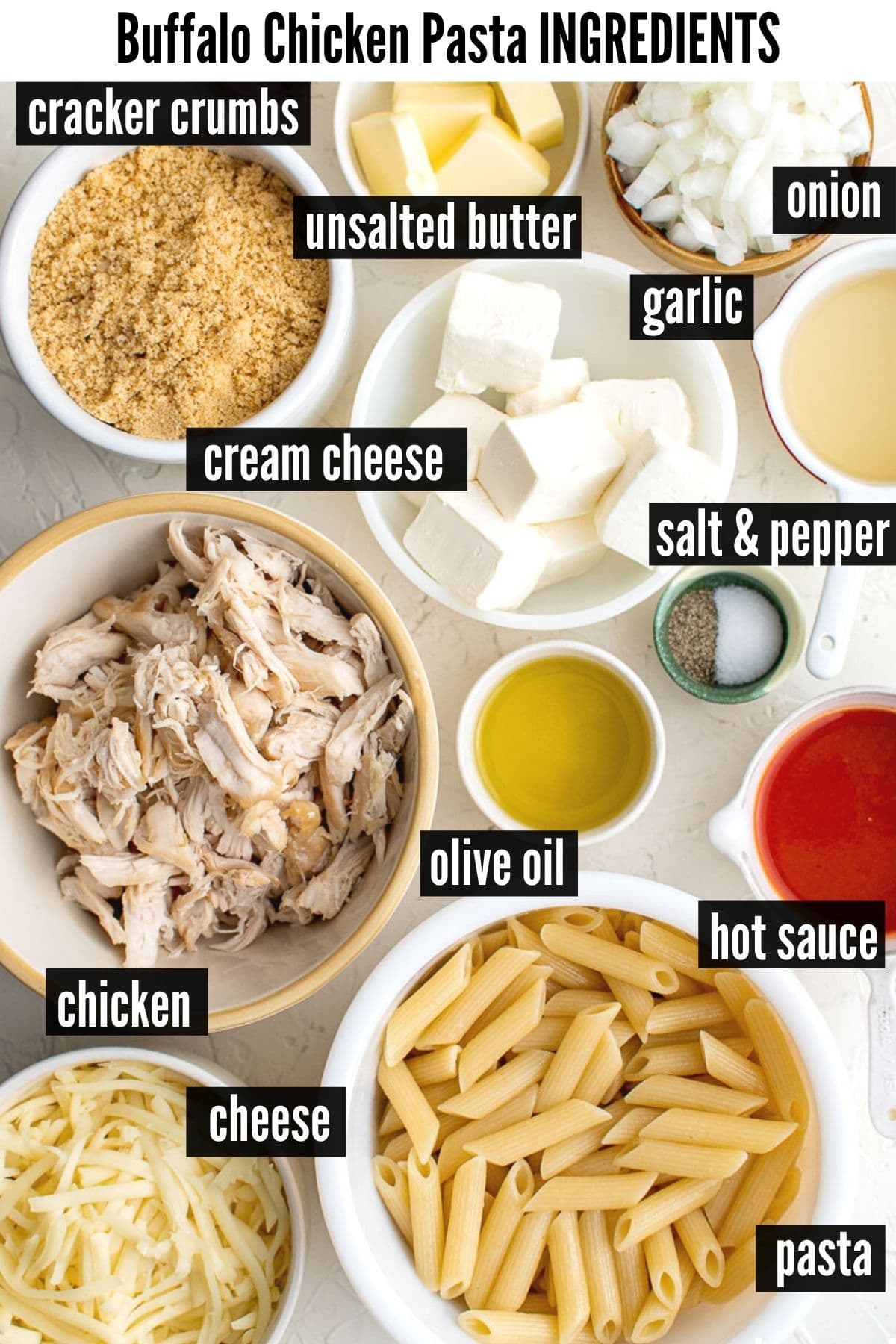 How to make it Gluten-Free (substitutions)
To make this pasta bake gluten-free the pasta and crackers will need to be substituted.
Here are the products I personally used when making the gluten-free version:
Tinkyada Brown Rice Penne Pasta. This is a favorite pasta staple in my kitchen. It has good flavor and most importantly it holds its shape well.
For the Ritz cracker substitution I recommend either Schar's Entertainment Crackers (first choice) or Lance's Gluten-Free Baked Original crackers.
Tried and Tested Recipe
This recipe has been tested with regular pasta, gluten-free pasta, at altitude and sea level. Delicious results every time!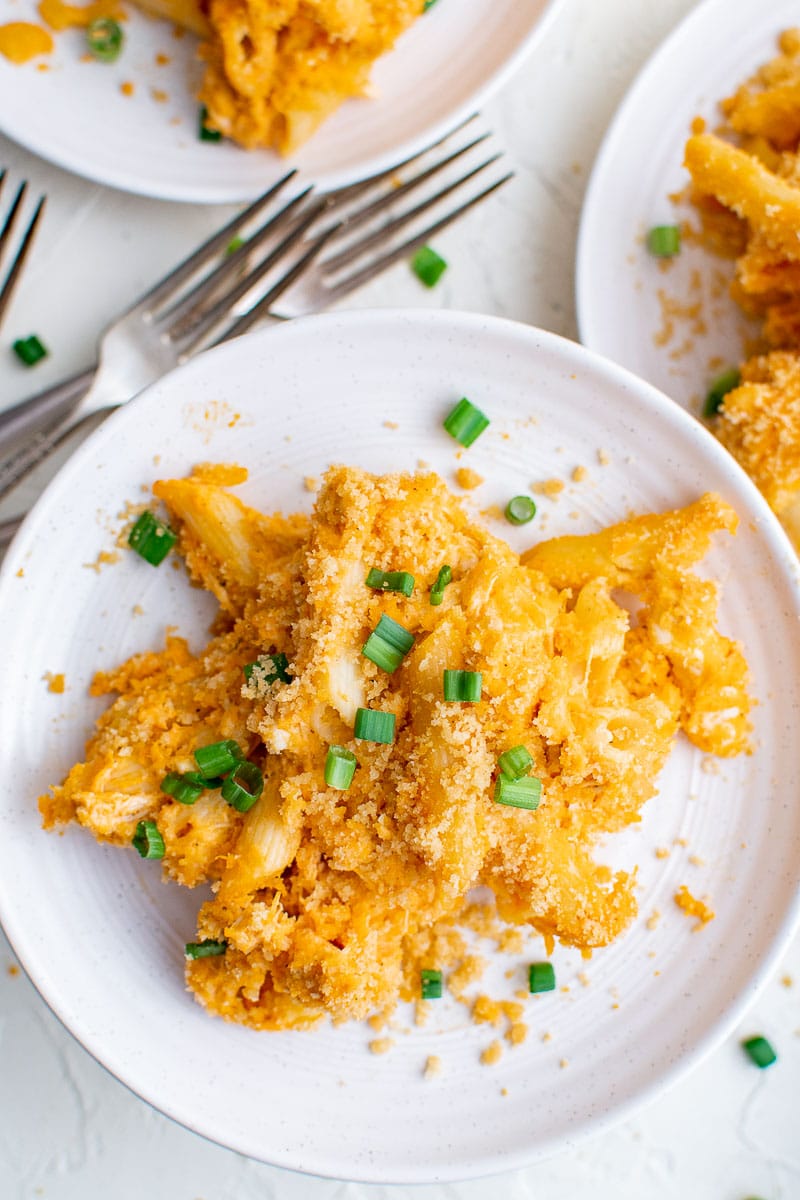 How to Make it – Step-by-Step
STEP 1. Preparation
Preheat the oven to 375 degrees F.
STEP 2. Cook pasta
Cook penne to al dente. Drain in a collander and rinse with cold water.
While the pasta cooks, proceed with the rest of the recipe.
STEP 2. Cracker topping
Make the cracker topping by adding cracker crumbs to melted butter (photo 1). Mix to combine and set aside (photo 2).
STEP 3. Cook onion and spices
Sauté onion in olive oil over medium heat. When translucent, add the garlic, salt and pepper. Cook another minute or two, until fragrant (photo 3).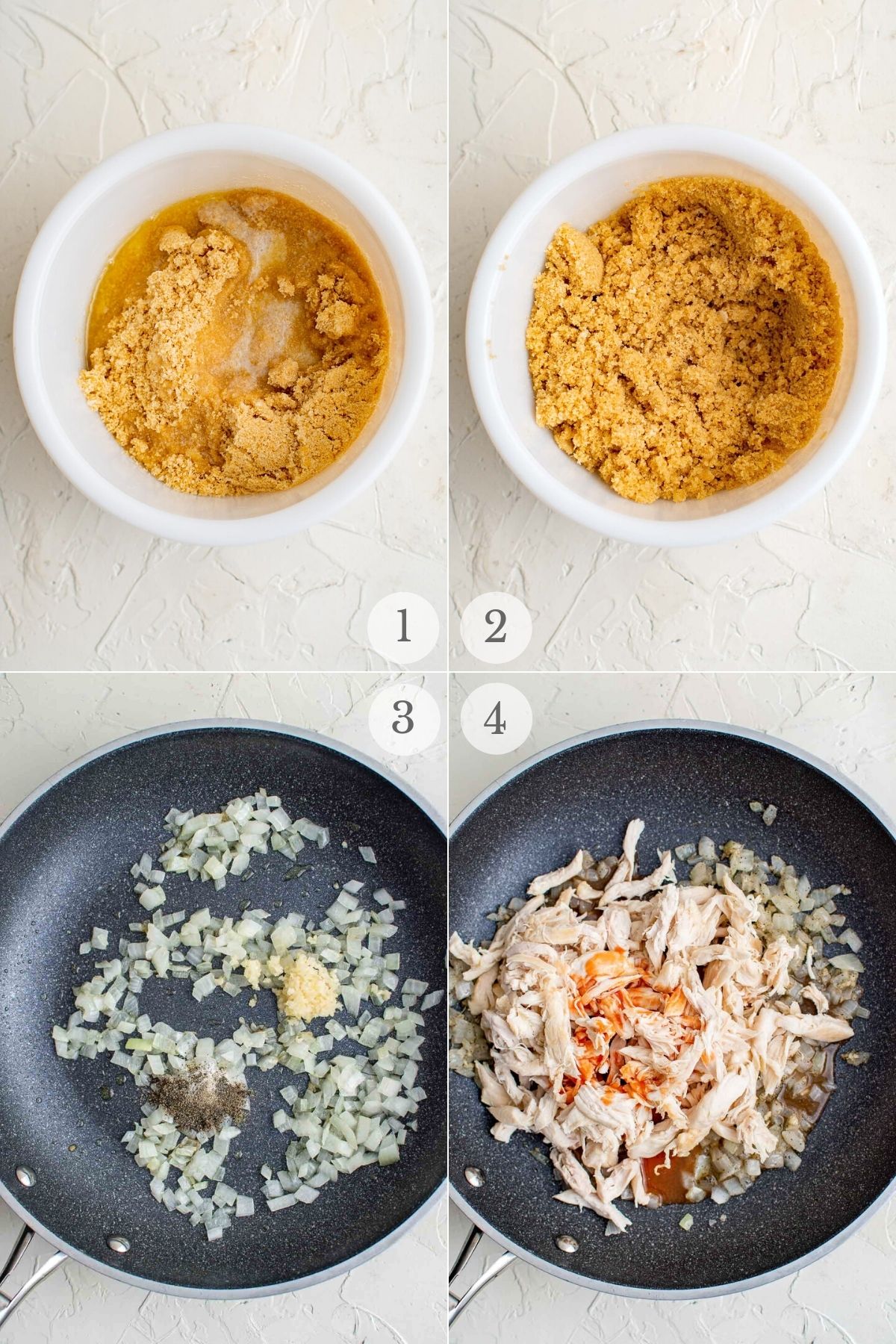 STEP 4. Add chicken and hot sauce
Add the shredded chicken to the pan along with the Frank's RedHot sauce (photo 4).
Stir to coat the chicken in the sauce (photo 5).
STEP 5. Add cream cheese and cheese
Place the cubed cream cheese on top of the chicken (photo 6). Stir to melt and combine (photo 7).
Sprinkle in the shredded cheese (photo 8) and stir until melted and fully incorporated (photo 9).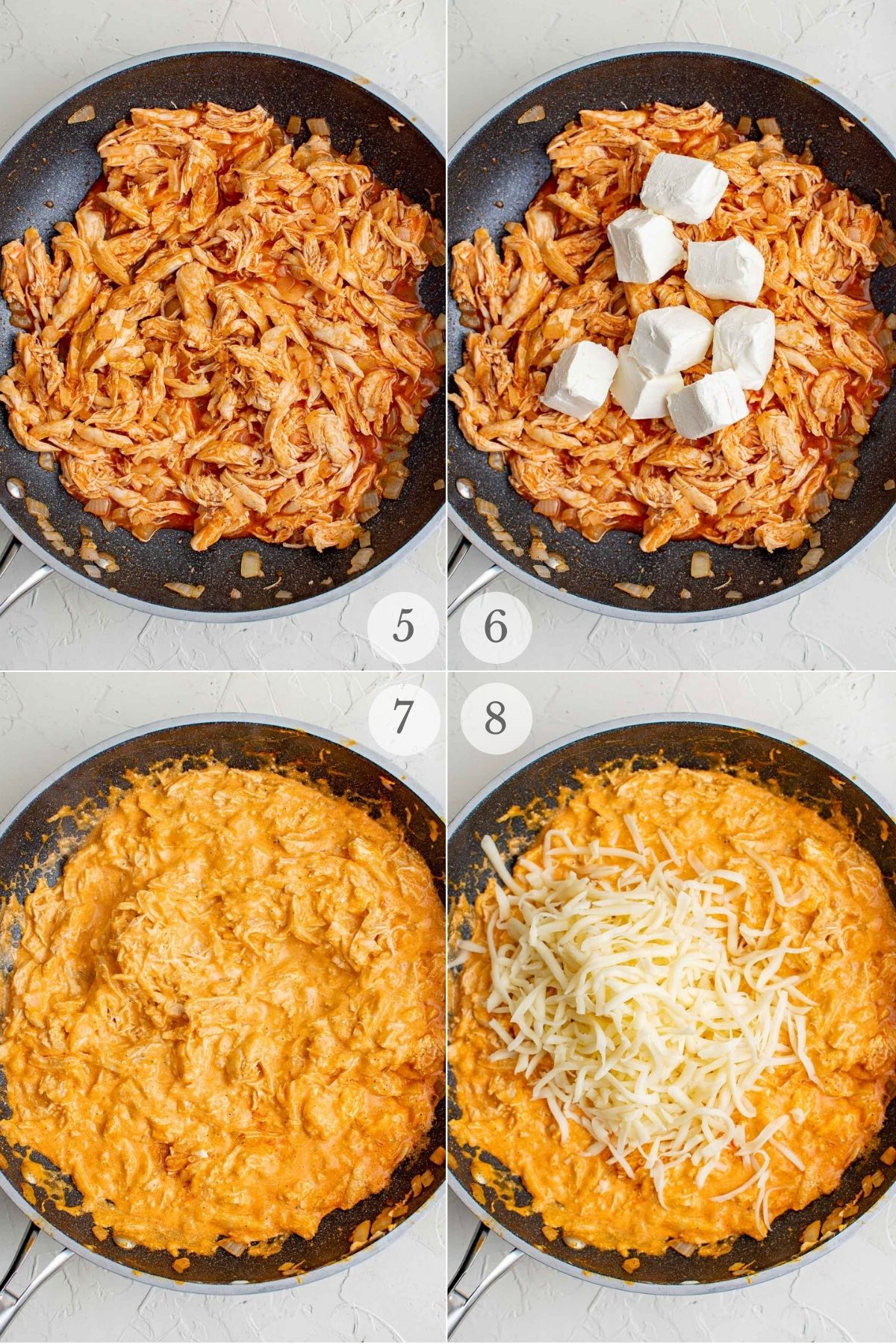 STEP 6. Add pasta
Fold in the cooked pasta (photo 10) and gently stir to coat with sauce (photo 11). Transfer the pasta to a prepared baking dish (photo 12).
If you don't have the time to bake the Buffalo Chicken Pasta, you can enjoy it after this step.
However, the baked cracker topping adds an extra dimension of buttery flavor that's worth the extra time.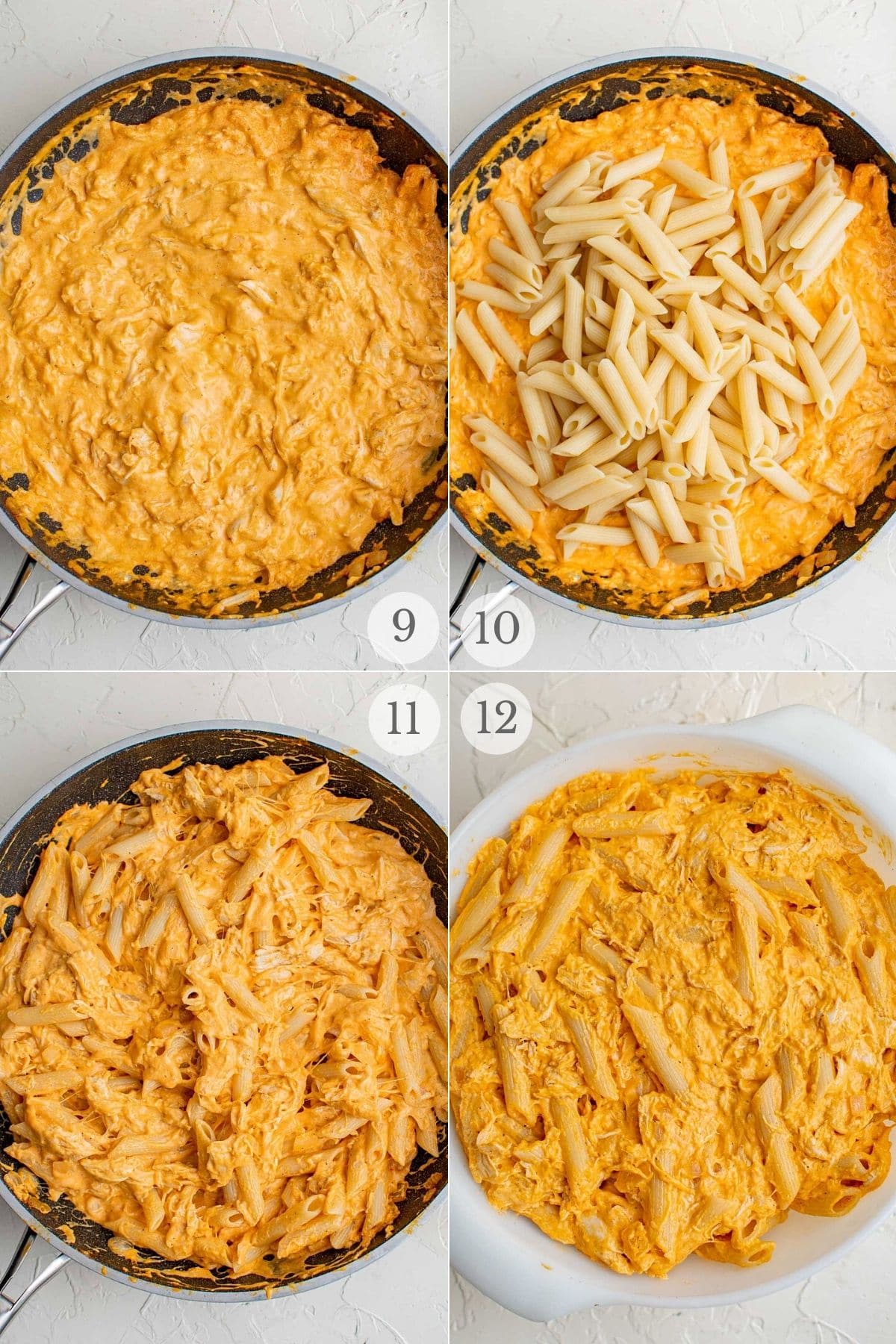 STEP 7. Bake
Sprinkle the cracker topping over the pasta (photo 13). Bake for 15 to 20 minutes. The top should be golden and crisp (photo 14).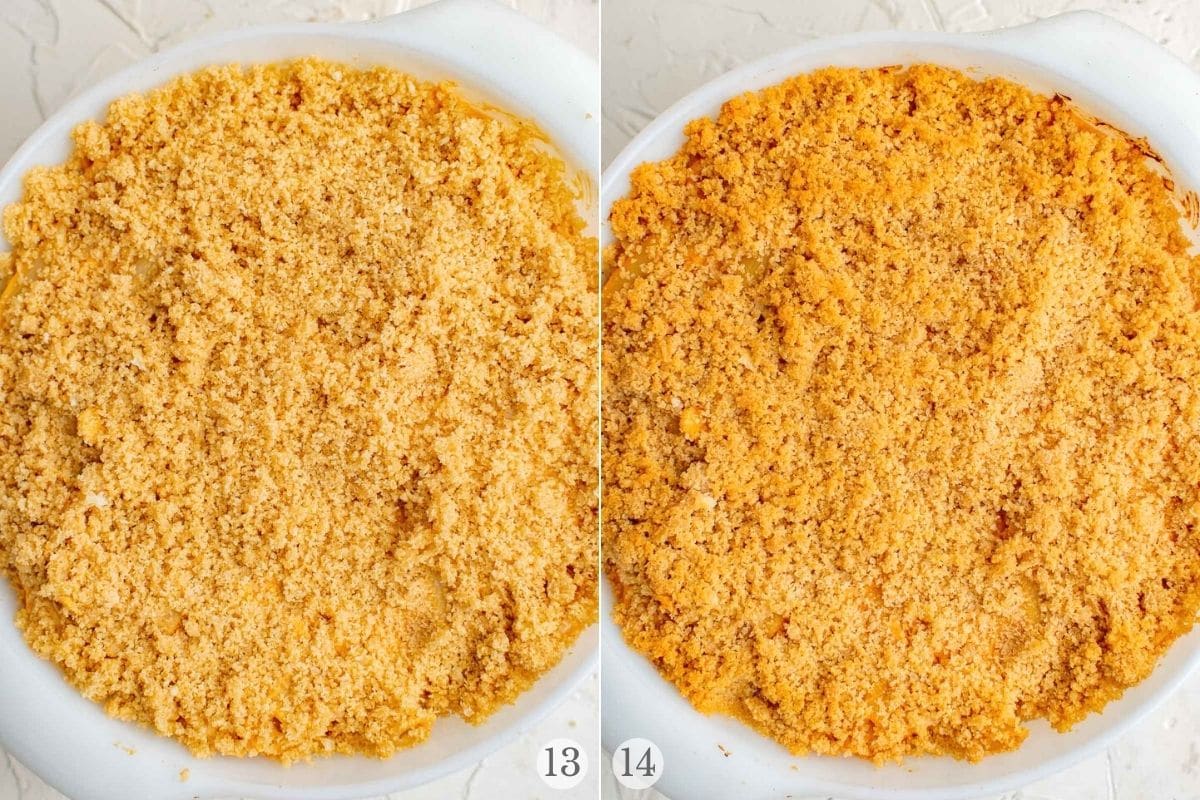 Garnish Buffalo Chicken Pasta with green onions and serve with a side of blue cheese or ranch dressing.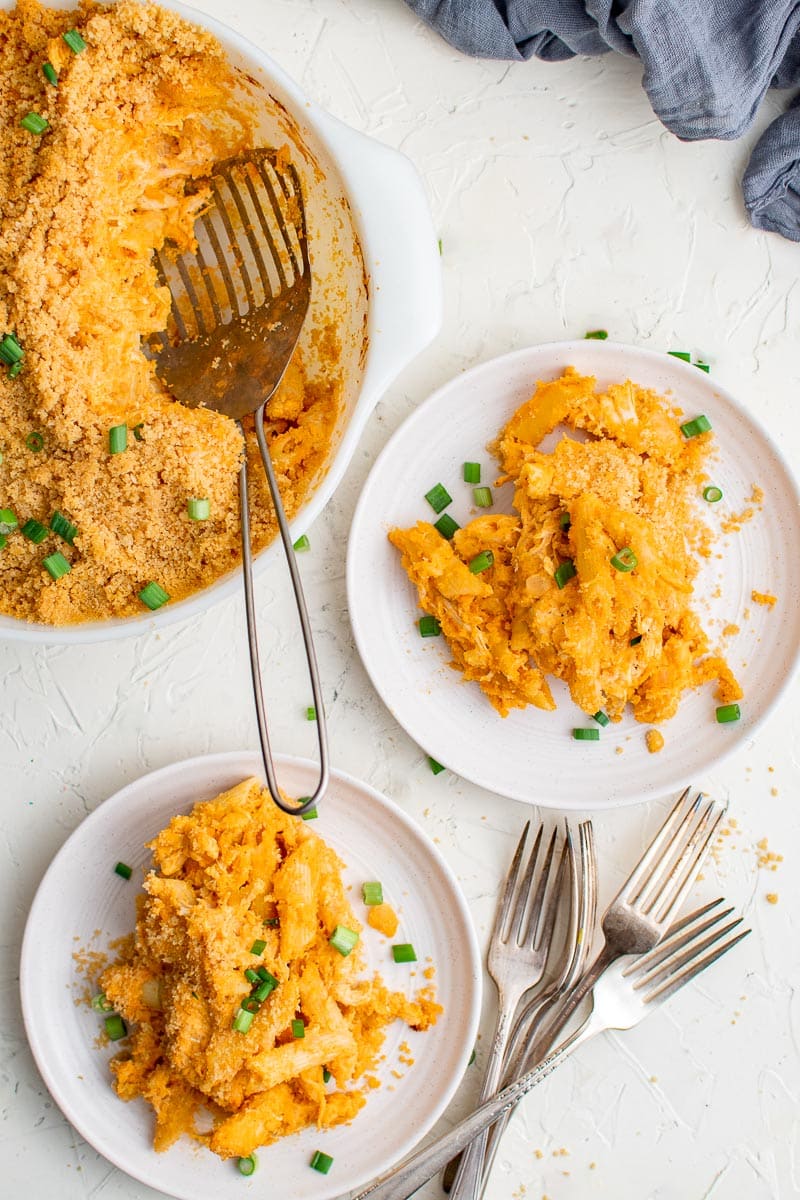 Pro Tips
How to crush the crackers. Using a mini chopper works great for creating nice sized crumbs. The crackers can also be put into a sealed plastic bag and crushed with a rolling pin.
Do not over cook the pasta. Cook the pasta to "al dente". This means it'll be a bit 'toothsome', or just barely cooked through. Overcooked pasta will get mushy when baked with the sauce.
Skillet pasta bake variation. Use an oven safe skillet or cast iron pan for the stove top steps. Then, add cracker topping and transfer directly into the oven.
FAQs
Can this Buffalo Chicken Pasta be made ahead of time?
Yes, you can follow all the steps up to step 10 to prepare the pasta in advance. Then, transfer to a baking dish, cover with foil and chill until ready to bake (up to 24 hours). When ready to bake, continue with the recipe as directed. NOTE: for best results we do not recommend making the pasta bake with gluten-free pasta ahead of time.
Can I use a different kind of hot sauce for Buffalo chicken?
Yes, any vinegar based red hot sauce will work in this Buffalo Chicken Pasta recipe.
Storing Leftovers
Leftover Buffalo Chicken Pasta should be stored in an airtight container in the fridge. Reheat and enjoy within 3 days.
Note that the cracker topping won't be as crispy when it's reheated in the microwave. The leftover pasta bake still tastes delicious though!
Can you freeze Buffalo Chicken pasta?
The buffalo chicken casserole freezes well too. After it cools, transfer the pasta bake to a freezer safe container and seal tightly.
Store in the freezer for up to 3 months. Thaw in the refrigerator overnight before reheating.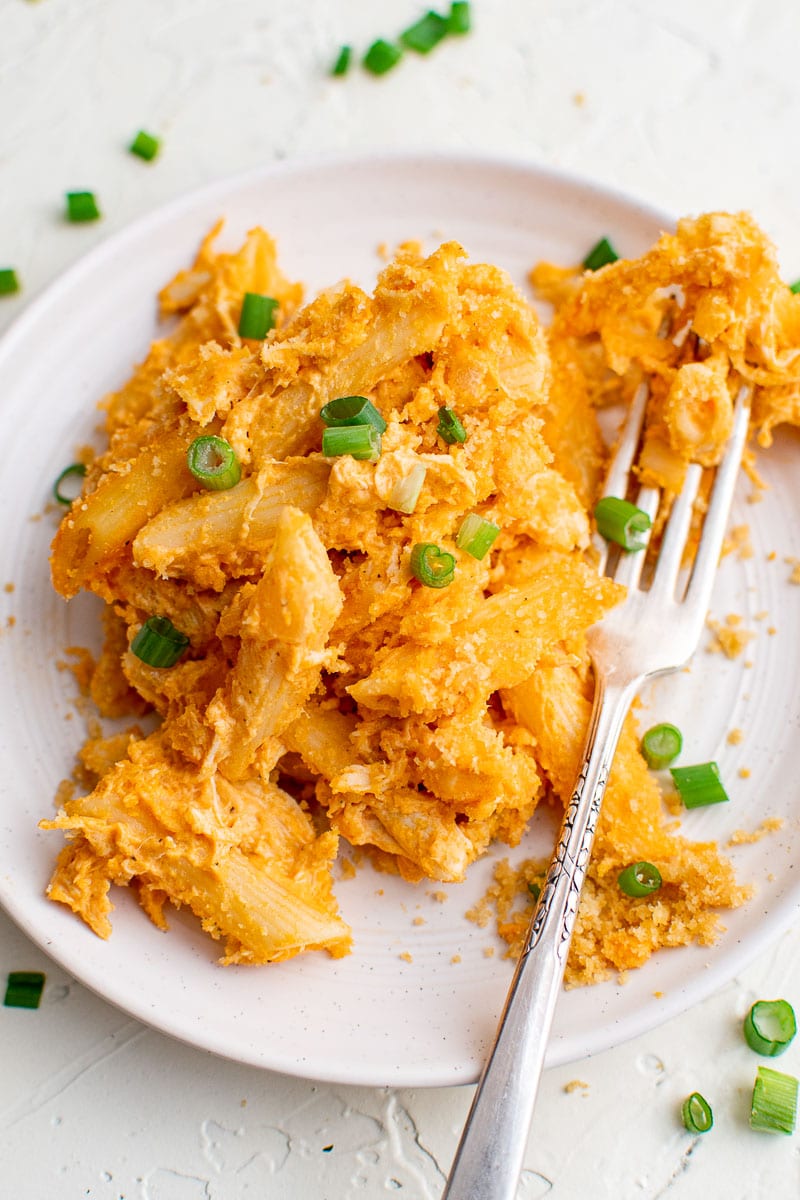 More Recipes You'll Love!
Did you make it? Please RATE THE RECIPE below!
Please
SUBSCRIBE
and
FOLLOW ME
on
FACEBOOK
,
TWITTER
,
INSTAGRAM
and
PINTEREST
!