Whether for watching the Big Game or entertaining a crowd, these Lemon-Garlic Chicken Wings are a delicious, easy to make addition!  Baked with a special trick to ensure they are moist, juice with irresistible crisp skin!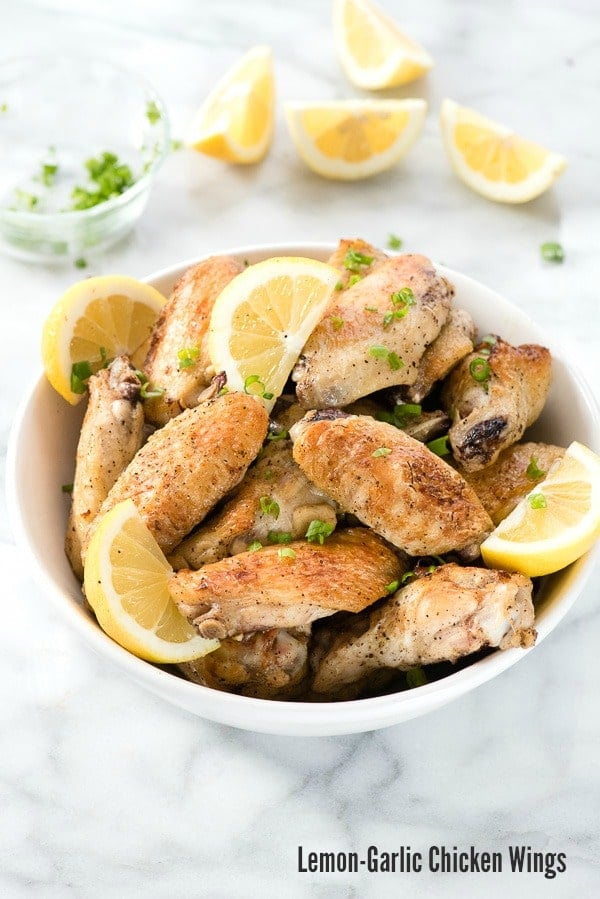 With the Big Game coming up the cyberwaves are full of fabulous 'football food'.  Dips, juicy burgers and hot dogs, grilling, and mouthwatering appetizers.  One of my favorites has to be chicken wings.  I'm partial to Hot Wings with blue cheese dressing (like the ingredients in this Cheesy Buffalo Chicken Lasagna recipe which is also great for a crowd) but I also love these Baked Sesame Wings with Thai Dipping Sauce too.  I haven't made wings in awhile and the time seemed perfect for these Lemon-Garlic Chicken Wings.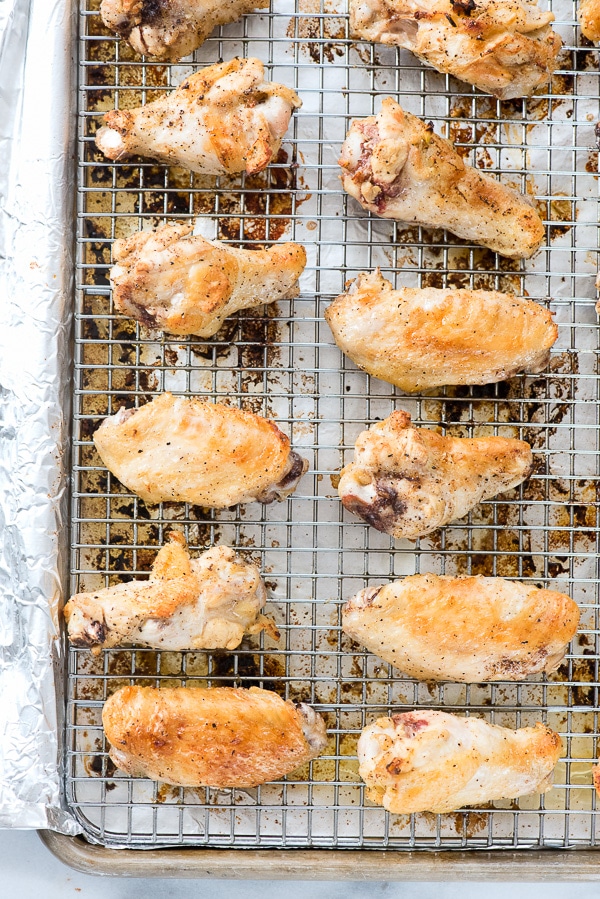 My original inspiration for these wings was from a PF Changs dish, Lemon Chicken.  I don't know why it popped to mind but it does from time to time.  It used to be on their gluten-free menu but was remixed and now is off limits for my crew.  The chicken had a wonderful texture (which I've learned if from being deep fried) and a bright lemon flavor in a thick sauce.
I did not want to fry these wings for the extra calories and the mess.  Baking chicken wings is a great way to make them especially with a trick I use (which I use with chicken thighs like these Salt and Pepper Chicken Thighs).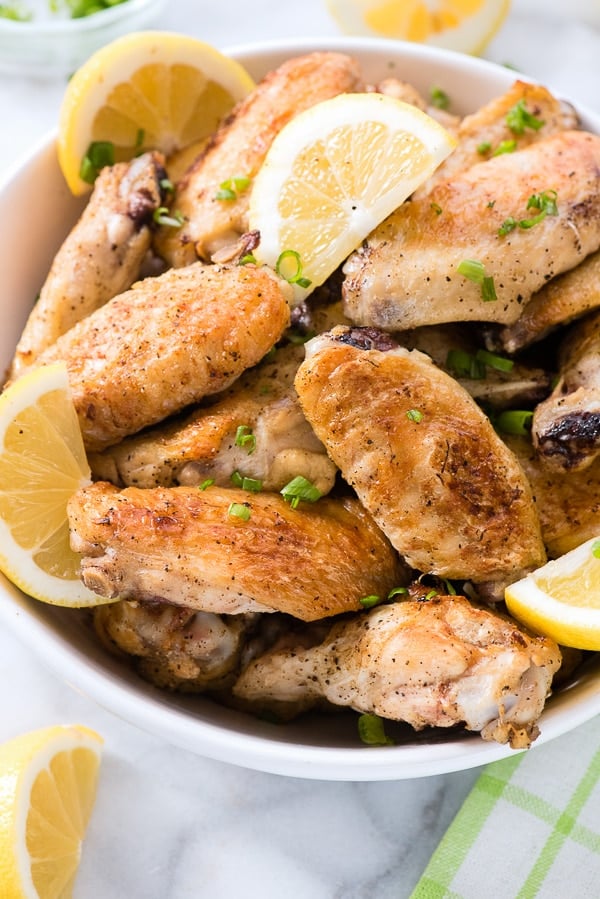 Instead of baking them directly on a baking sheet, I insert a rack onto a rimmed baking sheet and bake them on that.  The additional air flow underneath the chicken cooks all sides nicely, lets excess marinade drip into the pan below and the skin side (facing up) to crisp wonderfully during the cooking.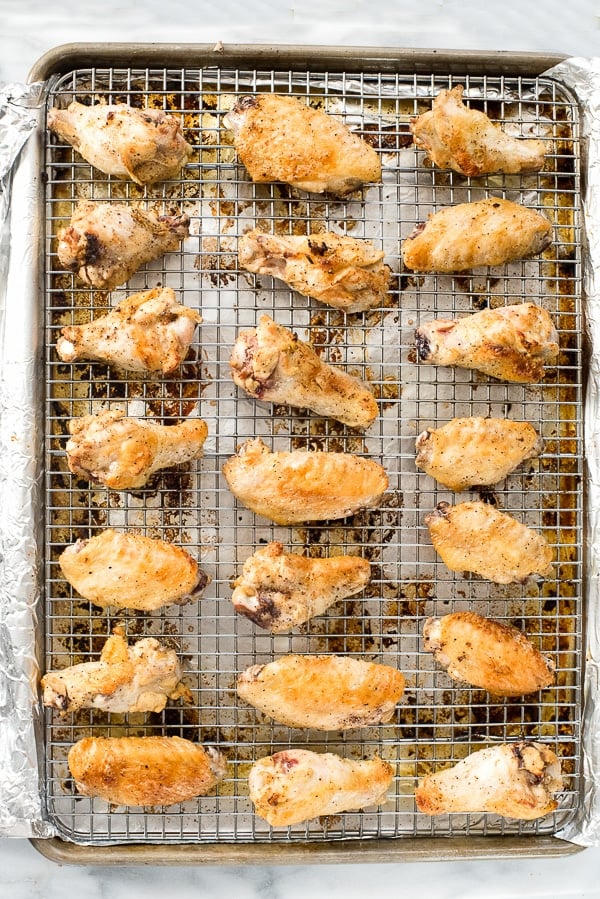 I had originally toyed with making a dipping sauce for these wings but in the end decided against it.  I am in love with their texture, juiciness, and flavor as they are.  The lemon and garlic flavors are more subtle so you won't get any 'OH they're LEMON' flavor comments that can come with tangy lemon recipes.  I did serve them with lemon wedges for those wanting to perk up the lemon flavor however.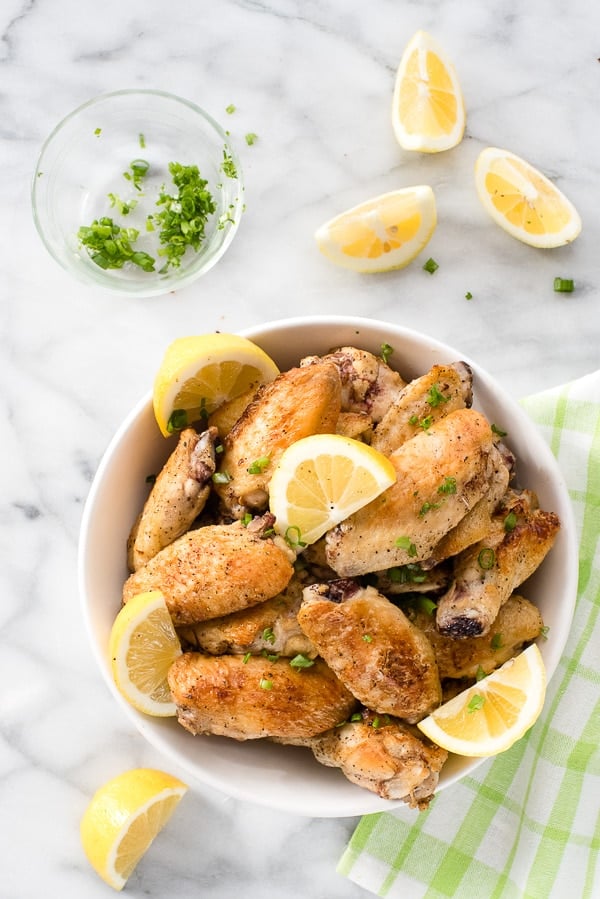 I will warn you.  Mine barely made it out of the kitchen before they were devoured!  Keep your hands clear of the hungry crowd!

I want to connect with you! Leave a comment and follow me on Facebook, Twitter, Pinterest & Instagram!