If you've never tasted Black Garlic you are in for a treat! It's a sweet and subtle version of garlic that's perfect for so many dishes. Everything you need to know, including how to cook with it, is included here.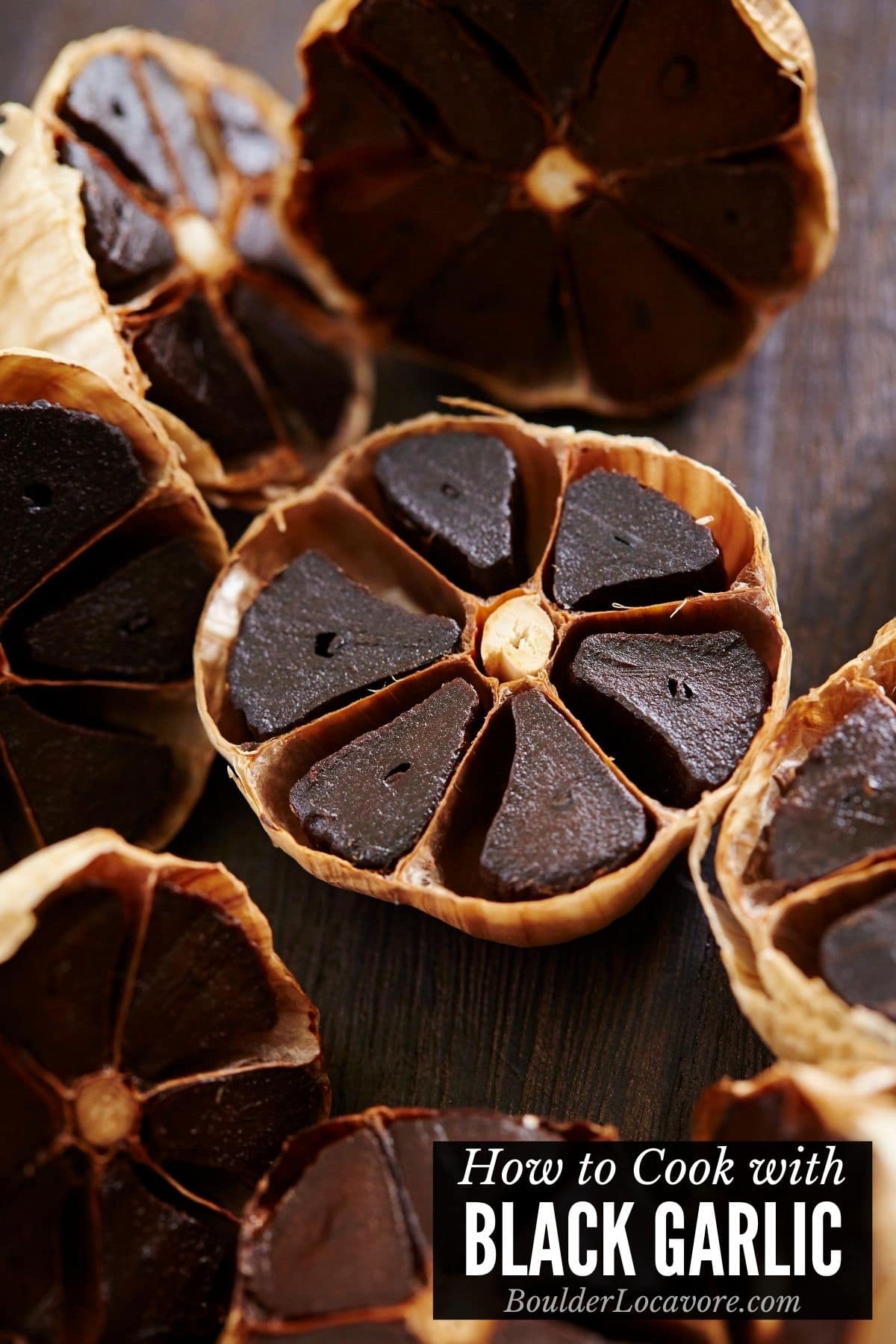 Chances are you either already love black garlic or have never heard of it!
It is gaining popularity for both its flavor and health benefits.
You can make it yourself, or buy it and it's a wonderful addition to many recipes!
Jump to:
Black garlic is not a different type of garlic.
It's regular garlic that goes through a process transforming it from the familiar sharp and bold flavor.
When done, it has a more subtle, caramelized sweet flavor with softer undertones of garlic.
Taste and Texture
I'll confess the first time I bought black garlic I thought it was rotten.
The meat of the garlic turns black and gets a gummy-like texture. The outer skins take on a withered brown look, and the normal pungent garlic smell turns into an equally powerful fermented smell.
The taste actually becomes milder overall. This allows it to be used raw in dishes that the regular version would overpower.
An interesting part about the taste is it has a unique sweetness. It has been compared to the sweetness in molasses or in balsamic vinegar (but has no tang like vinegar).
This gives it a chance to be more versatile in salads, in spreads, where roasted garlic might be called for.
Black garlic, however, has a more interesting and complex taste about it, so it's actually preferred in many dishes.
Without that raw slap in the face that typical raw garlic dishes out, it makes for more use possibilities.
Cooking with Black Garlic
The unique, more subtle flavor and softer consistency give many options how to use it. It's easy to chop or puree into many dishes.
How to Use it
Substitute it for roasted garlic. Use it to make garlic bread, on crostini, on pizza, in a vinaigrette dressing, in sauces and marinades.
Pair with neutral vs strong flavors. It works great mixed into sauces with cream, mayonnaise, spreads for bread even light soups like tomato soup or gazpacho. The subtleties of flavor are often lost when it's mixed into bold flavored recipes.
Mix with Vinegar. The combination with different types of vinegar for a salad dressing or a reduction sauce is a delicious choice. It works great with balsamic vinegar, distilled white vinegar and rice vinegar. If making a vinaigrette use a neutral flavored oil like olive oil.
Try it in Picnic Salads. The flavor becomes more pronounced if it's allowed to sit a bit before eating. Cold salads that are made ahead are perfect for this! Try it in Macaroni Salad, Chicken Salad or Italian Pasta Salad.
Make a Stir Fry sauce. Mash it with some classic stir fry sauce ingredients like soy sauce, sweet chili, a bit of rice vinegar.
Add it to Salad Recipes. The softer cloves and more subtle flavor makes them delicious chopped or sliced and tossed into salads.
Make a Paste. Mash the cloves with some oil and fresh herbs to brush on meats before grilling or roasting.
Add it to Mashed Potatoes. Swap them into a mashed potato recipe (or smashed potatoes) that uses garlic.
Smear on Avocado or Sweet Potato Toast. The flavor is a great addition to these hearty toast dishes.
In Dips and Spreads. The possibilities are endless regarding blending with cream cheese and fresh herbs for a fast, easy dip or spread recipe.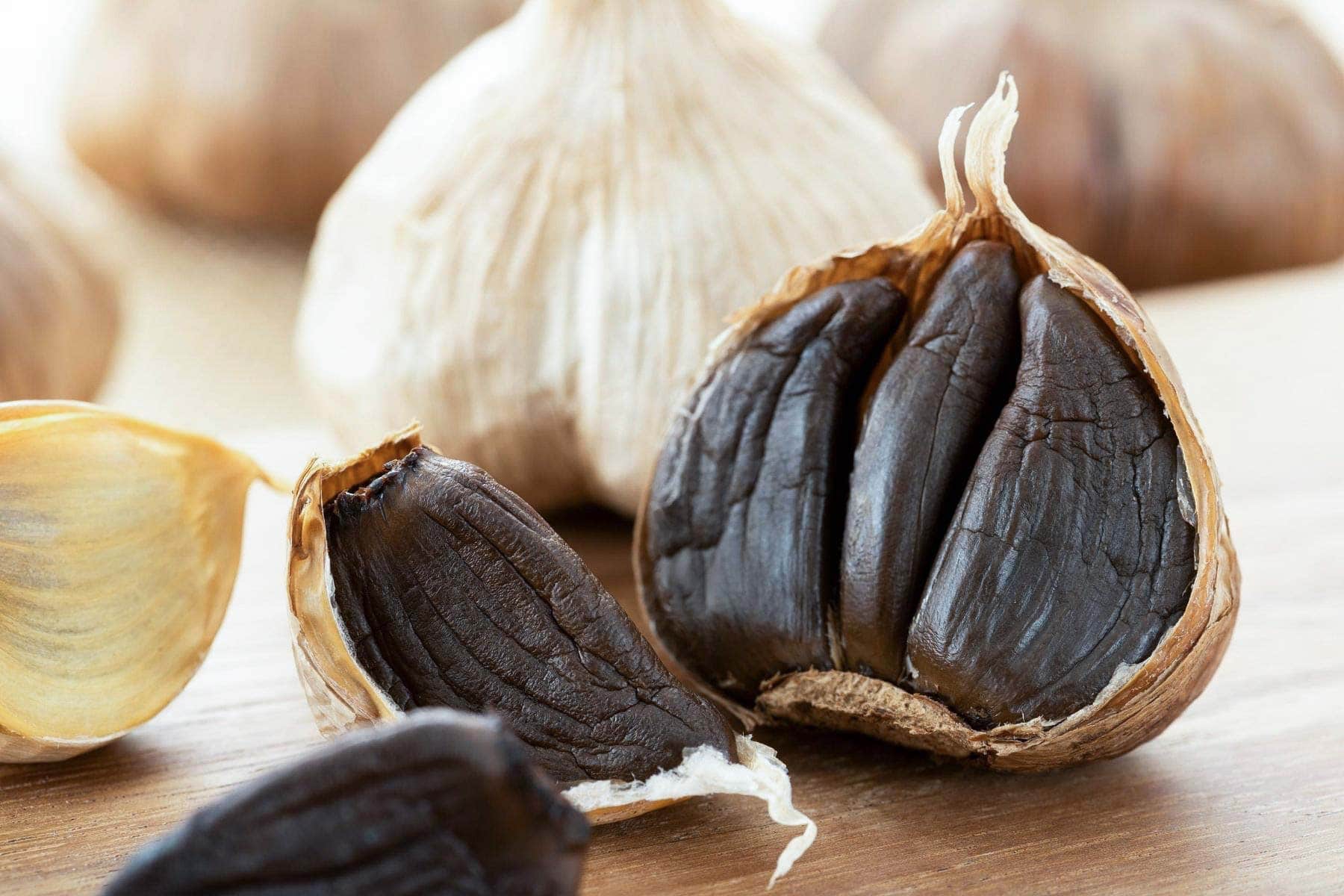 Black Garlic Recipes
Here are some recipes to try!
How to Make it
The process used to make the garlic was once a secret among the makers.
Now there are a few methods to make it. They all include low temperature and humidity over a few week period.
Slow Cooker or Rice Maker
The most common method uses a slow cooker or rice maker set on low and runs for weeks. It cannot be made in the oven.
Before beginning, check that your slow cooker or rice maker does not have an automatic shut off after a certain period of time.
PRO TIP: the process has a strong smell. Placing your device somewhere it will not be disturbing (garage, basement, etc) is advised.
Add whole heads of garlic to a rice cooker or slow cooker.
Select WARM (slow cooker) or KEEP WARM (rice cooker) setting. DO NOT remove the lid during the process.
It's helpful to note when the process starts to track the duration.
Generally it takes 2-3 weeks for the garlic to transform to black garlic.
There is a matter of preference with the results too. Some prefer 2 weeks others 3 weeks.
One tutorial notes '17 days resembles a fig-like texture; 21 days is more like gummy bears.'
Black Garlic Fermenter
There are devices similar to a rice cooker designed specifically for making black garlic and other fermenting projects.
They are called Black Garlic Fermenters and convert the garlic more quickly too.
Where to Buy it
I have purchased black garlic at Whole Foods though there are a number of online ordering options too.
Though not as adventurous or as satisfying as making it yourself, it IS faster and easier to buy it.
How to Store it
Store bought black garlic comes sealed in a bag with a long expiration date, provided the bag is unopened. Once opened, store sealed in the refrigerator for up to 1 month.
If you make it yourself it can be stored in an airtight container in the refrigerator for up to 6 months.