Instant Pot Mac and Cheese with Green Chiles is ooey gooey homemade comfort food with 4 minutes cooking time! This is the best mac and cheese I've ever made (or eaten). Regular or gluten-free options.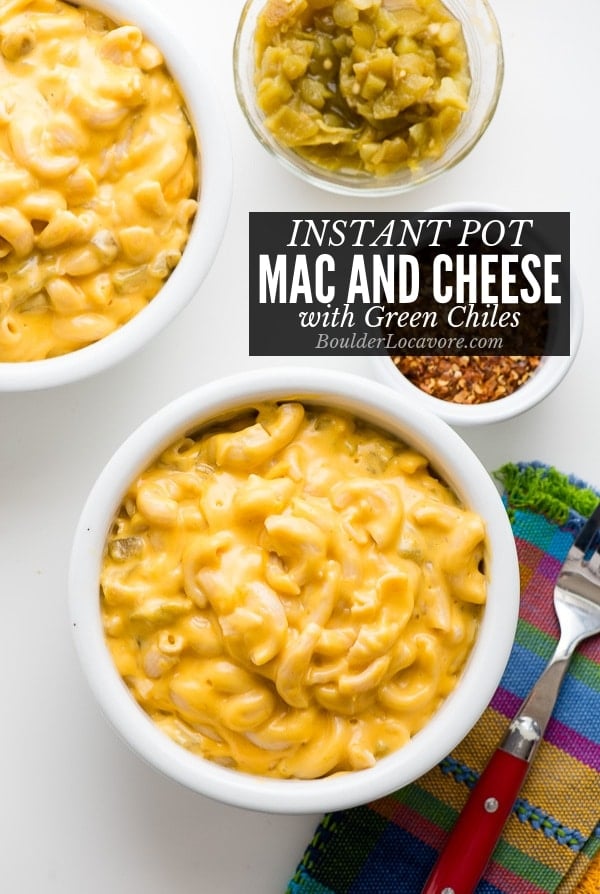 Homemade Mac and Cheese is a comfort food favorite.
The difference between it and the boxed version is night and day.
The only thing better than a creamy homemade macaroni and cheese is making it in the Instant Pot.
It's easy, creamy, cheesy and fast!
Easy Homemade Mac and Cheese
Making mac and cheese from scratch isn't difficult but does take some time.
Making it on the stove top (vs. pressure cooking) requires watching it, paying attention to making a good roux, carefully adding the milk and cheeses.
When making it in the Instant Pot, the macaroni is cooked then the other ingredients added directly to the Instant Pot.
The result is a creamy, rich mac and cheese that's hard to beat!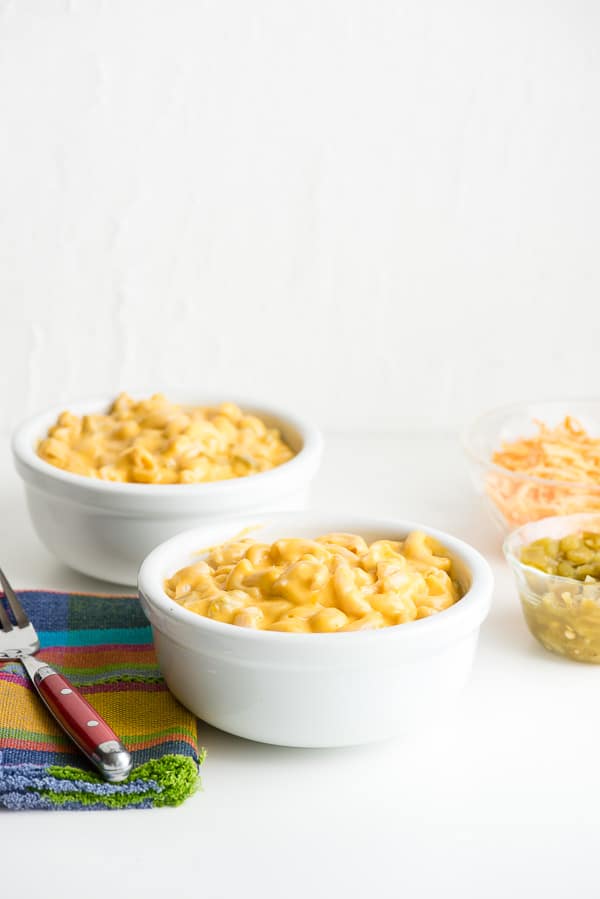 A Special Ingredient
This recipe uses Evaporated Milk which gives the Instant Pot Mac and Cheese a distinct richness.
The milk solids are condensed in evaporated milk for a creamier consistency pasta.
Green Chilies in Mac and Cheese? YES!
This Instant Pot Mac and Cheese recipe is perfect by itself.
However adding a Mexican twist with some green chiles is delicious!
Choose mild or hot diced green chiles (canned) to add some tangy southwestern flavor to this delicious side dish.
And if green chiles AREN'T for you, leave them out! They are the last step so it's easy.
And if you DO like those flavors….
Creamy Roasted Green Chile Chicken Macaroni and Cheese is a long time family favorite and a satisfying one pot meal.
Creamy Mini Mexican Macaroni-and-Cheese is another spicy version that is served in individual containers (everyone loves that).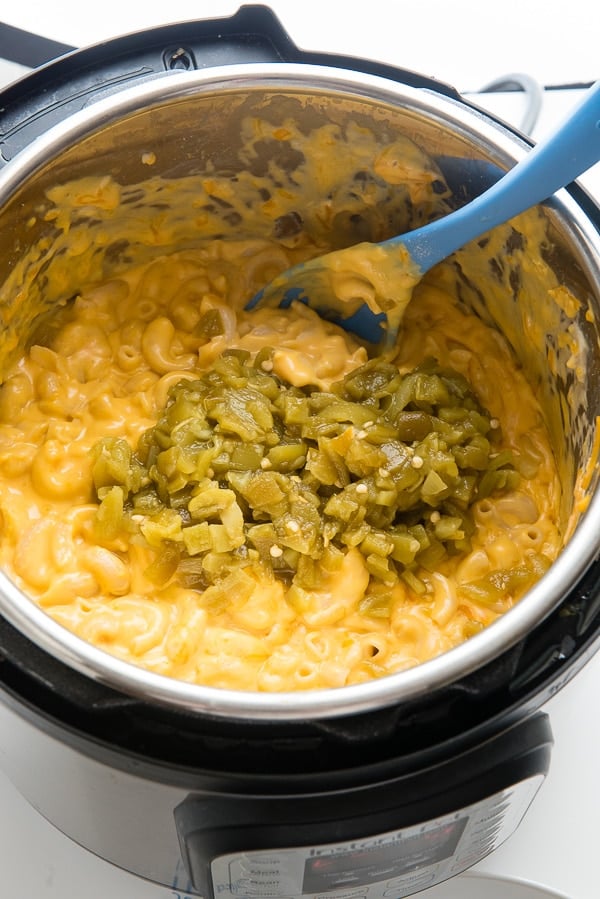 Ingredients in Instant Pot Mac and Cheese
The ingredients in this easy Instant Pot recipe are available at any grocery store!
Elbow Macaroni Pasta (regular or gluten-free)
Water
Kosher Salt
Evaporated Milk
Dry Mustard Powder
Unsalted Butter
grated Mild or Sharp Cheddar Cheese
canned Diced Green Chiles (Mild or Hot)
6 quart Instant Pot

Gluten-Free Mac and Cheese
Before developing this recipe, I'd read lots about how gluten-free pasta won't work in the Instant Pot. Not so.
Here's a secret! The homemade Mac and Cheese in the photos IS made with gluten-free pasta and it is perfect.
The gluten-free brand I used for this easy mac and cheese recipe is Tinkyada elbow macaroni.
It is a brown rice pasta with great flavor and reliable wheat-like texture.
How to Make Instant Pot Mac and Cheese – Step by Step
For detailed instructions or a printable version of the recipe, use the recipe card at the bottom of this post.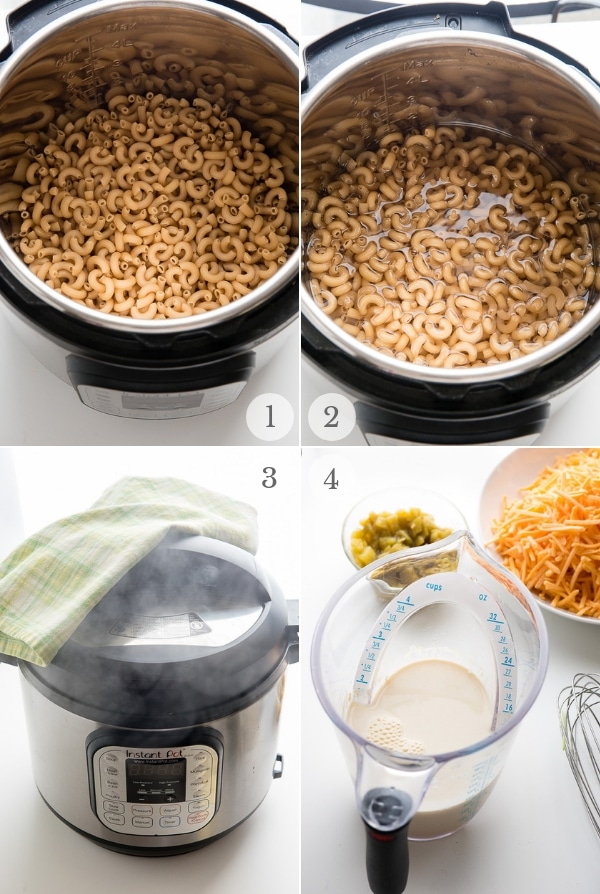 Combine the elbow pasta, water and salt in the insert of the 6 qt Instant Pot (photos 1 & 2).
Stir and secure the lid; set the pressure vent to SEALING.
Select MANUAL, HIGH PRESSURE and using the "+/-" buttons select 4 minutes (photo 3).
While the cooking the pasta, whisk together the evaporated milk and mustard. Prepare the cheese and green chilies (photo 4).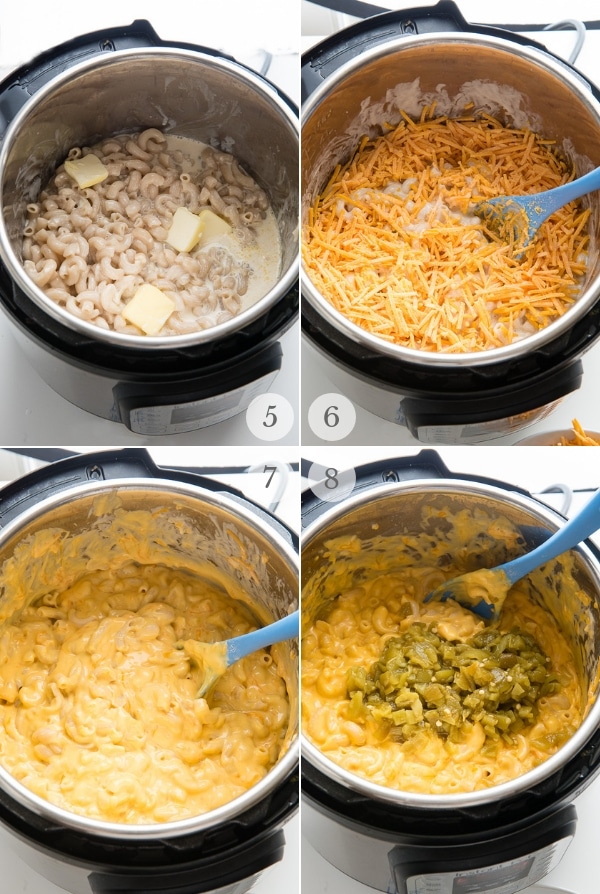 When cooking is completed do a QUICK RELEASE and leave the Instant Pot on the "KEEP WARM" setting.
Add the butter, evaporated milk with the mustard and stir to melt the butter (photo 5).
Add the cheese in batches, stirring between each addition until all the cheese has melted (photo 6 & 7).
Add the green chiles and stir to combine (photo 8).
Pro Tips for Making Instant Pot Macaroni and Cheese
Water in the Instant Pot after cooking the Macaroni:

If only a small amount of water, stir it into the pasta.
Larger amounts of water (can vary by type of pasta) can be drained.

When removing the Instant Pot lid after cooking the pasta there may be foam. Allow a minute or two for the foaming to subside.
Add the grated cheese in batches, allowing each batch to melt before adding the next.
Store-bought grated cheese can be used but may take longer to melt. It is usually coated with an ingredient to keep it from sticking which makes it slower to melt.
Is it OK to make Mac and Cheese in the Instant Pot?
When I originally developed this recipe in 2017, I found an interesting notation.
On the Instant Pot website, I found a video for making mac and cheese with comments saying how great it is.
In the comment section were viewer questions about making macaroni in the Instant Pot.
The comment said doing so is in contradiction of 'rule #8' of the User's Manual.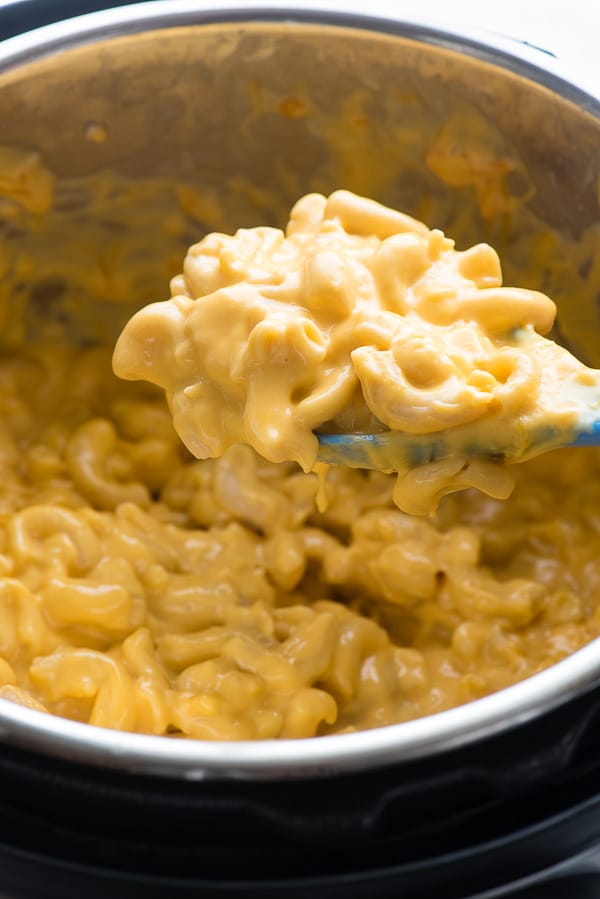 I checked the Instant Pot users manual and indeed rule #8 lists foods which can foam or froth.
Macaroni is one of them. The foam can clog the steam valve apparently.
I consulted with Instant Pot recipe development experts recipes who claim to have made macaroni often with no issue.
PRO TIP: Clean the lid and steam valve (per the manual's instructions) after making macaroni. This will ensure no starchy particulate builds up in the steam valve.
More Instant Pot Recipes You'll Love
5 MIND-BLOWING INSTANT POT TIPS YOU NEED!
I've uncovered some unexpected, useful tips you'll want to know.
Sign-Up below and I'll tell you all my Instant Pot secrets!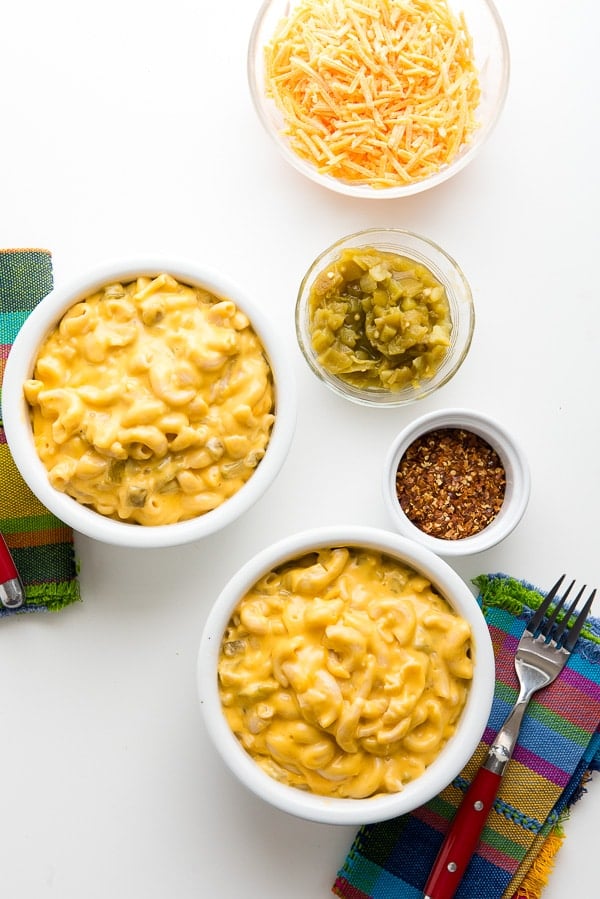 Try Pumpkin Baked Mac and Cheese too!
Did you make it? Please RATE THE RECIPE below!
Please SUBSCRIBE and FOLLOW ME on FACEBOOK , TWITTER , INSTAGRAM and PINTEREST !
Originally published: March 16, 2017