If I told you you could have homemade ooey gooey Instant Pot Gluten-Free Macaroni and Cheese with Green Chilies with 4 minutes cooking time would you be interested? Literally the best mac-and-cheese I've ever made (or eaten). Gluten and conventional options too.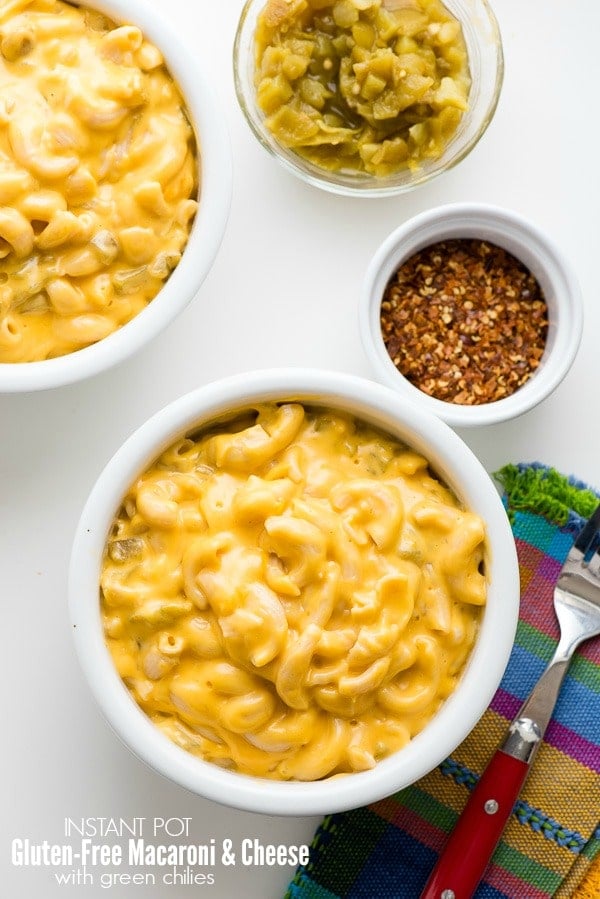 Today's recipe makes me so, so happy! Not only is it one of my life long comfort food loves but it solves a family dinner problem I've longed to conquer. Instant Pot Gluten-Free Macaroni and Cheese with Green Chilies. For those of you unsure about the green chile part, no worries; they are added at the end and you can just omit that step.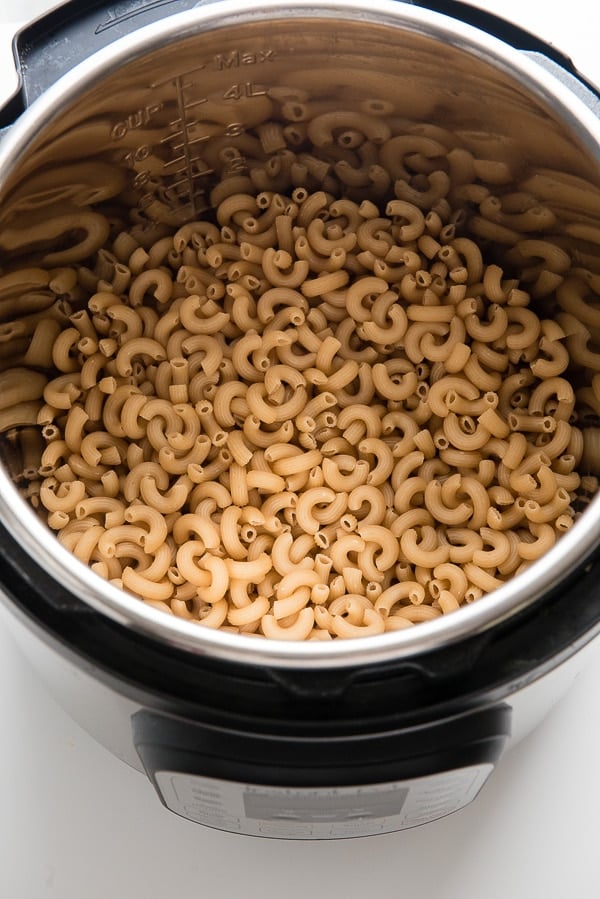 Once again, I've taken on a major research project to master mac and cheese in the Instant Pot. There are many recipes online for gluten macaroni but not so many for gluten-free. Those I found either used a pasta type I don't prefer (from experience making it conventionally) or used exotic ingredients like vegan cheese that would not translate into my kitchen. I also read one recipe cautioning it could not be made with gluten-free pasta which only serves to make me all the more determined.
When my kids and I became gluten-free over 10 years ago, my kids were very young and in the middle of the mac and cheese phase of their development. It was one of the first things I began to make from scratch, toiling through pasta types for something that was similar in structure and flavor to 'normal' mac and cheese. This predated the gluten-free products available today (frozen mac and cheese, boxed mac and cheese and microwaveable mac and cheese).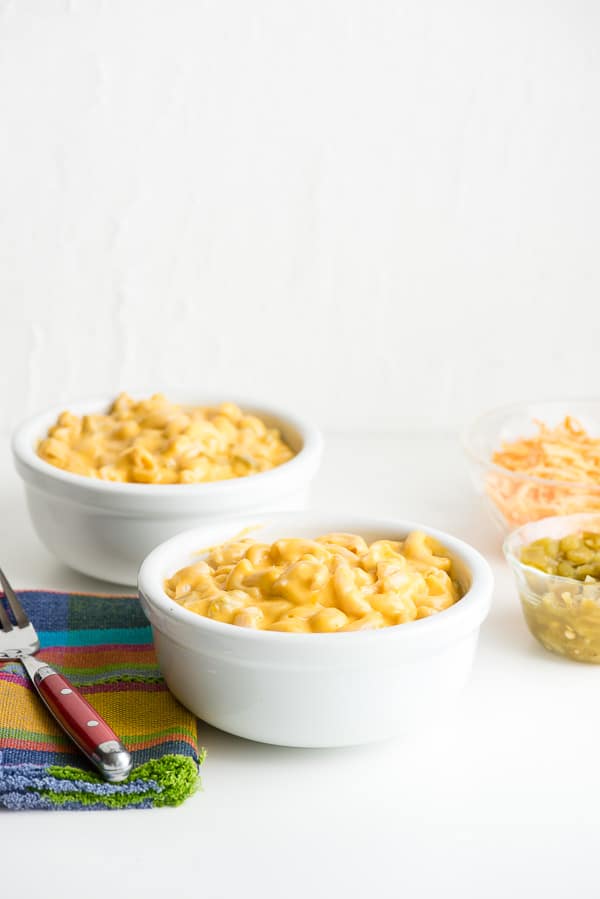 I found a recipe we all liked and actually shared a few versions of it on Boulder Locavore. Creamy Roasted Green Chile Chicken Macaroni and Cheese  is a long time family favorite and a satisfying one pot meal. Creamy Mini Mexican Macaroni-and-Cheese is another spicy version that is served in individual containers (everyone loves that). The only thing about it is, like most homemade recipes, it takes a bit of time and attention. Nothing too extreme but more than microwaving a packet for instance.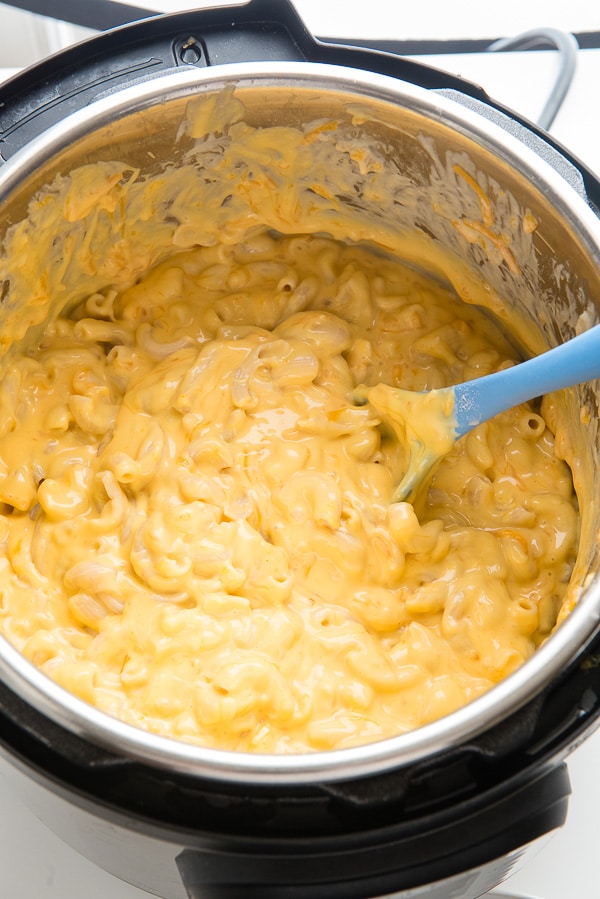 My teenage son, whom I suspect is growing, has begun to crave, request and consume gluten-free macaroni and cheese like the world is about to end. The great thing is he'll make it himself but he's begun to request boxed mac and cheese which for me doesn't seem as good as homemade. He's not going to labor over developing the correct consistency roux when he has hours of homework so this latest development has really stepped up my quest to see if my beloved Instant Pot can come thru on this one.
My friends, not only does it but the texture and flavor of this Instant Pot Gluten-Free Macaroni and Cheese with Green Chilies slays. When I took my first bite I considered retiring from Boulder Locavore feeling I'd be leaving on such a high note in sharing this recipe; and all I'd do from now on is make and eat this macaroni. My kids can be wishy washy about green chilies and I texted my daughter that I felt sure if she and her brother don't love THIS mac and cheese that our babies were switched at the hospital.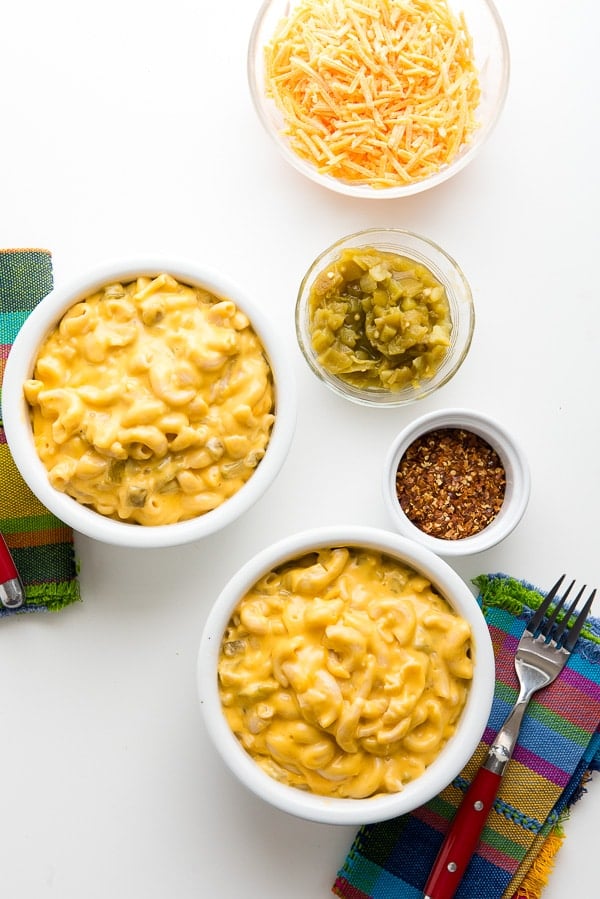 Instant Pot Gluten-Free Macaroni and Cheese with Green Chilies is very simple to make. The pasta is combined with water and salt then cooked for four minutes. It is then quick released, the butter, evaporated milk (the milk solids are condensed for a creamier consistency pasta), dry mustard powder and cheese are added and stirred until everything has melted and is ooey gooey. Lastly the green chilies are stirred in. The photos tell the whole tale!
Here is one thing I ran into when researching how to approach this recipe. On the Instant Pot website, I found a video for making mac and cheese with comments on how great it is. Underneath in the comment section were viewer questions about making macaroni in the 'IP' being in contradiction of 'rule #8' of the User's Manual.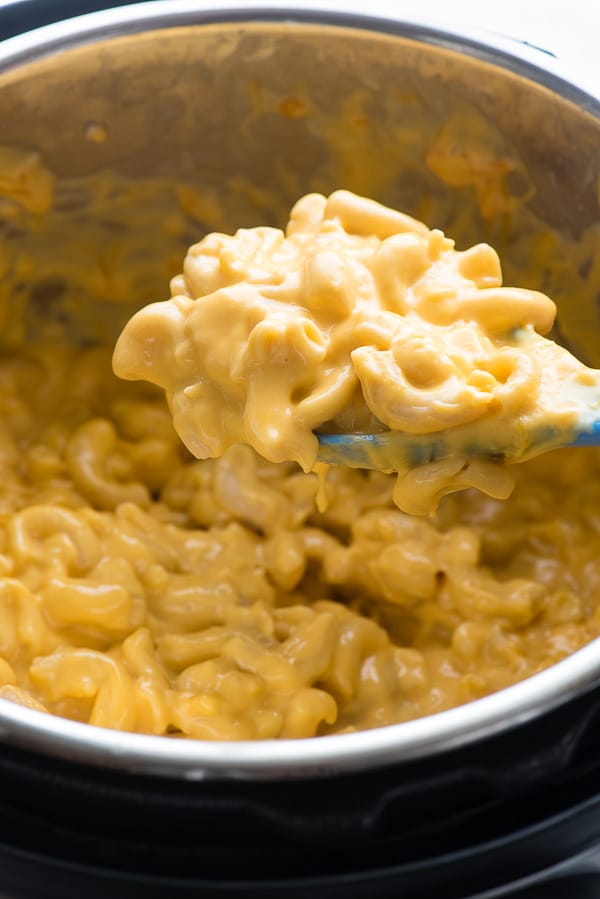 I pulled out the manual and indeed rule #8 lists foods which can foam or froth that are NOT recommended for the Instant Pot. Macaroni is one of them. The foam can clog the steam valve apparently.
I checked with some experts who develop Instant Pot recipes and they claim to have made macaroni 'all the time' with no issue. My recommendation is to ensure you clean the lid and steam valve per the manual after making macaroni to ensure no starchy particulate builds up in the steam valve. Of course, you need to do what you are comfortable with but it seems Instant Pot would not have a video of how to make it if they felt you should NOT make it, right?
I want to connect with you! Leave a comment and follow me on Facebook, Twitter, Pinterest & Instagram!