Quick and easy Sweet Chili Sauce is a perfect blend of sweet, spicy and tangy flavors. This recipe is made with fresh chilies making it easy to customize for your taste. Great on everything from dippable spring rolls, grilled meats to chicken nuggets!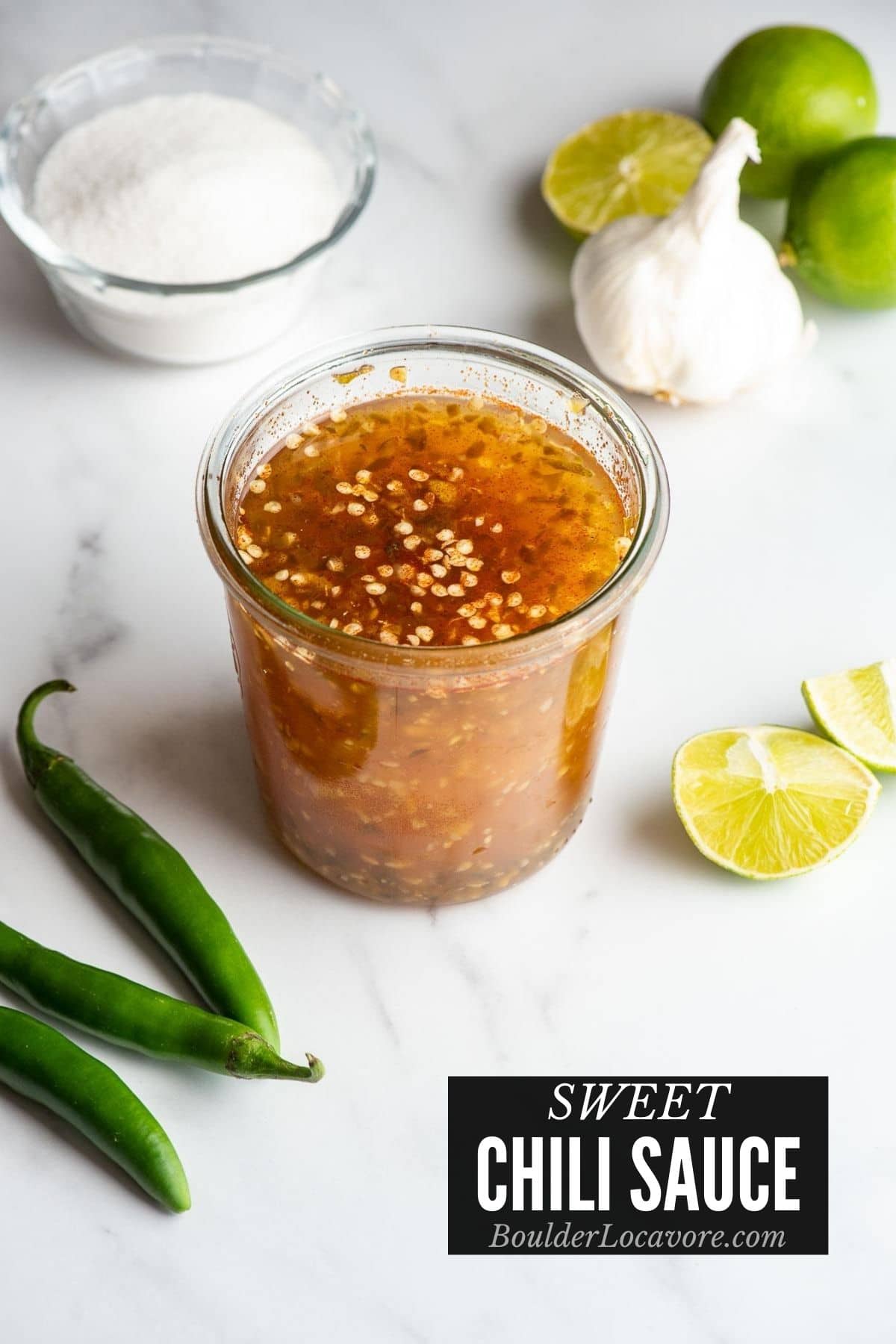 Homemade Sweet chili sauce is perfectly balanced so it's not more sweet than spicy, or more spicy than sweet.
It has a nice medium heat.
This delicious flavor combination makes it perfect with so many foods as a dip, sauce or cooking ingredient.
This Thai Sweet Chili Sauce recipe was given to me from dear friends in New Zealand.
They created their own version to use fresh cayenne peppers from their garden.
They love it in stir fry recipes, on tacos, in pasta or as a condiment on vegetables, fish or meat.
It's very easy to make and to customize based on fresh chilies available to you.
The original recipe makes about 4 cups of chili sauce so is perfect for frequent use or larger families.
The recipe has been scaled to make about 1 1/3 cups here and can be doubled if desired.
Recipe Ingredients
Traditional Thai Sweet Chili Sauce often includes soy sauce, fish sauce or sambal oelek, a Southeast Asian chili paste.
This sweet chili sauce recipe does not use any of those ingredients, relying on fresh chile peppers for the heat and color.
The addition of ginger root and smoked paprika give it a special depth of flavor you'll love!
This sauce recipe is also naturally gluten-free.
What Chile Peppers to Use?
The original recipe used freshly grown Cayenne Peppers.
Unfortunately unless you grow your own in the United States those are very hard to find at the grocery store. They are also very hot (spicy).
I've substituted Serrano chile peppers which are slightly less spicy but comparable. AND they are easier to find.
Jalapenos would be another choice. Red ones even better but again they are hard to find.
The goal is to add some spicy heat to the sweet sauce not overtake the sweetness with so much heat it's unpleasant.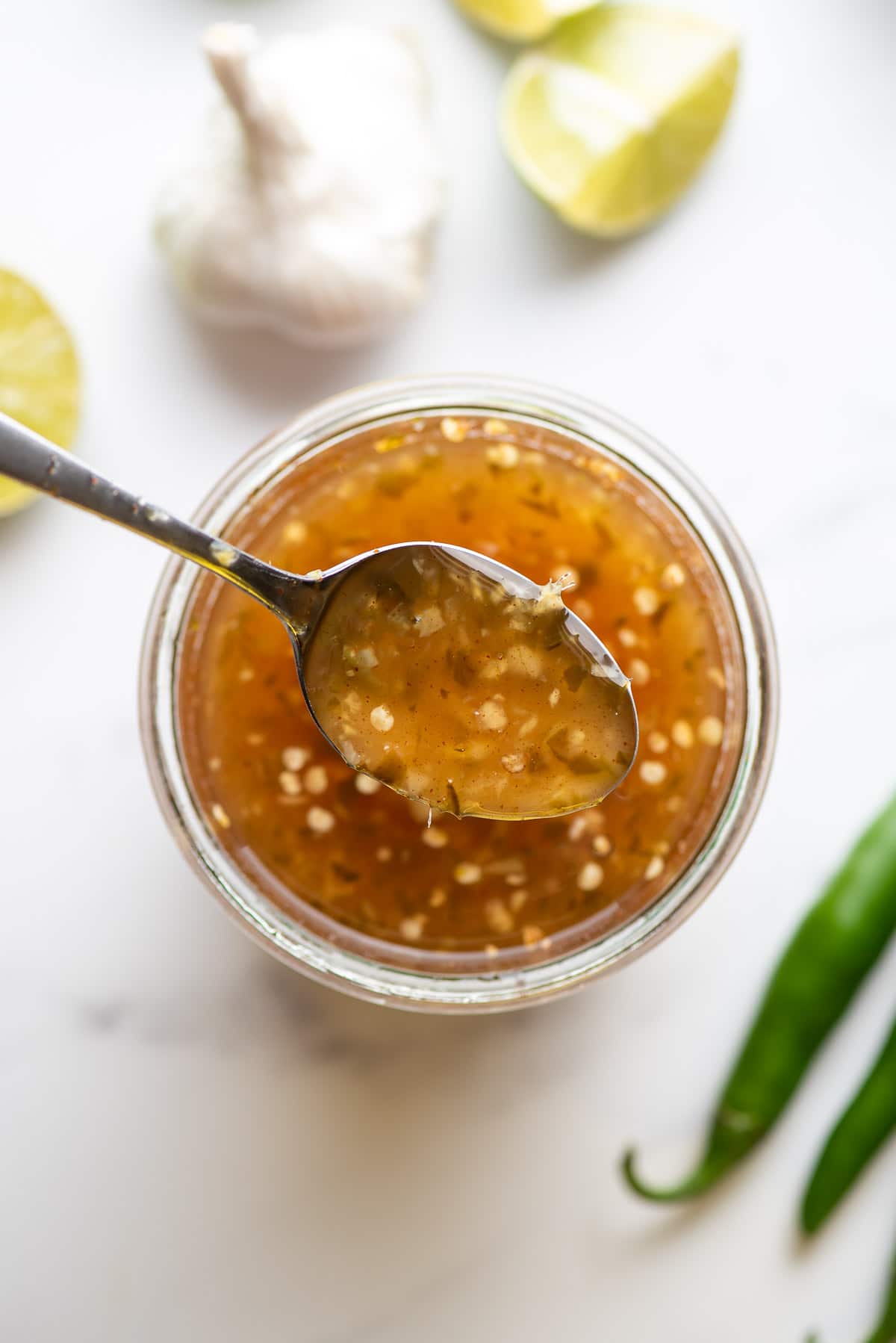 A Note on Adding Cornstarch to Thicken
Making a slurry of the cornstarch and liquid prevents the cornstarch from clumping when added to the sweet chili sauce.
This is true when adding cornstarch to any sauce to thicken it.
In this case it is mixed with the lime juice and a teaspoon of water.
If you were to add the cornstarch directly to the heated chili sauce it would break into little clumps that are very difficult to incorporate.
The slurry blends easily and provides a thickening effect without micro clumps of cornstarch.
As the sauce simmers and after it cools, the cornstarch will thicken the sauce.
How to Make it – Step-by-Step
STEP 1: Dice the chilies, garlic, ginger and lime zest. I do this in amini chopper as shown below (photo 1). It can also be done by hand.
Photo 2 shows the size of the diced ingredients.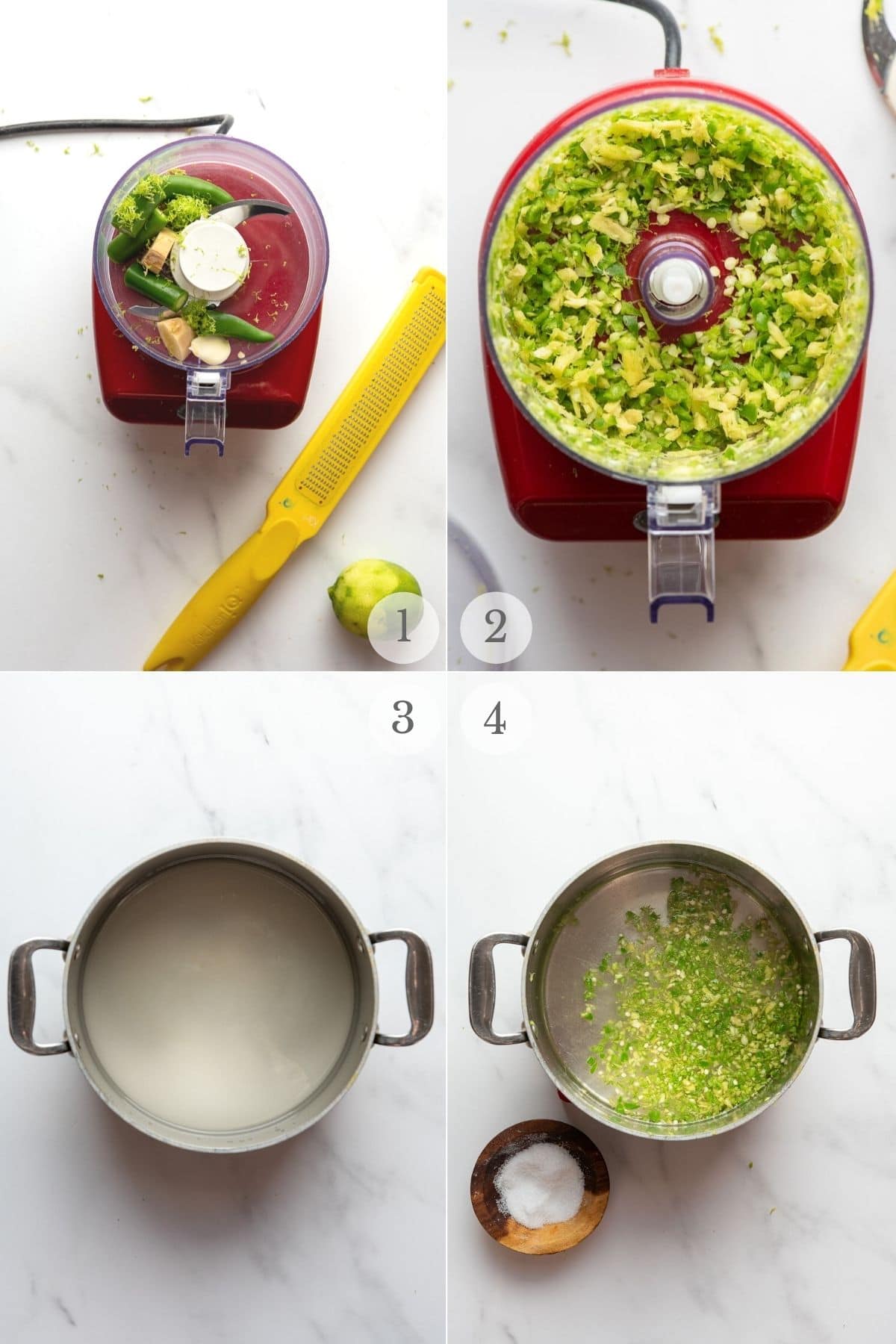 STEP 2: Combine the sugar, vinegar and water and bring to a boil (photo 3). Stir a few times to dissolve the sugar.
STEP 3: Add the diced ingredients plus a pinch of salt (photo 4). Boil for 10 minutes.
STEP 4: In a small bowl combine the cornstarch (or arrowroot), the lime juice and 1 teaspoon of water (photo 5). Stir together to make a slurry (photo 6).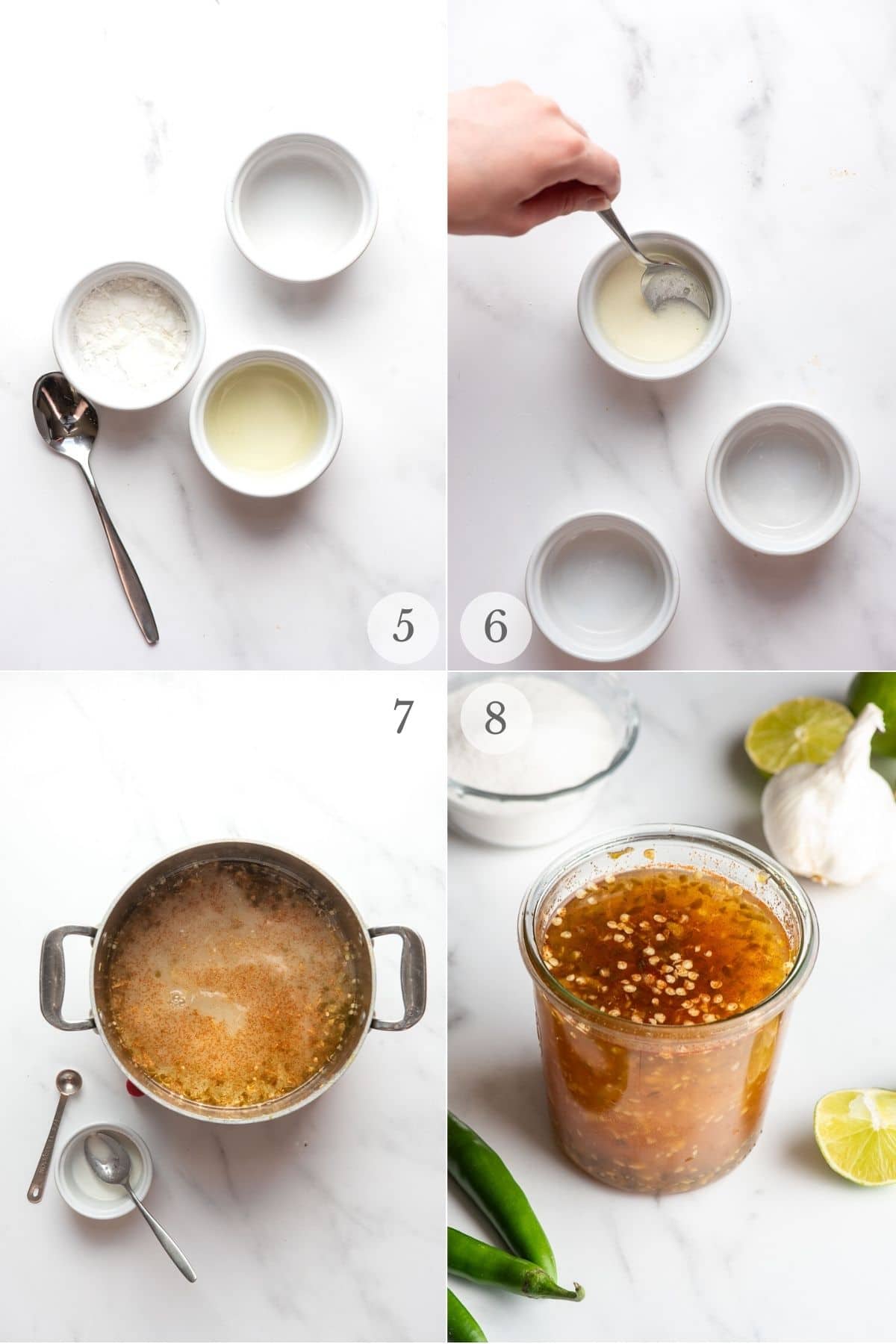 STEP 5: Reduce heat to low. Add the slurry and smoked paprika (photo 7). Simmer for 5 minutes.
Remove from heat at add to glass jars or bottles (photo 8).
How to Make it Spicier
The heat in a chile pepper comes largely from the seeds.
Removing the seeds will make it less spicy. Adding the seeds bumps the heat up a notch.
Also different chile peppers have different degrees of spicy heat. This is measured on something called the Scoville Scale.
It ranks peppers by how hot they are hottest to no spice peppers.
In this case cayenne peppers are considerably hotter than serrano peppers which are hotter than jalapenos.
Using the scale when deciding which peppers to use can help control the heat of your sauce.
Why Isn't it Red?
The sweet chili sauce from the store is red from the type of chili peppers used or from red chili flakes.
Since this recipe uses a green Serrano chile pepper it has more of a green color.
But tastes just as delicious as the red version.
How to Use it
Thai sweet chili sauce is one of the most versatile sauces thanks to the delicious blend of sweet and slightly spicy flavor.
It can be used in traditional ways or more modern Western methods (my kids insist on it with Chicken Tenders).
Perfect for Dipping
Put it On your Favorite Foods
Cook with It

How to Store it
The suggestions for storing this homemade sauce differ wildly. Some say a week others up to a year.
Personally I store it in the refrigerator which also thickens it. Store it for up to 1 month.
More Sauce Recipes You'll Love!
Did you make it? Please RATE THE RECIPE below!
Please SUBSCRIBE and FOLLOW ME on FACEBOOK , TWITTER , INSTAGRAM and PINTEREST !
Recipe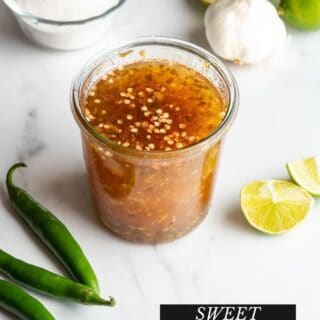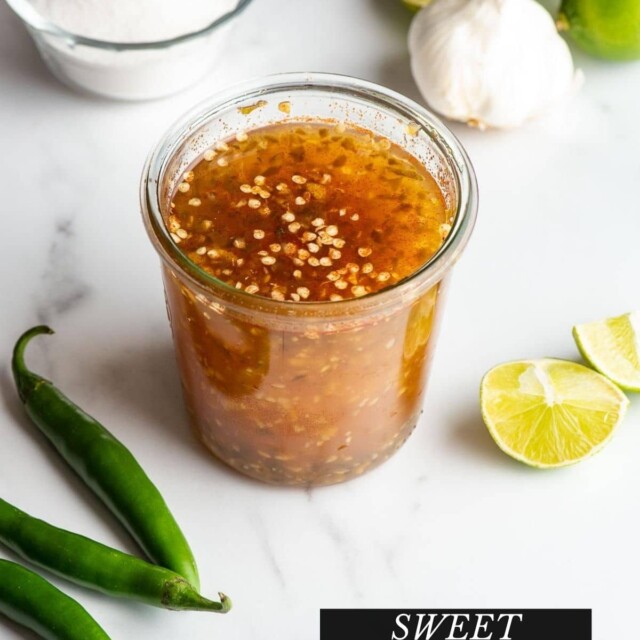 Thai Sweet Chili Sauce
This delicious sauce is a perfect blend of sweet, spicy and tangy flavors. Fast and easy to make with fresh chilies! Use as a dip, relish or recipe ingredient.
Print
Save Recipe
Recipe Saved!
Pin
Rate
Servings:
10
2-tablespoons servings (total yield 1 1/3 cups)
Ingredients
2

Serrano Chilies

rinsed, stem removed

Zest from 1/2 Lime

2

medium

Garlic Cloves

1

1-inch piece

fresh Ginger

peeled

1 1/3

cups

Water

2/3

cups

White Distilled Vinegar

1 1/3

cups

Granulated Sugar

1

pinch

Salt

Juice of 1/2 Lime

2

teaspoons

Cornstarch or Arrowroot starch

1

teaspoon

Water

1/4

teaspoon

Smoked Paprika
Instructions
Finely chop chilies, lime zest, garlic, and ginger together.

Bring 1 1/3 cups water, vinegar and sugar to the boil.

Add the chopped ingredients and a pinch of salt.

Combine the cornstarch/arrowroot starch, lime juice and 1 teaspoon of water in a small bowl. Mix together to dissolve the starch and create a slurry.

Turn down the heat to low. Add cornstarch slurry and paprika. Stir to fully mix together.

Stir for 5 minutes then take off the heat. Put in a glass jar or bottle and store in the refrigerator.
Nutrition
Calories:
110
kcal
|
Carbohydrates:
27
g
|
Protein:
1
g
|
Fat:
1
g
|
Saturated Fat:
1
g
|
Sodium:
6
mg
|
Potassium:
7
mg
|
Fiber:
1
g
|
Sugar:
27
g
|
Vitamin A:
55
IU
|
Vitamin C:
4
mg
|
Calcium:
2
mg