Taco-Stuffed Baked Potatoes are a perfect spicy fix for meat and potato lovers with a Mexican twist. Potatoes mashed with sour cream and cheese, combined with taco meat, piled high with toppings are a great dinner option!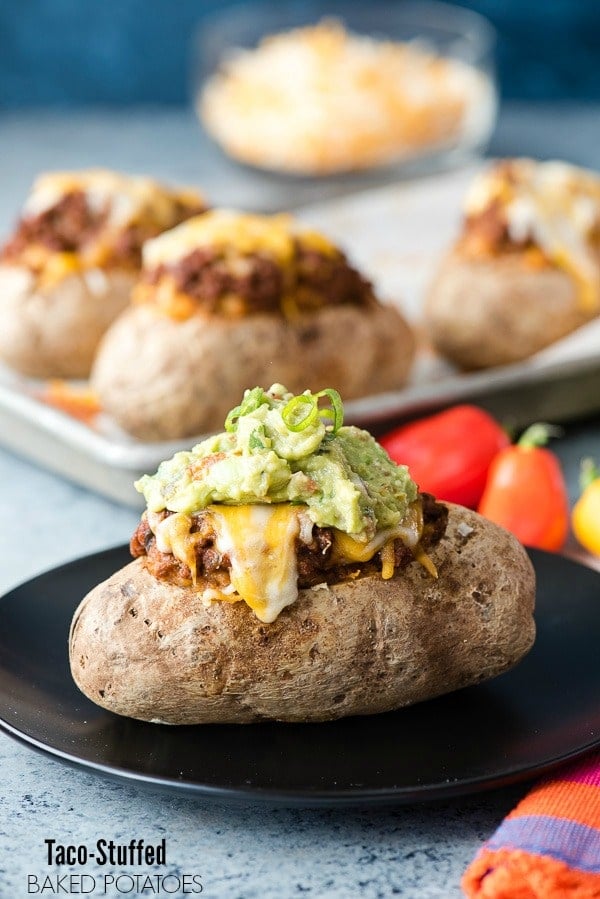 I realize I just shared my Slow Cooker Mexican Chicken Taco Meat recipe last week (anyone tried it yet?!) but there's not stopping a muse with a constant hankering for Mexican flavors. We l.o.v.e. these Taco-Stuffed Baked Potatoes and know you will too!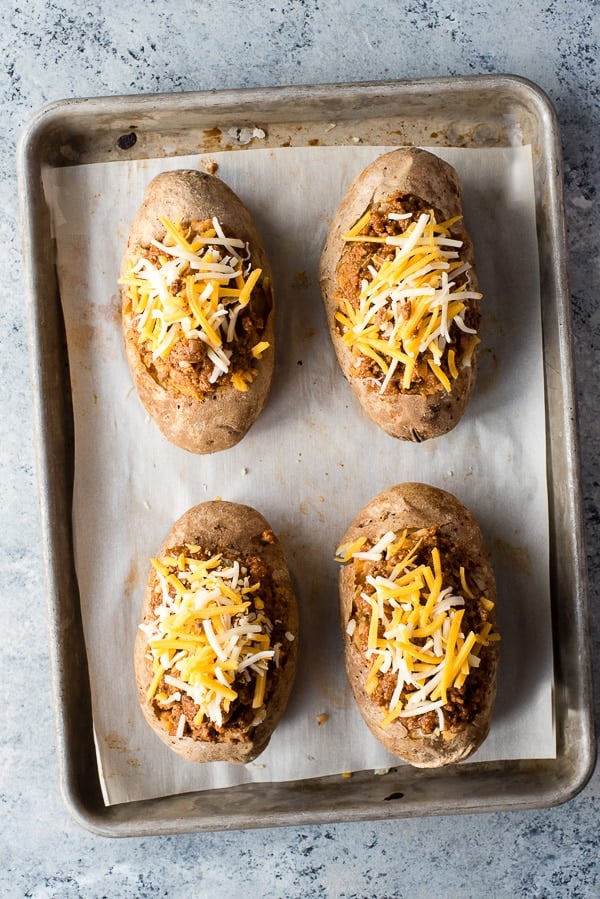 I remember having my first fully loaded baked potato as a child. It was at a dark, moody steak house restaurant. It came piled high with butter, sour cream, bacon bits and chives. I could have dived right into it. I was convinced there was nothing better on the face of the planet.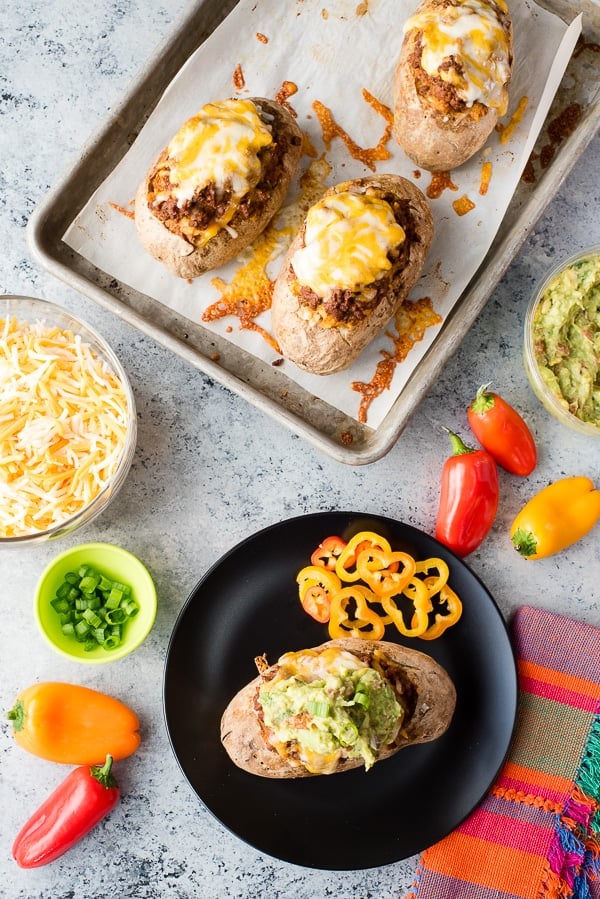 Strangely I don't make mashed potatoes often. We tend to make roasted potatoes to go along with roasted chicken. A baked potato is substantial. Where it used to be a side dish I feel like it should be pulled front and center as a main dish and this recipe gets it there with pizazz!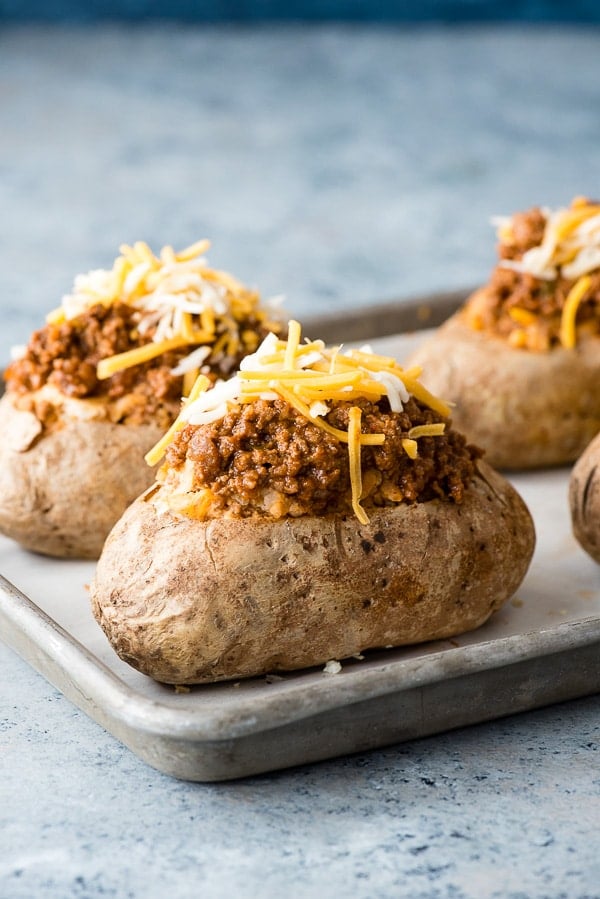 Spicy, savory lean ground beef taco meat is mixed with baked potato, sour cream and cheese and baked to melt together. Like traditional tacos there is loads of options for toppings: guacamole, salsa, Mexican crema, smashed tortilla chips, sliced scallion greens. Your imagination is the limit!
Don't let the length of the recipe discourage you (maybe I'm sharing more about my own persuasions when seeing a long recipe!). It's mainly spices to create the homemade taco meat. I really dislike pre-made taco seasoning mixes because they are too darn salty. This blend is perfection with earthy, spicy flavors that don't blow your brains out from the heat.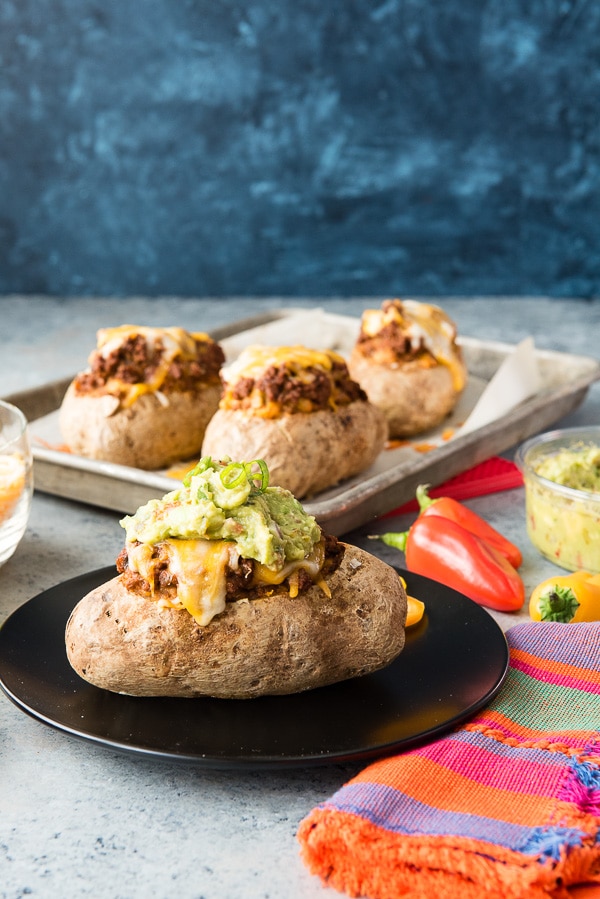 To ensure not having a load of extra stuffing ingredients, the insides of two potatoes are reserved for other recipes; potato pancakes for breakfast, traditional mashed potatoes (or these Roasted Garlic Buttermilk Mashed Potatoes!). We've rewarmed these in the microwave the next day too and they are still delicious!
If you thought baked potatoes couldn't get any better, this Taco-Stuffed Baked Potatoes recipe is one you'll love. Potatoes mashed with sour cream and grated cheese are mixed with spicy homemade taco meat and stuffed back into baked potato skins, then piled high with favorite taco toppings. It's a perfect one dish recipe that's filling and satisfying.