These easy and fun Mummy Halloween Cookies are a delicious Halloween treat recipe! Whether for a party or just a surprise for the holiday, you'll love how simple they are to make!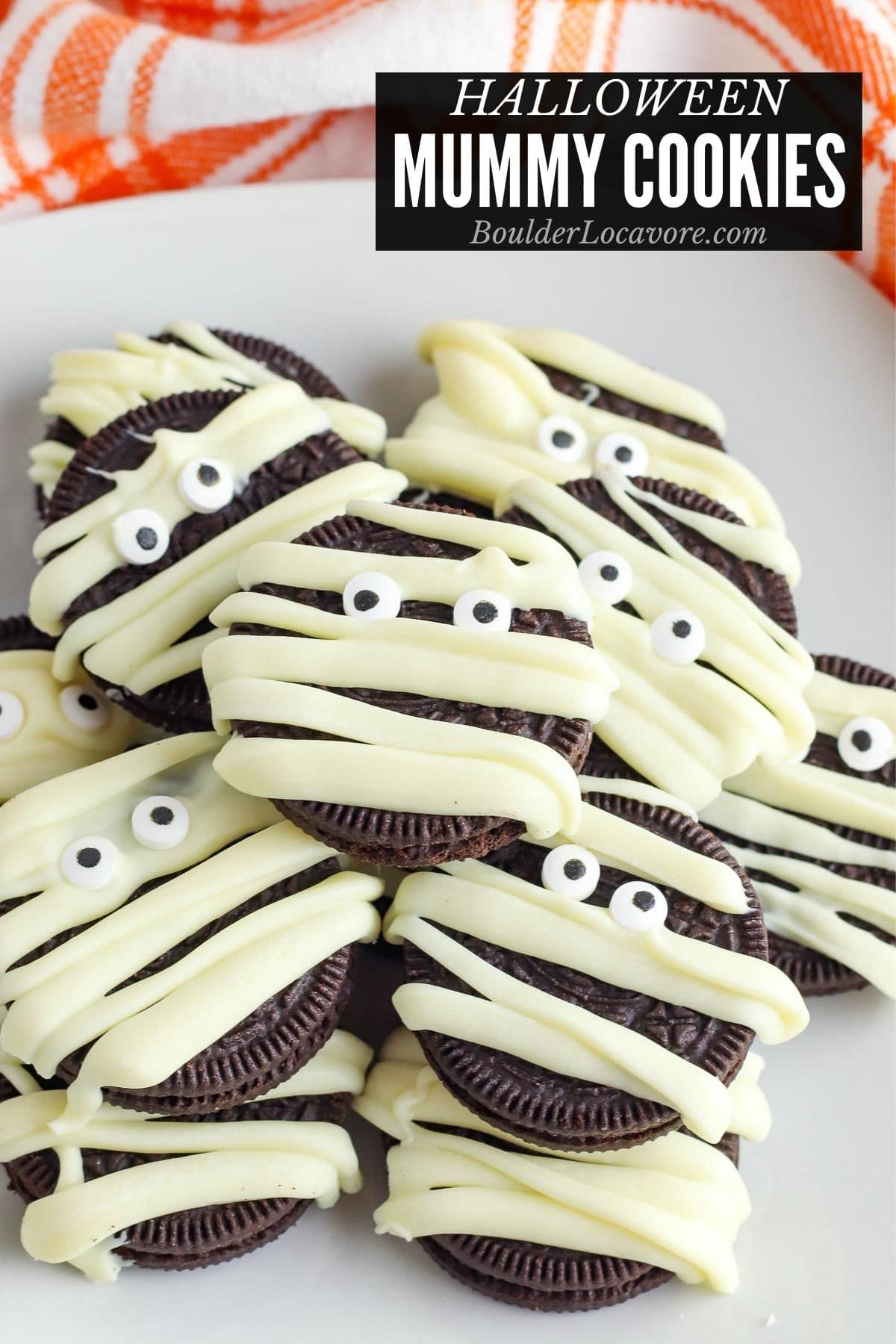 It's always fun to have special holiday treats and this Halloween cookie idea will become a favorite!
It's easy to do for every skill level and there is no baking involved!
Serve them up with some Creepy Shirley Temple Drinks and Graveyard Halloween Cupcakes!
Easy Halloween Cookies recipe
Halloween should be fun and not hard. This Halloween treat recipe is just that!
Only a few ingredients and a little bit of time make these cute Mummy Halloween Cookies that are fun for all ages.
A great project to do with kids and a perfect Halloween party food idea (or for Halloween school treats).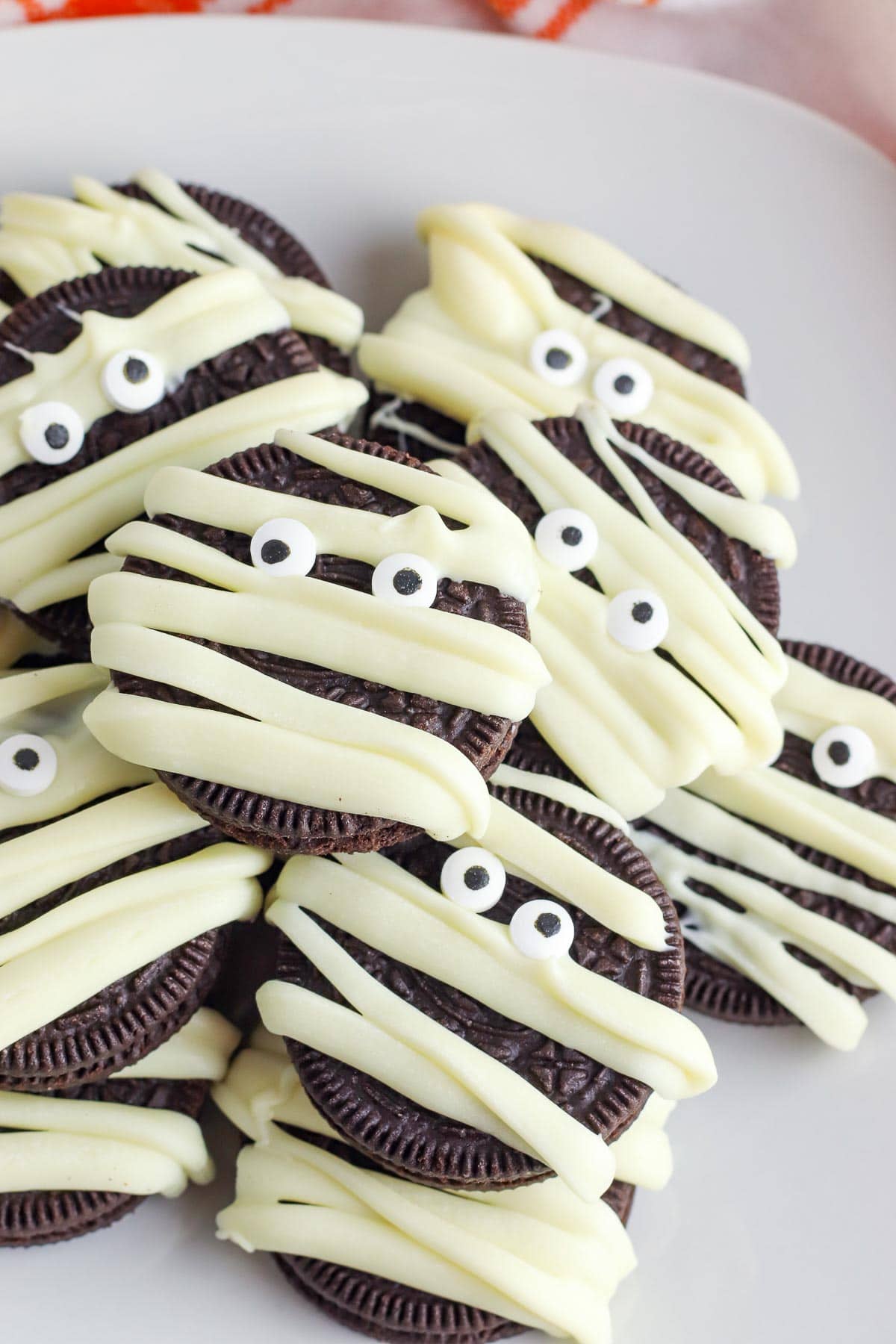 Recipe Ingredients + Notes
These cookies only require three ingredients. It's all about the presentation.
Store bought ingredients make this an easy and fun project without any baking.
Chocolate Sandwich Cookies
Oreo's are one of the most popular and widely available.
The recipe is based on using one 14.3-ounce package. At the time of publishing that package has 36 cookies.
You can make any amount by scaling the ingredient amounts either up or down.
Variations: any cookies can be used. If you have a homemade cookie you think will work, use it!
Have a different store bought cookie you love, use it!
How to Make them Gluten-free
There are a few brands of gluten-free sandwich cookies (Oreo style cookie equivalents).
Glutino Chocolate Vanilla Cream cookies and Kinnikinnick K-Toos (which come with different fillings) are two options.
The package sizes are smaller than Oreo's so you'll need to review the package servings to buy the amount you need.
Candy eyes
Candy eyes are a really fun decoration especially for Halloween. They can be used on cakes, cookies and in candy.
I loved making Zombie Cupcakes with them too.
They can be purchased anywhere baking supplies are sold (grocery stores, crafting stores) and are available online too.
BUYING TIP: be sure to buy enough for two candy eyes per cookie.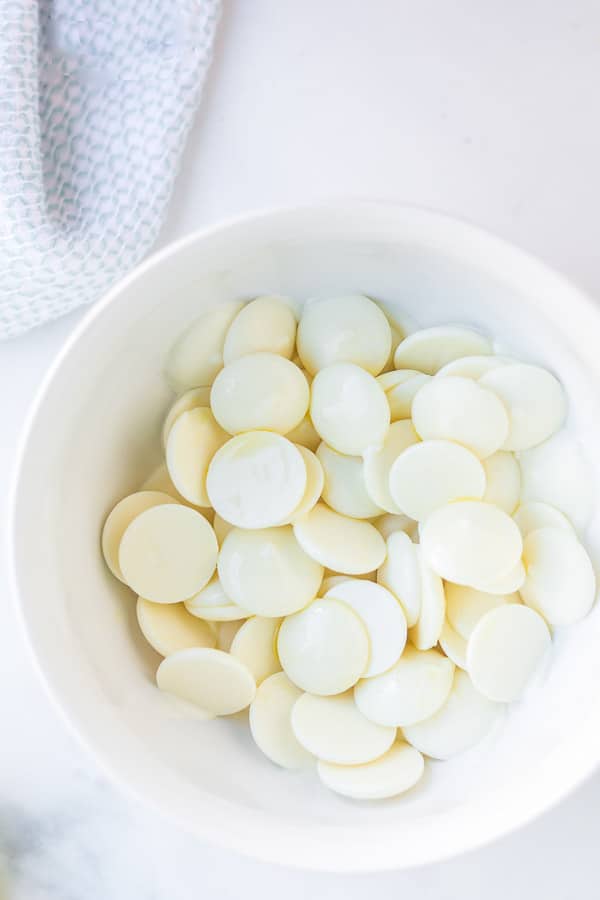 Vanilla Candy Melts
If you have not used candy melts, they look like very large chocolate chips. They come in different colors and are usually vanilla flavored.
They melt very easily and harden nicely for perfect mummy wraps!
They can be found where baking supplies are sold and are available online.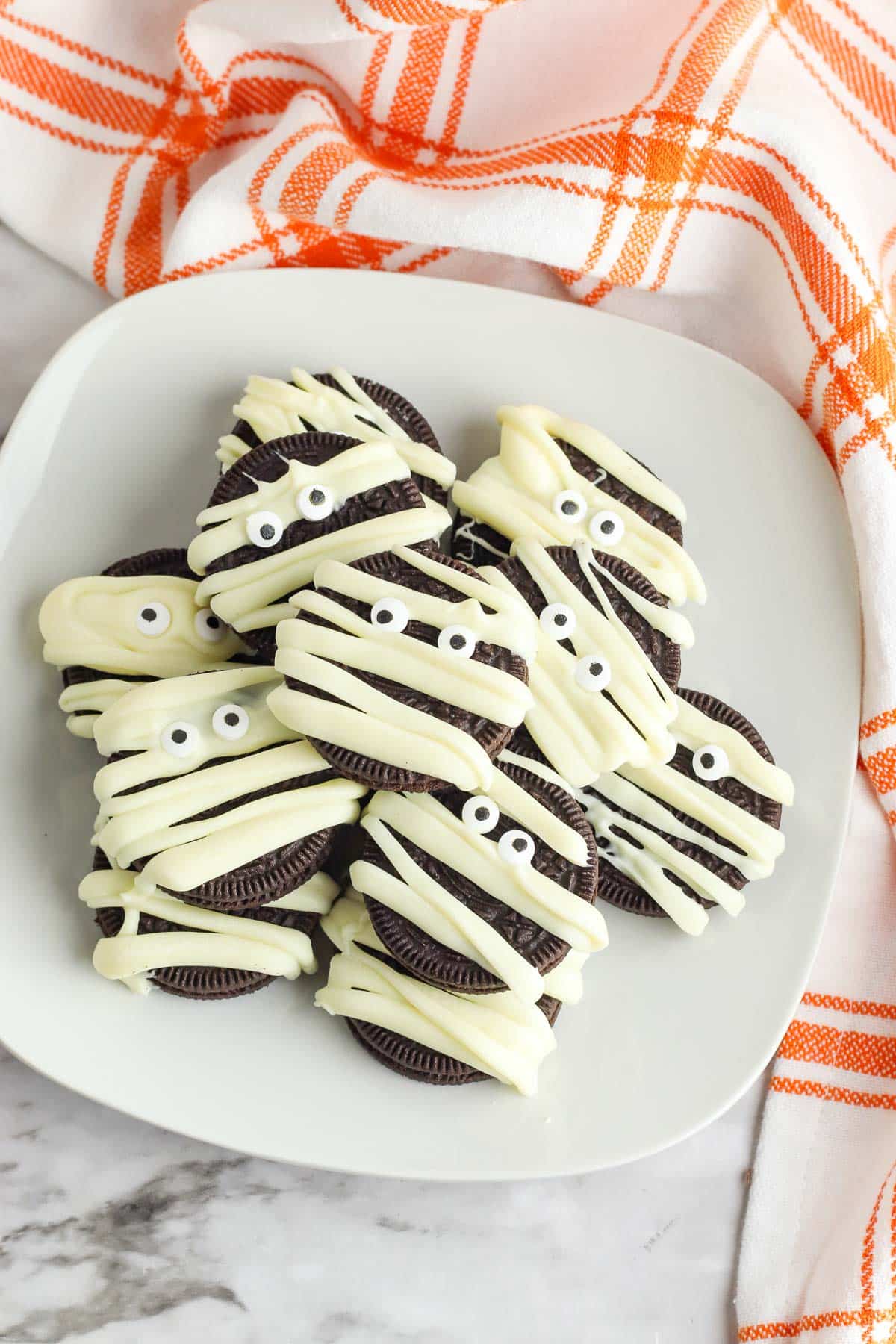 How to Make it – Step-by-Step
STEP 1: Place a cooling rack over a piece of wax paper or parchment paper. Place sandwich cookies on the rack with some room in between them (photo 1).
STEP 2: Melt the vanilla candy melts as directed on the package (photo 2). Spoon into a piping bag OR a heavy freezer bag. Snip off the tip (or one corner if using a freezer bag).
NOTE: the thickness of the mummy 'fabric' will be determined by how much of the tip is cut off. No piping tip is required.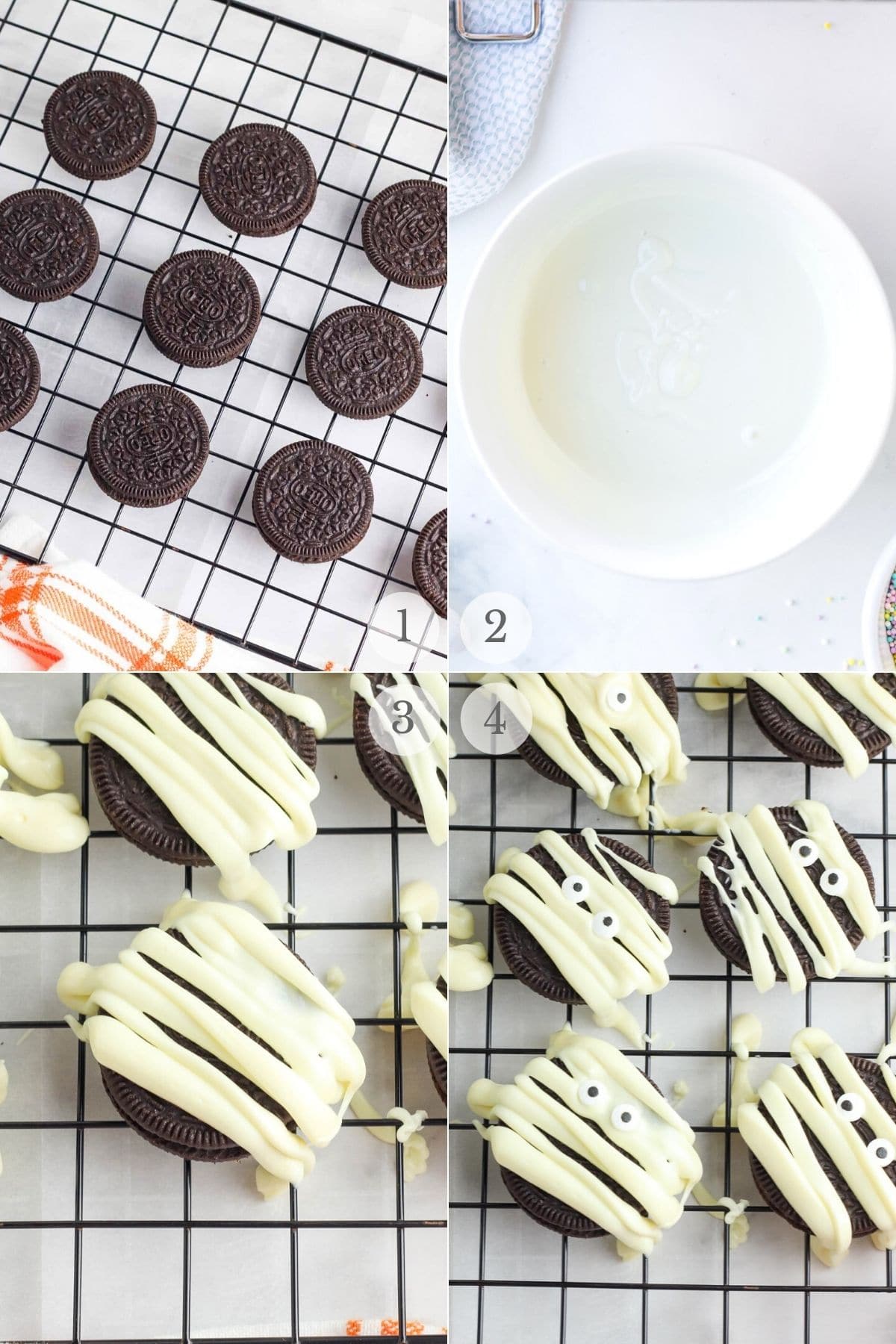 STEP 3: Pipe the mummy wrap over the cookie, going back and forth over the cookie to create the wrap (photo 3). NOTE: extend past the end of the cookie for the best look.
Place two eyes in the melted candy before it hardens (photo 4).
STEP 4: Repeat for the remaining cookies. Allow the cookies to fully set before handling.
PRO TIPS
I recommend Ghirardelli Melting Wafers. They have a great flavor, melt well and harden nicely.
Buy enough candy eyes to have 2 per cookie (double the number of cookies and buy that in eyes).
Assemble one cookie at a time adding the melted candy then candy eyes. This will ensure the eyes stick before the candy hardens.
Let the mummy wrap harden fully before handling the cookies.
Do not store in a hot humid location.
How to Store
Store in a sealed airtight container in a cool location. Add a layer of parchment paper or wax paper between layers.
Store for up to 2 weeks.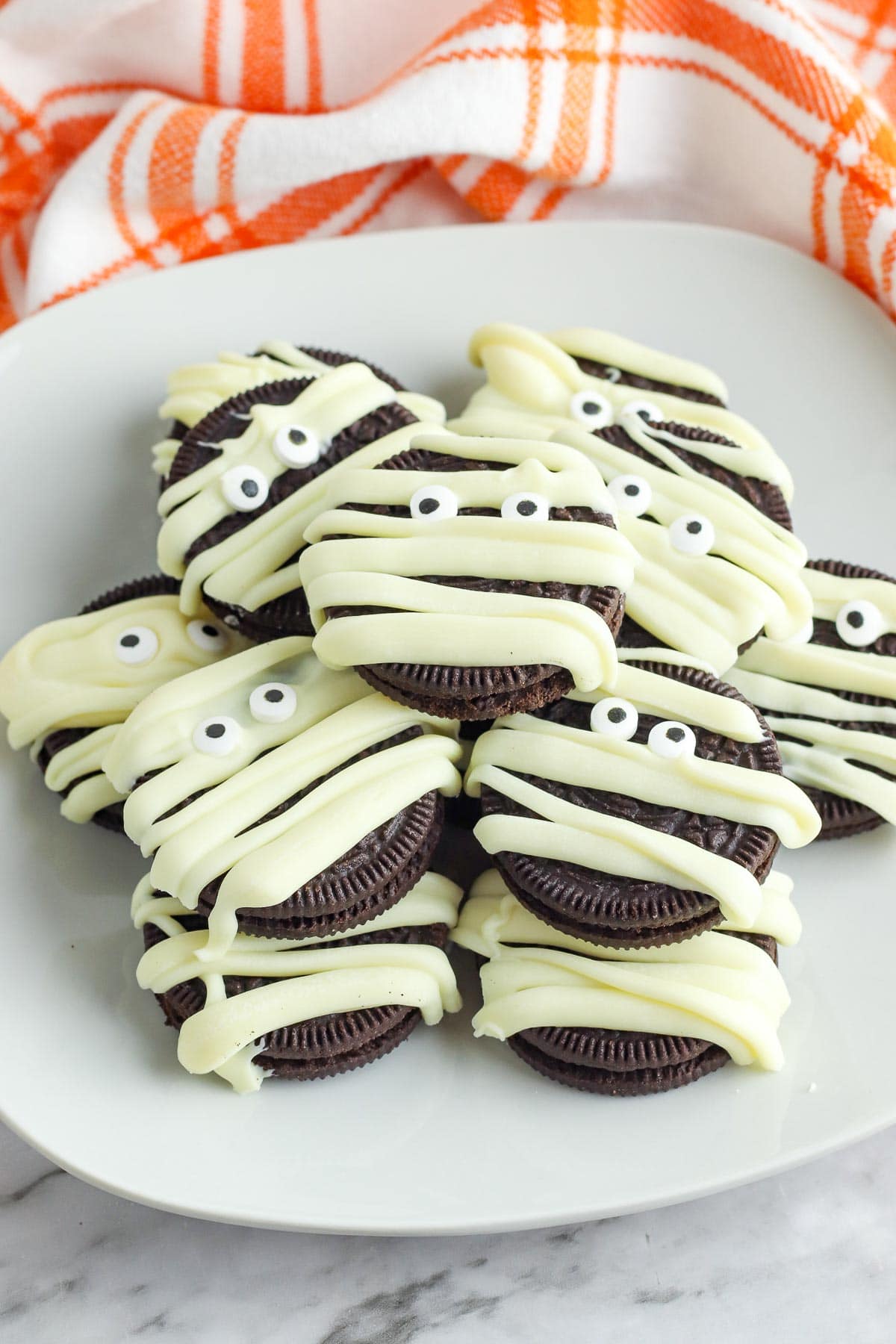 Did you make it? Please RATE THE RECIPE below!
Please
SUBSCRIBE
and
FOLLOW ME
on
FACEBOOK
,
TWITTER
,
INSTAGRAM
and
PINTEREST
!