Chocolate Truffles with a creamy Irish Cream ganache center, coated with dark chocolate and a toasted hazelnut in the middle. SO easy to make at home especially with a fast trick you'll love!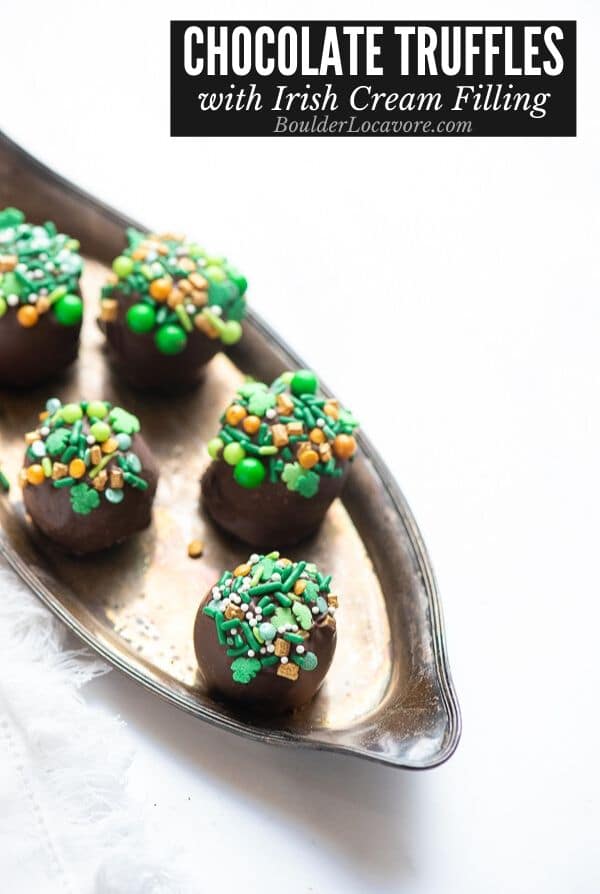 Chocolate Truffles are a beloved chocolate treat and SO easy to make at home!
These truffles are filled with a delicious Irish Cream ganache and coated with dark chocolate.
Perfect anytime and certainly for St. Patrick's day with festive holiday sprinkles (or flaked sea salt).
I have a method that takes out loads of time, keeps your hands clean and creates perfect truffles every time!
What are Chocolate Truffles?
The word 'truffles' can be referencing a type of mushroom or a chocolate confection!
The chocolate version was named because it LOOKS like the mushroom.
Chocolate truffles are a round chocolate with a ganache center.
Ganache is mixture of chocolate and cream that for truffle filling is firm but still soft to bite into.
The outside of a chocolate truffle is usually coated with hard chocolate, cocoa powder or finely chopped nuts.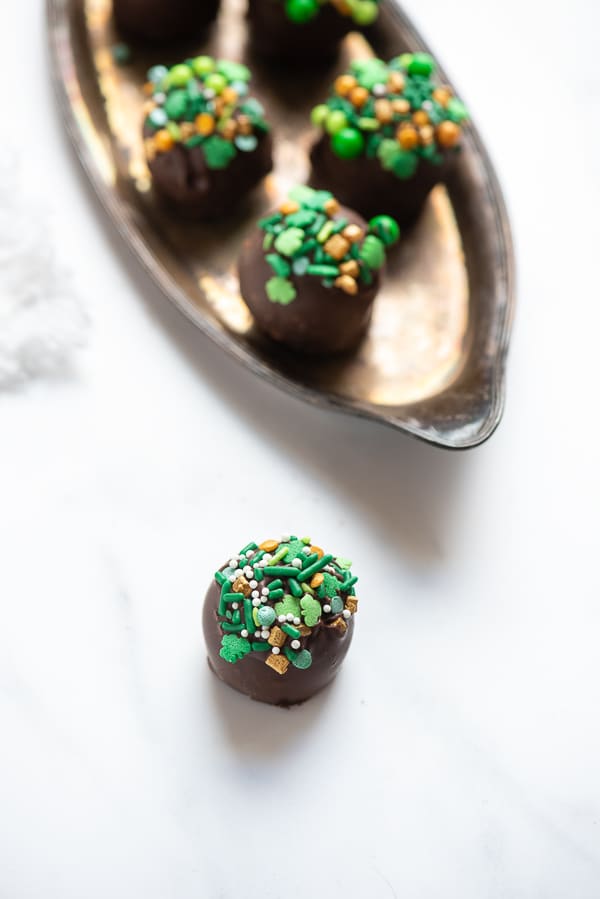 What is Irish Cream?
Irish Cream is a popular creamy liqueur.
It's most common use is in Irish Coffee, the hot whiskey cocktail.
The creamy flavor is well loved and a perfect nod to all things Ireland.
Bailey's is a popular maker of Irish Cream.
They also make Irish Cream chocolate chips!
What Does Irish Cream Taste like?
It has a creamy, nutty, chocolate and vanilla flavor.
Can I Get Drunk from eating Irish Cream Chocolate Chips?
No, you cannot. These Irish Cream chocolate chips skip the liqueur but still deliver the delicious flavor.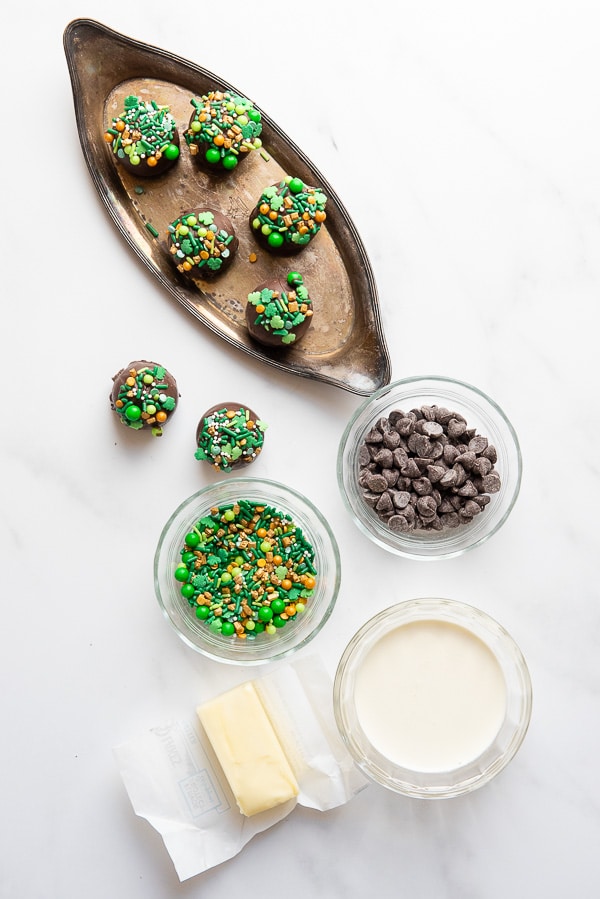 Chocolate Truffles Ingredients
Bailey's Irish Cream Chocolate Chips
Heavy Cream
Salted Butter
Dark Chocolate Melting Wafers
Hazelnuts (optional)
Toppings: flake sea salt or sprinkles
Ingredients Notes
Bailey's Chocolate Chips
Did you know about these?! Me either until I made this recipe!
It's a perfect way to get the Irish Cream flavor into a truffle very easily.
Melting Wafers
These are found where baking supplies are sold.
They are round, flat 'chocolate' disks that melt quickly and easily for use.
In this case the brand does make a difference.
I've used multiple brands of melting wafers and always come back to Ghirardelli brand as the best.
They melt well but more importantly they taste great!
Some melting wafers include ingredients that make them taste waxy in my opinion.
Hazelnuts
Use whole roasted hazelnuts or a replacement nut of your preference.
The chocolate truffles are also delicious without any nut inside.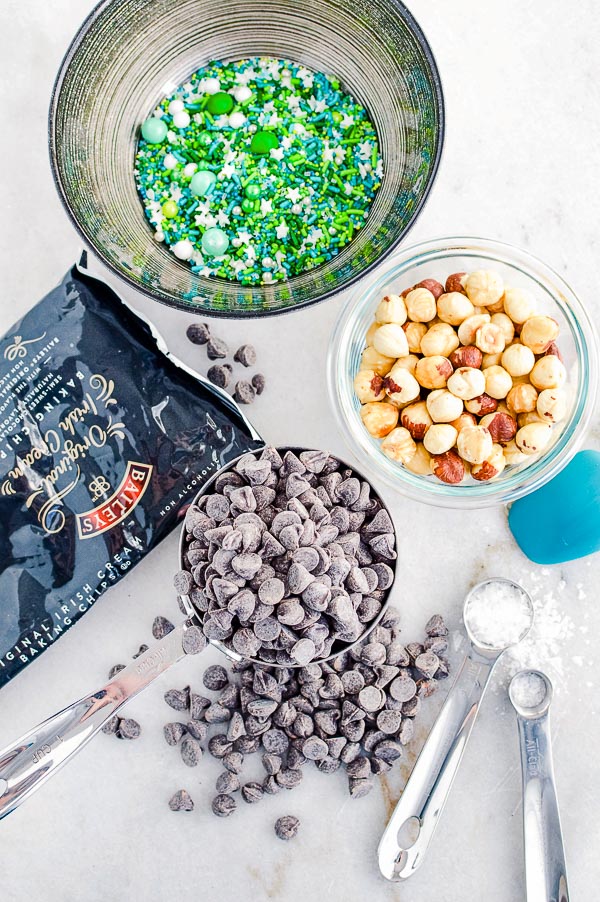 Ingredients – Where to Buy
I'm sure these ingredients may be available at stores or baking supply locations but I purchased mine from Amazon.
With Amazon Prime shipment is free and the supplies arrive overnight to 2 days.
Bailey's Irish Cream Chocolate Chips
Ghirardelli Dark Chocolate Melting Wafers (outer coating)
Quality Flake Sea Salt (optional topping)
St. Patrick's Day Sprinkles (as shown in photos below)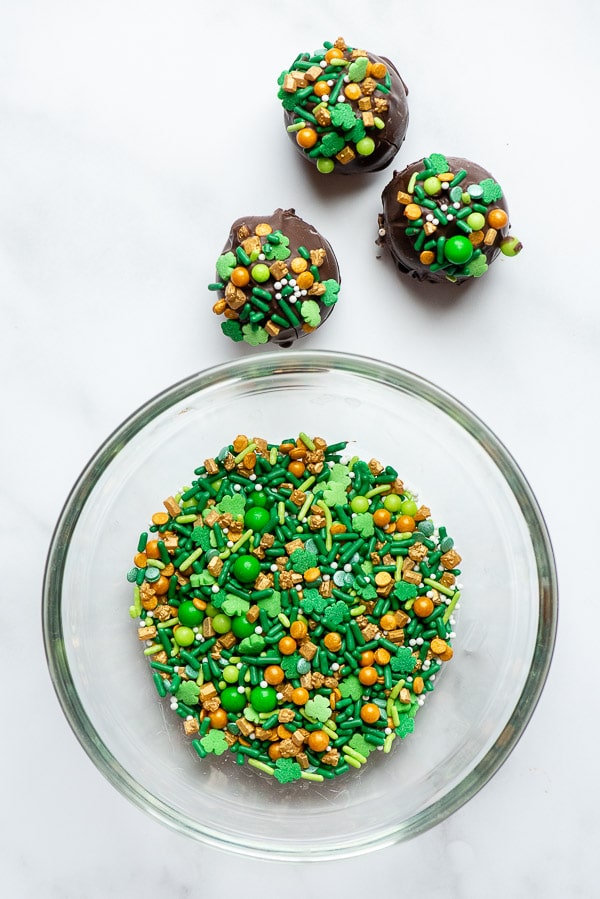 How Many Chocolate Truffles does this Recipe Make?
If making the recipe WITH a hazelnut in the center of every chocolate truffle it will make 20-25 truffles.
This amount can vary when hand rolling depending on the size.
If the hazelnut is not included, and no other nut added instead, the yield will be closer to 17 truffles.
How to Make Chocolate Truffles – 2 Methods
There are two ways to make these chocolate truffles: hand rolling them or using a silicon mold.
The silicon mold is by far my favorite for multiple reasons.
Following are some pros and cons of each.
Instructions for both are included in the recipe card at the end of the post.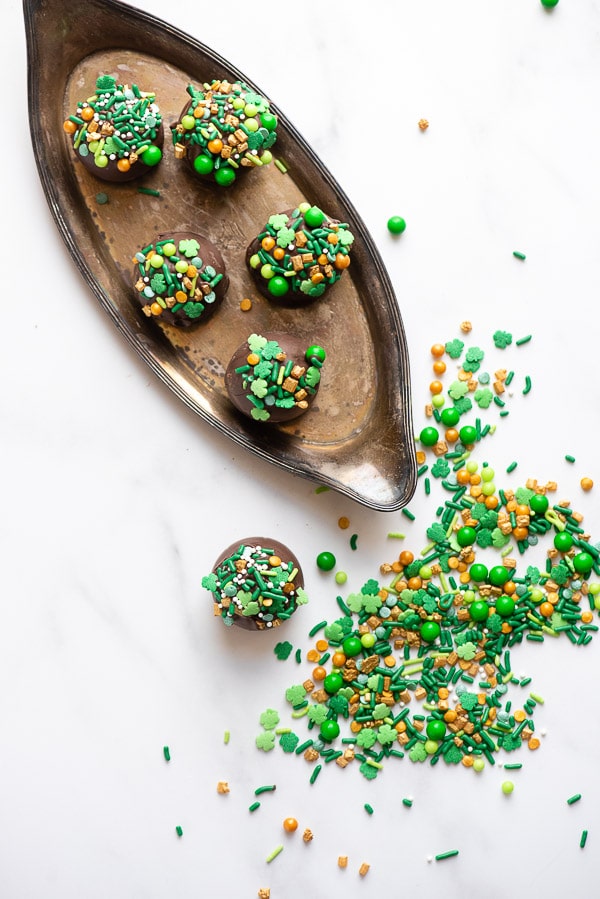 Silicon Mold Truffles – Pros and Cons (PREFERRED METHOD)
PROS
It's a much faster method (half the time of hand rolling or less)
Not messy. No getting your hands dirty.
All truffles will be the same size and perfectly round.
CONS
Requires a silicon mold.
Will take multiple rounds unless owning multiple molds or making a smaller batch of truffles.
Hand Rolling Truffles – Pros and Cons
PROS
No special equipment is needed.
Everything can happen in one batch.
CONS
It's time consuming.
It's messier.
Harder to make uniformly size truffles if that is important to you.
Where to Buy – SUGGESTED SUPPLIES
Silicon Mini Popsicle mold (if not hand rolling)
Toothpicks (if hand rolling)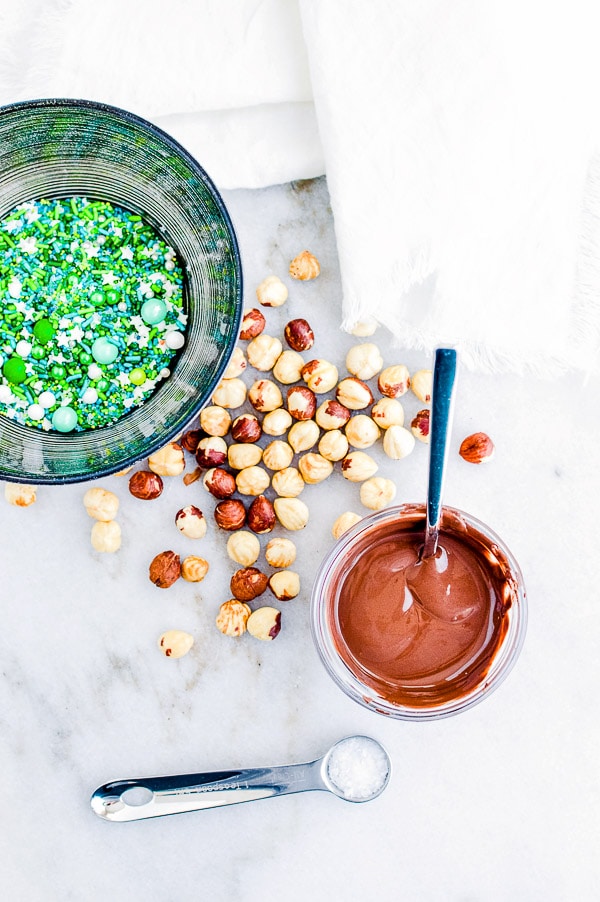 Chocolate Truffles Recipe Steps
For detailed printable instructions refer to the recipe card at the end of the blog post.
STEP 1: MAKING THE IRISH CREAM TRUFFLE FILLING
In a double boiler (or heat safe bowl over simmering water) combine the Bailey's Irish Cream chocolate chips, cream and butter. Stir until fully melted and smooth (photos 1-2).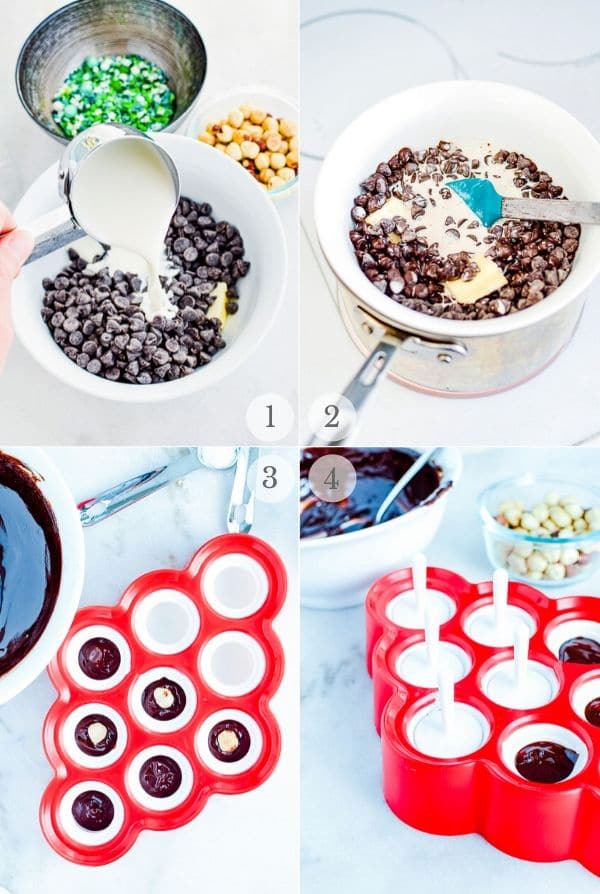 STEP 2: FORMING THE FILLING INTO A BALL
Follow the instructions for either Hand Rolling or using a Silicon Mold in the recipe card below.
For the silicon mold, shown above, allow the chocolate to cool a few minutes then spoon into the mold cavities (photo 3).
Insert a hazelnut (if desired), tap mold on counter top to settle the chocolate (photo 3).
Add the top with stick back onto the mold (photo 4). Place in the freezer for 1-2 hours until firm.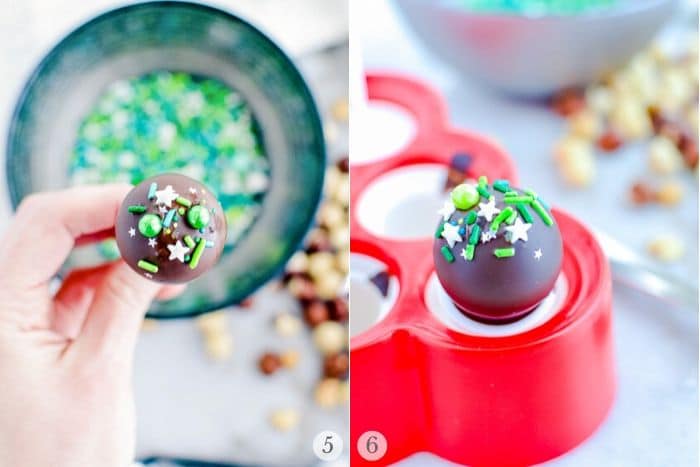 STEP 3: APPLYING THE OUTER COATING
Melt the chocolate melting wafers as directed on the package.
Insert each truffle, and turn to fully coat. Shake off any excess coating chocolate back into the bowl.
Dip the top into sprinkles or flake sea salt (photo 5).
Hold for a minute to allow the chocolate to set. NOTE: the chocolate coating will turn from shiny to matte when set (photo 6).
PRO TIP: tip the bowl with the melted wafers at a 45 degrees angle to make the amount deeper and easier to immerse the truffle for coating.
Place on a sheet of wax paper to fully set.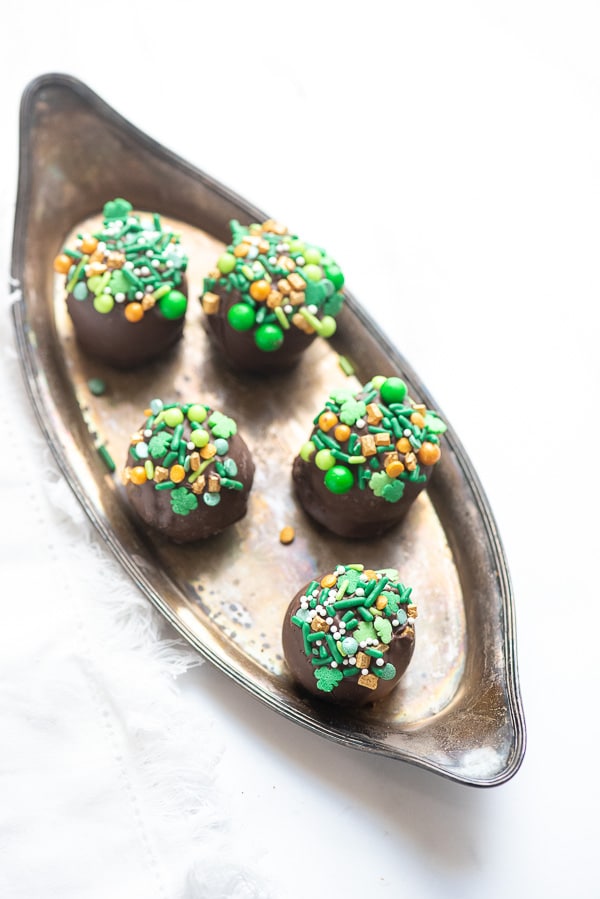 How to Store Chocolate Truffles
Store bought truffles can stay fresh unrefrigerated in a cool, dark place.
Homemade chocolate truffles made with cream must be chilled.
In the Refrigerator
Store in an airtight container in the refrigerator for up to 1 week.
In the Freezer
Packed into an airtight container, homemade truffles can be frozen for up to 1 month.
Thaw in the refrigerator.
NOTE: there can be oxidation of the chocolate coating after freezing and thawing (a whitening of the chocolate).
This is only cosmetic. They are still safe to eat.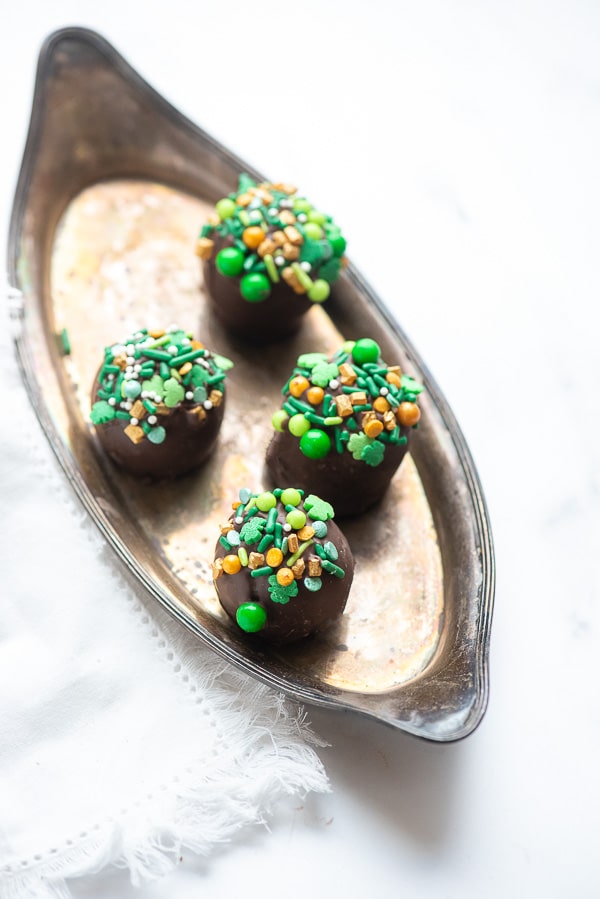 Did you make it? Please RATE THE RECIPE below!
Please SUBSCRIBE and FOLLOW ME on FACEBOOK , TWITTER , INSTAGRAM and PINTEREST !
Recipe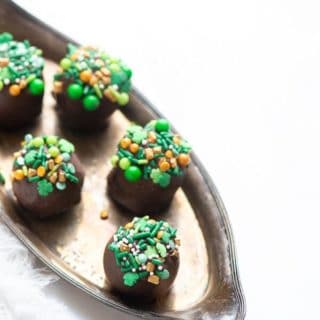 Chocolate Truffles with Irish Cream filling
Rich, silky Irish Cream chocolate ganache filling, with a toasted hazelnut in the center, coated with dark chocolate for a perfect bite. Decorate them with flaked sea salt or festive sprinkles.
Print
Save Recipe
Recipe Saved!
Pin
Rate
Servings:
25
20-25 truffles with hazelnuts inside (see notes)
Instructions
In a double boiler or a high heat safe bowl over a pot of simmering water add the Irish Cream chocolate chips, butter and cream; stir until the chocolate has melted and is completely smooth.

PRO TIP: Whisk at the end to totally combine the melted ingredients and make the mixture extra smooth.Do not allow the pan with the chocolate touch the surface of the water.
HAND ROLLING TRUFFLES
Allow the chocolate to cool for a little bit on the counter, occasionally stirring to release a bit more of the heat.

When cool enough to touch, place a piece of plastic wrap over the chocolate touching the entire surface of the melted chocolate. This helps to prevent a skin from forming on the surface.

When the bowl is room temperature (about a 45 minutes), place it in the refrigerator until it has hardened and is completely cooled down (about 1 hour).

Use a scoop or spoon to scoop out 1-inch diameter balls, press a toasted hazelnut into the center and then hand roll. Place the finished balls onto a rimmed baking sheet lined with wax or parchment paper.

Place a toothpick inside each truffle to help with dipping.

Freeze until solid.

Just before dipping in the chocolate coating you may want/need to round out again with your hands as they will likely have flattened a little bit while hardening.

See Coating instructions below.
USING SILICON MOLD
Allow the chocolate to cool for a few minutes before carefully spooning the, still hot, smooth liquid chocolate directly into the silicone molds.

Hit the filled mold flat on the counter 4-6 times, just like you would with cake pan, to help make sure the chocolate is all the way down in the molds and any air bubbles are released.

Place a hazelnut into the center of each truffle if desired.

Set in the stick corresponding with each mold cavity ( or a toothpick) into the center, working around the hazelnut if needed.

Place the mold(s) directly into the freezer until completely solid, about 1-2 hours depending on the temperature of the chocolate and freezer along with the size of the truffle molds.

Once frozen they will pop right out and the perfectly round truffles that are ready to dip. Let the truffles rest on the counter for a minute or two while you prepare the chocolate coating.
COATING THE TRUFFLES
Melt about 2 cups of the chocolate wafers according to package instructions (More or less may be needed depending on the size of your truffles and how thick you would like the coating to be on them). NOTE: the chocolate should be smooth and melted but not so hot is begins to melt the truffle center.

PRO TIP: it's easier to use a container that is slightly deeper vs wider-just make sure it is still wide enough for the truffles to fit inside without touching the sides.

Or tip the bowl with melted coating chocolate at a 45 degree angle to allow the truffles to easily become fully coated.

Assemble everything needed for dipping the truffles: the truffles, melted coating chocolate, sprinkles or flake salt in a small bowl. It's important to work quickly when dipping for the best results

One truffle at a time, dip the first truffle, making sure the entire surface is covered, while trying to avoid getting chocolate on the white sticks/base. Tap off any excess liquid chocolate and then quickly add on the sprinkles and or salt.

Hold the dipped truffle for a few seconds until it hardens (the chocolate coating will change color and appear solid) or if using the silicon mold, place the coated truffles back in the mold stick down. .

Repeat for the remaining truffles.

One truffle at a time, carefully remove the mold stick or toothpick and dip the bottom into the coating chocolate just to cover the hole and bottom. Allow to harden for a few seconds and place on the wax paper baking sheet. T

Store the truffles for up to 1 week in the refrigerator in an sealed container.
Notes
Yield: 20-25 truffles depending on the size if hand rolled or using the silicon mold if INCLUDING the hazelnut in each truffle. If leaving out the toasted hazelnut (chocolate ganache center only) the yield will be aproximately 17 truffles. Total Time Hand Rolled: Hands on time 25 to 40 minutes, plus 2-4 hours of chilling time, coating time 15 minutes. TOTAL TIME: 2 hours 40 minutes - 4 hours 55 minutes. Silicon Mold: Hands on time 10-15 minutes, plus about 1-2 hours of chilling time, coating time 15 minutes. TOTAL TIME: 1 hour 25 minutes - 2 hours 30 minutes. Coating the Truffles: it's helpful to have the chocolate completely smooth and liquid-but not too hot as it could start to melt the truffles. Try to find a balance and do a quick test on one if you feel that would be helpful before committing to dipping them all. Storing the Chocolate Truffles In the refrigerator: in an airtight container for up to 1 week. In the freezer: in an airtight container for up to 1 month. Thaw in the refrigerator.
Nutrition
Calories:
127
kcal
|
Carbohydrates:
13
g
|
Protein:
1
g
|
Fat:
8
g
|
Saturated Fat:
5
g
|
Cholesterol:
11
mg
|
Sodium:
27
mg
|
Potassium:
11
mg
|
Fiber:
1
g
|
Sugar:
12
g
|
Vitamin A:
129
IU
|
Vitamin C:
1
mg
|
Calcium:
17
mg
|
Iron:
1
mg
Chocolate truffles with Irish Cream filling are perfect for St. Patrick's Day!