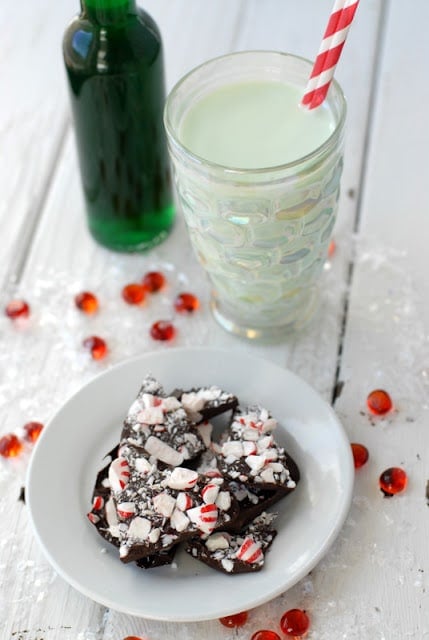 Shhh….I spiked Santa's milk with a bit of Homemade Crème de Menthe.

I'm sure he must use a GPS and cruise control on his sleigh
I know the mad push is on for the weekend of spirited festivities.

No one has time to read blog posts let alone add one more recipe to their plans.

However one detail that almost dropped off my list was Baking Cookies for Santa (somehow that fell behind finishing wrapping packages, meal planning and the other things that have undoubtedly slipped my mind at the moment that must get completed in the next 24 hours).
After a month of baking myself AND knowing Santa will have devoured 1.5 billion cookies before arriving at my house, I decided to whip up one of the most easy, versatile seasonal treats:

Peppermint Bark.

You may have seen several versions of this by now.

I love it because it can be tailored to your quantity needs and craving for specific chocolate type without a fuss.

It is a no-bake recipe and can be completed in about an hour which includes 30-40 minutes chilling.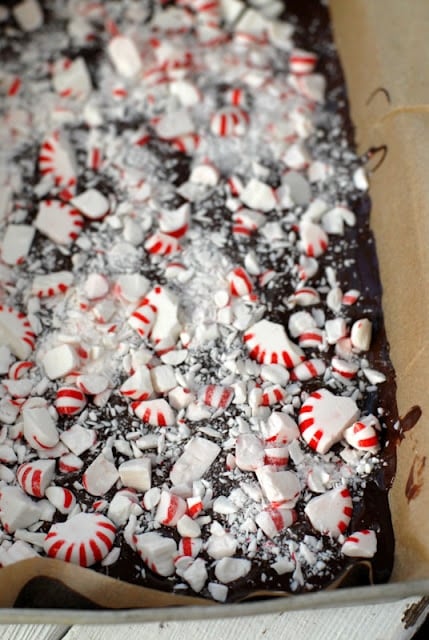 I made two different versions this season.

One for my household in which white chocolate is not favored.

For this batch I used a quality dark chocolate and traditional Starlight peppermints.

For the second version which was for a few events I used a mixture of semi sweet and dark chocolate and candy canes for the peppermint, loving the vintage look to the green-red-white candy canes.

This is a recipe to make your own.

Use the chocolate you prefer.

Add more to make the bark thicker if you like.

Make more, make less.

It is a completely forgiving recipe.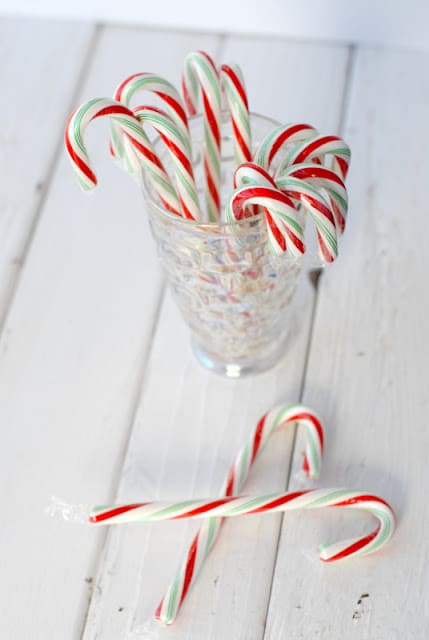 Yield:

1 cookie sheet of approximately ¼ inch bark
Ingredients and Supplies:
·
2-12 ounce bags high quality dark chocolate chips (or 1 bag dark chocolate chips and 1 bag semi-sweet chocolate chips)
·
1 bag of Starlight Peppermints (I purchased a 7 ounce bag and did not use them all); if using candy canes, use one box
·
Plastic zip bag, waxed paper or paper bag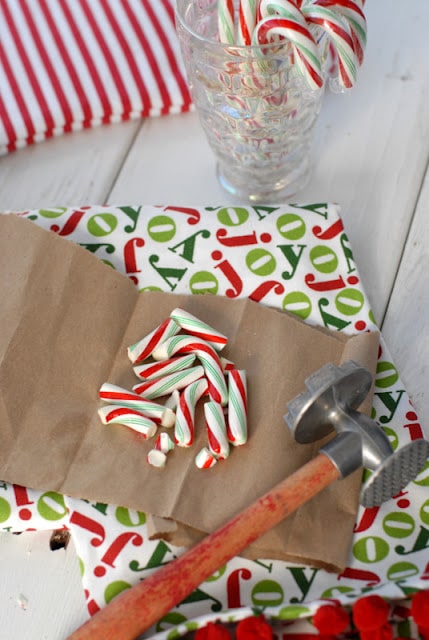 1.
Line a cookie sheet (with sides; not completely flat) or similar sized pan with heavy foil.

Set aside.
2.
Unwrap peppermint candies.

Place them inside a plastic zip bag or inside a folded piece of waxed paper or paper bag with room to take more space once broken down.

Cover the bag or paper with a kitchen towel to buffer the hammering.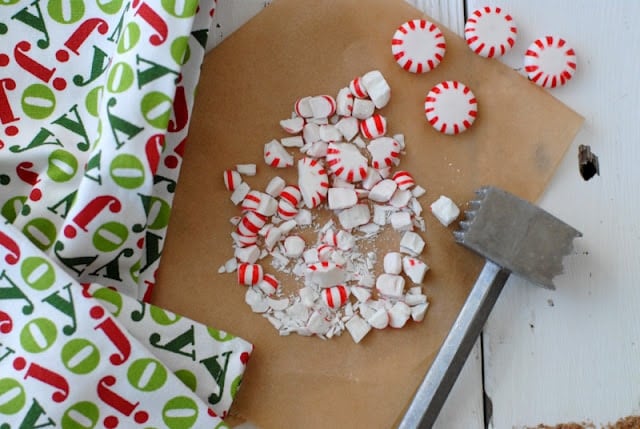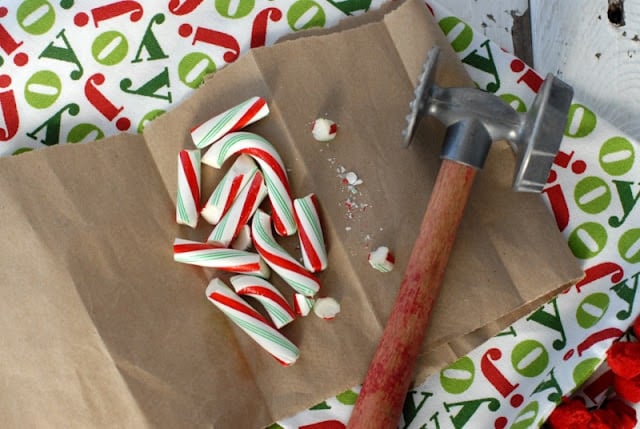 3.
Pound the candies until they break apart leaving manageable bite-sized pieces.

Set aside.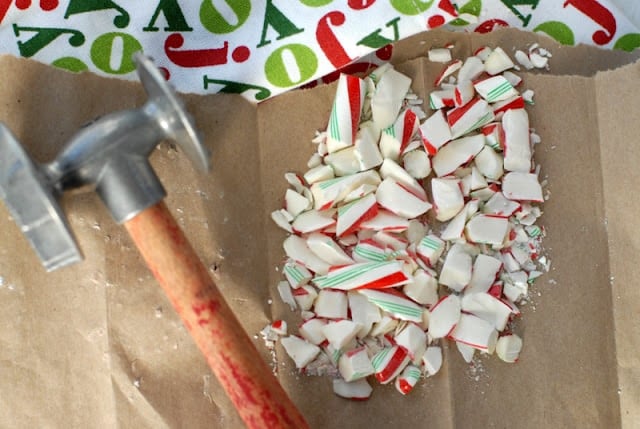 4.
In the top of a double boiler or in a metal heat-proof bowl set over a saucepan of boiling water, melt the chocolate over medium heat stirring frequently until fully melted.

Alternatively if you have a 'melt' function on your microwave you may melt the chocolate that way as well.
5.
Remove chocolate from heat and carefully pour into prepared pan.

Using a spatula spread chocolate to evenly cover bottom of the pan.
6.
Sprinkle the top of the chocolate with the crushed peppermints, pushing the larger pieces into the chocolate to secure them better.

Place the pan into the refrigerator and chill until hard; about 30-40 minutes.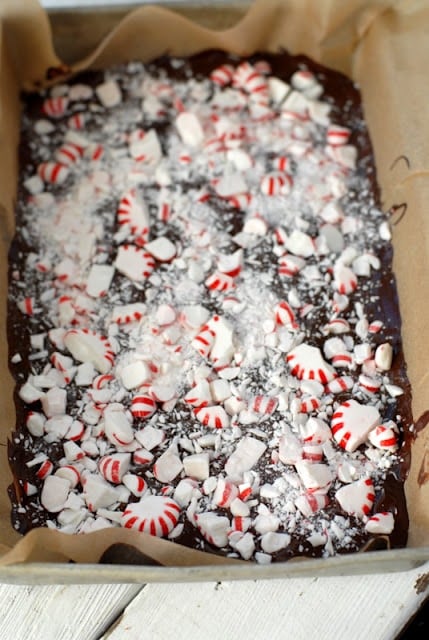 7.
Remove pan from refrigerator.

Remove the foil with the bark from the pan onto a hard surface.

Manually break apart into bite size pieces.

Store in the refrigerator.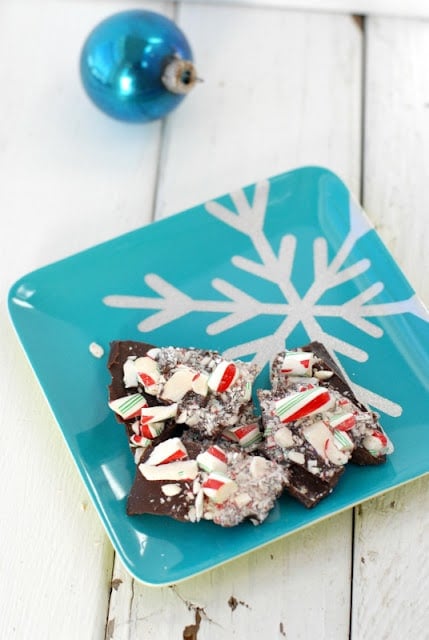 1.
White and Darker Chocolate Layered Peppermint Bark:

Add a layer of melted white chocolate on the bottom of the pan.

Chill until hard.

Add a second layer of milk, semi sweet or dark chocolate and peppermints on top of that and chill until completely hardened.
2.
Flavored Chocolate Bark:

Select a flavored chocolate bar to melt for the bark instead of standard chocolate chips.

I love Chocolove bars for their quality and of course being local.

Select a flavor you would enjoy with peppermint and give it a go.
3.
Mix the peppermint into the chocolate instead of putting it on top only.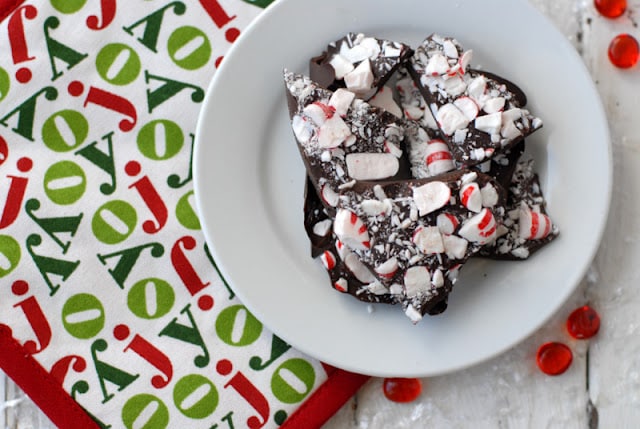 Wishing you and yours a warm, joy-filled holiday!