Muddy Buddies are a favorite easy sweet treat. This Muddy Buddies recipe is changed up for spring or Easter making a cheery surprise!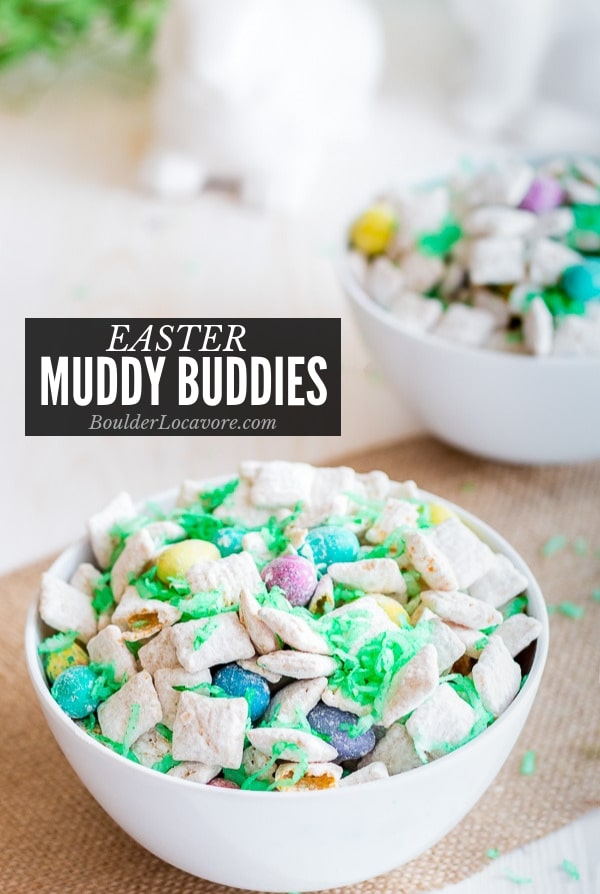 Spring has sprung in the Northern Hemisphere and Easter quickly approaches.
The perfect time for a cute, sweet treat!
Those with a sweet tooth will love these Easter Muddy Buddies.
This Muddy Buddies recipe is a sweet crunchy treat with favorite spring-colored candies and coconut 'grass'.
It is very easy to make!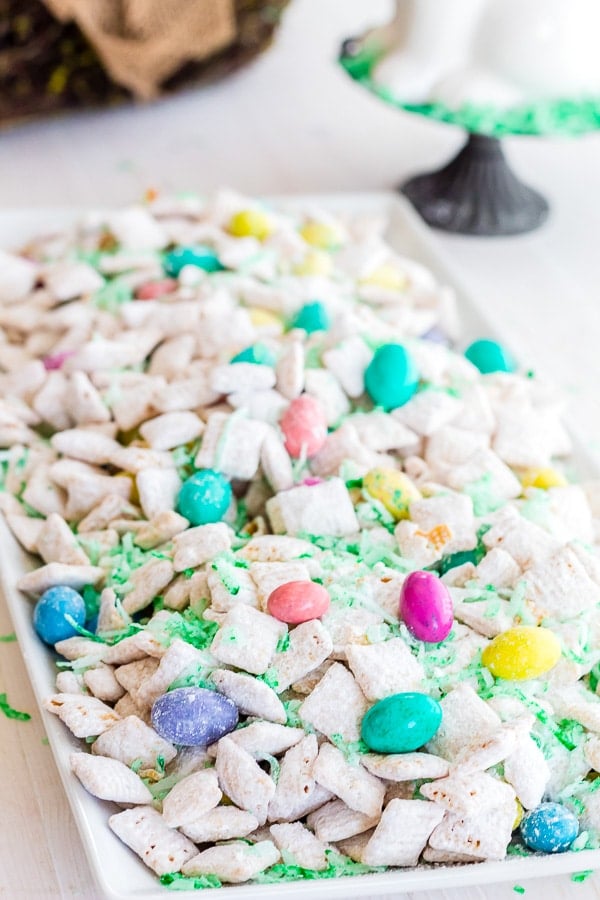 What are Muddy Buddies?
Muddy Buddies are a homemade sweet snack originating in the United States Midwest.
This beloved snack goes by many names: Puppy Chow, Monkey Munch, Reindeer Chow and more.
I actually made a Halloween themed Muddy Buddies recipe which is named "Witch Bits".
The 'Puppy Chow' name was derived due to the appearance being similar to dog food of the same name.
Why are they called Muddy Buddies? That is unknown.
What's in Muddy Buddies?
Official Muddy Buddies are made with Chex cereal (vs other versions made with Crispix cereal).
Muddy Buddies can be easily customized for the season or with special ingredients.
The base recipe typically includes:
some form of Chex cereal,
melted chocolate
nuts
powdered sugar
It's very sweet, with a great crunch and easy to make!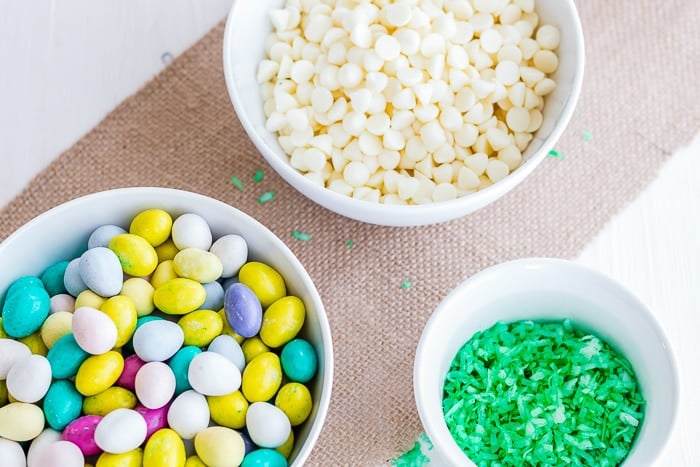 Easter Muddy Buddies Ingredients
This Muddy Buddies recipe is tailored for spring and Easter! It includes:
Chex Rice Cereal
Coconut oil
Powdered (Confectioner's) Sugar
Shredded Coconut
Green food coloring
Pastel Peanut butter M&M's (and/ or any other candy you would like to add into the mix)
Why Coconut Oil?
If you've cooked with white chocolate before you'll know it's not as flexible as regular milk or dark chocolate for melting.
When white chocolate gets too hot, it will dry out and stop melting (this is called 'seizing').
To make the white chocolate smooth to toss into this Muddy Buddies recipe, adding a bit of coconut oil and melting over a lower temperature creates a wonderful texture perfect for coating the cereal.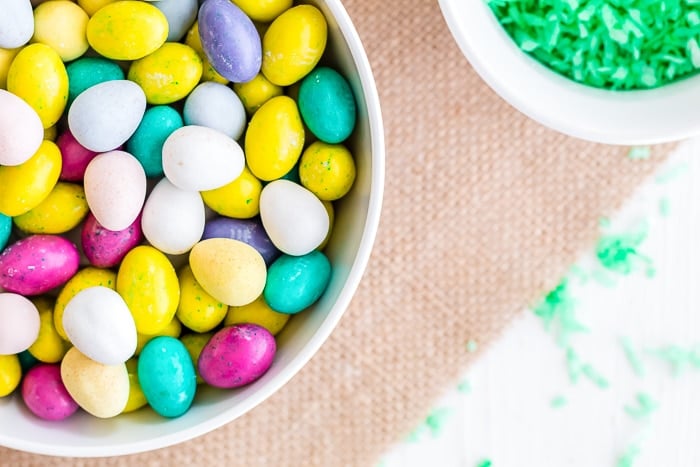 Pastel Easter Peanut Butter M&Ms
This Muddy Buddy recipe uses delicious pastel peanut butter M&Ms that are only sold around Easter time.
If making this recipe at other times of the year, or not being able to find the peanut butter M&M's, regular peanut M&M's can be substituted.
Is this Muddy Buddies Recipe Gluten-Free?
At the time of this posting, all ingredients are gluten-free!
Because products can change, always check package ingredients.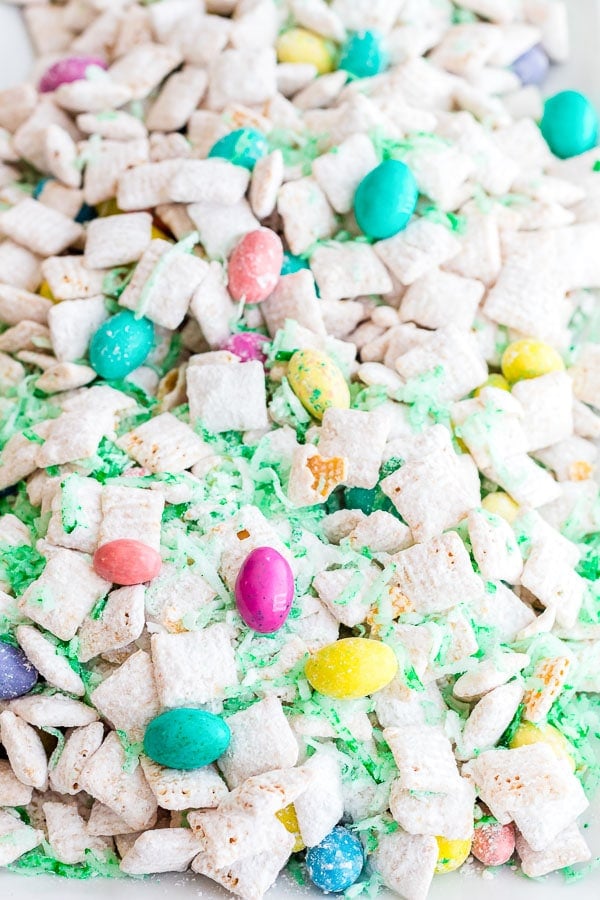 How to Make Muddy Buddies – Step by Step
This springy Muddy Buddies recipe is very easy to whip up!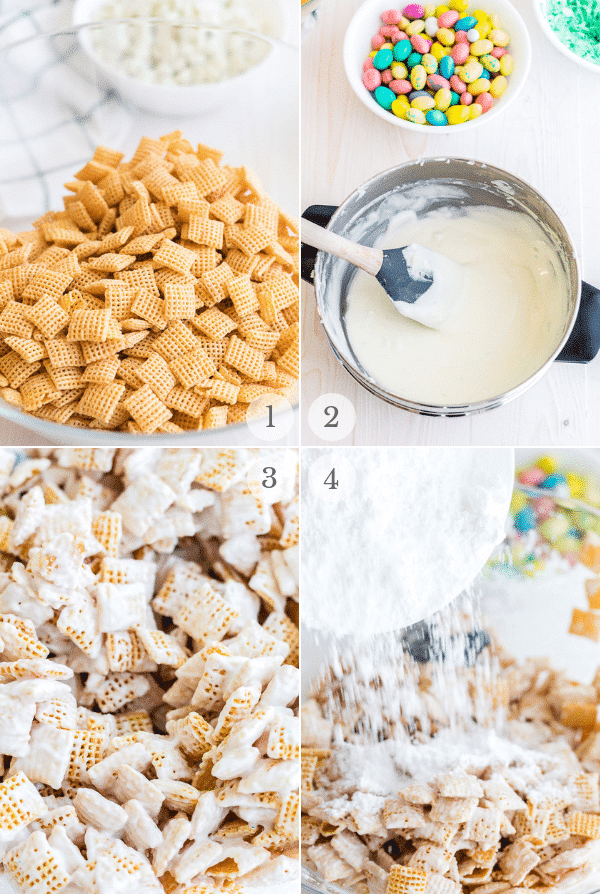 Pour the Chex cereal into a large mixing bowl. Set aside.(photo 1)
In a medium saucepan over low heat, combine the white chocolate chips with coconut oil; stir often until fully melted. (photo 2)
Pour the melted white chocolate over the dry cereal; gently fold together until cereal is completely coated with the chocolate. (photo 3)
Slowly add 1 cup of powdered sugar to the cereal mixture; stir together to fully coat the cereal.(photo 4)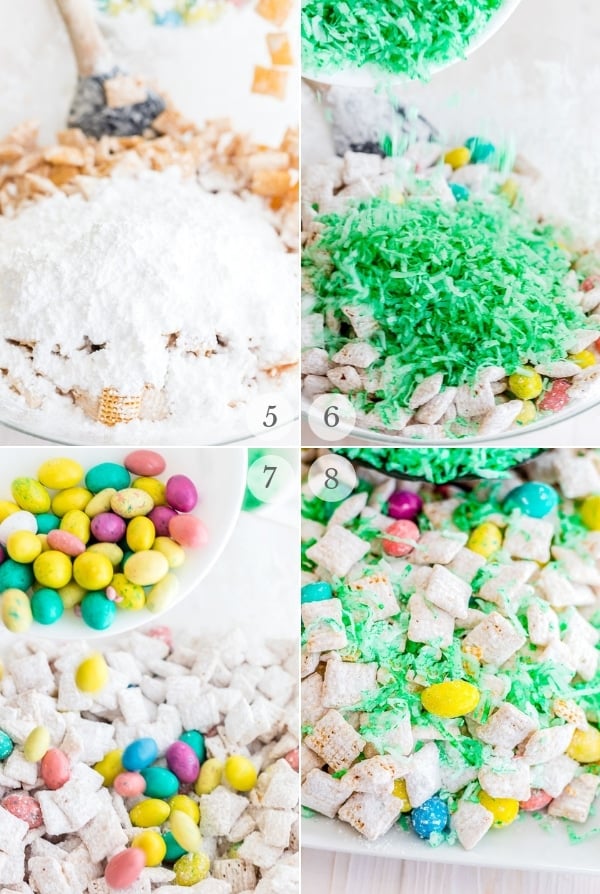 Spread in a single layer onto wax paper to fully cool and harden (approximately 15-20 minutes).
In a small bowl combine 1 cup of shredded coconut and 3-5 drops of food coloring; stir to fully coat and color the coconut.
Combine the coated cereal, colored coconut and M&M's. (photos 6-8)
How to Store Muddy Buddies
Store this Muddy Buddies recipe in an airtight container for up to 2 weeks. This will keep it fresh and crisp.
Hot and humid conditions will soften the Muddy Buddies.
In those conditions, seal in an airtight bag or container and store in the refrigerator.

More Fun Spring and Easter Treat Recipes
Did you make it? Please RATE THE RECIPE below!