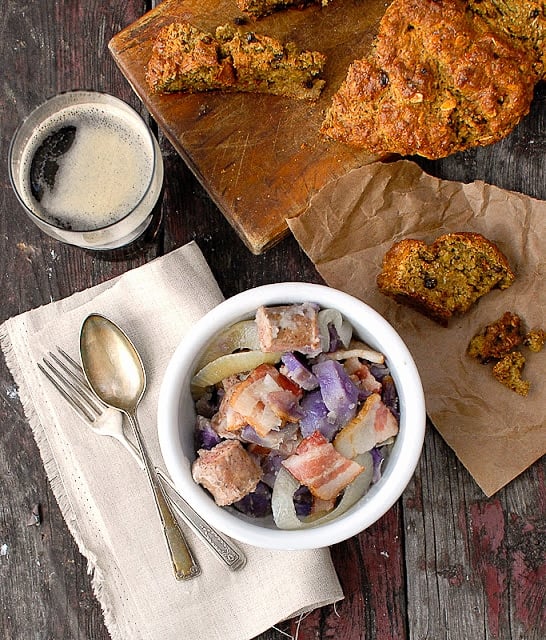 To say I have a soft spot for Ireland is an understatement. I was raised with an Irish Uncle, Frank McGorty, who ensured every family gathering ended in song and with spirits high (those of the attendees and I suspect a wee bit in the glass).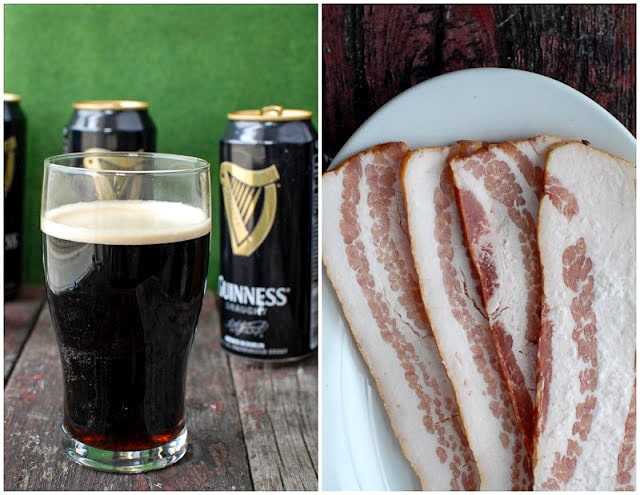 I will always remember my first business trip to Ireland, stepping out of the plane on the tarmac and being overwhelmed by a feeling I was 'home'. I travelled there a lot for business to Dublin, Dundalk and to Cork.
I drove with a work mate up into Northern Ireland when the conflict was still in full swing and it was downright scary. I've hung upside down and kissed the Blarney Stone, the clear luck it gave me was not catching a communicable disease considering the thousands who have done the same before me.
I've seen guys get into a fight in a pub and be best buds a second later all the while ribbing me to tell them if I used 'rinses' on my hair (color). I've met cab drivers who were more concerned about whether I'd 'taken my breakfast' before boarding an international flight than my own mother would have been (nothing personal Mom).
I've enjoyed the splendor of the country whilst out exploring and felt I'd lose my life when being driven to Dublin in the imaginary third lane locals only seem to be able to see.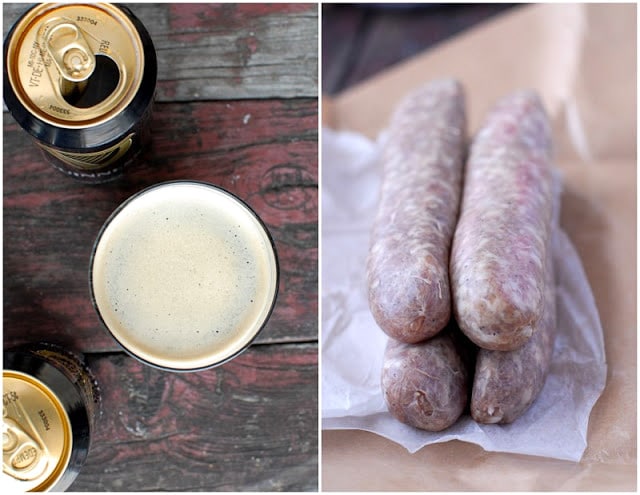 The tales of my time there are worthy of a dedicated blog themselves but two things really warmed my heart: the food and the people. The UK gets a rap for bad food and I expected Ireland to offer no less. There is nothing like a fresh pint of Harp or Guinness when on the Emerald Isle (my local friends schooled me 'Guinness doesn't travel'; though that has improved now with the 'widget' in the cans that allows the beer to pour like it's on tap).
There was one funky Chinese restaurant in Dundalk that served French Fries which always seemed misplaced despite being good but otherwise all the food I enjoyed was splendid. Some of the best salmon I've ever had.
Beautifully prepared vegetables. Nouveau cuisine at hip, off beat spots in Dublin. And of course the classic pub food. These travels were before I became gluten free so I really tasted the best Ireland has to offer with no restriction.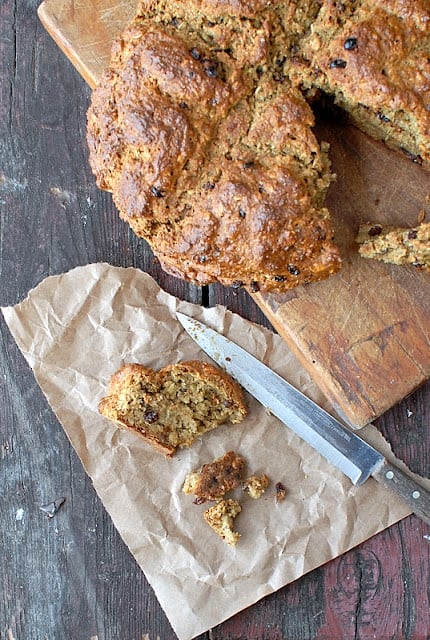 I've made some of my best, long term friends in Ireland. They are down to earth, honest people with the best linguistic skills and sharpest wit I've ever met. I was fortunate to see a number of them frequently with travel back and forth between the U.S. and Ireland and have many a tale about practical jokes shared and laughing harder than I ever have. Good medicine, the Irish.
When St. Patrick's Day rolls around I think of it differently than I did as a child. It admittedly makes me yearn a bit for a jaunt over the pond for a visit. My friends always told me the U.S. has made a big drink fest of the holiday though fellow blogger Aoife of the Daily Spud in, who did a guest post for me last St. Patty's, said it is becoming more of a hoopla in Ireland as well.
I couldn't let the holiday pass without a culinary nod. My husband is also of Irish lineage, though being a typical Yank 'mongrel' as are all of us non first generation Americans from Euro descent. We both love Ireland and have celebrated in less rambunctious years with making Corned Beef (sadly an Americanized 'Irish-ism'), having Irish beer or spirits and watching favorite movie The Commitments.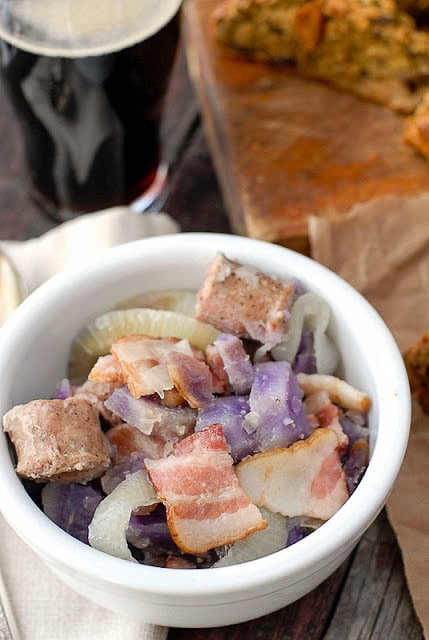 This year you may very well catch me at Fado, the transported Dubliner pub (literally) in downtown Denver enjoying an Irish Breakfast and maybe a later day pint at Conor O'Neills pub in Boulder (they serve gluten free beer). I've heard there is an St. Patty's Day event at the Boulderado in Boulder too though I like to go where I'll be in the company of those from the homeland, sure to make the holiday bright with humor and where they don't know a stranger.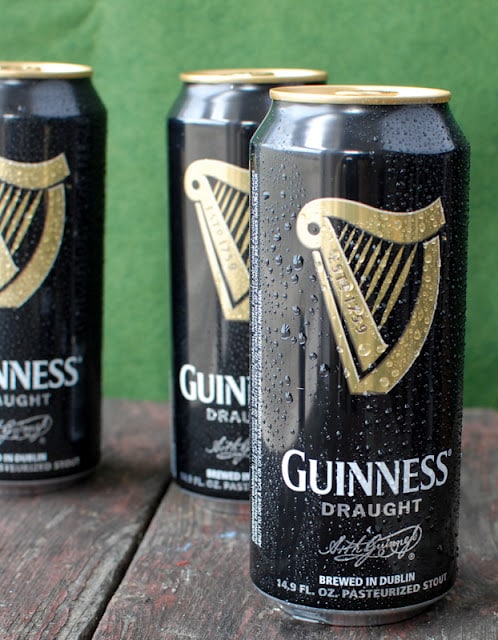 I paired this perfect Dubliner dish, Dublin Coddle with a delicious Gluten Free Irish Soda Bread baked from scratch thanks to a recipe from Shauna Ahern, The Gluten Free Girl. The recipe was developed for the Food Network's 'Healthy Eats' and can be found by clicking here.
DUBLIN CODDLE
This is a classic Dublin supper dish, rustic and delicious, featuring some of Ireland's best; the meat….and of course potatoes. Evoking my locavore'ism I elected to use locally grown purple potatoes (all the while hearing a certain Irish friend's thick Dublin accent asking me 'what the….' were the purple things in this dish). Not traditional Irish, the lavender spuds, I'm sure.
After a great deal of chat with two butchers at my preferred market, Lucky's in North Boulder, Wayne and Aaron, about the proper sausages to use to keep it the most authentic we settled on some bratwurst they make fresh daily at the market. The sausages usually used are 100% pork of high quality and not bearing a strong, persuasive spice such as an Italian sausage or Chorizo by example. The bratwurst were lovely with a beautiful flavor meshing with the rest of the dish.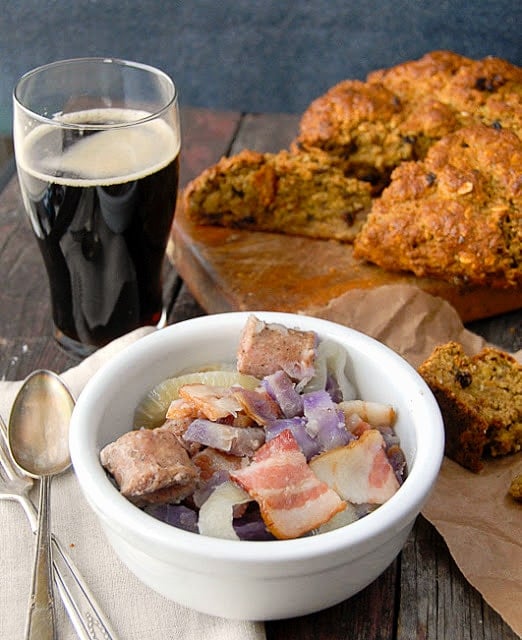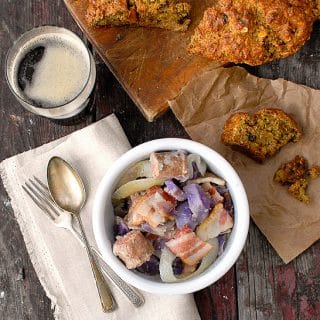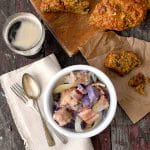 Authentic Irish Dublin Coddle
I picked up this recipe years ago from a lovely woman who ran a small pub in Dublin. My memory fails me as to the name of the pub. I rediscovered the recipe recently scribbled on the back of an airplane ticket folder. Clearly it was too good to pass up making once back in the States!
Cook Time
1
hour
5
minutes
Ingredients
1

pound

(16 ounces) large pork sausages (I used pork bratwurst)

½

pound

(8 ounces) thick, fatty bacon slices; cut into 1 inch squares

1

cup

chicken stock

(or stock made from boiling a ham hock)

6

medium or 12 small potatoes

, peeled and thickly sliced

1 ½

large yellow onions

, thickly sliced to form rings

Salt and Pepper to taste
Instructions
Place the whole sausages and bacon squared in a large stock pot equipped with a well fitting lid. Pour in stock.

Bring to a boil, cover and allow to boil for 5 minutes. Remove bacon and sausages from the pot and reserve the stock separately.

Slice each sausage into 4-5 pieces each about 1 to 2 inches in length.

In the stock pot, place a layer of potatoes (using 1/3 of the sliced potatoes) covered by a layer of onions (using 1/2 the onions). Cover with half the bacon and ½ of the sausage. Repeat ending with a layer of potatoes.

Simmer on low, covered, on for one hour. Serve hot.
Nutrition Facts
Authentic Irish Dublin Coddle
Amount Per Serving
Calories 536
Calories from Fat 315
% Daily Value*
Fat 35g54%
Cholesterol 80mg27%
Sodium 810mg34%
Potassium 1224mg35%
Carbohydrates 30g10%
Protein 22g44%
Vitamin A 70IU1%
Vitamin C 26.8mg32%
Calcium 79mg8%
Iron 8mg44%
* Percent Daily Values are based on a 2000 calorie diet.
If you missed it, you might enjoy reading Aoife's post about how St. Patrick's Day is celebrated in Ireland from last year:  click here.