Dublin Coddle is a traditional Irish dish that is comfort food all the way. It's simple, easy and loaded with flavor. Ready in about an hour and you'll have trouble waiting that long, trust me.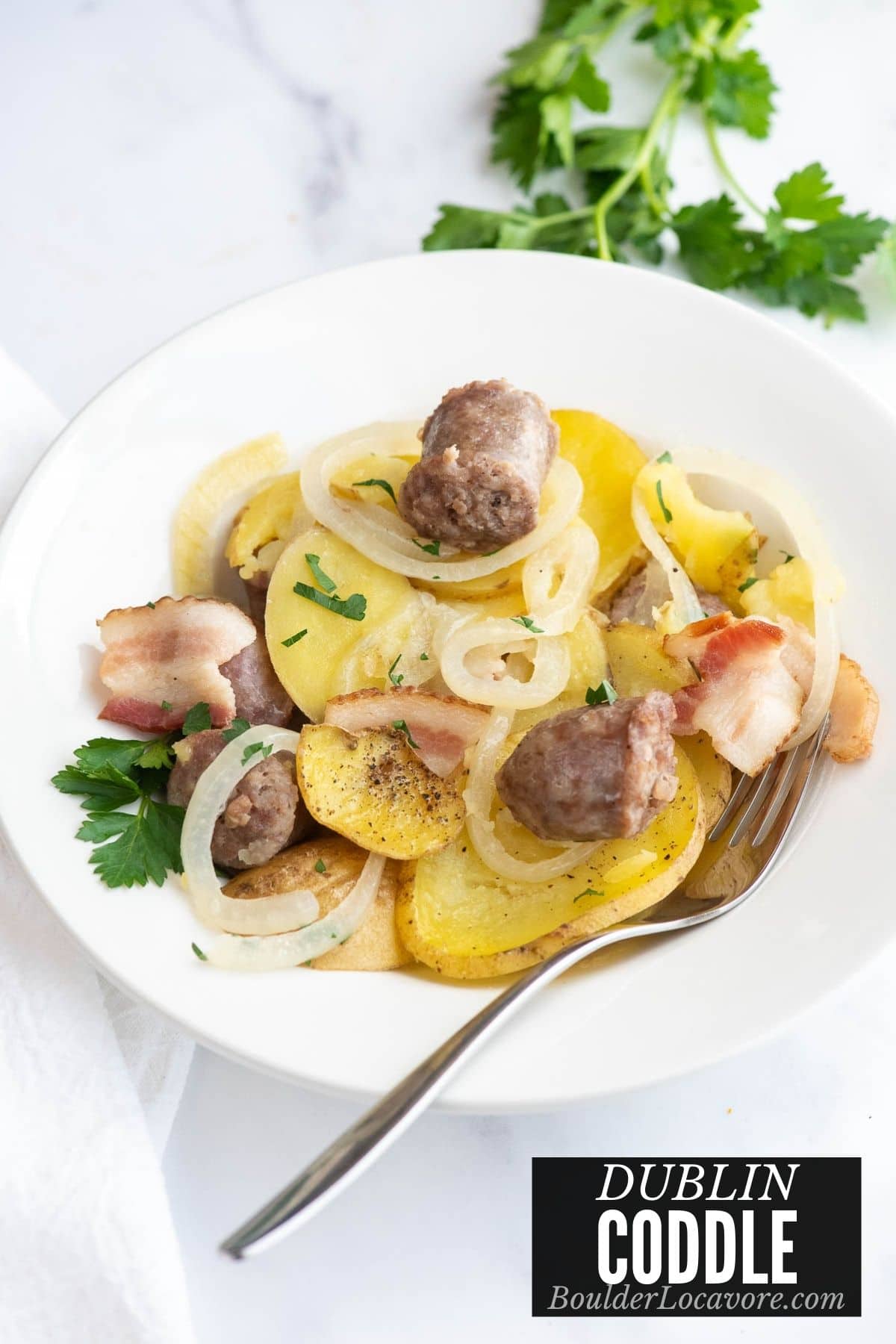 Most Americans celebrate St. Patrick's Day with Corned Beef. No complaints here, I have two Corned Beef recipes myself.
BUT it's not a traditional Irish food for St. Patrick's Day. If you want traditional authentic Irish food, for the holiday or any other time, Dublin Coddle is it.
This rustic, simple hearty dish is has soul-warming flavor and character. With only 5 simple ingredients you may have in your kitchen right now.
Enjoy it with some fresh baked Irish Soda Bread (and Guinness of course)!
Jump to:
What is Dublin Coddle?
This is a classic Dublin supper dish, rustic and delicious, featuring some of Ireland's best; the meat and of course potatoes.
It's a dish that 'cleans out the refrigerator' but is so much better than that.
Sausages, bacon, potatoes and onions star in this hearty, satisfying one-pot dish.
It's easy to put together and incredibly delicious.
Like many dishes of this sort (think French Cassoulet) there often isn't an actual recipe.
More how your mother made it or what you have on hand. A great way to wrap up the week with what's left in the pantry and meat drawer.
It's definitely part of Dublin Coddle's charm.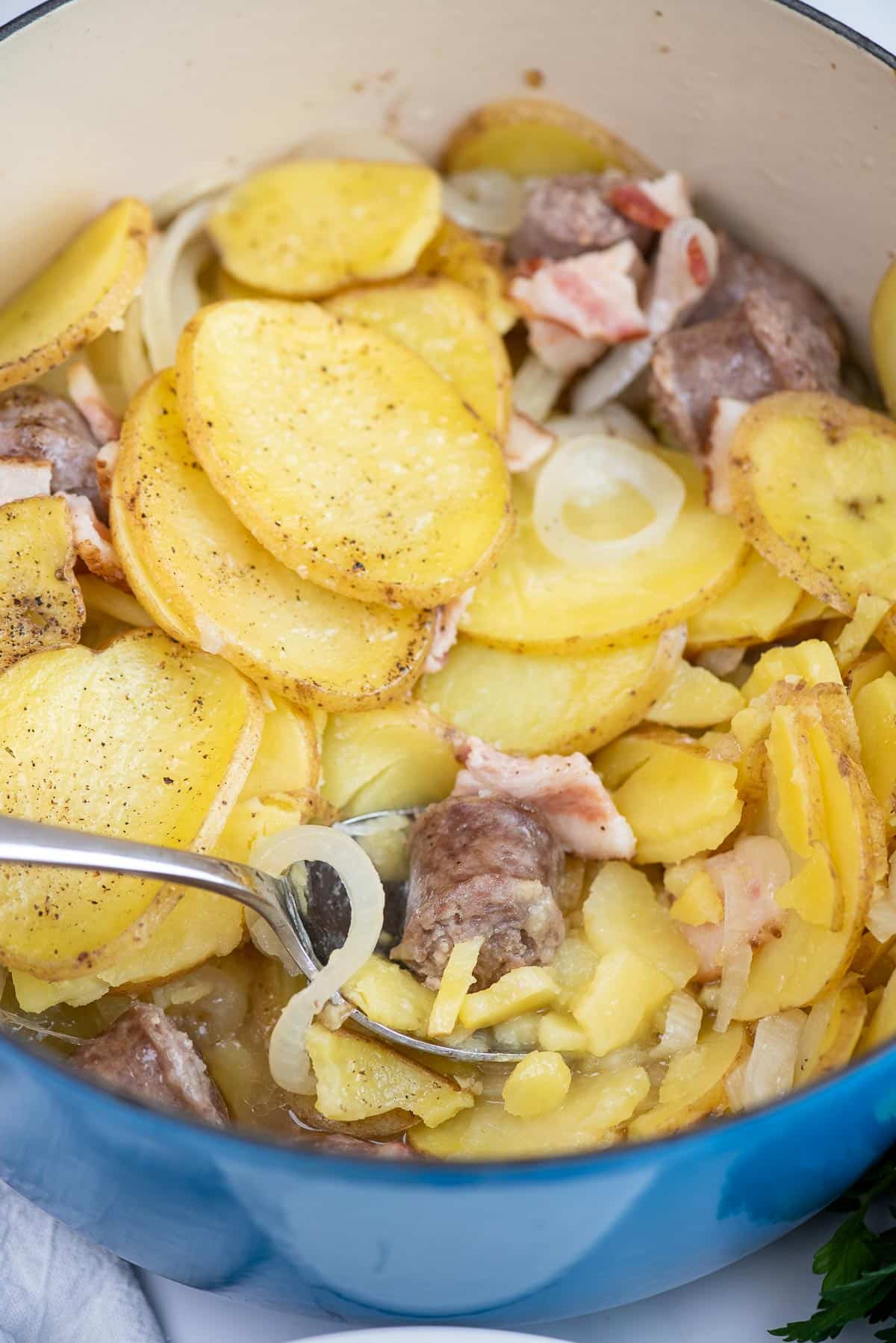 Recipe Origin
Dublin Coddle is working class food. In the best of ways.
It dates back to the 1700's when 'what you had on hand' was added to a pot to simmer for hours.
More recently family recipes have added carrots but it started out with 4 must haves: potatoes, bacon, sausages and onions.
If that sound ordinary, it's not. When it begins to simmer on the stove your kitchen will be filled with the most homey, delicious aromas.
It's called a 'coddle' due to the way it cooks; with water cooked below boiling. It originates from a French word meaning to parboil, simmer or stew.
Dublin Coddle is a perfect example of the magic that happens when the right, simple ingredients are combined. A recipe doesn't have to be difficult or complicated to be absolutely the best.
This comfort food is perfect any time, especially in the winter months or on a dreary rainy day.
An authentic Irish recipe
This recipe was originally shared here in 2012. I was fortunate to get it on one of my many trips to Ireland.
I picked up this recipe years ago from a lovely woman who ran a small pub in Dublin. My memory fails me as to the name of the pub.
I rediscovered the recipe recently scribbled on the back of an airplane ticket folder.
Clearly it was too good to pass up making once back in the States!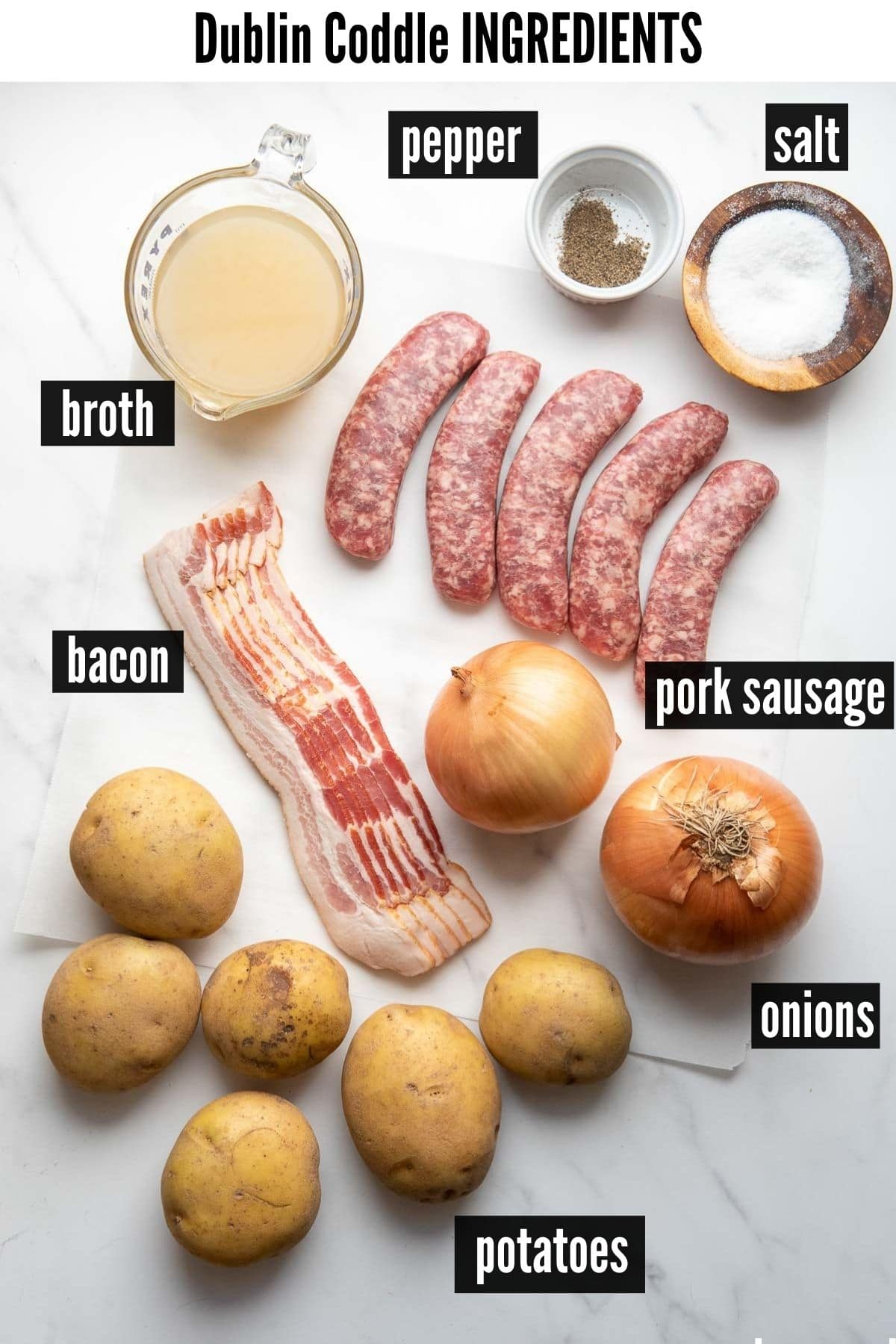 Recipe Ingredients + Notes
Sausages. Use good quality pork sausages (uncooked). The quality is more important than the size.
If possible, use freshly made sausages from your local butcher. I love thicker sausages in this recipe but any will work.
Bacon. 'Streaky bacon' or thick bacon with plenty of fat ribbons should be used.
Stock or Water. The flavor is best with stock (or chicken broth) or water with a stock cube. If you happen to have a ham bone make and use this ham stock. It's out of this world.
Potatoes. Use potatoes you have on hand. I prefer a Yukon Gold type potato for a couple reasons.
It is thin skinned and does not have to be peeled (faster to prep). It has a waxier consistency so it doesn't begin to disintegrate during the longer cooking time.
Onions. We used yellow onions but any onions will do. They will be thickly sliced.
Salt and black pepper. The only seasoning needed.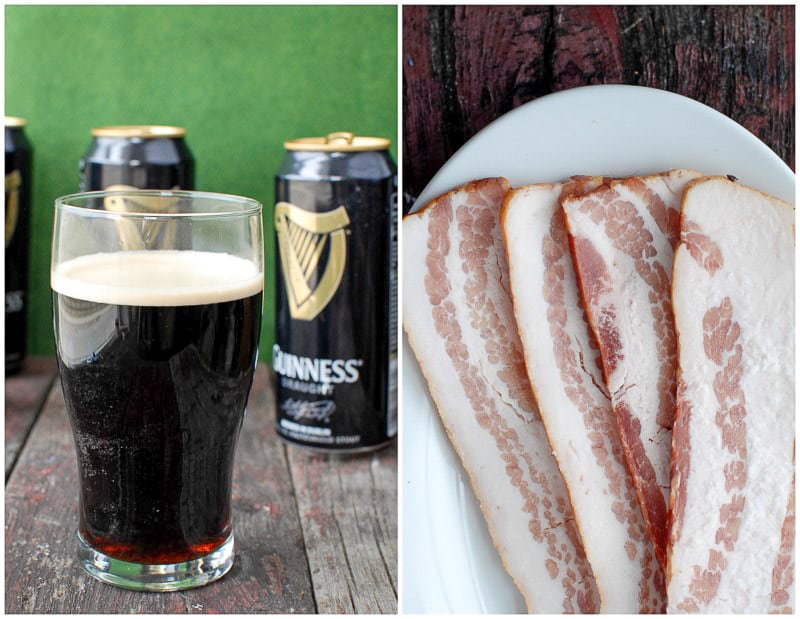 Variations
Use a stock or bouillon cube. It's not uncommon in Ireland to make this using boiled water and a stock cube instead of prepared stock. I personally have always made it with stock but try this method if you have a stock cube on hand.
Add barley. I have heard of some recipes for Dublin Coddle that add barley. That won't work for anyone gluten-free but if you can eat barley add some to bulk up the dish.
Brown the sausages and bacon first. Instead of boiling the sausages and bacon in stock, brown them then proceed with the recipe as written.
Add carrots or cabbage. This is not traditional but if you want to bulk up the dish with more vegetables these two are great choices.
Add a splash of Guinness at the end. My Irish friends would never forgive an Irish recipe without a mention of Guinness. Add a splash at the end of cooking for a different flavor.
How to Make it – Step-by-Step
STEP 1. Preparation.
Slice the potatoes and onions thickly (photo 1).
NOTE: I use a mandoline slicer and slice them 1/2-inch thick.
STEP 1. Simmer the meat
Bring the stock to a low boil in a large saucepan with lid. I use a 5-quart Dutch oven.
Add the bacon and sausages to a saucepan. Cover and simmer 5 minutes (photo 2 – post cooking).
Remove the sausages and cut them into thick pieces (photo 3).
Set the bacon aside. Remove and reserve the stock.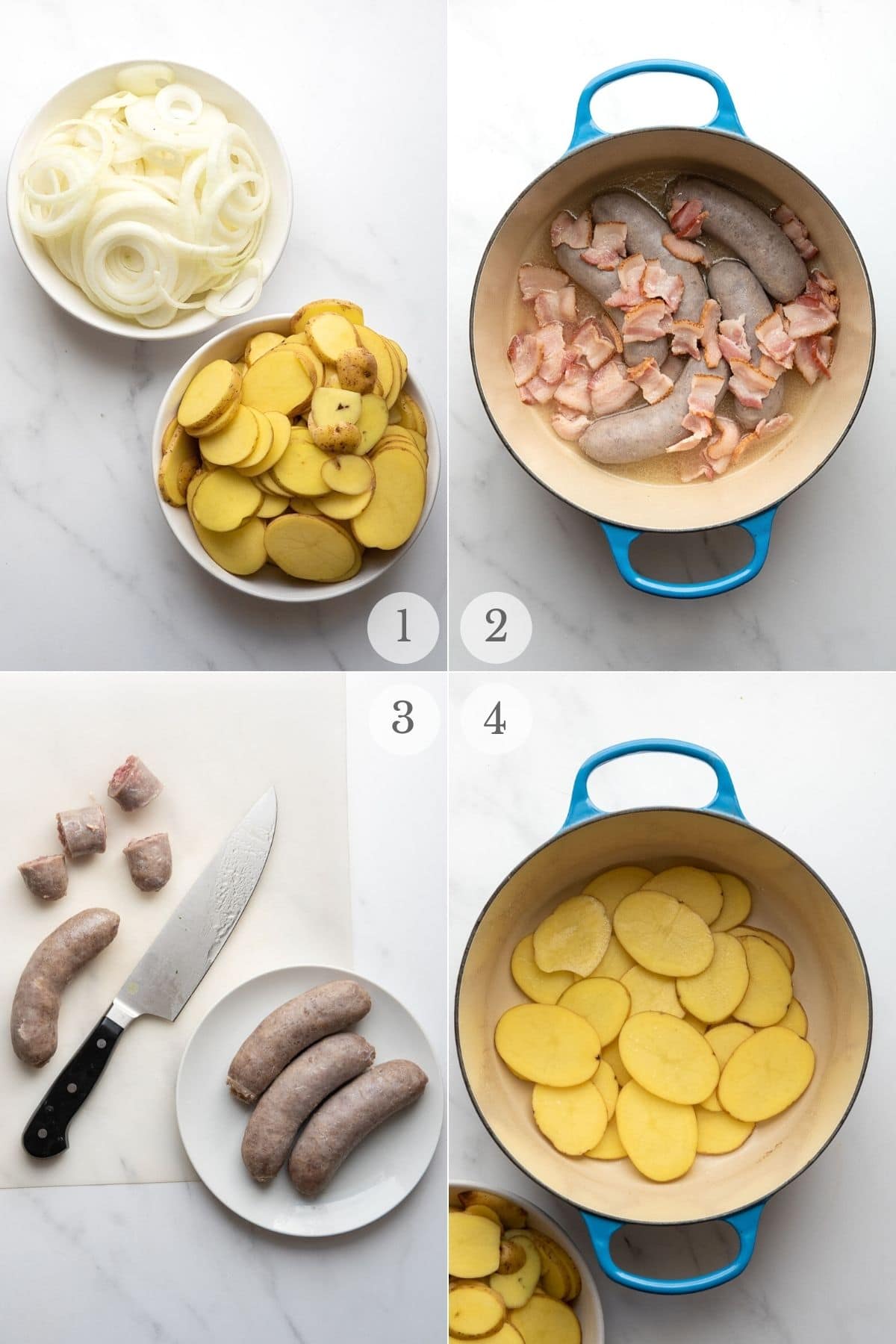 STEP. Assemble the Dublin Coddle
Layer 1/3 of the potatoes in the now empty pan (photo 4). Add the onions in a layer next (photo 5).
Add half the sausages and half the bacon (photo 6).
Repeat layering ending with the last 1/3 of the potatoes on top (photo 7).
Pour the reserved stock over the potatoes.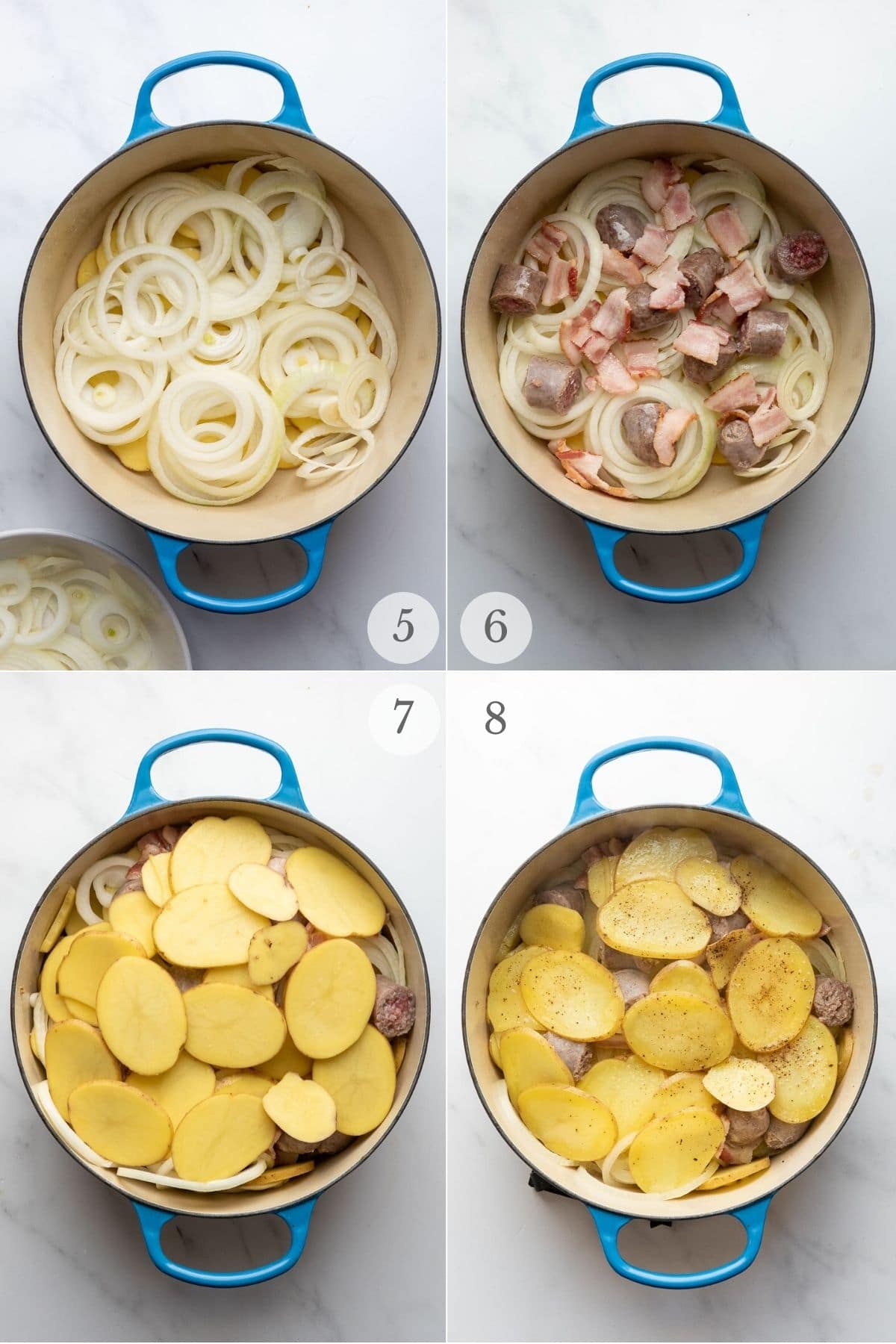 STEP 3. Cook the Dublin Coddle
Cover and gently simmer for about 1 hour (photo 8 – post cooking).
Salt and pepper for taste. Serve hot.
Use a Dutch oven. Because the recipe simmers for an hour using heavier cast iron pot or Dutch oven better conducts the hear and prevents burning. Any pot will work though.
Pro Tips
Use a mandoline slicer. Using a mandoline slicer for the potatoes and onions ensures they are all the same thickness. This helps them all cook in the same amount of time. It also makes slicing go very fast.
I recommend a mandoline with a guard. It fits over the food being sliced so your hands are nowhere near the cutting blade.
Storing Leftovers
Allow the Dublin Coddle to cool and store in an airtight container in the refridgerator for 3-4 days. Reheat on the stove top or in the microwave.
Can Dublin Coddle be frozen?
Yes. Allow it to cool completely, place in freezer-safe airtight container(s) and freeze for up to 3-4 months. Thaw in the refrigerator and reheat.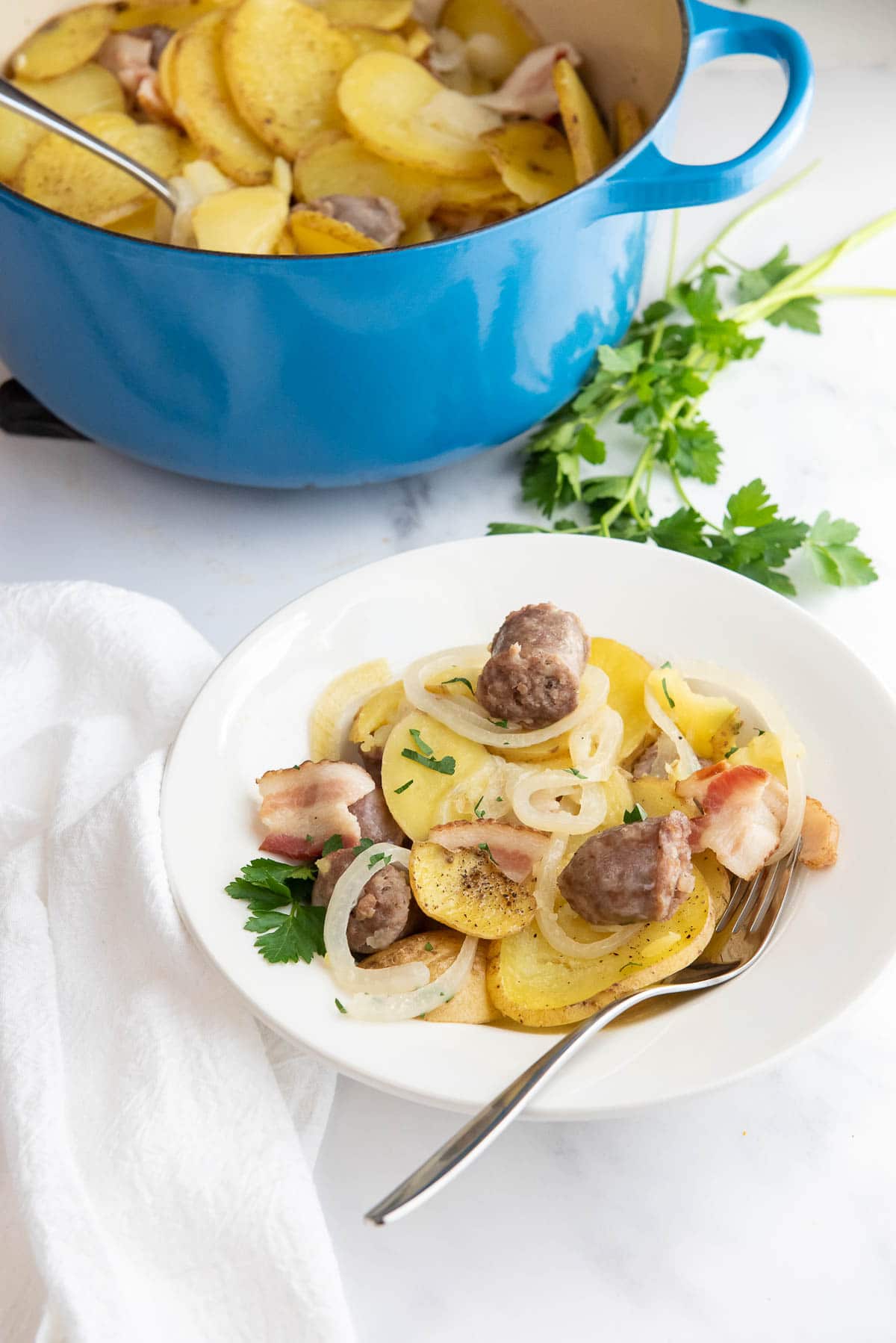 More Recipes You'll Love!
If you love this recipe or the idea of it, here are more authentic Irish recipes to try!
Did you make it? Please RATE THE RECIPE below!
Please
SUBSCRIBE
and
FOLLOW ME
on
FACEBOOK
,
TWITTER
,
INSTAGRAM
and
PINTEREST
!
Recipe
Originally published: March 17, 2012