No one will ever guess how easy and fast this Gluten-Free Winter Cracker Toffee recipe is! Gluten-free crackers are coated with homemade caramel, baked and topped with chocolate, dried cranberries, candied ginger, white chocolate chips, pistashio nuts and sea salt. It requies about 10 active cooking minutes from you and is ready in about 1 hour (total time depends on hardening). A beautiful seasonal snack for gatherings or for gifts!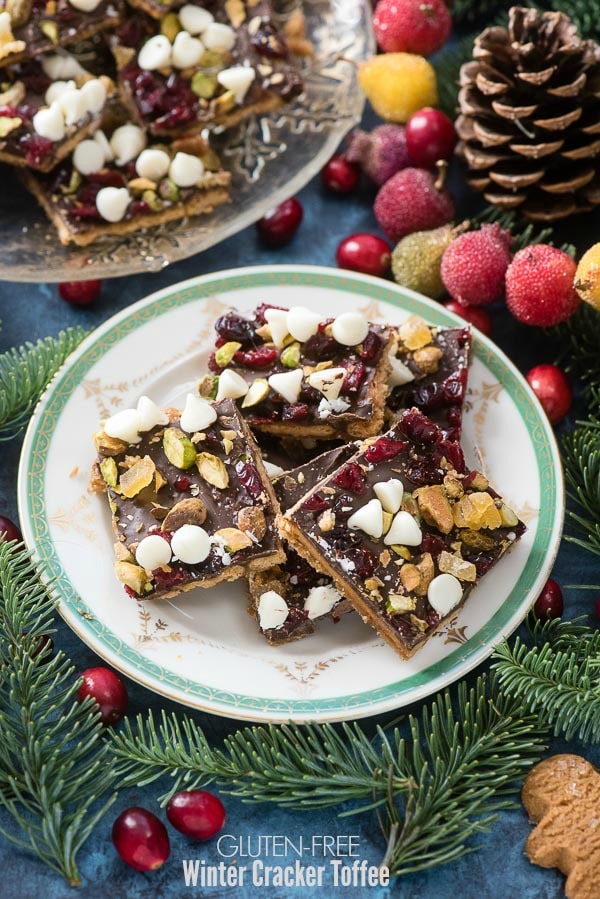 This post is sponsored by Schär. All opinions are my own.
Holiday treats abound everywhere I turn right now, whether in grocery stores or in cafes. It's a wonderful time for baking at home but candidly I haven't had the time to! I'm behind on buying holiday gifts, no Christmas cards have been sent and our tree sits au natural in its stand (at least we HAVE the tree, right?). No worries. I have an exciting gluten-free treat recipe today that you can whip up in a flash: Gluten-Free Winter Cracker Toffee.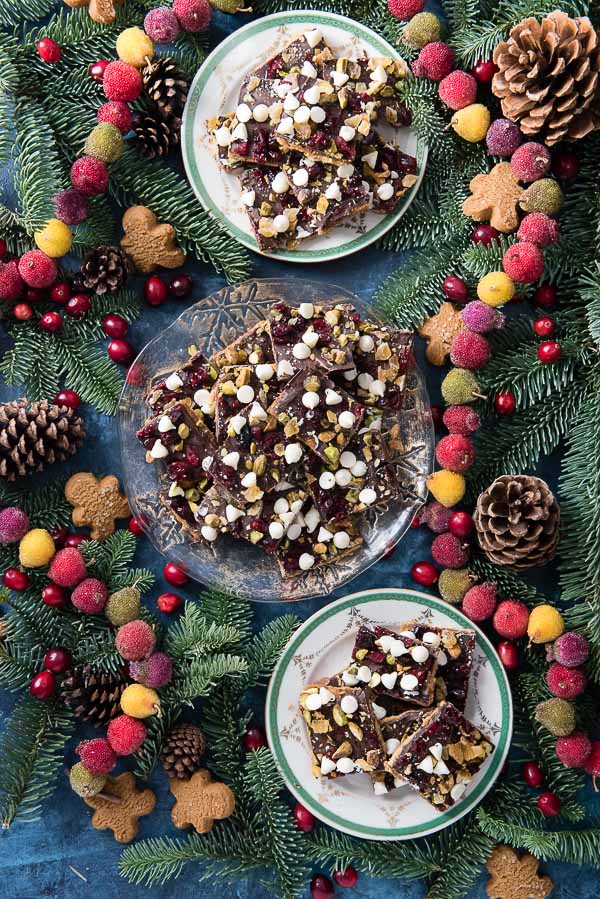 I'm thrilled to be sharing the spotlight with a long time favorite gluten-free brand, Schär. When I became gluten-free about 13 years ago, there were very few prepared gluten-free products available. Schär is an Italian-originated company and is Europe's #1 gluten-free food provider. When I originally learned about them, the products were more difficult to get, however now they are readily available everywhere including online at Amazon.com and other in-store sources.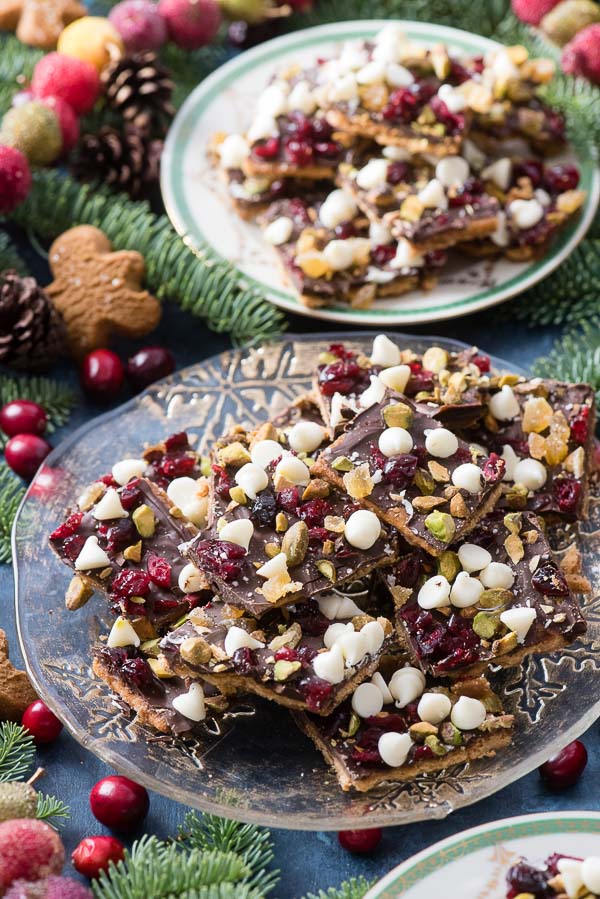 The things I've loved about Schär's products is they have a wide-ranging product line, make many products other gluten-free manufacturers do not make and the products taste good….and normal. It's very exciting. When we visited Ireland this past summer we'd dip into small grocery stores and could always find Schär products to have with us as we traveled; fortunately, the same is true in the U.S.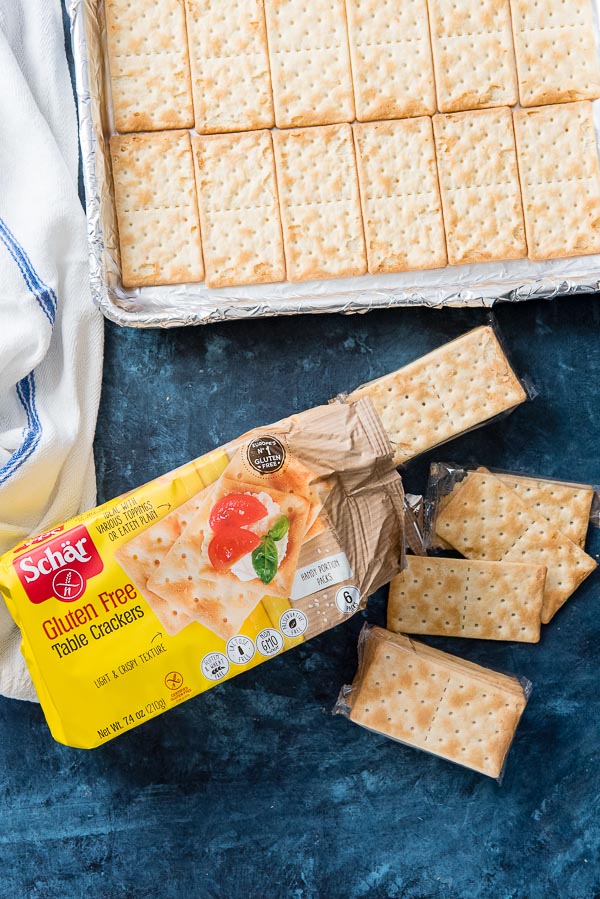 Today I've created a recipe using Schär's Table Crackers. Light, delicate, with a buttery flavor and touch of salt, they can be used for anything. As perfect on the crackers-and-cheese platter as they would be used as crumbs to crisp up the top of homemade mac-and-cheese or garlicy broiled tomatoes.
I however have had a recipe longing, until now, left unfulfilled. I've always wanted to make cracker toffee in gluten-free form. If you are unfamiliar with cracker toffee, it's an easy treat usually made with saltine crackers as a base, baked with a homemade caramel, topped with chocolate and other things. I've felt like the kid looking from the outside in at lovely gluten cracker toffee without being able to enjoy it myself. Until now.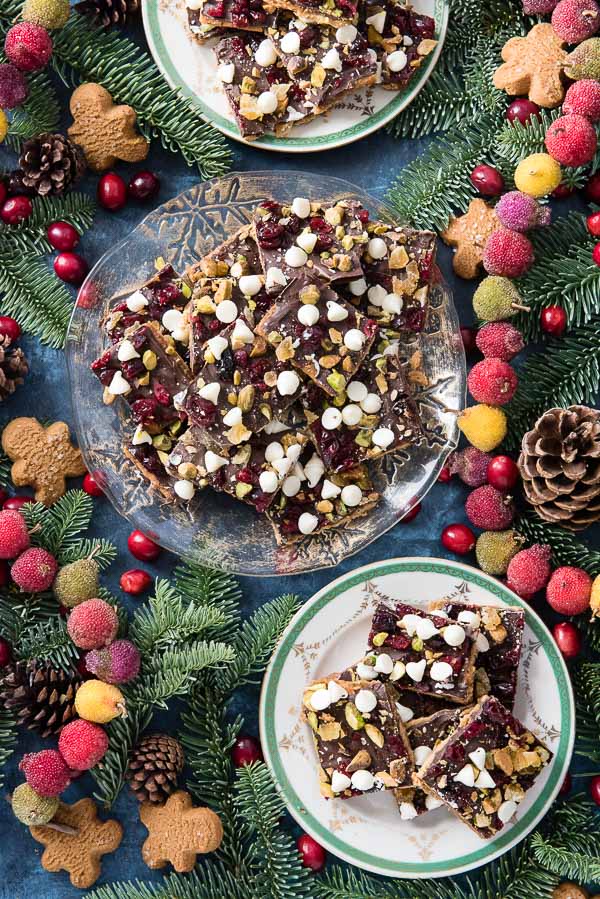 Schär Table Crackers are perfect for this recipe. Their light flavor and size make a fantastic base for Gluten-Free Winter Cracker Toffee. Diced crystallized ginger, dried cranberries, chopped pistachios, white chocolate chips and sea salt are sprinkled on top of this version. Bold, sophisticated winter flavors adorn what I KNOW is going to be your new favorite recipe! It's been well worth the wait to find the perfect cracker to make gluten-free Winter Cracker Toffee! I know you'll agree.
How to make Gluten-Free Winter Cracker Toffee: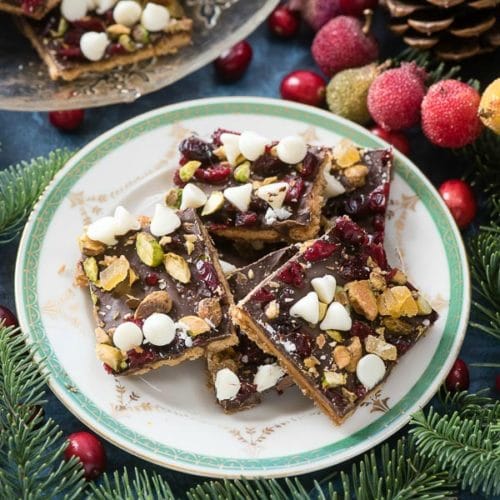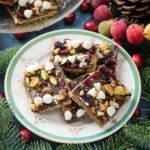 Gluten-Free Winter Cracker Toffee
Cracker toffee is a breeze to make and with gluten-free crackers can be made gluten-free! The base recipe of the caramel-coated crackers with a chocolate top are fantastic by itself. This winter version includes familiar flavors for an irresistible fast to make treat.
If your crackers break in the package, you can always piece them together on the baking sheet. Once covered by the caramel and chocolate, they harden into a slab to be cut apart so the cracker breakage won't matter.
Instructions
Preheat the oven to 350 degrees. Line an 18-by-13 inch rimmed baking sheet with foil. Spray with cooking spray.

Line up crackers side by side in 3 rows of 8 crackers on the prepared pan (refer to photo with cracker package above).

In a medium sauce pan over medium heat, combine the butter and sugar. Allow both to melt (about 2 minutes) then come of a low boil, stirring often. Allow to boil for 2 additional minutes until the mixture thickens. Pour onto the crackers and gently smooth over the crackers with a pliable heat-proof spatula to ensure they are all covered.

Place the baking sheet in the oven and bake for 15 minutes. Note: during cooking the caramel will bubble aggressively, calming to a smaller bubbling by end; this is normal.

Remove the pan from the oven (some space may have developed between the crackers) and sprinkle the semi-sweet chocolate chips over the top of the crackers. Allow them to sit for about 2 minutes until the chips begin to melt. Gently spread the chocolate to evenly cover the crackers without breaking them apart (the crackers are more delicate just after cooking). Sprinkle the ginger, cranberries, nuts and white chocolate chips evenly over the melted chocolate, followed by the fleur de sel and allow to fully set (can be chilled to speed up setting).

To Cut: once fully set, remove the crackers with the foil from the baking sheet. Using a large, sharp knife cut into 42 squares.
Nutrition Facts
Gluten-Free Winter Cracker Toffee
Amount Per Serving
Calories 140
Calories from Fat 81
% Daily Value*
Fat 9g14%
Cholesterol 12mg4%
Sodium 50mg2%
Potassium 80mg2%
Carbohydrates 14g5%
Protein 1g2%
Vitamin A 145IU3%
Vitamin C 0.1mg0%
Calcium 17mg2%
Iron 0.7mg4%
* Percent Daily Values are based on a 2000 calorie diet.