Cherries Jubilee with Vanilla Ice Cream is an easy, sophisticated dessert sure to dazzle any enjoying it. Liqueur-soaked cherries are flambeed with brandy, making a sweet boozy sauce to top ice cream.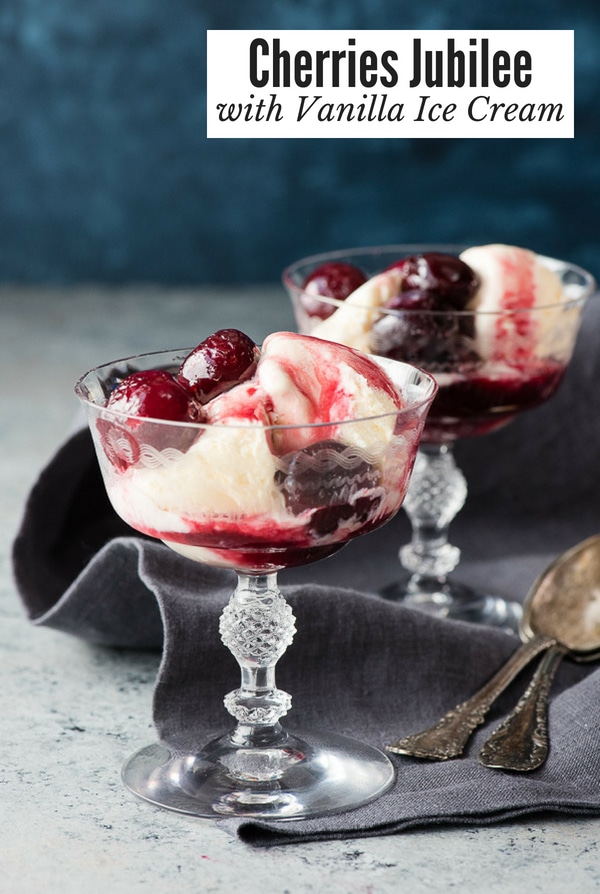 Published originally in February 2017; updated July 2018
Being in the heart of fresh cherry season, an easy, exciting dessert seemed fun! Cherries Jubilee with Vanilla Ice Cream is a classic dessert that is simple to make and flames leaping from a skillet (when happening on purpose) is always an attention-getter that makes a dinner fantastically special.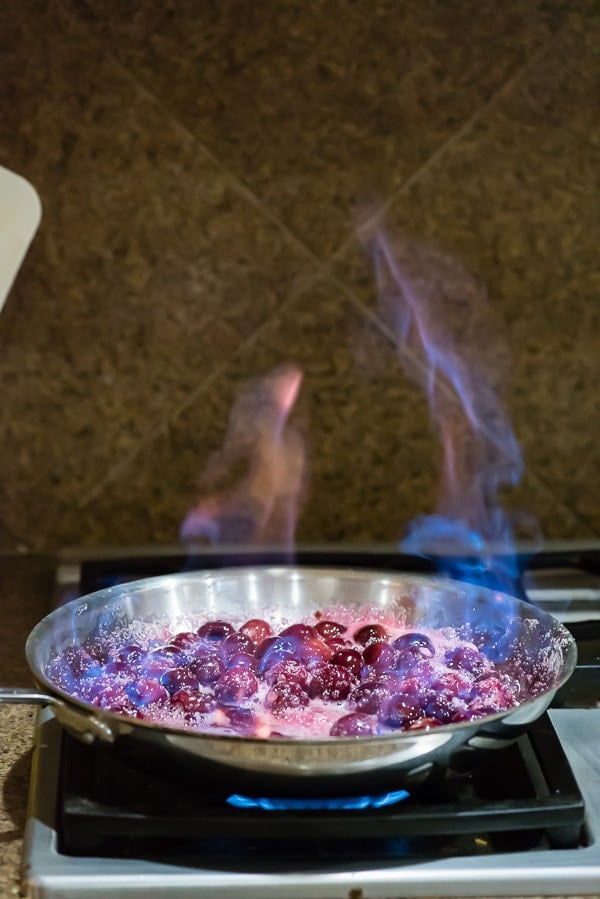 Cherries Jubilee feels like a bit of a flashback dessert. It keeps good company with Grasshopper Pie, The Zombie cocktail and Devils on Horseback appetizer. All are tried and true recipes from a different era that have made the cut of time. Cherries Jubilee with Vanilla Ice Cream is same.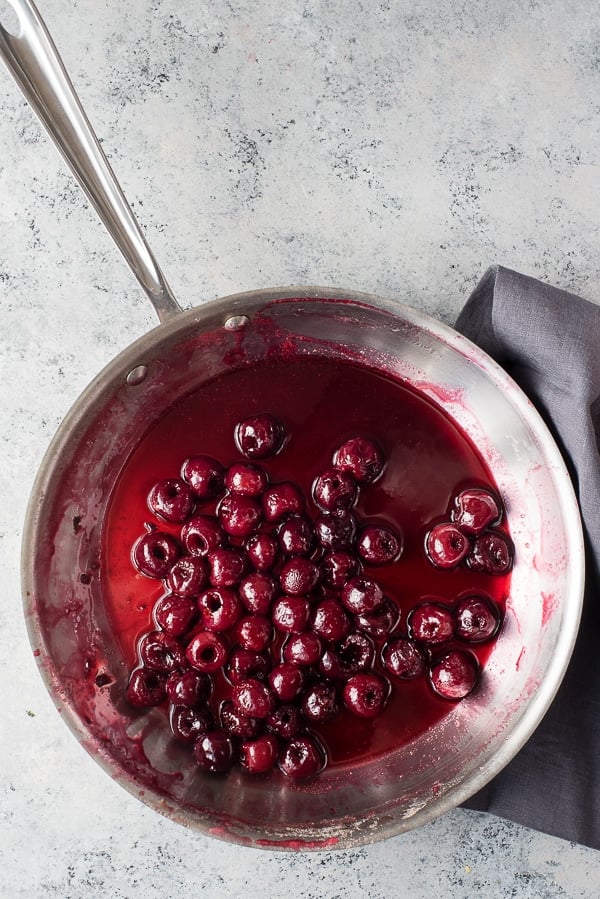 What Is Cherries Jubilee?
The dessert was originally created for the Queen Victoria's Diamond Jubilee (the 60th anniversary of her becoming queen) in 1897. The dessert is made by combining cherries and liqueur then flambéing them while cooking is a sweet syrup.
Typically, the cooked cherries are served over vanilla ice cream as I have done today though they may be used on other things such as cakes or crepes too.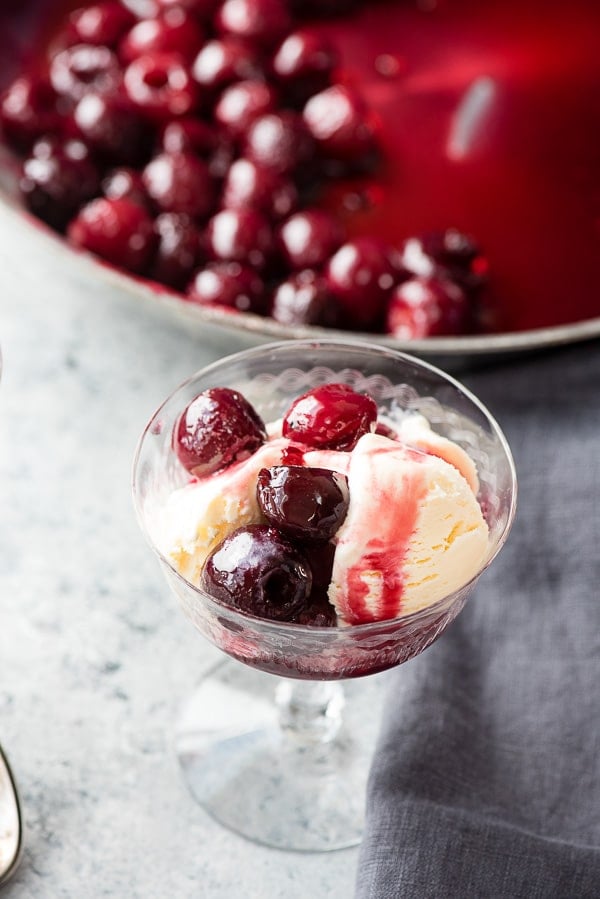 Cherries Jubilee falls into a family of flambéed desserts that make for great presentation and are actually very easy to make. Two other desserts in this esteemed collection I've shared with you in the past, Classic Bananas Foster (bananas in a buttery sugar sauce with rum) and Mangoes Diablo (mangoes flambéed with tequila).
I'm excited to try Rum Flambeed Figs and Bananas and Flambeed Nectarines and Cherries too.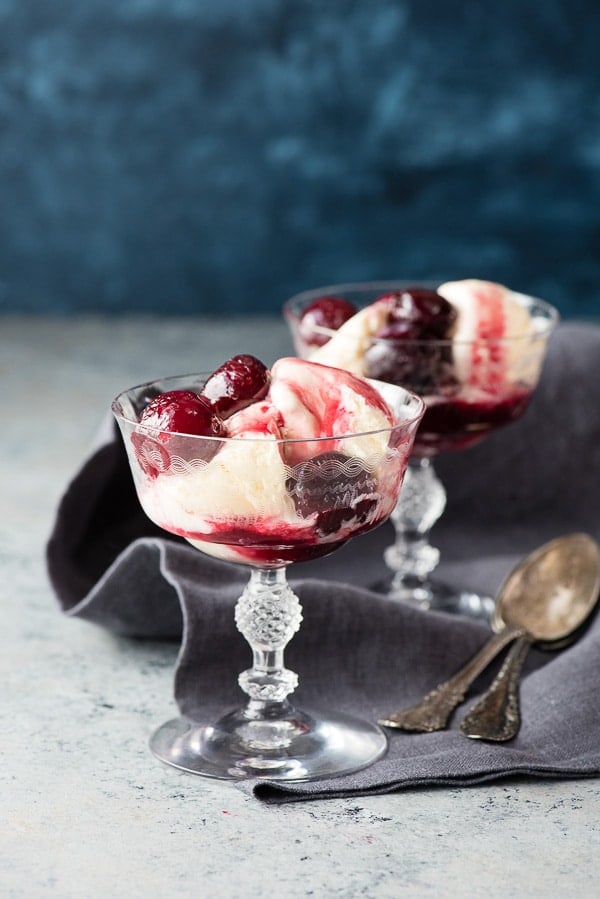 How to Flambé Cherries Jubilee Safely
The key when flambéeing (pronounced flam-bay-ing) is to have an uncluttered space and a long utensil to light the dessert (like a utility lighter, which I use for so many things). The flames can reach fairly high and are blue or somewhat invisible making it key to stay out of the way of the skillet until the flame dies down.
Flambéeing a recipe does remove some of the alcohol but not all of it so this is a dessert for adults!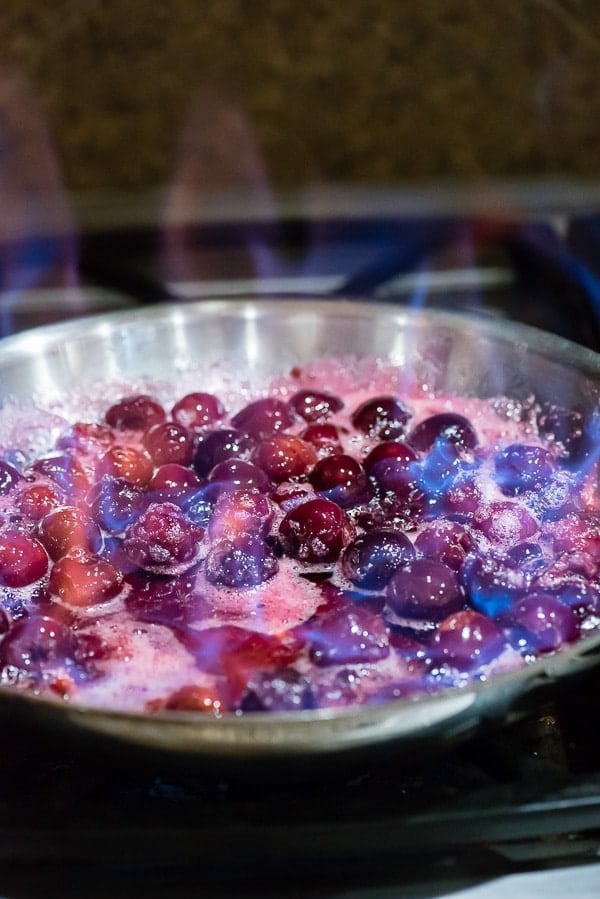 Use Fresh or Frozen Cherries for Cherries Jubilee
With international food logistics delivering foods from all over the world regardless of the season where one lives, fresh sweet cherries are available now. I used a variety from New Zealand that were delicious.
If fresh cherries are not available to you, frozen thawed cherries will work as well. Reserve any juices from thawing and include them when adding the Kirsch-soaked cherries to the skillet.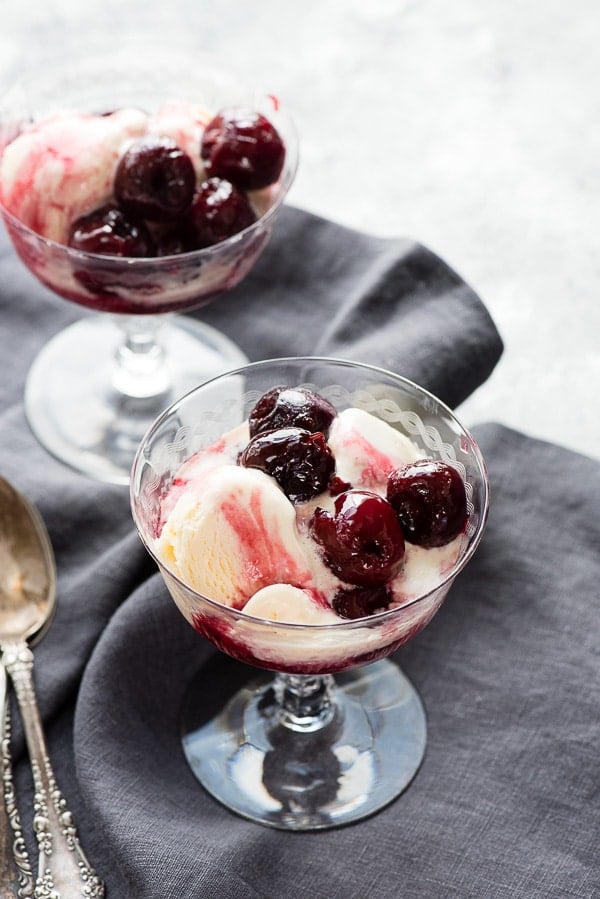 This Cherries Jubilee with Vanilla Ice Cream recipe is exotic and sophisticated, as well as classic and very simple to make! Liqueur-soaked cherries are flambeed with brandy making a sweet sauce perfect to top vanilla ice cream. 
If you've tried this Cherry Jubilee recipe please RATE THE RECIPE below!
Please SUBSCRIBE and FOLLOW ME on FACEBOOK , TWITTER , INSTAGRAM and PINTEREST to see more delicious food, travel and what I'm up to!
How to Make Cherries Jubilee – Step by Step: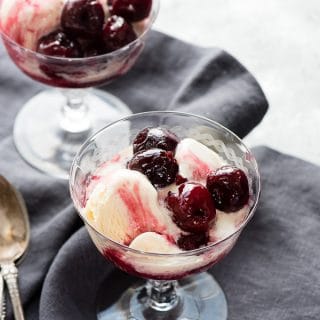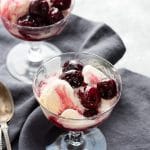 Cherries Jubilee Recipe with Vanilla Ice Cream
Cherries Jubilee is a classic flambeed dessert making a wonderful boozy cherry sauce to top vanilla ice cream or other desserts. The cherries soak in liqueur for an hour then are turned into a sweet sauce and flambeed in the process. It's a sight to behold and makes any meal extra special.
Prep Time
1
hour
10
minutes
Total Time
1
hour
20
minutes
Ingredients
1

pound

fresh Sweet Cherries

, destemmed and pitted (frozen, thawed sweet cherries may be substituted)

¼

cup

Kirshwasser

(cherry liqueur)

½

cup

Granulated Sugar

2

tablespoons

Lemon Juice

½

cup

Brandy

1

pint

Vanilla Ice Cream
Instructions
Combine the pitted cherries and Kirsch in a sealed container and allow to sit for an hour, turning the container periodically to douse the cherries.

Add the contents to a large, heavy skillet. Sprinkle on the sugar and lemon juice and bring to a boil over medium-high heat, stirring to dissolve the sugar. Allow to cook for 5 minutes.

(something long). The skillet will flambé however the fire may be almost invisible. Allow the fire to burn out; 2-3 minutes.

Scoop ice vanilla ice cream into 4 bowls and top with the cherries jubilee. Serve immediately.
Recipe Notes
Adatped from The Joy of Cooking.
Nutrition Facts
Cherries Jubilee Recipe with Vanilla Ice Cream
Amount Per Serving
Calories 538
Calories from Fat 117
% Daily Value*
Fat 13g20%
Cholesterol 52mg17%
Sodium 95mg4%
Potassium 487mg14%
Carbohydrates 77g26%
Protein 5g10%
Vitamin A 570IU11%
Vitamin C 11.6mg14%
Calcium 166mg17%
Iron 0.5mg3%
* Percent Daily Values are based on a 2000 calorie diet.