This simple but sophisticated dessert will dazzle anyone watching it be made and eating it. Liqueur-soaked cherries are flambeed with brandy, making a sweet boozy sauce to top ice cream. The big secret? It's really easy to make!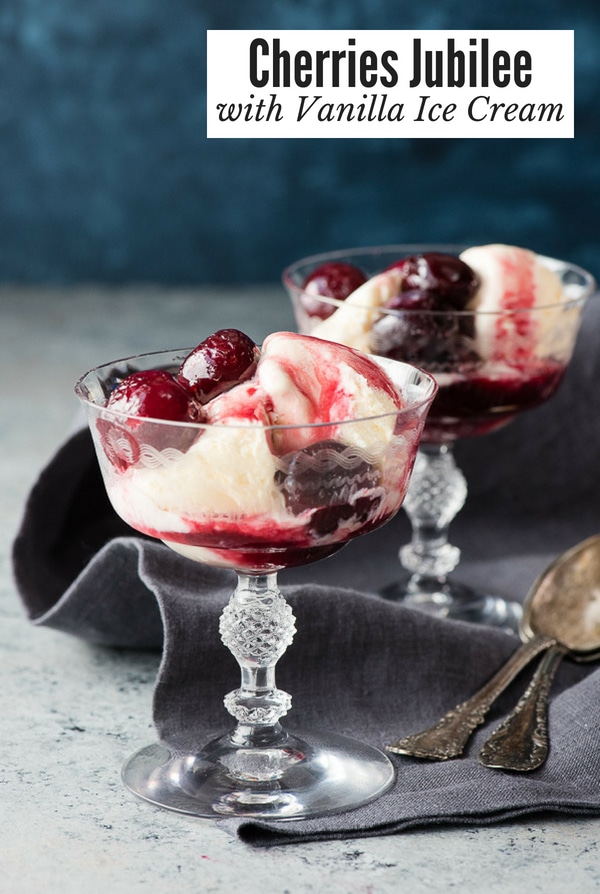 Cherries Jubilee with Vanilla Ice Cream is a classic dessert that is simple to make.
Flames leaping from a skillet (when happening on purpose) is always an attention-getter that makes a dinner a special event.
It seems like a dessert recipe that would only be available at a restaurant.
BUT you can make it easily at home!

A Classic Dessert Recipe
This recipe is a bit of a flashback dessert.
It keeps good company with recipes like Grasshopper Pie, The Zombie cocktail and Devils on Horseback appetizer.
All are tried and true recipes from a different era that have made the cut of time.
And for GOOD reason!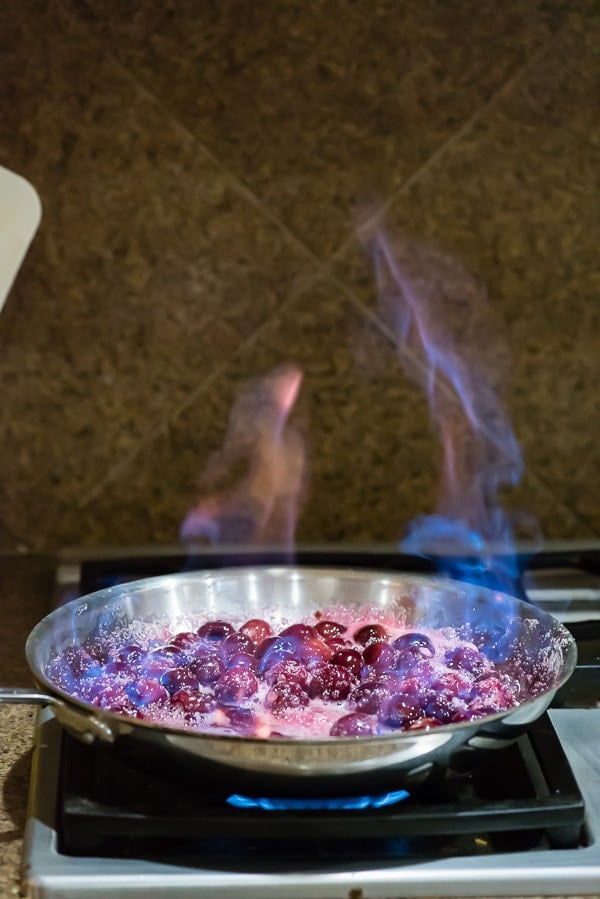 What Is Cherries Jubilee?
This dessert recipe was originally created for the Queen Victoria's Diamond Jubilee (the 60th anniversary of her becoming queen) in 1897.
It is made by combining cherries and liqueur then flambéing them while cooking in a sweet syrup.
Typically, it's served over vanilla ice cream as shown here.
However it may be used on other things such as cakes or crepes too.
This dessert falls into a family of flambéed desserts ('flamed') that make for great presentation and are actually very easy to make.
Two other desserts of this delicious type include Classic Bananas Foster (bananas in a buttery sugar sauce with rum) and Mangoes Diablo (mangoes flambéed with tequila).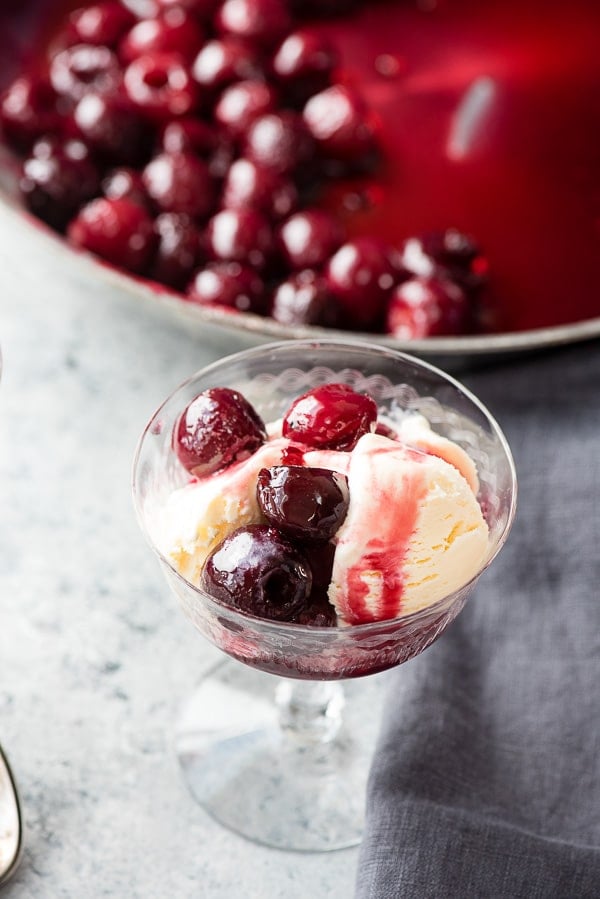 Recipe Ingredients
Sweet Cherries
Kirshwasser (cherry liqueur)
Granulated Sugar
Lemon Juice
Brandy
Vanilla or Vanilla Bean Ice Cream
Use Fresh or Frozen Cherries
Using fresh cherries is recommended for this recipe.
If they are not available to you, frozen thawed sweet cherries will work as well.
Reserve any juices from thawing and include them when adding the Kirsch-soaked cherries to the skillet.
How to Make It – Step by Step:
STEP 1: Combine the pitted cherries and Kirsh in sealed container. Allow to sit for 1 hour, turning periodically.
STEP 2: Add the cherries and liqueur to a large, heavy skillet. Sprinkle with the sugar and lemon juice. Bring to a boil over medium-high heat until the sugar dissolves (aproximately 5 minutes).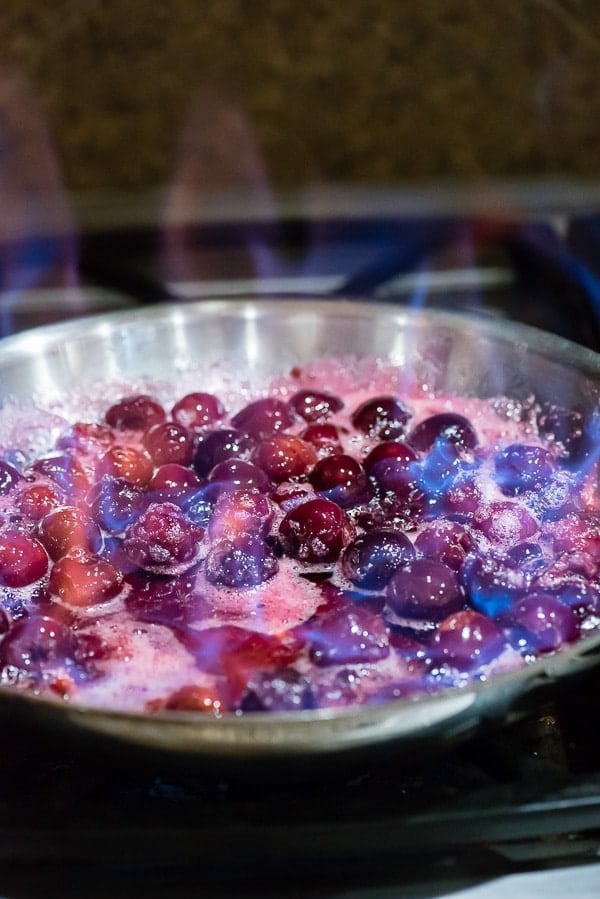 STEP 3: Pour the brandy into the skillet. Light the liquid on the side of the skillet with something long like a long match or a utility lighter.
NOTE: the liquid will flambe but the flames may be invisible or difficult to see (see above). Allow the flames to die out on their own; about 2-3 minutes.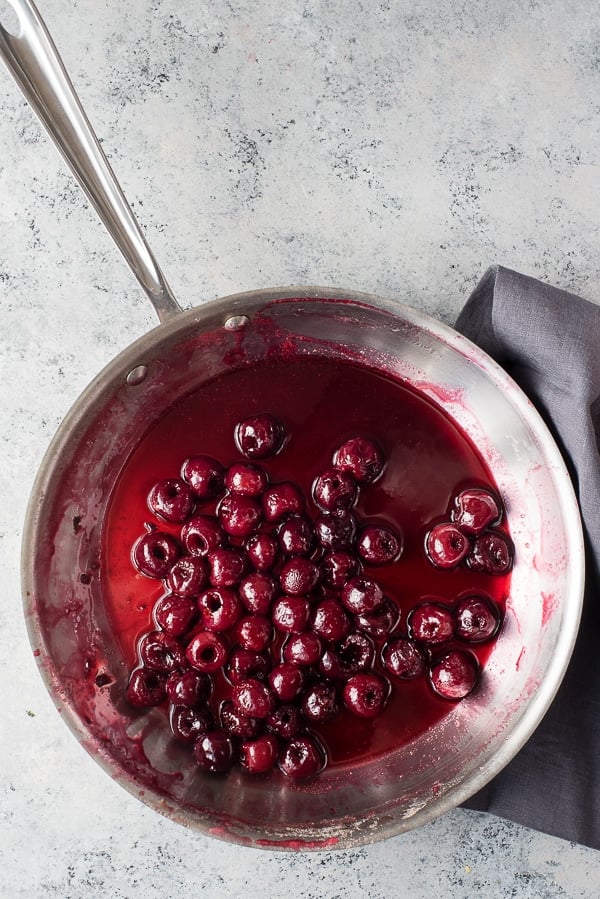 STEP 4: When the flames subside, scoop vanilla ice cream into 4 bowls, top with the warm cherry mixture and serve immediately. Garnish with orange zest if desired!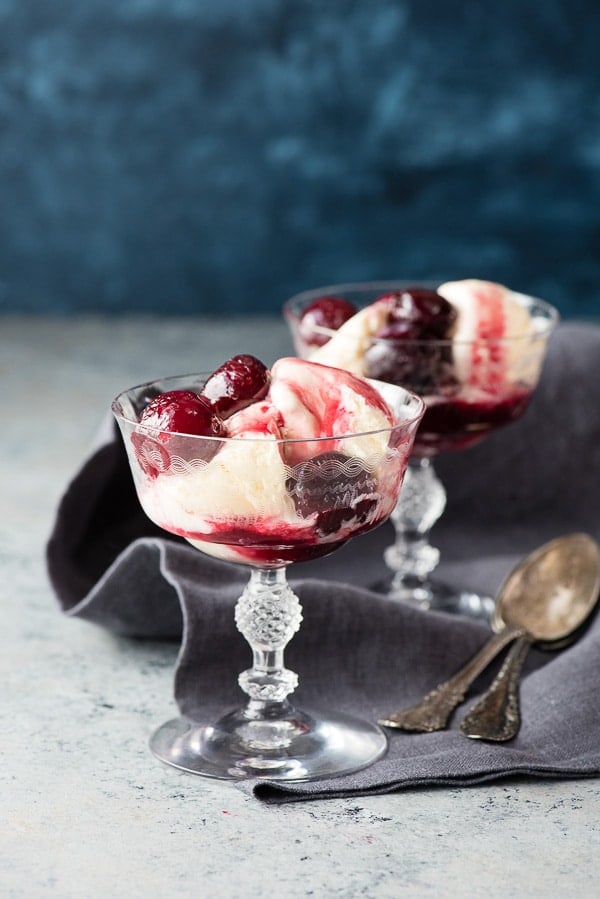 PRO TIPS: How to Flambé Safely
The key when flambéeing (pronounced flam-bay-ing) is to have an uncluttered space around the stove burner.
Use a long utensil to light the liquid; like a utility lighter or a fireplace match.
The flames can reach fairly high!
They are also blue or somewhat invisible making it key to stay out of the way of the skillet until the flame dies down.
Light the liquid on the side of the skillet. The flames will naturally travel over the entire skillet and burn out on their own in 2-3 minutes.
Flambéeing a recipe does remove some of the alcohol but not all of it so this is a dessert for adults!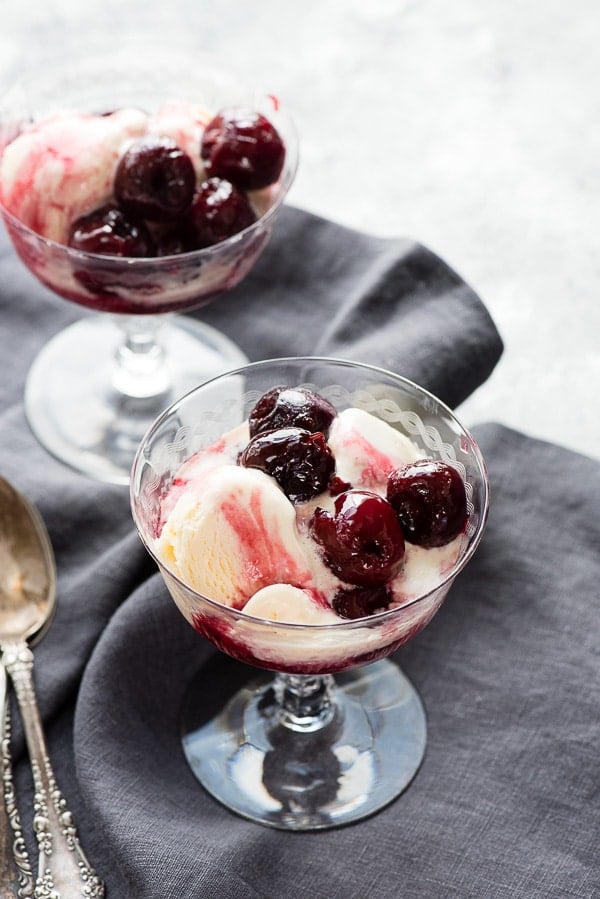 Try these Recipes too!
Did you make it? Please RATE THE RECIPE below!
Please SUBSCRIBE and FOLLOW ME on FACEBOOK , TWITTER , INSTAGRAM and PINTEREST !
Published originally in February 2017; updated July 2018