Cherries Jubilee with Vanilla Ice Cream is a simple, sophisticated dessert sure to dazzle any enjoying it.  Liqueur-soaked cherries are flambeed with brandy, making a sweet boozy sauce to top ice cream.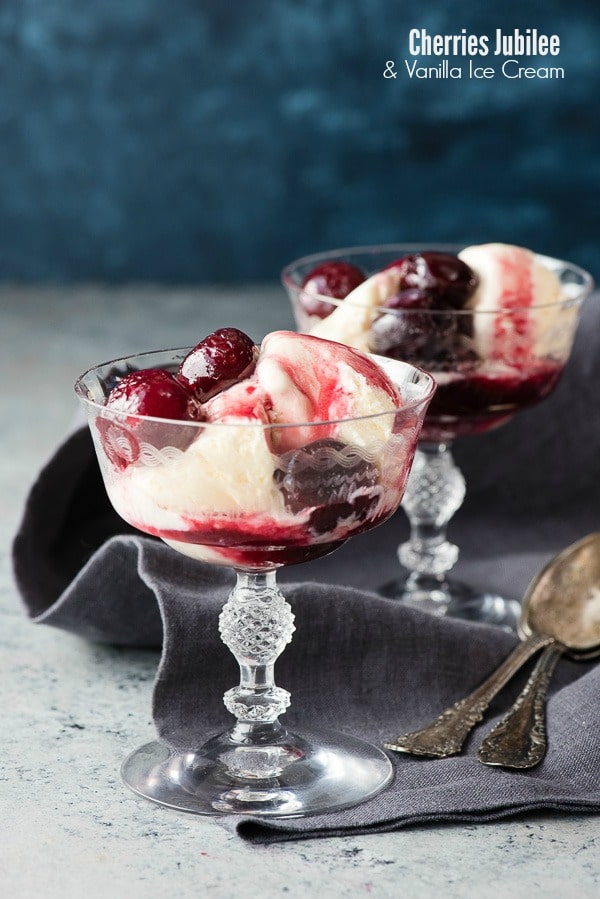 With Valentine's Day coming this week (and President's Day soon after), a sweet dessert one can light on fire seemed just the ticket!  Cherries Jubilee with Vanilla Ice Cream is a classic dessert that is simple to make and flames leaping from a skillet (when happening on purpose) is always an attention-getter that makes a dinner fantastically special.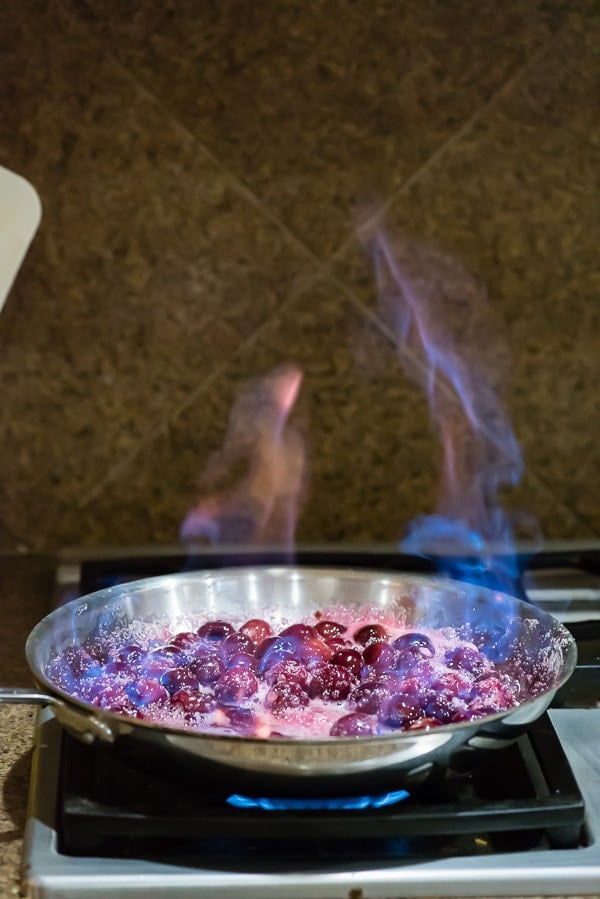 I feel like I've been on a bit of a flashback recipe kick in the past week.  The Zombie cocktail and Devils on Horseback appetizer are tried and true recipes from a different era that have made the cut of time.  Cherries Jubilee with Vanilla Ice Cream is same.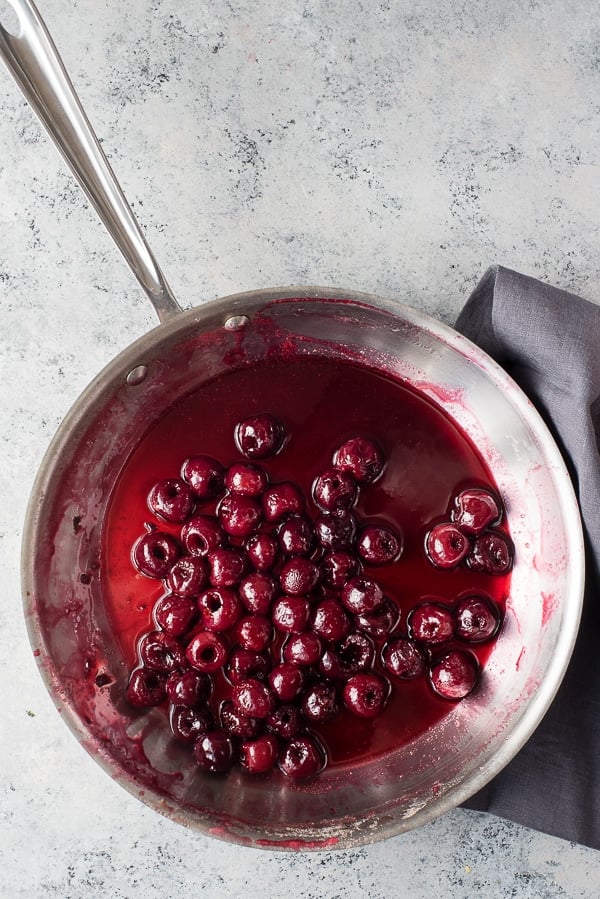 The dessert was originally created for the Queen Victoria's Diamond Jubilee (the 60th anniversary of her becoming queen) in 1897.  The dessert is made by combining cherries and liqueur then flambéing them while cooking is a sweet syrup.  Typically, the cooked cherries are served over vanilla ice cream as I have done today though they may be used on other things such as cakes or crepes too.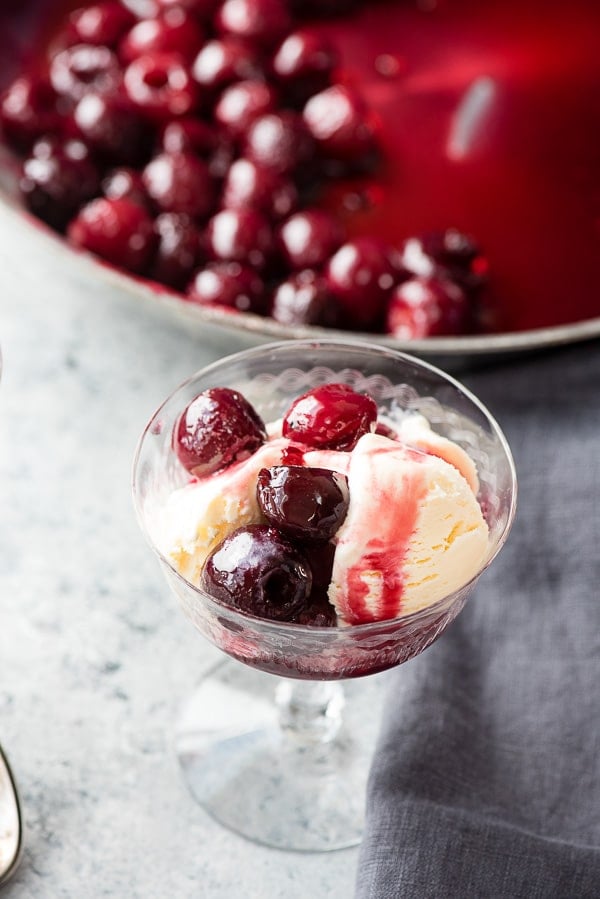 Cherries Jubilee falls into a family of flambéed desserts that make for great presentation and are actually very easy to make.  Two other desserts in this esteemed collection I've shared with you in the past, Classic Bananas Foster (bananas in a buttery sugar sauce with rum) and Mangoes Diablo (mangoes flambéed with tequila).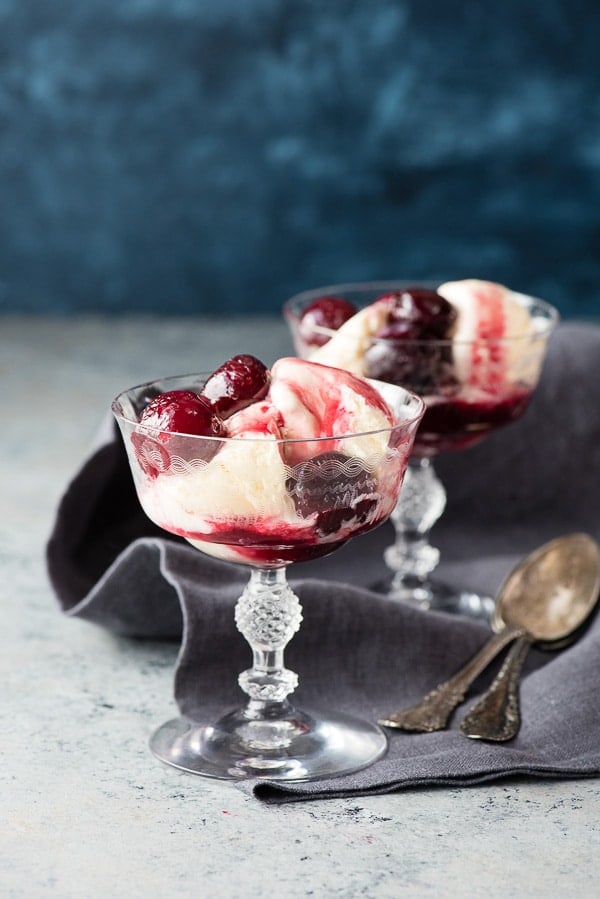 The key when flambéeing is to have an uncluttered space and a long utensil to light the dessert (like a utility lighter, which I use for so many things).  The flames can reach fairly high and are blue or somewhat invisible making it key to stay out of the way of the skillet until the flame dies down.  Flambéeing a recipe does remove some of the alcohol but not all of it so this is a dessert for adults!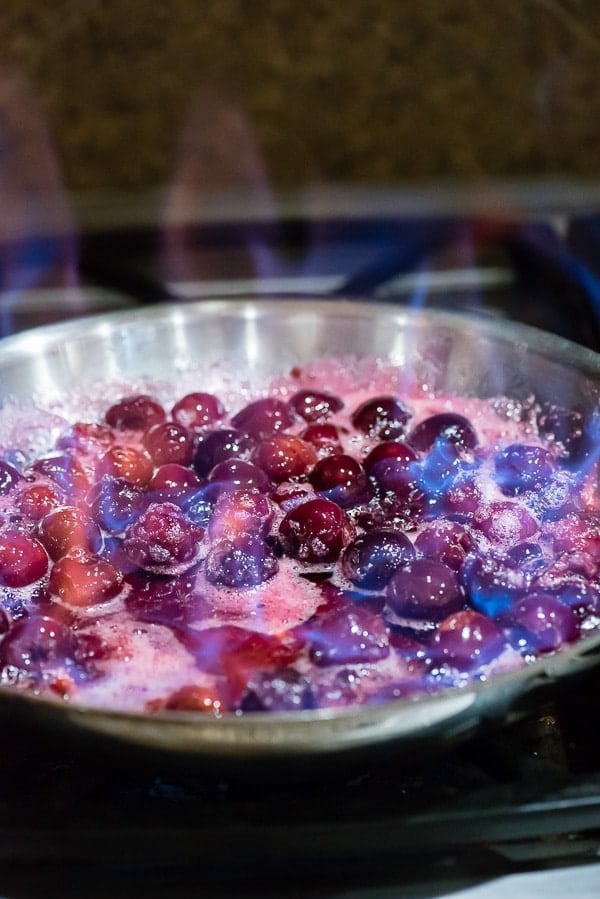 With international food logistics delivering foods from all over the world regardless of the season where one lives, fresh sweet cherries are available now.  I used a variety from New Zealand that were delicious.  If fresh cherries are not available to you, frozen thawed cherries will work as well.  Reserve any juices from thawing and include them when adding the Kirsch-soaked cherries to the skillet.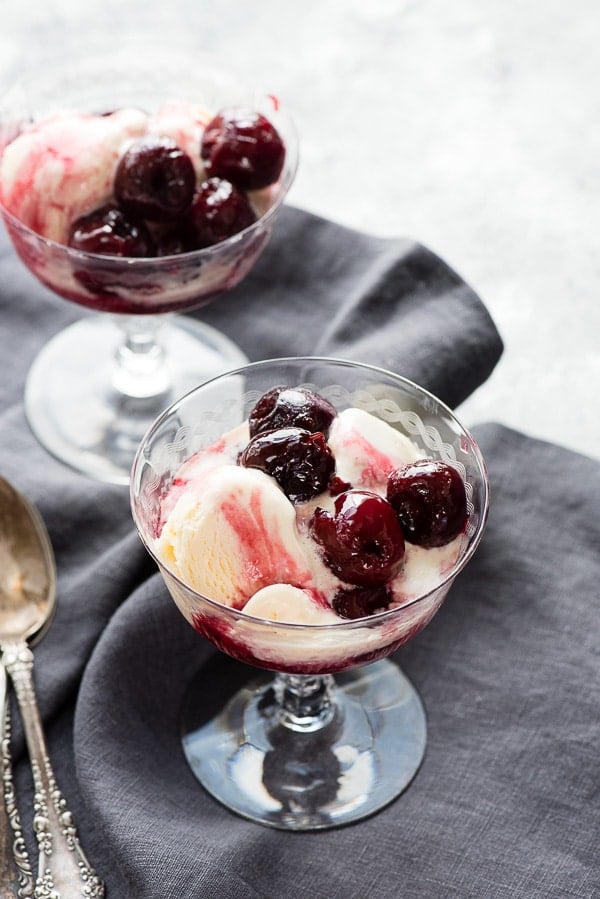 I want to connect with you! Leave a comment and follow me on Facebook, Twitter, Pinterest & Instagram!