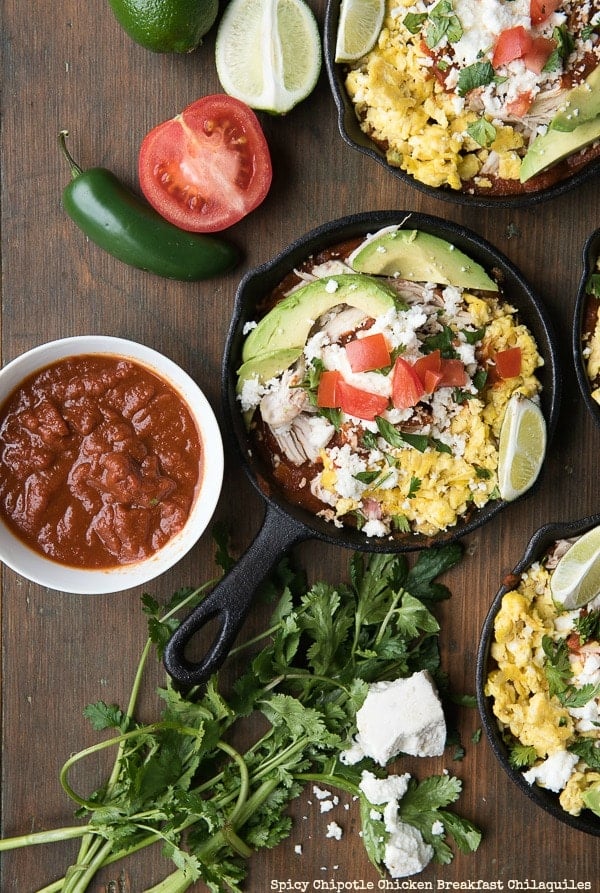 Did you ever notice that breakfast is the only meal of the day that can be satisfied with a sweet or a savory dish? For lunch or dinner you might have dessert afterwards, but your main dish will be savory. I think that is a very civilized approach. Though occasionally I'll opt for something sweet for breakfast, almost every time my preference is something savory, better if it's hearty and triple A+ if it's spicy.
I was looking for something on Boulder Locavore and noticed that this month has featured mainly Mexican or Southwestern food, margaritas, with a few desserts and travel thrown in for good measure. I hope you'll indulge one more Mexican recipe, this time for breakfast: Spicy Chipotle Chicken Chilaquiles. I've been like a dog with a bone (or really a dog who saw a bone and still wants it) since I recently stayed at the Four Seasons in Santa Fe, New Mexico where they had Chilaquiles on the in room breakfast menu. As soon as I read the description I knew I had to have them. However due to one thing or another, I was not able to order them. However a friend visiting the resort when I was did have them, and I was jealous. Like I-really-wanted-them-TOO jealous. Well, maybe not jealous; but I really wanted them. I could not be satisfied until I made them myself and here they are today.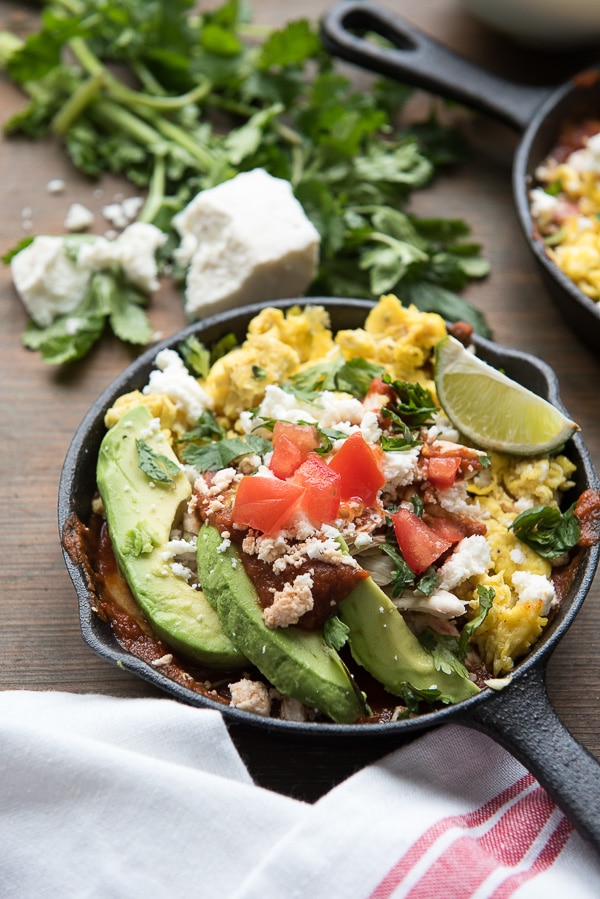 Chilaquiles (pronounced chill-a-kee-les) are a layered Mexican dish traditionally served for breakfast or lunch. The star of the dish to me is a smoldering freshly made sauce in deep earthen tones that sets the spirit of the entire recipe. The sauce is typically made with guajillo or New Mexican chilies. The base of the dish is usually home fried corn tortillas, soaked in the sauce thus softening them then they are piled high with meat, eggs (any style) and other things such as avocado, Mexican cheese, cilantro and Mexican Crema, the Mexican equivalent of a saucier sour cream or crème fraiche.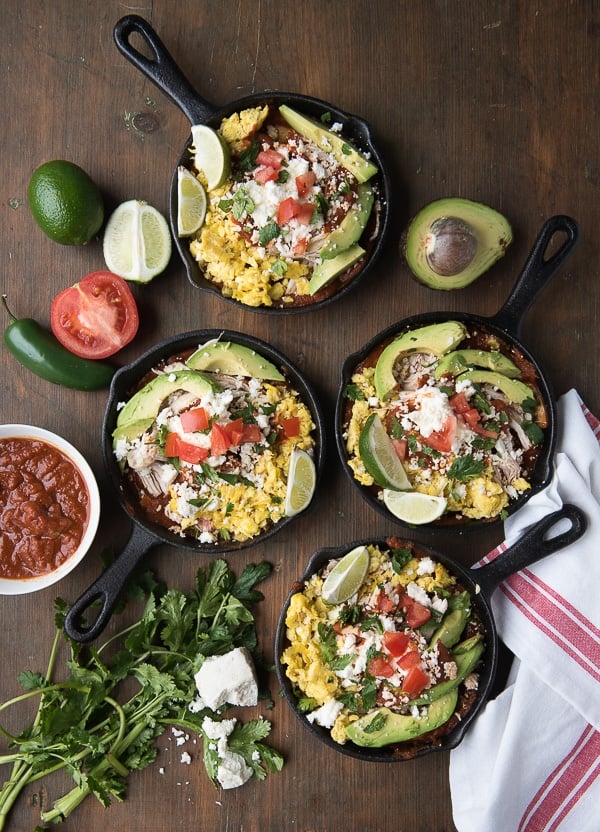 I decided to cut back on the frying in the spirit of a healthier version and instead used fresh corn tortillas as the base. Once prepared, the sauce is also 'fried' meaning it is cooked in oil to mature its flavor; before this step it still has a bit of a raw flavor that the frying removes. I did fry it but in half the oil. Guajillo chilies are difficult to find in some areas. Even where I live, with a large Hispanic population and stores catering to more exotic ingredients I have not had luck finding them in their whole dried form. Instead I opted for dried chipotle chilies, loving their smokiness and heat and finding they are much easier to buy. They are spicier than guajillo chilies however so I used less in the recipe.
Chilaquiles are a great way to use up prepared chicken or rotisserie chicken from the grocery store. Along with scrambled eggs (sunny side up are great too), fresh avocado slices, some chopped tomato for both a fresh taste and visual color, Queso Fresca, lime slices and some extra sauce to drizzle on top.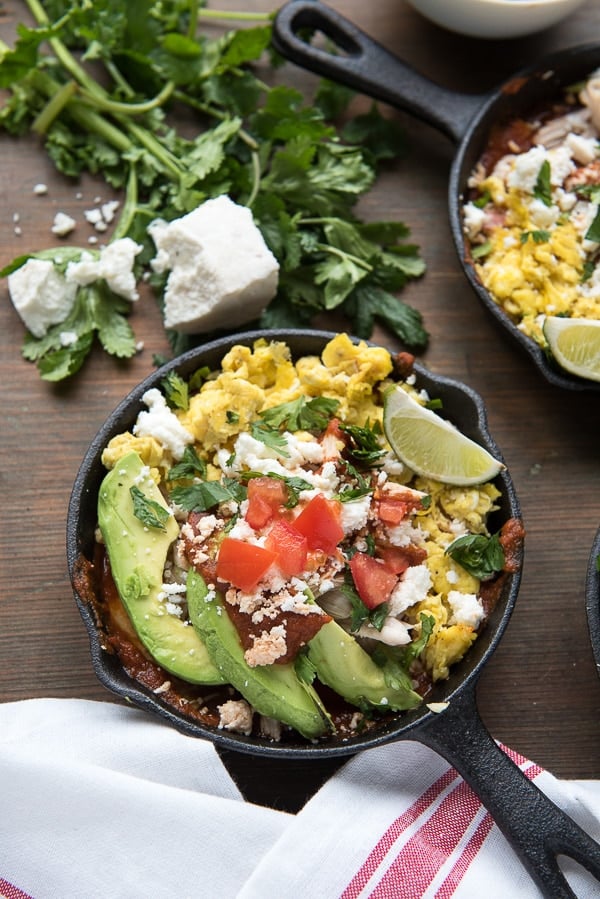 There is something special about foods served in individual cast iron skillets I've found. They are fairly easy to find and the perfect size for a dish like this. Each skillet is layered with ingredients and may be kept in a warm oven before serving, leaving off the garnishes until serving time. Larger ramekins may also be used. The recipe can also be converted into a one dish serve yourself option by combining the ingredients in a large 10-12 inch cast iron skillet.