Wacky Cake is a special cake method using no eggs or milk (but you'll never know from the moist texture). This Triple Chocolate Wacky Cake is an easy to make, fudgy chocolate chip cake made with an old school trick.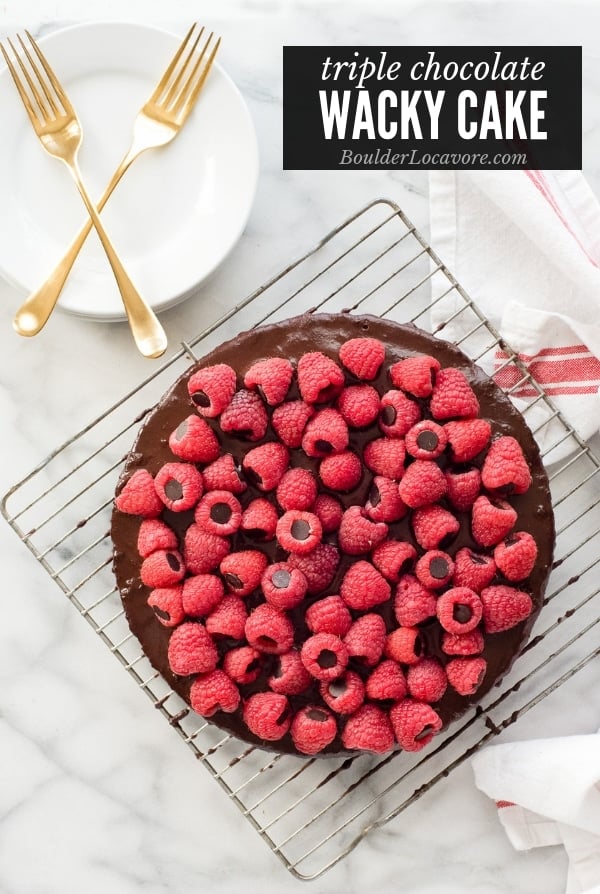 Valentine's Day is on the way and what says 'love' more than chocolate. The more the better too.
Did you know eating chocolate encourages the brain to produce endorphins, the chemicals that make people feel good?
It's true. Just one more reason to love chocolate!
Easy to make, fudgy chocolate chip cake slathered with a chocolate ganache and topped with chocolate-stuffed raspberries; it's delicious!
Triple Chocolate Wacky Cake with Chocolate-Stuffed Raspberries is perfect for chocolate-lovers.
Wacky cake is also a great choice for anyone NOT able to eat traditional cake ingredients. It's a flexible recipe.
It can be made gluten-free, dairy-free, vegan and free of the top 8 food allergens. You'd never guess that when taking a bite!
Triple Chocolate Cake
This Valentine's version of Wacky Cake includes a chocolate triple threat:
It really doesn't get better than this for chocolate lovers!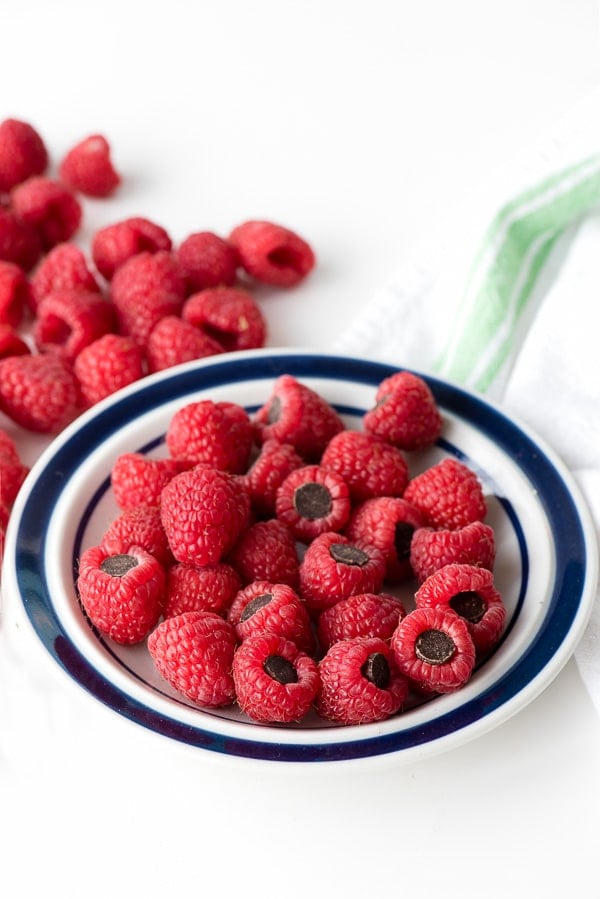 What is Wacky Cake?
Wacky Cake was created during the Depression when eggs, milk and butter weren't readily available.
A chemical reaction between the cake ingredients allows the cake to rise without the usual cake ingredients which became unavailable due to World War II.
The ingredients includes vinegar but you cannot taste the vinegar.
It's also called Crazy Cake, Joe Cake and WW II cake.
I've read many tales about why the cake is called 'wacky'.
Maybe it's the chemical reaction which you can hear when stirring the ingredients.
I've also read it was developed by WAC's (a female branch of the U.S. Army).
But whatever the reason it is a fun and delicious fudgy, chocolate cake ideal for anyone.
Wacky Cake Ingredients
All Purpose Flour or Gluten-free Flour
Granulated Sugar
Unsweetened Cocoa
Kosher Salt
Baking Soda
Vegetable Oil
Apple Cider Vinegar
Vanilla Extract
Water
prepared Coffee
Mini Semi-Sweet Baking Chips
Cream or Milk
fresh Raspberries
Dark Chocolate Chips
Make it Gluten-Free or Allergy-Friendly
Those with food allergies, along with anyone else who loves luscious chocolate cake will enjoy this recipe.
This Wacky Cake recipe is very adaptable to accommodate key food allergies.
There are ingredient notes in the recipe card at the end of the blog post to suggest alternatives.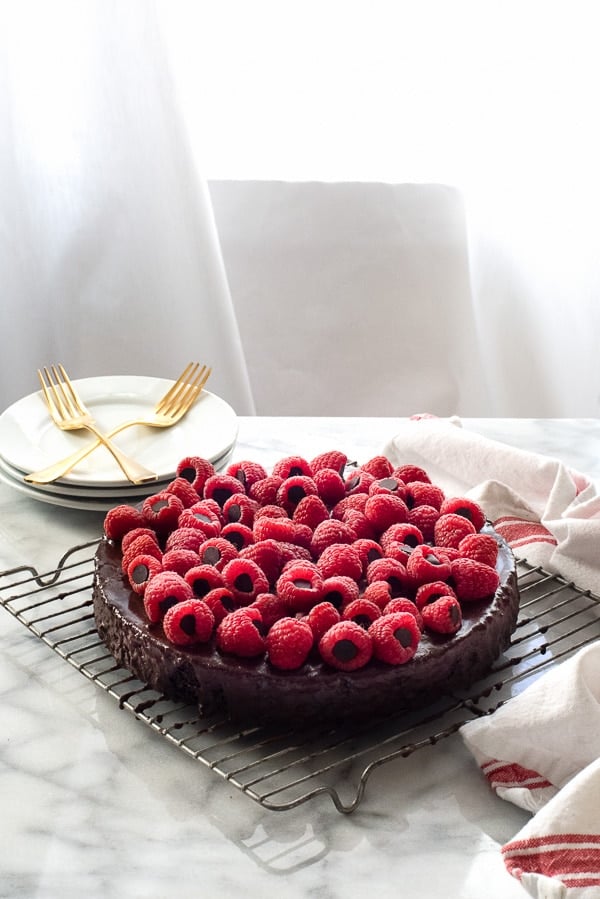 How to Make Wacky Cake – Step-by-Step
Though Wacky Cake is not difficult to make, it does require a specific method!
Does this method make a difference? Yes, in my findings it does.
I had one mistake when the divot for the oil was not large enough and seeped out.
The batter in that test round was much thinner; go figure.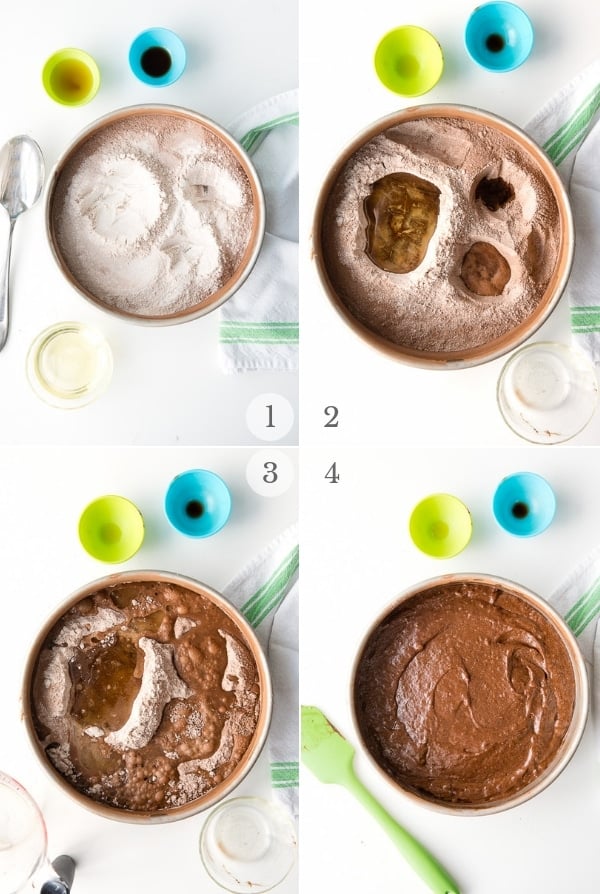 For detailed instructions refer to the Wacky Cake instructions in the recipe card below.
STEP 1: Preheat the oven to 350 degrees and prepare a 9-inch round cake pan.
STEP 2: Mix the dry ingredients together, add to the prepared pan and make three divots (indentations) in the floury mix. (photo 1)
STEP 3: Pour the oil into the largest divot, vanilla into another and vinegar in the third. (photo 2)
STEP 4: Pour the water and coffee over the top of the other ingredients and mix together with a fork. (photos 3 and 4)
STEP 5: Stir in chocolate chips and bake for 30-40 minutes.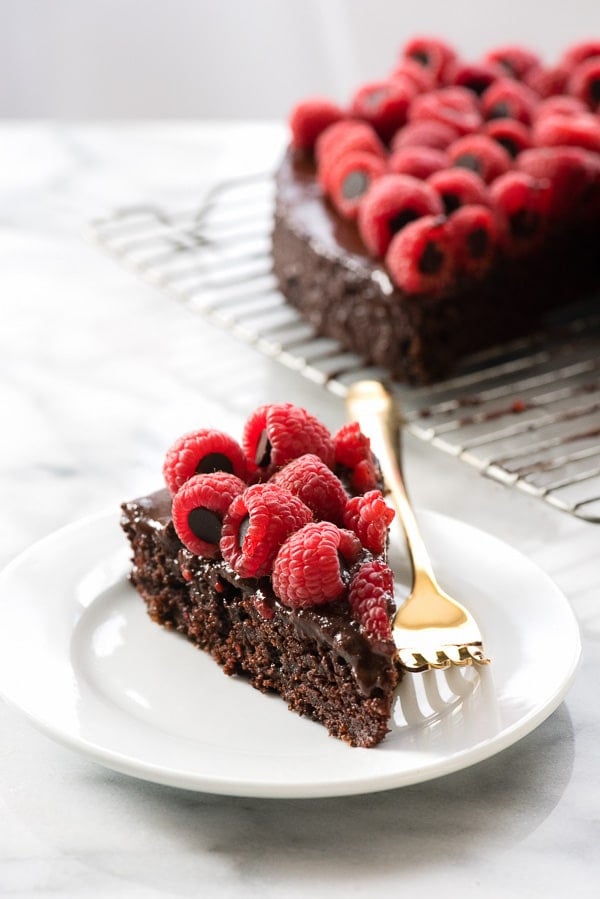 Baking Wacky Cake at Altitude
I also have found Wacky Cake bakes very well at altitude.
Baking gluten-free at 5,500 feet can be nightmarish and this cake comes out perfect every time.
Making Chocolate Ganache
What IS Chocolate Ganache?
Chocolate Ganache is a rich icing or glaze that is perfect to pour over a cake.
It's thicker than traditional glazes but not as thick as a frosting.
Chocolate Ganache is made with a mixture of melted chocolate and cream.
Traditionally, cream or any dairy milks are used to make ganache.
Heat chocolate baking chips and cream or milk together until the chocolate melts.
Whisk together and remove from heat.
Allow to thicken in the refrigerator before using.
Chocolate ganache is very easy to make and adds a rich chocolate coating on the Wacky Cake.
To avoid the main food allergens: make the ganache with melted allergy-friendly chocolate (like Enjoy Life Foods) and rice milk.
Details in recipe card below.
Another option if you can eat dairy products isChocolate Cream Cheese Frosting.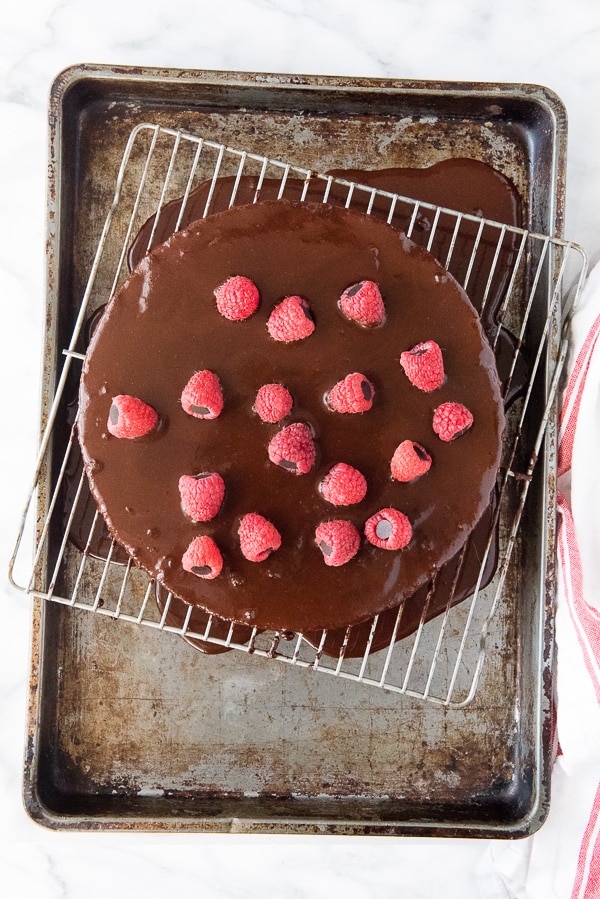 PRO TIP: Best Way to Add Ganache
Because chocolate ganache is a more liquid consistency until it sets I have a tried-and-proven technique to add it:
Place the cake on a cooling rack inside a large rimmed baking sheet.
Pour or spoon on the ganache.
Allow the excess to drip below into the baking sheet below.
Once the chocolate ganache has set move the cake to a serving plate or storage container.
By using this method the cake will not become soggy sitting in the extra ganache!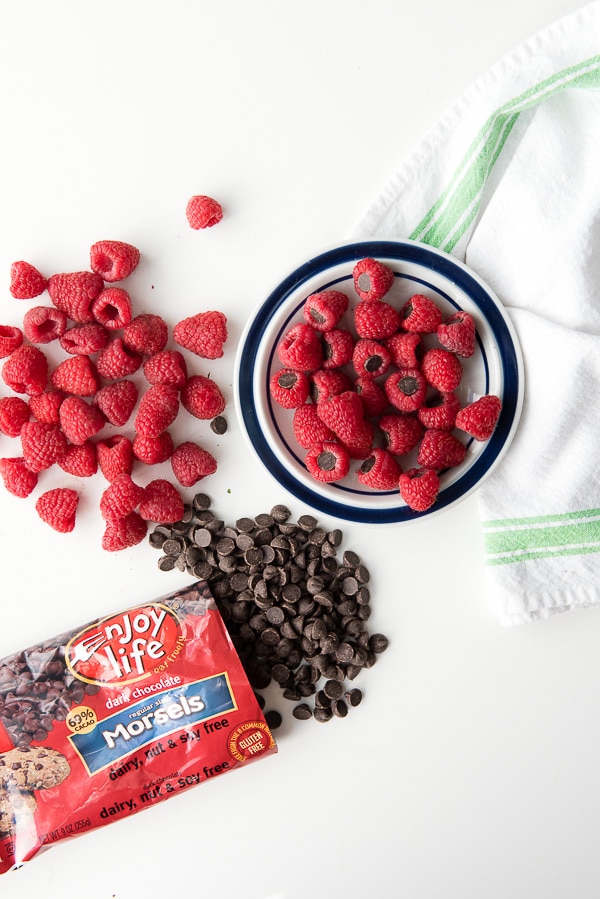 Chocolate Chip Stuffed Raspberries
Chocolate Chip Stuffed Raspberries top the Wacky Cake but are fantastic and a quick to make treat by themselves.
They take mere minutes to construct and the flavor combo is beyond delicious.
A fun treat for kid's lunchboxes, as a light dessert or for decorating other baked goods!
They really add the finishing touch on the cake making it perfect for the ones you love this Valentine's day.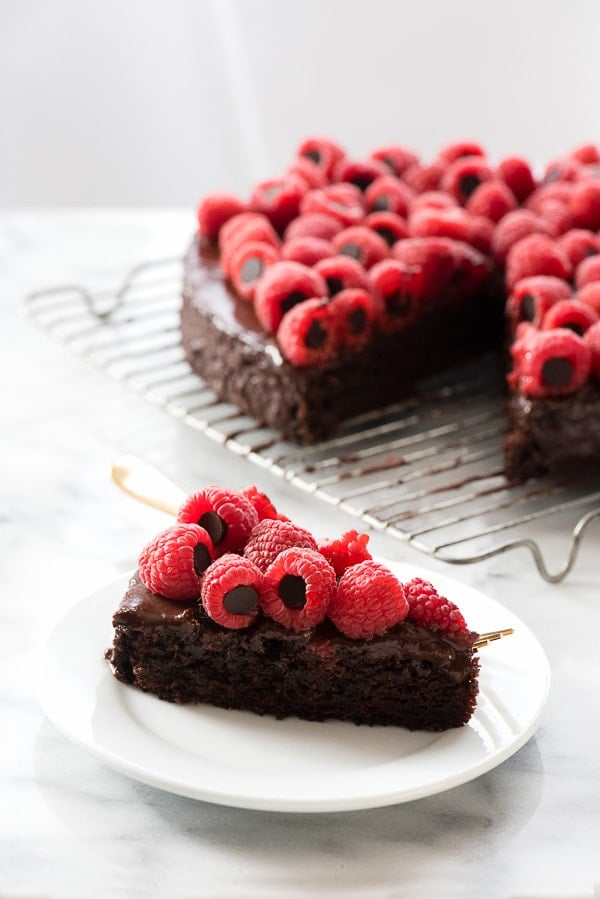 Storing Wacky Cake Leftovers
Store in an airtight container in the refrigerator for up to 4 days.
Did you make it? Please RATE THE RECIPE below!
Please SUBSCRIBE and FOLLOW ME on FACEBOOK , TWITTER , INSTAGRAM and PINTEREST !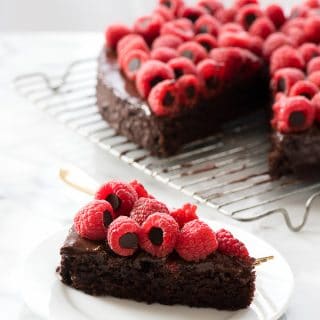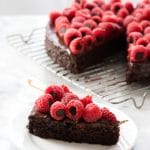 Wacky Cake Recipe
Wacky Cake is a great way to make a fudgy chocolate cake without eggs, butter or milk/cream.
Total Time
1
hour
20
minutes
Ingredients
1 ½

cups

All Purpose Flour or Gluten-free Flour measure-for-measure flour blend

1

cup

Granulated Sugar

½

cup

Unsweetened Cocoa

(plus 1-2 tablespoons to prepare the pan)

½

teaspoon

Kosher Salt

1

teaspoon

Baking Soda

¼

cup plus 2 tablespoons

Vegetable Oil

1

tablespoon

Apple Cider Vinegar

1

teaspoon

Vanilla

½

cup

Water

(room temperature)

½

cup

prepared Coffee

(room temperature)

1/2

cup plus 1 1/2 cups

Mini Semi-Sweet Baking Chips

(for allergy-friendly use Enjoy Life Foods Mini Semi-Sweet Baking Chips

1/2

cup

Cream, Milk or Rice Milk (allergy-friendly)

(For allergy-friendly: Organic Rice Dream Classic)

2

6-ounce cartons

fresh Raspberries

½

cup

Dark Chocolate Chips

(use Enjoy Life Foods for allergy-friendly results)
Instructions
Preheat the oven to 350 degrees F.
Preparing the Cake Pan
Grease a 9-inch round cake pan. Spoon a bit of cocoa into the pan and rotate the pan, tapping it to allow the cocoa to cover all greased surfaces.

Turn the pan upside down and tap on a hard surface (over the kitchen sink is great) to release excess cocoa.
Making the Wacky Cake
Sift the flour, sugar, cocoa, salt, baking soda and xanthan gum (if using) into the prepared pan.

Make three wells in the flour mixture; one large and two smaller.

Add the oil to the largest well, and the vinegar and vanilla each to the two smaller wells.

Pour the water and coffee over the entire mixture. and mix together using a fork or spatula ensuring all the dry ingredients incorporate with the wet ingredients (do not overmix).

Mix together using a fork or spatula ensuring all the dry ingredients incorporate with the wet ingredients (do not overmix).

Stir in the chocolate chips.

Bake for 30-40 minutes until the cake is done (it will begin to pull away from the sides of the pan) a toothpick inserted comes out clean. Allow to cool in the pan on a rack for 15 minutes and then turn out onto the rack to finish cooling completely.

Allow to cool in the pan on a rack for 15 minutes and then turn out onto the rack to finish cooling completely.
Making the Chocolate Ganache (refer to Recipe Notes for milk suggestions)
While the cake is cooling, make the Chocolate Ganache: in a metal bowl over a medium saucepan of simmering water (do not allow the bottom of the bowl to touch the water) combine the 1 1/2 cups of chocolate semi-sweet chips and the rice milk or dairy milk.

Stir periodically until fully the chocolate is melted then whisk to fully combine (note: this will thicken the ganache and make it glossy).

Remove from heat and place bowl with ganache a larger bowl with ice in it into the refrigerator to cool and thicken; approximately 15 minutes.

The ganache on the bottom of the bowl will be thicker than the rest; stir and whisk together for an even, thick consistency.
Making the Chocolate Chip Stuffed Raspberries
While the ganache is cooling stuff the Raspberries: Insert one dark chocolate chip into each raspberry, pointed side of the morsel facing the inside of the berry (flat side facing out). NOTE: Stuffed berries may be kept in the refrigerator until adding them to the top of the cake.
Finishing the Wacky Cake
When the cake is fully cooled, place the cooling rack with the cake on a rimmed baking sheet.

Pour the ganache onto the cake spreading it to cover the top and sides; allowing any excess to drip onto the baking sheet.

Place the chocolate-stuffed raspberries on the ganache. Note: the ganache will be thicker than shown in the photo; photo is to illustrate the cake/rack/pan set up.
Recipe Notes
Be sure to make divots for the liquid ingredients deep enough that the ingredients do not run together for best results.
Milk options for the Ganache:
Rice milk was used to make this a full allergy-friendly recipe
The ganache may be made with any milk or heavy cream (the usual) you desire.
The amount needed may vary due to the fat and thickness of the type of milk so start with a smaller amount and gauge adding more by the thickness of the ganache.
Flour options:
Regular all purpose flour, gluten-free flour or gluten-free measure-for-measure type flour may be used.
Allergy-friendly Chocolate:
I recommend Enjoy Life Foods for allergy-friendly chocolate for this recipe.
Nutrition Facts
Wacky Cake Recipe
Amount Per Serving
Calories 394
Calories from Fat 144
% Daily Value*
Fat 16g25%
Cholesterol 0mg0%
Sodium 314mg13%
Potassium 266mg8%
Carbohydrates 61g20%
Protein 5g10%
Vitamin A 10IU0%
Vitamin C 7.4mg9%
Calcium 72mg7%
Iron 2.6mg14%
* Percent Daily Values are based on a 2000 calorie diet.
This post was originally sponsored by Enjoy Life Foods in January 2017. Updated February 2019