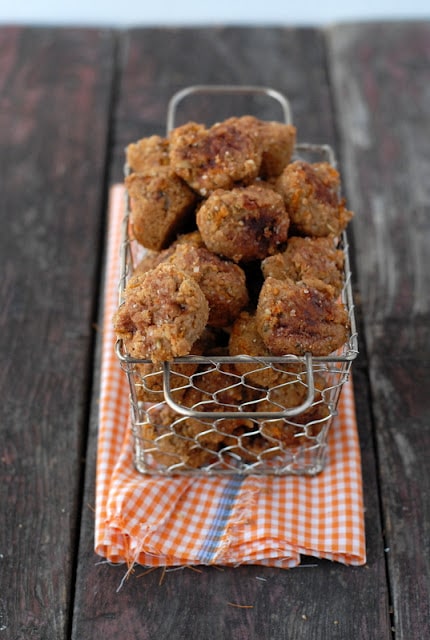 We are having a flirtation with fall.It was still spiking into the 90's as of last week but I don't care.As far as I'm concerned once kids are in school and Labor Day is over, it's fall.I'm dying to wear sweaters and cute boots and until those days arrive, I'm starting to bake.I don't bake in the heat of summer but now that fall has arrived it's on like Donkey Kong.
I have been making these gluten free Mini Fall Spice Muffins for as long as we've been gluten free (about 7 years now). My family loves them as they are reminiscent of carrot cake, though not nearly as sweet.I don't even recall now where I came upon the original recipe because it's been iterated so many times I don't remember where it started.In this case I had an ulterior motive.My kids are athletes and my job in addition to being the driver is the chief 'fueler'.It might sound silly but I've had to cultivate the art of the after-school-before-swimming/soccer snack.They swim for a few hours so it can be tricky to find things they can eat quickly, that gives them enough energy, does not bog them down and of course they like. And then there are the rest of us who just want to enjoy a tasty fall baked good that need attention too.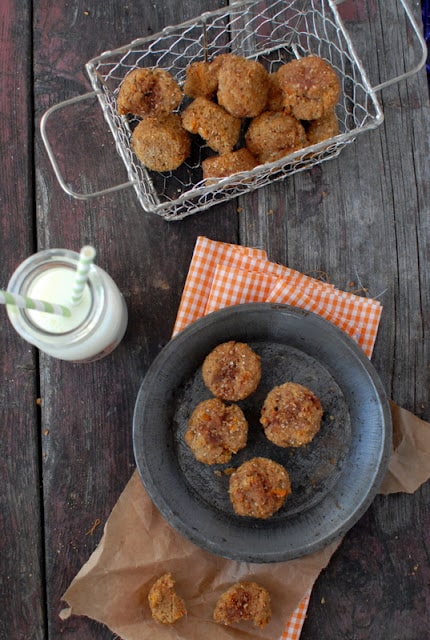 One thing I add in all the homemade bread I make as well as these muffins are Chia Seeds and Hulled Hemp Seeds.Chia Seeds, those from holiday 'cha-cha-cha-Chia Pet' fame, are a super food and something the Aztecs used historically for messengers who would run long distances.They are high in protein, fiber, Omega-3 fatty acids, antioxidants as well as they have an ability to inhibit the speed of carbohydrates turning to sugar.When soaked they develop a gelatinous coating (I'm sure their appeal when endeavoring growing a green afro on a ceramic pig) assisting with hydration and electrolyte balancing.
Similarly hemp seeds bring a lot of easily digestible protein, and the 'healthy fats' (Omegas and other) to the table.All of this nutritional impact is great but here's the upside of these seeds; they don't really taste like anything.Chia seeds are about the size of a poppy seed.Hemp hulls remind me of bits of a sunflower seed; they add texture but no distinct flavor.Therefore their addition ups the nutrition but with no downside on the flavor front.And frankly, when it boils right down to it, we really want good flavor and texture, right? If we don't have that no one cares how good it is for us.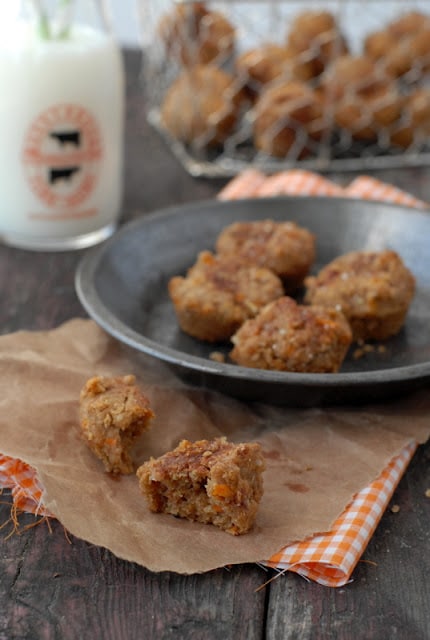 I'm starting to feel a bit like I'm pitching a mini muffin Infomercial so let me wrap up by saying I feel these muffins are very flexible.If you want full size muffins use regular muffin tins filled 2/3's full and bake about 20-25 minutes (check then for doneness by inserting a toothpick and watch for browning on the top).If the chia/hemp seed addition isn't for you, add more nuts for the amount of the seeds.If you want to add more mainstream seeds such as pumpkin or sunflower, chop them up and use in replacement for the other seeds.I like to make them with different color carrots.It adds to their visual appeal. If you like the cinnamon-sugar topping great; if you don't, no problem.I have only made them gluten free however I adapt many gluten-filled recipes to be gluten free.If you want to swap the gluten free flour for gluten-filled, go for it.Now you know why I've lost track of the original recipe!
These muffins also freeze well.I will often make a batch and freeze at least half of it in a zip top freezer bag.If you use a dark colored muffin tin, begin to check for doneness at around 10 minutes.They will cook more quickly.
Makes: 5 dozen mini muffins
·
2 cups all purpose Gluten Free flour (I used King Arthur's Gluten Free blend)
·
1/3 cup granulated sugar
·
1/3 cup light Brown Sugar
·
1 tablespoon Baking Powder
·
½ teaspoon Nutmeg, preferably freshly grated if possible
·
2 tablespoons Chia Seeds
·
2 tablespoons Hemp Seeds (hulled)
·
½ cup unsweeted Coconut, grated
·
¼ cup plus 2 tablespoons Canola Oil
Optional Cinnamon-Sugar topping

– mix together

:
·
2 tablespoons granulated sugar (I use a mix of regular granulated and sparkling sugar used for decorating)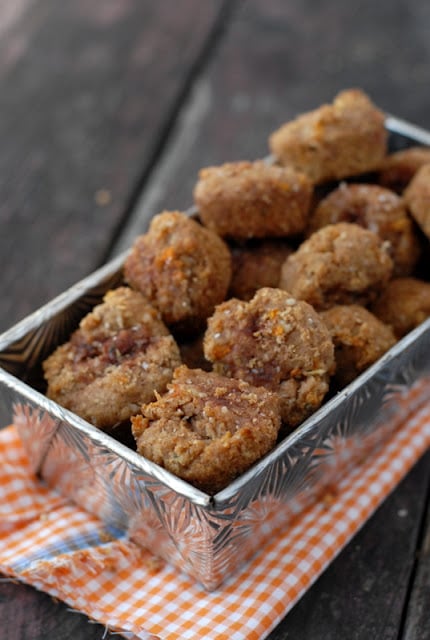 1.
Preheat the oven to 350 degrees.
2.
Prepare 2 mini muffin pans by spraying muffin cavities with cooking spray. Set aside.
3.
In a large bowl mix together by hand the dry ingredients: flour, granulated sugar, brown sugar, baking powder, baking soda, cinnamon, nutmeg, salt.
4.
Add the carrots, pecans, chia seeds, hemp seeds, coconut and stir by hand to full incorporate.
5.
In a separate smaller bowl, combine the buttermilk, canola oil, eggs and vanilla.Whisk to combine.
6.
Add wet ingredients to the larger bowl of dry ingredients.Stir by hand to just combine; do not overmix.
7.
Spoon into muffin tins filling each cavity 2/3's full.
8.
If using the Cinnamon-Sugar topping
:Sprinkle each muffin with a bit of the cinnamon-sugar topping if desired.
9.
Bake in the middle of the oven for 12 minutes.Check for doneness by inserting a toothpick and checking if it comes out clean as well as brownness on the top of the muffins.
10.
Remove from oven.Place pans on a cooling rack and allow to cool for 15 minutes prior to removing from the pan.Allow to cool fully before eating.