Soft, chewy, moist Chocolate Chip Cookie Cake is a cookie lovers dream dessert recipe! Edged with freshly made Chocolate Frosting and drizzled with caramel making it an instant favorite dessert any time.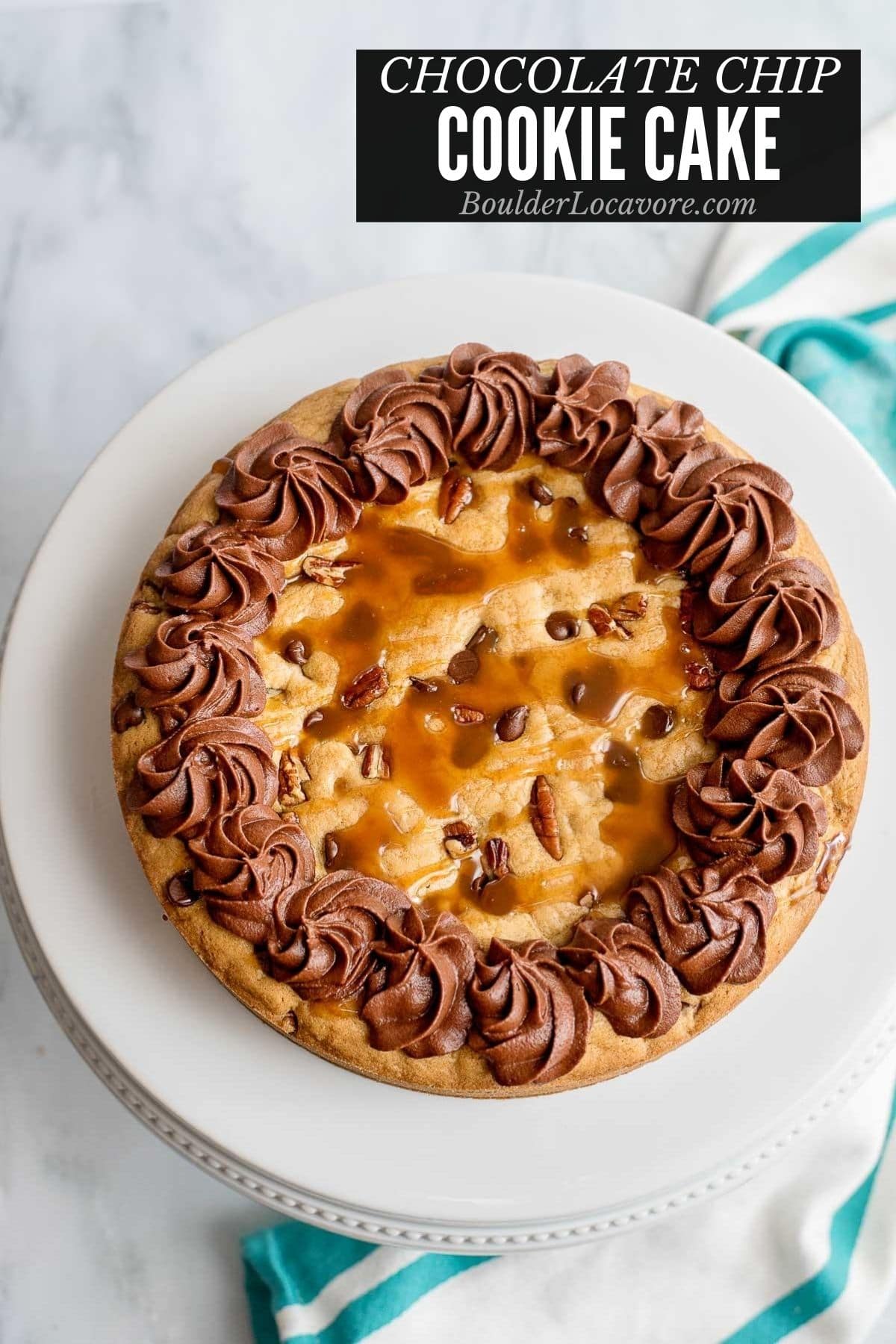 This dessert sensation keeps good company with recipes like a Pizookie or Turtle Brownies in jelly jars.
They are delicious, decadent desserts in an unexpected form everyone loves!
Finished with rich homemade chocolate frosting and a drizzle of caramel (try it with homemade Salted Caramel).
As far as chocolate chip cookie recipes go, this one will go to the top of your list with the first bite.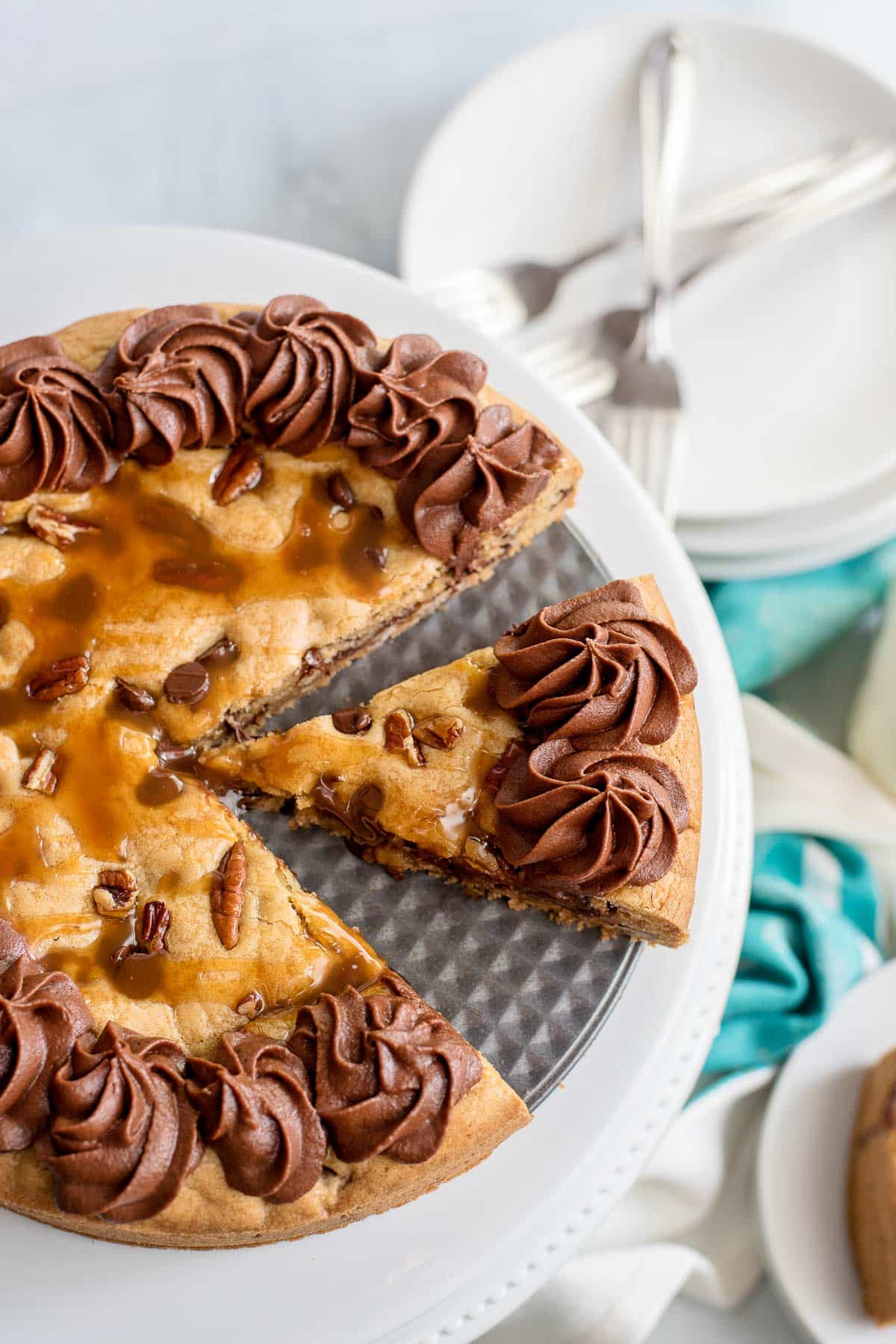 What is a Cookie Cake?
It's a cookie baked in a cake pan.
It's as big around as a 9-inch layer cake pan but all the ingredients are cookie ingredients.
It's served in slices like a cake.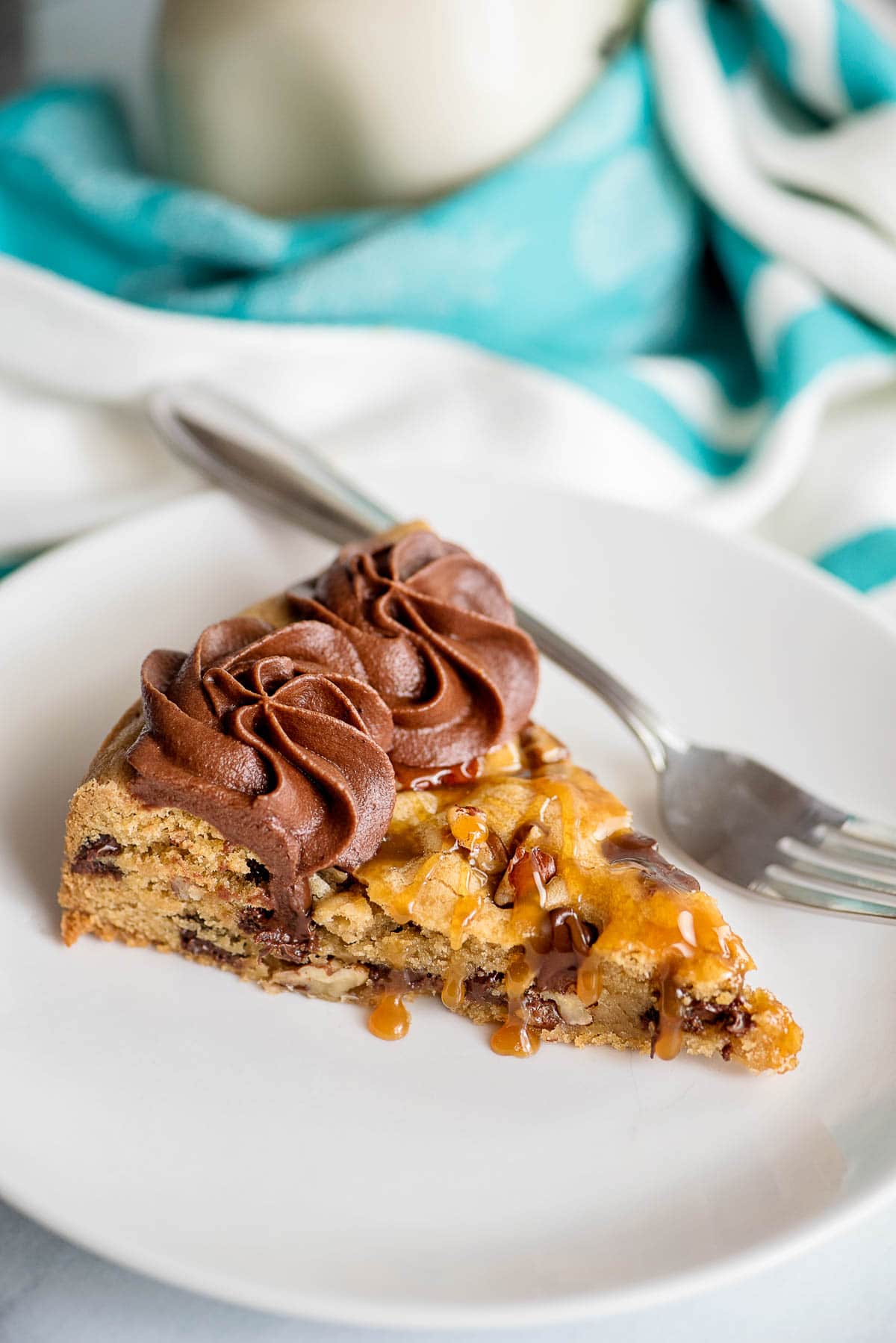 Why make a Cookie Cake?
It's EASIER than regular cookies (faster too)
No scooping or monitoring individual batches to see if they are done
No dough chilling
The texture is soft and chewy, perfect for slicing
A cookie in a new form, especially this large, is a thrill for all dessert lovers
Great for a gathering or celebration (think birthday cake with a scoop of ice cream for a birthday party!)
Can be decorated any way you want
LOADS of chocolate and pecans
Anyone can make it! It's an easy recipe

Recipe Ingredients
Flour – use regular All Purpose Flour or gluten-free measure-for-measure flour blend.
This recipe has been tested successfully with both! I use and highly recommend Bob's Red Mill Gluten-Free 1-to-1 Flour Blend if making this cookie cake gluten-free.
Eggs – 1 whole egg plus an egg yolk make this a rich dough.
Baking soda – for making the dough rise.
Salt – I use Kosher Salt which is a less 'salty' tasting salt. It distributes well when sprinkled too.
Sugar -brown sugar, granulated sugar and powdered sugar for the frosting.
Butter – use Unsalted Butter. It can be melted in the microwave or on the stovetop.
Cornstarch – it helps keep the cookie cake soft with a pleasing texture!
Milk or cream – used in the frosting to control the consistency.
Vanilla Extract – adds a wonderful flavor.
Chocolate Chips – use semi-sweet chocolate chips. They offer the perfect balance of chocolate flavor without being too sweet.
Pecans – chopped pecans add a rich flavor and crunch.
Chocolate – you can use unsweetened baking chocolate OR bittersweet chocolate for the frosting. I've used both and they each create a luscious chocolate frosting.
How to Make a Gluten-free Cookie Cake?
Just use the suggested gluten-free flour! Everything else is naturally gluten-free.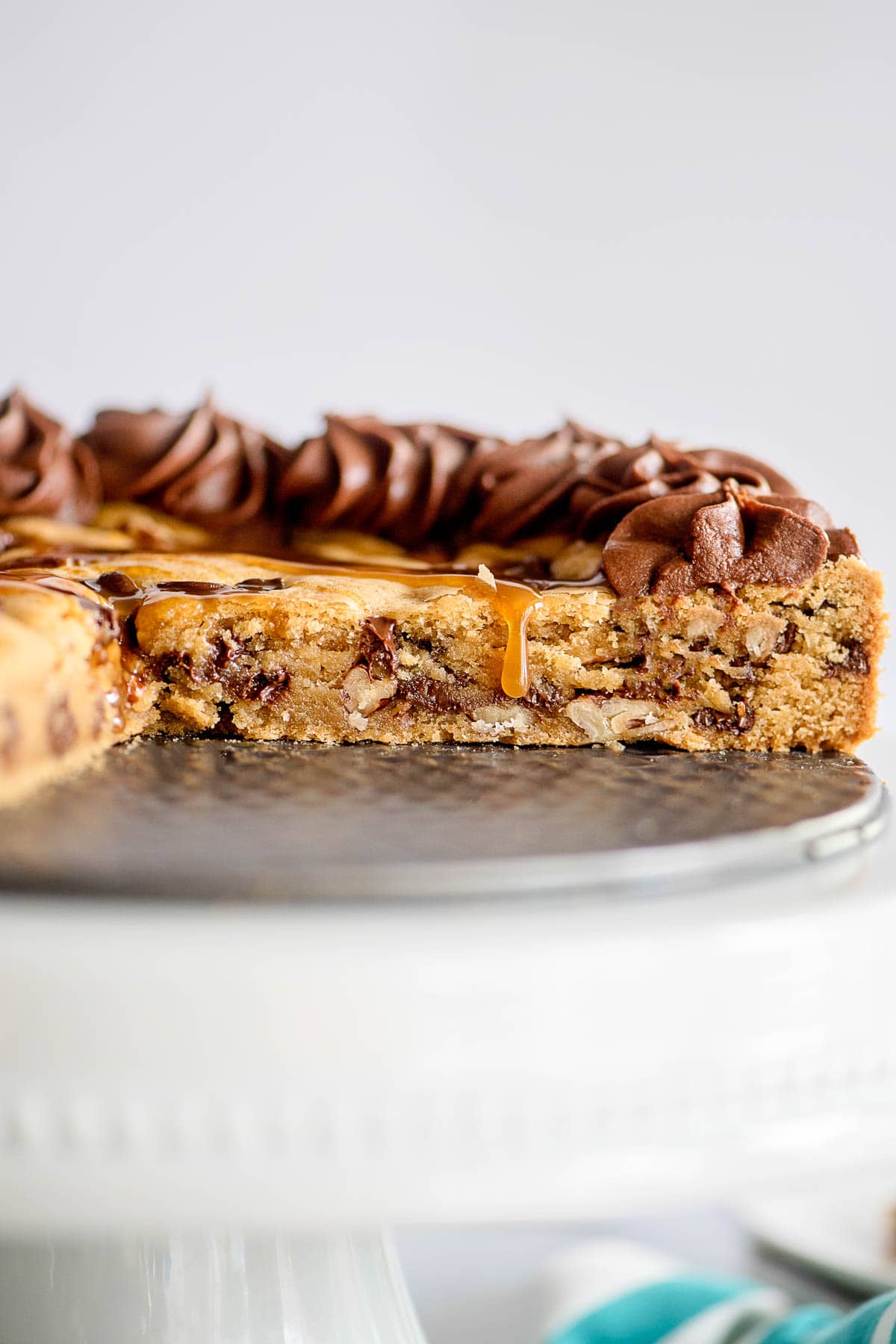 How to Make it – Step-by-Step
STEP 1: Preheat the oven to 350 degrees F. Prepare a 9-inch springform pan with non-stick spray (unless it is non-stick).
This makes for easy removal of the pan sides without damaging the cookie.
NOTE: though a 9-inch round cake pan may be used, it's difficult to remove the cookie cake after baking and cooling.
STEP 2: Combine the dry ingredients and whisk together (photo 1).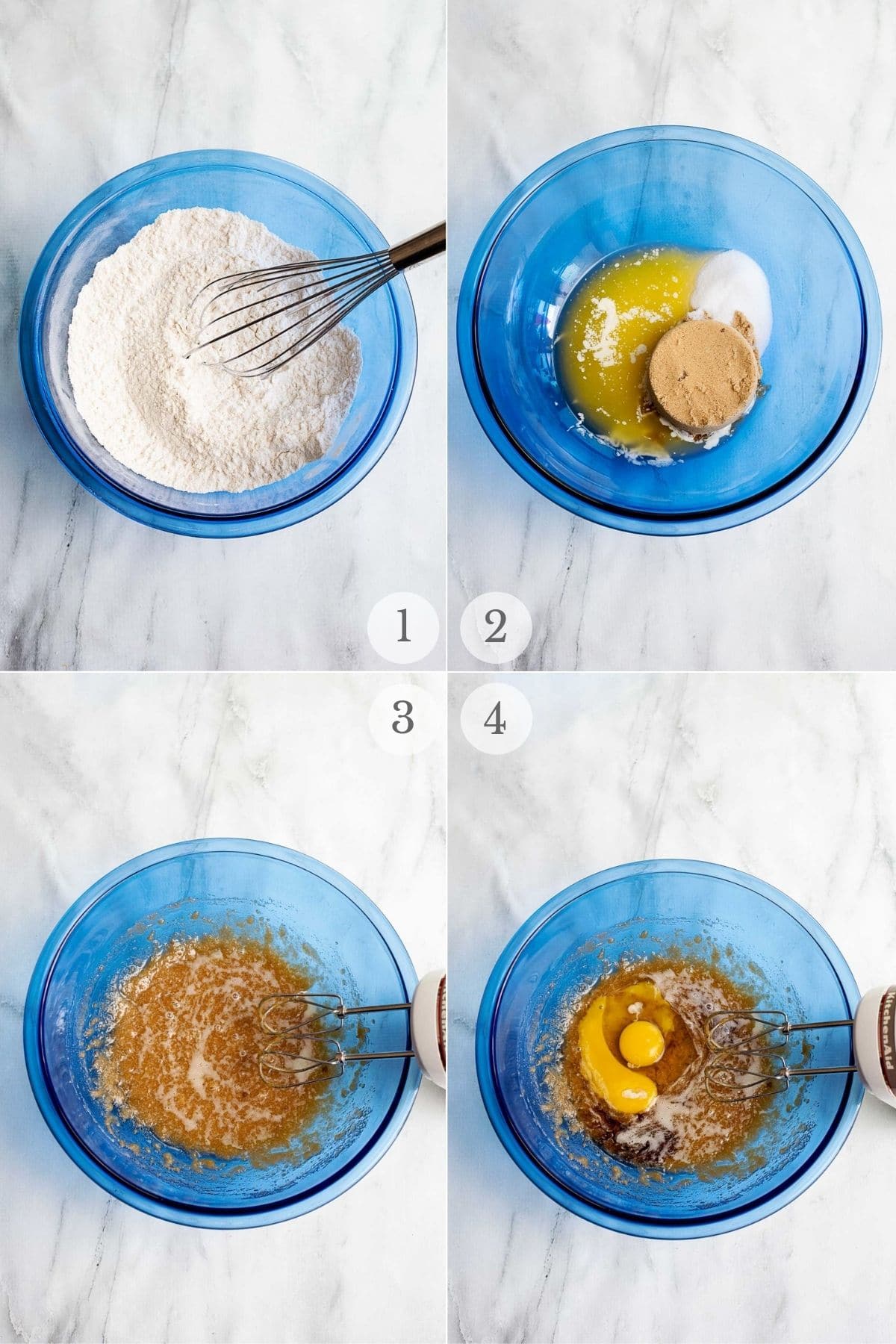 STEP 3: Use a stand mixer or hand mixer to combine the melted butter, brown sugar and granulated sugar (photos 2-3).
Add the egg, egg yolk and vanilla to the butter and sugars; mix to combine (photo 4).
STEP 4: Add the dry ingredients an mix together (photo 5). Fold in the chocolate chips and pecans (photo 6-7).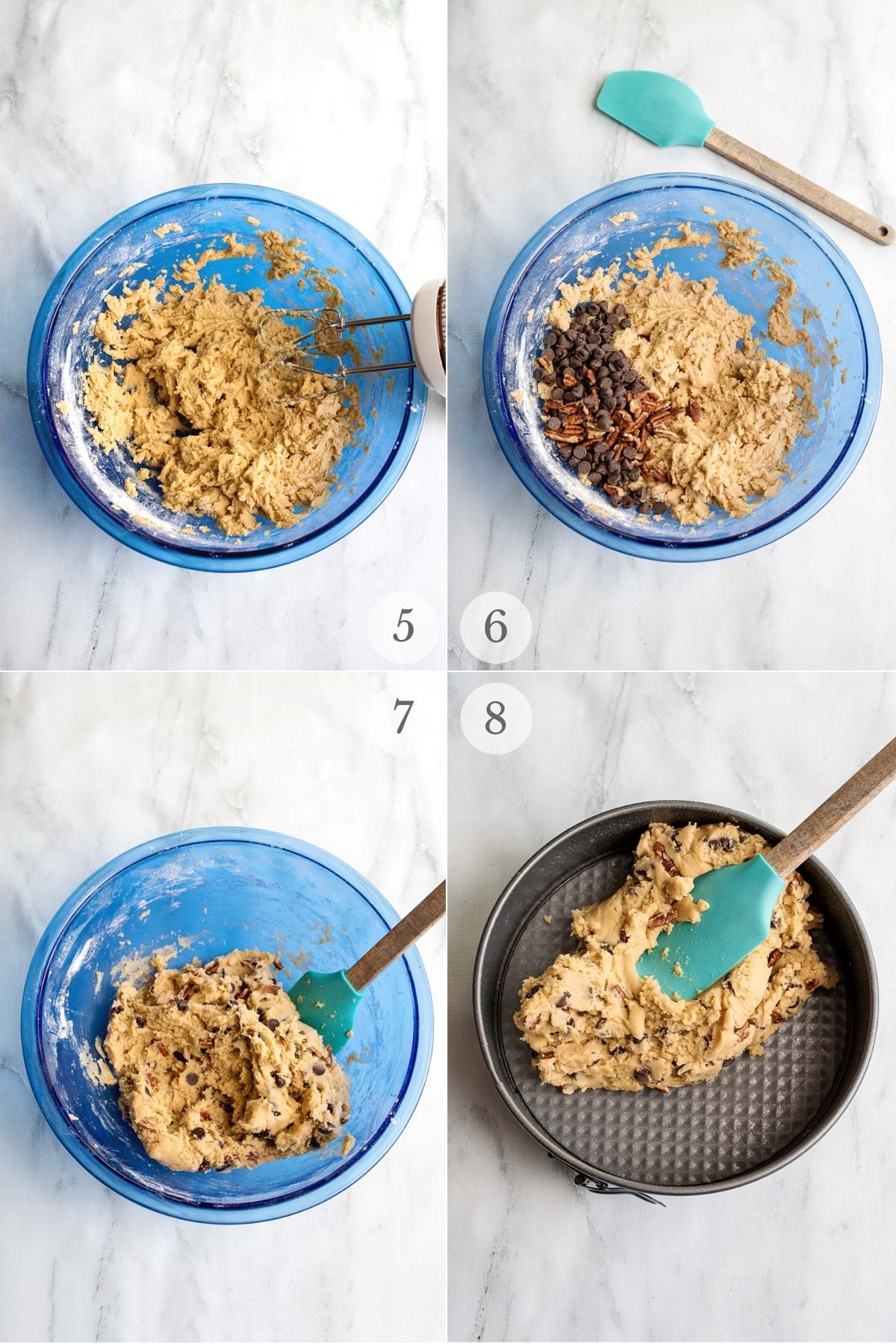 STEP 5: Add the dough to the prepared pan and spread evenly with a spatula (photos 8-9).
STEP 6: Bake for 25 minutes (25-27 minutes). Until the edges begin to brown and a toothpick inserted in the middle comes out clean (photo 10).
Set aside to cool completely before frosting (90 minutes cooking time recommended for best results).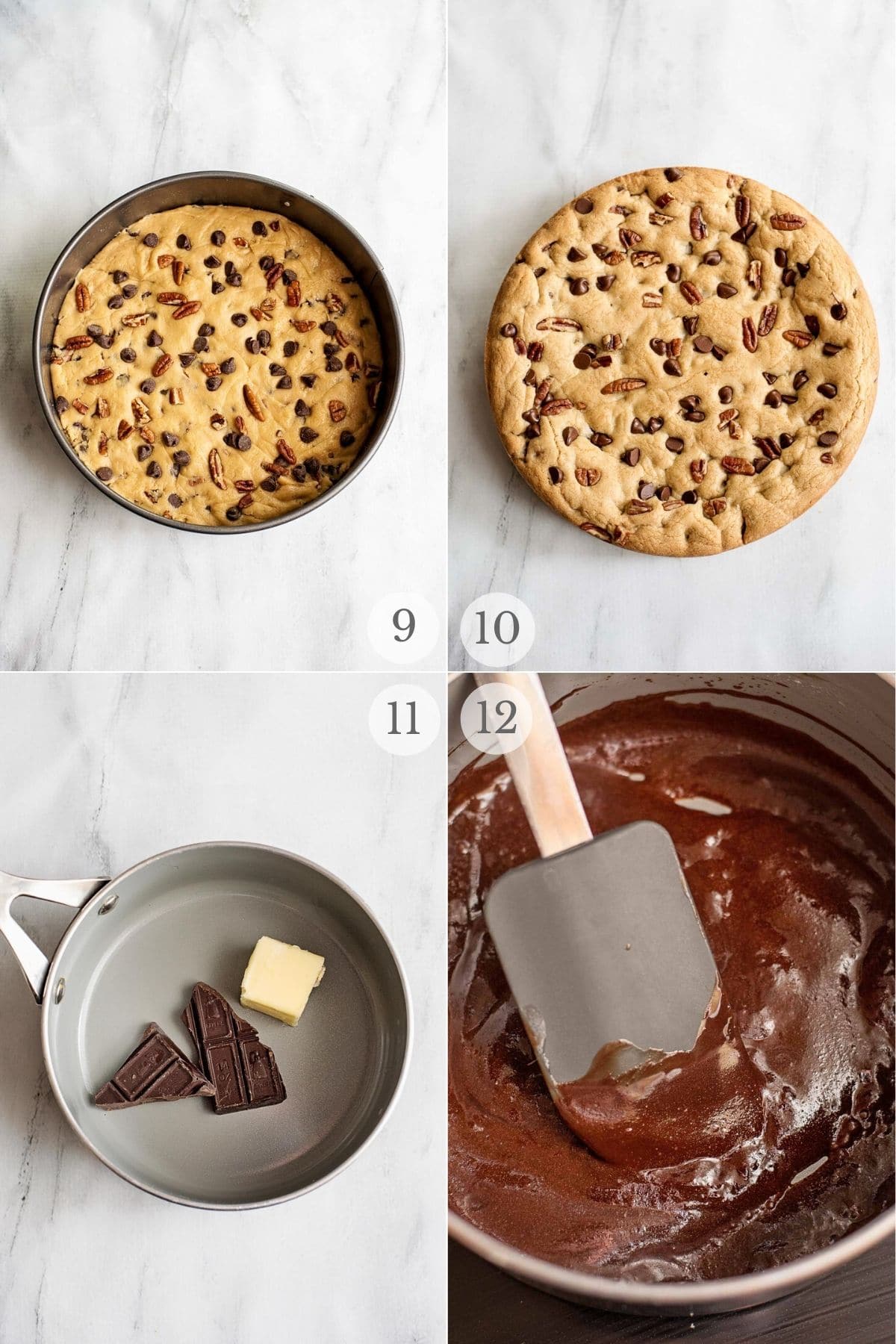 Making the Chocolate Frosting
I recommend making the frosting close to when the cookie cake is fully cooled. If adding the frosting before that will cause it to melt.
STEP 1: In a small saucepan over low heat melt the butter and chocolate together (photos 11-12). Remove from heat and allow to cool for 10-15 minutes.
STEP 2: In a small bowl combine the cooled chocolate, vanilla extract, powdered sugar and half of the milk, (photo 13). Mix together to achieve the desired consistency (photo 14) adding more milk only if needed.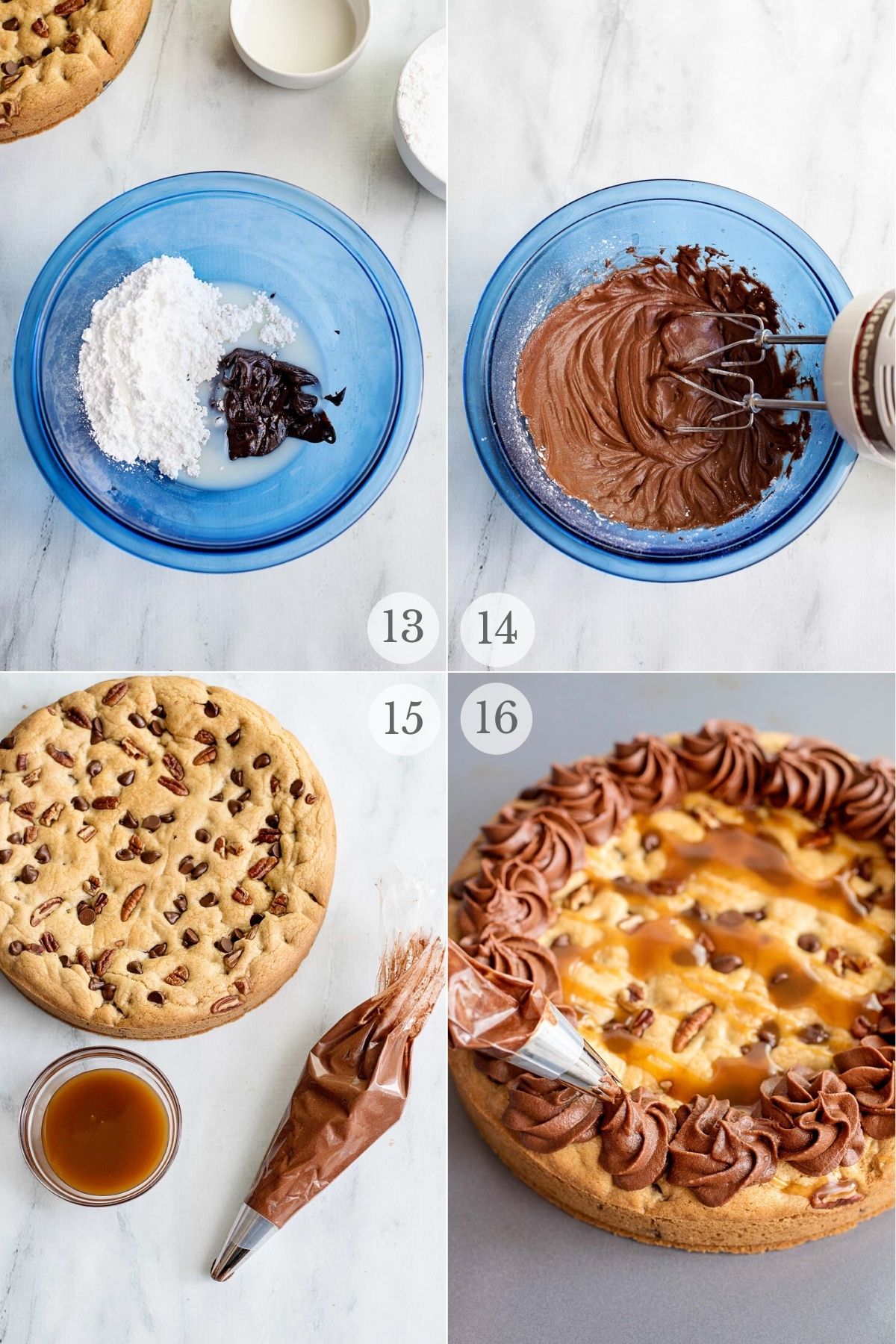 Frosting the Cookie Cake
Equip a piping bag with a 1M tip, or your preferred tip (photo 15). Add the frosting to the edge of the cookie dessert (photo 16).
Drizzle with caramel or add the caramel to slices with serving.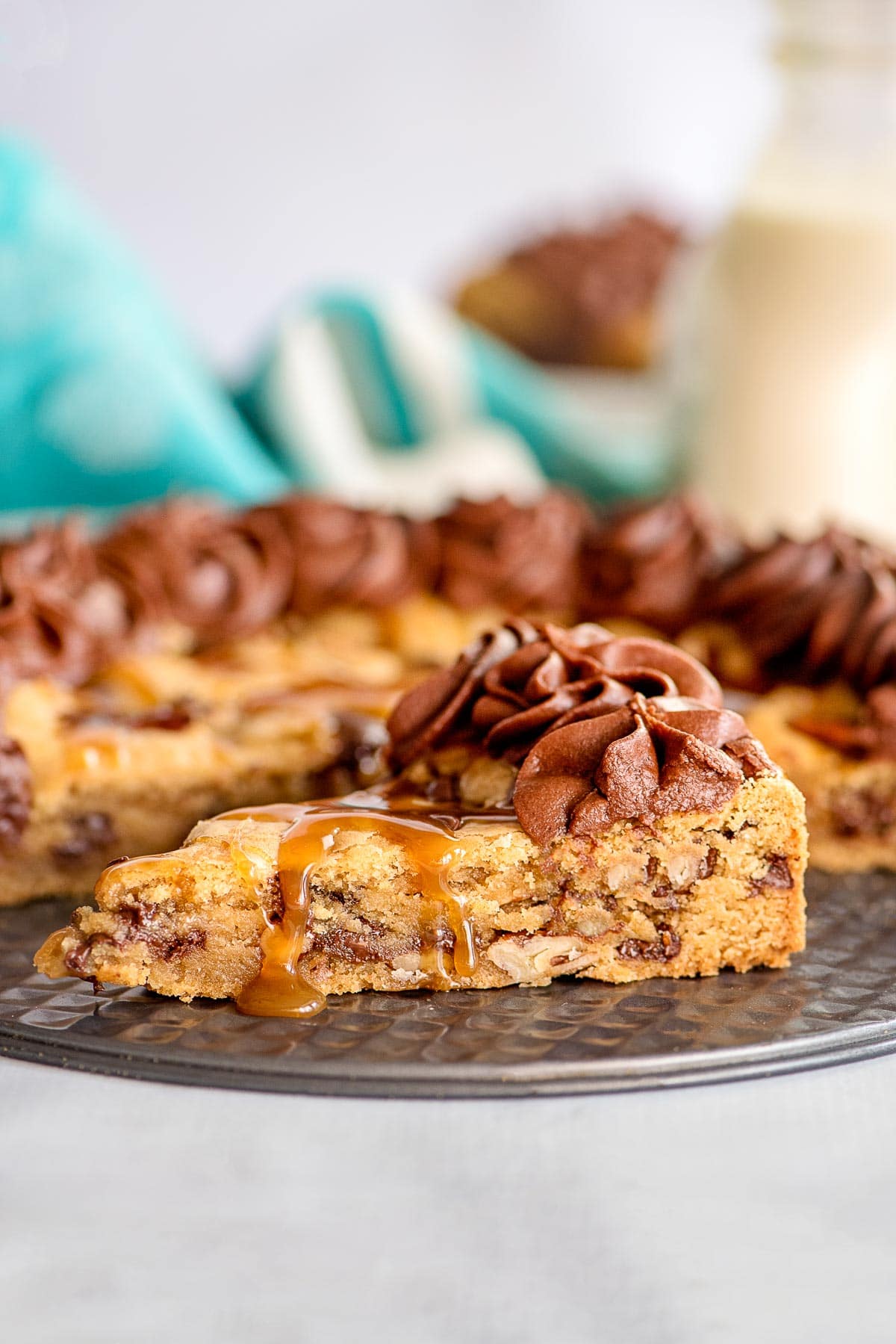 Easy Homemade Chocolate Frosting
Making this frosting with real chocolate makes all the difference in the world.
Some store bought frostings (and even homemade) taste like sugar with some chocolate flavor, this is the other way around.
Luscious chocolate flavor that's perfectly sweetened for this recipe.
How to Pipe a Frosting Star with 1M tip
This video will show how to prepare the piping bag with the tip. This tutorial explains how to make the stars.
Pro Tips
Allow the cookie to fully cool before adding frosting.
Store by putting the side ring back on the springform pan. Then sealing with plastic wrap or foil will not damage the frosting.
How to Store it
Cover and store at room temperature for up to 4 days.
Storing in the refrigerator may cause the cookie to become stiff.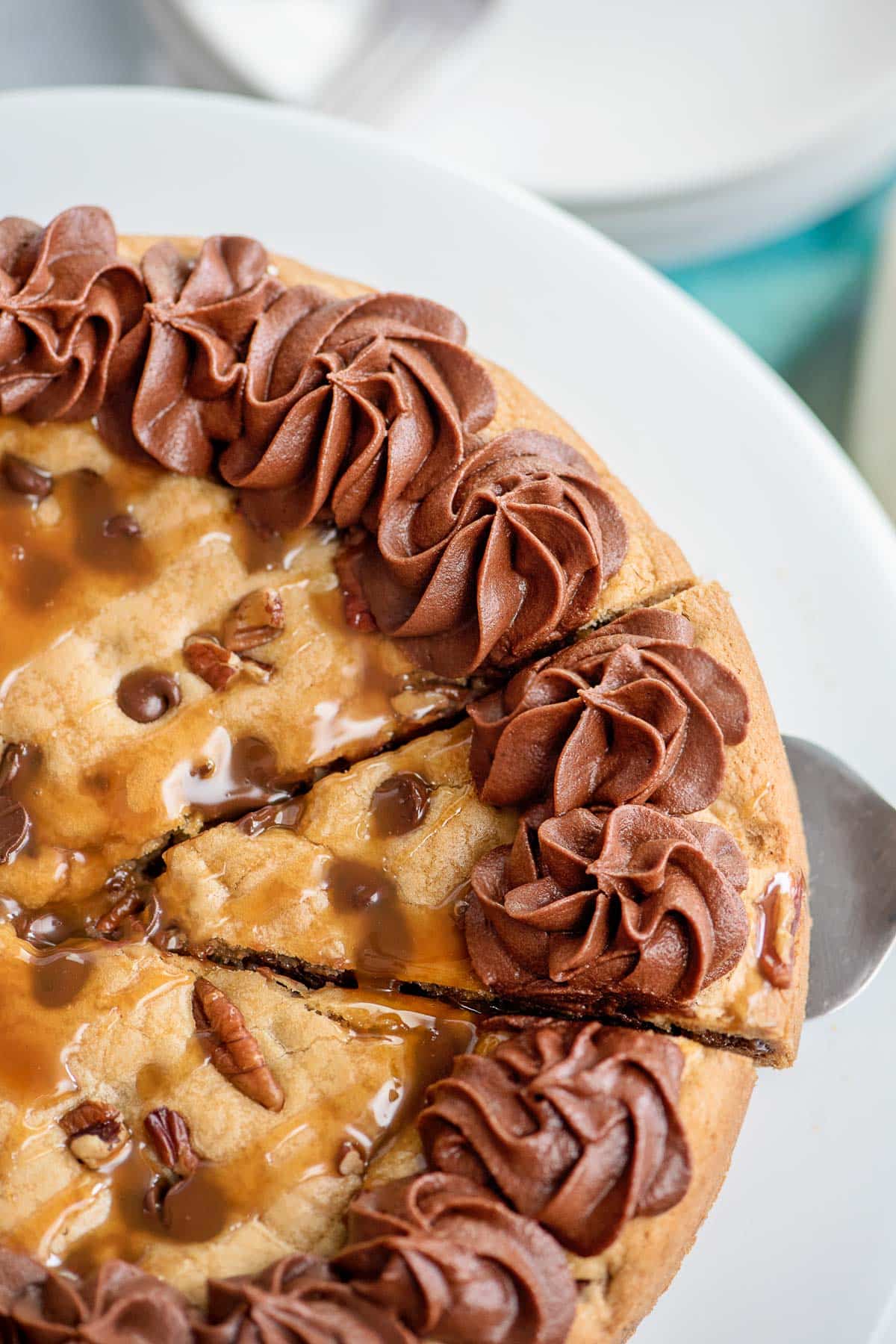 Tried and Tested Recipe
This recipe has been tested at sea level and at altitude. Tested with regular All Purpose flour and with gluten-free measure-for-measure flour blend. All with delicious results!
More Cookie Recipes You'll Love!
Try these Chocolate Chip Recipes too!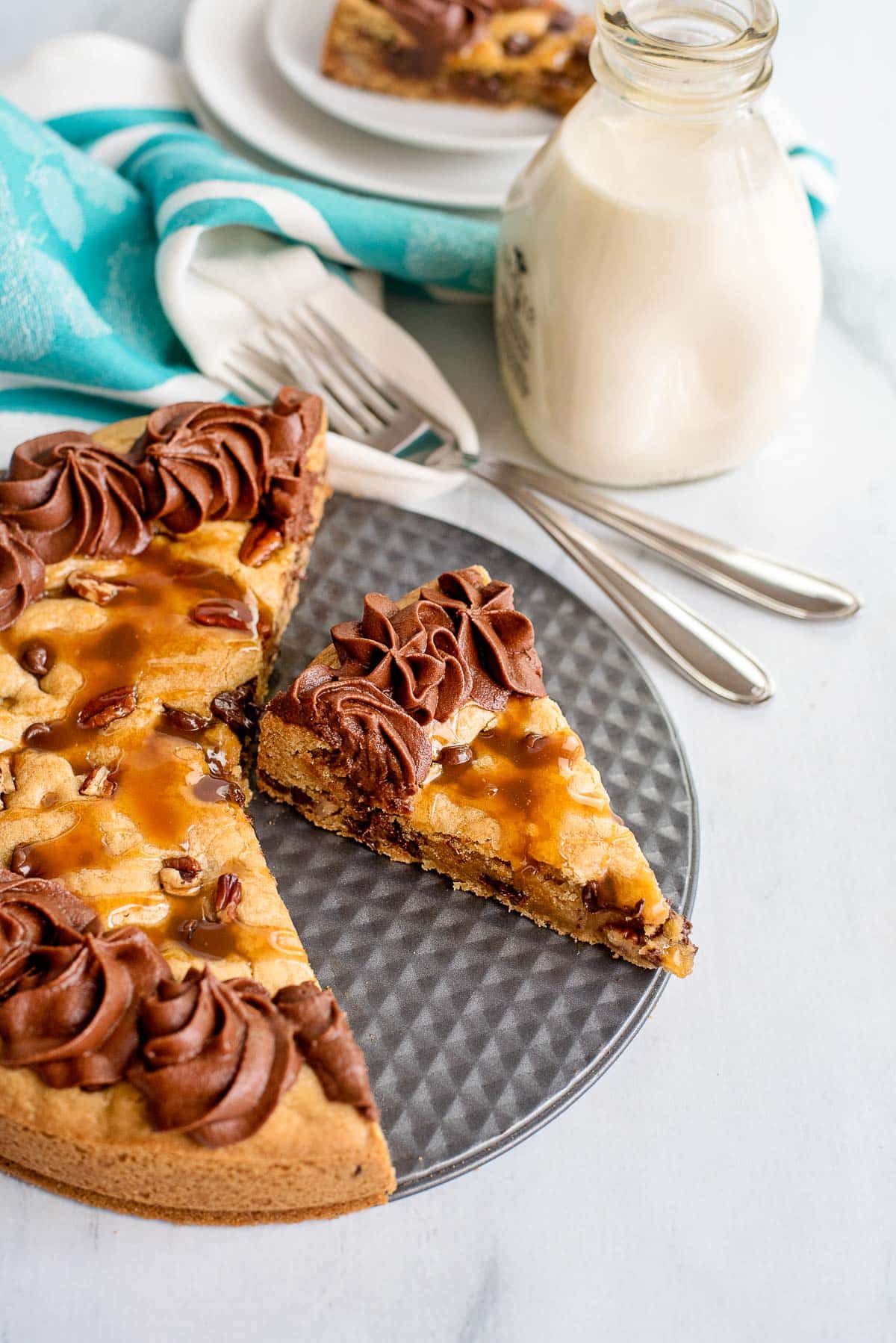 Did you make it? Please RATE THE RECIPE below!
Please SUBSCRIBE and FOLLOW ME on FACEBOOK , TWITTER , INSTAGRAM and PINTEREST !