A 'Pizookie' or skillet cookie is an unexpected treat everyone loves. This easy chocolate chip walnut recipe is served in individual size mini cast iron skillets.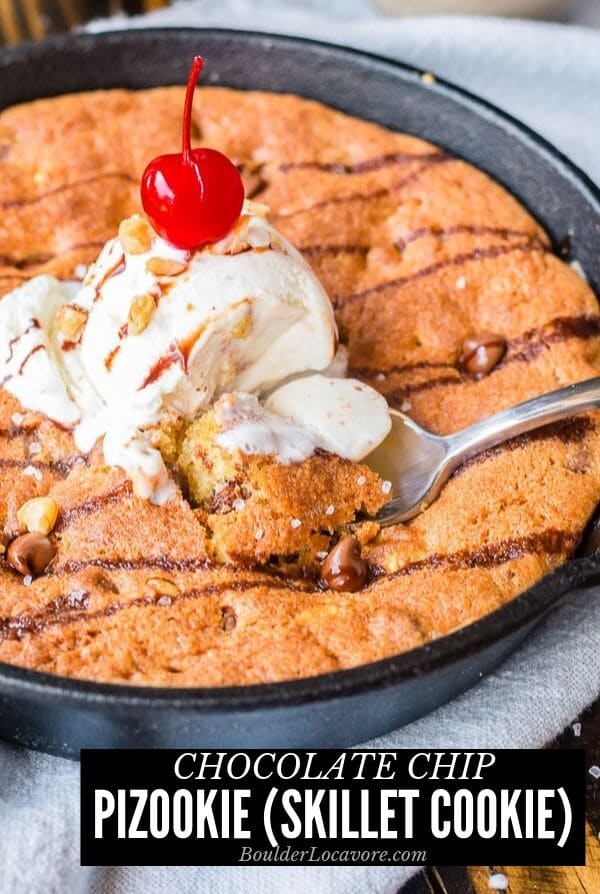 I love having easy dessert recipes tucked in my pocket to make with short notice. A family favorite is this Chocolate Chip Pizookie recipe!
It bakes quickly into that familiar homey chocolate chip cookie texture and flavor everyone loves.
The thing that makes this version even MORE special is that each one is in its own 6-inch cast iron skillet!
What is a Pizookie?
A Pizookie is a cross between a pizza and a cookie. It's a skillet cookie.
All recipes for skillet cookies vary. Some are made in one large skillet to share.
Instead of spooning out individual amounts of dough onto a baking sheet, this recipe is split between 4 personal size skillets.
It's much faster to make than regular chocolate chip cookies.
The novelty of an individual dessert is always exciting for the recipient too!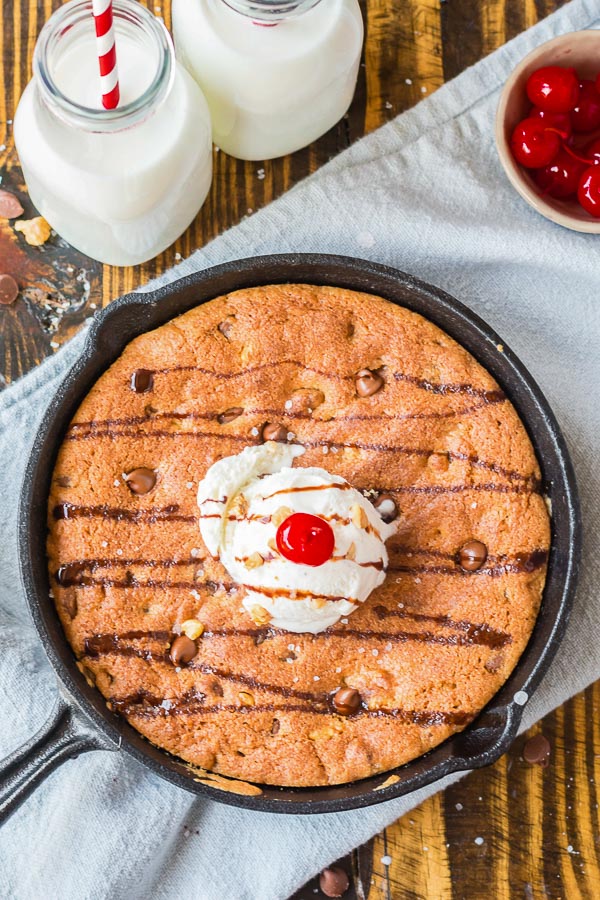 Chocolate Chip Pizookie Ingredients
The ingredients for a pizookie are the same as a regular chocolate chip cookie. The only difference is the cast iron skillets and the cooking time.
Unsalted Butter
Granulated Sugar
Brown sugar
Eggs
Vanilla extract
All Purpose Flour (regular or gluten-free)
Kosher salt
Baking Soda
Chocolate chips
Chopped walnuts
Sea Salt large flake (optional topping)
Pizookies are particularly delicious when served slightly warm with some toppings:
Vanilla Bean Ice Cream
Maraschino Cherries
Chocolate syrup

How to Make a Pizookie or Skillet Cookie – Step by Step
For a detailed, printable recipe refer to the recipe card at the end of the blog post.
Making chocolate chip skillet cookies is very easy. The steps are the same for regular chocolate chip recipe up until preparing to bake them.
Then the recipe becomes super fast!
Preheat oven to 350 degrees F. Grease 4 6-inch cast iron skillets.
In a large bowl with a mixer, cream together the butter, granulated sugar (photo 1) and brown sugar (photo 2); until light and fluffy (photo 3).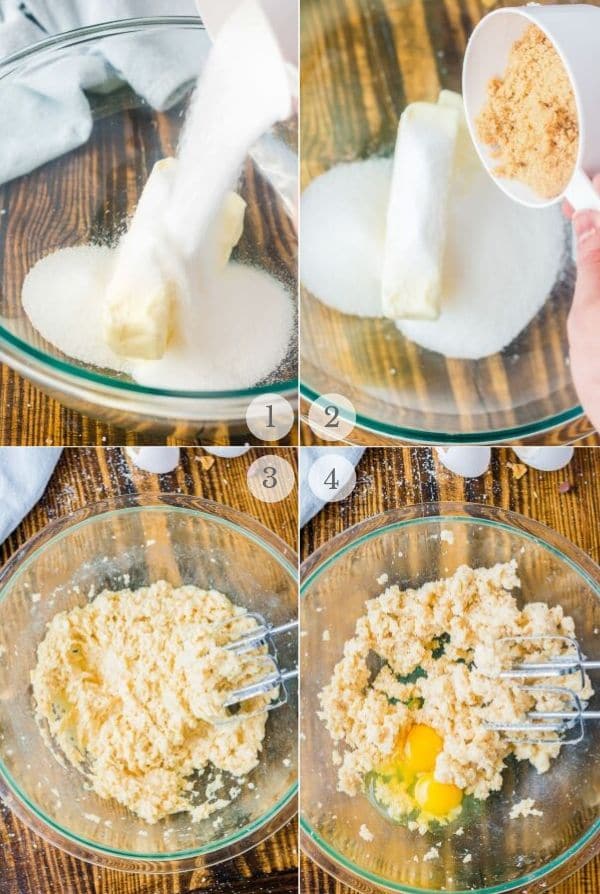 Add eggs (photo 4), one at a time, mixing well after each addition.
Pour in vanilla extract and mix well.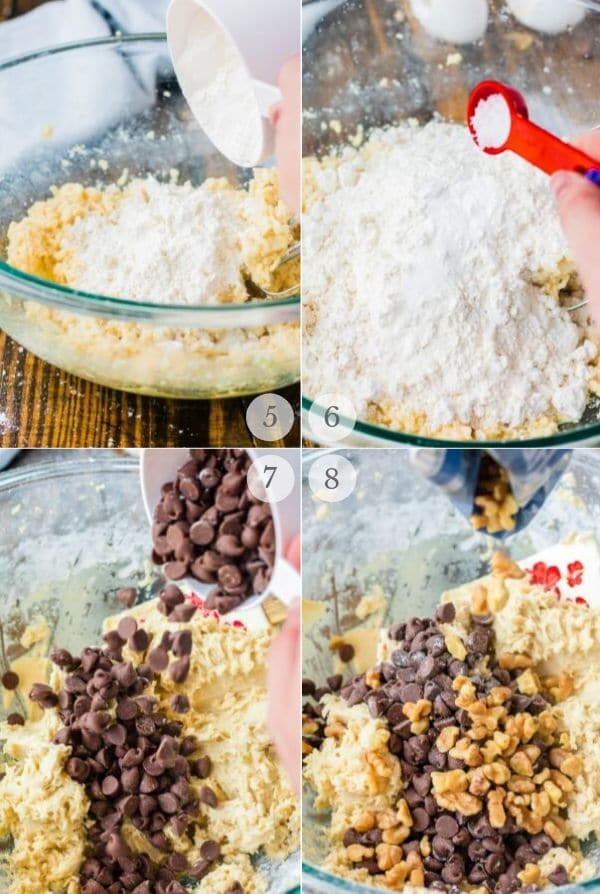 Add the flour (photo 5), salt and baking soda (photo 6). Mix until just combined to form the dough.
Fold in the chocolate chips (photo 7) and walnuts (photo 8) with a spatula until evenly distributed.
Fill the cast iron skillets about halfway with dough and pat evenly (see photo below). Top with sea salt (optional).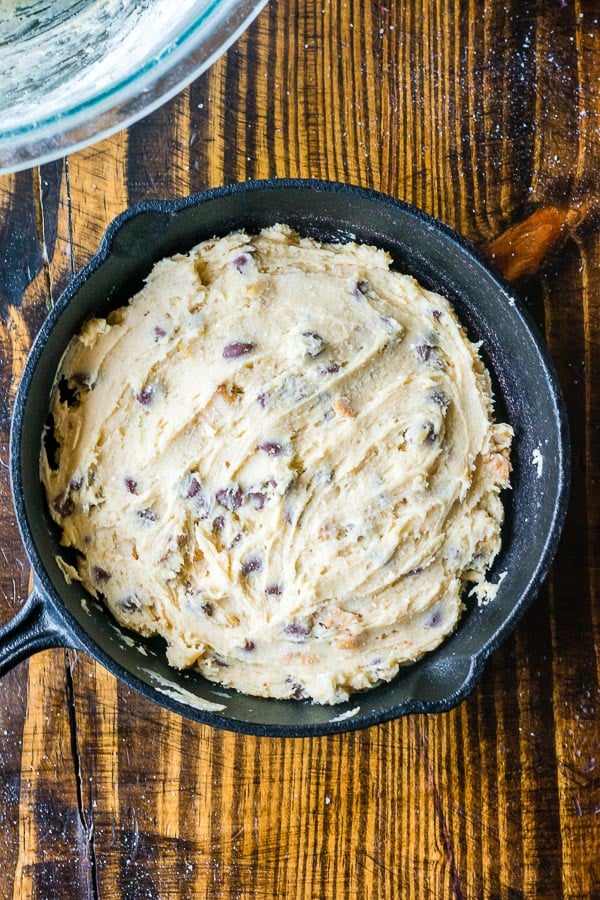 Bake for 20-30 minutes until golden brown and set in the middle.
NOTE: the middle of the cookie will be a little gooey, it is supposed to be this way.
Allow to cool slightly before serving.
Once the cookie is done serve warm topped with vanilla ice cream, chocolate syrup, cherries, or your favorite toppings! The scoops of ice cream are the perfect touch!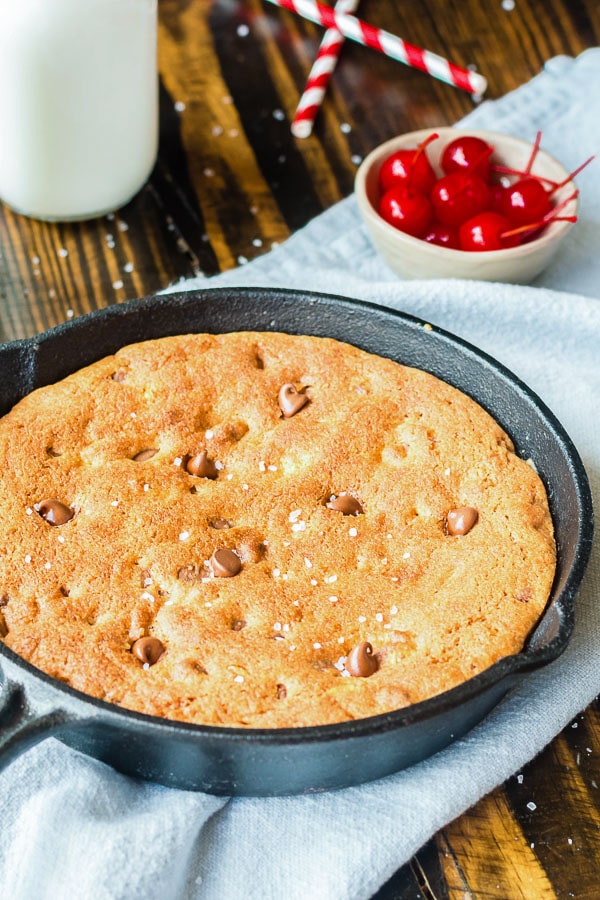 How to Make One Large Pizookie
To make one large Pizookie instead of four miniature skillet cookies:
Use a 10-inch cast iron skillet.
Follow the recipe as described adding all the dough to the prepared skillet.
Bake for the same amount of time, checking for doneness.
Serve sliced into wedges or pass the spoons for shared dining.
How to Freeze the Dough for Later
Chocolate chip cookie dough freezes very well. This Pizookie dough is the same!
The skillet cookie dough can be kept in the freezer for 9-12 months.
If you'd like to save some of the dough for a future batch:
Form a ball (doesn't need to be perfect) and cover fully and tightly with cling plastic wrap.
Place in a freezer storage bag, push out the air and seal tightly.
Freeze until ready to use.
Thaw until pliable in the refrigerator.
Miniature Cast Iron Skillets
Individual size cast iron skillets bring an excitement and charm to this recipe. It's easy to serve too!
I have several mini cast iron skillets. I love using them for chilaquiles, individual portions of Mac and Cheese and more.
The skillets can be purchased online or at stores like Target or World Market.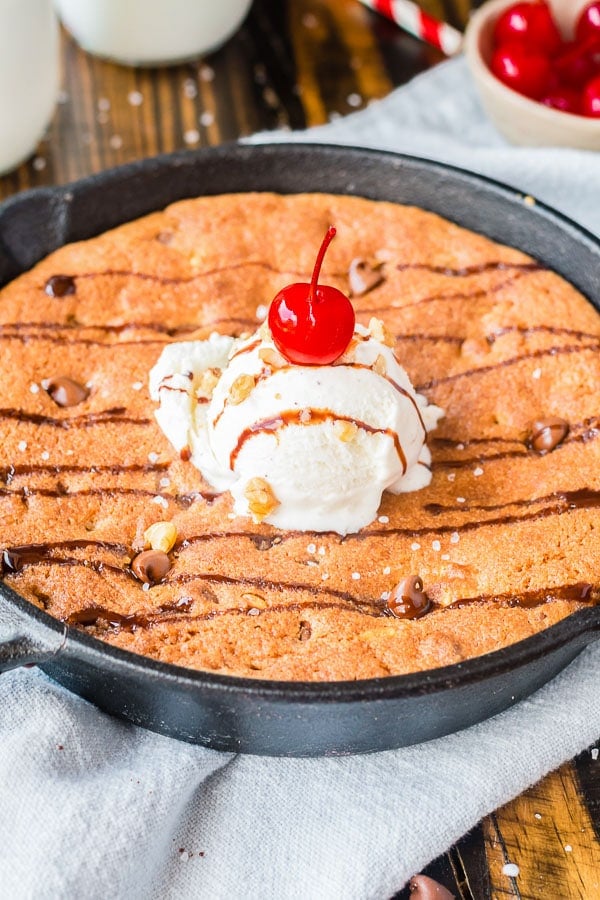 More Delicious Recipes You'll Love
Did you make it? Please RATE THE RECIPE below!
FOLLOW ME on FACEBOOK , TWITTER , INSTAGRAM and PINTEREST to see more delicious food, travel and what I'm up to!