Lemon Cookies are always a favorite with bright, tangy flavor. These Lemon Cake Mix Cookies are SO easy to make! Crinkly tops and chewy centers. Anyone can make them!

Meet your new secret weapon recipe: Lemon Cake Mix Cookies.
Take away fussy measuring, lots of ingredients and you have a cookie recipe ANYONE can make!
Your cookie lovers will be begging you to make these again and again.
And you'll be happy to do it because they are so darn easy.
What are Cake Mix Cookies?
Probably the easiest cookies you'll ever make!
Instead of creating dough from scratch, a cake mix is used for the dry ingredients and rising agents.
Eggs and oil are added. The dough is rolled into individual cookie dough and baked like normal cookies.
The result is a delicious cookie with a chewy center.
Lemon Cookies
Lemon cookies are always a mouthwatering treat.
Making lemon cookies with the cake mix cookie method will become a favorite!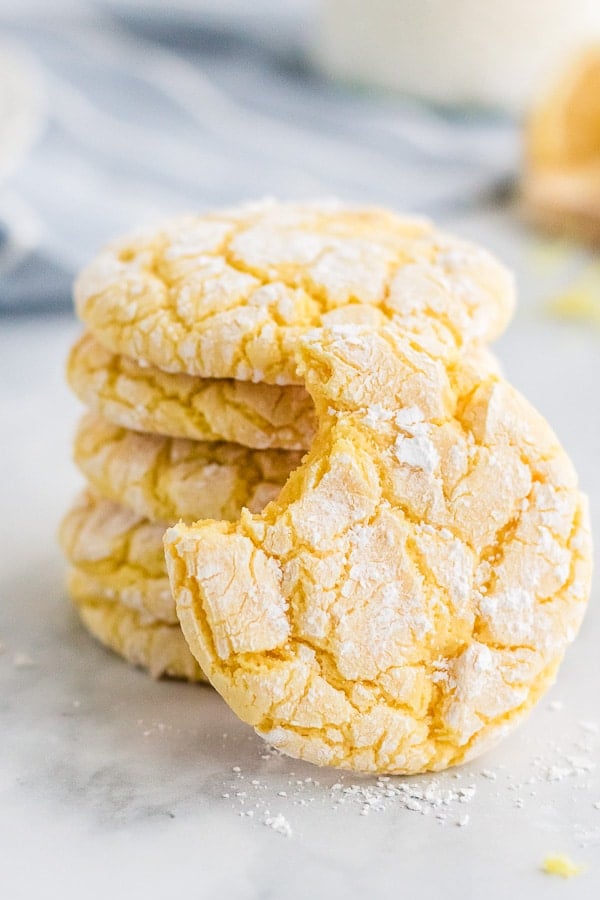 Ingredients
Lemon cake mix
Eggs
Vegetable oil
fresh Lemon Juice
Lemon Zest
Confectioner's (powdered) Sugar

Ingredient Notes
Lemon Cake Mix
Any brand lemon cake mix can be used provided it is the correct amount: 18.25 ounces.
Regular or gluten-free cake mix may be used.
Lemon Cake Mix Substitution
If lemon cake mix is unavailable to you, use a white cake mix or yellow cake mix.
Increase the lemon juice to 2 tablespoons and use the zest of a whole lemon.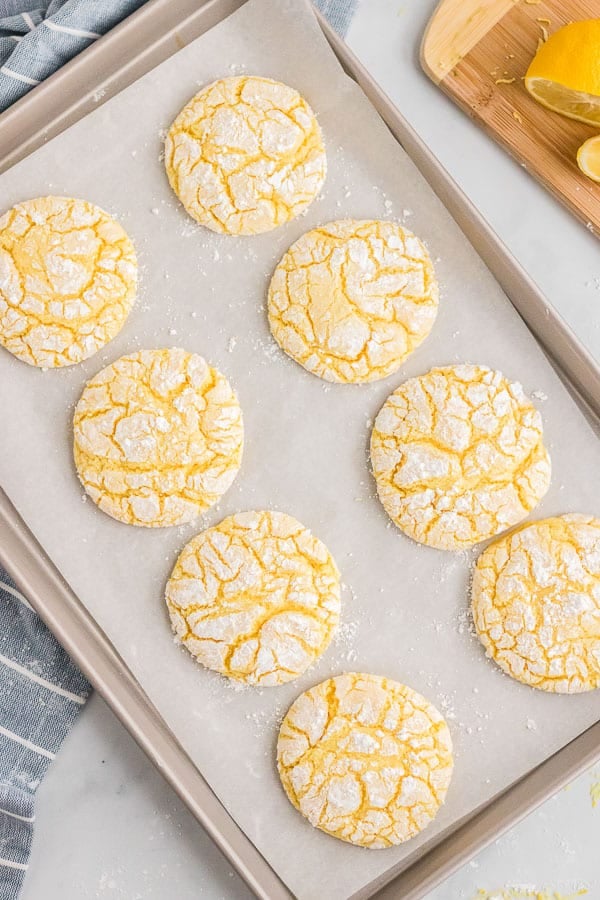 Juicing and Zesting the Lemons
Zest the lemon before juicing it.
I use this zester and love it. It removes the outer peel only and is fast and easy to use.
I recommend using a hand held juicer for the lemon juice.
Cut the lemon in half, juice it.
Flip the lemon half the other way and squeeze it again for more juice!
Optional Add In
Throw in 1 cup of white chocolate chips for a fun addition!
How to Make Lemon Cake Mix Cookies – Step-by-Step
STEP 1: Preheat the oven to 375 degrees F. Line a baking sheet with parchment paper or a silicon baking mat.
STEP 2: In a large mixing bowl combine the cake mix, eggs, vegetable oil, lemon juice and lemon zest (photos 1-3). Using a mixer beat on medium speed to fully combine (photo 4).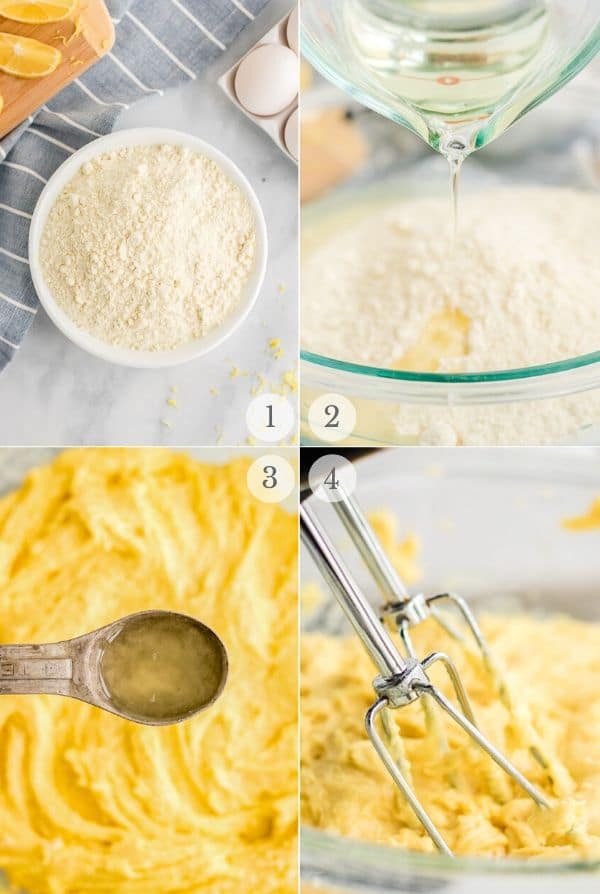 STEP 3: Form 2-inch batter balls with your hands. Roll in powdered sugar (photo 5).
PRO TIP: Dealing with Sticky Batter
When rolling the cookie balls, the batter will be sticky. There are two tricks for dealing with this:
Spray your fingers with non-stick cooking spray before handling the dough.
Chill the dough for an hour before rolling the balls. This also will make the cookies puffier when baked!
Dough can be chilled for up to 2-days before baking the cookies.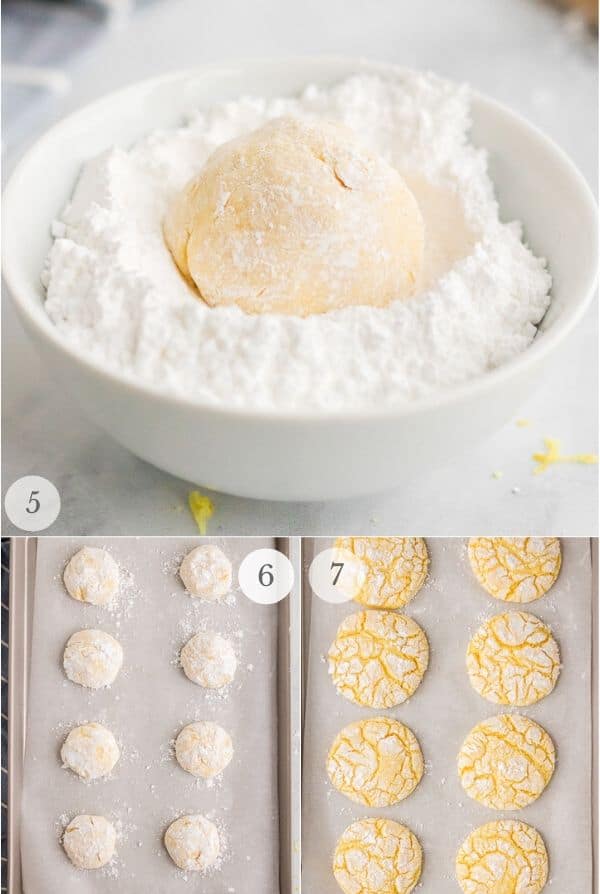 STEP 4: Place the cookie dough on the prepared pan 2-inches apart (photo 6). Bake for 9-11 minutes. Cookies will be lightly browned on the bottom and chewy inside.
STEP 5: Allow to cool on the baking sheet for 5 minutes (photo 7). Carefully move to a cooling rack to fully cool. NOTE: the cookies will be fragile until they have completely cooled.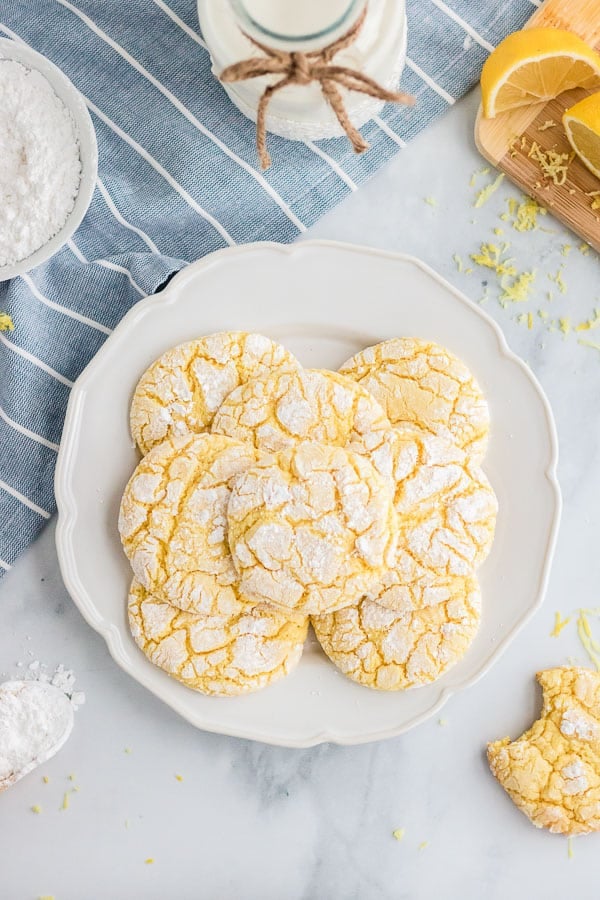 How to Store
At Room Temperature
Store at room temperature in an airtight container for up to 3 days.
If in a hot or humid climate, refrigerate them.
In the Refrigerator
Store in an airtight container for one week.
In the Freezer
After the cookies cool completely, store in an airtight container in the freezer for up to 2 months.
Thaw in the refrigerator.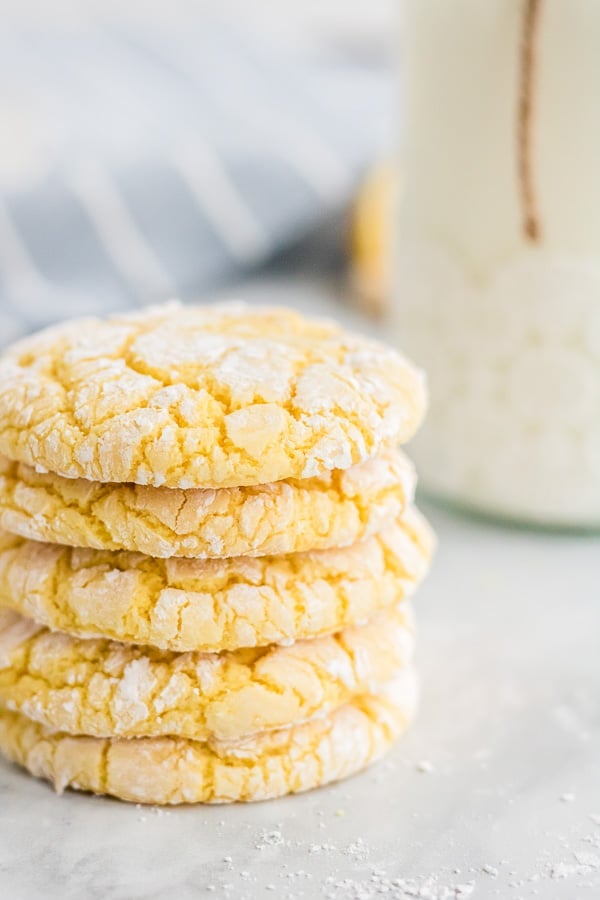 More Recipes for Lemon Lovers
Try these Cookie Recipes too!
Did you make it? Please RATE THE RECIPE below!
Please SUBSCRIBE and FOLLOW ME on FACEBOOK , TWITTER , INSTAGRAM and PINTEREST !
Cake cookies are fast and easy to make! Lemon Cookies are always a favorite flavor.