Oven Baked Chicken Breasts are an easy dinner recipe option. Load on these Mexican flavors and it's a new FAVORITE dinner recipe.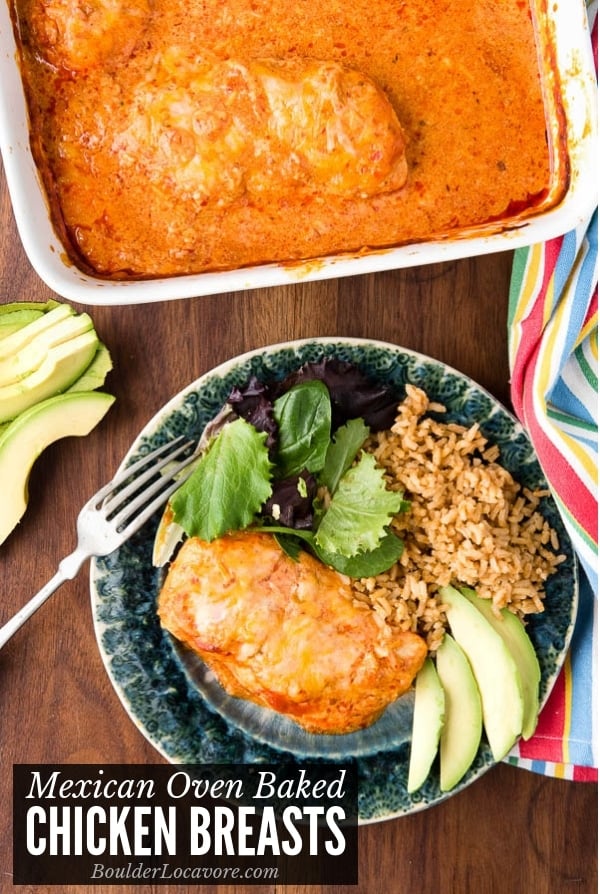 Mexican food is a favorite food genre for me. Any time I can change something up with spicy, soulful flavors I do it.
And if I can make it EASY, like these oven baked chicken breasts? It's on!
This oven baked chicken breasts recipe is steeped in Mexican flavors.
They are creamy, cheesy, spicy and perfect any night of the week!
Jump to: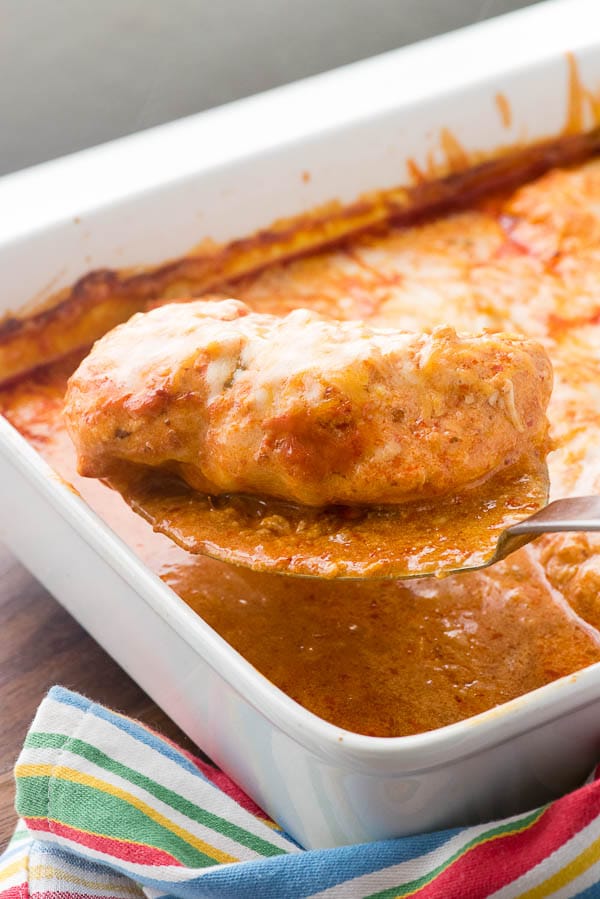 Recipe Ingredients + Notes
The list of ingredients for this recipe is short and easy to find!
The enchilada sauce and diced green chilies will be in the international food sections of the grocery store if they are not in the main sections.
Boneless Skinless Chicken Breasts
Can/jar Enchilada Sauce (green or red), mild heat
Kosher Salt and ground Black Pepper
Can of Diced Green Chilies, mild heat
Sour Cream
grated Mexican Blend cheese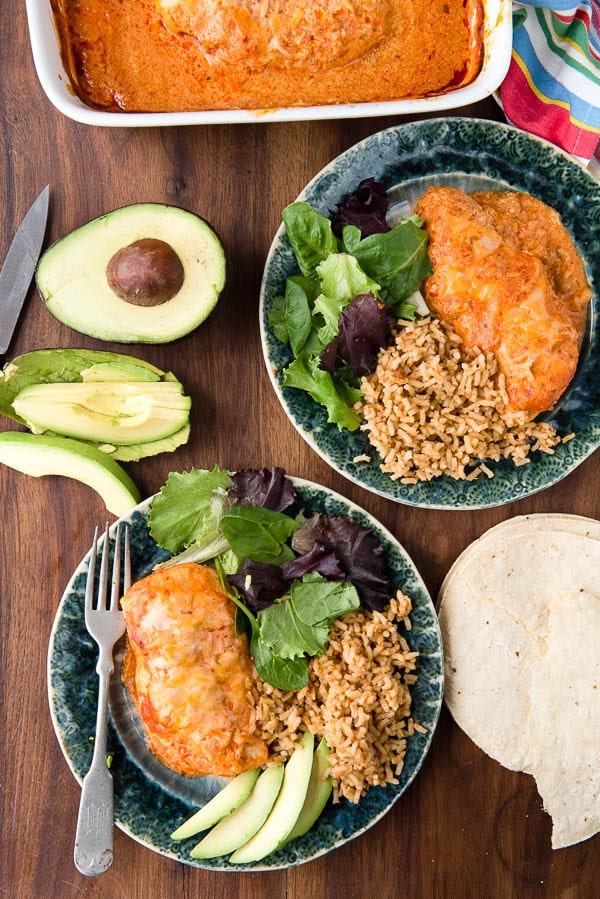 What Do these Oven Baked Chicken Breasts Taste Like?
This recipe has earthy, mildly spicy flavors, complemented by the cool sour cream and melted Mexican cheeses.
The enchilada sauce and diced green chilies are suggested to be mild (vs hot).
The mild versions still create some heat but not so much it's overwhelming.
TIP: if more spiciness is desired once the oven baked chicken breasts are done, serve with some hot sauce for diners to add desired heat to their portion.
10 Minutes Prep Time
In addition to the irresistible flavors, the 10-minute prep time for these oven baked chicken breasts make it a favorite.
The easy, fast preparation makes it a perfect dinner recipe any night of the week.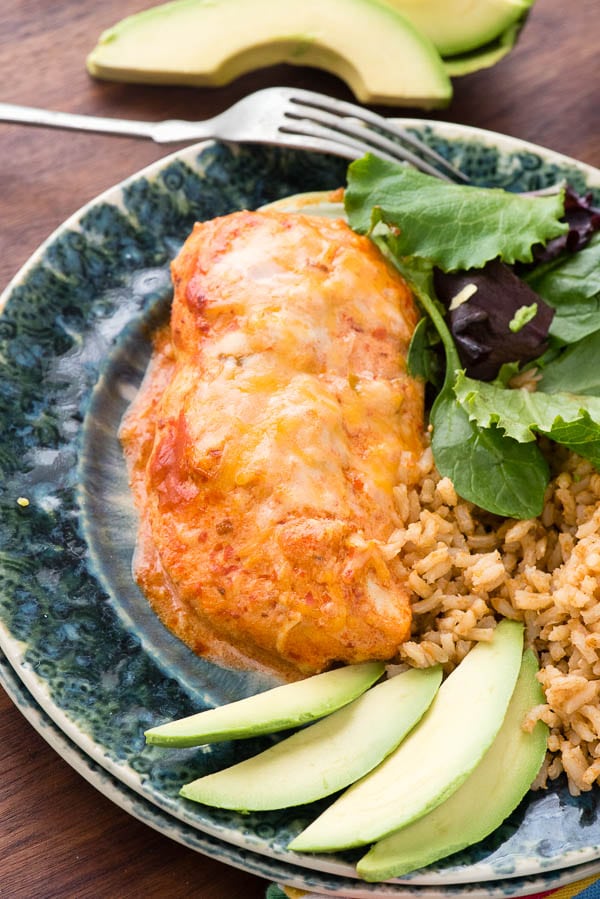 How to Make these Oven Baked Chicken Breasts – Step by Step
Check out how easy this is!
Preheat the oven to 350 degrees. Spray a 9-inch by 13-inch baking pan with non-stick spray.
Pour half of the enchilada sauce in the bottom of the baking dish.
Place the chicken breasts on top of the sauce. Sprinkle lightly with kosher salt and ground black pepper.
Add the remaining enchilada sauce to a medium mixing bowl along with the green chilies, sour cream and 1 ½ cup of the cheese. Mix together and spread evenly on the chicken breasts.
Place in the preheated oven for 30 minutes; then sprinkle on the last ½ cup of cheese and allow to cook until the cheese has melted (5-10 minutes).
NOTE: The chicken's internal temperature should be 165 degrees as noted on an Instant Read thermometer.
Remove from oven and allow to sit for 5 minutes before serving!
What to Serve with these spicy Chicken Breasts
The flavors are bold, and it's a creamy cheesy dish. What to serve with it?
You can add some Spanish rice and a cool green side salad and you are good to go!
If you want to whip up something more, here are some favorites…..
My belief is the side dishes should either match the flavors (a bit spicy with similar flavors) or be the opposite in heat; something cool and refreshing.
Side Dish Tip
Have some corn tortillas in a tortilla warmer, ready to sop up the delectable sauce; you won't want to leave any of that behind.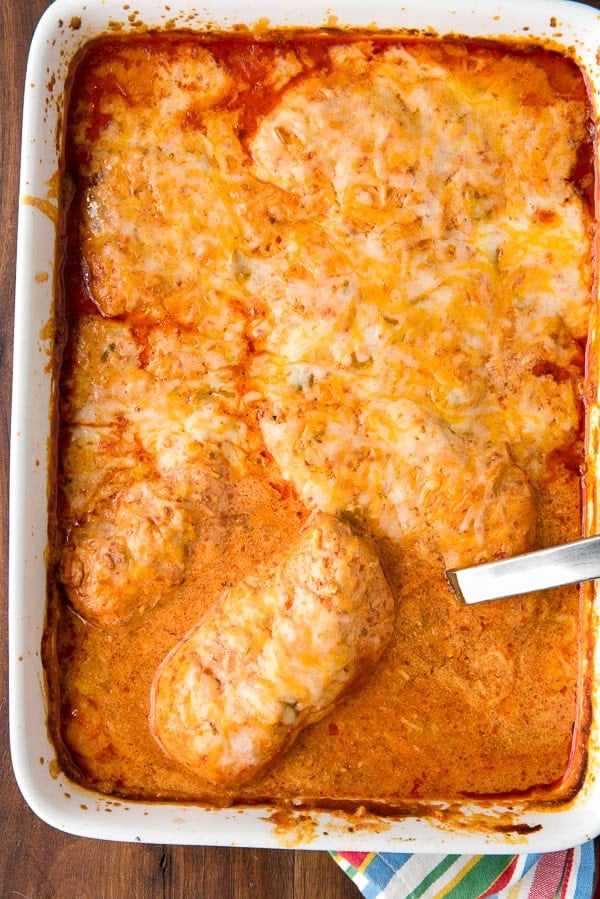 Did you make it? Please RATE THE RECIPE below!
Please
SUBSCRIBE
and
FOLLOW ME
on
FACEBOOK
,
TWITTER
,
INSTAGRAM
and
PINTEREST
!
Recipe
Originally published: April 24, 2016