Green Chile Sour Cream Enchilada Chicken Breasts make the perfect Mexican dinner for Cinco de Mayo, or an easy dinner recipe any night of the week! 

Do you ever have unexpected experience or food memories pop into your head out of the blue? It happens to me and when it does I wonder why, or why I had not thought of it for so long.
For instance, now living in the era of constant high SPF sunscreen, warnings from dermatologists about wearing hats and skin cancer, I was washing my face one morning and had a full flashback of 'laying out' in high school using only baby oil and iodine to coat my naïve skin.
It did not stop there. To be even closer to the sun, I would lie on top of the flat-roofed dog house in our yard. On tin foil. Being flooded with this memory was like remembering a potent case of the flu, in 3D. Horrible.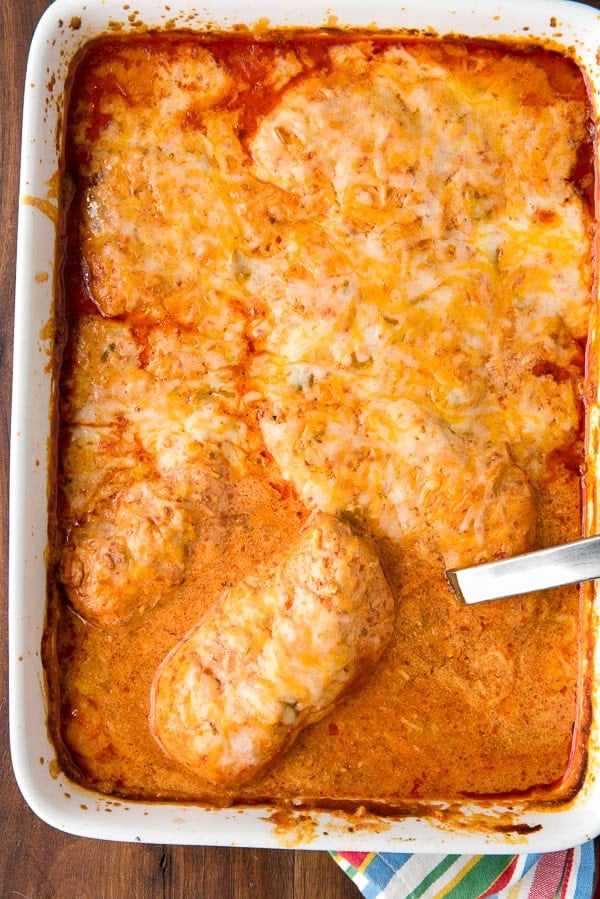 Fortunately, my food memories aren't as bad. Except the one when I went for dinner to the home of a college friend whose father had decided he was a chef on par with a longtime family friend who WAS a chef. He'd whipped up a 'gourmet meal' using venison from the freezer that was so freezer burned it was indiscernible from a highly crystalized ice orb.
He'd also used some canned goods, the cans for which my friend found in the trash and recognized as pantry staples since before his birth. He was motioning from afar, with a hand across the throat, cautioning avoiding that side dish.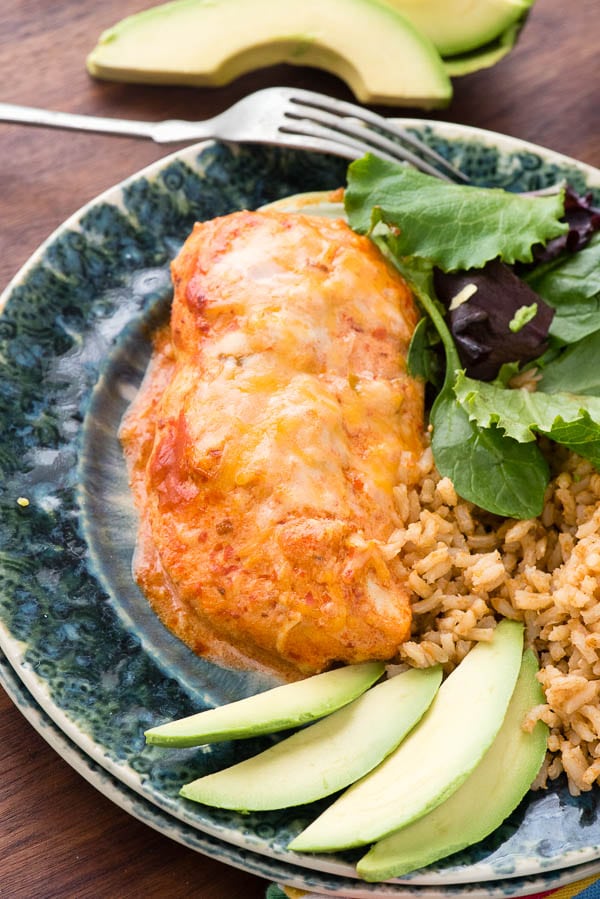 The meat was horrific and fortunately I was seated to the right of our boisterous host, who loved listening to himself talk, with Hector, the family Husky on MY right side, happily gobbling up pieces of the venison I was oh-so-discretely sneaking to him; with great relief. My friend (who was in full view of his father and my brilliant plan to stay alive) had to suck it up and pretend to love the meal. But I digress.
A few weeks ago, I had one of these food flashbacks about some sour cream chicken my Grandmother used to make. There were two chicken dishes of hers I remember.
The first became a college staple as soon as I was forced to learn how to cook to survive. It was chicken thighs tossed in Shake-and-Bake, smothered with a can of condensed cream of celery soup and baked. Sounds gnarly I'm sure, but it was delicious and I'm sure quite progressive for the time.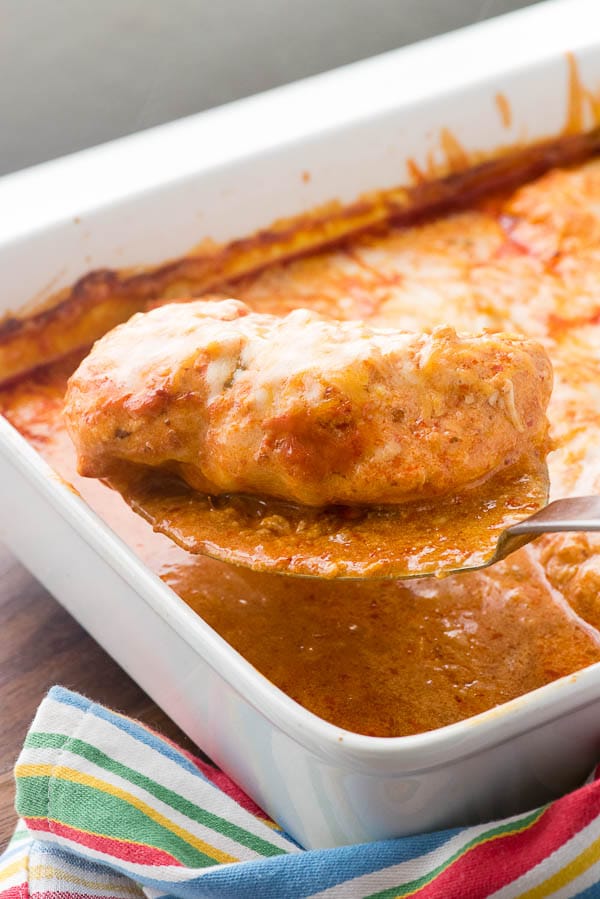 The second recipe is a more fleeting in my memory. All I really remember is a sour cream coating that baked beautifully with the chicken pieces. I guess it's a partial memory. Sadly, I don't have her recipe and can't recall enough about it to fully recreate it.
However, it did inspire a Mexican themed spin off I'm sharing today: Green Chile Sour Cream Enchilada Chicken Breasts.  My go to whenever I'm uninspired about what to make for dinner is something with a Mexican persuasion.
Whether it be tacos, quesadillas or tostadas, or adding the flavors of cumin, cayenne, or chipotle to something else.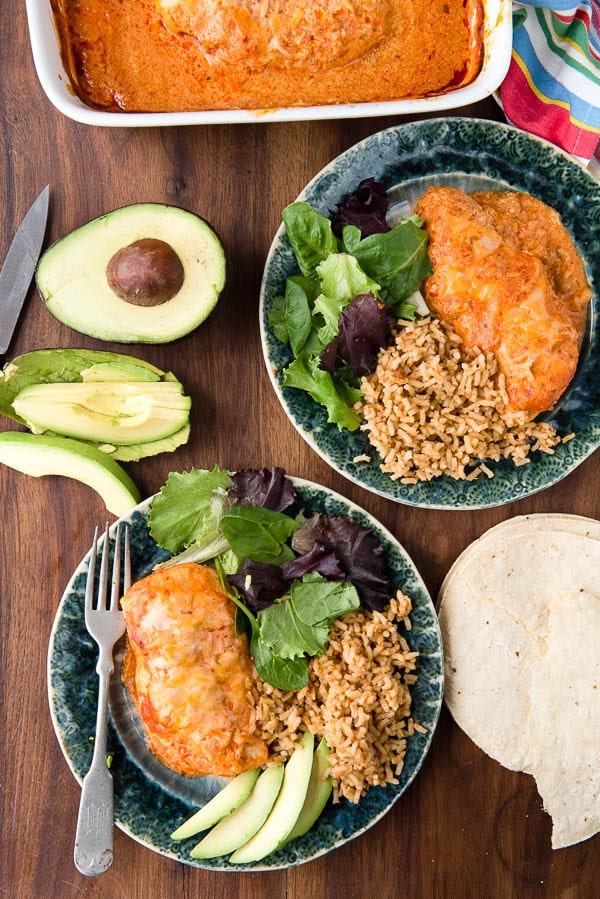 Green Chile Sour Cream Enchilada Chicken Breasts
In the spirit of easy chicken recipes, great flavors and Cinco de Mayo coming up, I felt that Green Chile Sour Cream Enchilada Chicken Breasts would be a sure win with my family. And with me, since it takes less than 10 minutes to put this recipe together.
The flavors are bold, and it's a creamy cheesy dish. Who doesn't love that? Add some Spanish rice and a side salad and you are good to go! Have some corn tortillas in a tortilla warmer, ready to sop up the delectable sauce; you won't want to leave any of that behind.
A bit zippier than Nana's sour cream chicken but I think she'd approve.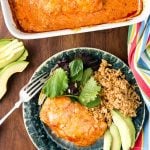 Green Chile Sour Cream Enchilada Chicken Breasts
Green Chile Sour Cream Enchilada Chicken Breasts are flavor-packed, easy to make and perfect for an easy dinner any night of the week.
Ingredients
6

Boneless Skinless Half Chicken Breasts

, (approximately 2 ¼ pounds)

1 15-

ounce

can/jar Enchilada Sauce

(green or red), mild heat

Kosher Salt and ground Black Pepper

1 4-

ounce

can Diced Green Chilies

, mild heat

1 8-

ounce

container Sour Cream

2

cups

grated Mexican Blend cheese

(available bagged in the dairy department) OR an equal blend of grated Mild Cheddar, Colby and Monterey Jack cheeses
Instructions
Preheat the oven to 350 degrees. Spray a 9 by 13-inch baking pan with non-stick spray.

Pour half of the enchilada sauce in the bottom of the baking dish. Place the chicken breasts on top of the sauce. Sprinkle lightly with kosher salt and ground black pepper.

Add the remaining enchilada sauce to a medium mixing bowl along with the green chilies, sour cream and 1 ½ cup of the cheese. Mix together and spread evenly on the chicken breasts.

Place in the preheated oven for 30 minutes; then sprinkle on the last ½ cup of cheese and allow to cook 5-10 minutes longer until the cheese has melted and the chicken's internal temperature is 165 degrees. Remove from oven and allow to sit for 5 minutes before serving!
Nutrition Facts
Green Chile Sour Cream Enchilada Chicken Breasts
Amount Per Serving
Calories 381
Calories from Fat 189
% Daily Value*
Total Fat 21g 32%
Cholesterol 129mg 43%
Sodium 1159mg 48%
Potassium 509mg 15%
Total Carbohydrates 9g 3%
Protein 34g 68%
* Percent Daily Values are based on a 2000 calorie diet.