Mini Beef Pot Pies are packed with a delicious beef and vegetable filling. An Irish twist of adding Guinness beer makes them a savory delight! Guinness substitutions included too.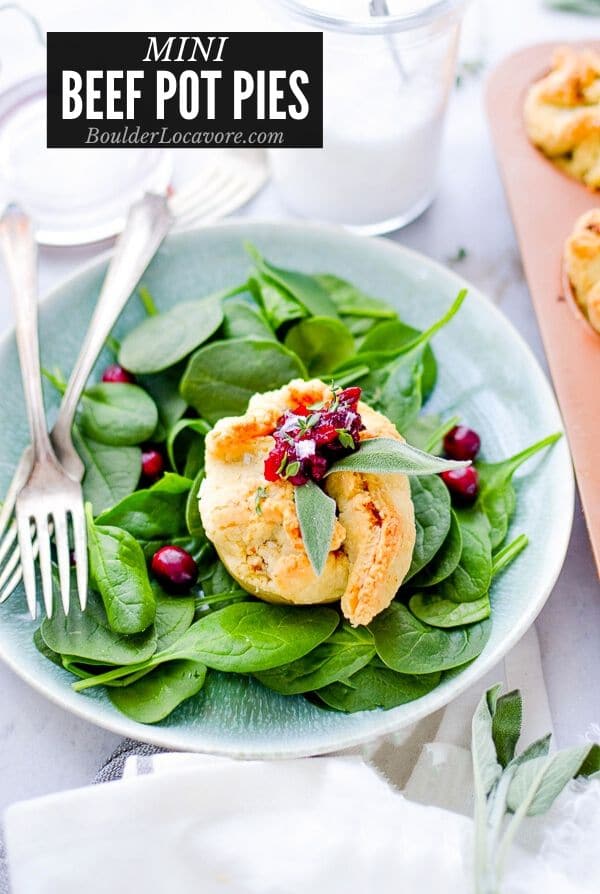 Pot Pies are a comfort food favorite. This mini version of Beef Pot Pies filled with savory gravy, tender chunks of beef, vegetables all in a flaky crust will become your favorite!
Cooking in a muffin tin the little pot pies make a unique and exciting main dish everyone loves.
Sometimes there are recipes that take a longer time but are worth it. This mini beef pot pie recipe is one of those.
After a brief cooking time on the stove top, the filling simmers for 2 to 3 hours in the oven.
It will fill your home with incredible homey, comfort food aromas!
Though it is a more time consuming recipe the end result is one you'll be asked to make again and again.
Perfect to make on a weekend and save some (or freeze some) for easy weeknight dining.
Ingredients
Unsalted Butter
All purpose flour (regular or gluten-free measure-for-measure blend)
Guinness Beer (see substitutions below)
Beef Broth or Stock
Kosher Salt
ground Black Pepper
Stew Meat
Carrots
Russet Potatoes
Red Onions
Peas
fresh Sage
Pie Crust (homemade dough or store bought)

Ingredient Notes
The Roux
Making a 'roux' (pronounced 'roo') is a basic butter and flour mixture that forms the base of a sauce.
It allows a sauce to thicken nicely when it cooks as for this pot pie filling.
Either regular all-purpose flour or gluten-free measure-for-measure flour blend may be used.
My preferred brand for making this recipe gluten-free is Bob's Red Mill gluten-free 1-to-1 flour blend.
Guinness Beer
The pride of Ireland give this pot pie filling a deep wonderful flavor.
However if you are gluten-free or prefer not to use beer there are substitutes.
Substitute the same amount of dark gluten-free beer OR strong coffee.
They are delicious with any of these options.
Stew Meat
Beef stew meat is usually sold in large pieces in the store.
Due to the size of these mini pot pies, you'll probably need to cut the pieces into smaller pieces.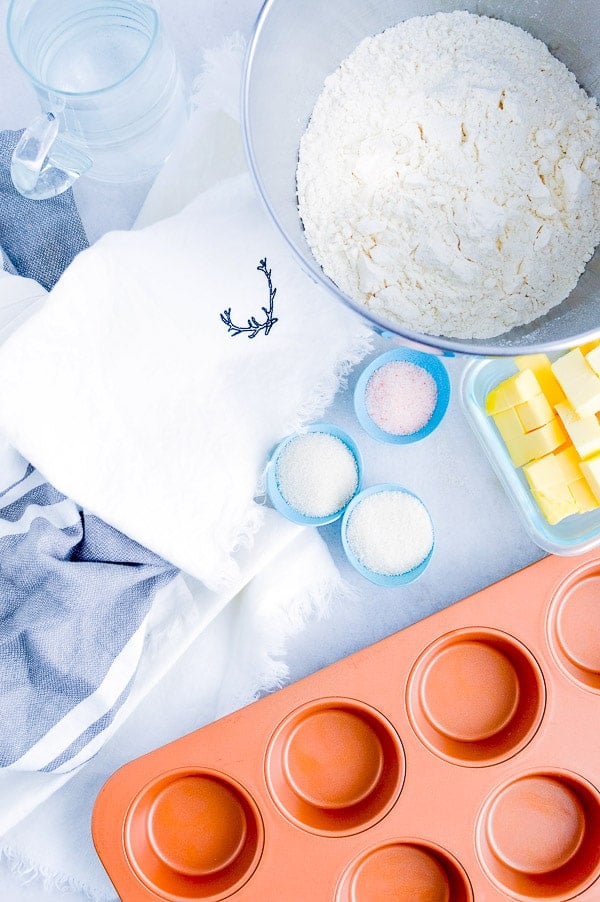 Pie Crust Dough
You'll need the equivalent of 2 pie crusts worth of crust dough for this pot pie recipe.
My absolute favorite crust recipe to use is this All Butter Pie Crust recipe.
Its make 2 deep dish pie crust's worth of dough (the requirement for this recipe).
It's very easy to make and work with. The end result is flaky crust and delicious pot pies.
Store-bought pie crust dough can also be used.
Purchase pie crust dough and not finished pie crusts for this recipe.
Optional Steps
If you'd like a shiny crisp finish on the pot pies add an egg wash before baking.
You'll need one egg yolk and one tablespoon of heavy cream. Instructions are in the recipe card below.
Also a sprinkle of flaked sea salt either on the egg wash or by itself is delicious.
Toppings
If desired top with cranberry sauce, fresh minced thyme and sage and a sprinkle of sea salt flakes.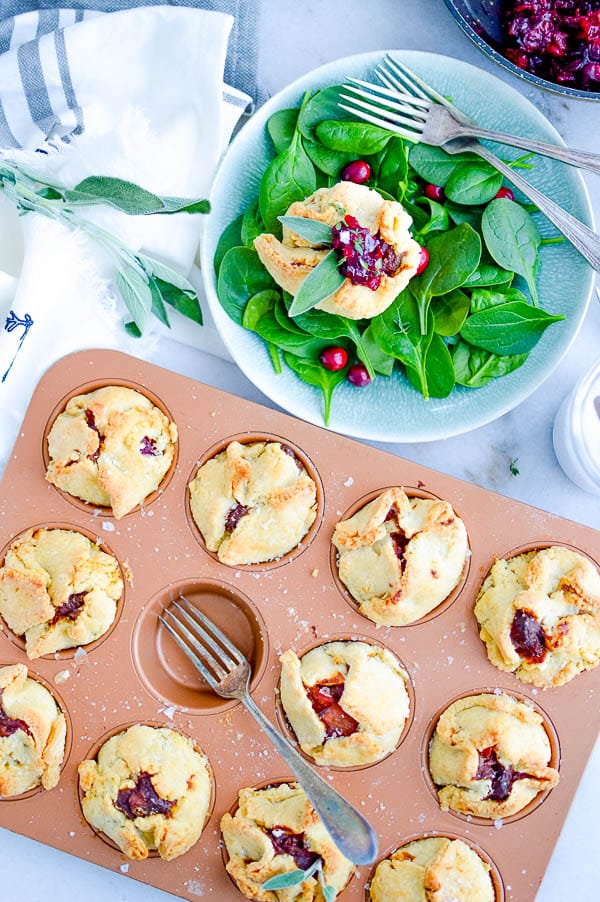 Variations
The filling ingredients can be changed up while keeping the same volume of the filling.
The pot pies in these photos were made with beef, carrots, beets and peas!
Change up your favorite vegetables for new versions.
How to Make Mini Beef Pot Pies – Step-by-Step
STEP 1: Preheat the oven to 350 degrees F.
STEP 2: Melt the butter in the Dutch oven over medium-high heat on the stove top. When bubbling whisk in the flour, salt and pepper. Cook for 1 minute until thickened.
STEP 3: Whisk in the beer (or coffee). Whisk in the beef stock.
STEP 4: Add the filling ingredients EXCEPT the peas. Place the lid on the Dutch oven and put it in the oven. Check and stir every 30 minutes until the sauce is thickened and the meat is tender: 2-3 hours.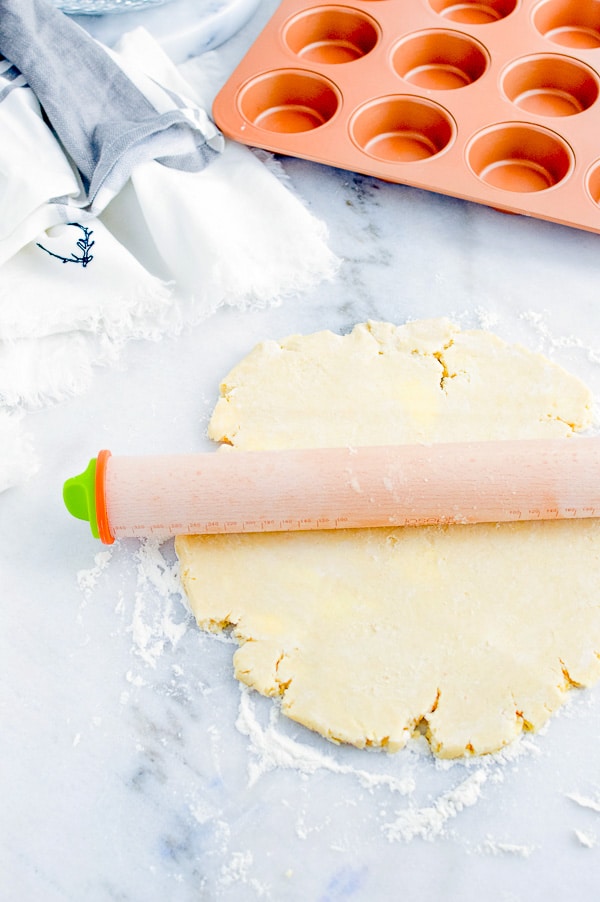 STEP 5: WHILE THE FILLING IS COOKING prepare the pie crust. Roll pie crust out 1/8-inch thick, cut into pieces big enough to line the muffin tins with some overhang to close over the pot pies. Place in refrigerator.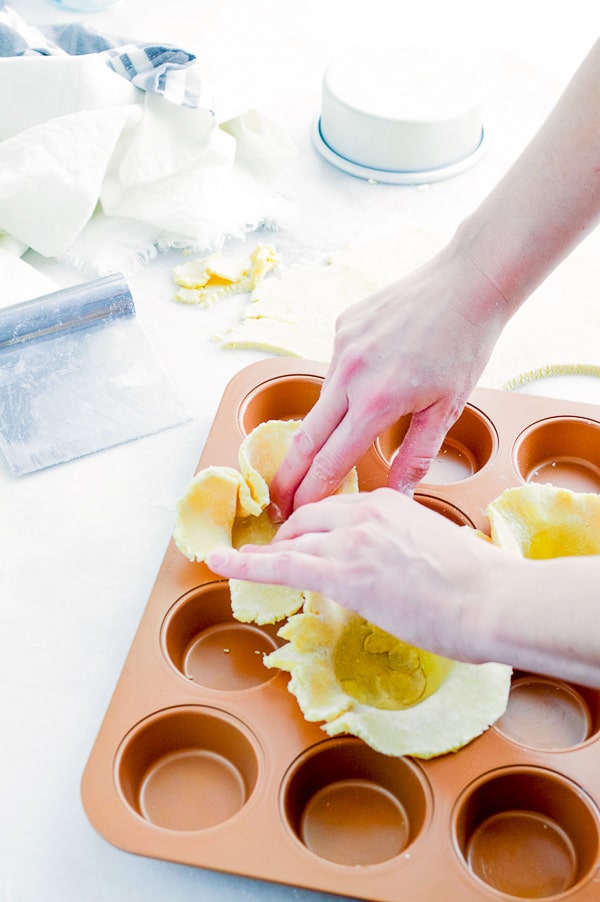 STEP 6: When filling is done stir in the peas. Increase the oven temperature to 375 degrees F.
STEP 7: Carefully spoon into the prepared crusts filling to the top but do not overfill. Close the crust over the filling hand pinching closed. OPTIONAL: brush on egg wash and or dust with sea salt flakes.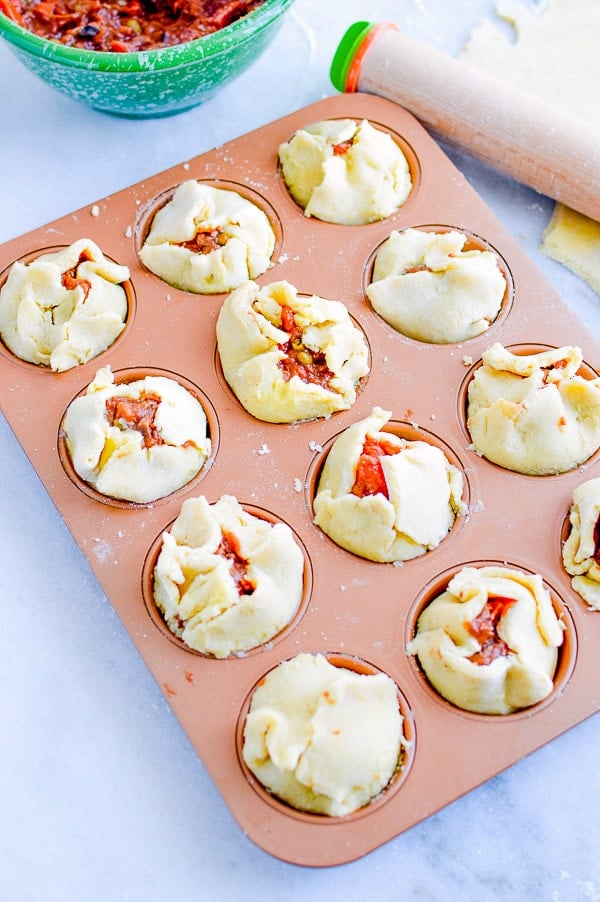 STEP 8: Bake for 30-35 minutes until crust is golden and filling is bubbling.
STEP 9: Cool in pan for 10 minutes before cooling fully on cooling rack.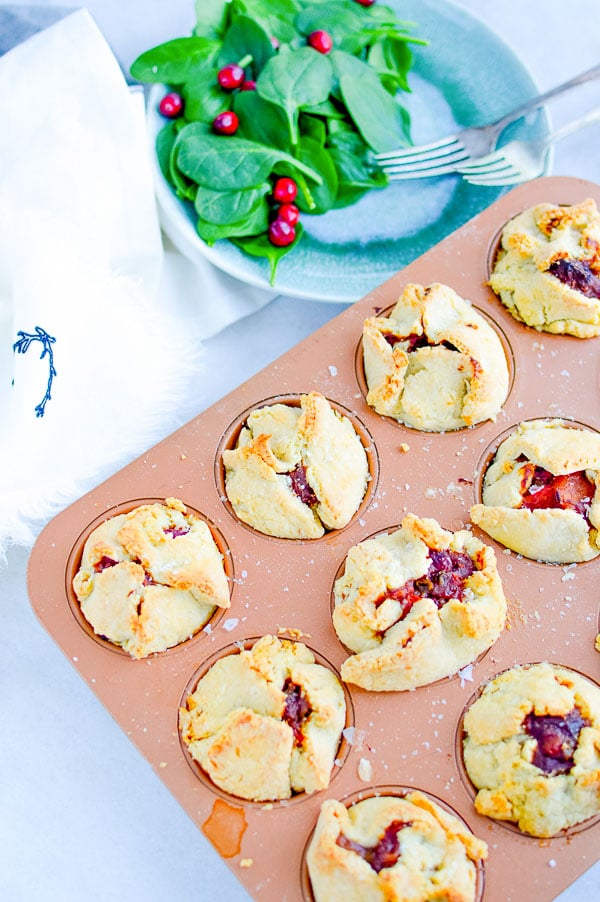 Time Saving Tips
Chop the vegetables with a mini chopper.
The recipe can be made over a few days.
The filling can be cooked on Day 1.
The crust, assembly and cooking of the pot pies can happen on Day 2.
Or swap it to make the crust dough the first day; the filling and cooking the next day.
NOTE: if cooking chilled filling the cooking time may need to be extended slightly.
How to Store
In the Refrigerator
After the pot pies have completely cooled, put them in an airtight container in the refrigerator for up to 3 to 5 days.
In the Freezer
These freeze like an absolute dream!
After they have completely cooled down, place them in an airtight container and freeze for up to 2 months.
Thaw them in the refrigerator.
How to Reheat
They can be reheated in the oven in low heat or in the microwave.
What to Serve with Mini Pot Pies
Try these Hearty

Main Dish

Recipes too!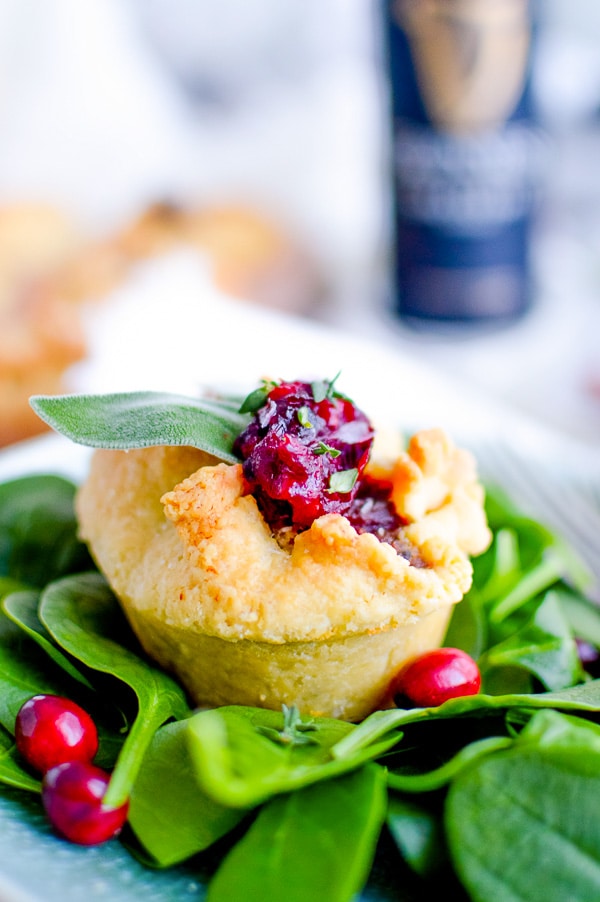 Did you make it? Please RATE THE RECIPE below!
Please SUBSCRIBE and FOLLOW ME on FACEBOOK , TWITTER , INSTAGRAM and PINTEREST !
Recipe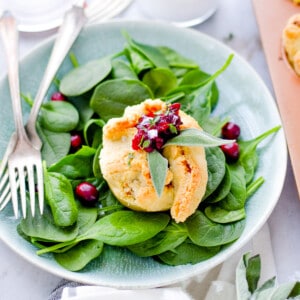 Mini Beef Pot Pies with an Irish Twist
These muffin tin Beef Pot Pies are a mouthwatering main dish in a cute little package. Flaky crust filled with long simmering beef and vegetable filling includes Guinness beer (subsitutions included) giving a taste of Ireland in every bite.
Print
Save Recipe
Recipe Saved!
Pin
Rate
Servings:
18
mini pot pies
Ingredients
4

tablespoons

Unsalted Butter

¼

cup

all purpose flour

regular or gluten-free measure-for-measure blend

1

14.9-ounce can

Guinness Beer

or dark gluten-free beer or 2 cups strong coffee

2

cups

Beef Broth or Stock

½

teaspoon

Kosher Salt

½

teaspoon

ground Black Pepper

1

pound

Stew Meat

cut into small pieces

1

cup

chopped peeled Carrots

1

cup

peeled ½-inch cubed Russet Potatoes

1

cup

peeled chopped Red Onions

1

cup

Peas

frozen, thawed

Sprig of fresh Sage
Optional
1

egg yolk

1

tablespoon

heavy cream
Instructions
Making the Pot Pie filling
Preheat the oven to 350 degrees.

On the stove top over medium-high heat, melt the 4 tablespoons butter in an oven-proof Dutch oven.

When the butter is bubbling, whisk in the ¼ cup flour, ½ teaspoon salt and ½ teaspoon pepper. The mixture will be thick and bubbly. Whisk for 1 minute.

Add the beer (or coffee if using) and whisk together.

Whisk in the beef stock.

Add the stew meat, prepared carrots, potatoes, onion and sage (the peas will be added later).

Place the lid on the Dutch oven and place in the preheated oven. Check and stir the filling every 30 minutes until the liquid has reduced into a thick sauce. The meat will be fall-apart tender when done. Total cooking time approximately 2-3 hours.
Creating the Crust
While the filling is in the oven prepare the pie dough.

Roll the pie dough 1/8-inch thick. Cut squares or circles approximately 5-inch by 5-inch. Save extra dough for tops. Will make approximately 18 pot pies.

When the pie dough is ready in the muffin pans, place them in the refrigerator until the stew filling is ready.

Take the filling out of the oven and stir in the peas. Remove the sage sprig. Increase the oven temperature to 375 degrees.
Filling and Cooking the Pot Pies
Fill each prepared muffin cavity even with the top. Do not overfill. NOTE: the filling will be hot so work quickly and carefully when adding the filling.

OPTIONAL: Add an optional egg wash if desired by whisking together one egg yolk with one tablespoon of cream. Brush onto the top of the mini pot pies.

Dust the tops with the sea salt flakes if desired. Bake for 30 to 35 minutes or until the pies are bubbling and the pie crusts are golden brown.

Allow the mini pies to cool in the pan for about 10 minutes before removing from the muffin pans.
Notes
Serving Size
Plan for 1-3 mini pot pies per person as a main dish serving. Will vary based on other side dishes served. Nutritional information is per pot pie.
Nutrition
Calories:
178
kcal
|
Carbohydrates:
15
g
|
Protein:
8
g
|
Fat:
9
g
|
Saturated Fat:
4
g
|
Cholesterol:
34
mg
|
Sodium:
262
mg
|
Potassium:
209
mg
|
Fiber:
1
g
|
Sugar:
1
g
|
Vitamin A:
1354
IU
|
Vitamin C:
5
mg
|
Calcium:
20
mg
|
Iron:
1
mg
Mini Beef Pot Pies are a favorite main dish any time of the year!