Salisbury Steak is hearty, delicious comfort food. Piled high with sauteed onions and mushrooms, drizzled with easy homemade pan gravy. Make it with beef, bison, chicken or turkey (all instructions included).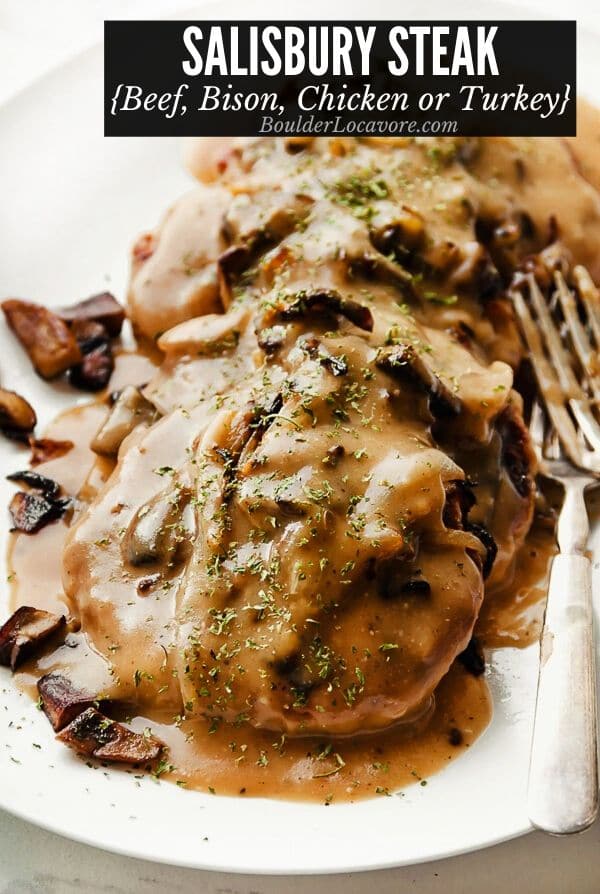 Your crew will be running to the dinner table as soon when the first whiff of pan frying Salisbury Steak hits the air.
Ground meat with delicious spices made into 'steak's are fried then piled with mushrooms and onions fried in the same pan.
Finished off with a fast and easy homemade gravy from the pan drippings.
Be prepared to make this on repeat!
The great news?
Instructions to make Salisbury Steak with ground beef, bison, chicken or turkey are included. You can make a different version every time!
What is Salisbury Steak?
American physician Dr. James Salisbury is credited with the invention of Salisbury Steak.
In the 1800's he recommended eating meat for health reasons.
His original 'recipe' was really more similar to a hamburger, without any frills.
Some definitions separate the Salisbury Steak from a hamburger (or Hamburger Steak) based on the shape alone; oblong vs round.
Salisbury Steak is made into an oblong shape to look more like a traditional beef steak.
Over time the recipe has changed and been personalized.
Most use breadcrumbs and an egg, and top it with sauteed mushrooms, onions and gravy.
Like any recipe it can be customized to your preferences and I have multiple options built into this recipe!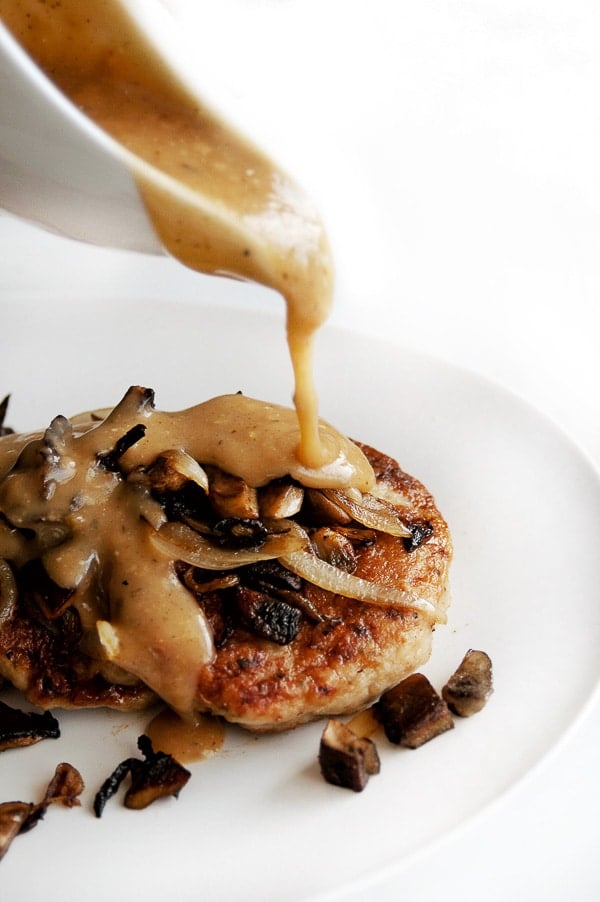 Why Make this Salisbury Steak recipe
After loads of research I've come up with a Salisbury Steak recipe that's delicious and flexible!
It can be made with traditional ground beef or any other ground meat
It uses only 'whole' ingredients: no packaged soup mix or other processed ingredients
This recipe has a light dusting of flour similar to a country fried steak or chicken fried steak. It creates a delicious outer coating when fried.
The flour coating is perfect for protecting more delicate ground chicken or turkey from drying out when cooking.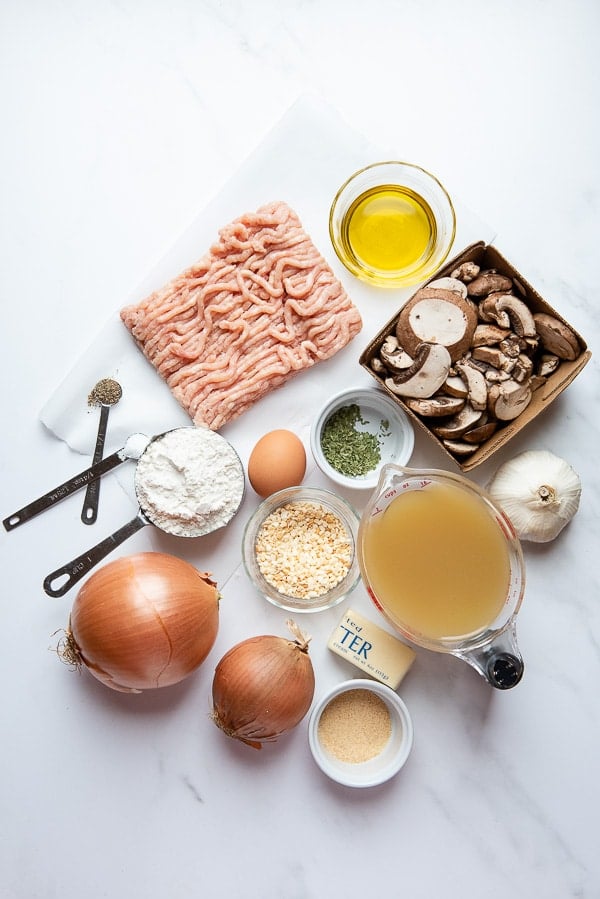 Recipe Ingredients + Notes
ground meat: beef, chicken, turkey or bison
yellow onion
garlic
dried parsley
garlic powder
salt
black pepper
breadcrumbs (panko, regular, cracker crumbs; regular or gluten-free)
egg
all-purpose flour (regular or gluten-free measure-for-measure blend)
peanut Oil or safflower oil (high smoke point oil)
mushrooms
butter (or ghee or dairy free butter)
stock: beef, chicken or vegetable stock (depending on the meat being used)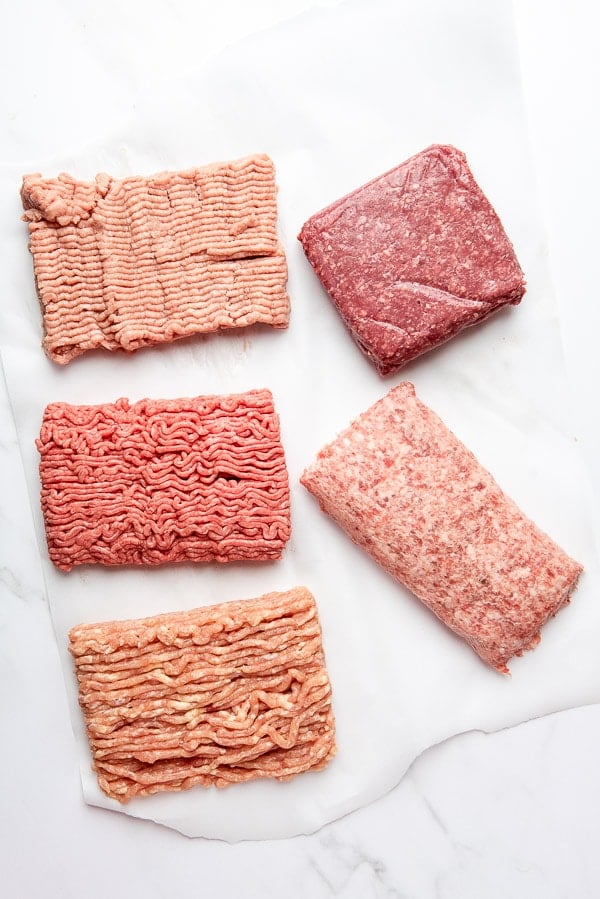 What Type of Meat to Use for Salisbury Steak?
Traditional Salisbury Steak is made with ground beef.
It's delicious with any type of ground meat though!
Bison is another beefier meat however it is leaner than ground beef.
For Chicken Salisbury Steak or Turkey Salisbury Steak
For a lighter flavor and leaner meat, use ground chicken or turkey.
If using ground chicken I prefer ground thigh meat if available.
It has more fat which gives it more flavor.
Darker poultry meat also does not dry out as much when cooked.
Closely monitoring light ground poultry will ensure it stays moist when cooking.
Ground chicken and turkey are more delicate to handle when preparing the patties.
Once they begin to cook, they are the same as cooking ground beef in texture.
Mix in Ground Pork
For even more flavor mix some ground pork in with another ground meat.
Ground pork can be used on it's own too but will have a denser texture when cooked.
Grate or Finely Chop the Onions
For the yellow onion that goes into the Salisbury Steak patty, grating or finely chopping them help the patty stay together.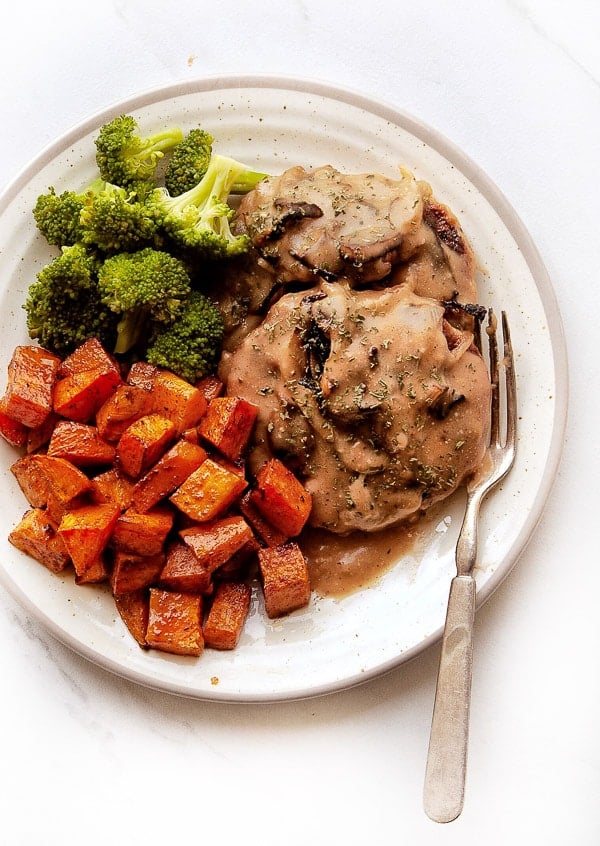 Breadcrumbs
Original Salisbury Steak recipes don't specify breadcrumbs. However most current day recipe use them.
Some feel it extends the ingredients for a larger batch. Others believe it helps hold the meat together.
In my experience using breadcrumbs provides a nice texture in the meat, much like adding them to meatloaf.
It keeps the meat from just being a dense meat patty like a hamburger.
Types of Breadcrumbs to Use
Any type of breadcrumbs may be used.
Panko breadcrumbs (I've used gluten-free Panko breadcrumbs).
Regular breadcrumbs: homemade, seasoned, store bought, gluten-free or regular.
Crushed saltine crackers (regular or gluten-free)
Flour
Either regular All-Purpose Flour or a gluten-free measure-for-measure blend may be used.
Use a High Smoke Point (High Temperature friendly) Oil
Because of the pan frying at higher heat, use an oil that has a 'high smoke point'.
This means it won't start to smoke at high temperatures.
There are several high smoke point oil options that work:
Safflower Oil
Peanut Oil
Sunflower Oil
Grapeseed Oil
Avocado Oil
Corn Oil
Sesame Oil
Some of these oils have a more distinct flavor, and others can be more expensive.
My recommendation for this Salisbury Steak recipe is to use Safflower, Sunflower or Peanut Oil.
Mushrooms: TIME SAVING TIP
Purchase already sliced mushrooms. It will save cleaning and slicing time.
What Type of Stock to Use
The type of stock for making the gravy will depend on the meat being used.
Beef or Bison – use Beef Stock
Chicken or Turkey – use Chicken or Vegetable Stock
I recommend low sodium stock. It's easier to 'salt to taste'.
You can always add more salt but can't take it away.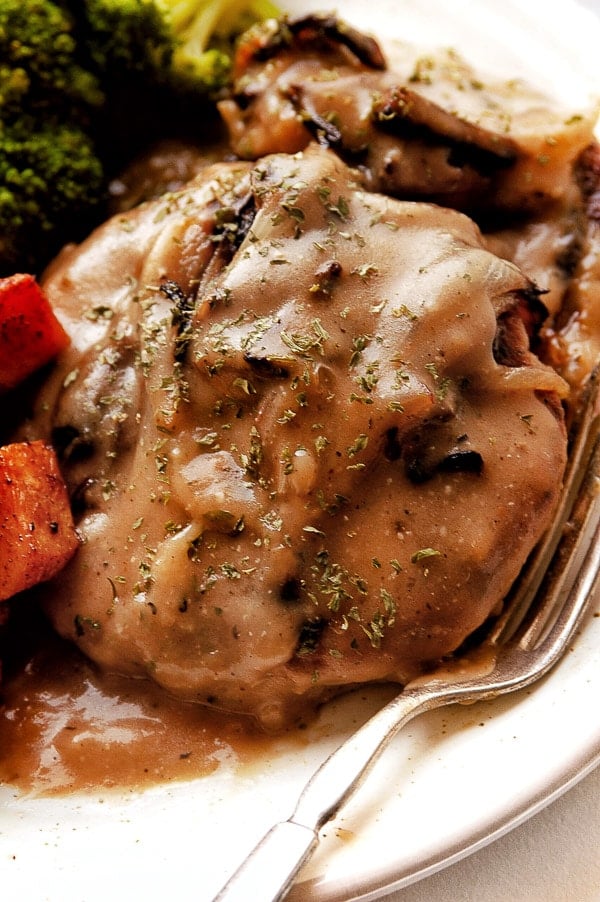 How to Make a Low Carb Salisbury Steak
If you prefer a lower carb version, leave out the breadcrumbs and omit the flour coating.
The recipe has been tested with and without breadcrumbs. Both versions are delicious.
The flour coating adds a nice crisp exterior when fried but can be left out if desired.
How Long to Cook Salisbury Steak?
This depends on the thickness and type of ground meat used.
The best way to ensure the meat is done is by using an Instant Read Thermometer.
Inserted into the middle of the Salisbury steak, you'll know immediately what the internal temperature is.
Beef or Bison – internal temperature needs to be 160 degrees F
Chicken or Turkey – internal temperature needs to be 165 degrees F
Cooking time is approximately 4-6 minutes a side.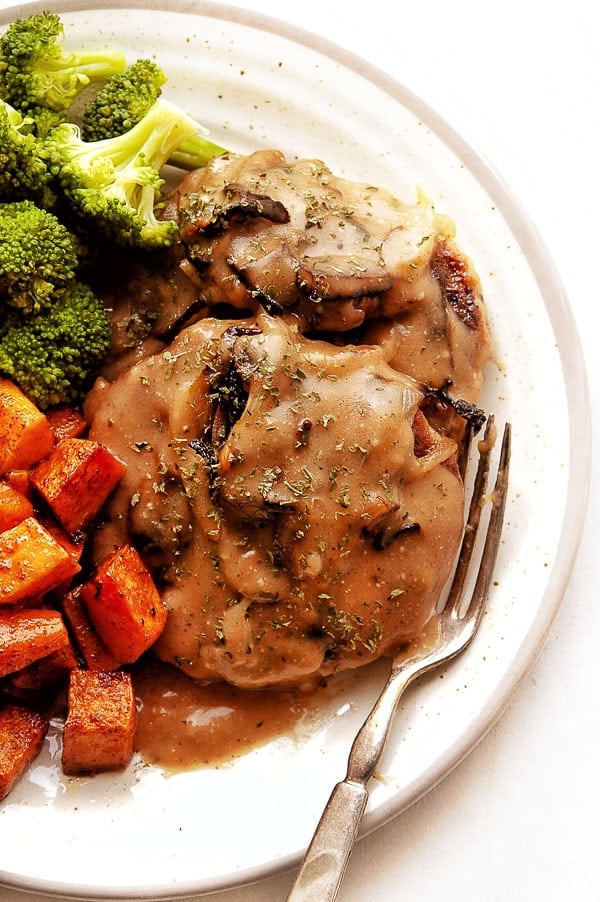 How to Make Salisbury Steak – Step-by-Step
The process is the same when making Salisbury Steak with any ground meat.
The recipes steps photos below show making it with ground chicken.
Check the recipe card for internal temperature for doneness and which stock to use depending on the meat you use.
STEP 1: Combine the ground meat, grated onion, garlic, spices, breadcrumbs and egg together until mixed. Form oblong patties. Four patties make a hearty main dish, 6 patties are a bit smaller (photo 1).
STEP 2: Combine the flour with some salt and pepper in a shallow bowl (photo 2). Lightly dip the formed patties in the flour mixture to coat both sides (photo 3).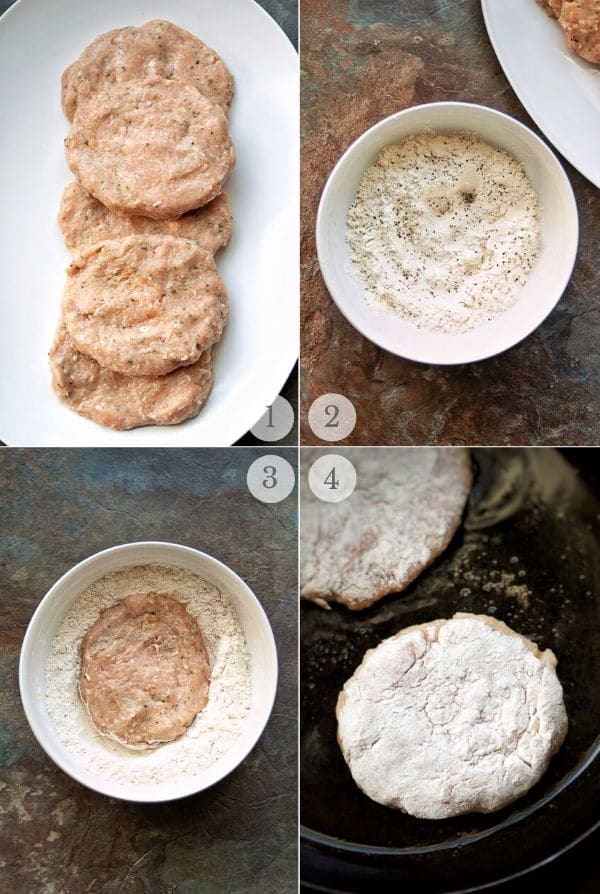 STEP 3: Heat the oil in a large heavy skillet on the stove top over medium to medium-high heat.
STEP 4: Cook the patties in the heated skillet for 4-6 minutes a side (estimate) until done. Check that they reach the recommended internal temperature (photos 4-5). Remove cooked Salisbury steaks, set aside (photo 6) covering with foil to keep warm.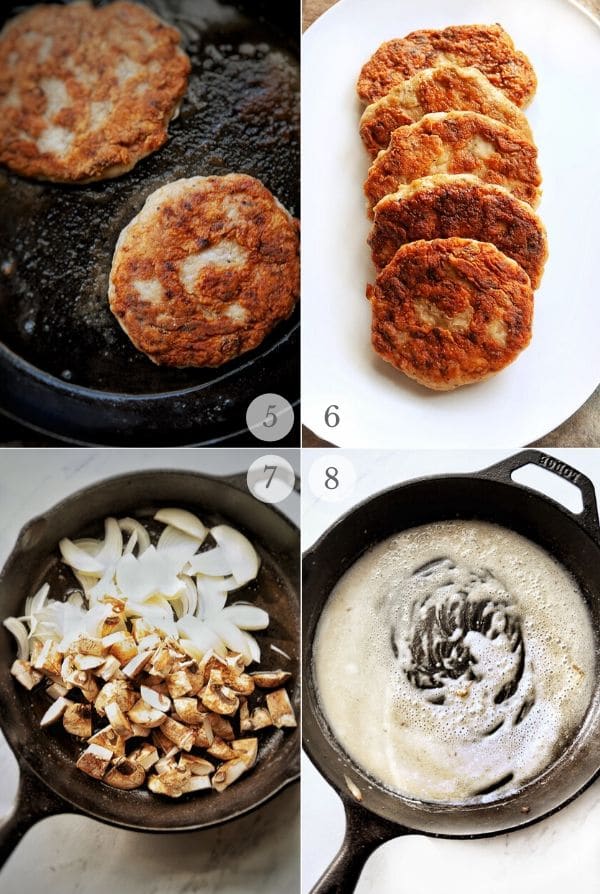 STEP 5: Add the mushrooms and onions to the same skillet. Cook over medium-high heat until both have caramelized (8-10 minutes estimated) (photo 7). Remove add spoon on top of the Salisbury steaks.
STEP 6: Melt the butter in the same skillet (photo 8). Add the flour; whisk until bubbly and thickened. NOTE: this is called a 'roux' (pronounced 'roo') and is a base for thickening a sauce.
STEP 7: Pour in the stock (photo 9). Whisk until thickened and the gravy has formed (photo 10). Salt and pepper to taste.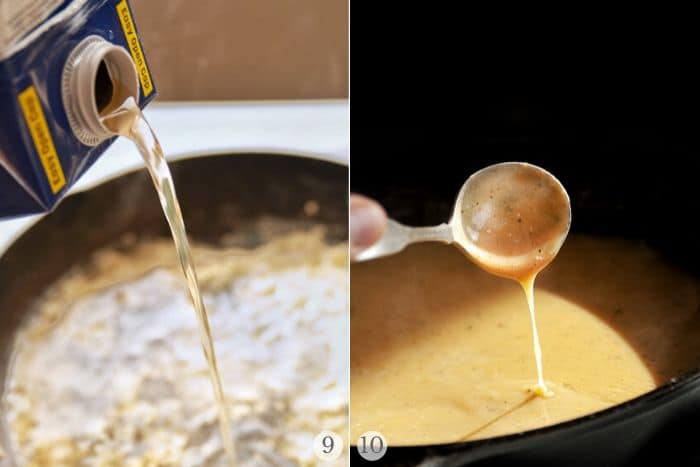 Spoon gravy over the Salisbury Steaks and serve hot.
What to Serve with Salisbury Steak – Make it a Meal!
Serve on mashed potatoes for a full comfort food meal!
You can't go wrong with any of THESE recipes!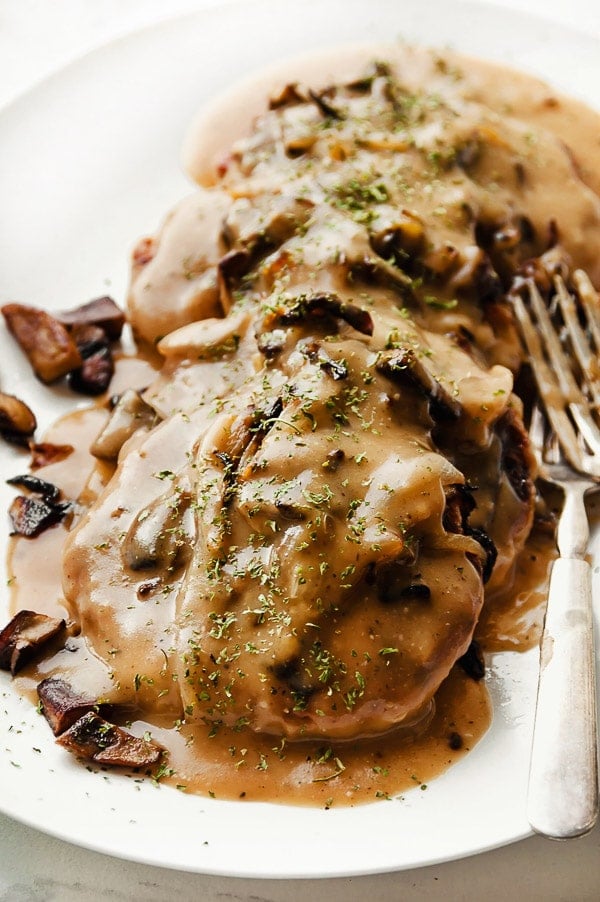 More Recipes You'll Love!
Did you make it? Please RATE THE RECIPE below!
Please SUBSCRIBE and FOLLOW ME on FACEBOOK , TWITTER , INSTAGRAM and PINTEREST !
Salisbury Steak is a satisfying, flavor-packed recipe that's easy to make at home.