Braised Short Ribs are an easy comfort food dish tenderized and flavored by cooking in red wine! Deliciously paired with Garlic Whipped Yukon Gold Potatoes.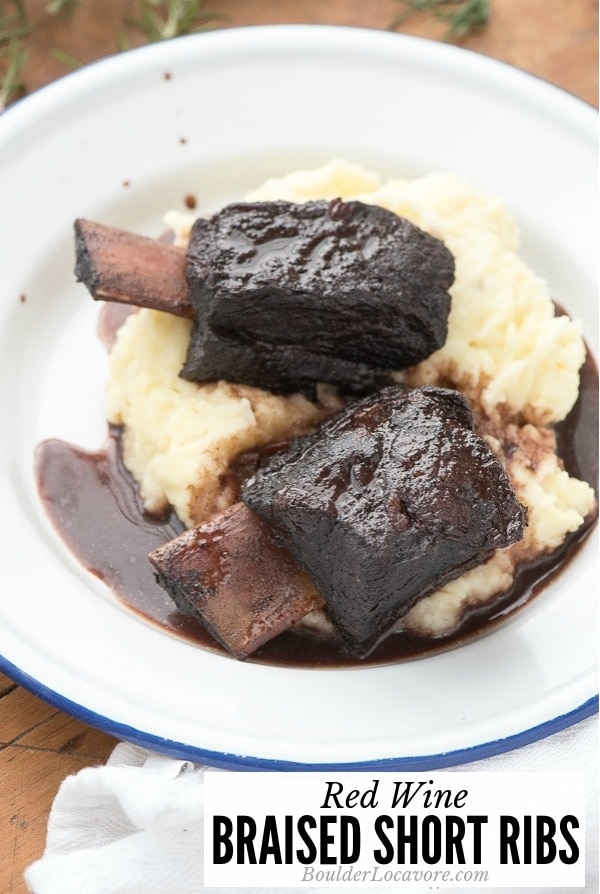 Braising is a favorite way to cook meat that both tenderizes and deepens the flavor with the braising liquids. Red Wine Braised Short Ribs with Whipped Yukon Potatoes is a perfect cold weather comfort food dinner that's easy and satisfying.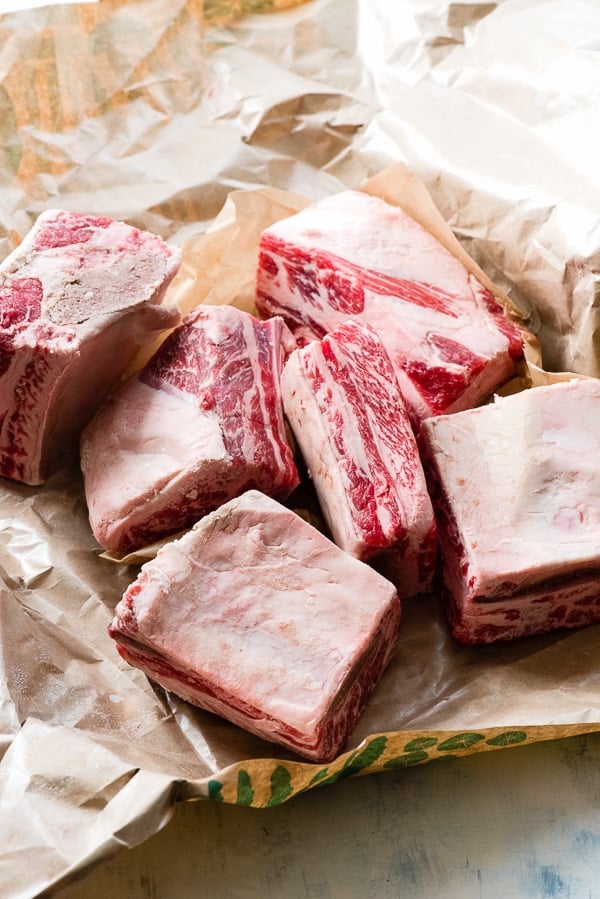 What is Beef Short Ribs?
Beef Short Ribs are a portion of a beef rib, not the whole rib as more often served with pork ribs.
The rib meaty and rich providing 'less is more' in terms of serving size.
What is Braising?
Braising is a combination cooking method:
Searing meat at high heat on the stove top, then
Finishing it, often with vegetables added, in liquid in the oven.
It is a very easy way to cook and creates a one pot meal that is full of flavor as well as moist, tender meat.
Braising is a very non-fussy, rustic cooking method. Itproduces some of the more flavorful dishes you'll enjoy in the cold weather season.
Braising is also a wonderful method for less expensive cuts of meat; filling them with flavor and rendering them very tender.
Red Wine Braised Short Ribs
I often opt for a faster dinner recipes; but braising is a great example of how the right longer recipe can still be easy. The end result is definitely worth the cooking time.
After searing on the stove, these braised short ribs are cooked over a lower heat, covered, in the oven; for about 2 1/2 hours.
This allows the rich sauce of beef stock, vegetables and red wine to fully tenderize the ribs. Also creating irresistible flavors for the ribs and sauce.
There is no work for you during the cooking time!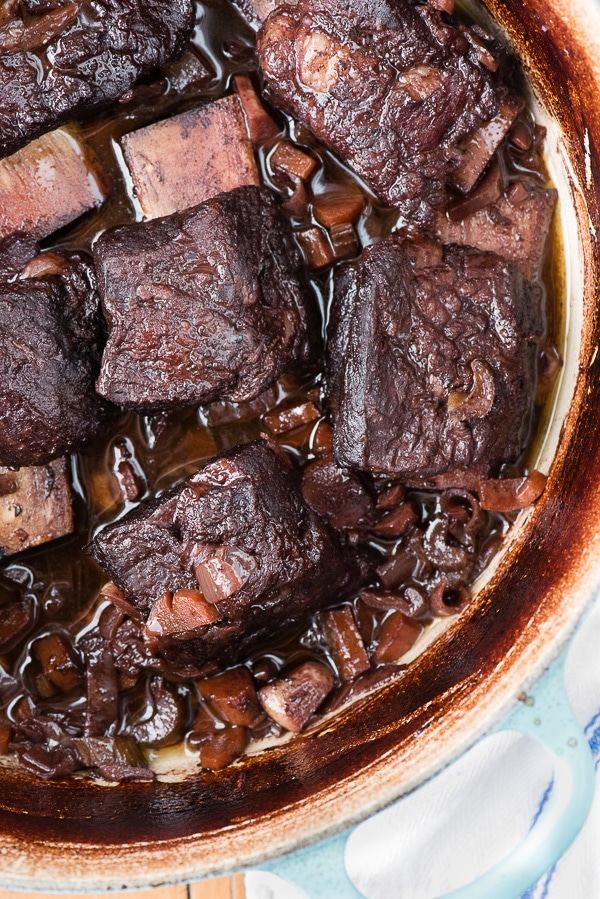 How to Braise Short Ribs
The beef short ribs cook in the oven for 2-3 hours until they are tender and almost falling off the bone.
When putting them into the oven, the bone is not exposed and over the cooking time the shrink, rendering their fat.
The braised short ribs emerge a deep, dark, sumptuous shade of brown having cooked in a reduced Cabernet Sauvignon beef broth reduction with aromatic vegetables.
How Many Braised Short Ribs per Person?
Though the ribs are seemingly small, as mentioned earlier, they are rich. In chatting with my butcher about portion size he felt 3 ribs were about right per person, and 3 ribs make up almost a pound.
My opinion is that 3 pounds is good for serving four, especially with potatoes and maybe a side salad.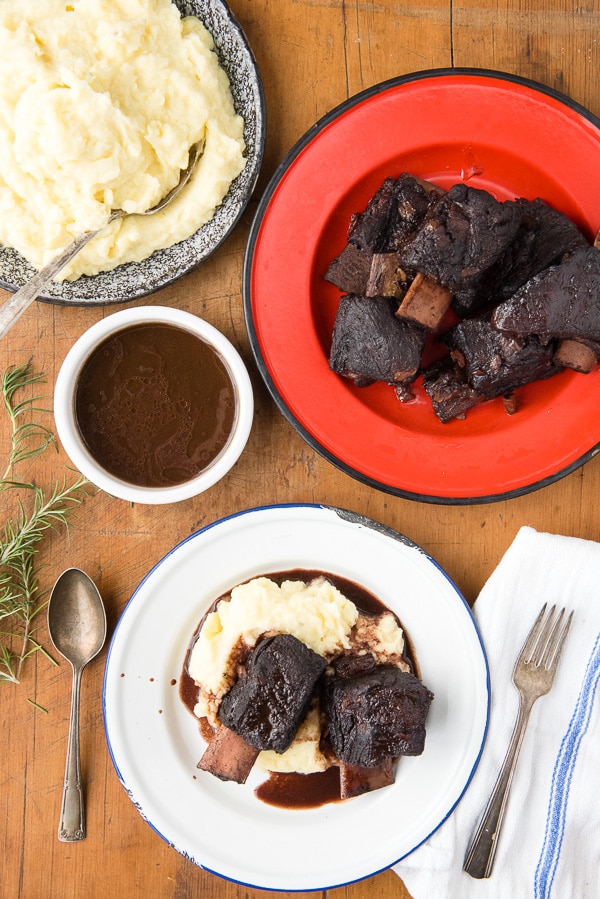 Yukon Gold Whipped Garlic Potatoes
For a perfect pairing, I prepared Yukon Gold Whipped Garlic Potatoes.
The garlic is boiled with the potatoes which are passed through a ricer or food mill leaving them creamy and smooth.
The potatoes are made with milk (in fact I used non-fat dairy milk) and a bit of butter, and are whipped at the end to leave them light.
The ribs are rich so a lighter potato, still with plenty of flavor, works well.
TIP: Were you to make them as a side dish for a lighter meat, half-and-half or some cream could be added if desired.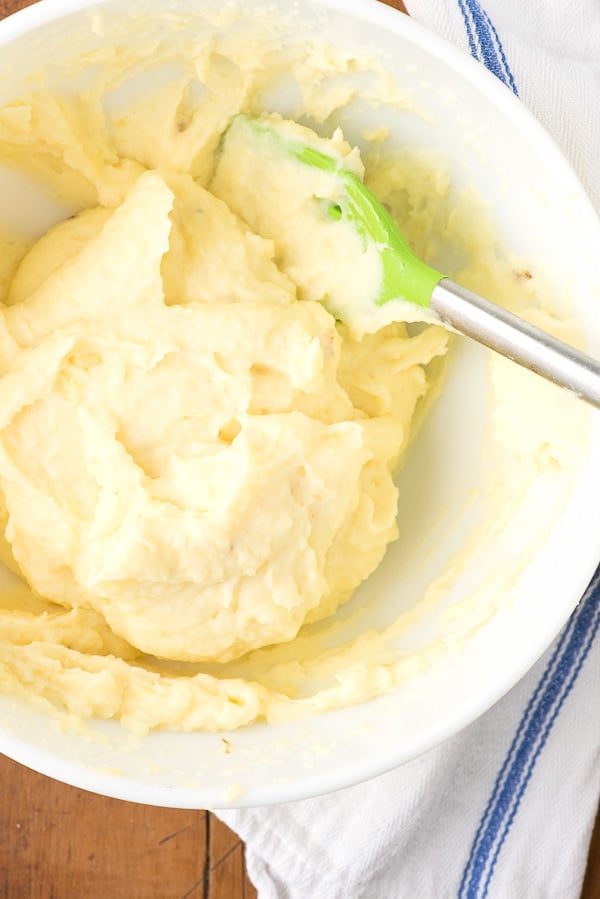 Suggested Supplies for Making Braised Short Ribs & Potatoes
Sieve (fine-mesh strainer) for straining the vegetables from the sauce
Stock Pot(for boiling the potatoes)
Ricer (for mashing the potatoes)
More Braising Recipes You'll Love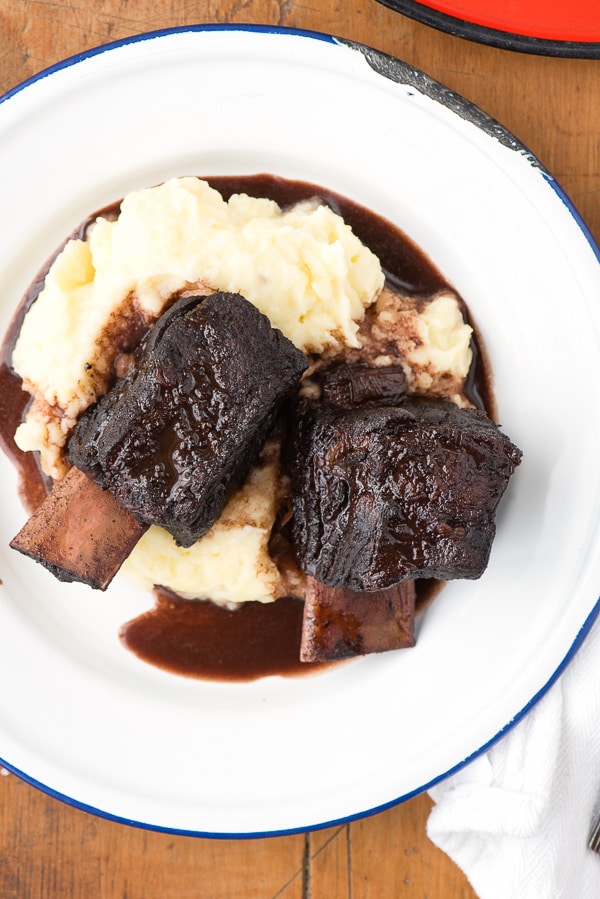 Try These Recipes too
Instant Pot Short Ribs with Harvest Succotash
If you've made this Red Wine Braised Short Rib recipe please RATE THE RECIPE below!
Please SUBSCRIBE and FOLLOW ME on FACEBOOK , TWITTER , INSTAGRAM and PINTEREST !
How to Make Red Wine Braised Short Ribs – Step by Step:
Originally published February 7, 2016