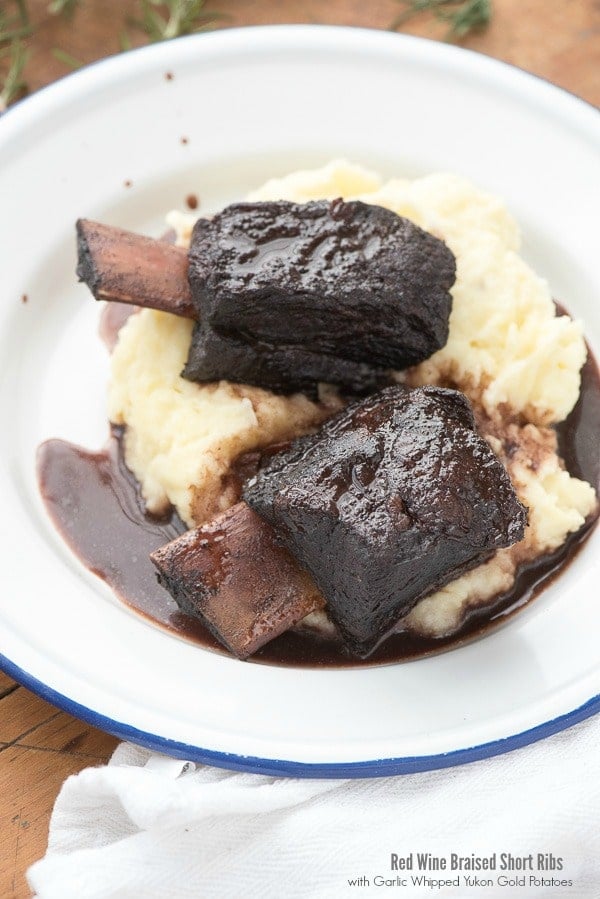 I think my favorite type of food is rustic, country-style food.  I love the lack of pretense and fussiness.  It's relaxed in appearance and yet usually full of flavor making it satisfying and comforting.
I was recently recalling a dinner in California with friends with the host making ribs in red wine.  It was a time when I appreciated great food but was not particularly into cooking much.  I was looming in the kitchen with a glass of wine asking questions and I recall the host saying the red wine tenderizes the meat.  I'm not sure whether that is true or not but the memory prompted me to make my own Red Wine Braised Short Ribs.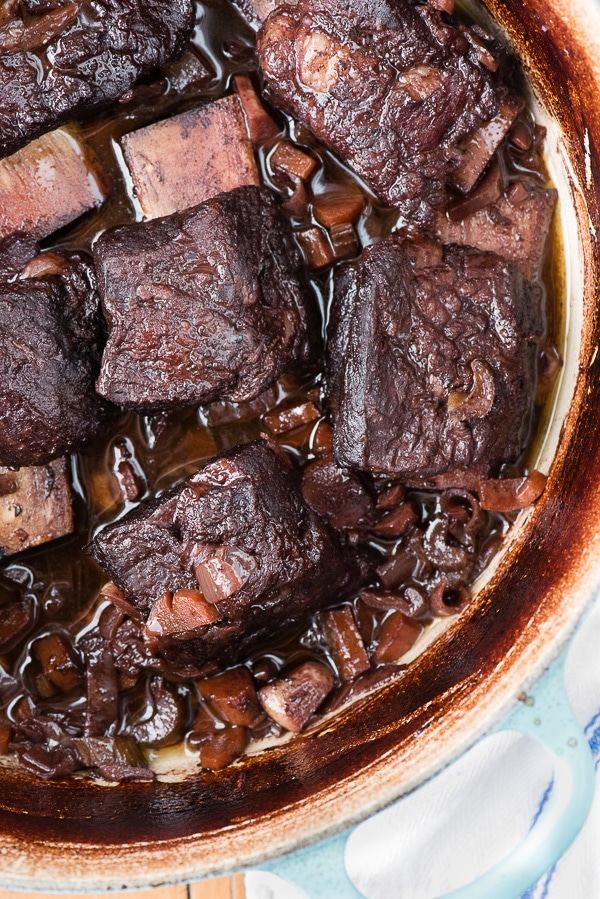 I've loved braising over the past year and each time I do it I think I really need to do it more often.  It's a two-step process of searing meat then adding liquid, and sometimes vegetables, to cook in the oven to finish.  I find it a very easy method yielding deeply flavored, savory dishes without much fuss.
Some of my favorite dishes I've shared are Vermouth-Braised Lemon Chicken Legs, Cider-Braised Chicken Thighs with Apples and Onions and Braised Cream Sherry Chicken Thighs with Cherries.  Chicken dishes are quicker to make with the oven time being less than an hour.  The beef short ribs cook in the oven for 2-3 hours until they are tender and almost falling off the bone.  When putting them into the oven the bone is not exposed and over the cooking time the shrink, rendering their fat.  They emerge a deep, dark, sumptuous shade of brown having cooked in a reduced Cabernet Sauvignon beef broth reduction with aromatic vegetables.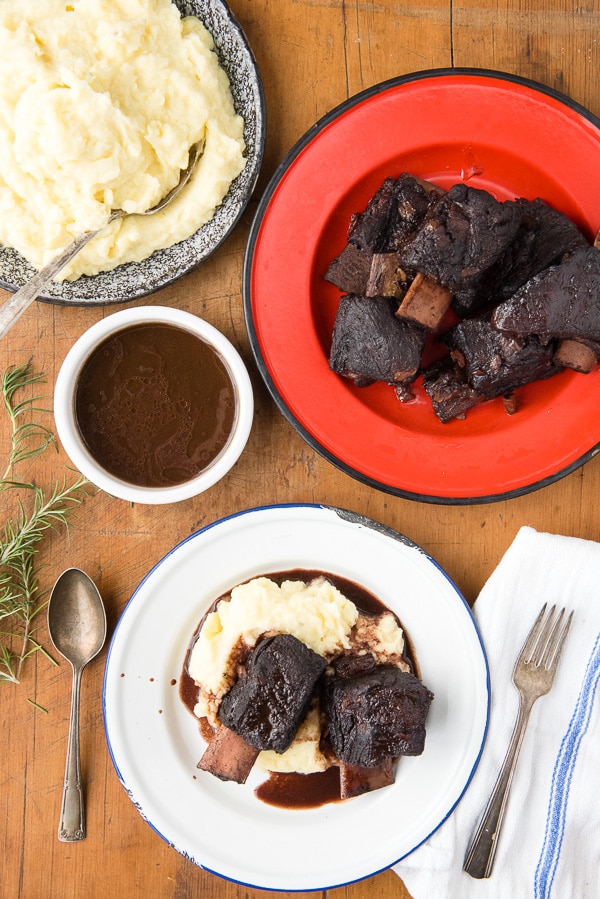 For a perfect pairing, I prepared Yukon Gold Whipped Garlic Potatoes.  The garlic is boiled with the potatoes which are passed through a ricer or food mill leaving them creamy and smooth.  The potatoes are made with milk (in fact I used non-fat dairy milk) and a bit of butter, and are whipped at the end to leave them light.  The ribs are rich so a lighter potato, still with plenty of flavor, works well.  Were you to make them as a side dish for a lighter meat, half-and-half or some cream could be added if desired.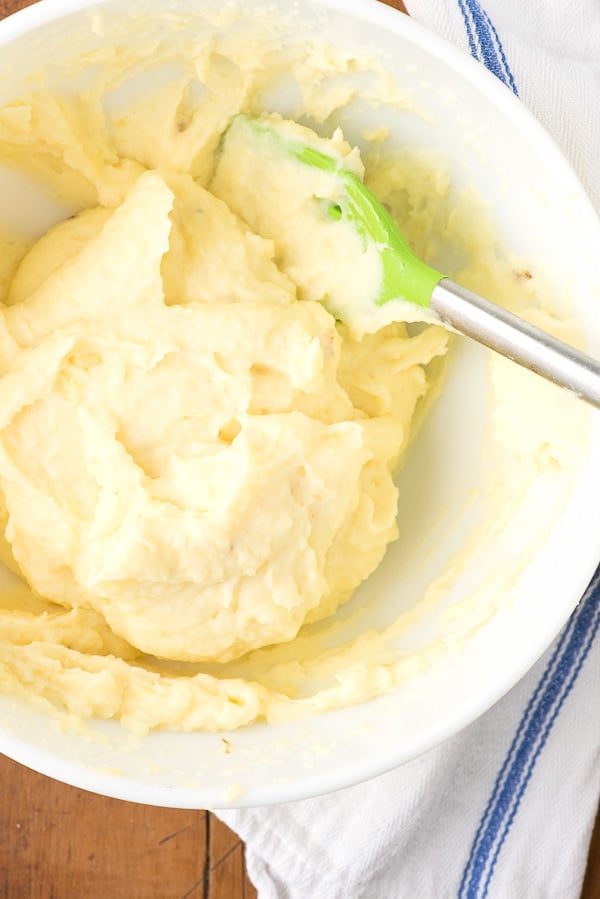 Though the ribs are seemingly small, as mentioned earlier, they are rich.  In chatting with my butcher about portion size he felt 3 ribs were about right per person, and 3 ribs make up almost a pound.  I feel 3 pounds is good for serving four, especially with potatoes and maybe a side salad.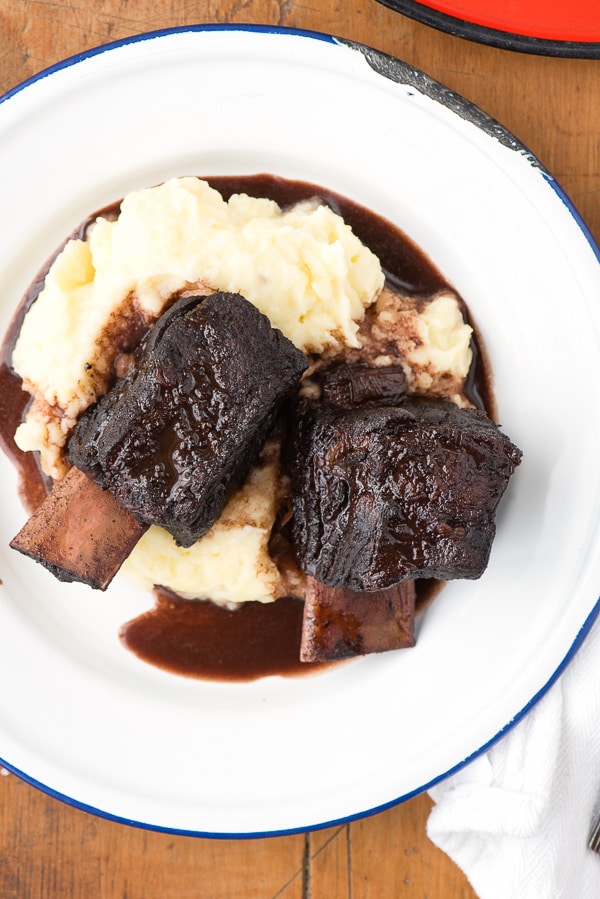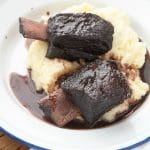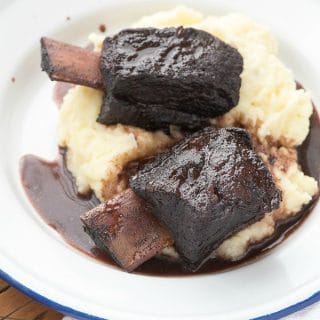 Red Wine Braised Short Ribs with Garlic Whipped Yukon Gold Potatoes
These red wine braised beef short ribs and falling-off-the-bone tender and loaded with flavor. After a short searing they are cooked in the oven in a red wine reduction taking little more time than peeking to see if they are ok. Served on creamy Garlic Whipped Yukon Gold potatoes it makes for a rustic, comforting dish to satisfy all.
Cook Time
2
hours
30
minutes
Total Time
2
hours
45
minutes
Ingredients
Ingredients for the Short Ribs:
3

pounds

Short Ribs

4

tablespoons

Unsalted Butter

Kosher Salt and ground Black Pepper

¾

cup

rough chopped Carrots

3

large Garlic Cloves

, peeled and halved

¾

cup

rough chopped Celery

½

cup

chopped Shallots

1

quart

Low-Sodium Beef Stock

1 750

ml

bottle Cabernet Sauvignon Wine
Ingredients for the Garlic Whipped Potatoes:
2

pounds

unpeeled Yukon Gold Potatoes

(about 4 large potatoes); scrubbed and quartered

5

medium Garlic Cloves

, peeled and halved

1 ½

tablespoons

Kosher Salt

1

cup

Milk

4

tablespoons

Unsalted Butter

, cut into small pieces
Instructions
Instructions for the Short Ribs:
Preheat the oven to 325 degrees.

In a large Dutch Oven (or a heavy deep skillet with a lid) melt the butter over medium-high heat. Salt and pepper the ribs and place them in the pan to sear on all sides (rotate them to allow each side to sear); approximately 8-10. Remove the ribs from the skillet and set aside.

Add the carrots, garlic, celery, and shallots to the skillet and sauté for 2 minutes. Pour in wine and stock, stirring to loosen any browned bits from the bottom of the pan. Bring to a strong boil and reduce by 1/3 (approximately 20 minutes; time at 5,500 feet, time may vary at different altitudes).

Add the ribs back to the pan, meat side down, cover and place in the oven to cook for 2 ½ hours until ribs are tender and falling off the bone.

Strain the pan juices through a sieve (discard the vegetables). Skim off any excess fat and discard; reserve the juices for serving.
Instructions for the potatoes:
Place the potatoes and garlic in a large stock pot. Fill with cold water to cover the top of the potatoes by 2 inches. Bring to a boil and cook until the potatoes are done; 20-25 minutes. Drain the potatoes and garlic.

While the potatoes are cooking, warm the milk in a microwave or saucepan until it is hot but not simmering.

Process potatoes and garlic through a ricer or food mill into a mixing bowl. Add the butter and drizzle 1/3 of the hot milk into the potatoes. Using a handheld mixer (or a stand mixer with a whisk attachment) mix the milk and butter into the potatoes. Add another 1/3 of the milk, beat to incorporate and repeat with the remaining milk. Potatoes will be light, smooth and whipped.
To serve:
Serve 1-2 ribs over a helping of potatoes, drizzled with some of the strained pan juices.