Baked Donut Peaches are coated with a delicious sweet spiced sauce, and topped with sugar and chopped almonds. This seasonal dessert celebrates a special peach you'll love!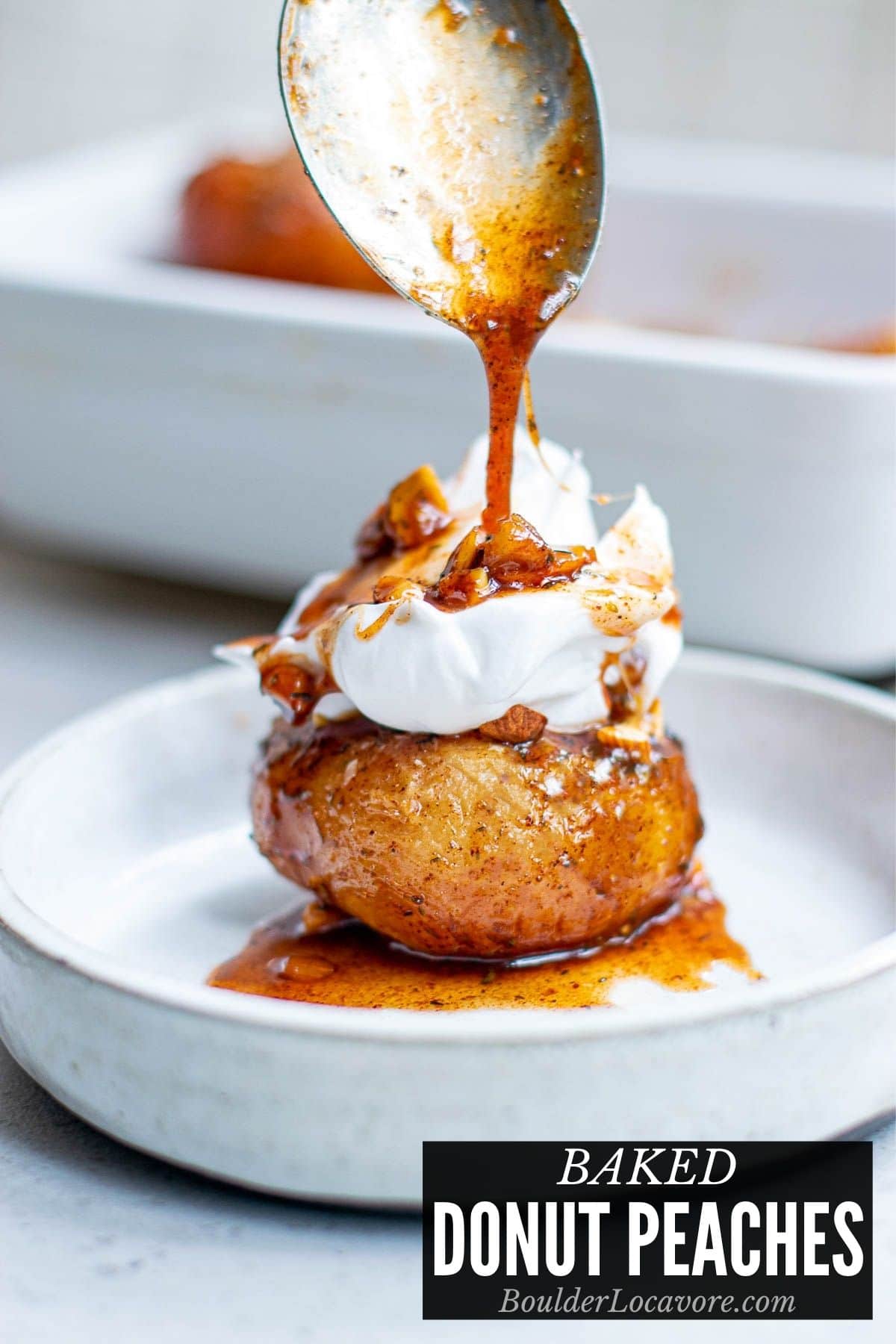 Nothing tastes more like summer than ripe peaches.
One of the easiest, most delicious desserts is simply to bake them.
Fast to make, they are slathered in a sweet, spiced sauce, featuring a special variety you'll fall in love with!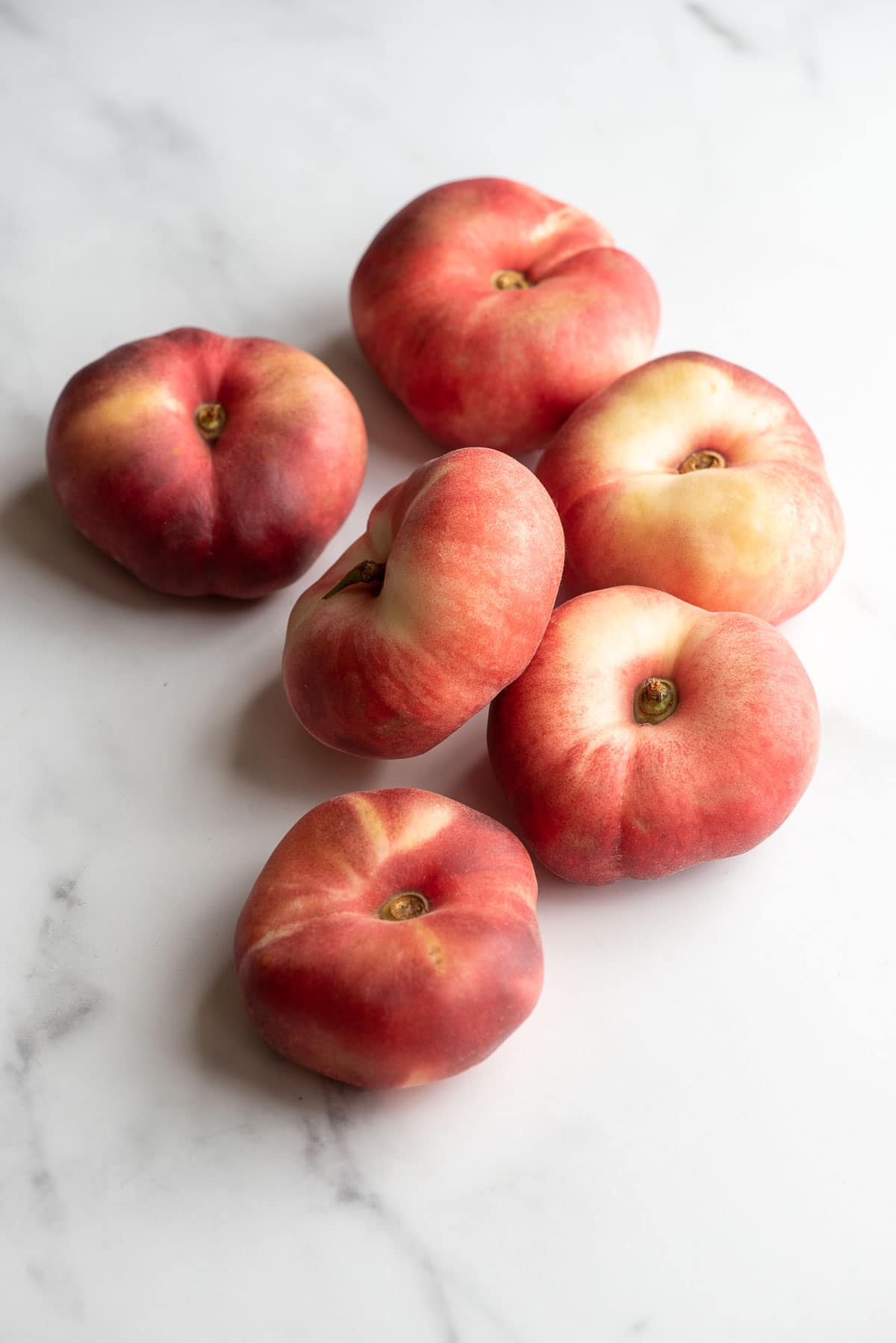 What is a Donut Peach?
Not to be confused with peach donuts, a Donut Peach or Saturn Peach looks like a peach someone sat on.
They are flat peaches that are sweeter than the regular round counterpart, with white flesh (most varieties).
They also have less acidity making them delicious.
These little wonders are descendants from Chinese Pan Tao ('flat peach' in Chinese) peaches.
Most varieties are freestone type which means the pit doesn't cling to the flesh.
Based on their shape the pit can be pushed out of the peach making a ring…..like those around Saturn.
The skin of the peach has little fuzz making it edible (rinse it well though to remove any pesticides).
They are about 3 1/2 inches in diameter and 1-2 inches tall.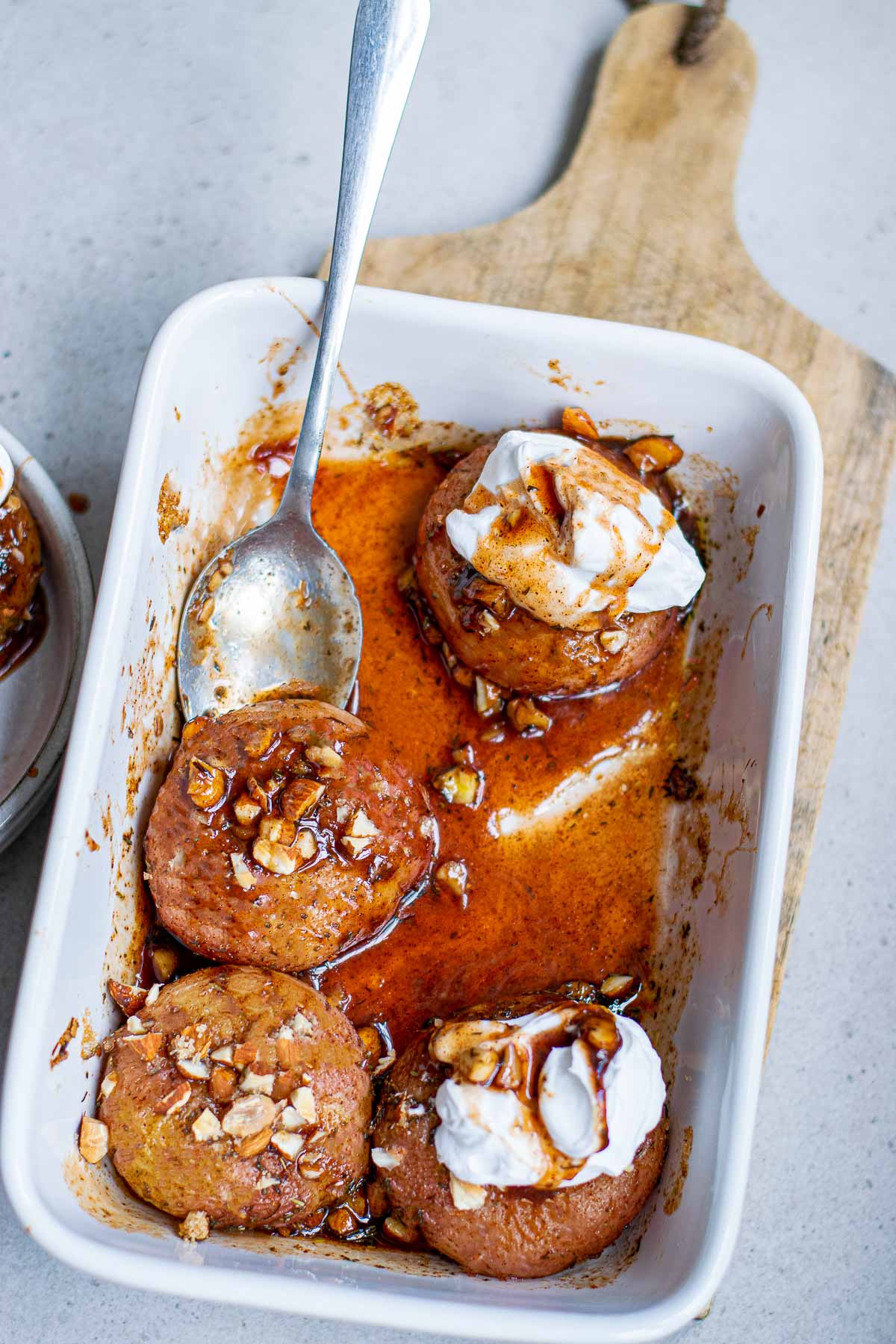 When are Donut Peaches in season?
They have two main seasons in the U.S.. The end of May through the end of June.
Then again from the end of July through the end of August.
Seasons can vary based on weather conditions and harvest availability.
Where to Buy them?
Check with stores that focus on a wide variety of produce like Whole Foods.
Also Farmer's Markets during the season.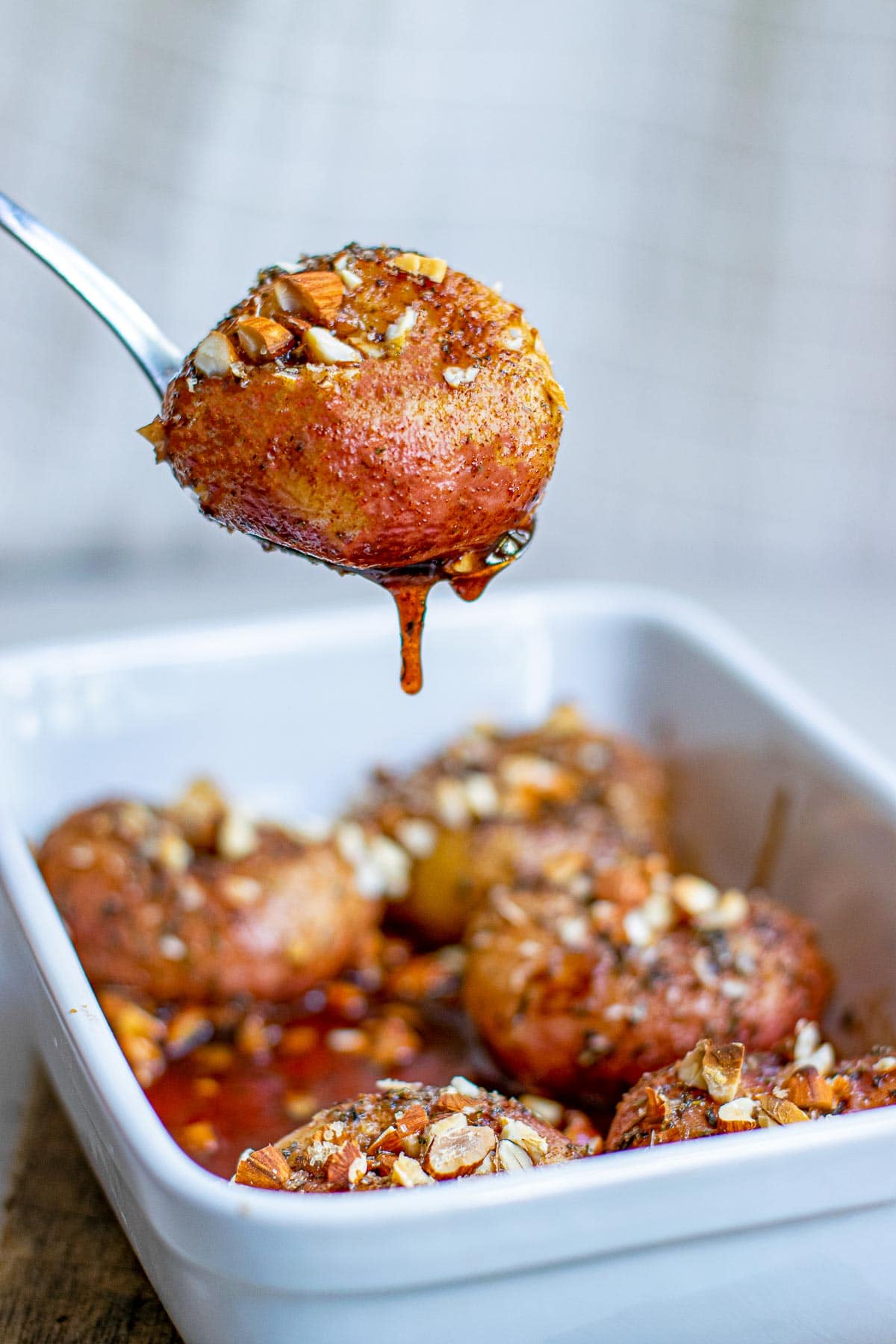 An Easy Summer Dessert Recipe
As delicious as eating them fresh is, baked peaches are a perfect dessert.
The sweet flesh when baked tastes like the filling of peach pie thanks to a few spices and some sugar.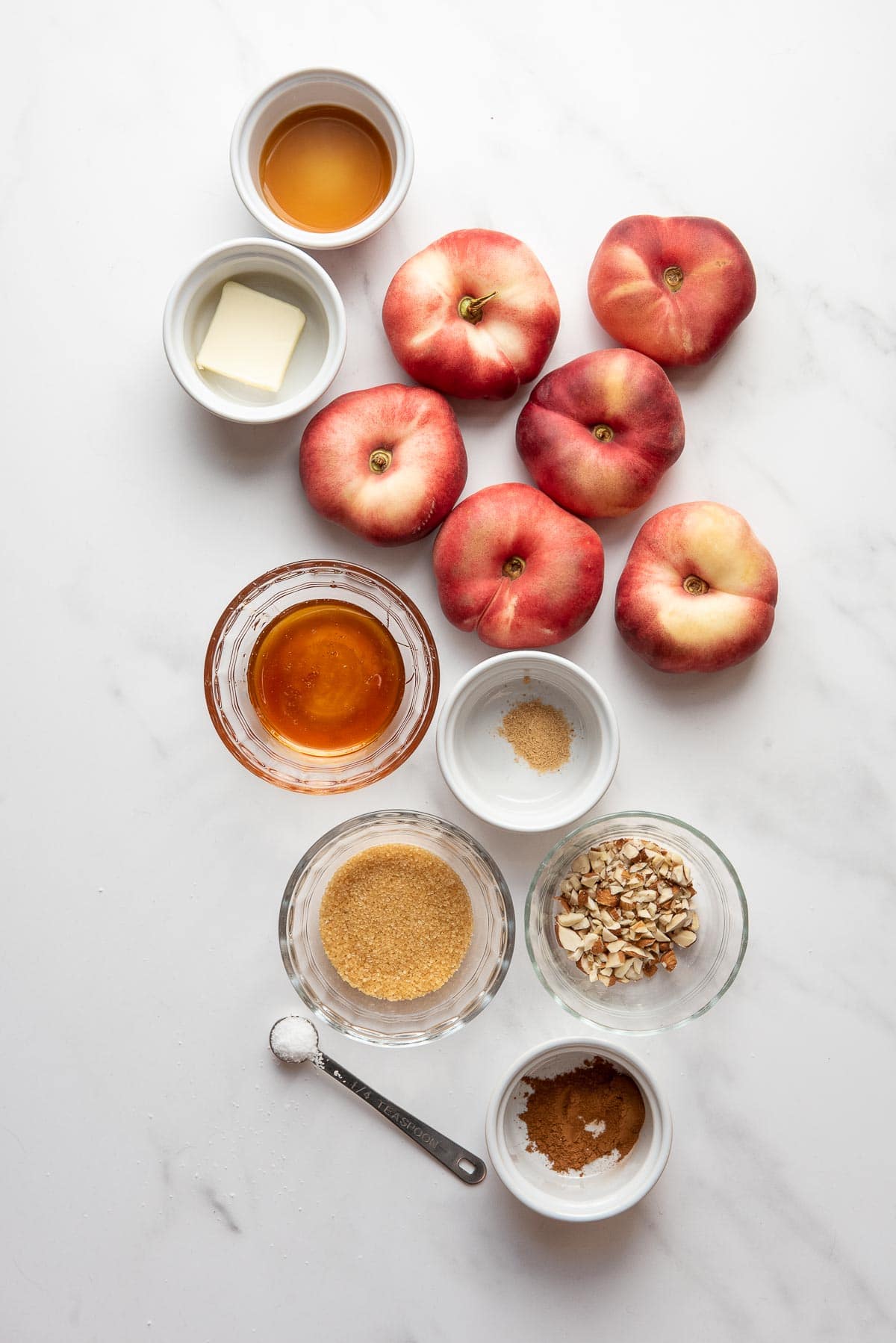 Recipe Ingredients
Donut Peaches – select ripe yet firm peaches. If this type of peach is unavailable, substitute regular peaches halved (so one regular peach halved is the same at two saturn peaches). Rinse well and pat dry with a paper towel
Unsalted Butter
Honey
Cinnamon and ground Ginger
Salt
Vanilla Extract
Turbinado sugar or Brown Sugar – this is added on the peach before baking. Turbinado sugar has a coarser texture (see the photo above) and will add some crunch as well as a homey molasses-type flavor. Brown sugar may also be used.
Natural Almonds – chopped almonds sprinkled on top of the peaches gives a warm roasted nut flavor and nice crunch.
Bourbon (optional) – if desired add a bit of bourbon for depth of flavor. They are delicious without this too!
How to Make it – Step-by-Step
STEP 1: Preheat the oven to 350 degrees F. Lightly spray a 9-inch by 9-inch baking pan with non-stick cooking spray. A slightly larger pan can also be used; it should fit all the peaches without much excess room.
STEP 2: Heat a small saucepan with the butter over medium-low heat until the butter melts. Remove from heat.
STEP 3: Add the honey, cinnamon, ginger and salt; stir to combine and dissolve the salt. Stir in the vanilla extract and bourbon (if using).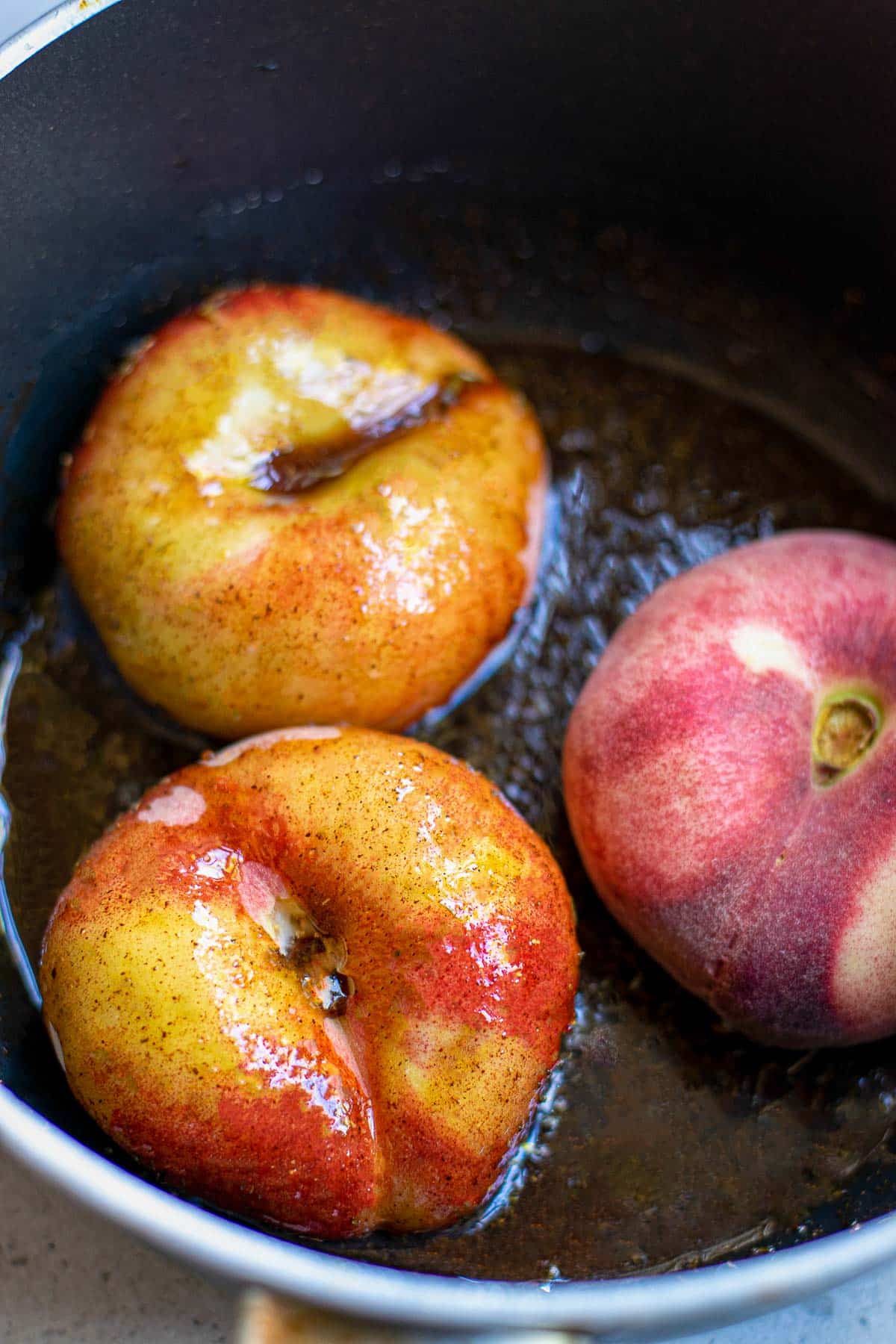 STEP 4: Place the peaches in the pan and rotate them to generously coat with sauce on all sides. Remove and place in the prepared baking dish. NOTE: do this with a few at a time to ensure enough room to rotate them fully.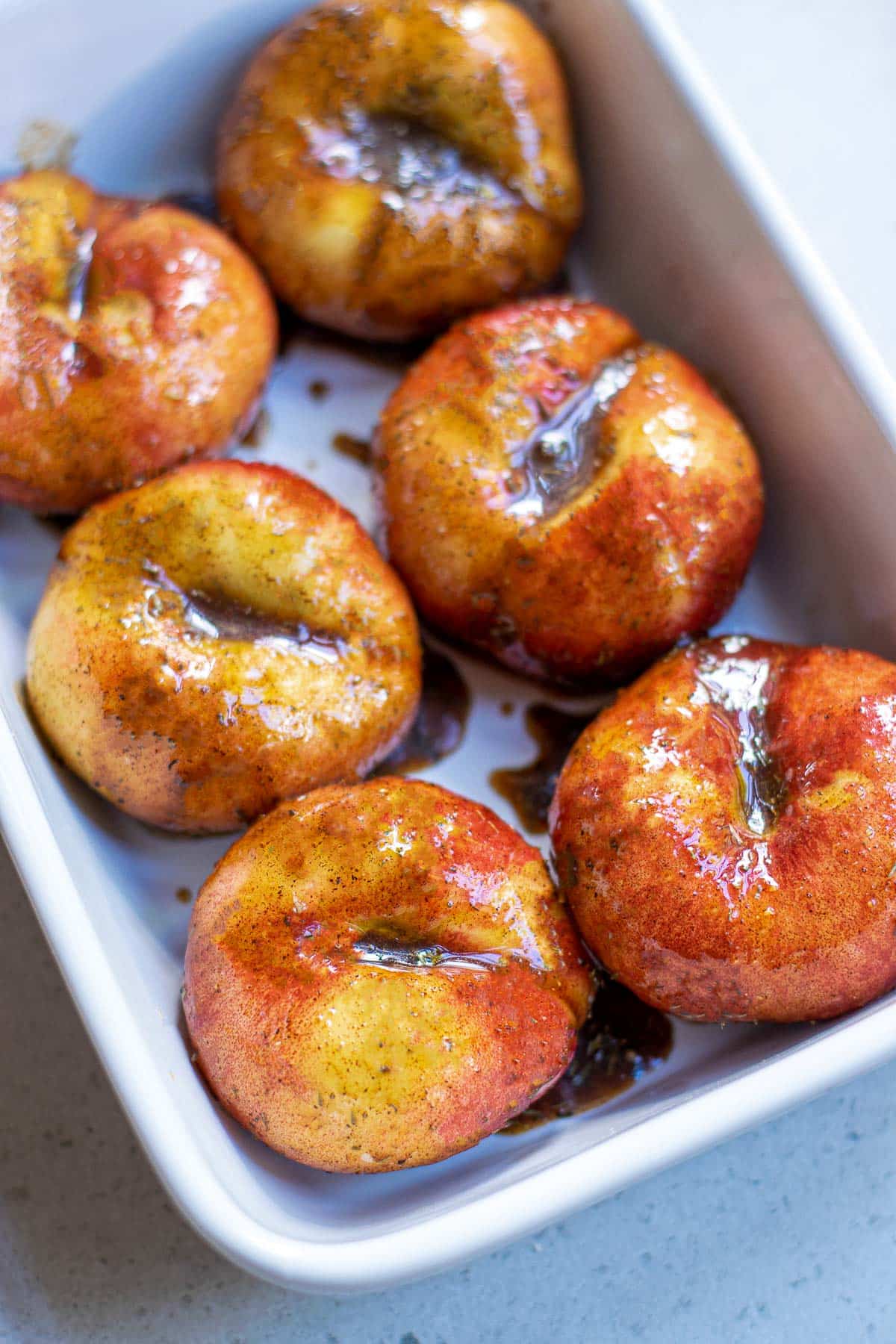 STEP 5: Spoon the sauce from the pan evenly over the peaches in the baking dish. Sprinkle the tops with the sugar and nuts.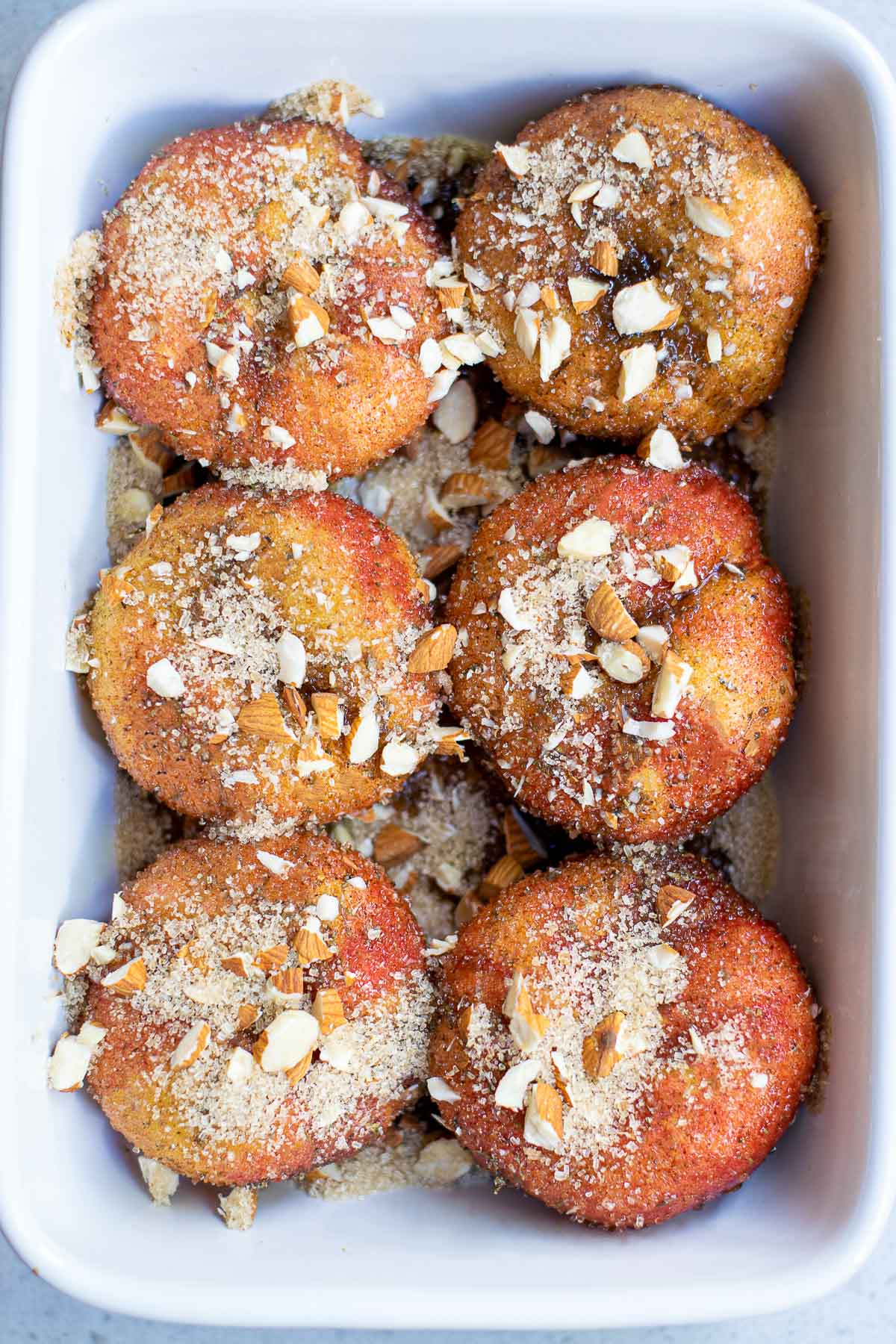 STEP 6: Bake for 30 minutes. Remove and allow the baking dish to sit on a wire rack for a few minutes before serving.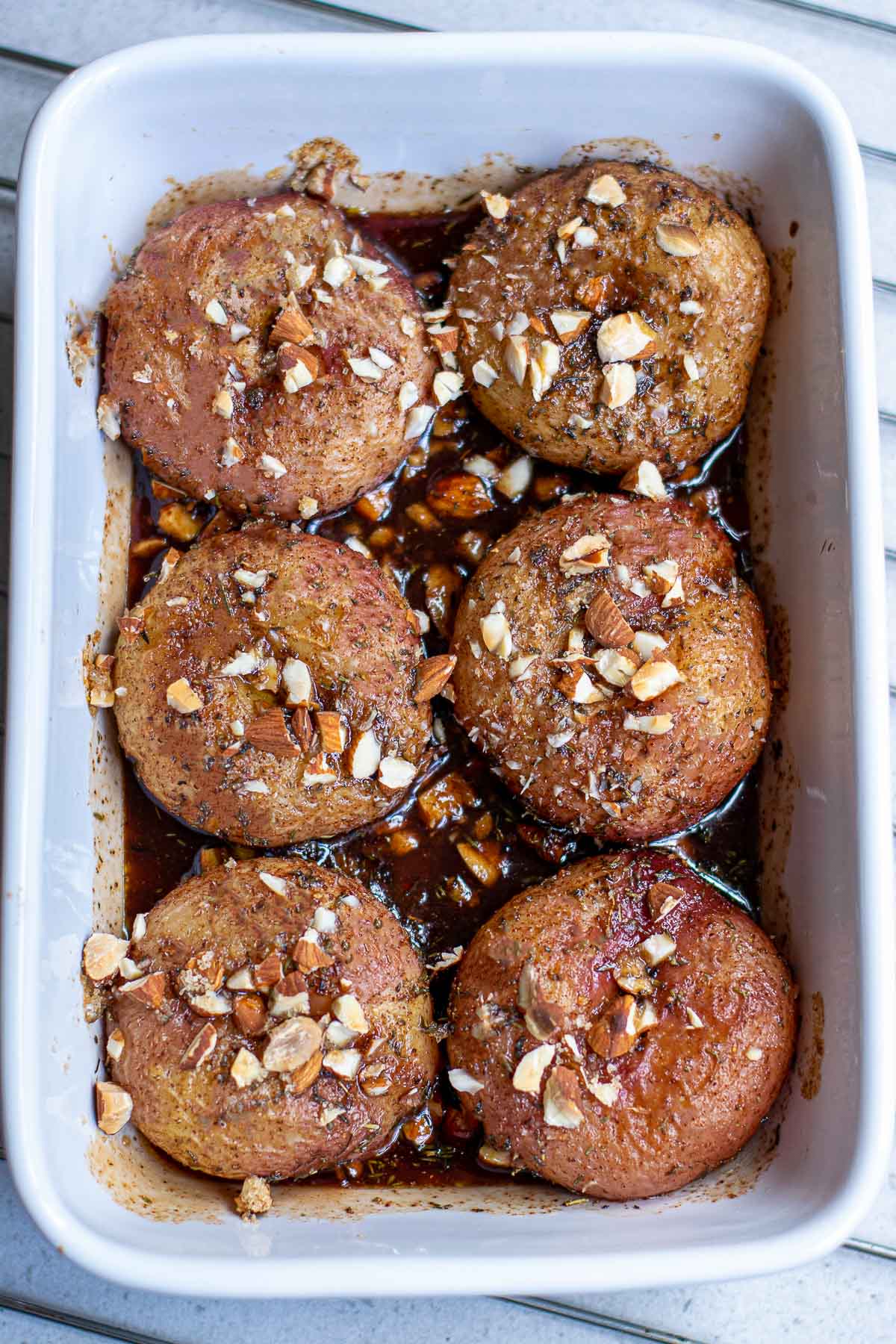 Serve warm topped with whipped cream, vanilla ice cream or Greek yogurt if desires and some of the pan sauce.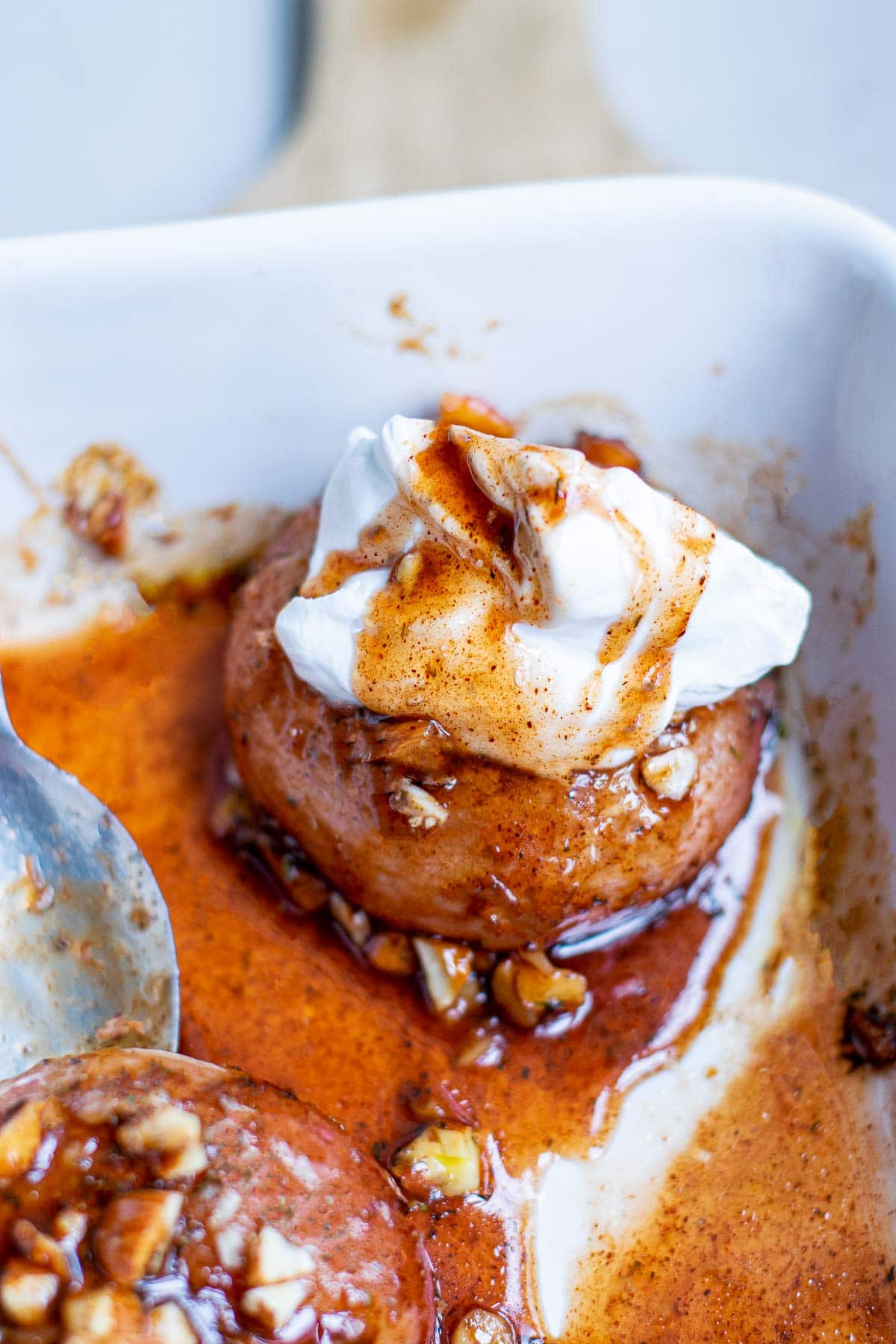 More Peach Recipes You'll Love!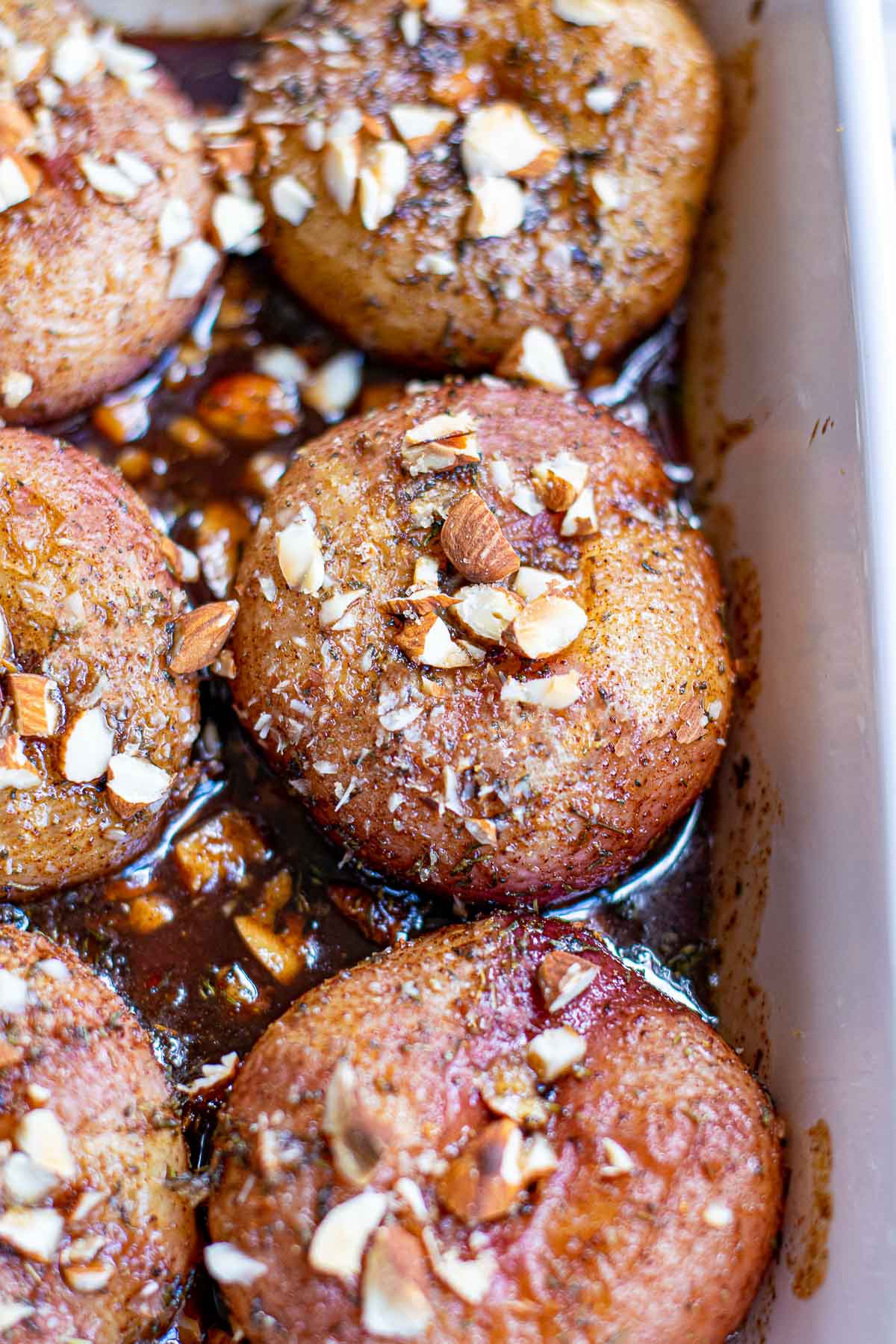 Did you make it? Please RATE THE RECIPE below!
Please SUBSCRIBE and FOLLOW ME on FACEBOOK , TWITTER , INSTAGRAM and PINTEREST !