Roasting Chestnuts is easy in the oven and shouldn't be missed as a holiday treat! This guide has Everything You Need to Know!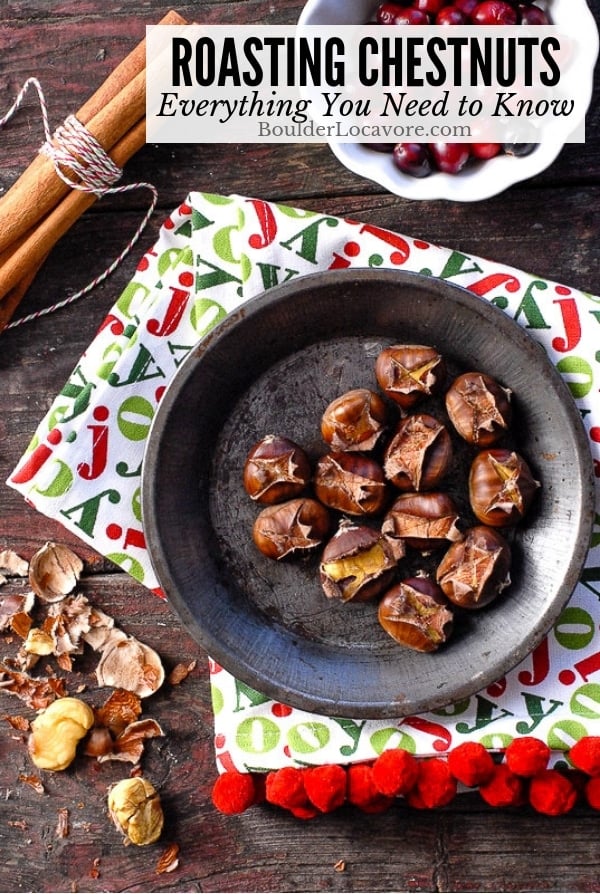 You've probably sung about 'chestnuts roasting over an open fire' but have you eaten roasted chestnuts? OR did you know you can roast chestnuts yourself?
They are a fun treat at during the holidays and the oven is perfect for roasting chestnuts!
Roasted chestnuts are a delicious and unique signature of the holiday dining-scape, as well as very easy to prepare.
The chestnut itself is a large, soft, sweet-tasting nut enclosed in a beautiful, hard mahogany-looking shell.
With a few tips you can start a new tradition to go along with the Christmas Carol!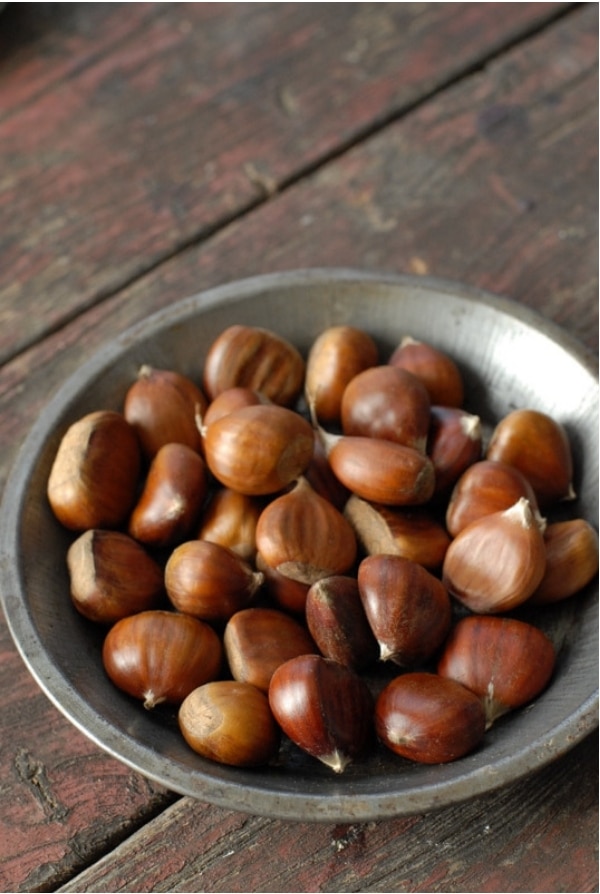 When are Chestnuts Available?
In the United States, chestnuts begin showing up in grocery stores around Thanksgiving. In other areas of the world they are available at different times of the year.
You will find them in grocery stores now (available as 'organic' too), ready to be oven-roasted and enjoyed as part of your holiday celebrations.
Where to Buy Chestnuts
You will find chestnuts in grocery stores and Farmer's Markets. Often outdoor Christmas markets and fairs will sell them already roasted too.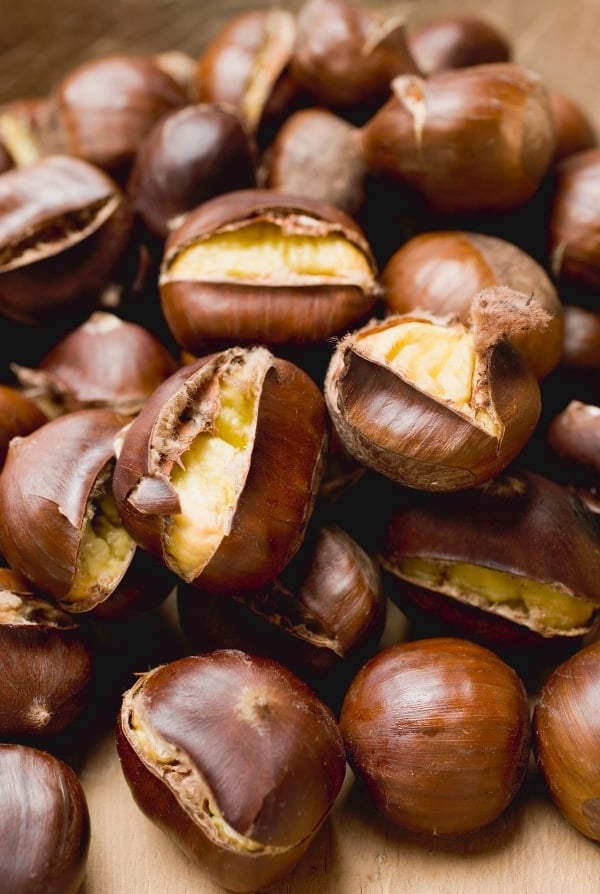 How Long to Keep Chestnuts Before Roasting?
Chestnuts should be kept in the refrigerator only for a few days before roasting.
What Do Roasted Chestnuts Taste Like?
The tender meat of the chestnut has a slightly sweet flavor more like a sweet potato than another type of nut.
Roasted chestnuts also are a bit spongey rather than crunchy. They are a wonderful flavor of the season that everyone should try!
How to Eat Roasted Chestnuts
They can be eaten plain or added to dishes like stuffing for a sweet crunch.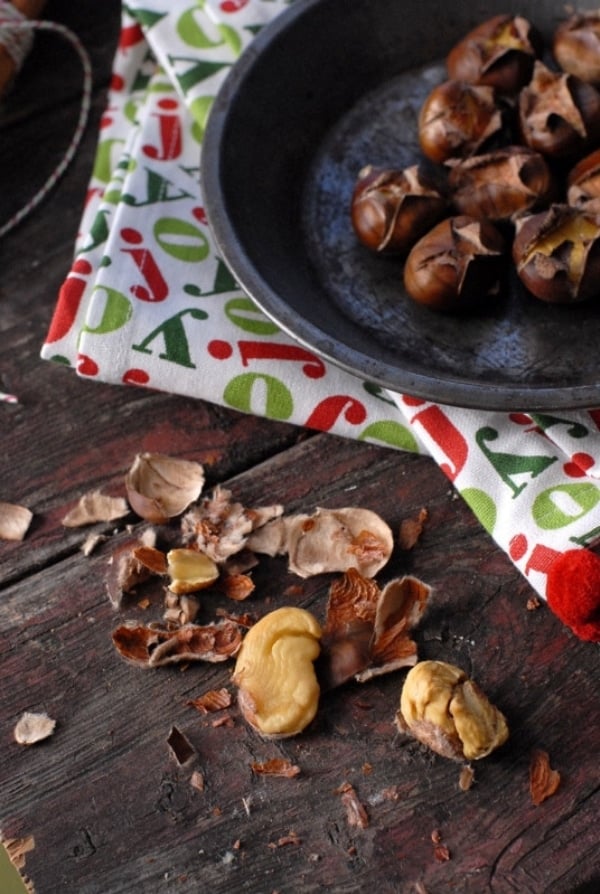 Roasting Chestnuts: How to Make an X and Why
You'll notice both in these photos and in most photos of roasting chestnuts there is an X cut into the chestnut.
If the chestnuts are not scored, they can explode due to the pressure inside as they cook.
That's easy to avoid. Making an X avoids the pressure build up AND makes them easy to peel after roasting.
I have read other methods suggesting using a dull knife; ignore that advice!
The outer shell of the chestnut takes some effort to penetrate.
Though it is a thin shell, it's smooth requiring a tight grip and a sharp knife to slice through it; a sharp serrated knife works best.
Roasting Chestnuts: How to Do It
The great news is that roasting chestnuts is easy with a few simple steps!
STEP 1: Preheat the oven to 425 degrees.
STEP 2: With a serrated knife (a bread knife works great), slice a large 'X' on the flat side of the chestnuts. NOTE: Be sure you slice through to the nut itself which allows steam to escape when cooking and easy peeling.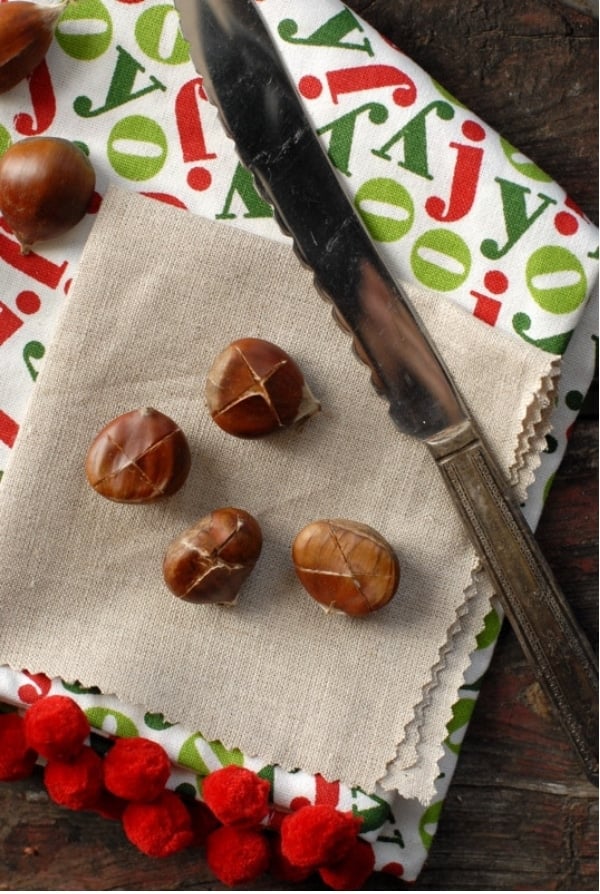 STEP 3: Place scored chestnuts on a baking sheet with the X facing up.
STEP 4: Bake until the shell of the chestnut is peeling back around the 'X' (depending on the chestnuts aproximately 15-25 minutes). Refer to the photos below.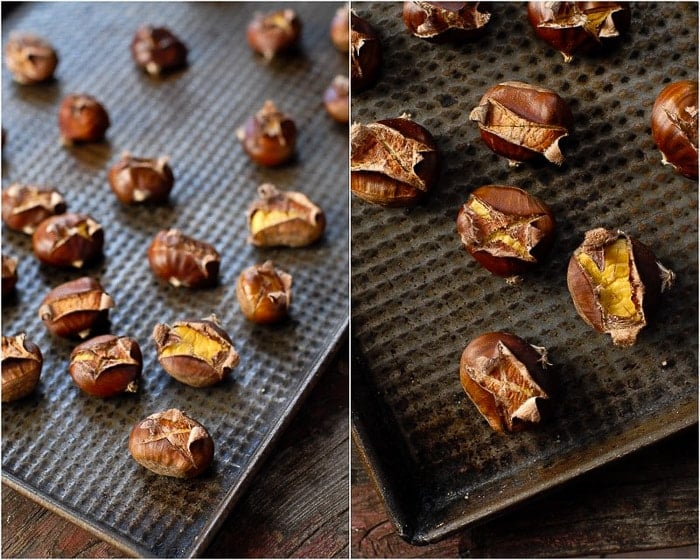 STEP 5: Remove from oven and place a kitchen towel over the pan allowing them to steam slightly for 15 minutes.
How to Peel Roasted Chestnuts
When peeling roasted chestnuts there is the outer shell and a thin inner covering that comes off easily after this roasting method.
Chestnuts can be peeled when cool enough to handle (peel by pulling the shell away at the 'X'). Roasted chestnuts are best eaten right after roasting (versus saving them for another day).
More Recipes You'll Love
Did you make it? Please RATE THE RECIPE below!
Please SUBSCRIBE and FOLLOW ME on FACEBOOK , TWITTER , INSTAGRAM and PINTEREST !
Originally published: December 8, 2012