Punch recipes make any occaision feel like a celebration. Firecracker Punch celebrates summer and Fourth of July with fruity flavors and a bang (from a secret ingredient)! An easy punch recipe that can be spiked!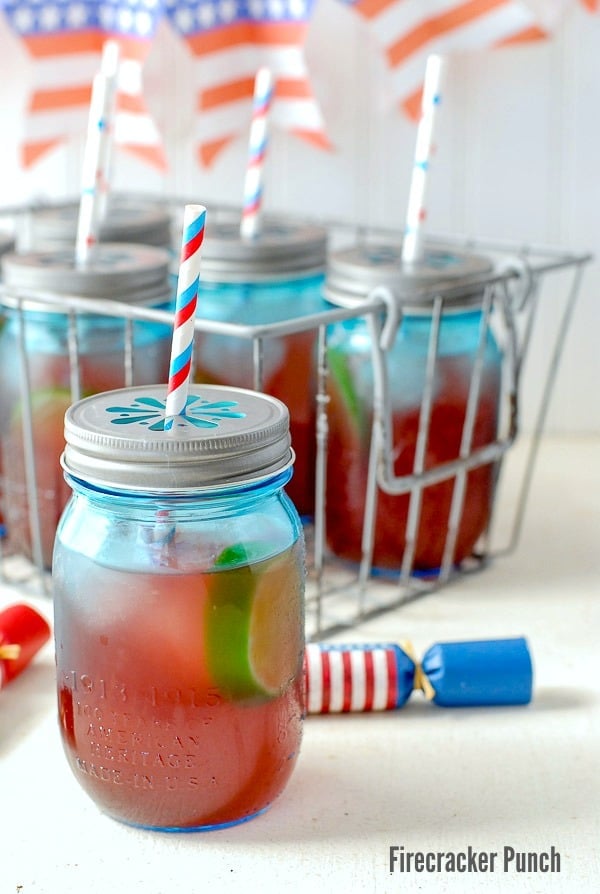 Updated June 12, 2018
Any holiday is made more festive with themed recipes and decorations. Being mid-summer Fourth of July offers red, white and blue recipe opportunity or a refreshing punch recipe like this Firecracker Punch!
It's an easy punch recipe that can be made as a non-alcoholic punch or an alcoholic party punch! If making an adult version party punch recipe, the liquor can be added by the serving if serving a mixed age group (non-drinkers and cocktailers).
I love Fourth of July. I have a picture in my head from a Martha Stewart Living magazine from years ago of a home with a large wrap-around porch much like the home I live in now, draped with patriotic bunting evoking the charm of Small Town U.S.A.
There is simplicity about Fourth of July. Whether you are watching fireworks in one of the best U.S. cities or on a picnic blanket in your city park, it's a relaxed holiday celebration.
Casual grilling or picnicking with friends and family. It just feels like summer.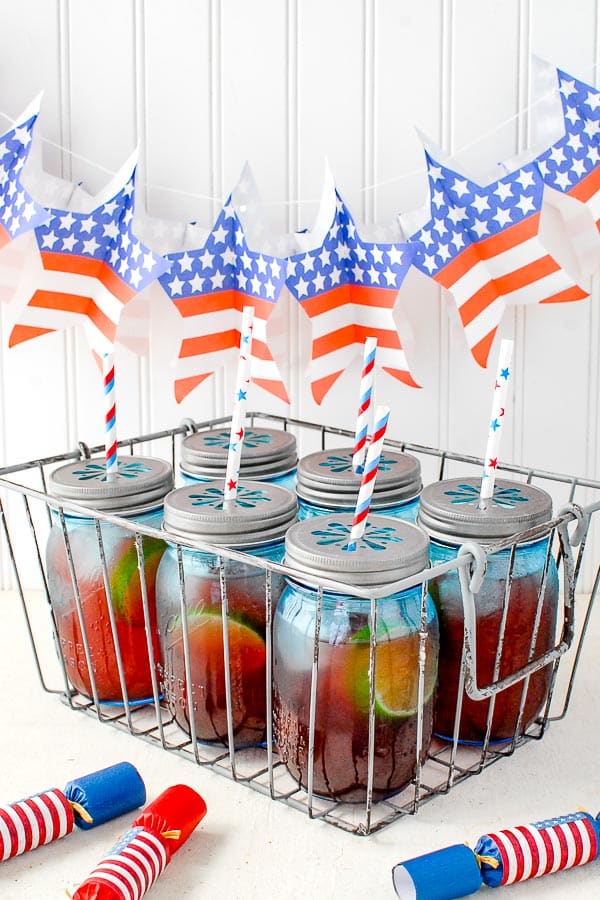 What is a Punch Recipe?
Punch is a larger batch drink which can be made from an assortment of drink ingredients. Usually fruit juices are used along with soft drinks and sometimes alcohol if making an alcoholic punch for a party.
A great example of a holiday punch is Sparkling Cranberry Vodka Punchwhich is a simple alcoholic party punch recipe.Slow Cooker Vampire Punchis an example of a non-alcoholic punch recipe that can be served warm or cold for Halloween (and is made in a slow cooker).
How to Make Punch
One reason punch is perfect for parties or larger gatherings is that all the ingredients are mixed together and served in one batch. It takes about five minutes to make.
This allows the host not be stuck pouring individual drinks all night.
The punch recipe can be served in a punch bowl with a ladle, in a pitcherfor pouring or in a glass drink dispenser with spigot for self-serving.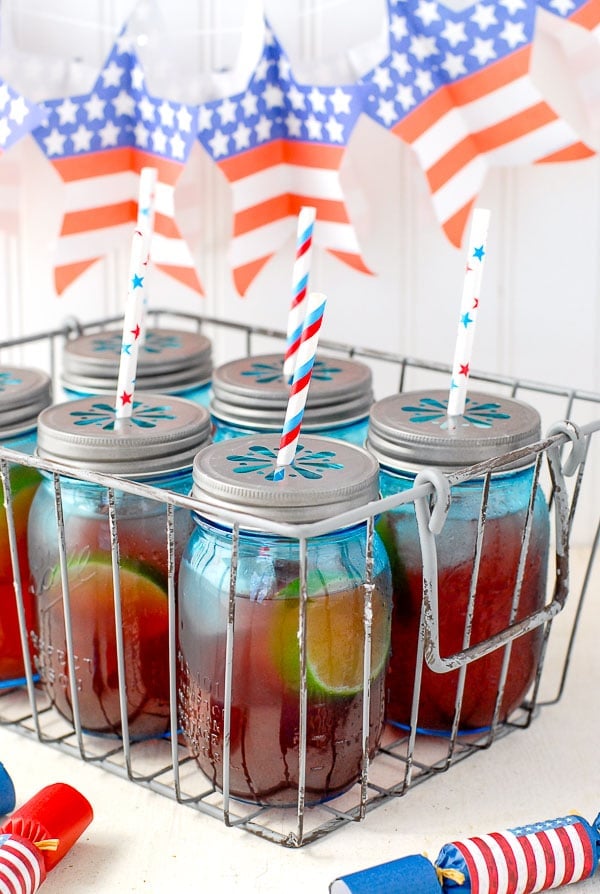 A Tip on Adding Ice to Punch Recipes
If serving in a punch bowl an ice ring may be made. Or in the case of a Halloween punch recipe I made, 'Off With Your Hand' Halloween Punch I filled a medical glove with water to freeze both to keep the punch cold and add a fun touch.
A tip on ice in punch: as the ice melts it will dilute the punch. If serving over a longer period of time, ice cubes can be made of juice so they will keep the punch cold and add flavor as they melt.
Also plastic freezeable ice cubes can be frozen and added to the punch. As they melt they won't add water to the punch. They also come in fun colors and shapes.
Firecracker Punch – A Easy Punch Recipe Perfect for Summer
Though I created this recipe as a Fourth of July recipe, it's truly a celebration of summer. Seasonal flavors of cherry, peach and lime create a refreshing combination to take the edge off steamy summer days.
The Secret Ingredient
To make this holiday punch match its name, Firecracker Punch, it has a few spicy ingredients. Ginger ale gives some zip and fizz.
The true secret ingredients are cinnamon candies! Either Red Hots or cinnamon imperials used for baking may be used. Once dissolved in the punch recipe they add a perfect sweet, spicy ka-pow to this party punch recipe.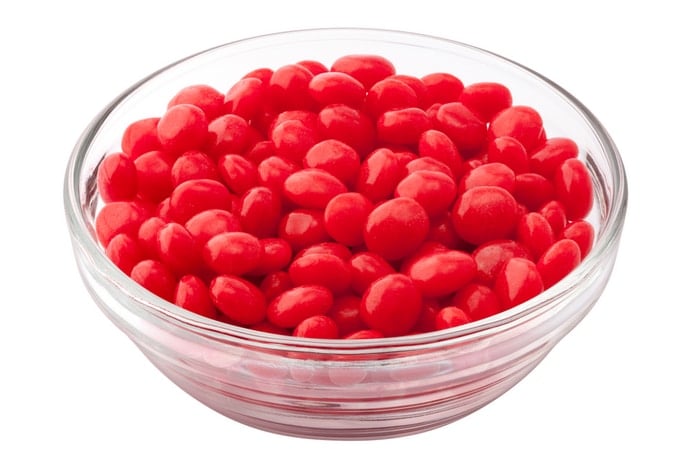 Using Cinnamon Red Hots for True Cinnamon Flavor
Red Hots or cinnamon imperials are a fantastic way to add true sweet cinnamon flavor to recipes. I have a vintage recipe for Wassail, a classic Christmas holiday drink, that uses them much as they are used in this Firecracker punch recipe.
A favorite way I've used them is grinding them up and adding them to this cinnamon frosting recipe. I promise it's the best, most true flavored cinnamon frosting you've tasted.
Though it's not required for this recipe a tip when needing to grind the Red Hots (or cinnamon imperials, they are basically the same): buy a dedicated coffee grinder and grind them in that. They are inexpensive and give you flexibility to grind your own spices.
After use, brush it out with a coffee brush (one that has not been used for coffee) and use it for grinding any spices; a damp paper towel may be used in between different types of spices too. For instance, when I make homemade curry powder I add all the spices into my dedicated grinder for my own curry powder.
Making Firecracker Punch a Non-Alcoholic or Alcoholic Punch
I love a flexible punch recipe when I hosting a crowd. The base recipe for Firecracker Punch is non-alcoholic punch. It's a well balanced fruity punch recipe with some zip on its own.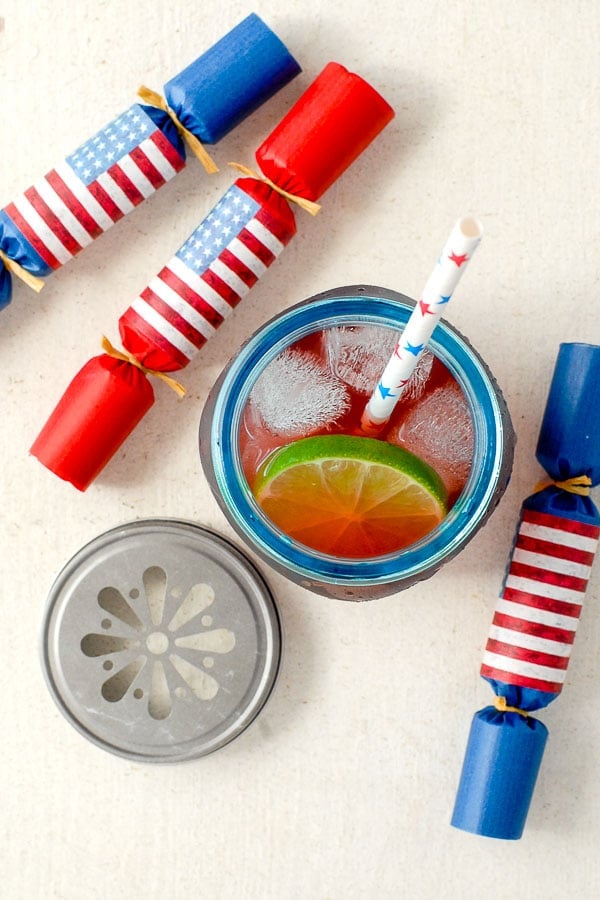 How to Make an Alcoholic Party Punch
There are two ways to change up Firecracker Punch to make it an adult-only punch recipe.
Add 1 ½ cups of Lemon-Flavored Vodka (homemade or store bought) to one batch of Firecracker Punch, or
Allow adult punch drinkers to add 1 ½-2 ounces of Lemon-Flavored Vodka to a 1 cup serving of the Firecracker Punch. This option provides those desiring non-alcoholic punch can share the base recipe making it easier for you!
Making a Larger Batch Punch Recipe
Fourth of July recipes tend to be casual and dining does too. If you are hosting a larger group, the Firecracker Punch recipe can be doubled or tripled keeping the proportions the same.
It can be served in a glass drink dispenser with a spigot so guests can serve themselves (I like this blue onepersonally).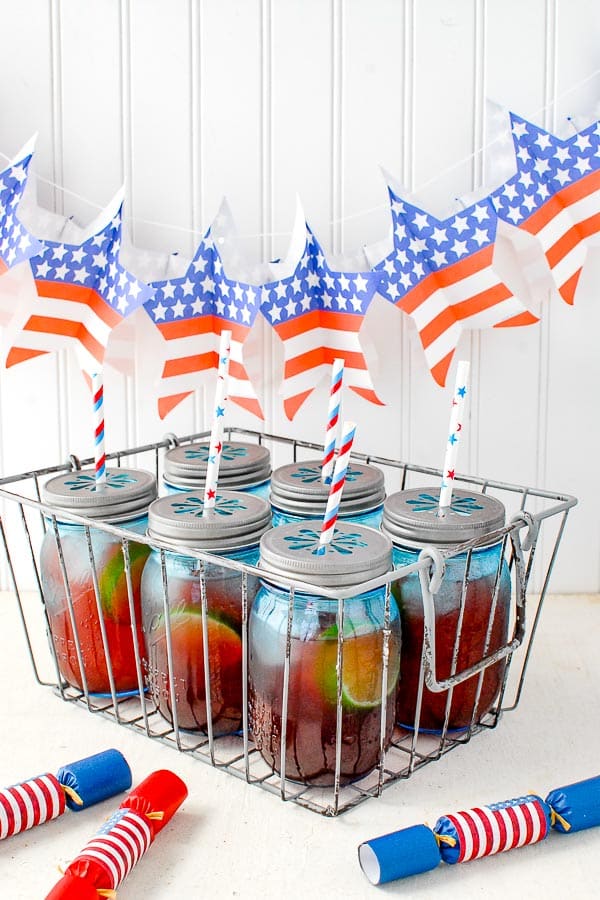 Make Firecracker Punch Special for Fourth of July
It's very easy to make drinks fun for July 4th and this punch recipe is no different. Here are some suggestions:
Tips for Making Firecracker Punch
To make Firecracker Punch quickly for guest, have all the ingredients pre-chilled so the punch will not need to be chilled after it is made.
Tip for lime juice: place the lime in the microwave for 10 seconds before juicing to extract more juice!
The internet is bursting with fun, simple, festive ideas to enhance Fourth of July. Check out my July 4th Pinterest board for patriotic recipes, décor, projects and inspiration to make your holiday the best!
The Only 5 Punch Recipes You Need – Free Printable
Punch recipes are a 'must have' for hosting friends and family.
Five of my favorite punch recipes have been combined onto one handy CHEAT SHEET you can print!
These punch recipes will work all year long!
If you've tried this Firecracker Punch recipe or any other recipe on BoulderLocavore.com please don't forget to RATE THE RECIPE and let me know where you found it in the comments below, I love hearing from you!
Please SUBSCRIBE and FOLLOW ME on FACEBOOK , TWITTER , INSTAGRAM and PINTEREST to see more delicious food, travel and what I'm up to!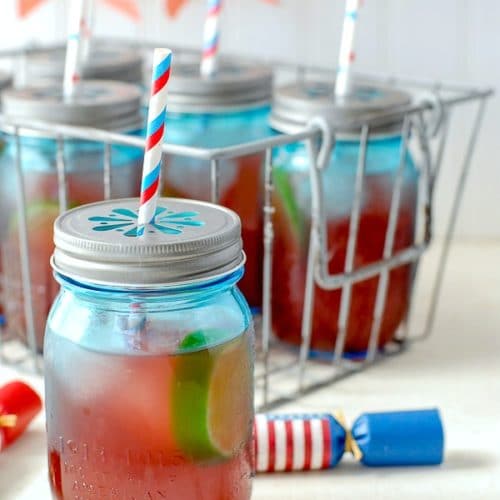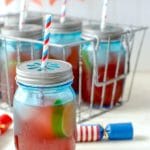 Firecracker Punch
Firecracker Punch is a fruity punch with a bang thanks to cinnamon imperial candies. Instructions to spike the punch for adult-only enjoyment. Have all ingredients pre-chilled for fast assembly and serving. Recipe can be multiplied keeping the proportions the same.
Servings
6
cups (may be multiplied using same ingredient proportions)
Ingredients
3

cups

Cherry Cider

, naturally-flavored*

1

cup

Peach Nectar

, naturally-flavored*

½

cup

Lime Juice

, freshly squeezed (approximately 4 limes)+

12

ounces

Ginger Ale

(1 can), chilled

50

Baking Cinnamon Imperials**

(about ¾ of a bottle; found with the baking supplies)

OPTIONAL: Lemon-Infused Vodka
Instructions
Combine the juice and cinnamon imperials. Stir until the imperials have fully dissolved. Add the Ginger Ale before serving. Note: to speed up punch readiness, have juices chilled before combining with the rest of the ingredients.
To Make 'Adult-Only': Add 1 1/2 cups Lemon-flavored vodka (homemade or purchased). One and one half ounce to two ounces per 1 cup serving.
Recipe Notes
*I used Knudsen brand all natural juices finding them to the have the most authentic flavor with no added unnatural ingredients.
+*Tip*: to extract more juice from citrus fruit, put them in the microwave at high for 10 seconds before juicing them.
**Red Hots candy could also be substituted though they may be stronger in heat. I would suggest starting at about half the quantity, stirring until dissolved then adding more if desired. My kids also suggested Atomic Bombs or Fireballs but I fear that would blow the roof off the heat!
Nutrition Facts
Firecracker Punch
Amount Per Serving
Calories 134
% Daily Value*
Total Fat 0g 0%
Cholesterol 0mg 0%
Sodium 17mg 1%
Potassium 241mg 7%
Total Carbohydrates 34g 11%
Protein 0g 0%
* Percent Daily Values are based on a 2000 calorie diet.