Every holiday deserve signature recipes and Firecracker Punch is a perfect recipe for Fourth of July. Refreshing with some spicy heat (from an unexpected ingredient!) is great for a crowd.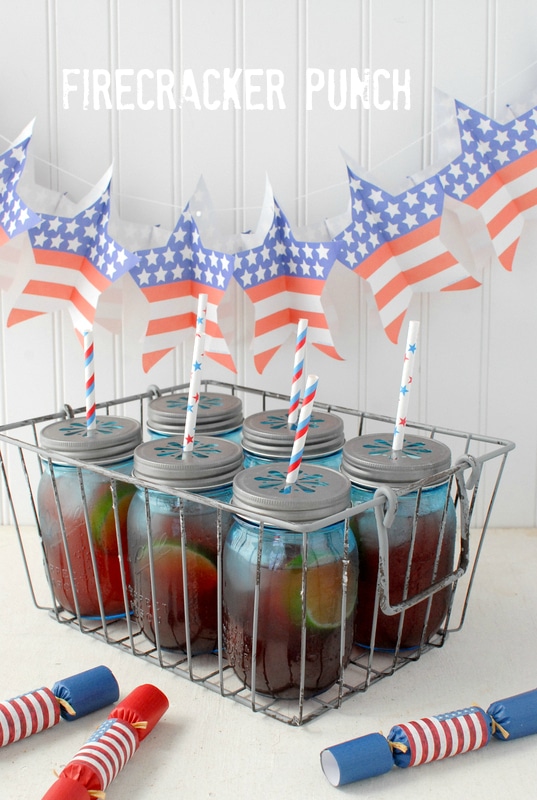 I love Fourth of July. I have a picture in my head from a Martha Stewart Living magazine from years ago of a home with a large wrap-around porch much like the home I live in now, draped with patriotic swags (perfectly placed of course) evoking the charm of Small Town U.S.A. There is simplicity about the holiday; grilling or picnicking with friends and family, watching fireworks on a blanket in the city park. It feels like summer, it feels easy with a nod to a bygone era. Firecracker punch fits right into my mental image.
There is no denying the highlight of the day is Fireworks (though for me there is a greater meaning). When my eldest child was just over a year old we moved to Arlington Virginia, one exit from Georgetown. It was exciting to have so many of the nation's capital activities at our fingertips and we took full advantage. In our short year and a half there, we were invited twice to the White House thanks to military friends and fellow toddler parents. We visited all of the historical museums and residences of our founding fathers in that region.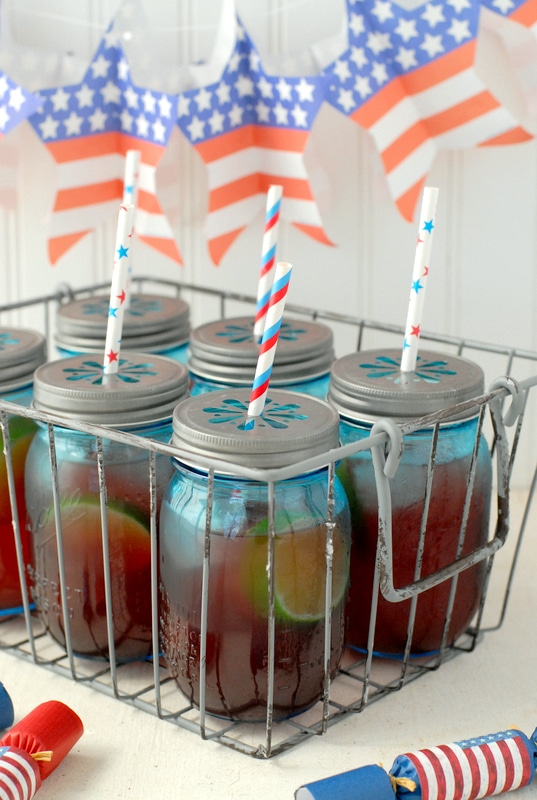 We enjoyed one July 4th which we spent in our charming neighborhood with friends, kids watching sulphury snakes, sparklers and other small fireworks in the driveway before setting out to observe the firework display from the Pentagon parking lot. My daughter's scrapbook if full of photos of massive explosive displays defying imagination and clever things like floating smiley faces leaving me obsessed with learning how pyrotechnics work (I can't fathom how a can is packed with chemicals and when released turn into a smiley face in the air). I have many warm memories of this holiday.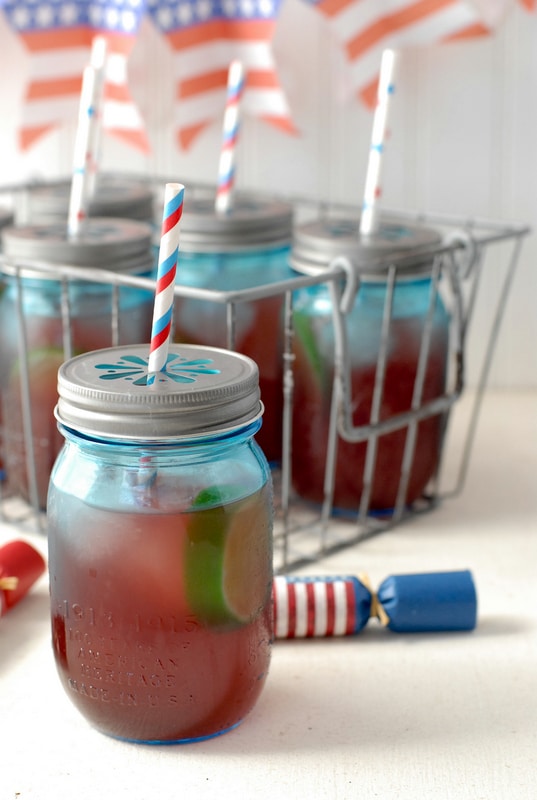 This year the food and drink really will be at center stage. With our dry conditions and hot temperatures we in Colorado will not be having fireworks outside of some cities and none at home. Since that really is the hallmark of the holiday, festivities must be conjured around the table. Somehow the simple addition of red, white and blue in any form elevates the day. Writing this has me racing ahead mentally with the idea going 'old school' with wheelbarrow races, sack races and three legged races too!
In lieu of fireworks I created a Firecracker Punch. Perfect for family but with a suggested kicker if desiring to make it adult-only! The punch is a thirst-quenching blend of seasonal natural juices with a bang from some Ginger Ale and Red Hots. Don't judge! It might sound funky but trust me the flavors work without overpowering and it's a cooling yet zippy addition to the holiday!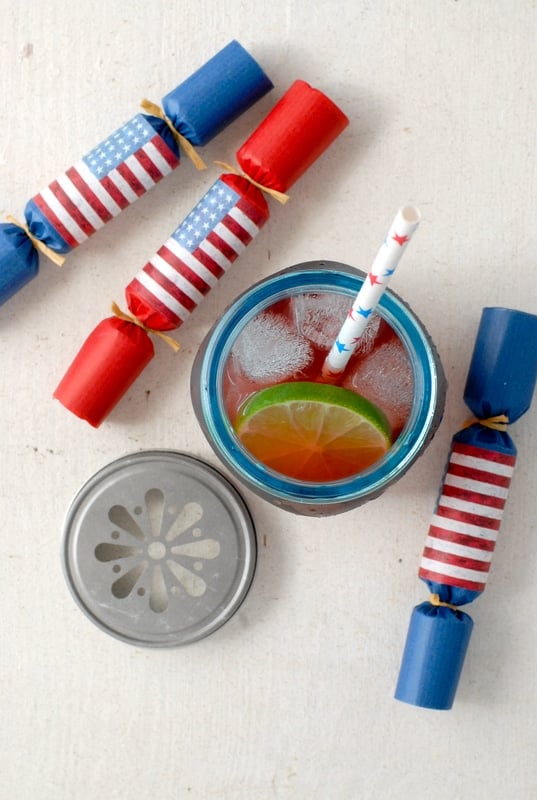 The internet is bursting with fun, simple, festive ideas to enhance Fourth of July. Check out my July 4th Pinterest board for patriotic recipes, décor, projects and inspiration to make your holiday the best!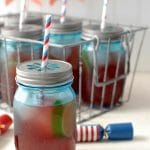 Firecracker Punch
Firecracker Punch is a refreshing punch made of seasonal, naturally flavored juices with a zippy addition of Ginger Ale and cinnamon baking imperials! Sure to liven up your Fourth of July festivities and summer outings. Family-friendly with an option to make 'adult only'! Recipe can be multiplied keeping the proportions the same.
Servings
6
cups (may be multiplied using same ingredient proportions)
Ingredients
3

cups

Cherry Cider

, naturally-flavored*

1

cup

Peach Nectar

, naturally-flavored*

½

cup

Lime Juice

, freshly squeezed (approximately 4 limes)+

12

ounces

Ginger Ale

(1 can), chilled

50

Baking Cinnamon Imperials**

(about ¾ of a bottle; found with the baking supplies)

OPTIONAL: Lemon-Infused Vodka
Instructions
Combine the juice and cinnamon imperials. Stir until the imperials have fully dissolved. Add the Ginger Ale before serving. Note: to speed up punch readiness, have juices chilled before combining with the rest of the ingredients.
To Make 'Adult-Only': Add Lemon-flavored vodka (homemade or purchased). One half ounce to one ounce per serving depending on serving size.
Recipe Notes
*I used Knudsen brand all natural juices finding them to the have the most authentic flavor with no added unnatural ingredients.+*Tip*: to extract more juice from citrus fruit, put them in the microwave at high for 10 seconds before juicing them.**Red Hots candy could also be substituted though they may be stronger in heat. I would suggest starting at about half the quantity, stirring until dissolved then adding more if desired. My kids also suggested Atomic Bombs or Fireballs but I fear that would blow the roof off the heat!