Christmas Punch is a 2 ingredient drink recipe that refreshes in red and green colors! It's non-alcoholic so a perfect special drink to serve when others are enjoying Christmas cocktails.

Move over Wassail and Eggnog, there's an eye catching holiday drink in town!
This layered Christmas Punch is delicious and the perfect colors for holiday celebrating.
This non alcoholic Christmas punch is perfect for Christmas dinner or just a special surprise.
We have a few EASY tips to dress it up even more with little effort from you!
Easy Christmas Punch recipe
It's always great to have a special recipe tucked up your sleeve for the holidays. One that isn't time consuming or difficult to pull off.
This Christmas Punch recipe is that recipe.
Only 2 ingredients.
Red and green.
An exciting option for kids or teetotalers (or even to slide in between holiday cocktails).
It has wonderful refreshing berry flavor.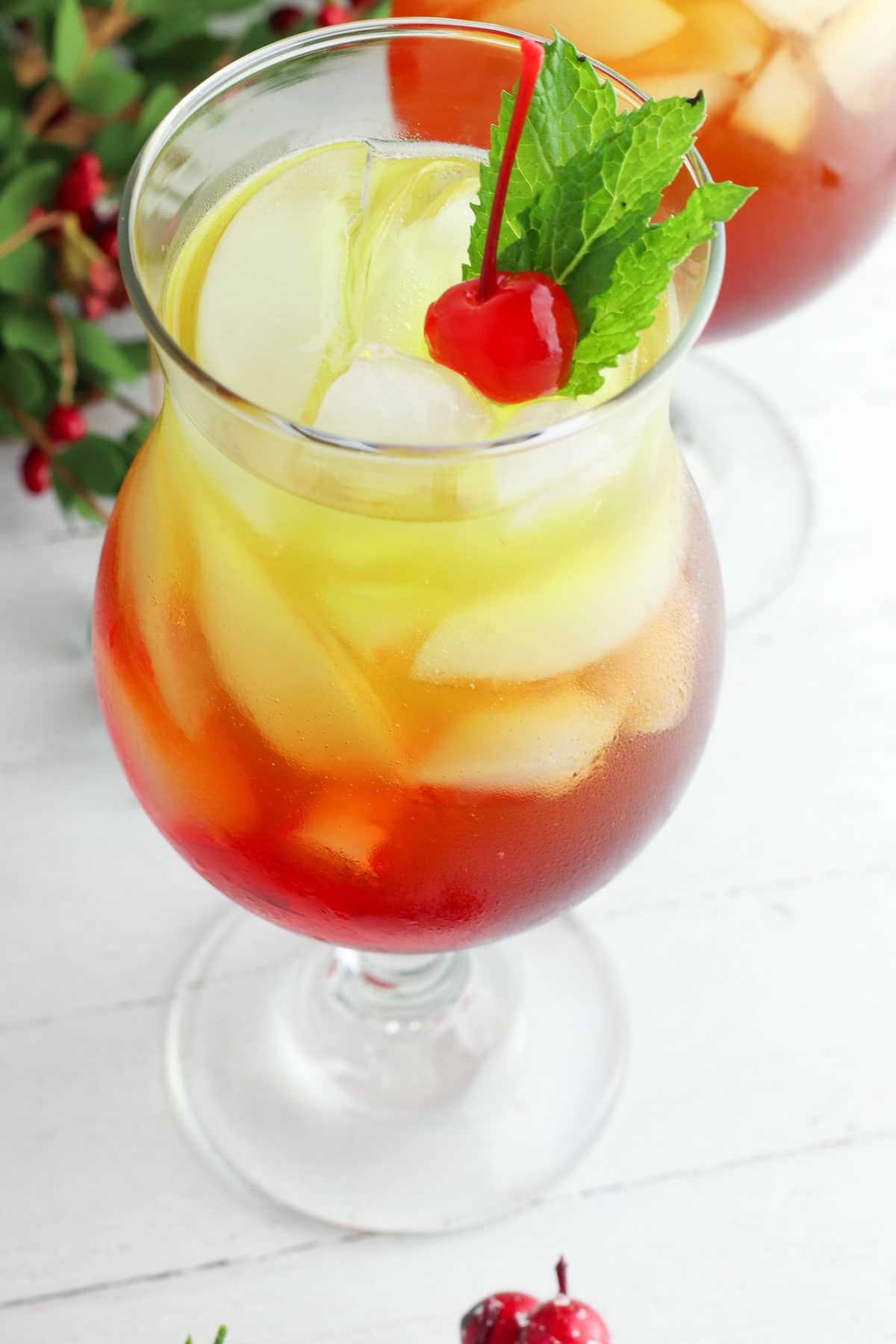 Making Layered Drinks
Layered drinks have such a cool appearance. You'd never guess it all has to do with math and science!
The way drinks stay layered rather than mixing together has to do with the density of the liquid.
The reason grenadine for instance stays on the bottom of a Tequila Sunrise or Shirley Temple drink is because it's denser or heavier than the other liquids in the drink.
This Candy Corn drink has three layers. To make it I researched liquid density in the colors I wanted to see how to make three layers.
In the cocktail world a Pousse Cafe is a classic example. They are the cool looking drinks with up to 5 colorful layers of alcohol.
A Trick to Make Perfect Layered Drinks
A trick I learned years ago works for layered drinks, whether non-alcoholic or cocktails.
When pouring the layers let the first layer settle.
Then turn a dining spoon upside down (rounded side up) and hold it at an angle with the tip of the spoon touching the inside of the glass.
Gently pour the next liquid onto the back of the spoon, allowing it to run down the inside of the glass.
It will start to build the layer without disturbing the first layer.
Photos of the process can be seen here (it's for a cocktail but the process is the same).
NOTE: the photos in the recipe card show using the spoon turned upright. This works too but the traditional method is with the spoon upside down.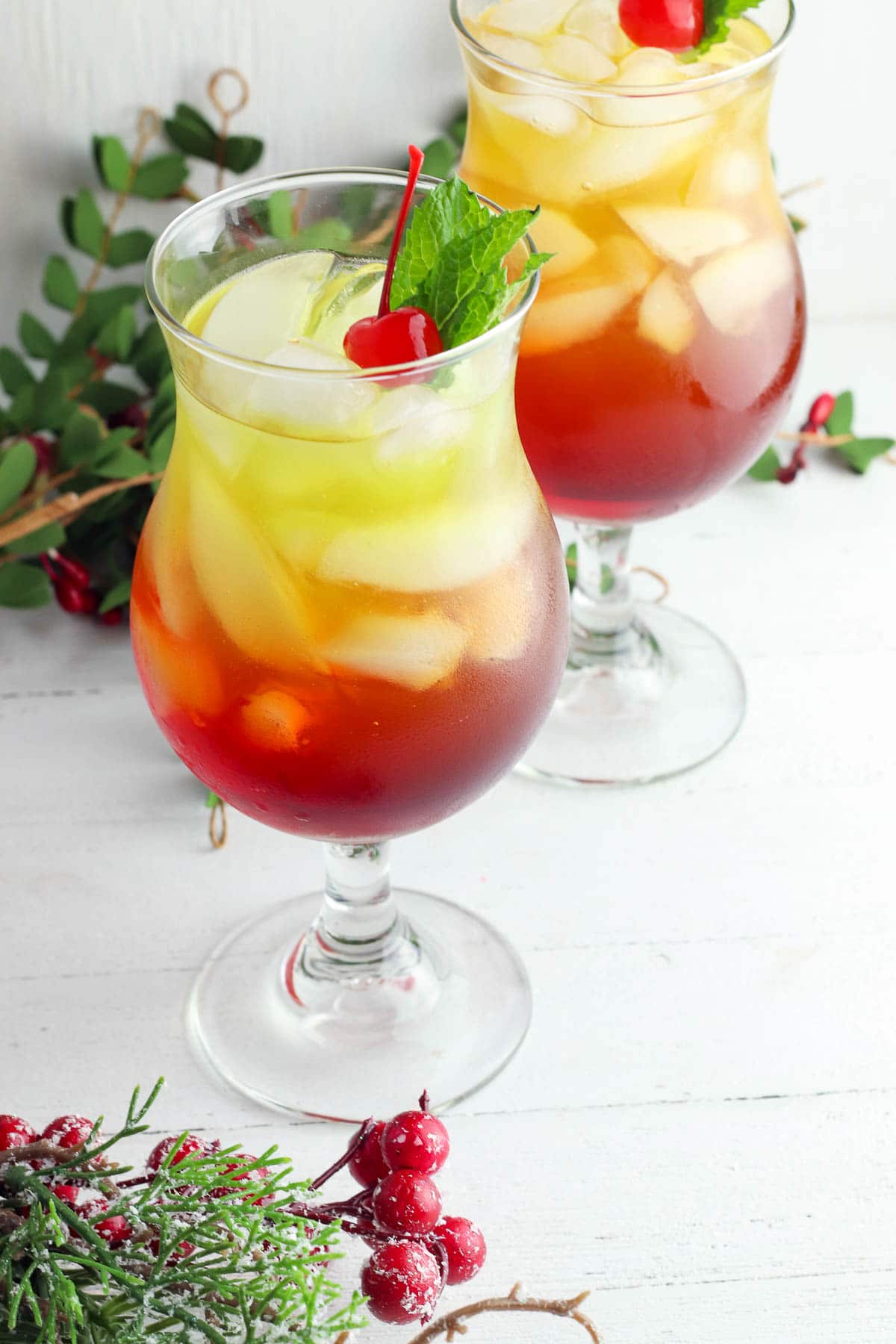 Recipe Ingredients + Notes
Grenadine. This sweet ruby-red syrup is well known in cocktails but it does not have any alcohol in it. It's a perfect color for this drink and the flavor mixes well with the green ingredient. Grenadine is sold at liquor stores or with cocktail supplies at the grocery store.
Green Berry Rush Hawaiian Punch. We picked this for three reasons: 1) the color, 2) the flavor, and 3) the density. It floats well above the red grenadine.
Garnish: mint leaves and maraschino cherries.
Variations
Mountain Dew. If you'd rather go for a green colored soda Mountain Dew is a yellow green color. It does contain caffeine in case you are serving little ones before bedtime!
Add a splash of something sparkling. Add a splash of Sprite, Ginger Ale or even Club Soda to give the punch some fizz! Add this at the end slowly.
Float cranberries in it. Did you know fresh cranberries float? For a festive touch you can add a few to float on the surface. They will be VERY tart to eat though.
Add ice cube shapes. The most simple things can create a festive feel. Instead of using regular ice make some ice in Christmas shapes!
Christmas trees, candy canes, gingerbread people, snowflakes or a mix of shapes all make this drink feel like a party.
Add a festive stirring stick. Holiday stirring sticks are another way to dress up this simple Christmas punch without any effort.
How to Make it – Step-by-Step
STEP 1. Add ice.
Add some ice to a 8-10 ounce glass.
STEP 2. Add Grenadine.
Pour the grenadine into the glass allowing it to settle on the bottom (see below).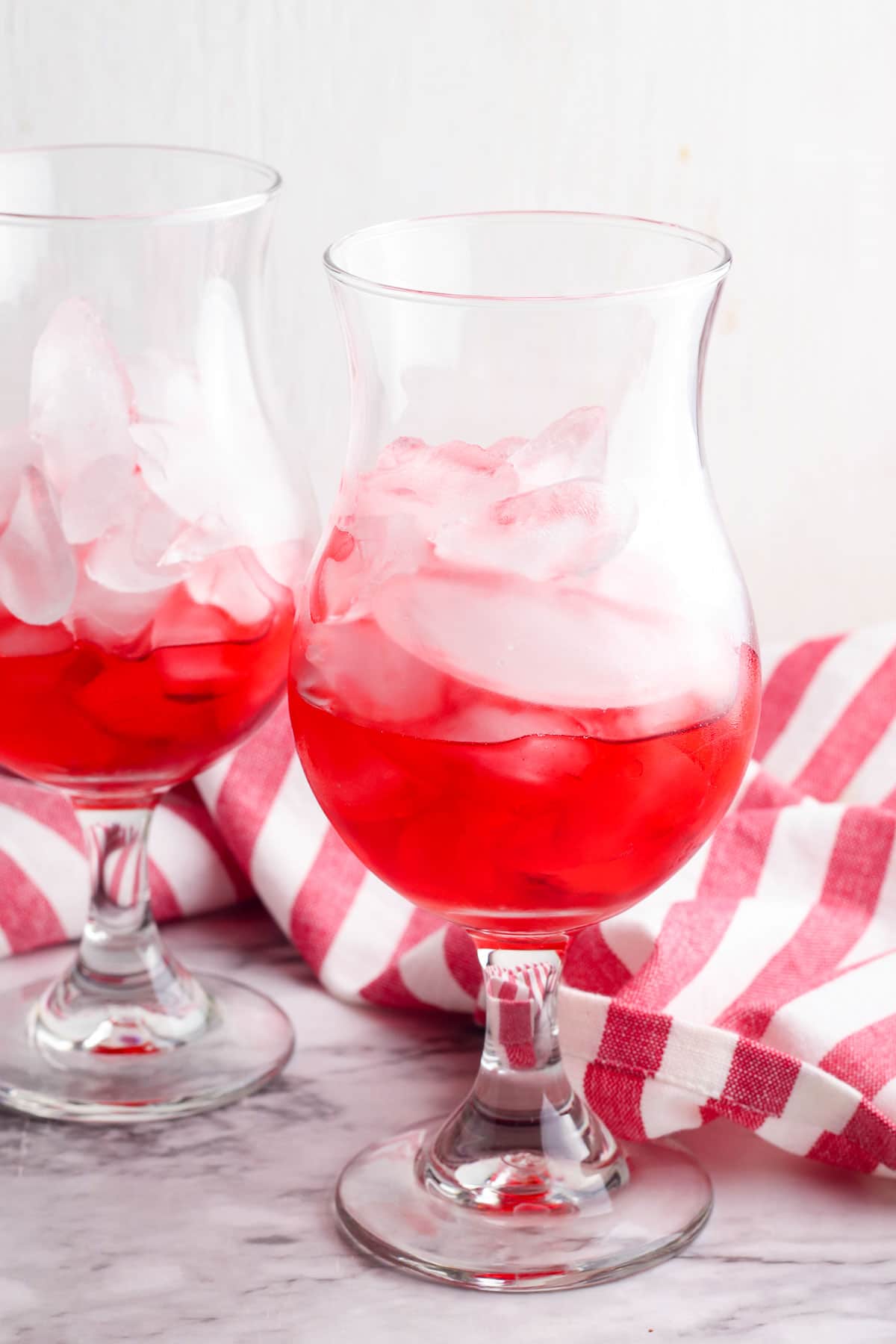 STEP 3. Add the Hawaiian Punch.
Slowly pour the punch into the glass to fill. Try not to disrupt the grenadine at the bottom of the glass (see below).
NOTE: you can use the upside down spoon trick to allow the drink to slowly wick down the inside of the glass if needed.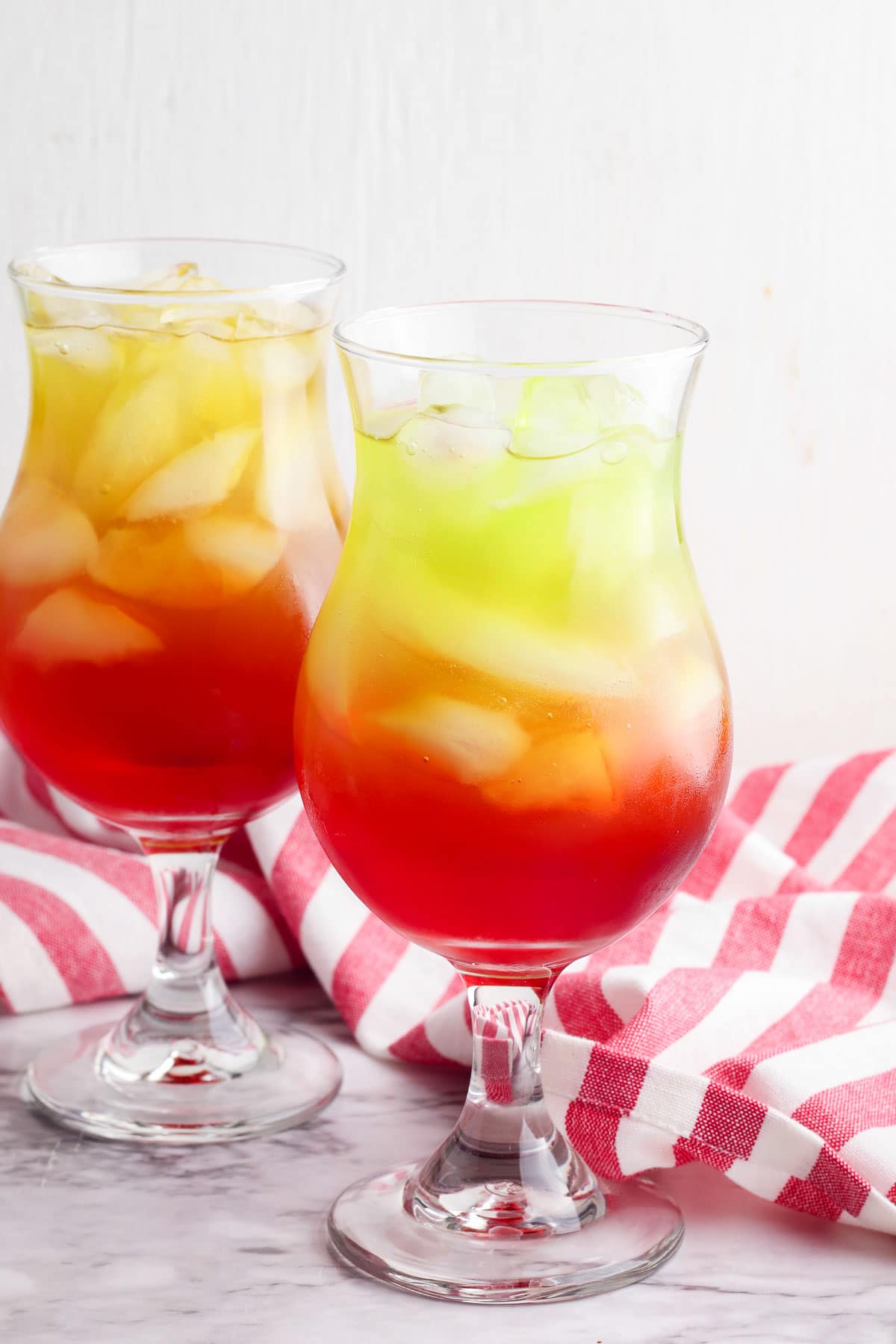 Recipe FAQ's + Pro Tips
Refrigerate the ingredients. Especially is serving a larger group if the ingredients are refrigerated before making the drinks, the drink will be immediately cold and the ice will last longer.
Can I make this as a big batch punch?
Unfortunately layered drinks can't really be made as a large batch punch or in a punch bowl and the layers be kept intact.
As an alternative making something like Wassail, Eggnog or mulled cider in a slow cooker are great large batch options.
Can I add alcohol to this punch recipe?
You can though it may affect how the layers behave. If you want to add liquor I'd suggest vodka, lemon vodka or white rum.
Both the for clear color (it won't muddy the punch colors) and the flavor.
Sparkling Cranberry Vodka Punch is another option for a cocktail punch.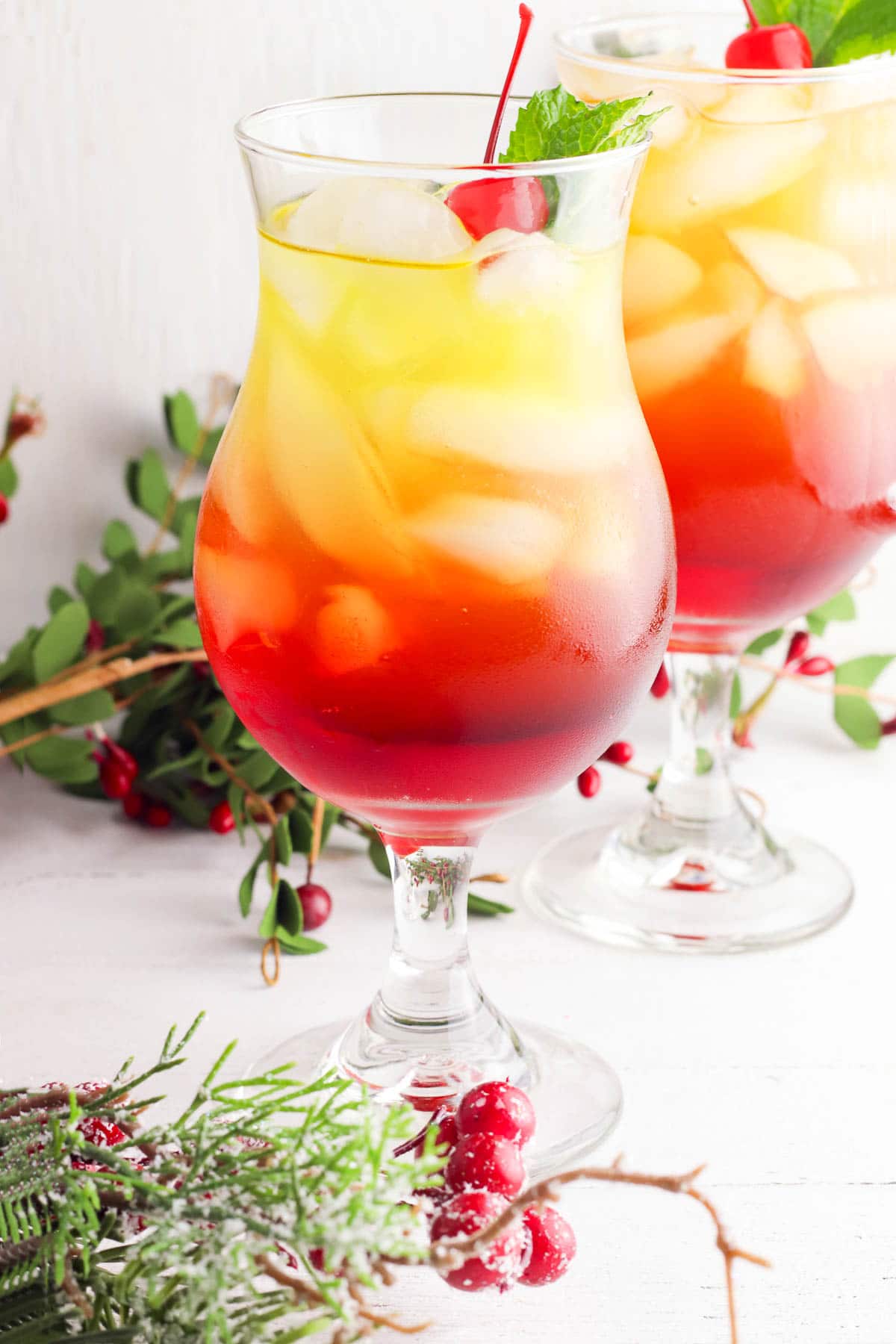 Did you make it? Please RATE THE RECIPE below!
Please SUBSCRIBE and FOLLOW ME on FACEBOOK , TWITTER , INSTAGRAM and PINTEREST !